Word Count:
115,000
Summary: SECOND EDITION When Captain Rafe Lancaster is invalided out of the Britannic Imperium's Aero Corps after crashing his aerofighter during the Second Boer War, his eyesight is damaged permanently, and his career as a fighter pilot is over. Returning to Londinium in late November 1899, he's lost the skies he loved, has no place in a society ruled by an elite oligarchy of powerful Houses, and is hard up, homeless, and in desperate need of a new direction in life. Everything changes when he buys a coffeehouse near the Britannic Imperium Museum in Bloomsbury, the haunt of Aegyptologists. For the first time in years, Rafe is free to be himself. In a city powered by luminiferous aether and phlogiston, and where powerful men use House assassins to target their rivals, Rafe must navigate dangerous politics, deal with a jealous and possessive ex-lover, learn to make the best coffee in Londinium, and fend off murder and kidnap attempts before he can find happiness with the man he loves.
The Gilded Scarab
October 8, 2019
Word Count:
110,000
Summary: Rafe Lancaster is reluctantly settling into his role as the First Heir of House Stravaigor. Trapped by his father's illness and his new responsibilities, Rafe can't go with lover Ned Winter to Aegypt for the 1902/03 archaeological digging season. Rafe's unease at being left behind intensifies when Ned's fascination with the strange Antikythera mechanism and its intriguing link to the Aegyptian god Thoth has Ned heading south to the remote, unexplored highlands of Abyssinia and the course of the Blue Nile. Searching for Thoth's deadly secrets, Ned is out of contact and far from help. When he doesn't return at Christmas as he promised, everything points to trouble. Rafe is left with a stark choice – abandon his dying father or risk never seeing Ned again.
The God's Eye
January 21, 2020
Word Count:
43000
Summary: Shax can't walk away from an abandoned, hungry kitty. The fact that she can eat him in three bites is irrelevant. Someone abandons a pedigree hellcat right where Shax can conveniently claim her and sets off a cataclysmic domino line of events. It's time for the other shoe to drop since the Brimstone has a shadow cabal after them—partly due to Shax's own, er, interesting decisions and partly due to the presence of Agent Julian Parallax onboard. As ship security officer, Ness has a lot on his mind—a dangerous new pet, even more dangerous criminals tracking the Brimstone, and yet another unexpected rescued guest. The last thing he needs is a distraction and Julian, who confuses and confounds him more every moment, is exactly the distraction he doesn't need. Between Shax's reckless gambits and Julian's disregard for his own safety, how is Ness supposed to keep anyone safe? The Brimstone and her intrepid crew do all they can to stay one step ahead, but this time the hunters are closing in.
The Hunt for Red Fluffy: Brimstone 6
September 12, 2019
Word Count:
111,600
Summary: **First Place Winner 2019 Rainbow Awards: Best Gay Historical Romance. ** **Third Place Winner 2019 Rainbow Awards: Best Gay Book.** SECOND EDITION: Something is stalking the Aegyptian night and endangering the archaeologists excavating the mysterious temple ruins in Abydos. But is it a vengeful ancient spirit or a very modern conspiracy… Rafe Lancaster's relationship with Gallowglass First Heir, Ned Winter, flourishes over the summer of 1900, and when Rafe's House encourages him to join Ned's next archaeological expedition, he sees a chance for it to deepen further. Since all the Houses of the Britannic Imperium, Rafe's included, view assassination as a convenient solution to most problems, he packs his aether pistol—just in case. Trouble finds them in Abydos. Rafe and Ned begin to wonder if they're facing opposition to the Temple of Seti being disturbed. What begins as tricks and pranks escalates to attacks and death, while the figure of the Dog—the jackal-headed god Anubis, ruler of death—casts a long shadow over the desert sands. Destruction follows in his wake as he returns to reclaim his place in Abydos. Can Rafe and Ned stand against both the god and House plots when the life of Ned's son is on the line?
The Jackal's House
October 8, 2019
Word Count:
54,000
Summary: Welcome back to Charybdis Station and the crew of the Blue Solace: (Fourth Book in the series) Sebastian Dolarnio has a past. His parents sold him into indentured servitude when he was seventeen which led him to enforced prostitution. Fortunately, with the help of some very good friends, him and his daughter are safe and have a home - a beautiful, accepting place with more family than he ever dreamed of having. Then there's his mate. A handsome, wonderful man calls Sebastian "mate" and Sebastian knows he doesn't deserve him. He has to find a way to be worthy of his new home and his new mate. A strange Crellic book provides him with the answer to his problems, but it comes with complications of its own. Alois has been dreaming of finding his life-mate since he was a kid. He knows that Sebastian is a dream come true, but how can he convince his mate of that plus fight the baggage he carries from his own past? When Sebastian begins a strange, wonderful journey, Alois knows that he has to be the loving and supportive mate that Sebastian deserves. The two men build a life together and learn to love one another, but the galaxy is in turmoil and Charybdis Station is in the middle of it all.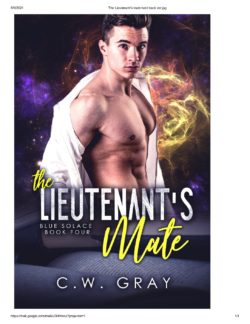 The Lieutenant's Mate (Blue Solace Book 4)
March 10, 2019
Word Count:
122000
Summary: As the heir to the throne, Royal Connate Olivienne Dracore cannot escape having a Shield team protecting her wherever she goes. But with the addition of Shield Commander Castellan Tosh, she has a team that doesn't just guard her person but also aids in her job as a historical adventurist. She knows without a doubt that together they can unravel the Divine Mystery of who the Makers were and why they created the great temples. With the conclusion of their last mission, Olivienne acquired the map needed to find the mysterious third great temple of Psiere. And there is no one better to accompany than her beloved Cmdr. Tosh. But before they can leave to brave the dangers of the unknown, first they must brave their own oathing ceremony. They will need each other for the coming mission because as with all things related to the Makers, mystery often begets mystery and danger is always just a wrong step away. Especially when the prize is something that could change Psiere forever.
The Lost Temple of Psiere
October 30, 2020
Word Count:
67000
Summary: The Marann recounts one woman's journey through loneliness, shattering revelations, and attempted assassination on a world where everyone can read her emotions. Marianne Woolsey is a high school Spanish teacher in rural Iowa, when Earth Central Command decides her linguistic talents would be better exercised if she spent 26 years teaching the daughter and heir of an alien ruler on a planet 24 light years from Earth. Now she's alone on a planet of aliens so humanlike that she has to keep telling herself her student's noble father is just her boss. Handsome – and deadly – the Sural has ruled his province and led his planet far longer than he can admit to his daughter's human tutor. He hides much more from the space-faring races of the Trade Alliance than he is willing to reveal. What he doesn't want Central Command to know, he has to conceal from Marianne, but Marianne is concealing her own secrets from him – and as an empath, he knows it. This first novel in the Tales of Tolari Space series explores what could happen when you put an unsuspecting human on a planet full of empaths.
The Marann
October 6, 2012
Word Count:
80,000
Summary: "If it weren't for bad luck, she'd have no luck at all," lament the family of Fancy Selk, who has been the victim of horrific abuse. Fancy decides it is high time she learns to make lemonade from lemons instead of always making lemons from lemonade. As she learns to survive her past abuse, young Dr. Richard "Rick" Winslow manages to go back in time to find the beautiful young woman. Rick learns Fancy is married to another man. When her husband is killed at Yorktown, she finally admits her attraction for the handsome physician, as they fall in love, only to be ripped apart not once, but twice.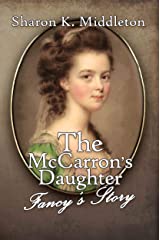 The McCarron's Daughter
March 6, 2019
Word Count:
41000
Summary: Welcome to the mercenary ship, The Blue Solace: Leti Ando needs off planet and fast. He has a best friend and a new half-sister to rescue, and he needs to be sneaky about it. Unfortunately sneaky isn't really his thing. With the help of a friend, Leti and his menagerie, along with his two companions, stow away aboard a mystery ship. Little does he know that The Blue Solace belongs to the infamous mercenary, Captain Will Hackett, a man he'll come to love with everything inside him. Will has been in a bitchy ass mood for the past six months. He's restless and grumpy, but doesn't know why. He knows he needs something and he can't find it, but his crew are out of patience and insist on some R &R back home at Charybdis Station. Then Hack finds a stow away angel and everything changes. Leti is his mate and he'll do anything to keep him safe and happy, even smile. The galaxy's not a safe place, though, and The Blue Solace has a job to do: pick up a renowned scientist and his mysterious artifact. Then get them safely back to Charybdis Station. Hack and Leti don't realize their romance story is about to get hijacked by Concord mercenaries. Their love is easy, it happens just like that. Staying alive and keeping the galaxy safe? That's a little harder. Author's Note: 41,801 words. (Previously published as "Happens Just Like That"). This is a m/m love story with no angst and no cheating, just a HEA. There is lots of action, sex, mpreg, and a few potty mouths involved in the story. 18+ readers only, please. It is also the first of two books about this specific couple.
The Mercenary's Mate
October 5, 2018
Word Count: Information not available
Summary: Killjoys meets Helix and Dark Matter Mari Yosoto has been keeping a dark and dangerous secret from everyone for the past three years. No one would believe her anyway, her ex-fiancé had seen to that. Instead of wallowing in misery, she stays busy, shuttling cargo to the Moon and back, enjoying the easy work and time alone. An old EarthCorps acquaintance asks for her help, and Mari can't say no, even if it means working with the ex's former best friend. Although Trevor Nash took the missing person's job to help his former commanding officer, deep down he needed to see Mari again. After trying and failing to find out what happened to her, Trevor makes the best of an odd situation, hoping he can remind Mari of their budding friendship and finally get some answers. When the mission goes sideways and they find the not-so-missing girl, a centuries-old conspiracy theory comes to light and the only thing more unfathomable is learning Mari's secret. Together with their newly formed ragtag team, Mari and Trevor team up and undertake a mission unlike anything either of them has faced before with life-altering and possibly deadly consequences.
The Monarch Mission Files: Conspiracy
April 23, 2019
Word Count:
55,000
Summary: Welcome back to Charybdis Station and the crew of the Blue Solace: (Seventh Book in the series) Finn Sterling is still adjusting to becoming the lieutenant of the blue fleet of Charybdis Station. As an orphan on Cardinal Hold, he never imagined he would have a position of authority as an adult and the trust his friends put in him makes failure impossible. When he is given the monumental task to find a large number of missing Vextonians, he'll take all the help he can get. When Finn's journey brings him to his mate, he discovers that finding the missing is only one part of the quest ahead of him. Aiden Crow has spent the last year consumed with grief and his search for vengeance. When he meets Finn, he knows instantly that the man is his mate, but what could he possibly offer the beautiful, smiling Cardinal? As the search for the missing draw the two men together, Crow realizes that the greatest risk he faces is losing his heart. Crow and Finn must work together to gather information so they can find the innocent before they are lost forever.
The Rebel's Mate
January 24, 2020
Word Count:
144,000
Summary: On the isolated colony world of Haven, the colonists have formed into separate cultures. In the city of Shangri-La, great houses dominate. As heiress of the House of Hayden, Francesca expects her father to arrange a marriage for her, but she thinks he's gone crazy when he heads into the vast Sansoussy Forest to trap a warrior to marry her. But her reaction is mild compared to the warrior's. Ran-Del is s Sansoussy, trained in both the mental and physical Disciplines of his people. He thinks he's prepared for any danger the forest might hold, but his skills prove useless when he's caught in a hi-tech trap. Soon Ran-Del finds himself in a city so alien it might as well be another world—machines speak, vehicles fly, and his captors' weapons can inflict pain without touching him. As terrifying as the city is, his kidnapper, the enigmatic Baron Hayden, exudes a jovial affability that worries the Sansoussy even more. What can such a powerful man want with a Sansoussy warrior, who can neither read nor write and knows nothing of city ways? It's only after it seems that Ran-Del has escaped the city and its dangers, that he finds out how thoroughly he has been caught.
The Sixth Discipline
March 22, 2022
Word Count:
55,000
Summary: Morgan Murray is an easy, fun-loving guy. He excels at being a soldier, but never wanted more out of life. Somehow, he ends up in a position of authority on Dru's new ship, the Blue Sparrow. Now he has to deal with what he dreads most. Responsibilities. Dru and her crew are given the task of finding Wyatt Morrick and telling him about his father's death. Along the way, Morgan soon learns that responsibility can be painful, difficult, and frightening. It can also lead to something very special. Dr. Wyatt Morrick is in trouble. Big trouble. He and his medical crew are stuck on a planet under attack. He may not be a soldier, but he has patients and friends to worry about. With very few supplies left, something has to give for them to survive. The whole planet's future is at stake and he is stuck hiding in a cave. When Morgan saves Wyatt and his friends, the two men are given a gift, each other. Their love can't stop the Concord, though, and someone has to. Morgan has to grow and accept his responsibilities, and Wyatt has to move on from his father's death. That death just happens to be a little more complicated then Wyatt expected.
The Soldier's Mate
January 11, 2019
Word Count:
24000
Summary: Chief Engineer Shandi Leavenworth has been crushing on Major Tyra Sur ever since she joined station staff, though the laconic customs officer doesn't give up personal information easily. A few scraps of information lead Shandi to the perfect Solstice present, until of course everything goes horribly wrong. Major Sur took the job on Onwa Station for the stability, the quiet, and out of a need to be useful. It's been all of those things up until the moment the woman she's been quietly flirting with at the bar puts in a desperate call for help. There's no question they need to save the station, but Tyra's not so sure about saving their budding relationship.
The Solstice Pudding
December 17, 2019
Word Count:
118000
Summary: Psiere is a world of intrigue where old ideology meets new. The Makers built massive pyramids on each continent and filled them with encrypted texts and advanced technology. The two suns, Archeos and Illeos shine down on a mostly undiscovered planet with a psionic race of people living on land, and violent sea people below the water. The Queen seeks to make the world a better place for all Psierians but her daughter, Royal Sovereign Connate Olivienne Dracore, seeks only to solve the Divine Mystery. The connate makes her living as a historical adventurist and wants the answer to two important questions. Who were the Makers and where did they go? Because she is the heir, Olivienne travels with a security force and resents it every moment. Every one of her captains has either quit or been injured trying to keep up with the risk-taking woman. That's where Commander Castellan Tosh comes in. Capable, confident, and oh-so-dashing, she is forced to switch career corps to take charge of Olivienne's team. Sparks fly from the moment they meet and things only get hotter as they chase down the clues to the greatest mystery of all time
The Sovereign of Psiere
June 1, 2019
Word Count: Information not available
Summary: Final Fantasy meets Star Trek with a YA Twist. The kingdom of Abennelp has enjoyed an age of peace. Tiva Boon, a loyal and ambitious Royal Guardian is determined to carry on tradition and become an elite protector to the throne. It is all she has ever wanted. Possessing abilities and strength beyond her age, Tiva dedicates her youth and risks her life in the service of her king to prove she is worthy. With her goal achieved and her destiny in motion, a mysterious off-world threat emerges and shatters everything Tiva holds dear. Exiled from her home and running for her life, Tiva seeks asylum with the Union, a universal security force, and attempts to put the past behind her. Finding herself alone among various space-faring races, Tiva integrates herself into the strange society using her skills as a protector and befriends several aliens she meets along the way, ones who will change her life forever. When a message from those loyal to her king reaches her months after she feels safe in her new life, Tiva's destiny and the fate of her people collide.
Tiva Boon: Royal Guardian
July 8, 2014
Word Count:
93765
Summary: Home, a place where we belong and are safe and loved. Home, the house in which we grew up, a neighborhood, a culture, even a country. Home is a state of mind, it is a place of the heart, and in the heart. Finding home, coming home, and bringing home the one we love is a journey, a journey that can be a dangerous adventure. For the lovers in these stories, adventures can include quests and fighting dragons and demons, past and present, physical as well as mental and emotional. Rocket launchers need to be dodged, the Wild Hunt needs to be outrun. For some of the lovers here, home has been lost, or they have been forced to leave, as is too common for LGBT+ youth. In this collection queer positive speculative fiction stories, explore the idea of what and where home is in the lives of these lovers. Will they survive their quests, defeat their monsters? Will they find a place to call home?  
To Bring Him Home and Other Tales
September 11, 2021
Word Count:
34000
Summary: Can a lab rat whore find love with the servant of his master, or will their different backgrounds and prejudices keep them apart? In the distant future, where the devastation caused by war has driven the human race below the surface of the Earth, society is split in half. The rich scientists live in towers where they can monitor the surface and determine when the poisonous gases have cleared and the world is safe for humans once more. Meanwhile the majority of the human race lives in crowded labyrinthine caves, where life is harsh and short. Uneducated and with no real prospects for the future, a 'lab rat' is lucky to live to see thirty years of age. Employment options are minimal and few can escape the fate of choking to death on the dust of the caves. When AJ, one of the poorest members of society, needs credits for medicine for his sister he is in a desperate situation.  With no other options available he risks alienation from his family by selling himself to the highest bidder. Love is the last thing on his mind, but while Blake, his new owner, might not be Mr Right, Ryder, his servant, just might be. Unfortunately, their different backgrounds, prejudices, and AJ's brutal owner seem destined to keep them apart but true love can be theirs for the taking if only they can find a way. Please note: Various tags that are used in this listing are in relation to sex scenes between AJ and Blake, not AJ & Ryder. 
To See The Sky
May 17, 2013
Word Count:
8000
Summary: **Also Available in "Guardians of a Giant's Treasure" anthology** Tucker has spent his entire life as an interstellar trash man. But ever since his mother died, he's been alone, and certainly lonely. So when he discovers the derelict ship he scooped up has an occupant—a beautiful young man named Ronan—Tucker is thrilled. Ronan is royalty and running from his tyrannical mother, determined to keep a powerful object out of her hands. But when he strikes a deal with the adorable Tucker, he wonders if it's time to stop running.
Trash and Treasures
November 9, 2021
Word Count:
69300
Summary: Vassily Belikov, composer and pampered son of privilege, suffered neurological damage in the accident that killed his father. Resentful of being treated as an invalid, he lives as a recluse, dependent on his mother. That changes the day she brings home a new husband with two sons of his own. When deep-space pirates capture Vassily's mother, he's left to the mercy of his cruel, amoral stepfather. Fighting addiction and his physical shortcomings, he's forced to seek out the criminal mastermind Baba Yaga for a crucial piece of equipment. While she agrees to deal with him if he beats his Exoticus addiction, paranoia and mysterious intentions infuse her household. Drawn to her fierce, suspicious youngest son, certain his actions are all carefully observed, Vassily must find the courage to face both his fears and his desires if he expects to survive.
Vassily The Beautiful
June 11, 2014