Word Count:

26000
Summary: Being an OIL (Onsite Inter-species Liaison) for the Interplanetary Multispecies Pact has never been an easy job. In fact it's a crap job when stuck on a backwater nowhere planet like Earth. But cobra Yervath Sissal Naganos manages. The demotion was swift and heavy-handed, but he'll climb back out of this hell eventually. Humans don't meet his social needs, so, yes, it's been lonely and he tells himself he likes the solitude. That is, until IMP sends him an irritating  new assistant he never asked for. Now his peace is well and truly disturbed and his paranoid diplomatic reflexes have reawakened. The worst part is the kid didn't have to be so cute.
A Message From The Home Office
Word Count:

7200
Summary: Part of the "A Holiday to Remember 2017 Series" On the colony planet Vega III, everyone knows Beck—outgoing, fabulous, and genderqueer—and nobody notices Anil, the quiet plant biologist. But when Anil finds Beck hiding in his greenhouse, lonely and missing Earth, it's Anil who is able to comfort Beck by letting them talk about what they miss most—the feeling that comes with celebrating the holidays with loved ones, especially New Year's Eve. ​The two of them are drawn to one another, but both of them are hiding secrets about their sexuality. With trust between them already on shaky ground, Anil's elaborate plans to cheer Beck may well backfire. A Holiday to Remember Freddy MacKay - Watermelon Kisses Foster Bridget Cassidy - But to Love More Toni Griffin - Corey's Christmas Bundle Angel Martinez - Safety Protocols for Human Holidays Nicole Dennis - Secrets & Silk Kassandra Lea - Winter Home Jill Wexler - The Christmas Eve Craigslist Killer Jayne Lockwood - New Beginnings Tray Ellis - A Piece of Ourselves J. Scott Coatsworth - I Only Want to Be With You Siri Paulson - A New Year on Vega III
A New Year on Vega III
Word Count:

60,000
Summary: What happens when you die, but the universe isn't done with you? You might end up as the pet of a giant worm-a-pede alien and…if you survive your evolved descendants and rogue aliens of 1 million A.D…discover you have more in common with intelligent worms than you ever thought possible. Yes, all this might happen if you are Albert Rudyard Goldstein—the discoverer of the Biomic Network Algorithm—who thought his time had come. He had done his part to make the world a better place. Now he deserved—even looked forward to—a peaceful and mercifully succinct death. But the universe had other plans...
A Once-Dead Genius in the Kennel of Master Morticue Ambergrand
Word Count: Information not available
Summary: A survivor with no memory and a warrior looking for her path unite against the pirate horde. Two hundred soldiers walk into the burning sands of Gypta, but only a handful make it out. When Magda Stoner wakes in an infirmary halfway across the world, she discovers her memories of the desert are gone. Something happened that tore her mind and soul apart, and the only thing keeping her sane is the fact that she can't remember a thing. Ascara d'Jharaena ael Korphen is a warrior, not a soldier, and trying to fit herself into the lesser role at Veritas Traders has left her body battered and broken in the same infirmary where Magda recovers. As they both mend, they meet a survivor of a pirate attack that included gifted attackers. Finding themselves without a unit or mission, they propose a daring plan to infiltrate the pirate horde and bring them to justice. Can the pirates be stopped? Or will Magda and Ascara be caught before they even begin? This is the first prequel in the Towers of the Earth fantasy adventure series.
A Pinch of Salt
Word Count: Information not available
Summary: When Selena Dillon is caught in an assassination attempt on her planet's ruler, she finds herself sentenced to twenty-five years servitude in the most feared military force, the Penal Regiments. Much to her surprise she enjoys the harsh military life and is quickly selected for officer training. But something's wrong, worlds are falling silent. There's no cry for help and no warning, just a sudden eerie silence. When a flotilla of ships is despatched to investigate they exit hyperspace to find themselves facing a massive alien armada. Outnumbered and outgunned the flotilla fight a rear-guard action, allowing one of their number to slip away and warn mankind. As worlds fall in battle, and mankind's fleets are decimated, Selena is selected to lead a team of the Penal Regiment's most battle-hardened veterans, in a last ditch attempt to destroy the aliens' home world. If she fails mankind is doomed. Little does Selena know that one of her crew is a psychopathic killer and another is the husband of his victim. Can she hold her team together, get them to their target and succeed in the attack? Selena knows that if she fails then there will be nothing at all left to go home to.
A Pride of Lions
Word Count:

108000
Summary: Now what? As Kendra recovers from her wounds, Artemis is planning their next strike. But so are others. Artemis has been too corrupt for too long; their own people are ready to take control. It's just going to take a little encouragement...
A Quiet Revolution
Word Count:

115000
Summary: Aaron Okonkwo, a Nigerian scientist, travels with a crew in the 24th century to evaluate Viridis, which proves to be a beautiful and fabulous world. There, Aaron discovers a strange, alien species and amazing machines and technology left in a vast underground complex by a mysterious race called the Creators. Aaron soon falls under the irresistible, seductive spell of Nightsong, a green alien female with ominous and bewitching powers. However, an even greater danger rises. He will be forced to fight for the planet's survival against a ruthless invasion of many ships to conquer and enslave the planet – just as Africa itself was once enslaved. Aaron knows it's A Senseless Act of Beauty to try to reclaim his ancient warrior heritage and fight back against such overwhelming odds, but he knows he must try.
A Senseless Act of Beauty - John B. Rosenman
Word Count: Information not available
Summary: When young paleontologist, Ryan Thompson, finds a new species of mosasaur in Cretaceous seaway sediments, he is thrilled. The discovery should jumpstart his career. Joy quickly turns to fear when he touches an artifact buried among the sea reptile's ribs. Suddenly, he must fight a mental takeover by an alien intelligence committed to transforming the Earth into a refuge for her own race. As Ryan and his girlfriend, Skeets, attempt to thwart alien plans to colonize Earth begun in the deep past, even this crisis becomes trivial. The uneasy symbiosis of Ryan and the alien, Siu, generates a new entity with the power to transform the entire universe.
A Singular Prophecy
Word Count: Information not available
Summary: He believes in science, but only magic can help his mom. Twelve-year-old Finn is used to people in his family disappearing. His twin sister, Faith, drowned when they were three years old. A few months ago, his mom abandoned him and his dad with no explanation. Finn clings to the concrete facts in his physics books—and to his best friend, Gabi—to ward off his sadness. But then his grandmother tells him a secret: the women in their family are Travelers, able to move back and forth in time. Finn's mom is trapped somewhere in the timeline, and she's left Finn a portal to find her. But to succeed, he'll have to put his trust in something bigger than logic. "This is an incredible book, no matter which time universe you're in. I couldn't put it down. One of my favorite debut novels of the year."—Erin Entrada Kelly, New York Times bestselling author and 2018 Newbery Medal winner
A Time Traveler's Theory of Relativity
Word Count:

4500
Summary: In love, time is relative, until they run out… Regulations limit time digger Ish and time cop Kabal, born years and worlds apart, to two dates a year, making every date precious. But when Kabal announces his retirement at their tenth anniversary, what should have been a happy occasion might be their last night together. Previously appeared in Storm Moon Press' Sweethearts & Seduction anthology
A Time Traveler's Valentine
Word Count: Information not available
Summary: In the shadows, treachery and betrayal grow unseen. The state funeral of Princess Olivia at Port Ruth marks the end of the Queen of the Desert's reign of terror. As Lucinda, Magda and Ascara attend this grand ceremony, all is not as it seems. A storm of secrets and lies emerge from the shadows and the darkness threatens to destroy them all. No matter where Magda goes, her heritage calls to her. Even when they make their way home, peace and safety are still not theirs. Malice and betrayal, hidden and out of sight, finds the three women and threatens to pull them under the waves of death and pain once more. For the Trinity of Truth: Raven, Fire and Ice, there can be only one way forward, but at what price? This is the third in the Towers of the Earth fantasy adventure series.
A Touch of Darkness
Word Count:

94000
Summary:
To have a future, they must face their past. Magda, Ascara, and Lucinda must draw upon the strength of their trinity to seek out the truths of the past that hold the key to their future. They travel north, to Magda's place of birth amongst the Oceanics. For Magda, this is an unwelcoming place, a reminder that she was banished and dealt a cruel fate. Named Stoner and landlocked, for an Oceanic this is a dishonour and a fate worse than death. To return to the float again would place her life, and those with her, at risk. In the freezing waters of the far north, Magda finds herself defending her honour and birthright.  She must succeed as their fate depends upon it. Failure is not an option, the costs are too high. Will Magda allow the past to hold her back, or will she find her destiny? A Touch of Ice is the fourth book in the Towers of the Earth fantasy adventure series.
A Touch of Ice
Word Count: Information not available
Summary: Hidden in the shadows, something unseen is hunting them all. The Raven Tower summons the trinity to return home. Neither the tower nor magic tell them why. One by one the soldiers tasked with defending its people, fall to an insidious contagion. Once infected, they succumb to a rabid and animalistic state. If they survive, then they become minions of the dark to spread their touch even further. Magda, Ascara and Lucinda must seek out the dark places foretold by the clan dreamers. When they do, they discover more than they expected. As the rot at the heart of Veritas takes hold, no cure is in sight. When all seems lost, they must face their deadliest foe yet. Now, the war on humanity has become deadly serious. The trinity must triumph. The world depends upon it.
A Touch of Purple
Word Count: Information not available
Summary: As foretold, the Trinity of Truth must finally face the Mistress of the Night. Lucinda, Ascara, and Magda have survived several dangerous encounters with the various agents of Sh'Na. It is time for them to brave the beast herself in the pyramid from Lucinda's dreams. Magda, however, has met this Queen of the Desert before. Now her past history has risen to confront her with the evidence of her mistakes, and brings new dangers to the trinity. Although she can draw strength from her bonds with Lucinda and Ascara, she fears that even the power of the three of them will not be enough to withstand Sh'Na's evil. But there is more to face than just the desert beast. There are other dangers directed at the three women, and they must act with care and forethought, or be caught in the traps of others. From the city of Port Ruth, their troop travels into the burning lands of sand and sun, where they will face Sh'Na in a battle for more than their lives. Failure will mean the end of the world as they know it. Success will bring a new truth, and the revelation of a new path for all three of them. The trinity must continue to work together, not only to save the world, but also the very nature of time itself. "When the Hours are true, the gates of time will open". In the end, will the trinity prevail? Or will darkness rise again? This is the second in the Towers of the Earth fantasy adventure series.
A Touch of Rage
Word Count: Information not available
Summary:
Three women. One bloody mystery, and a prophesy that transcends time.  People have gone missing and no one knows where they've gone. The only clue left behind is blood, lots of blood, and a single silver brooch. Magda Stoner, captain of the airship Verity, has questions, and the Order for which she works has no answers to give. She has been directed to enlist assistance from Lucinda Ravensburgh, a tower witch and truthsayer. Lucinda sees truth in everything she touches, a gift, or curse, enhanced by the magic of the tower in which she resides. It's a gift that comes with great responsibility and a duty to those she serves. When Magda asks for aid, Lucinda cannot refuse. Whilst Magda and Lucinda seek the evil behind the disappearances, all manner of threats imperil their lives. Ascara is the warrior who must protect them as their search becomes more and more dangerous. At the moment Lucinda touches the silver brooch, all three lives are changed forever.  Three must become one if these strong women are to succeed when traversing the path of justice. But the path they tread is littered with lies, deception, betrayal, and dark forces. No matter what, the Trinity of Truth must form and hold strong. "Wise birds whisper, Rage of Fire, Strength of Ice". This is the first in the Towers of the Earth fantasy adventure series. (Note previously released as Raven, Fire and Ice in 2018)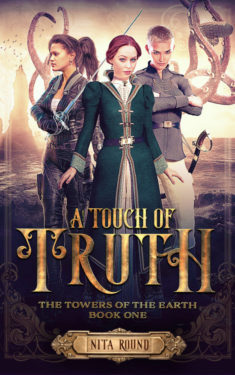 A Touch of Truth
Word Count: Information not available
Summary: Rudyard Albert Goldstein, inventor of the Biomic Network Algorithm, made piece with death once in the 22nd century, but an idiot doctor hijacked his mind, placing it in the care of Nessie, an impish AI guardian. Nessie preserved him from a civilization-ending asteroid strike so that he could help his descendants survive contact with an alien species 923,000 years, four months, and three days later. Then, he died again, merged with a worm-a-pede alien male who narrowly survived fulfilling his mating duties. They expired peacefully on a cliff top, pondering the nature of existence—and the promise of abominable liaisons. Two deaths should be quite sufficient for any genius to endure. Somehow, Nessie resurrected him from oblivion. His descendants needed him again. New hostile aliens roamed the Earth—along with an immortal, alien-human hybrid whose agenda was unclear. Was the healthy young body Nessie had prepared for him, along with the prospect of finally discovering "the meaning of it all" enough of a bribe to risk dying a third time? Apparently so. Readers of Raham's A Singular Prophecy (Biostration, 2011), and A Once-Dead Genius in the Kennel of Master Morticue Ambergrand (Penstemon Publications, 2018) will reconnect with old friends (both human and alien). But even those new to the author's quirky sense of humor will enjoy this third and final adventure that spans the breadth of time and space.
A Twice-Dead Genius Comporting With Misunderstood Abominations
Word Count:

87700
Summary: A lost science fiction classic! Birk Aaland is a political outcast from Earth's tyranny, and has been living for years on a planet inhabited solely by robots, ever since his ship crashed here.Now another ship has crashed, and there is again a single survivor -- a woman who's desperate to warn Earth of an alien invasion.But Birk is perfectly happy with his current exile -- until a twist of fate intervenes, causing each of them to re-evaluate their lives and their total existence.
A World Called Solitude
Word Count: Information not available
Summary: Teens and their giant robots search for a new home for mankind, but the planet they discover belongs to the dragons. Two hundred years after the Climate Wars left Earth uninhabitable, Johari and his giant robot companion lead a squad of scouts on a quest for a new Goldilocks planet to settle the remnants of the human race. When one of the scouts and his bot go down in a hostile wilderness, Johari's fight to save them reveals complex behavior in the dragon-like dominant species. The scout team fragments as Johari strives to rescue his friends and discover the truth about the aliens. If he's right, mankind will lose its best hope for a home — or sacrifice its own humanity.
A Wreck of Dragons
Word Count: Information not available
Summary: They had one choice… …lie or become lab rats. It was supposed to be an uneventful camping trip before the start of another grueling year in high school. Days later, when the enigmatic agent Victor Kraze confronts Quinn and Blake, they realize they must never speak about what they found in the woods. But now, something is different. Why are the basic elements unpredictably reacting to Quinn and Blake at home and in school? What changed? What really happened in the woods? They need help, but they don't have much time. Can the boys discover the key to controlling their self-proclaimed superpowers before they accidentally hurt someone they love? Before the nosy and relentless Agent Kraze changes his mind? ACCIDENTAL AWAKENING is the first book of The Guardian Series and is part of the Spekter Superhero Universe. Get it now.
Accidental Awakening
Word Count: Information not available
Summary: The year: 2157 The mission: change everything The Unit: Democratic State Force Base 1407 Call handle: The Wildcards Seven Corporations control what was the United States of America. The food supply and its production is controlled by American AgCo. All agricultural seeds in the United States have been genetically designed to fail outside Corporate control. At least, that's what the Corporations say. There's a rumor that a seed bank has survived the destabilization that brought down old America, and the seventy-five years of Corporate ownership that followed. If it still exists, it would provide free, accessible food for the Democratic State Force and everyone in their care. It's a risky hunt for a treasure that may or may not exist. Something to put the most resourceful team in the Force to work on. The Wildcards just got the call. A hunt for hidden treasure. Free food. What could go wrong? Never ask that question. Life's a bitch. She'll answer.
Aces and Eights