Word Count:

56000
Summary: New Hopeland was built to be the centre of the technological age, but like everywhere else, it has its dark side. Assassins, drug dealers and crooked businessmen form a vital part of the city's make-up, and sometimes, the police are in too deep themselves to be effective. But hey, there are always other options … For P.I. Cassie Tam, business has been slow. So, when she's hired to investigate the death of a local VR addict named Eddie Redwood, she thinks it'll be easy money. All she has to do is prove to the deceased's sister Lori that the local P.D. were right to call it an accidental overdose. The more she digs though, the more things don't seem to sit right, and soon, Cassie finds herself knee deep in a murder investigation. But that's just the start of her problems. When the case forces Cassie to make contact with her drug dealing ex-girlfriend, Charlie Goldman, she's left with a whole lot of long buried personal issues to deal with. Then there's her client. Lori Redwood is a Tech Shifter, someone who uses a metal exoskeleton to roleplay as an animal. Cassie isn't one to judge, but the Tech Shifting community has always left her a bit nervous. That wouldn't be a problem if Lori wasn't fast becoming the first person that she's been genuinely attracted to since splitting with Charlie. Oh, and then there's the small matter of the police wanting her to back off the case. Easy money, huh? Yeah, right.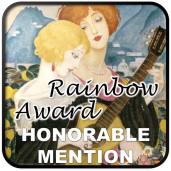 Honorable Mention: Rainbow Awards 2017 - Lesbian Sci-Fi Category
Addict
Word Count: Information not available
Summary: Aegis Alight (2020 Collection) is a free collection of twelve stories published in each month of 2020. These are stories of other worlds, other places. Stories of creatures helping, of cryptids descending from otherness to join those in need. The stories can be read on Ava Kelly's website or on their Patreon. The collection is available for download as an .epub file.
Aegis Alight 2020
Word Count:

161705
Summary: An underground city, built centuries ago to ride out the devastating heat. A society under attack. And a young solar engineer whose skills may be the key to saving her city…if she doesn't get herself killed first. When Jossey was ten, the creatures of the aboveground took her brother and left her for dead, with horrible scars. Now, years later, she's a successful solar engineer, working to keep her underground city's power running, but she's never really recovered. After she saves dozens of people during a second attack, she is offered a top-secret assignment as a field Engineer with Patrol, but fear prevents her from taking it…until Patrol finds bones near where her brother disappeared. She signs on and finds herself catapulted into a world that is far more dangerous, and requires far more of her, than she ever imagined. The creatures and the burning heat aboveground are not the only threats facing the City, and what she learns during her assignment could cost her her life: one of the greatest threats to the City may in fact lie within. With thousands of lives at stake, can she act in time? Aestus is an adult dystopian science-fiction series set centuries after climate change has ravaged much of Earth. An epic story of vengeance, power, shifting loyalties, and survival that looks at just how far people will go to protect what they love, brought to you by science writer S.Z. Attwell, Aestus paints a picture of a world in which far too little has changed. 
Aestus, Book 1: The City
Word Count: Information not available
Summary: Memories of another life and lover guide her, but are they even hers? She is a Bearer—keeper of past lifetimes and gifted with strange talents. Ember must find her answers away from safe Longquan Village, snared instead in the sensuality and dangers of The City. Hidden among spider farmers and slaves, prostitutes and weavers, a nest of people like her are waiting. A powerful man outside The City raises his forces, determined to hunt down the 'demons' who could taint his followers. Threatened from without and within, can the Bearers even trust each other? Powers will rise and alliances will be forged in a dark new world. The Memory Bearers are coming. This book includes violent and mature content. Reader discretion is advised.
After the Garden
Word Count: Information not available
Summary: Collection of twenty-two short fantasy and science fiction stories. A wizard seeking an apprentice won't take no for an answer, and a would-be apprentice attempts the impossible to find a mentor. A twin discovers her sister's new job is a lot different than she expects. And what's the deal with the cat whiskers?
Agents, Adepts & Apprentices
Word Count:

77000
Summary: There are worlds out there with a past. A past that is only poorly understood. The Song worlds are in that category. What are they? Why are they? What do they tell us about the rest of us? Should we investigate them or should we avoid them? What if our world was visited by the Song? Maybe that is not strong enough. What if ours is the result of a visitation by the Song. More to the point, what if they achieved what they wanted with us? What if it all went wrong? What category does the world of Forest come under? The inhabitants there only number a few thousand and they face numerous perils. Were they ever visited by the Song? Shanlee the story teller has been given the world to investigate. What is she in for? She has other things on her mind. She left the love of her life behind when she took this investigation on. Will she be waiting for her when Shanlee returns home? If she returns home? The people of Forest, the Kekimelu, have been deserted by their spirits but have not lost their beliefs. A young song writer decides he is going to ask the Song's representative on Forest some hard questions. The answers he gets may not be what he hopes for.
Air Song
Word Count:

128,000
Summary: Alien Bonds is about two people, a human woman and a Wakanrean man, who meet on his world, Wakanreo, and instantly mate from a  biological reaction that occurs only in Wakanreans. But even though Dina goes home with Kuaron that night, she does not love him. You cannot love someone you don't know.  Over the next several months her feelings for him change, as do his for her. On one level, this is simply a love story. But the story also explores the culture and history of Wakanreo. It shows what a world would be like if looks didn't matter—if people had no choice in who they paired off with. and thus sex had nothing to do with morality.  How would this uncontrollable mating affect the societies that formed on this unique world? In human history, much of the stratification of society was achieved by people only marrying within their own social order. What if it wasn't possible to enforce that kind of discrimination?
Alien Bonds
Word Count:

44756
Summary: After Adil and Esihle met on a space station orbiting alien refugee Esihle's home planet of Yalaphor, their relationship of lust and intensity gradually blossomed into love. Now on Yalaphor, the two care for Sehthe, a young girl who has been orphaned by the same war that cast Esihle out of his home. To keep their new family safe, Esihle and Adil must come face to face with the worst of Yalaphor, each other, and themselves. This heartfelt follow-up to Storm Caywood's debut novella Alien Hands is emotional and sexy, exploring how two beings from different worlds fit together and forge a life together while facing extreme obstacles. Alien Eyes continues a story of redemption and love as it moves from sparks flying on a space station in isolation to domestic life on another planet.
Alien Eyes
Word Count:

30884
Summary: Adil Raif is a relief-effort doctor on a space station orbiting a war-torn planet. Disconnected from life on Earth, he's looking for sex, adventure, relief from boredom--anything but love. Esihle Queran is an alien refugee on the station who never tells the whole truth. He's given up on ever returning to his planet, and knows that love is for other, better men. But then, the two meet... Adil and Esihle's relationship is one of intensity and lust. Can they find their way home together?
Alien Hands
Word Count:

29600
Summary: Deborah Raboinowitz is a literary broker. She travels to alien worlds via virtual reality and sells the publishing rights to Earth books on other planets. But when an alien is murdered right before her eyes, there's no way she can keep from being involved and solving the murder herself. Then, when an old friend is accused of a murder on a different world, Deborah has to become a lawyer and defend her friend before a kangaroo court by solving that murder, too.
Alien Murders
Word Count:

73900
Summary: "It's not all about serving coffee and typing reports." Working for a secret organisation specialising in alien cover-ups, Connor Smith is no stranger to the abnormal or dangerous. His love life on the other hand… not so exciting. Until he reluctantly agrees to a blind date and meets the perfect bloke, Jason. Things are finally falling into place for Connor, so of course that's when he attracts an alien stalker. Noah Jones, ex-alien, has been stranded on Earth and forced to live as a human since 1648. Alone and detached from the world around him, Noah has spent centuries observing and recording humankind. In all that time, he's only experienced a connection with a human once… until he finds Connor. Even knowing Connor is in a relationship, Noah can't ignore their potential bond, or stay away. While dealing with missing alien artefacts, a dangerous and shadowy group of collectors, and the ever-present Noah, Connor finds his orderly life crumbling around him. At least he still has the perfect boyfriend… When Noah goes missing, Connor is forced to face the feelings growing between them and the mounting evidence that Jason isn't who he says he is…
Aliens, Smith and Jones
Word Count:

80,0-00
Summary: MIKE CHRISTOPHER RETURNS TO EARTH TO BATTLE AN OLD NEMESIS! Mike Christopher, an artificial Human spurned and abused by much of Earth society, left Earth to become a Galactic explorer. Now, 25 years later, he returns to battle the Jenregar, an alien enemy he's fought before. But the key to defeating the alien threat also presents a soul-crushing moral dilemma!
ALL HUMAN THINGS
Word Count:

84,000
Summary: Five years ago, Will Corwin promised his family that he would come back to serve their Noble House, if they allowed him the time to pursue his career as a journalist. Now, that time is almost up, and the promise is due. Will travels to the war-torn Amara colony to interview the half-alien leader of a resistance movement, who might hold the secret to lasting peace, his last story to file. But fate intervenes, and when he meets a devout healer, Sister Amelia, their attraction cannot be denied, despite her vow of celibacy, and the fact that his mother has already arranged a marriage between him and another woman, upon which an alliance depends. For the last nine years, Amelia Warren has been a sacred healer for a holy order. But family crises, as well as the fated meeting with Will Corwin, make her reconsider her life choices. But leaving the order is not an option, as Sisters who leave must give up their powers, which inevitably leads to painful withdrawal and eventual death. As the war heats up on Amara, can Will and Amelia defy duty and tradition and establish a relationship, or are they destined to say goodbye before they can even come together? This is All the Promised Stars, the first in a series of steamy sci-fi romance novels by Chad Grayson.
All The Promised Stars
Word Count:

184000
Summary:
An unexpected romance. A space-heist gone wrong. A galactic catastrophe in the making.
At the furthest reaches of the known galaxy, cyber-thief Rowland Hale's biggest score turns into a fight for his life.  Beaten but not broken, ex-navy captain Toar Grithrawrscion can save that life, but only by risking his own. With a toothy foe hell-bent on domination, can these two unlikely heroes come together and not only save the galaxy, but each other? Their destiny is in their hands, but only if they keep their hands to themselves. A high-adventure space epic with a touch of charming romance,
Allure of Oartheca
tells the story of two men from different worlds who must face battles both from without and from deep within – an Allure that whispers promises of rapture and destruction, that dares not be risked, and cannot be refused. If our heroes give up, they fail.  If they give in, they fail too – and the fate of the universe rests in the balance.
Allure of Oartheca
Word Count:

52000
Summary: Has kidnapping Zeus ruined Dargon and Alpha's chance at love? The sole survivor on a science vessel adrift in deep space, Zeus was adopted by the Emperor and Empress of the Mar'Sani, though he is both human and blind, and seen by many as unfit to join the royal family. Though they were able to repair his vision, Zeus does not trust his eyes, and the nobles of his parents' court refuse to ever trust a frail and treacherous human. Dargon Kal-Turak, along with his symbiote and lover, Alpha, command one of the most dangerous ships in the stars. After narrowly escaping a trap, they dock in a space port to make repairs but find that the Psionics hunting them are closing in fast. In desperation they kidnap the port's master mechanic, unaware that the man they've brought on board is more than he seems and will bring far more upheaval to their ship, their lives, and the stars than any of them could have imagined. **Alpha Trine is a 52k sci-fi romance. It was re-edited July 2018 and some concepts were expanded upon. Neither the plot nor characters were changed.
Alpha Trine
Word Count: Information not available
Summary: Sometimes your deepest desire can become your worst nightmare. Gigi, Ellen, Lilly… three women so desperate to change their lives that they turn to the mysterious Dr. Kite, who offers them an implant that can control their mind. Will Gigi find her true love? Can Ellen's miraculous, sudden weight loss bring her romance and self-respect? Can Lilly put her bitter divorce behind her? They're willing to risk it all to find the happiness they've always searched for.
Alterations
Word Count: Information not available
Summary: Together in one collection – the Alterations Trilogy A complete set of thought-provoking thrillers! On a quest to change their lives, three women agree to be implanted with a mind-controlling chip by Dr. Kite. But this seemingly easy fix has its fair share of consequences… Alterations, Game Changer, Primal Will Desperate to change their lives, Gigi, Ellen, and Lilly prepare to risk everything for love, health, and happiness. A secretive Dr. Kite with a novel chip implant offers a mind-controlling solution to these three women. But when unforeseen issues arise that wreak havoc on the city and destroy his warehouse, along with the discovery of two defective chips he's implanted, Kite's plans go horribly wrong. In the aftermath of the disaster, one woman seeks revenge for the doctor's failings. Or is it more than that? Has she seen an opportunity to save herself? Will the women find the happily ever after they seek?
ALTERATIONS TRILOGY
Word Count:

88,000
Summary: Journalist Will Corwin and Doctor Amelia Warren have started to build a life together on the war-torn colony of Amara. They are even raising a child, Amelia's ten-year-old brother, Jonah. While Will struggles to integrate his new security detail into his work, he pursues an interview he's wanted for a long time, and makes a decision--and takes a risk--in order to get the story. When that risk backfires, and he is abducted by the hybrid alien warlord, Nod Korvus, it will be a struggle to balance his life with his integrity. Amelia wants Will back, desperately, but in order to do so, will she be willing to betray everything he stands for? And how will the arrival of the Duchess Ezri Sinclair, Will's domineering mother--who very much does not approve of Amelia--complicate the rescue effort? This is Among the Captive Stars, the sequel to All the Promised Stars, and the second installment in Broken Stars, a series of steamy romantic sci-fi novels by Chad Grayson.
Among the Captive Stars
Word Count:

95000
Summary: Feared by her own kind. Hunted by extraterrestrial forces. Can one super soldier find her place among the stars? Lieutenant Tabitha Chiu is plagued by doubt and conflict. Still heartbroken over the loss of her AI companion and marooned on a faraway moon, the space marine and her ragtag team of super-powered civilians stand as the last line of defense against alien hunters. But when her powers pick up whispered threats of approaching invaders, she's horrified to discover her own people have betrayed her squad. Barely escaping assassination, Tabitha and her fellow psionics flee the hateful moon to the sanctuary of a single surviving combat ship where she hopes to reunite with her AI friend. But when her newly resurrected acquaintance hijacks the craft, the nonbinary fighter is torn between protecting those she loves best and saving humanity from annihilation. Can this conflicted officer and her misfit allies defeat a formidable enemy intent on driving them to extinction? Amp Squad is the electrifying second book in the Ship Whisperer military science fiction series. If you like strong LGBTQ+ characters, unusual weaponry, and fearsome space battles, then you'll love this pulse-pounding story. Buy Amp Squad to launch into a gut-wrenching thrill ride today!
Amp Squad
Word Count:

71000
Summary: The thrilling Voidstrider Saga continues... Shan Taishan dedicated his life to protecting Mars as an Officer of the Fleet. But now an enemy no one can see has come to the Red Planet, and it's up to Shan to save his sister and his homeworld - or see Mars fall forever! Prominent Martians have gone missing - only to turn up again days later, seemingly changed. Government leaders forward policies they'd never have supported before, and the Fleet itself seems riddled with traitors. There's a conspiracy at work, one which threatens to turn Mars into a brutal dictatorship. With his friends gone off to Eros - glittering asteroid city of sin - in search of the enigmatic Djinn, it's up to Shan alone to unravel the mystery and save his world. And when he learns the truth at last, Shan Taishan will be forced to make a terrible sacrifice -- or see his world lost forever!
An Officer of the Fleet