Word Count:

18000
Summary: "Welcome, Mr Reese and Mr Connor... I trust your special day was all that it was cracked up to be? And what better way to compliment your union than with a honeymoon across time, eh? We here at TimeLabs are the premier time travel company and our guides are highly trained. Anything you want, anywhere you want to go... The possibilities are very nearly endless..." Sam and Zak take a Time Tour for their honeymoon, visiting some of the events through time which have captured their interest, including the very first Olympics. A five-star time machine for transport, luxury meals, fine wines—what could be more perfect? TimeLabs Inc. Tom loved his master, his job and the wonderful society he lived in—until one day, somebody hacked his tattoo and his world changed forever. Tattoo Kel meets his first alien and falls in love with her. Except... Alien Love Story Evan and Joey step through a door and find themselves in a whole new world where mythical creatures are as real as they are. Love Spider General Parker Rodriguez didn't believe for one second in the existence of flying saucers with little green men conducting random probes, but he still knew that Aliens were out there. And when they came, he would be ready. E-Contact And a dystopian short, My Day At The Beach TimeLabs Inc is a collection of six science fiction short stories, all with a romantic theme.  Not explicit. Suitable for both teens and adults.
TimeLabs Inc
Word Count:

99,000
Summary: Oil reserves depleted. Society collapsed. A few places cling to modern technology. For everywhere else, there are the Tinkers. In southern Ontario, Novo Gaia uses sustainable energy to support its citizens in comfort. From there, Novo Gaia sends Doctors of Applied General Technology, tinkers, into the Dark Lands to install everything from solar stills to televisions—and make a profit. Brad Cooper is a tinker on his route in Guelph when he finds himself at the epicentre of a plague outbreak. Stranded without support in a tenuously-held quarantine zone, he must use his limited medical training in a desperate search for a treatment against an insidious relic from an age of excess. Meanwhile, fuelled by panic, other townspeople caught within the quarantine zone conspire to sabotage relief efforts. Distrusted by the people he's trying to help, hampered by political rivals, under-supplied, over-worked, and with his own risk of infection increasing, Brad seems to be fighting a losing battle as the casualties mount...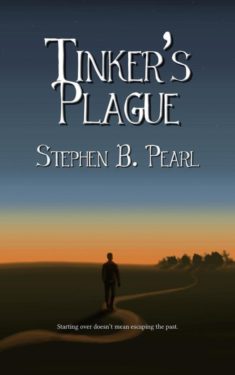 Tinker's Plague
Word Count:

115,674
Summary: Oil reserves depleted. Society collapsed. A few places cling to modern technology. For everywhere else, there are the Tinkers. In southern Ontario, Novo Gaia uses sustainable energy to support its citizens in comfort. From there, Novo Gaia sends Doctors of Applied General Technology, tinkers, into the Dark Lands to install everything from solar stills to televisions—and make a profit. After twenty years as an E.R. nurse, Tabitha "Tabby" Drivensky's failing marriage sent her into the tinker program and the open waters of the Great Lakes. While fulfilling her Coast Guard service obligation, she rescues a boy named Andy Camble from a sinking ship. Andy turns out to have vital information on Packer, a pirate captain who has been plaguing the Great Lakes for generations in an ancient, nuclear-powered submarine. Using Andy's intelligence, Tabby sets out ostensibly to scout out a new aquatic tinker route along Lake Huron but secretly assigned by Novo Gaia to find and put an end to Packer once and for all.
Tinker's Sea
Word Count:

81000
Summary: A hijacked spaceship... kidnapped colonists... their destiny changed forever Award-winning first book of the Titan trilogy follows a family whose torn loyalties threaten doom on a strange world that real-life science has only begun to explore. What if you awoke on a shadowy moon where water freezes as hard as granite and lakes fill with liquid methane? On Titan, a bizarre cult seeks utopia, but what will be different on this distant world? Real readers say: Dynamic story - Engaging characters - Feel like you were there - Devoured this book Discover a riveting mix of science and society on Saturn's deadly frozen moon. If you love gripping science fiction with twists and turns, you won't want to put it down.kk
Titan
Word Count: Information not available
Summary: Forty years after landing on Lida, the colony still isn't finished. Agetha has survived many more battles than she anticipated when she first landed on her new home planet. She's older and wiser, has gained family and lost loved ones. And yet her reward for four decades of service is to be pushed to the colony's outer edges with the other aging Generationals. But that was only the beginning of her adventure. The biomass has spent years studying the intruders who landed on its surface, carving a new home from its very essence. Never satisfied in its attempt to communicate with this new and invasive species, finally it has found a way to express its intentions. The colonists may never be the same. Discover the fate of the colony in the second book of The Biomass Conflux trilogy!
To a Fungus Unknown
Word Count:

93765
Summary: Home, a place where we belong and are safe and loved. Home, the house in which we grew up, a neighborhood, a culture, even a country. Home is a state of mind, it is a place of the heart, and in the heart. Finding home, coming home, and bringing home the one we love is a journey, a journey that can be a dangerous adventure. For the lovers in these stories, adventures can include quests and fighting dragons and demons, past and present, physical as well as mental and emotional. Rocket launchers need to be dodged, the Wild Hunt needs to be outrun. For some of the lovers here, home has been lost, or they have been forced to leave, as is too common for LGBT+ youth. In this collection queer positive speculative fiction stories, explore the idea of what and where home is in the lives of these lovers. Will they survive their quests, defeat their monsters? Will they find a place to call home?  
To Bring Him Home and Other Tales
Word Count:

34985
Summary: By the year 2060, mankind is on the verge of bringing Terra to her knees. The population has exploded, and land for cattle and crops has been sacrificed for housing and employment for the more than fifteen billion souls now living on the planet. Synthetic food is created in plants, and the remaining animals are kept in zoos and game preserves of the wealthy. In an effort to insure the survival of mankind, spaceships are sent to explore Terra's nearest neighbors, Mars and Venus, but will it be too little too late? The four men who took the MRM to Mars have high hopes, until on their return home they travel through a magnetic field that crashes them… somewhere. As they explore the unknown world with its dangers, Doc, Nick, Hank, and Ed will struggle to come to terms with their new reality and find their own paths to happiness.
To Love Through Space and Time
Word Count:

61424
Summary: Todd Ruger is a sentry, a very good one, some might say the best. He was eleven when he and Nick were bound as master and slave. Todd spent the years Nick lived in the slave village waiting for the day Nick could leave and they'd be together, bit by bit building a life for both of them. He took his role of master seriously. It was his responsibility to provide for Nick, protect him and along the way he learned to love him. Todd loved Nick deeply and completely. They were more than a pair of sentries. Todd and Nick were friends, lovers, mates. Eighteen months ago, Nick left the small village where he'd spent his entire life being raised and trained as a slave. Blessed with a unique skill set, Nick became a sentry. He took his place beside his master, Todd Ruger, defending society against the many paranormal threats that abound. They became more than master and slave, they became mates. Nick had found a home with Todd and together they became a family. Eventually, Nick's special abilities and skills attract the attention of the second most powerful man in New Colorado Protectorate's government, Vice Chancellor Clarke. Or, maybe certain people knew of Nick all along and just now had cause to use him. He believes Nick might be the answer to explaining Chancellor Shaffer's sudden, unusual behavior. Forced to go undercover at the Chancellor's Estate, Todd and Nick discover an ancient and deadly creature preying on residents of the estate. The same creature that is radically effecting Chancellor Shaffer. A creature only Nick can see in its true form. It hunts using specialized skills and has Todd and Nick in its crosshairs. Even if they defeat the creature and survive, they still face the possibility of being torn from each other when their lives are thrown into chaos by the thing they're hunting.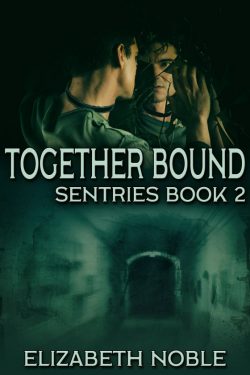 Together Bound
Word Count: Information not available
Summary: Bioinformatics whiz Victor Eastmore at long last gains control over his frightening mirror resonance syndrome, but he still believes his grandfather was murdered. Victor's best hope for finding justice lies in New Venice, a tourist town in the Louisiana Territories where his family's company is exploring new treatment options for so-called "Broken Mirrors" and the stim addicts who experience similar symptoms–blank outs, synesthesia, and euphoria. Only by confronting Samuel Miller, the MRS "patient zero" who was responsible for the Carmichael Massacre, can Victor learn the truth. To do that, Samuel must first be weaned off Personil, the drug that keeps his mirror resonance syndrome in check. Can Victor learn the data egg's darkest secrets without unleashing a violent madman? Meanwhile, a cult dedicated to the sanctity and purity of human life disrupts New Venice with protests and vandalism. When they take an interest in stopping BioScan from medicating MRS patients, including Samuel Miller, Victor finds himself with unlikely allies and divided loyalties. As pressure builds for the nations of the American Union to pass new legislation to control Broken Mirrors, Victor must become an effective advocate for people with MRS or risk being institutionalized along with them. A fast-paced sequel to Broken Mirror, Tortured Echoes continues the sci-fi detective saga of Resonant Earth. In this installment, fans of Broken Mirror will finally get answers to their questions: Why was Jefferson Eastmore killed? How did it happen? Who was responsible? Revisit the world of self-driving cars, stunsticks, brainhackers, and herbalism with Victor, Elena, Ozie, Tosh, and Karine, and several new figures that might help Victor chart a new course for his future, or condemn him to madness.
Tortured Echoes
Word Count:

96000
Summary: "Today I swam through MOMA. Leon says it was a waste, encasing the art, then flooding the museum—frivolous and elitist. I say it was a gesture of optimism, a triumph of technology and political will." Want to thrill to the possibilities of a hopeful future? We asked a bunch of sci-fi writers to spin tales of a better future, imagining ways in which the world might become a better place. From a swim through an underwater museum to a joyous dance at a futuristic concert, from the eco-friendly aftermath of an alien invasion and retreat to the refurbishing of an old climate-ravaged home in New Vancouver, these fourteen short sci-fi stories will to restore your faith in the future. A world transformed is a world we can all hope for. Book three in the Writers Save the World short story anthologies. If you enjoy this book, check out Fix the World and Save the World.
Transform the World
Word Count:

8000
Summary: Tucker has spent his entire life as an interstellar trash man. But ever since his mother died, he's been alone, and certainly lonely. So when he discovers the derelict ship he scooped up has an occupant—a beautiful young man named Ronan—Tucker is thrilled. Ronan is royalty and running from his tyrannical mother, determined to keep a powerful object out of her hands. But when he strikes a deal with the adorable Tucker, he wonders if it's time to stop running. Also Available in "Guardians of a Giant's Treasure" anthology
Trash and Treasures
Word Count:

41000
Summary: NO ONE FIGHTS DIRTIER THAN AN ARCHAEOLOGIST ​Foul-mouthed Dr. Nel Bently has every archaeologist's dream: a pristine site, new crew, and a private patron to fund her passion for dirt. With her trowel barely into the dry earth of Chile's coast, however, Nel learns their work is being sabotaged. The local activists Los Pobladores take issue with anyone brave or stubborn enough to set boots on their land. Nel refuses to give up the site that will make her career to vandals and looters, but she must protect both her friends and her life's work. With a benefactor playing chess with their lives, radiocarbon dates that are downright supernatural, and angry militants who may actually have a point, Nel is ready to fight dirty.
Travelers
Word Count:

36,000
Summary: True love only happens once in a lifetime, right? Nixy Vogel found wedded bliss, only to be widowed soon after. Her job of matching others with their forever-loves gives her focus, and joy. And now some smoking hot alien wants to put Silverstar out of business? She should be furious; instead, her shuttered heart burns for him. Waiting several lifetimes for "the one." The ancient mate-matching tradition of Kai Firewing's clan could end unless the Silverstar Agency is exposed as a fraud. Simple enough to do…until his rival lights a fire in his heart as only the soul mate of an immortal phoenix can. Will Nixy embrace her second chance before it—and Kai—goes up in flames? Welcome to the Silverstar Agency, specializing in intergalactic love matches for those over fifty.
Trial by Fire
Word Count:

80000
Summary: In this groundbreaking work of science fiction, one man attempts to return to Earth after years of living in an off-planet structure. Twenty-five-year-old Bryan is a student scientist living off-planet with the two men he loves. But when he senses that danger is about to befall his adopted home, Bryan wants to evacuate. Convincing one of his lovers to board a spaceship toward home, Bryan is soon confronted with the truth about his life. His journey through the void of space not only exposes his current troubled relationships but also threatens to uncover the secrets about his past. Now, Bryan must finally come to terms with who he is and how his origins might put his lovers in danger. A story of three polyamorous lovers and one man's secrets, Trials on the Hard Way Home is an intense and dramatic journey embracing the best in science fiction and LGBTQ+ literature.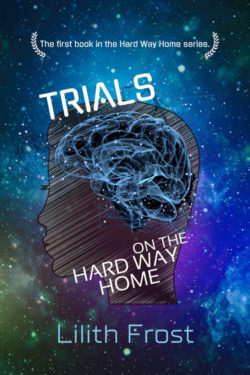 Trials on the Hard Way Home
Word Count:

99000
Summary: It's kill or be killed for the crew of the Ungovernable. With the mafia after their heads, ex-smuggler pilot Jez and the crew have two choices—run, or fight back. Problem is, there's nowhere in the System to run. So instead, they're going to take the entire crime syndicate down. But pulling a sting on the mafia—and living to tell the tale—is going to take a hell of a lot more than just good intentions. And when you can't even trust the people you're working with—well, let's just say they'll have to master the art of subterfuge, or die trying. Trojan Horse is the sixth book in R.M. Olson's science fiction space opera series The Ungovernable. With a crazy, close-knit crew, plenty of humour, and loads of action, Firefly meets Ocean's Eleven in this fast-paced, kick-ass, wickedly fun series.
Trojan Horse
Word Count: Information not available
Summary: Being too close to the truth got Jon Xiong's mother killed. While searching for answers, a murderous cult shows up at his door. A secretive organization called the Tuners comes to his aide and teaches him about his rare ability to travel between worlds called tuning. He grapples with his new superpower and is stuck between those who would maintain order in the multiverse and those who would destroy it. Jon must avoid the same gruesome fate as his mom and figure out what happened to his family.
Tuners
Word Count:

454
Summary: For 60 years, the "Founders" have been secretly infiltrating every aspect of the American government, law enforcement, military and judiciary, influencing government policy and biding their time for the day they can seize power, in the chaos that has followed the Covid Pandemic, the Founders believe that day has come... A titanic power struggle is taking place between the western democracies; China and Russia and a new Cold War with hotspots of proxy-wars, such as the American led Anglo-American-French coalition in Iran, where British SAS Colonel Elizabeth Brooks commands an elite unit of Anglo-American Special Forces. Following a mission behind enemy lines, Elizabeth's brother-in-law, John Crane of "Crane Technologies" shows up in Iran. Crane Tech has developed a cloaking device, but the secret's out, the Founders know about it and they want it desperately and will stop at nothing to get it. Fearing he will be murdered, John needs a contingency plan. Elizabeth and her team are that plan… FBI Special Agent Dexter Quills is in Virginia hunting a vicious serial killer, the "Three-Sixty Strangler" when he receives a call that will change his life forever when he's ordered to the Crane Mansion, where the entire family with the exception of John's youngest son Adam (Elizabeth Brooks's biological son) have been murdered by Founder terrorists who want the "Perseus II" cloaking device in order to detonate a nuclear weapon over Washington DC to wipe out the Government. Fate bring Elizabeth and Dexter together and the fate of millions of Americans and the free world itself is in their hands, in a violent race against time to prevent the greatest tragedy in American history…
Twisted Maze
Word Count:

80000
Summary: Uncover the startling truth before time runs out in this complex search for an ancient treasure. Alex is a former basketball player who has always been able to bend time. These days he teaches physics and parents three quirky children alongside his unusual wife. When the administration at his high school wants to resume its connection with organized hate groups, Alex can no longer remain the quiet bystander. He must stand up and fight for what he believes is right. Just when he has his hands full at school, Alex is drawn into a treasure hunt. An old high school rival and a handful of his grad students lost an obsidian box years ago containing partial directions to a big discovery. The box has mysteriously reappeared and Alex's code-cracking skills can help locate hidden relics containing remaining clues to the treasure. But can he do it fast enough to beat another unknown team of treasure seekers? As both of Alex's situations grow more dire, it becomes clear he must tap into the abilities he left behind. Can he manipulate time for the people and causes he cares about most?
Twists of Time
Word Count: Information not available
Summary: He must make the hard choice… …flee or fight. Becoming the superhero Blue Spekter was supposed to be fun for Quinn, the realization of a childhood dream. But the insidious Order hijacked his dream-come-true by twisting his best friend Blake into the feared supervillain Dark Flame. Now, The Order wants Dark Flame to kill Quinn and erase Blue Spekter from history. For Quinn, junior year is no longer about surviving high school; it's about survival and protecting the ones he loves. But can he? Does Quinn have the courage to stop Blake and take down The Order, no matter the cost? ULTIMATE SACRIFICE is the fourth book of The Guardian Series and is part of the Spekter Superhero Universe. Get it now.
Ultimate Sacrifice
Word Count: Information not available
Summary: The manhunt is on… …but no one knows who—or what—to look for. Impossibly heroic superhuman saves, wanted criminals vanishing into thin air, and thugs washing up with unexplainable third-degree burns can mean only one thing: someone has taken the law into their own hands. But who? And why? With the Department of Homeland Security breathing down the necks of city officials, Quinn and Blake must hide their superpowers from everyone, even their families. Time is running out. How long can they outrun the growing pile of damning evidence against them? UNIDENTIFIED PHENOMENON is the second book of The Guardian Series and is part of the Spekter Superhero Universe. Get it now.
Unidentified Phenomenon