Paranormal stories that include queer protagonists and/or themes. Return to general Paranormal
Note: these books are currently sorted by release date, with newest first.
Word Count:

216321
Summary: Root by Daniel Fisher, the third book in the Place of Things series is the continuing story of Michael and his new, rather unique fiancée. From the Winter's Solstice to the Vernal Equinox we find our lovers and their friends explore new and creative ways to adapt to life-altering events. Having relocated and now a resident in the sanctuary town of Sacred Grove, Michael is finding his place among the mythical, mystical, and mostly immortal residents who've hidden away from the outside world. Not only is he coming out of his own isolation, but they are also finding he is dragging them out of self-imposed exile as well. Sometimes against their instincts. As his and Kurra's love deepens, new mysteries are added to the mysteries and his and their worlds will never be the same.As the union between two souls from two drastically different worlds draws closer, new mysteries, challenges, and threats crop up for Michael, the mortal, and all the immortals that get caught in his wake. Enchantments and wards may not be enough to hold back the onslaught of supernatural forces if the wedding gets bumpy. Many may yet perish if things go awry. May the Goddess help them all.Book four, the conclusion to this tale coming soon.
The Place Of Things Book Three: Root
Word Count:

36000
Summary: Being invisible makes it really hard to get laid. When half-human Kai Schiffer steps into the Interstices—the post-creation gaps between realms—his supernatural half kicks in and he literally disappears unless…well, don't ask. But in a stroke (heh) of good fortune, Kai finally has a chance to show his face (and other parts, stars willing) to his long-time crush Jovan Kos—Interstitial Law Enforcement agent, wolf warrior, occasional berserker, and best man at their mutual best friends' Imbolc wedding. Jovan, who's half in love with Kai already, is grateful his best man duties are light enough that he can focus all his attention on Kai. After all, with Enchanted Occasions Event Planning handling the Olesson-Pakulski wedding, what could possibly go wrong?
Best Beast
Word Count: Information not available
Summary: Queer horror ekphrasis. A widowed witch with Schizoaffective Disorder moves from Los Angeles to Reno, Nevada. Watching "American Horror Story," as exposure therapy for PTSD. Identifying and departing from it at key plot moments. No copyright infringement intended. Sequel to Hollywood Hedgewitch.
Grieving Through American Horror Story
Word Count:

26085
Summary: Sometimes the unexpected becomes magical. When August Shaw takes an unplanned vacation at the Oaks B & B, he decides on a bold step—to slip into his vintage feminine wardrobe and let himself feel beautiful. He usually plans every detail of his life, but is counting on bestie, Nicole, to boost his courage. When Nicole can't join him, and Jan Koskinen—the man August has crushed on for years—arrives instead, August risks accepting Jan's invitation to join in the Beat the Winter Blues Festival. The spontaneous weekend turns romantic, but August can't help his uncertainties, even as the people at the Oaks—along with a very uncanny house—encourage him to live in the moment. Can August accept the spontaneous whirlwind winter romance… or will his questions leave him standing in the cold?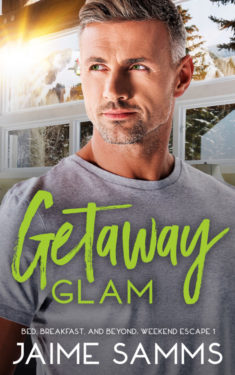 Getaway Glam
Word Count:

72000
Summary: Vampires and werewolves live long lives. The Sleepless City saga might have ended but the story continues… Welcome to the Vampire Guard, where legend and myth meet science and technology.   Vampires make the best spies. Throw a smart-mouthed werewolf in with three vampires, mix well, and The Vampire Guard's newest team is bound to become one of their greatest assets. Super spies with a full range of skills. Warrior, hacker, thief, and scientist.  They get in, do the job and get out before the bad guys ever know what hit them. Forge, Blair, Declan, and Lucas are thrust into the world of high-tech spies and top-secret espionage conspiracies. Recruited into the world's most elite and secret organization with one singular mission. Protect those who can't defend themselves from ruin. Life becomes complicated when an impending Presidential visit to their town, Boggslake, throws them headlong into the world of the vampires and werewolves of the Vampire Guard. Very quickly they uncover and confront a werewolf terrorist organization known as the Qiguan. Together they must thwart an assassination attempt on the open waters of Lake Superior while tracking a previously unknown biological weapon controlled by the Qiguan—a weapon which may very well mean death for one of them.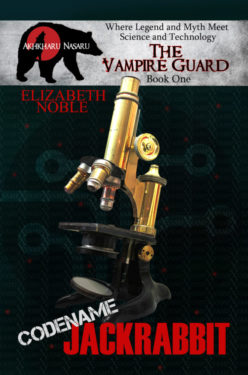 Code Name Jack Rabbit
Word Count: Information not available
Summary:
Some fight evil with swords and force. But for Evie and Hesta, they stand against evil with no more than their will and a song.
In a series of violent and horrific murders, The Butcher of Bristelle, strikes terror into the heart of the city. No one is safe. When Evie Chester encounters the remains of one such victim she knows that this is the work of no ordinary killer.
With mistrust of the gifted rising, can Evie and Hesta solve the case and keep the city safe. Will their wits and their gifts be enough against brute force.
The Evie Chester Files - Case 3: Fur and Fangs
Word Count:

40,400
Summary: Sequel to Lost in Time and Shadows on the Border Inadvertently tumbling through the border after Fenn and then thrown into the middle of the internecine political disputes of their people, Sergeant Will Grant of the Metropolitan Police has spent three months in prison in the Underhalls of the Frem. When Fenn comes to free him and return him home through the border, he has very little time to work out what's going on before the sudden appearance of Fenn's missing younger sibling, Keren, throws Fenn for a loop. Instead of returning them to London as planned, the trio step through the border to the Egyptian desert. Once they work out where they are, it's a two week trip back to England with the possibility of pursuit both onboard ship and when they reach home. Will the journey give Fenn and Will time to resolve the feelings they have been dancing around since the day they met? How will they keep Keren from recapture by the faction who tried to persuade Fenn they were dead? And has Will's friend Alec forgiven Fenn for lying about their motives when they first traveled to London four months ago? The Hunted and the Hind is the third and final book in the 1920s 'Lost in Time' trilogy. The books need to be read in order.
The Hunted and the Hind
Word Count:

69861
Summary: A loving boyfriend, generous friendships, and a thriving business—Arnold Kreed should be ecstatic. So why does he feel like he's standing on the edge of an abyss? When Kreed took a chance on a thief—letting Lucky into his world, his life, his heart—he hardly imagined he would find the love and acceptance he didn't dare dream of. Lucky draws people to him, and his extended found family embraces Kreed. Now in an established relationship, despite Kreed's ex causing trouble again, Lucky and Kreed are working toward making a life together. But Kreed is unsettled, unable to find his bliss. He is getting grumpier, and he can feel his people, including his beloved self-aware house, Mildred, pulling away… How can Kreed get back to the joy he so recently found if he has no idea what's wrong?
Innkeeper's Blues
Word Count:

2600
Summary: Jake is a trapper working high in the mountains of Wyoming Territory, usually not seeing another human from one month to the next. Recently, however, he's had an unexpected guest – an Easterner named Edwin, who pitches in to ensure that Jake has enough supplies to survive the coming winter. As the evenings draw in, Jake works on knitting a blanket, adding a bit of love (and maybe even magic) into every stitch, hoping to entice Edwin to join him under its warmth…
Love in Every Stitch
Word Count: Information not available
Summary: The case: a grandmother who vanished from a locked room. The best lead: a psychic who's as mysterious as she is cute. Detective Jack Duarte is the one called upon when weird cases hit Auckland. A fierce loner with a reputation for solving the unsolvable, she is the perfect choice for the latest odd mystery: the locked-room disappearance of a beloved grandmother, who has vanished without trace and, seemingly, without suspects or a motive. This time around, though, Jack has also been assigned a partner. The fresh young detective Piper, who has transferred in with a difficult history, is determined to prove themself. Smart, perky, and inexperienced. They are exactly the kind of partner Jack manages to scare away. As they dig deeper into the mystery, though, Jack has to put her own reluctance in the back seat and help Piper navigate a whole different world — because the beloved grandmother has her own mysterious past, one that has already cost lives… and souls. With the help of the enigmatic and beautiful psychic Emmaline, Jack and Piper must confront the strange world on the other side of the mirror. Some mysteries can only be solved with magic!
The Other Side of the Mirror
Word Count:

95000
Summary: When Orion joins an established coven of powerful mages he is unsure how he will fit into the group. The four elemental mages have had centuries to build both their powers and their relationships while Orion is little more than a stranger. As a light mage, Orion has the power to heal, but as he comes to know the other members of the coven, he learns that not all wounds are visible, and healing tortured souls and broken hearts isn't as easy as fixing broken bones. Orion must bring them all together before they tear themselves apart. Only when the coven is strong will they be able to welcome the dark mage who will complete the circle and give them the power to defeat a mage who has waited centuries to exact revenge on the former members of his coven. READER ADVISORY: This story is a ménage and more story with emphasis on the more.
Soul Magic
Word Count:

52000
Summary: Detective Thaddeus Ezax is in over his head. He's the only wizard in Rockshade's Paranormal Investigations Department, and it was his name that got him the job. The Ezaxs are known as some of the most powerful wizards in the world, but Thaddeus isn't your average Ezaxs. Is it any wonder his family shuns him? When a kidnapping case is dropped into his lap, Thaddeus must act fast. While most five-year-olds can cast a location spell, Thaddeus can't and is forced to get creative. When he finds himself in possession of a black market werewolf skull with a ghost trapped inside, accidentally releases the spirit, and somehow forms a connection with it, things get even crazier. Sandulf Hunter doesn't remember dying, but he remembers the last thing he saw before everything went black—a wizard. All wizards must die! The only problem is, the wizard standing next to him smells too damned good, so good Sandy thinks he might have to keep him. And since wherever Thaddeus goes, Sandulf finds himself yanked along, he might not have a choice in the matter anyway.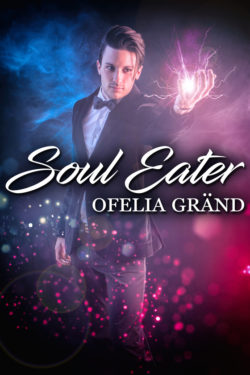 Soul Eater
Word Count:

73000
Summary: When supernatural secrets collide, it'll take more than coffee to brew the perfect love. When Ky Hernández bonded with his familiar, Zuri, his life changed forever. Their connection turned him into a practicing witch and led him to his calling as a medimagical professional. However, it totally tanked his love life—what guy would settle for eternal second place behind a parrot? So Ky keeps his witchy nature under wraps and sticks to hookups with humans, which can never go anywhere. But the mouthwatering barista at the coffee shop next door makes him thirst for more than a caffeine fix. The charms Ewan Jones uses to appear human are inconvenient, disorienting, and . . . necessary. Ewan and his siblings are achubyddion, metaphysical healers whose powers are coveted by unscrupulous supernatural beings. And let's face it: all supes are unscrupulous, given the right incentive. He's grateful for the protections that hide his little family, and for the barista job that keeps them housed and fed. He's just so lonely. And his regular, Ky, the super-hot, commitment-averse EMT, seems like the perfect candidate for a one-night shot at intimacy. After all, humans are no threat. It takes a clumsy coffee shop intern, a mysterious werewolf epidemic, and one snarky parrot to unravel their pasts—and give them a chance at a future.
Witch Under Wraps
Word Count: Information not available
Summary: The highly anticipated second installment in the award-winning Alex McKenna Series, this LGBTQ teen paranormal adventure perfect for fans of Aidan Thomas' CEMETERY BOYS and LOST IN THE NEVER WOODS. After surviving a harrowing case, Alex McKenna just wants to rest. Unfortunately, his plans are interrupted by the ghost of seven-year-old Haven, who is lost in an in-between realm. Despite his great-grandmother's warning, Alex crosses the bridge between the living and the dead, which sends him and his girlfriend into the world of the Academy of Souls, a high school for dead teens who are unable to complete their journey. There, Alex meets Ophelia, Haven's teenage sister, who's been searching for her for more than a century. With new companions, Alex must cross the treacherous terrain of the Underworld in-between, to save Haven from the clutches of the Soul Gatherer and reunite the sisters.
Alex McKenna and The Academy of Souls
Word Count:

54000
Summary: "Tell me of your homeworld…" "Nope. And that's the last time you watch that movie before bed, baby boy." Talos cut off Kikoi who pouted. "Fine. Then tell me about when Uncle Majid finally stopped being so grumpy and murdery all the time." Kikoi batted his thick eyelashes. "Okay, I can tell you all about that. Well, I don't think he'll ever stop being murdery as you put it." Talos settled into his customary story telling position. "Some would say that story begins well over two thousand years ago when I first met my best friend and powerful unicorn shadow. Some others would say it started a little over a thousand years ago when tragedy struck. But I think it starts when my eldest brother, the crazy half-giant vampire that he is, retired and went on a quest for redemption."  Kikoi draped himself across Talos as he closed his eyes. "Little did Majid and Odin know that Fate sent a tough, smart, wasn't going to take lip from them polar bear to cross their path when they needed it most…" Majid's best friend, Talos, has found his mate and finally recognized his lover of the past several hundred years as his other mate. The mate Majid had spent the last eleven hundred years trying to forgive was back in his life. Will Majid rescue one mate only to lose the other? Or will the fierce polar bear, Siku, give him a chance to redeem himself? Will Odin forgive himself for the actions that tore Majid from his life? And will the not so little bear find him to be a worthy mate? Or is he doomed to die on a quest for redemption? Will Siku find his place not only within the relationship his mates clearly already have but also the entirely different world that is city life? Or is he just fooling himself that he can get over the wall between him and his mates? Bloodlines of Fate is an urban fantasy series set in a world destroyed by humans and resurrected by supernatural beings. This book contains depictions of omega polar bears who will eat you in self-defense, sturdy hair brushes that break naughty butts, timeouts for coloring and painting toes, and a family reunion for the history books. Majid is part two of a two-part story arch that tells the love story of two triads (MMM). It is necessary to read Talos to fully enjoy this book that does end in a HEA despite bickering chefs who try to burn the estate down. This is a type of omegaverse with mpreg.
Majid
Word Count:

74000
Summary: When a curse comes calling, Dan and Chad confront their greatest challenge yet. Hauntastic Haunts is investigating the historic Ivarsson School. With Halloween right around the corner, the vlog is in peak season. Dan and Chad are eager to explore the decades-long string of strange deaths among the school's young scholars. While they delve into the mystery, both men must come to grips with Chad's newfound talents as a medium. Dan and Chad's efforts to uncover the haunting's truth meet with mixed messages from both the living and the dead. They're left wondering if this month's site is full of tricks, or if there's a treat awaiting discovery. The locals blame a curse for all the misfortune at the one-room schoolhouse, and if the pattern holds, the guys are at risk of becoming the latest victims. Join ghost hunters Dan and Chad on their third hauntastic adventure in this trans M/M paranormal romance.
Dan's Hauntastic Haunts Investigates: Ivarsson School
Word Count:

33000
Summary: England, 1910. Landscape designer Jonas Laurence arrives at the cheerless and fog enswathed Hillcomb Hall, home to the Earl of Stanley and his family, to renovate their crumbling gardens. With a great storm crashing all around, his time is at the mercy of the house's odd and mysterious occupants. Captivated by the hauntingly attractive portrait of Lord Stanley's ancestor, which constantly seems to watch and taunt him, Jonas's dreams become weird and distressing. And his waking moments are consumed by the strange stories and weird atmosphere of the manor estate. Ghostly visits in the night leave Jonas no choice but to accept his attraction to the otherworldly spirit from the painting. But is this affaire de coeur real? Or it all just a trick of the mind, a sinister game being played by the inhabitants of Hillcomb Hall?
The Ghost of Hillcomb Hall
Word Count:

76144
Summary: Fairy tales. Prince Charming fights evil, wins the princess, lives happily ever after. Three sons, three wishes, witches, dragons, a quest, and happily ever after. These stories are part of our cultural fabric. The stories change in retellings to reflect contemporary culture, such as Princess Charming, or heroes and heroines as people of color. In this collection, queer characters take center stage in stories that grew out of questions: What if the prince falls in love with Cinderella's gay stepbrother? What if Rumpelstiltskin doesn't really want the Queen's child but rather the King himself? What if Beauty and the Beast are two men? These stories explore metaphors of magic and the magical, this time, with a gay perspective. What price must be paid for happily ever after? Duty or love? Is love worth great sacrifice? Once upon a time ...
The Wicked Stepbrother and Other Stories
Word Count:

76787
Summary: When a rebel werewolf and a vampire thief fall in love, only one thing is certain—trouble. For as long as Lucas Coate can remember, werewolves have been taught to mistrust vampires. Lucas is an exception—he has close friends who are vampires. The werewolf pack in Boggslake—and their leader, Jacob Coate—have made it clear that Lucas's association with vampires is barely tolerated, and another transgression will be his last. When Lucas finds out about the plague of werewolf deaths in the area, he wants to help even though his own life may already be in danger. Declan has been away from Boggslake for ten years, but he isn't surprised to learn that the internal politics of the Supernatural Council haven't changed for the better. When a series of burglaries hit close to home soon after he arrives, Declan—a vampire and professional thief—is their prime suspect, although for once, he isn't responsible. With the council keeping secrets, no one is safe. Time is running out, and for Lucas and Declan, everything is about to change. Authors Note: This story was originally released in 2015 by another publisher. This edition has been re-edited.
Family and Reflection
SALE
Word Count:

48600
Summary: "Tell me a story Daddy." Kikoi, xolos wrangler by night and King Talos' snuggle monster by day, demanded. "What story do you want to hear tonight, baby boy?" Talos, Vampyr King and Supernatural Council Member, asked while he pulled Kikoi onto his lap. "I want to hear about when you met Daddy Bayne." Almost three hundred years old and Kikoi would never get tired of story time. "Again?" Talos arched an eyebrow with amusement. "Yes! It's a good one." Kikoi beamed at Talos. Talos leaned against the headboard of their bed as Bayne, former assassin but still looked damn good in armor, joined them and began… The Age of Man has passed, and a new age is upon the Earth. An age of magic and technology ruled by the supernatural beings that once hid amongst humanity has begun. Bayne is thrust into a world he thinks he knows but quickly discovers his whole life has been built on lies. Talos, perfectly happy ruling his corner of the world, is faced with an unexpected and unwelcome change that comes with the mate chosen by Fate. Together they must discover how to live and, in the end, love one another. Fate has more in store for them than learning to love someone they should hate. Will they be open to all the possibilities Fate lays out for them? Bloodlines of Fate is a new urban fantasy series set in a world destroyed by humans and resurrected by supernatural beings. Fate has many plans for the vampires, unicorns, therianthropes, elves, and humans of this new world. While their mates may be fated, love isn't that easy. This book contains depictions of gladiatorial combat, snarky fem twinks who will cut you, kings in stilettos, and awkward heats with a pinch of daddy kink. Talos is part one of a two-part story arch that tells the love story of two triads (MMM). It does end in an HFN with a HEA tied into the second part. This is a type of omegaverse with mpreg.
Talos