Paranormal fiction includes supernatural elements – elements that cannot be easily explained by science. You can also check out these subcategories:
angels & devils | comedy |  dark | ghosts & haunted Houses | litrpg | magical beings | psychic talents | reincarnation | romance | shifters | vampires | zombies
Note: these books are currently sorted by release date, with newest first.
Filter by:
Genres
Fantasy
Fantasy - Alternate History
Fantasy - Comedy
Fantasy - Contemporary
Fantasy - Dark Fantasy
Fantasy - Erotica
Fantasy - Faery & Fae
Fantasy - Fairy Tale / Folklore
Fantasy - Fantasy of Manners
Fantasy - Gothpunk
Fantasy - Heroic
Fantasy - High & Other World
Fantasy - Historical
Fantasy - Hopepunk
Fantasy - Knights & Castles
Fantasy - Latinpunk
Fantasy - LGBTQ+
Fantasy - LitRPG
Fantasy - Low Fantasy
Fantasy - Magical Realism
Fantasy - Mythic
Fantasy - Mythpunk
Fantasy - New Adult
Fantasy - Paranormal
Fantasy - People of Color
Fantasy - Piratepunk
Fantasy - Quiet
Fantasy - Romance
Fantasy - RPG
Fantasy - Slipstream
Fantasy - Steampunk
Fantasy - Sword & Sorcery
Fantasy - Urban & Magical Beings
Fantasy - Weird Fantasy
Fantasy - Young Adult
Fantasy – Gods and Heroes
Horror
Horror - Angels & Devils
Horror - Comedy
Horror - Fairy Tale/Folklore
Horror - Ghosts & Haunted Houses
Horror - Gothic
Horror - LGBTQ+
Horror - LitRPG
Horror - Lovecraftian/Cthulhu
Horror - Man-Made Horrors
Horror - Monsters
Horror - Mythic
Horror - New Adult
Horror - Noir
Horror - Occult
Horror - People of Color
Horror - Post-Apocalyptic
Horror - Psychic Talents
Horror - Psychological
Horror - Shifters
Horror - Splatterpunk
Horror - Vampires
Horror - Weird Horror
Horror - Werewolves
Horror - Witches
Horror - Young Adult
Horror - Zombies
Nonfiction
Nonfiction - Writing Guides
Paranormal
Paranormal - Angels & Devils
Paranormal - Comedy
Paranormal - Dark
Paranormal - Ghosts & Haunted Houses
Paranormal - LGBTQ+
Paranormal - LitRPG
Paranormal - Magical Beings
Paranormal - Monsters
Paranormal - New Adult
Paranormal - People of Color
Paranormal - Psychic Talents
Paranormal - Reincarnation
Paranormal - Romance
Paranormal - Shifters
Paranormal - Vampires
Paranormal - Young Adult
Paranormal - Zombies
Poetry
Sci Fi
Sci Fi - Alien Invasion
Sci Fi - Alien Races
Sci Fi - Aliens
Sci Fi - Alternate / Parallel Reality
Sci Fi - Alternative History
Sci Fi - Apocalyptic Fiction
Sci Fi - Artificial Intelligence
Sci Fi - Biopunk
Sci Fi - Christian
Sci Fi - Climate Fiction (Cli-Fi)
Sci Fi - Clockpunk
Sci Fi - Clones
Sci Fi - Colonization
Sci Fi - Comedy
Sci Fi - Cyberpunk
Sci Fi - Cyberspace
Sci Fi - Decopunk
Sci Fi - Detective
Sci Fi - Dieselpunk
Sci Fi - Distant Planet
Sci Fi - Dying Earth
Sci Fi - Dystopian & Post-Apocalyptic
Sci Fi - First Contact
Sci Fi - Frontier
Sci Fi - Furry
Sci Fi - Galactic Empire
Sci Fi - Generation Ship
Sci Fi - Genetic Manipulation
Sci Fi - Gothpunk
Sci Fi - Greenpunk
Sci Fi - Hard Sci Fi
Sci Fi - Hollow Earth
Sci Fi - Hopepunk
Sci Fi - Human Evolution
Sci Fi - Immortality
Sci Fi - LGBTQ+
Sci Fi - LitRPG
Sci Fi - Lost Worlds
Sci Fi - Military
Sci Fi - Mind Uploads
Sci Fi - Multiverse
Sci Fi - Mutants
Sci Fi - Nanopunk
Sci Fi - Near Future
Sci Fi - New Adult
Sci Fi - Nowpunk
Sci Fi - People of Color
Sci Fi - Piratepunk
Sci Fi - Pulp
Sci Fi - Realistic
Sci Fi - Robots/Androids
Sci Fi - Romance
Sci Fi - RPG
Sci Fi - Science Fantasy
Sci Fi - Singularity
Sci Fi - Slipstream
Sci Fi - Social
Sci Fi - Soft
Sci Fi - Solarpunk
Sci Fi - Space Exploration
Sci Fi - Space Opera
Sci Fi - Space Western
Sci Fi - Spacepunk
Sci Fi - SpyFi
Sci Fi - Steampunk
Sci Fi - Superheroes & Villains
Sci Fi - Terraforming
Sci Fi - Teslapunk
Sci Fi - Theological
Sci Fi - Time Travel
Sci Fi - Transhuman
Sci Fi - Uplift
Sci Fi - Utopian
Sci Fi - Virtual Reality
Sci Fi - Weird Sci Fi
Sci Fi - Young Adult
Tropes
Abandoned Place
AI Uprising
Alien Artifacts
Alien Eggs
Alien Invasion
Alien Ruins
Aliens Among Us
Aliens as God
Aliens in History
Ancient Astronauts
Ancient Weapon
Antihero
Arthurian Legends
Asteroid Miner
Astral Projection
Bad Robot
Band of Brothers/Sisters
Band of Misfits
Bar Tales
Becoming a Monster
Benevolent Aliens
Beyond the Grave Communication
Big Sword
Black and White Morality
Body Modifications
Bodysnatchers
Book of Spells
Born Hero
Burial Ground/Cemetary
Changing Painting
Chosen One
Clones
Conspiracy
Crazy Clairvoyants
Cross-Species Friendships
Cryosleep
Dark Enemy
Dark Lord
Death by Sex
Demonic Possession
Dragonriders
Dying World
Dystopian Governments
Enemy to Ally
Evil Megacorporation
Evolving Powers
Fallen Hero
Farmer to Hero
Farmer to Royalty
Fated Mates
Fellowship
Fetus of Doom
First Contact
Fish Out of Water
Found Family
FTL
Galactic Civilization
Generation Ships
Good Robots
Haunted House
Here Comes the Cavalry
Humanity is Dangerous
Humanity is Good
Humans Evolved From Aliens
Hunted
I Am Your Father
I See Dead People
Immortality
Inaccessible Magic
Interspecies Adoption
Interspecies Romance
Interstellar Travel
Killer Aliens
Library of Secrets
Lost Civilization
Lucky Novice
Mad Scientist
Magic Furniture
Magic Talisman
Magical Disaster
Marooned
Mirror Shows True Self
Modern Human in Fantasy World
Museum/Store of the Unusual
No Cell Coverage
Old Person in the Woods
Oxygen Leak
Parallel Worlds
Past People/Future Tech
Person in Distress
Portals
Possession
Post-Apocalyptic
Powerful Artifact
Prophesy
Pseudo European Society
Psionic Powers
Quest
Redemption Arc
Reluctant Hero
Reluctant Vampires
Robin Hood Legends
Roguish Thief
Secret Heir
Secret Royalty
Secret Society
Sentient AI
Sentient Spaceships
Sex Magic
Singularity
Space Battles
Space Dentistry
Space Detectives
Space is Empty
Space is Full
Space Medicine
Space Pilot
Space Pirates
Space Psychology
Space Smugglers
Superpowers
Sword of Destiny
Time Loop
Time Travel
Training
Ultimate Evil
Undiscovered Planet
Uploaded Consciousness
Vengeful Spirit
Villain to Hero
Waiting/Sleeping Evil
Wise Mentor
Tags
author - american
author - arabian
author - australian
author - belgian
author - british
author - canadian
author - dutch
author - european
author - french
author - italian
author - new zealander
author - saudi arabian
format - anthology
format - audiobook
format - book
format - box set
format - collection
format - free
format - hardcover
format - illustrated novel
format - kindle
format - kindle unlimited
format - large print
format - netgalley
format - novel
format - novel >100K
format - novel <100K
format - novel 40-100K
format - novella 15k-40K
format - novellette <15k
format - omnibus edition
format - paperback
format - payhip
format - planner
format - prequel
format - self published
format - sequel
format - series
format - shared universe
format - short stories
format - short story <15K
identity - aromantic
identity - asexual
identity - bisexual
identity - demisexual
identity - gay
identity - gender fluid
identity - intersex
identity - lesbian
identity - non-binary
identity - pansexual
identity - polyamorous
identity - transgender
potential trigger
potential trigger - abduction-captivity
potential trigger - addiction
potential trigger - avalanche
potential trigger - blood
potential trigger - death
potential trigger - gore
potential trigger - graphic torture
potential trigger - murder
potential trigger - rape
potential trigger - sexual abuse
potential trigger - stalking
potential trigger - suicidal ideation
potential trigger - suicide
potential trigger - torture
potential trigger - traumatic past
potential trigger - violence
what - concept - amnesia
what - concept - curse
what - condition - blindness
what - condition - disability
what - condition - mental illness
what - condition - ptsd
what - element - ferocious poodle
what - holiday - general
what - topic - cartel
what - topic - chinese medicine
what - topic - chinese mythology
what - topic - climate change
what - topic - compassion
what - topic - crime
what - topic - desert survival
what - topic - disaster
what - topic - flying
what - topic - genetic engineering
what - topic - harem
what - topic - haunting
what - topic - japanese mythology
what - topic - learning disabilities
what - topic - legend
what - topic - magic
what - topic - multicultural
what - topic - music
what - topic - natural disaster
what - topic - non-violence
what - topic - politics
what - topic - ransom
what - topic - reincarnation
what - topic - religion
what - topic - revenge
what - topic - science experiment
what - topic - secret
what - topic - secret organization
what - topic - superstition
what - topic - taboo
what - topic - technology
what - topic - terrorism
when - period - 16th century
when - period - 17th century
when - period - 18th century
when - period - 1920s
when - period - 1930s
when - period - 1950s
when - period - 1960s
when - period - 1970s
when - period - 1980s
when - period - 1990s
when - period - 19th century
when - period - 20th century
when - period - ancient greece
when - period - ancient rome
when - period - edwardian
when - period - georgian
when - period - great war
when - period - middle ages
when - period - near future
when - period - prehistoric
when - period - prohibition
when - period - victorian
where - fictional - moon colony
where - general - alternate universe
where - general - carnival
where - general - castle
where - general - cave
where - general - cruise ship
where - general - forest
where - general - military
where - general - mountains
where - general - private school
where - general - rural
where - general - small town
where - general - swamp
where - general - uncharted island
where - general - underground
where - general - underwater
where - Mars
where - non-Earth planet
where - space - international space station
where - space - space station
where - space station
where - spaceship
who - description - alpha male
who - description - alphas and omegas
who - description - tattoos
who - magical humans
who - occupation - apothecary
who - occupation - archaeologist
who - occupation - artist
who - occupation - assassin
who - occupation - astronaut
who - occupation - astronomer
who - occupation - author
who - occupation - baker
who - occupation - barista
who - occupation - bodyguard
who - occupation - botanist
who - occupation - bounty hunter
who - occupation - castle laird
who - occupation - computer programmer
who - occupation - contractor
who - occupation - coroner
who - occupation - cowboys
who - occupation - detective
who - occupation - doctor
who - occupation - engineer
who - occupation - ex-convict
who - occupation - federal agent
who - occupation - guard
who - occupation - hacker
who - occupation - healer
who - occupation - herbalist
who - occupation - historian
who - occupation - horsemaster
who - occupation - innkeeper
who - occupation - inventor
who - occupation - journalist
who - occupation - king
who - occupation - knight
who - occupation - law enforcement
who - occupation - librarian
who - occupation - lord
who - occupation - mage
who - occupation - marine
who - occupation - mechanic
who - occupation - medical
who - occupation - mercenary
who - occupation - military
who - occupation - missionary
who - occupation - motorcycle rider
who - occupation - musician
who - occupation - nurse
who - occupation - pilot
who - occupation - pirate
who - occupation - police
who - occupation - politician
who - occupation - priest
who - occupation - prince
who - occupation - prisoner
who - occupation - professor
who - occupation - psychic
who - occupation - royalty
who - occupation - sailor
who - occupation - scientist
who - occupation - security
who - occupation - serial killer
who - occupation - servant
who - occupation - sex worker
who - occupation - sheriff
who - occupation - soldier
who - occupation - space marines
who - occupation - spaceship captain
who - occupation - spy
who - occupation - starship captain
who - occupation - student
who - occupation - superhero
who - occupation - tattoo artist
who - occupation - teacher
who - occupation - thief
who - occupation - tracker
who - occupation - undercover agent
who - occupation - warrior
who - occupation - writer
who - religion - catholic
who - religion - jewish
who - religion - muslim / islamic
who - religion - pagan
who - religion - shinto
who - sea dragon shifter
who - shifter
who - type - alien
who - type - altered human
who - type - angels
who - type - badass heroine
who - type - bear shifters
who - type - bigfoot
who - type - centaur
who - type - cyborg
who - type - demons
who - type - dragon shifters
who - type - dragons
who - type - elves
who - type - fae
who - type - fox
who - type - gator shifter
who - type - ghosts
who - type - god
who - type - griffins
who - type - incubus
who - type - kitsune
who - type - merman
who - type - nekomata
who - type - nephilim
who - type - panther shifters
who - type - reindeer shifters
who - type - robot / cyborg
who - type - sea god
who - type - selkie
who - type - spiders
who - type - spirit
who - type - succubus
who - type - unicorns
who - type - vampires
who - type - vegan
who - type - werecats
who - type - werewolves
who - type - witch
who - type - wizard
who - type - wolf
who - type - yokai
who - type - zombies
who - world defender
Word Count: Information not available
Summary: Eliot Ness has deemed the notorious gangster off limits, while Director J. Edgar Hoover has taken note of Saul and Christian's activities and has his own plans for the two agents. Meanwhile, Mr. Brown's mysterious master finally reveals herself, putting Saul's family in more danger than they've ever been before. Saul's life is changing again, and not for the better. Will the choices Saul must make in order to save his family, stop Capone, and deal with the new threat be worth the price he must pay?
Unavoidable
May 4, 2021
Word Count:
80000
Summary: What if there were a place that nobody else knew about – a secret place – where everyone was queer?" That's the question Guy, an elderly, lonely gay anthropologist asks Richard, his young psychiatrist, as he searches for his tolerable truth. During each session, Guy tells Richard a story in which he survives the sinking of a cargo ship and is washed ashore on an uncharted tropical island along side the ship's first mate, Luca. There, the two young men discover a world counter to everything they have ever known – a complex society in which almost everyone is homosexual and sex is considered the most basic form of communication. In his naive, awkward way, Guy attempts to integrate himself and win the love of a local man but first he must undergo a brutal initiation ritual, endure a crazed shaman, and swim across shark-infested waters. Meanwhile, Luca, who is unable to accept his sexuality, becomes obsessed with being rescued and degenerates into drug dependency. When Luca attempts to steal a large stash of gold salvaged from an old Spanish galleon and leave the island, Guy is forced choose between staying with the man he loves, or saving the life of the man who saved his. For more than 40 years Guy has been consumed by his longing to return to the island and recapture what he believes he has left behind. Although enthralled by his tale, Richard must be constantly wary of Guy's attempts to manipulate him and meddle in his personal life, threating to upend his own sense of truth, leaving him to question if there could really be such a society, or does it only exist within the fantasy of a lonely old gay man? Rich with legends inspired by ethnography, this is a story within a story; the two collide when the depth of Guy's subterfuge is revealed.
Eating the Moon
May 3, 2021
Word Count:
120000
Summary: Nothing wrecks a guy's day like finding out he's a werewolf. From the moment artist Dylan Shore arrives in Chicago, his life gets twisted like a kaleidoscope. Why does a street gang he's never met before want him dead? Why is a hot but odd mathematician stalking him? And how can half the things Alex Corwin says possibly be true, no matter how honest he seems? Alex has a frightening dilemma. Dylan is attractive, appealing, out and proud. He's also completely unaware that he's a werewolf. It shouldn't be Alex's job to tell him, and warn him that gay wolves usually end up dead. But someone has to, before he finds out in blood and violence. Chicago's not Alex's hometown, but somehow he needs to protect Dylan from the local packs, protect the wolves from being outed by Dylan, and keep his cool around the first man to touch his own deeply-closeted heart. (This is a lightly edited rerelease of the 2016 original.)
Unsafe Exposure
April 27, 2021
Word Count:
114000
Summary: The world is changing quickly for Chris now that he's part of the Immortal Community. With the events of his past finally behind him, he's still having visions and true magic is gradually taking hold in our world. There are new challenges that the Immortals must face, but Chris is still new and has no real standing in the immortal community. Learning that nothing in the Immortal community is what Chris thought and now having to face new threats, how will his new world unfold? Old enemies must work together and longtime friends may not be trustworthy. Who is lurking in the shadows? Why are they here? What does this mean for witches, immortals and humans? Can Chris' visions even be trusted given recent events, and how easily his mind is manipulated? With Juliet, Amanda, and Kirtus by his side they have to prevent the immortal and witch community from being exposed. Can they trust the local witches that are there to assist them? Can they trust their fellow Immortals? New friendships are made, and longtime alliances are called into question. How will The Called defeat these latest threats, and what does it mean for our world?
The Called
April 19, 2021
Word Count:
135000
Summary: His pack would've killed him for his kinks and desires, but his human lover might destroy his wolf. Brandt Davis loved being part of his Michigan werewolf pack, until they found his stash of gay porn. He escaped their anger, running in wolf-form into the wilderness, but he can't live that way forever. And he can't hide in fur like a coward when an injured man needs his help. Ethan Sjulstad knows life is making him crazy when a solo hike into the Minnesota Boundary Waters seems reasonable. Then a bad fall leaves him seriously hurt and facing death. Delirious, he hallucinates being rescued by a big gray wolf and a naked woodland godling. For a man who has always loved fantasy, it's worth surviving just to find out what the hell is going on. (This is a lightly edited rerelease of the 2014 original.)
Unjustified Claims
April 6, 2021
Word Count:
101000
Summary: A vampire hunter has his sights on Anne Perrin, threatening to unleash the very evil she and her friends are fighting to contain. Robbing Anne of her pulse hasn't stopped her from living un-life to its fullest: she's balancing two relationships, has returned to her waitress job, and is trying her best to not eat her customers. But Calum sees through her disguise, and no amount of charm can dissuade him from eradicating Anne and everyone like her from the face of the Earth. While Charlie is out of the country seeking help from the one person who might be able to save his life, Anne is abducted, leaving the rest of the Z-Tech crew with the desperate task of finding her before the vampire hunters finish her off — or a grief-stricken Zima destroys the city looking for her lost love. But Anne's abduction could be just the first part of a larger, darker plan that may unwittingly unleash the very plague Calum seeks to prevent.
Angels Lost
April 6, 2021
Word Count:
22277
Summary:
Witch's corpse. Witch's ticket. Witch's party.
As a counter-boy at a high-end men's boutique, Charlie Jessup's life consists of little more than work and sleep. That, and enough flirting to help guarantee his commission on sales will pay his rent. So when a twist of fate, and some behavior unbecoming that of a Ganymede employee, leaves him in possession of a dead man's pass to a mysterious Club 669, Charlie has no desire to waste it.
Every seventeen years, the House of Witches throws a party like no other. It's invitation-only, and for centuries it has helped ensure peace between the covens. It's the last place Caspian wants to be, but with the death of Queen Avel, and his own imminent rise to the throne, it's more important than ever that he attends. The stability of the House depends on it.
In four days a new king will be crowned, but when Charlie unintentionally crashes a gathering of the most secretive of all the Great Houses, he sets in motion a series of events that could disrupt the transition of power, and threaten the future of the House of Witches forever.
Club 669
March 26, 2021
Word Count:
71840
Summary: Is it better to risk it all… or never know what could have been? After surviving an abusive childhood, Vulcan remade himself upon arriving in Los Angeles, California. He became a blacksmith for the paranormal community and strives to earn the respect of the vampire covens and werewolf packs that call LA home. He also prevents the pain of loss by keeping everyone at arm's length. But he never planned on meeting a former Roman soldier by the name of Marcus Cassius Vespillo. Something sparks between them and turns into a friendship he never considered possible. He can't deny his intense attraction to the intelligent, courteous, ancient vampire. And it scares him. Though Vulcan is wary of seeking more with Cassius, an attack leaves him at death's door and forces him to reexamine his priorities. But Cassius has his own secret, one that promises tragedy and loss. And if that wasn't enough, a slayer arrives in the States, one with a bloody connection to Cassius... and Vulcan himself. Note to Readers: Second edition with revised and updated text.
Eye of the Beholder
March 9, 2021
Word Count:
53000
Summary: England, 1910 Monty, along with his best friend Bishop, investigates an odd seal-like creature swimming in Manchester Lake. The pair soon realize they've found a selkie when the magnificent animal transforms into the most gorgeous man either of them has ever seen. Determined to discover the origins of the mystical man, they bundle him into Bishop's brand-new electric automobile and whisk him off to London. There they find a host of distractions: a tastefully debauched house party hosted by silver-tongued aristocrats, and a queerly European-inspired novelty called the night club. Both are filled with a cast of characters sometimes amusing and sometimes frightening. And as the night unfolds, Monty comes face-to-face with ghoulish agents of the occult as well as revelations from the past. Most surprisingly of all, Monty finds himself falling for the beautiful creature from the lake, who seems equally interested in him. Can he really find himself in love with a man he has only just met? Or do they have a deeper connection which goes much further back? And what does it all have to do with the memories of his trip to Paris three years prior? The mystery of the selkie from Manchester Lake is only the beginning, and before their adventure is finished Monty will see the culmination of long suppressed secrets explode in a firestorm of magic and passion!
Manchester Lake
March 9, 2021
Word Count: Information not available
Summary:
A woman scorned is a curse that lasts… for ever Two families inexorably linked through time and misfortune, come together to face an uncertain, and possibly fatal, future. Maggie Durrant, heir to a rambling estate is plagued with a curse that will end her days. Providing her brother doesn't get to her first. Emma Blewitt is the beneficiary of an aunt who leaves her everything and tells her nothing. She must discover her own legacy before she and Maggie can seek a solution to The Ghost of Emily Tapper. (Note this was previously released in 2017)
The Ghost of Emily Tapper
March 1, 2021
Word Count:
100000
Summary: He'd rather fight enemy wolves and rogue humans than face his own heart. When Aaron took down a violent, power-crazed wolf and inherited half a pack, he knew being Alpha wasn't going to be easy. A week later, he's finding out what an understatement that was. Other werewolves are calling for the extermination of his pack's gay wolf, or for Aaron's own death, and the risk of exposure to humans is growing. Aaron can't afford to let his long-suppressed sexuality escape his rigid control. When one of his younger wolves is in trouble, it's simply Aaron's job as Alpha to help and protect him. But keeping a cool distance from a young man who appeals to all his senses could be Aaron's toughest challenge. (This is a rerelease of the 2012 original with light editing. Content warning for substance abuse, some violence.)
Unexpected Demands
February 25, 2021
Word Count: Information not available
Summary: Who doesn't crave a little escape? Dreaming of small town life and rural charm, Alex and Rainey find a deal on an old rustic home they can't resist. But soon after Rainey moves, her preoccupation with weird local history and the complications of living alone in the woods take a toll. Alex worries that the long nights and growing isolation are driving her stir crazy. When the Sugar House is damaged and Rainey goes missing, Alex doesn't know where to turn. Was it a storm, vandals, or something worse? What happened at the Sugar House? The only thing worse than wondering is finding out.
Liar: Memoir of a Haunting
February 22, 2021
Word Count:
48338
Summary: Every story has a beginning…. Dragons. Angels fear them and demons follow them. Formidable beasts of incredible power, they fight each other to the death for dominance. But dwindling dragon numbers cause alarm among the angelic ranks. Surely when the dragons have finished killing each other, the victors will search elsewhere for conquest… maybe even the Upper Realm. Roland, an angelic artist of significant talent, doesn't know what to believe. Part of him longs to see a dragon in person, and his peaceful life of contentment is wearing thin. He wants passion, desire, adventure, and love. He gets more than he bargained for when he and his sister are ambushed and captured by demons, and they bring him to a creature who surpasses Roland's wildest imaginings. But the mighty dragon Asagoroth is not all that he seems. Something sparks between him and Roland. Something neither anticipated. Something that will shake the cosmos to its core. Note to readers: this is the second edition, fully revised and updated.
On Wings of Passion
February 2, 2021
Word Count:
53000
Summary: Years ago, empath Elijah Long made a bad decision, and he is still paying for it. He's kept hidden from his abusive werewolf ex for years, but when he wakes in a dark room, cuffed to a wall, he knows he's out of luck. Elora, his psychic sister, will come for him, he just has to endure long enough to give her a chance to find him. Captain Kol Jaecar of Rockshade's Paranormal Investigations Department detests slow times at work, so when Elora wants time off to search for her brother, Kol treats it as if it's a real case and starts an investigation. What he assumed was a brother not picking up when his sister called turns out to be something else. Elijah experiences people's emotions so strongly, it prohibits him from living a normal life. Spending time in the city is out of the question, yet it's where Elora takes him once she finds him. Elijah does his best to keep his distance, especially from the growling man Elora brought to his rescue. Elijah will never make the mistake of getting close to a shifter again. The moment Kol smells Elijah, he knows he's his mate, but how to get close to someone who doesn't want to be near you? The man who abused Elijah is still on the loose, and Kol calls in the entire team to hunt him down. But how are they to keep Elijah safe when he can't be around people? And how will Kol stay sane if he can't touch his mate?
Mind Scrambler
January 30, 2021
Word Count:
216321
Summary: Root by Daniel Fisher, the third book in the Place of Things series is the continuing story of Michael and his new, rather unique fiancée. From the Winter's Solstice to the Vernal Equinox we find our lovers and their friends explore new and creative ways to adapt to life-altering events. Having relocated and now a resident in the sanctuary town of Sacred Grove, Michael is finding his place among the mythical, mystical, and mostly immortal residents who've hidden away from the outside world. Not only is he coming out of his own isolation, but they are also finding he is dragging them out of self-imposed exile as well. Sometimes against their instincts. As his and Kurra's love deepens, new mysteries are added to the mysteries and his and their worlds will never be the same.As the union between two souls from two drastically different worlds draws closer, new mysteries, challenges, and threats crop up for Michael, the mortal, and all the immortals that get caught in his wake. Enchantments and wards may not be enough to hold back the onslaught of supernatural forces if the wedding gets bumpy. Many may yet perish if things go awry. May the Goddess help them all.Book four, the conclusion to this tale coming soon.
The Place Of Things Book Three: Root
January 29, 2021
Word Count:
36000
Summary: Being invisible makes it really hard to get laid. When half-human Kai Schiffer steps into the Interstices—the post-creation gaps between realms—his supernatural half kicks in and he literally disappears unless…well, don't ask. But in a stroke (heh) of good fortune, Kai finally has a chance to show his face (and other parts, stars willing) to his long-time crush Jovan Kos—Interstitial Law Enforcement agent, wolf warrior, occasional berserker, and best man at their mutual best friends' Imbolc wedding. Jovan, who's half in love with Kai already, is grateful his best man duties are light enough that he can focus all his attention on Kai. After all, with Enchanted Occasions Event Planning handling the Olesson-Pakulski wedding, what could possibly go wrong?
Best Beast
January 17, 2021
Word Count: Information not available
Summary: Queer horror ekphrasis. A widowed witch with Schizoaffective Disorder moves from Los Angeles to Reno, Nevada. Watching "American Horror Story," as exposure therapy for PTSD. Identifying and departing from it at key plot moments. No copyright infringement intended. Sequel to Hollywood Hedgewitch.
Grieving Through American Horror Story
January 16, 2021
Word Count:
26085
Summary: Sometimes the unexpected becomes magical. When August Shaw takes an unplanned vacation at the Oaks B & B, he decides on a bold step—to slip into his vintage feminine wardrobe and let himself feel beautiful. He usually plans every detail of his life, but is counting on bestie, Nicole, to boost his courage. When Nicole can't join him, and Jan Koskinen—the man August has crushed on for years—arrives instead, August risks accepting Jan's invitation to join in the Beat the Winter Blues Festival. The spontaneous weekend turns romantic, but August can't help his uncertainties, even as the people at the Oaks—along with a very uncanny house—encourage him to live in the moment. Can August accept the spontaneous whirlwind winter romance… or will his questions leave him standing in the cold?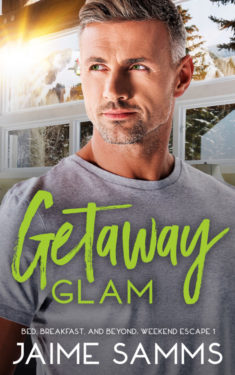 Getaway Glam
January 15, 2021
Word Count:
72000
Summary: Vampires and werewolves live long lives. The Sleepless City saga might have ended but the story continues… Welcome to the Vampire Guard, where legend and myth meet science and technology.   Vampires make the best spies. Throw a smart-mouthed werewolf in with three vampires, mix well, and The Vampire Guard's newest team is bound to become one of their greatest assets. Super spies with a full range of skills. Warrior, hacker, thief, and scientist.  They get in, do the job and get out before the bad guys ever know what hit them. Forge, Blair, Declan, and Lucas are thrust into the world of high-tech spies and top-secret espionage conspiracies. Recruited into the world's most elite and secret organization with one singular mission. Protect those who can't defend themselves from ruin. Life becomes complicated when an impending Presidential visit to their town, Boggslake, throws them headlong into the world of the vampires and werewolves of the Vampire Guard. Very quickly they uncover and confront a werewolf terrorist organization known as the Qiguan. Together they must thwart an assassination attempt on the open waters of Lake Superior while tracking a previously unknown biological weapon controlled by the Qiguan—a weapon which may very well mean death for one of them.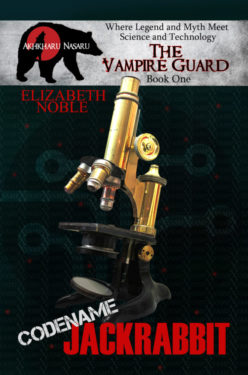 Code Name Jack Rabbit
January 12, 2021
Word Count: Information not available
Summary:
Some fight evil with swords and force. But for Evie and Hesta, they stand against evil with no more than their will and a song.
In a series of violent and horrific murders, The Butcher of Bristelle, strikes terror into the heart of the city. No one is safe. When Evie Chester encounters the remains of one such victim she knows that this is the work of no ordinary killer.
With mistrust of the gifted rising, can Evie and Hesta solve the case and keep the city safe. Will their wits and their gifts be enough against brute force.
The Evie Chester Files - Case 3: Fur and Fangs
January 12, 2021