Sci fi stories that posit a society or world destroyed by something terrible and/or under autocratic rule. Return to general Sci Fi
Note: these books are currently sorted by release date, with newest first.
Word Count:

33000
Summary: Clarity (noun) Four definitions to inspire writers around the world and an unlimited number of possible stories to tell: 1) Coherent and intelligible 2) Transparent or pure 3) Attaining certainty about something 4) Easy to see or hear Clarity features 300-word speculative flash fiction stories from across the rainbow spectrum, from the minds of the writers of Queer Sci Fi.
Clarity
Word Count:

91000
Summary: She barely survived the last round. As the Red Dog Gang closes in on her Family, can she survive the next? After the devastating events of our last chapter, all private eye and mafia wife Jacqueline Spadros wants is to get her life back. Then a missing person she thought she'd never track down falls into her lap. Jacqui is thrown into a series of events which not only puts her and everyone around her into danger, but changes her life forever. Warning: on-screen murder, major consent issues, smoking, language, infidelity, betrayal, description of injury, gore, on-screen suicide, child injury This is chapter 9 of a 13-part serial novel. Please read these books in order: * The Jacq of Spades * The Queen of Diamonds * The Ace of Clubs * The King of Hearts * The Ten of Spades * The Five of Diamonds * The Two of Hearts * The Three of Spades * The Knave of Hearts <-- you are here Book 10 coming October 2023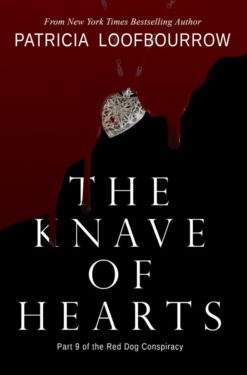 The Knave of Hearts
Word Count:

100,000
Summary: Lida was their last chance for an uncolonized planet. But a world-spanning fungus had colonized it first. Agetha and her husband have spent their whole lives in the fleet's zero-G. Now all is turmoil as the fleet lands, discovering they are surrounded by a single fungal biomass spanning the entire planet. To build a new home, the fleet must confront a dangerous organism, and Agetha must decide if she can raise a family in this inhospitable landscape. Jane Brighton holds tenuous command over the colony and its administrators. She and the other gene-modded leaders emerged from their four-hundred-year suspended animation to find a crew much different from the one that departed Old Earth. Jane must direct the colony's fragile growth and defend it against being overrun by the fast-growing biomass. But there is something none of the colonists know. The massive organism that spans the planet is not simply a fungal mass, nor even a chimerical combination of species that once roamed the planet. The biomass has desires and goals, and one is to know these strange beings carving out a home in its midst. Download today to read of the colony's fate in Of Mycelium and Men! Genres: Space Opera / Science Fiction / Colonization / Alien Contact / LGBT / Non Binary / Trans Market: Adult
Of Mycelium and Men
Word Count:

299
Summary: This action filled, edge of your seat dystopian adventure is set in the near future, when a space probe is returning to Earth from the Cares 1 Asteroid with geological and biological samples frozen in ice for billions of years. It's big news, the discovery of ancient organisms from an extra-terrestrial body. After the samples arrive at Interplan Astro-Research facility in the quiet city of Worcester Massachusetts, with the world's media gathered, eager to hear official announcement that the samples are indeed biological, thus discovering evidence of complex life beyond our planet. Not everyone's excited or happy about having alien lifeforms coming to Earth, and one group of terrorists have planted a thermobaric bomb in an elevator shaft of the facility. The bomb detonates and the facility explodes, killing hundreds of people, workers, protestors, scientists and TV crews, but far from destroying the samples, the explosion has released them from their level one quarantine and unleashes a deadly parasite that quickly infects the citizens of Worcester with infestations of strand red worms that infest the living. Despite efforts to contain the "Cares Pestis" AKA the "MR. Ripple" it spreads fast and becomes through the USA and beyond, causing a complete breakdown of society. But then comes something else, something far more menacing that threatens the very existence of human life on earth, and for Colonel Troy Glass and his fiancé Yvette, a deadly struggle for survival begins as they head west, to a secret government facility known as Haven. On their way, they pick up an eclectic group of fellow survivors, who together, battle against all the odds, both human and alien…
Mr. Ripple
Word Count:

110725
Summary: 133 years. Time is up. Lead Engineer Tara and her partner Sasha face the coming end of the facility generator. For generations It has served thousands of people who have been hiding underground from the ravages of the war, and the lingering Enemy above. Up and down the Grand Elevator, though the entire facility, every resident's life will be shaken when the generator sparks its last amp. The Great Actual, the anarchistic Citizens, and all of the regressed sub-societies in between will have to face the unknowns of the surface. Old fears will pale against new circumstances beyond their imagination, and new attention brings judgment upon all.
Rubberman's Exodus
Word Count:

130000
Summary: Life after the Crash. Over a century after the end of the Earth, life goes on in Redemption, the sole remaining Lunar colony, and possibly the last outpost of humankind in the Solar System. But with an existential threat burrowing its way into the Moon's core, humanity must recolonize the homeworld. Twenty brave dropnauts set off on a mission to explore the empty planet. Four of them—Rai, Hera, Ghost and Tien—have trained for two-and-a-half years for the Return. They're bound for Martinez Base, just outside the Old Earth city of San Francisco. But what awaits them there will turn their assumptions upside down—and in the process, either save or destroy what's left of humanity.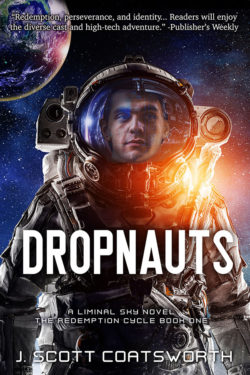 Dropnauts
Word Count:

128000
Summary: In the wake of a worsening climate crisis, magic runs rampant and demons roam across the Canadian prairies. A long-dead god stirs in the Pacific Ocean, while the wilderness is choked by invasive, screaming grass. The Cascade has shattered political stability, leaving a scandal-plagued government clinging to power in Ottawa. As catastrophe looms ahead, a precognitive rainman, Ian Mallory, stands between run-of-the-mill corruption and a nightmarish, dystopian future. It is up to a diverse and unlikely band of activists, scientists, journalists, and one underpaid, emoji-spell wielding intern to save their beleaguered country from its own worst impulses
Cascade
Word Count:

105000
Summary: RETURN TO THE MEAN STREETS OF AUTUMN Valerius Bakhoum is dead and buried. Too bad he's still flat broke and behind on the rent. Unsure what to do with himself—and of who he is—Valerius resumes his career as a detective by taking up the oldest case in his files: where do the children go? Throughout his own youth on the streets of Autumn, last of the Great Flying Cities, Valerius knew his fellow runaways disappeared from back alleys and other hiding places more than anyone realized. Street kids even had a myth to explain it: the Gotchas, who steal urchins away in the night. With nothing but time on his hands, Valerius dives in head-first to settle the question once and for all and runs smack into a more pressing mystery: who killed one of Valerius' former lovers? And do they know Valerius is still alive? Stalk the shadows of Autumn's hidden places by Valerius Bakhoum's side as he shines a light on secrets both sacred and profane, ones with shockingly personal connections to who he was—and who he might become. New Life in Autumn is the sequel to the Manly Wade Wellman Award-winning A Fall in Autumn.
New Life in Autumn
Word Count:

65000
Summary: A young man sold into servitude has his loyalties tested in ways he never imagined. Raised in an orphanage in Dickens, Daniel doesn't know who his parents were, where he comes from, or even his last name. Like all orphans, on his 16th birthday, he's sold to the highest bidder. Not knowing where he's going, who's bought him, or what they even want with him, Daniel embarks on an adventure he never thought he'd take. He finds love, a family, and a secure future - yet in a split second, makes a decision he ends up regretting the rest of his life. Brothers begins fifteen years before the Red Dog Conspiracy series. Warning: Language, smoking, use of alcohol and drugs, attempted suicide by hanging, M/M underage sexuality with consent issues, forced servitude, blood, gun violence, a man being beaten by a horsewhip, murder, discussion of child prostitution, underage M/F sexuality with age gap (female older).
Brothers
Word Count:

104000
Summary: Seg Holton yearns to leave his isolated farming dome and travel the ravaged Earth, or even to Mars Colony. Only a few things stand in his way: an authoritarian government, deadly storms, and an enchanting outsider who may be the most dangerous of all. Fast-forward 500 years. Civilization has nearly wiped itself out of existence, and is on the long, slow road to recovery, held together by an agreement called the Pact between cities, agricultural domes, and a new global government. Seg is a farmer in Holtondome. Like his ancestors, he's chosen a life of ignorance about technology and the outside world in favor of a simple existence, free of the corruption that almost destroyed the human race. His world turns upside down when Fi arrives. Tall, exotic, and far too wise for her age, she challenges everything he's been taught to believe, making him question for the first time if a simple life is right for him or, indeed, for the rest of humanity. But Fi has secrets darker than her black-ringed eyes — bigger than the Pact — that have implications far beyond Seg and the residents of Holtondome.
Holtondome
Word Count:

88700
Summary: Kat Wallace is on a mission. After escaping tortuous enslavement, she sets her sights on ending the human trafficking that has flourished in 24th century Earth. Adopted by the leader of the pirate nation of Bosch, Kat Wallace is determined to prove herself as a member of the Bosch Pirate Force and use her skills to avenge her enslavement and free other thralls. But unexpected love and a test of loyalty threaten to rob her of what she wants most: a home.
A Merry Life
Word Count:

50000
Summary: Fourteen-year-old Samantha spends her days exploring the shallow reef behind her island home. With her world locked in a battle against rising seas, scientists deploy genetically modified corals to rebuild reefs and protect the coastline. No one expects the reefs to be a hotbed of evolution, but they are. When an octopus flows off a rock in her lagoon, Samantha is startled. When he purposefully arranges pieces of coral on the sand, trying to communicate, she is shocked. How she responds may determine the fate of life on Earth. The year is 2045, and fourteen-year-old Samantha lives in a world where ocean levels are rising, destroying coastal cities and swallowing islands. Millions of displaced people are homeless. The planet is in a climate tailspin that threatens civilization. Researchers deployed genetically modified corals that can grow in warmer waters. They aimed to sequester carbon dioxide and stabilize the climate. The successful project produced an extensive barrier reef system along the coasts of Georgia and Florida. Samantha lives on a research island off the coast of Georgia with her scientist parents. She becomes obsessed with the ocean, spending all her time exploring the reef. One day, she encounters an octopus attempting to communicate with her. The story dives deep into an exploration of species' intelligence and the quest to save the planet.
Charlie's Story
Word Count:

81000
Summary: The Earth has gone silent. John Mark Ellis and the crew of the Sanson are sent to investigate. When they arrive, they find vast alien machines known as Clusters in orbit. Fearing the worst, they land and discover that the once overcrowded, polluted Earth has become a paradise of sorts. The problem is over half the population is dead or missing and the planet's leaders don't seem to care. As Ellis works to unravel the mystery, sudden gravitational shifts from the galaxy's center indicate something even worse is in the offing. Can Ellis save the galaxy from the heirs of the new Earth?
Heirs of the New Earth
Word Count: Information not available
Summary: Our visions of the future - whether dark or hopeful, thrilling or mundane - have always challenged us to examine our world. How can we improve? What challenges will we face? Are we even ready? Top Science Fiction authors, collectively holding 25 Hugo, Nebula, Locus, and Sturgeon awards (a few for Vital stories!), employ the power of engaging fiction to explore these questions and today's most critical issues in medicine. But Vital doesn't stop at speculation. Proceeds will be donated to the COVID-19 Solidarity Response Fund for the World Health Organization, the global guardian of public health, coordinating the worldwide pandemic response. Read on to build a better future of Healthcare! Featuring stories by Paolo Bacigalupi, David Brin, Tananarive Due, Sally Wiener Grotta, Congyun ("Mu Ming") Gu, James Patrick Kelly, Justin C. Key, Seanan McGuire, Annalee Newitz, Julie Nováková, Lola Robles, Eric Schwitzgebel, Alex Shvartsman, Caroline M. Yoachim Edited by RM Ambrose
Vital: The Future of Healthcare
RM Ambrose , Paolo Bacigalupi , David Brin , Tanan...
Word Count:

45000
Summary: Tangents & Tachyons is Scott's second anthology - six sci fi and sci-fantasy shorts that run the gamut from time travel to hopepunk and retro spec fic: Eventide: Tanner Black awakes to find himself in his own study, staring out the window at the end of the Universe. But who brought him there, and why? Chinatown: Deryn lives in an old San Francisco department store with his girlfriend Gracie, and scrapes by with his talent as a dreamcaster for the Chinese overlords. But what if a dream could change the world? Across the Transom: What if someone or something took over your body on an urgent mission to save your world? Pareidolia: Simon's not like other college kids. His mind can rearrange random patterns to reveal the images lurking inside. But where did his strange gift come from? And what if there are others like him out there too? Lamplighter: Fen has a crush on his friend Lewin, who's in a competing guild. But when the world goes dark, only a little illumination can save it. And only Fen, Lewin and their friend Alissa can light the spark. A Liminal Sky short. Prolepsis: Sean is the closeted twenty-five-year-old editor of an 80's sci-fi 'zine called Prolepsis. When an unabashedly queer story arrives from a mysterious writer, it blows open Sean's closet door, and offers him the chance to change the world - and the future. Plus two flash fiction stories – The System and The Frog Prince, never before published. This is the first time all of these stories have all been collected in one place.
Tangents & Tachyons
Word Count:

81000
Summary: As a private eye closes in on her city's secrets, there are those who will go to any lengths to stop her. After the horrific events of our last chapter, Jacqui's in a medical predicament. If she wants to stay free from the Spadros crime syndicate, she has to find the cure for her condition - and time's running out. But just when Jacqui thinks she's found what she's after, she finds herself instead in a much bigger - and deadlier - situation. She's getting closer to discovering what mechanisms really lie beneath the city. And the Red Dog Gang isn't the only one who wants her stopped. Warning: on-screen death, captivity, child murder, terror, blood, bad language, smoking.
The Three of Spades
Word Count:

115,756
Summary: In a post-apocalyptic world where tyranny and medieval torture reign supreme and witch burnings are an everyday occurrence, a top Witchfinder must confront the very Church he serves when he learns of its dark past and twisted plans for the future. The Church of the Deiparous rules with an iron fist and its rising star, Witchfinder Imperator Malachi Thorne, is committed to leading its cause. Thorne is a man on the fast track to greater things so when a convicted traitor and heretic escapes his grip, he won't tolerate it marring his perfect record. As he pursues his quarry, he must confront demons, sorcery, and a cult of witches out for his blood. But when Thorne comes face to face with the Church's dark past and its twisted present, his faith is tested to its limits. Now Thorne must decide who and what he believes in—and what he will do about it.
The Witchfinder
Word Count:

36000
Summary: INK (NOUN) Five definitions to inspire writers around the world and an unlimited number of possible stories to tell: 1) A colored fluid used for writing 2) The action of signing a deal 3) A black liquid ejected by squid 4) Publicity in the written media 5) A slang word for tattoos Ink features 300-word speculative flash fiction stories from across the rainbow spectrum, from the minds of the writers of Queer Sci Fi.
Ink
Word Count:

132,000
Summary: Rules were made to be broken. From terraformed outposts to magical realms, journey to worlds where deadly plants, rampant biodiversity, or failed colonies have created irresistible opportunities for those brave enough to seize them. New worlds, found family, mystical secrets, and deadly science weave together in this lesbian-centric anthology focusing on a very different kind of first time—a first encounter with a world, or being, entirely unlike our own. If you like diverse stories with lesbian heroines practicing science, magic, and seduction, buy Distant Gardens today!
Distant Gardens
N.L. Bates , Sara Codair , Robin C.M. Duncan , Wil...
Word Count:

60,000
Summary: Queer Handmaid's Tale meets hyper-capitalist dystopia. Nonbinary, queer main character BREEDER is set in a distant but bleakly familiar future, where each person exists to repay Units to the violent Corporation. But girls and women can only be Breeders in this world, and can only repay the Corporation through reproduction. Is the price of survival worth the cost of submission? Will Meadows is a seemingly average fifteen-year-old Westie, who lives and works in Zone F, the run-down outermost ring of the Corporation. In the future state of the Corp, a person's value comes down to productivity: the right actions win units, the wrong ones lose them. If Will is unlucky and goes into unit debt, there's only one place to go: the Rator. But for Zone F Breeders, things are much worse—they're born into debt and can only accrue units through reproduction. Every day in Zone F is a struggle, especially for Will who is fighting against time for access to an illegal medical drug, Crystal 8. Under the cover of night, Will travels to the Gray Zone, where life is less regulated and drugs—and people—are exchanged for gold. There, Will meets Rob, a corrupt member of the Corporation running a Breeder smuggling operation. Will also meets Alex, another teen whom he quickly recognizes as a Breeder in disguise. Suddenly, Will has an illicit job and money, access to Crystal, and a real friend. As the pair grows closer, Alex shares her secret: she is part of the Response, an uprising to overthrow the Corporation. Caught up in the new friendship, Will and Alex become careless as the two covertly travel into Zone B for a day of adventure. Nothing goes as planned and Will's greatest fear is realized. Will his true identity be revealed?
BREEDER