Sci fi stories that posit a society or world destroyed by something terrible and/or under autocratic rule. Return to general Sci Fi
Note: these books are currently sorted by release date, with newest first.
Word Count: Information not available
Summary: The year: 2157 The mission: change everything The Unit: Democratic State Force Base 1407 Call handle: The Wildcards Seven Corporations control what was the United States of America. The food supply and its production is controlled by American AgCo. All agricultural seeds in the United States have been genetically designed to fail outside Corporate control. At least, that's what the Corporations say. There's a rumor that a seed bank has survived the destabilization that brought down old America, and the seventy-five years of Corporate ownership that followed. If it still exists, it would provide free, accessible food for the Democratic State Force and everyone in their care. It's a risky hunt for a treasure that may or may not exist. Something to put the most resourceful team in the Force to work on. The Wildcards just got the call. A hunt for hidden treasure. Free food. What could go wrong? Never ask that question. Life's a bitch. She'll answer.
Aces and Eights
Word Count:

59000
Summary: THE WELLER IS BACK! Still healing from his battle with the distillers in Iowa City, legendary weller Matt Freeborn crosses into Missouri, where foes both old and new await him. Finding himself dangerously low on precious ammunition for the Well Digger, the desperate weller accepts a perilous job on the mighty Mississippi. Armed with only his wits and experience, Freeborn must descend into places no sane man would dare go and face unknown terrors that hunger and hunt in absolute darkness. From the author of Vengeance for My Valentine and War of the Worlds: Goliath!
The Weller - Fear of the Dark
Word Count:

93000
Summary: A militia officer on the hunt for a murderer. A scientist with the key to humanity's future. A girl locked in a glass tank. One seeking justice. One seeking fame. One seeking answers. With the galaxy on the brink of war, time is not on their side. Join them in their battle for survival.
The Parallels
Word Count:

62000
Summary: Wars are fought on many fronts. A battle is raging across New Colorado Protectorate with both human and demonic players. Todd and Nick Ruger are sentries with an arsenal of talents and training to combat threats from a variety of enemies. Todd and Nick are given a mission to find and stop weapons smugglers by going undercover on the riverboat, Annabelle. These aren't typical arms dealers, they're demons and they're not afraid of a pair of sentries. The Rugers will have to use all their skills and their most powerful weapon, the bond between them, just to stay alive. Stopping the supply of illegal weapons turns to trying, and failing, to thwart an assassination. Todd and Nick have each other, but will they be able to keep their love intact?
Tethered Pair
Word Count:

79,000
Summary: Left for dead behind enemy lines, prince Dominel seeks refuge in an abandoned stronghold of the slaughtered wizards. There he is recruited and trained by undead mages in the once forbidden magics so that he can close the doors into the world of man and halt the advance of the horde of monsters known as the storm. Can the strength of a lone wizard stand against a god of evil bent on ruling all the worlds of monsters and men. Will other races stand as friends or foes in Dominel's quest? Can Dominel open himself to memories of his past lives without fracturing his sanity and becoming a worse threat than the monsters he seeks to halt? And what of the man who is prince, king and wizard? What space is left for him in a life of crushing duty and wondrous enchantment? For the answers read on
Havens in the Storm
Word Count: Information not available
Summary: It seemed so simple, cross a train yard, hop a train and Todd and Nick would be free, on their way home to Elk's Ridge in Yellowknife. Nothing is ever simple or easy for the Ruger men, however. Captured by Vice-Chancellor Raleigh, Todd is imprisoned, leaving Nick alone and seeking a way to free his mate. Help comes from an unlikely and unexpected ally. Todd's freedom places the Rugers yet again into the Chancellor's debt. He sends them on a fact finding mission to the small village of Eldrid, the same village where Nick was raised a slave. There they discover how past events led to their present society, the origins of sentries and slaves and what made some of them so special. They also uncover a conspiracy spear-headed by Vice-Chancellor Raleigh. An attempt at stopping him isn't as successful as they'd hoped when old enemies are confronted. The realities of war, and why some people don't survive, are hard lessons for both Todd and Nick to learn. Through firefights, explosions and a vicious attack from a seemingly unbeatable supernatural being, one thing is reinforced over and over—the most important thing each one has is each other. Will they survive or join an ever growing list of casualties?
Collared Souls
Word Count: Information not available
Summary: Kyle Anderson grew up with the lie that he was one of the last humans born. Then Kyle's quiet, lonely life as a research assistant and student is shattered when he discovers the government has been lying to the world for more than twenty years. Now on the run from authorities who would kill for his silence, Kyle is taken in by Daniel Shanks, a member of a militia group dedicated to discovering the truth. Daniel has seen death and violence in this new, radically changed society, and the closer he gets to Kyle, the harder his fears ride him. They will need to stop listening to the lies told by the government and start facing the lies they've been telling themselves, because the only place strays like them may be safe in this uncertain world is in each other's hearts.
Strays
Word Count:

63,700
Summary: Todd and Nick Ruger are on the run after narrowly escaping the war in New Colorado, where they were implicated in the assassination of Chancellor Shaffer. Todd is gravely ill and Nick has serious injuries, but that's the least of their problems. They're alone with dwindling supplies and facing the harsh winter bearing down on them far north in Yellowknife Protectorate. Just when it seems they're trapped between the proverbial rock and hard place, they are offered refuge with a doctor in the isolated town of Elk's Ridge. As they heal, they're offered a fresh start in Elk's Ridge. But just as they begin to rebuild their lives, tragedy strikes. Victor Raleigh, the new Vice-Chancellor of New Colorado, knows all about Nick's psychic abilities, and he'll settle for nothing less than total control over Nick. He's aligned himself with a vicious creature, a type of psychic vampire capable of wielding control over individuals such as Nick. When Nick is betrayed and captured, Todd sees no alternative but to head back into the war zone to rescue him. Will Nick be the same man Todd loves after Raleigh's pet psychic vampire is through with him? Can Nick accept the fact Todd can love him after what Raleigh forces him to do, or will his guilt consume and destroy him?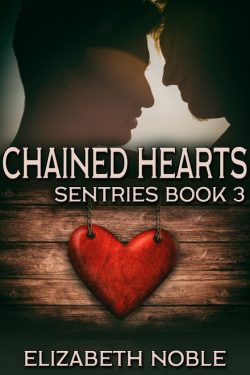 Chained Hearts
Word Count:

131000
Summary: It started with the insects. The mass die-offs had been a warning unheeded. Before society realized the danger, the Earth had inexorably begun a transformation into a place where life could not survive. A small group found shelter in the Arc, an underground refuge safe from the toxins ravaging the surface. After centuries of darkness, humanity's second chance is running out—and Raven Wilder knows it. Her job fixing the machinery in the Arc makes her aware of how close everything is to breaking down. When the systems fail, the last survivors of the human race will suffocate in the tunnels meant to protect them from the deadly air outside—starting with the most vulnerable. Unfortunately, in an example of history repeating itself, those in charge dismiss her concerns. When her six-year-old begins showing signs of oxygen deprivation, Raven refuses to go quietly into oblivion. She will break every rule to keep her daughter alive.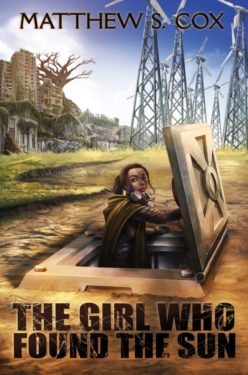 The Girl Who Found the Sun
Word Count:

61424
Summary: Todd Ruger is a sentry, a very good one, some might say the best. He was eleven when he and Nick were bound as master and slave. Todd spent the years Nick lived in the slave village waiting for the day Nick could leave and they'd be together, bit by bit building a life for both of them. He took his role of master seriously. It was his responsibility to provide for Nick, protect him and along the way he learned to love him. Todd loved Nick deeply and completely. They were more than a pair of sentries. Todd and Nick were friends, lovers, mates. Eighteen months ago, Nick left the small village where he'd spent his entire life being raised and trained as a slave. Blessed with a unique skill set, Nick became a sentry. He took his place beside his master, Todd Ruger, defending society against the many paranormal threats that abound. They became more than master and slave, they became mates. Nick had found a home with Todd and together they became a family. Eventually, Nick's special abilities and skills attract the attention of the second most powerful man in New Colorado Protectorate's government, Vice Chancellor Clarke. Or, maybe certain people knew of Nick all along and just now had cause to use him. He believes Nick might be the answer to explaining Chancellor Shaffer's sudden, unusual behavior. Forced to go undercover at the Chancellor's Estate, Todd and Nick discover an ancient and deadly creature preying on residents of the estate. The same creature that is radically effecting Chancellor Shaffer. A creature only Nick can see in its true form. It hunts using specialized skills and has Todd and Nick in its crosshairs. Even if they defeat the creature and survive, they still face the possibility of being torn from each other when their lives are thrown into chaos by the thing they're hunting.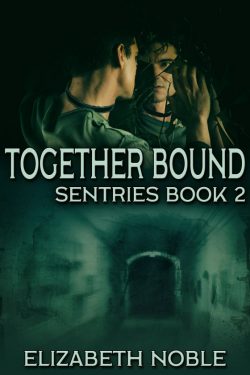 Together Bound
Word Count:

97000
Summary: Los Angeles is an apocalyptic wasteland. Without orientation, Colton stumbles through the vast, deserted city. He doesn't remember who he is and where he came from. Scavengers save his life from mutants and bring him to the only remaining inhabited area and safe Zone in former Hollywood. There he learns that after a devastating catastrophe called The Glitch, reality shifted, allowing nightmarish creatures from another dimension to enter our world. These co-called Dark Ones feed on suffering and violence, wanting nothing less than the complete annihilation of humanity. Colton discovers that he has extraordinary abilities and joins a league of unusual defenders: ex-cop Eric, female cyborg Bombshell and Vincent, a mighty entity from another world, disguised as a human soldier. But the Dark Ones are evil beyond imagination and with their ice-cold enforcer, the traitor Eurydice, they are a threat nearly impossible to overcome. Cunning and ruthless, Eurydice sets a ploy in action, which leads to the destruction of the Zone's defenses weakening the tiny community from within. It's up to Colton and his friends to take a desperate stand against the superior enemy and save what is left of humanity from extinction. Fast-paced, action-driven, and cinematic – an eternal fight of good vs. evil told in a way as never before.
Shadow City
Word Count:

74,000
Summary: When one society fell, assaulted by natural disaster, in its place rose another, molded into something entirely different. Protectorates were divided by beliefs and distance. Slavery was accepted and threats both natural and supernatural were commonplace. This became a world where sentries were needed. Trained almost from infanthood, these tough men and women lived in a society within a society. They were warriors and protectors, ferreting out evil and defending the citizens of New Colorado Protectorate from inhuman terrors and, on occasion, human ones. Todd Ruger was born into life as a sentry. Raised by a hard father into a hard life, Todd becomes the consummate sentry, tough, dangerous, and good at what he does. When he wasn't quite into his teen years, he was bonded to a special young slave named Nick. For years their only interaction was through letters. Friendship turned to a sort of courtship between them. Todd lived for the day Nick became of age and Todd's ownership would take effect. That was the day Nick would leave the village with Todd. They'd begin a life together. They'd make a difference. Raised as a slave, Nick never wanted to be special, but nature had other ideas for him. He grew up in a village with other slave children and was taught to be useful to his future master because he a gift ... or curse. The tutors responsible for his upbringing didn't understand what Nick could do, what he was; they were afraid of him. If sentries hadn't bought him, it was likely he'd never have lived to see the age of five. All that changes the day Nick leaves the village with Todd. He's cared for and shown a new, better life with a man who loves him honestly and wholly. But after being together barely a day, Nick is brutally attacked and injured. Though he recovers without incident, Todd's heart fills with revenge. The guardian in him turns into a dangerous, driven assassin, a wolf on the hunt. Todd's obsession with tracking down the men who hurt Nick and making them pay could very well get them both killed. Can they survive and build the life together they've both dreamed of for years? NOTE: This is the third edition of Marked Yours. The first and second editions were released by another publishing house. This story has been revised and re-edited with the end result being a better, stronger story.
Marked Yours
Word Count:

75000
Summary: Be careful what you wish for … After eleven years trapped in the Spadros crime syndicate, 23-year-old private eye Jacqueline Spadros is an independent woman, free to run her investigation business. But her problems are only beginning. Deeply in debt, Jacqui is in danger from both the rogue Spadros men calling themselves "The Ten of Spades" and the ruthless Red Dog Gang — who may be one and the same. Jacqui is determined to find Black Maria, the key to the identity of the Red Dog Gang's secretive leader. To survive long enough to do that, Jacqui needs a paying case. The one she's offered may put her in the most danger of all …
The Ten of Spades: Part 5 of the Red Dog Conspiracy
Word Count:

124000
Summary: Althea struggles to adapt to an unexpected twist in her life—not being kidnapped in six whole months. The strange police from the faraway city claim the abilities she thought of as magic are really 'psionics,' and say she is far stronger than anyone they have ever seen. Despite their curiosity, they let her remain in the Badlands to protect her from an evil they call corporations. Of course, Althea knows all too well how powerful her healing gift is. For most of her life, she'd been a prize taken in raids. Tribes have killed to own her, and she let them. But the Prophet is done being passive. Having a family changes everything. No longer afraid to use her powers to protect herself, Althea refuses to be taken again… even when corporate mercenaries find her.
Prophet's Journey
Word Count: Information not available
Summary: It starts when you're always afraid. Seven Corporations run the former United States on the codes of conduct their founders set down. You're signed into a Corporate contract the day you're born. And the fear of dropping in the Citizen Standing Scores keeps people in line. What choice is there? The Democratic State Force has fought for the return of democracy for decades, but they need the restless population of America to fight beside them if they're going to stand a chance. But when your Score goes down, so does your life. It's time for a new strategy: take out the Citizen Standing Score system. And it's time for the unit with the highest mission success rate, the best coder, and the craziest ideas in the Force to head the attempt. Base 1407 just got the call. Life's a bitch. She raises the stakes when you least expect it. Play your cards as best you can.
Raise the Stakes
Word Count: Information not available
Summary: An EMP attack by North Korea has left most of the United States dark, cold, and in chaos. Major Damon Sorley is on a mission to bring the president-elect to Washington as quickly as possible. The road is full of peril, as people realize this won't be fixed anytime soon. But he's not alone. He and his fellow soldiers will have to make some tough decisions. Their lives will depend on it. Having lived in blissful ignorance of the darker side of human nature, the Marshalls and Chandlers are finding out quickly that no place is safe from the desperation of those who find themselves ill-prepared to face their new reality. They must learn new skill sets if they are to survive — whether they want to or not. Can a tyrannical president be stopped? Will people who have never had to defend themselves be able to learn how in time? Grab the next installment in the Perilous Miles series by P.A. Glaspy today!
200 Miles To Liberty
Word Count:

42060
Summary: Dark deeds are being done, and Jenn Canaday, a special agent with the FBI, has been assigned to look into them. This takes her to New Mexico, where cattle are being rustled and people are going missing—one of them the niece of the state's governor. Meg Parkinson is a sheriff's deputy in the small town of Laurel Hill. She and Jenn had once spent a steamy week together, but then Jenn had sent her away, something Meg hasn't gotten over, as reluctant as she is to admit it. When Meg notices that the homeless camp on the edge of her town has become deserted, Jenn is brought into her vicinity to aid in the investigation. Will the former lovers be able to work together? Can they rekindle the flame that had once burned so brightly? And will they learn what's behind all the disappearances without disappearing themselves?
Surviving the Apocalypse - Long Leggity Beasties
Word Count: Information not available
Summary: Welcome to the last of the great flying Cities! It's 9172, YE (Year of the Empire), and the future has forgotten its past. Soaring miles over the Earth, Autumn, the sole surviving flying city, is filled to the brim with the manifold forms of humankind: from Human Plus "floor models" to the oppressed and disfranchised underclasses doing their dirty work and every imaginable variation between. Valerius Bakhoum is a washed-up private eye and street hustler scraping by in Autumn. Late on his rent, fetishized and reviled for his imperfect genetics, stuck in the quicksand of his own heritage, Valerius is trying desperately to wrap up his too-short life when a mythical relic of humanity's fog-shrouded past walks in and hires him to do one last job. What starts out as Valerius just taking a stranger's money quickly turns into the biggest and most dangerous mystery he's ever tried to crack – and Valerius is running out of time to solve it. Now Autumn's abandoned history – and the monsters and heroes that adorn it – are emerging from the shadows to threaten the few remaining things Valerius holds dear. Can the burned-out detective navigate the labyrinth of lies and maze of blind faith around him to save the City of Autumn from its greatest myth and deadliest threat as he navigates his feelings for his newest client, the handsome golem Alejandro?
A Fall in Autumn
Word Count:

80000
Summary: It costs a lot to win. And even more to lose. Seven Corporations rule the former United States with seven codes of conduct based on their ideas of morality. Comply with the code of the Corporation that holds your Citizen Contract, or suffer the economic consequences. Or fight back. For sixty years the Democratic State Force has been fighting to return representative democracy to the country. Living in the no man's lands between cities and hanging on by their fingernails, the thinly spread guerrilla force hasn't gotten far. But they have a secret weapon: their finest unit, Base 1407. Handle: The Wildcards. Pulled together after disaster by Commander Aidan Headly, the Wildcards are on top of their game again. They'd better be. They've just been called to act as backup in a mission bigger than anything the Force has attempted before. The team that went in first is probably dead.If they pull their mission off, everything will change.If they don't, they'll be lucky to survive the year. Life's a bitch. She's got the game rigged. Keep the cards close to your chest.
Call the Bluff
Word Count:

54,637
Summary: Laurie Parkinson, who's lived in Laurel Hills all his life, is a gay sheet metal worker who'd rather be a gay hairdresser. Wheat Dupuis, who's also gay, is the scion of one of Laurel Hill's wealthiest families. He'd rather grow grapes than become CFO of Dupuis International. Laurie wakes one morning to discover his family gone and his town decimated by a bacteria that has lain dormant for millennia, incased in ice. With the melting of the ice caps, the bacteria is released, and mankind faces a pandemic that could surpass the Black Plague. Wheat and his family are on their way to safety when the unthinkable happens and he's left behind. Laurie knows of a bunker in the woods outside Laurel Hill, where he intends to take refuge. On the way there, Laurie finds and rescues Wheat. Can two such dissimilar men work together through a pandemic to find their families ... and possibly find love, as well?
Surviving the Apocalypse - Pandemic