Word Count:
141000
Summary: The starstream is beautiful. But beauty turns deadly when an ancient AI bent on destruction uses it to travel uptime, to our near-future. The Mindaru are dead. Or so exiled-Earthman John Bandicut and his alien companions believe, when they return to Shipworld after saving the Orion Nebula and countless inhabited worlds. But now another horde from this ancient and malicious AI colony is swarming toward the present from its birthplace deep in the past. Their opening: a temporal disturbance in the starstream, a hyperspatial thoroughfare used by myriad civilizations. The disturbance emanates from the planetary defenses of nearby Karellia, whose people know nothing of the starstream or the galaxy-threatening Mindaru. Only Bandicut and his friends have the knowledge and experience to act. But several of Bandicut's company have gone missing. Bandicut and Li-Jared must team with the pandimensional Ruall and her gokat—the oddest aliens Bandicut has met since the shadow-people—and journey to Karellia to find a way to cut off the timestream. Meanwhile, on Shipworld, the "missing" Ik meets another human of Earth—a former lover of Bandicut's—and embarks with her on a perilous mission far back into deep time, seeking a way to stop the Mindaru at their source. The Chaos Chronicles returns at last in The Reefs of Time, part one of a heartstopping, two-part adventure. Concluded in Crucible of Time—from Nebula-nominated Jeffrey A. Carver! PRAISE FOR THE REEFS OF TIME / CRUCIBLE OF TIME: "Classic science fiction with engaging characters and richly imagined worlds!" --Greg Bear; author of The Unfinished Land and The War Dogs Trilogy "Jeffrey A. Carver's remarkable long-awaited duology The Reefs of Time / Crucible of Time is a welcome addition to The Chaos Chronicles, certifying his continuing mastery of action and adventure at the boundaries of space opera and hard SF." --Steve Miller, co-author of The Liaden Universe "Rich, dignified prose wedded to excellent and imaginative storytelling on the grandest scale. If you've grown weary of the hasty, hyperkinetic stories and styles that typify so many other independently-published novels, come home to Jeffrey Carver's timeless and triumphant The Reefs of Time." --Charles E. Gannon, author of the Caine Riordan world "Mind-blowing in its complexity... I settled in to enjoy a wild ride." --Ann Tonsor Zeddies, author of Riders of Leviathan and Steel Helix "Underpins its stunning science fiction and character-driven narrative with a strong theme of 'coming home'... As narratives intertwine at separate ends of the timescale, Carver's talent for weaving incredible technology and worldbuilding with meaningful character moments is a standout." --Terence MacManus, Aurealis Magazine PRAISE FOR THE CHAOS CHRONICLES: "Remarkably expansive vision." --Analog "Masterfully captures the joy of exploration." -- Publishers Weekly "Master craftsman of compelling hard science fiction." -- Booklist One of the best SF novels of the year -- Science Fiction Chronicle "A dazzling, thrilling, innovative space opera." --Kirkus "Fertile imagination and... a host of engagingly sympathetic characters." --Library Journal
The Reefs of Time
July 23, 2019
Word Count:
115000
Summary: A group of strangers meets at Ragazzi, an Italian restaurant, for a cooking lesson that will change them all. They quickly become intertwined in each other's lives, and a bit of magic touches each of them. Meet Dave, the consultant who lost his partner; Matteo and Diego, the couple who run the restaurant; recently-widowed Carmelina; Marcos, a web designer getting too old for hook-ups; Ben, a trans author writing the Great American Novel; teenager Marissa, kicked out for being bi; and Sam and Brad, a May-September couple who would never have gotten together without a little magic of their own. Everyone in the River City has a secret, and sooner or later secrets always come out. Narrated by Michael Lysan.
The River City Chronicles
November 10, 2021
Word Count:
110000
Summary: Five years later, and the living is easy. Well, it would be if you were anyone except Cass and Kendra. Yes, they inherited enough money so they can pursue their dreams. Cass's teleportation system is becoming accepted all over the planet, and Kendra's starship is nearly ready for its first flight. Throw in a pair of precocious daughters and what more could they want? Except the universe has other plans for them. A global crisis is brewing, one which the United Earth government has kept under wraps, one which will end up with 9 billion dead in 20 years. And a brilliant bureaucrat at the UE has decided the Cassidy's are exactly the people to help. Now they have another project: helping the UE break the crippling Artemis Accords. Unfortunately, Artemis and the Solarian Union don't want to give them up. This time it's going to take more than quick talking and a fast car if they're going to continue their dreams.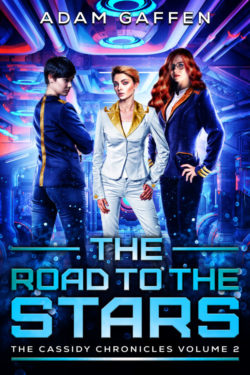 The Road to the Stars
September 15, 2020
Word Count: Information not available
Summary:
Music and magic. Steampunky science. The Dissolution is coming.
Eighteen year old recluse Sam van Oen lives with his aunt, takes online college courses, works in technical support, and tries not to remember the freak storm that killed his parents ten years ago. But anxiety and reclusion bring up memories he doesn't want. Just as Sam gathers courage to send in his application for college away from home, the temperature drops and the sun goes dim. Ice forms in August, and a portal opens in his fireplace. This time, Sam can't run. This time he's sucked in. Now Sam must survive in the flourishing capital of ten alien species, home to thousands who can change the Symphony underlying the universe and alter reality. Sam's anxiety attacks and fear of crowds transforms the Nether into a frightening, expansive city. To find his home again, Sam must learn to control the music inside him, while devastating voids threaten to destroy the Nether and everyone he has grown to love. "
Simply Put, This is a Brilliant Book. Read it Now.
" -Scattered Thoughts and Rogue Words Blog If you're looking for an awesome ride across multiple homeworlds filled with magic, science, music, and diverse alien species, don't miss the first book in William C. Tracy's Dissolution Cycle! The Dissolution Cycle (Epic Space Opera, LGBT): Book 1: 
The Seeds of Dissolution
Book 2: 
Facets of the Nether
Book 3: 
Fall of the Imperium
Book 4: 
Tales of the Dissolutionverse
 (Novella collection)
The Seeds of Dissolution
December 19, 2017
Word Count: Information not available
Summary: When a new witch threat rises, only Hunter Astley can stop them… In the face of dark magic and evil witches, a secret witch-hunting society works tirelessly to keep them at bay. The Malleus Maleficarum Council have strict rules and practises for eradicating magic. Due to their work, witches have been almost forgotten, relegated to myth; but rumours are starting to emerge of a new power that will throw the world into chaos. As the only 7th generation witch-hunter, Hunter Astley is the best the MMC has to offer. With the help of his colleagues, it's a race to track down this new threat and stop them… in any way he can. Part one of the Witch-Hunter trilogy. Free download from most ebook retailers.
The Shadow Rises (Witch-Hunter #1)
January 3, 2013
Word Count:
65000
Summary: Can home be a place you've never been, a place no one has ever been? The White Cloud is the most audacious experiment the human species has ever undertaken—to search for a new Earth. The ship and its crew exist for a solitary purpose—to reach a distant planet and establish a colony. However, the vast majority of people undertaking this journey will not live to see its result, nor were they part of the decision-making process to leave. A novel-in-stories, following the many generations who make the journey, The Voyage of the White Cloud asks how you can find meaning as a slave to destiny, a mere stepping-stone in history.These are the stories of the most ordinary people on a most extraordinary journey.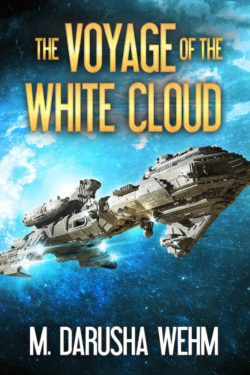 The Voyage of the White Cloud
November 27, 2018
Word Count:
52000
Summary: Never in our wildest dreams did we imagine it could happen to us... In the years since the Twelve-Minute War, the world has fallen into darkness and chaos. The combined impact of nuclear, biological, and chemical agents has rendered the majority of the world's water unfit for human consumption. Only the bravest men and women dare to venture out into the desolate, radioactive wasteland to collect this precious commodity. Matt Freeborn is one such man... a weller. A lone drifter, Freeborn's gaze is fixed ever east, away from the horrors of his past. Danger is always one step behind, however, as the weller's precious cargo makes him a prime target for attack. Savage road pirates, grotesque mutants, ravenous cannibals, and ruthless private armies all lurk behind every dune. Armed with his trusty sidearm, the Well Digger, Freeborn is fully prepared to handle any of these terrors, but there are still things even the weller fears: the bogeymen of the wastes... distillers. A high-octane, post-apocalyptic thrill ride from the author of Birthright and War of the Worlds: Goliath!
The Weller
October 9, 2015
Word Count:
59000
Summary: THE WELLER IS BACK! Still healing from his battle with the distillers in Iowa City, legendary weller Matt Freeborn crosses into Missouri, where foes both old and new await him. Finding himself dangerously low on precious ammunition for the Well Digger, the desperate weller accepts a perilous job on the mighty Mississippi. Armed with only his wits and experience, Freeborn must descend into places no sane man would dare go and face unknown terrors that hunger and hunt in absolute darkness. From the author of Vengeance for My Valentine and War of the Worlds: Goliath!
The Weller - Fear of the Dark
March 21, 2020
Word Count:
78,000
Summary: A new year has begun, and the annual Sower's Festival gala is brimming with Dockhaven's elite and their entourages. Some attend for the spectacle, some for the exotic indulgences, some to augment or gamble away fortunes. Others come to play opening moves in more subtle competitions, ones that will not realize their endgames for months to come. After a winter of convalescence, Aliara Rift wonders whether she is ready to return to the Thung Toh and if her remade body will betray her. Her mate, Duke Sylandair Imythedralin, has many concerns, the foremost being the looming destruction of the only home in which the two of them have truly felt safe. Together they will thwart land barons, politicians, and assassins as they navigate their way through a single day in Ismae's greatest port city. They Eat Their Own is the second Thung Toh Jig, a science fantasy action adventure following members of Ismae's preeminent covert organization as they execute contracts for Dockhaven's most powerful and ruthless citizens.
They Eat Their Own
May 19, 2020
Word Count:
130,000
Summary: Under the dirty streets of Ismae's greatest port city, an old nightmare waits for Sylandair and Aliara, one that is stealing Dockhaven's children, one only they can end. When the pair escaped their owner and abuser years ago, they left him behind in a ball of blue flame, but as more children disappear near the city's desalinization plant, their suspicions turn to the predator they believed dead. Accompanied by their less-than-reliable puka scout Schmalch, they delve into the forgotten depths of the patchwork city. Their search will lead to a twisting world of corruption and experimentation, uncover horrors greater than any they imagined, and summon memories they never wanted to exhume. A dark science fantasy action-adventure horror, Things They Buried is the first full-length novel of Ismae, a world where science sometimes appears as magic and history as myth, where monsters make themselves and heroes are wholly unintentional. This novel contains adult themes and violence.
Named to Kirkus Reviews' Best Books of 2019
Imadjinn Awards Best Fantasy Novel, Imaginarium Con 2020
Independent Book Publishers Awards (IPPY) Gold Medalist (Fantasy)
Things They Buried
February 19, 2019
Word Count:
41000
Summary: NO ONE FIGHTS DIRTIER THAN AN ARCHAEOLOGIST ​Foul-mouthed Dr. Nel Bently has every archaeologist's dream: a pristine site, new crew, and a private patron to fund her passion for dirt. With her trowel barely into the dry earth of Chile's coast, however, Nel learns their work is being sabotaged. The local activists Los Pobladores take issue with anyone brave or stubborn enough to set boots on their land. Nel refuses to give up the site that will make her career to vandals and looters, but she must protect both her friends and her life's work. With a benefactor playing chess with their lives, radiocarbon dates that are downright supernatural, and angry militants who may actually have a point, Nel is ready to fight dirty.
Travelers
February 27, 2015
Word Count:
96000
Summary: Treachery rules the Highlands of 1423. With their king captured by the English, Scottish nobles plot to ransom James behind the back of the brutal regent holding their land in his iron grip. But not every clan wishes to see King James back on his throne… Sitting atop this powder keg of bloodthirsty rivalries, Malcolm of clan MacKintosh takes the mysterious, lone maiden he finds along his road as a bad omen…though an undeniably beautiful one. When he attempts to save her from a rogue within his own garrison, she deftly brings Malcolm to his knees. Who is this willful lass who has so quickly laid siege to his heart? Alethia Goodsky has met all kinds working at the New York Renaissance Festival, but no one like the fortune-teller who tasks her with a cryptic life-saving mission and flings her into the fifteenth century. Now Alethia must rely on her wits to unravel the mystery in this violent land. Malcolm has sworn to protect her, but her gifts may soon make her his protector. With enemies closing in, Alethia must choose between finding a way home…and remaining true to her Highlander.
TRUE TO THE HIGHLANDER
February 18, 2014
Word Count: Information not available
Summary: Being too close to the truth got Jon Xiong's mother killed. While searching for answers, a murderous cult shows up at his door. A secretive organization called the Tuners comes to his aide and teaches him about his rare ability to travel between worlds called tuning. He grapples with his new superpower and is stuck between those who would maintain order in the multiverse and those who would destroy it. Jon must avoid the same gruesome fate as his mom and figure out what happened to his family.
Tuners
March 25, 2020
Word Count:
69300
Summary: Vassily Belikov, composer and pampered son of privilege, suffered neurological damage in the accident that killed his father. Resentful of being treated as an invalid, he lives as a recluse, dependent on his mother. That changes the day she brings home a new husband with two sons of his own. When deep-space pirates capture Vassily's mother, he's left to the mercy of his cruel, amoral stepfather. Fighting addiction and his physical shortcomings, he's forced to seek out the criminal mastermind Baba Yaga for a crucial piece of equipment. While she agrees to deal with him if he beats his Exoticus addiction, paranoia and mysterious intentions infuse her household. Drawn to her fierce, suspicious youngest son, certain his actions are all carefully observed, Vassily must find the courage to face both his fears and his desires if he expects to survive.
Vassily The Beautiful
June 11, 2014
Word Count:
73000
Summary: "Your bullets can't kill me. I'm already dead. Inside and out." When his fiancée is brutally murdered on Valentine's Day, Ash Corvus is unwittingly plunged into the nightmarish world of the Arpadeem, or as the movies call them… Vampires. What begins as a personal quest for revenge becomes a struggle for the fate of the city itself as Ash's search takes him into Cedar Rapids' secret criminal underworld. Ash must cast off his humanity and become a monster himself if he hopes to bring vengeance upon the monster who murdered his love… the man with the scar. A dark, violent thriller from the author of The Weller and War of the Worlds: Goliath!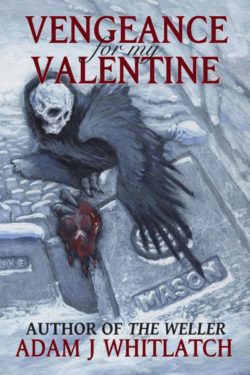 Vengeance for My Valentine
April 27, 2018
Word Count:
102000
Summary: Kerys Loring hopes an expedition to a distant alien ruin will make her career―assuming she lives long enough to still have one. Her last team made a significant find, but her bosses took all the recognition and grant money. When Avasar Biotechnology appeals to her unique combination of experience and desperation, she jumps at the chance, even if it means leaving her little brother behind for a three-year trip. At least she'll be thousands of light-years away from her abusive ex. Within minutes of arrival, her excitement shatters at the sight of her ex already there. Clinging to the hope his position with botanical sciences will keep him away from her team, she forces herself to continue. On her first day in the ruins, she makes a profound discovery… but something goes terribly wrong. Her domineering ex soon becomes the least of her problems as an unstoppable alien threat plunges Wayfarer Outpost into chaos. Trapped in an isolated facility with death stalking every corridor, Kerys finds herself up against an even more insidious threat than ancient aliens: the truth.
Wayfarer: AV494
August 24, 2018