Word Count:
76,000
Summary: Abandoned by his werewolf lover, the only thing Reylan wants is to return to his vampire life of blood and beautiful boys. It's a solid plan, until his first meal as a single man tries to kill him. Hoping to free his young would-be assassin from the religious zealots that sent him, Reylan enlists the help of Iain Grieg, a charismatic priest with unsettling knowledge of the night's secrets. Surrounded by conflicting agendas and an army fuelled by hate, Reylan fights to secure his future, if he can only trust the mysterious priest and bury the ghosts of the past.
Sins of the Son
January 20, 2019
Word Count:
45,000
Summary: Kyle, a young newcomer to New Orleans, is haunted by the memory of his first lover, brutally murdered just outside the French Quarter. Marc, a young Quarter hustler, is haunted by an eccentric spirit that shares his dreams, and by the handsome but vicious lover who shares his bed. When the barrier between these men comes down, it will prove thinner than the veil between the living and the dead…or between justice and revenge.
Skin
November 14, 2017
Word Count:
75,000
Summary: Reylan is everything a Sydney vampire aspires to be: wealthy, handsome and independent, carefully feeding off companions plucked from the gay bars of Oxford Street. When one of those companions is killed by Jorgas, a hot-headed young werewolf prowling his streets, Reylan reluctantly puts his cherished lifestyle of blood and boys on hold to help a mysterious alliance of supernatural beings track down the beast. It can't be that hard... not when Jorgas keeps coming after him. But there's more to this werewolf than a body count and a bad attitude. As their relationship grows deeper and more twisted, Reylan tastes Jorgas' blood, reawakening desires the vampire had thought long dead. And what evolves between them may be far more dangerous than some rival predator in the dark...
The Beast Without
March 27, 2013
Word Count: Information not available
Summary: One underworld entanglement. One haunted music venue. One chance to make it out alive. When Barry Matthews left his band to become the booker for Melbourne's hottest music venue, he never expected to find a link to the past buried deep within the rubble from the renovations. And now the new spate of threatening phone calls are becoming as troubling as the disappearing visitors and the malevolent activity in the basement. Trapped within the hotel with the alluring Simon, or Felicia, depending on his choice of outfit, they must join together to survive the threats from outside, as well as the dangers growing within the walls of the hotel. But the longer the renovations go on, the stronger the dark forces become. Barry and Simon must uncover the secrets behind the hotel's sinister history before it's too late, or risk becoming the hotel's latest victims.
The Booker
April 30, 2020
Word Count:
100000
Summary: Short Synopsis Agata Rosso, a once-mighty yet now prematurely aged European witch, believes that the special gifts in a young girl named Lía Munro can restore youth and vitality both to herself and her bedridden husband. She sets a deadly plan in motion to capture and use Lía—but will the girl have enough power to protect herself, plus the father she loves so much? Outline 1940 in a small farming region, and children have disappeared from the land. Local families—old-time Australians and newer European arrivals—know what to do about packs of wild, scavenging dogs in the forests, but they seem to have no way of finding children whose very bones have vanished from the earth. They also don't know how to deal with the strange couple Mr and Mrs Rosso, who might just hold the key to everything—including the miraculous breaking of a ten-year drought. Now it's 1977 and the wider city is growing, encroaching into these outlying communities and turning pristine farmlands into new housing estates. Paul Munro and his daughter, Lía, have arrived to inspect an available property; it's the secluded hillside old home of the Rossos. Paul and his wife—who has recently died—grew up around the area. Paul wants to show Lía the countryside of his early years, but when Lía experiences Rosso House for the first time its undeniable spell and the spirits it hides makes her understand that this is the place she really wants to be. Just turning sixteen, grieving the loss of her mother, experiencing a spiritual awakening she doesn't understand, Lía loves the quiet isolation and rural beauty that Rosso House and its land has to offer. At first her new life with her father seems idyllic, yet she's soon drawn into committing a terrible act of mercy. At the same time Paul meets the beautiful and enigmatic Candela, only to become ensnared in the evils that hold her and her baby captive. The connection between Lía's suffering and Candela's troubles might just be the wizened old witch, Agata Rosso. Constantly searching for a way to restore her youth and her husband's powers, Agata soon discovers just how useful Lía could be. She sends the most ruthless of men to capture her; in parallel, the terrifying man-wolf-father of Candela's baby will do anything to get his son back. Lía desperately needs her father's help; Candela is trying to escape a world of violence; both women are soon confronted by the very definition of evil. Will they find help from others, or is there some deeper answer within themselves? The shadow-worlds of ancient evil and modern corruption collide in this supernatural thriller, blending past and present, history and fiction, into a mesmerising adventure.
The Crying Forest
November 2, 2020
Word Count:
40000
Summary: Manifesto The Great rules Planet Hy Man, a Planet where meat is as toxic as nuclear waste. Faced with an uprising, Manifesto The Great turns to the only person he can trust----his mother; but she has days to live. With an army of malfunctioning Mae West robots and a committee as innovative as a sock puppet, Manifesto The Great loses control. And as his city falls under the hands of Fanny and her rebels, the grieving leader retreats to his cocktail bar. High on a cocktail of hormonal meat and hemp cocktails, Manifesto The Great returns to his committee for advice. But they have other plans, mainly to bat with the winning team, and from the looks of Manifesto The Great, he ain't one of 'em. Will he rise to command again or has he buried his balls along with his mother in a sea of cocktails and mad ramblings?
The Downfall Of Manifesto The Great
July 1, 2021
Word Count:
120000
Summary: A woman with the strength to rebel. A shapeshifter who wears the souls of the dead. Together, they face a lethal enemy. Em helped create it. Now she must craft its defeat. In a city owned by industrialists, Em sells her magic to make ends meet. The extraction procedure is brutal and potentially deadly. Desperate for change, she joins an underground resistance movement to weaponize her magic and stop the abuse of workers. Meanwhile, a mysterious voice wakes Ruk from a decades long slumber and compels him to become human. He wants to break free but is torn between his shapeshifter instincts and the needs of the soul that sustains him. On streets haunted by outcasts and predatory automatons, a new danger emerges – an ever-growing corruption of magic and science. Em and Ruk must put aside their differences and pursue it – each for their own reasons. What they discover will forever change their lives… Or end them. The Eternal Machine is set in a 19th Century alternative reality Australian city, where magic and science are equally valid disciplines.
The Eternal Machine
February 14, 2022
Word Count:
54000
Summary: He was the shameful cause of his sister Elena's death and he stole state papers from England, yet Adrian Hart is feted by the best of society in Rome, and boldly dubs himself 'Iago'. Determined to avenge Elena, his unrequited love, Lieutenant Andrew Sullivan asks the advice of poet and Shakespearian John Keats, and his artist friend Severn. Soon Percy and Mary Shelley join them, then Lord Byron and his servant Fletcher. But how can the seven of them work against this man, when they can't even agree what he is? The atheist Shelley insists that Hart is an ordinary man, while Byron becomes convinced he's the Devil incarnate, and Keats flirts with the idea that he's Dionysius… As death and despair follow in Hart's wake, Sullivan knows he must do something to stop Hart before even Sullivan himself succumbs – but what…?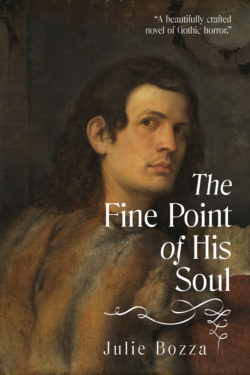 The Fine Point of His Soul
July 1, 2016
Word Count:
85,000
Summary: Reylan's last assignment for The Arcadia Trust brought a rebellious human servant under his roof, and a volatile werewolf lover named Jorgas into his bed, leaving the self-reliant Blood Shade—known to the outside world as vampires—in no hurry to risk his immortality for them again. But when a new terror starts disappearing humans from a bad part of town, Reylan must do everything in his power to keep Sydney's supernatural factions from the brink of war. Having an ambitious, meddlesome human in the mix is only going to make things worse…especially when that human is Jorgas's father. Reylan will need all his determination and cunning to keep the peace under his roof, between the night's power brokers, and in his lover's troubled heart.
The Orchard of Flesh
August 1, 2016
Word Count:
45000
Summary: Manifesto the Great comes from a dynasty of leaders who treat women like breeding machines. When his father dies, he must take over as leader, but will he be able to keep control of the women? Planet Hy Man is a planet as pure as a baby's belly button until a spaceship arrives; a spaceship full of men and women who have spent a lifetime of celibacy. Sex, like roast chicken and football being off the menu until a planet was found.  They hurl themselves into a frenzy of real meat, real air, and sex until a leader emerges to create order, civilization and a sewage system. Manifesto the Great watches as his forefathers pollute the planet, treat women as walking wombs, and make dodgie robots until it is his turn.  Will he rise over the tidal wave of discontented women, or will he drown under a sea of underwire and oestrogen? The Rise Of Manifesto The Great is the first of three prequels to the Planet Hy Man science-fiction comedy series. If you like high-mileage heroines, fast-paced satire, and meticulously crafted universes, then you'll love Kerrie Noor's otherworldly farce. 
The Rise Of Manifesto The Great
March 31, 2021
Word Count:
18000
Summary: "Welcome, Mr Reese and Mr Connor... I trust your special day was all that it was cracked up to be? And what better way to compliment your union than with a honeymoon across time, eh? We here at TimeLabs are the premier time travel company and our guides are highly trained. Anything you want, anywhere you want to go... The possibilities are very nearly endless..." Sam and Zak take a Time Tour for their honeymoon, visiting some of the events through time which have captured their interest, including the very first Olympics. A five-star time machine for transport, luxury meals, fine wines—what could be more perfect? TimeLabs Inc. Tom loved his master, his job and the wonderful society he lived in—until one day, somebody hacked his tattoo and his world changed forever. Tattoo Kel meets his first alien and falls in love with her. Except... Alien Love Story Evan and Joey step through a door and find themselves in a whole new world where mythical creatures are as real as they are. Love Spider General Parker Rodriguez didn't believe for one second in the existence of flying saucers with little green men conducting random probes, but he still knew that Aliens were out there. And when they came, he would be ready. E-Contact And a dystopian short, My Day At The Beach TimeLabs Inc is a collection of six science fiction short stories, all with a romantic theme.  Not explicit. Suitable for both teens and adults.
TimeLabs Inc
March 15, 2017
Word Count:
63220
Summary: Alan Stewart, First Lieutenant on the space ship Qatar, and Captain Robin Lang of the Huan Police Force, have been best friends since their days in the Space Academy, despite the fact that Stewart is homosexual and Lang has a wife and son, Max. However Max is growing up and their friendship is threatened when Lang believes Stewart has designs on his son. When Max, now an adult and a recent recruit to the Qatar, is assaulted in a gay bar, Lang accuses Stewart.  In an attempt to protect his son at all costs, Lang finds himself drawn into a dark conspiracy of murder and blackmail. Meanwhile, Stewart has his own battles to fight.  Apart from defending himself against Lang's accusations, he discovers the young man he is falling in love with, Michael Banner, is the one man on the ship who is out of bounds, untouchable. Lives and love hang in the balance as Lang and Stewart search for the truth.
Untouchable
October 17, 2014