Word Count:

70000
Summary: When you have chaos magic, the only thing you can do is expect the unexpected. Zombies. Shoestorms. Illicit unicorn rides. A talking red panda. Before today Max never believed in magic, despite bad luck so terrible he used to jokingly call it a curse. Now he's a reluctant believer. His first day as a mage he draws the attention of the magic police, not to mention the mysterious hooded figures chasing him all over downtown Portland trying to kill him with magic. With the help of his new speed-demon red panda familiar, his fortune-telling neighbor, a gadget-obsessed witch, a grumpy vampire, and his maybe-brother, Max needs to learn to use his chaos magic, and quickly, or his 'curse' is going to be the end of him and the people he loves.
Red Pandamonium
Word Count:

100700
Summary: When Xavier arrives home on the last day of school, he walks into a horrifying scene of his uncle being consumed by a demon. After being rescued by a vampire named Serea, he finds himself thrust into a dark reality as a fledgling witch. Now Xavier must chart a new life while within the confines of the mysterious organization known as Zora. Can Xavier and his fellow witches protect themselves and humanity from a plot that threatens their nation?
Rising
Word Count:

92000
Summary: WELCOME TO THE ROOTS OF LOVE! Thirteen authors, fourteen stories, and lots of HEA/HFN - what more could you ask for? We went out and found the best romantic origin stories on the market today and collected them in one volume. Whether you want fantasy, urban, paranormal, contemporary, classical, or sci-fi, it's here. Straight, sapphic, gay, polyamory, we have the flavors to satisfy. Want to know more? A sci-fi short from noted sapphic author Lila Gwynn that begins at the end of the world C.R. Clark brings you a curse that might turn into a blessing AC Adams tells the tale of a djinn who is looking for the wish that will free her from bondage Award-winning author David Green takes you on a quest for love and revenge Can romance bloom in spin class? Nat Paga's going to show you how Gods and goddesses and humans, oh my! Courtesy of Lou Grimes It might be the future, but Adam Gaffen's characters still grapple with the forbidden attraction between a student and their professor A workplace romance heats up when the boss gets involved in Madilynn Dale's contribution There's love to be found in Dani Hermit & Curtis Star's Omegaverse, if you know where to look AC is back with a story in her award-winning Kalili's Temptation universe A modern retelling on the Romeo and Juliet origin story gets the full, lyrical Rose Sinclair treatment Jump into the hopepunk future of O.E. Tearmann and see what true friends do for each other Valkyries and shifters are mortal enemies, but do they have to be? Find out in Poppy Minnix's tale What could possibly happen when a fae starts reading tea leaves for humans? Sienna Swift has your answer So sit back, relax, and enjoy this journey into all the ways love can begin in the most unlikely circumstances!
Roots of Love
Word Count:

35000
Summary: THE TIME TO STAND UP FOR YOURSELF IS NOW – AND ALWAYS! Past and present shatter like glass as Iria and Madge, lovers and witches in modern-day San Francisco, send their friend and ally Emperor Norton back in time to snatch a key to the city's soul from one of its most turbulent events: the Compton's Cafeteria riots! As the abused and exploited LGBTQIA+ people of the Tenderloin neighborhood rise up against their violent oppressors, our heroes find their plans foiled by Mammon, their demonic foe, when he sends his lieutenant Etta Place to ambush them in the present while he attacks them in the past. As Norton and Place dance a deadly duel in the shadow of one of the city's greatest monuments, Iria and Madge must use their most powerful arts and quickest wits to wage a battle of wills and weapons across multiple moments in time. Betrayals abound and secrets are revealed as everyone involved—good and evil, wicked and wise—joins the battle for their own soul, the soul of the city, and their place in its future! Servant/Sovereign is the time-bending urban fantasy series from award-winning author Michael G. Williams, set in the Shadow Council World of Quincy Harker.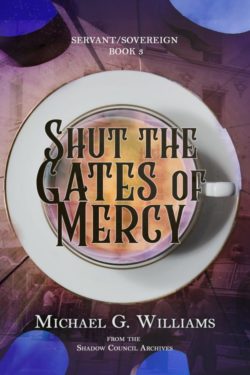 Shut the Gates of Mercy
Spark, A Creative Anthology: Volume VIII
Word Count: Information not available
Summary: Discover ten planets, joined through music-based magic and an immense sentient crystal. This anthology contains nine stories from the popular Dissolutionverse universe! Join Origon as he investigates the Pixie homeworld and tries to avert a war! Learn how to change the Symphony with Rilan, as she searches for Origon's lost brother. Travel with merchants in an old war train with some suspicious cargo. Fly with the first majus in space! Discover the food and culture of the ten species. Learn what lurks in the basement of the House of Potential. Music, magic, and murder is afoot with Mandamon, as someone plots to bring down the secret Society of Two Houses! An ancient being confronts other-dimensional entities. And a climbing crew searches for the top of a miles-high wall, riding a giant steampunk beetle! If you like space opera, fast-paced adventure, music-based magic, and complex, diverse characters, then you'll love this collection of stories from William C. Tracy's Dissolutionverse. Pick up Tales of the Dissolutionverse to discover the music today! There's more adventure in The Dissolution Cycle (Epic Space Opera, LGBT): Book 1: The Seeds of Dissolution Book 2: Facets of the Nether Book 3: Fall of the Imperium Book 4: Tales of the Dissolutionverse
Tales of the Dissolutionverse
Word Count: Information not available
Summary: ONE UNDERWORLD ENTANGLEMENT. ONE HAUNTED MUSIC VENUE. ONE CHANCE TO MAKE IT OUT ALIVE. Despite the ghosts, Barry Matthews takes on the job as booker for the Boardwalk View Hotel. But the renovations uncover something much more sinister. When Barry "Bazza" Matthews leaves his band The Maggots to become the booker for Melbourne's hottest music venue, he never expects to find a link to the past buried deep within the rubble from the renovations. And now the new spate of threatening phone calls are becoming as troubling as the disappearing visitors and the malevolent activity in the basement. Trapped within the hotel with the alluring Simon, or Felicia, depending on his choice of outfit, they must join together to survive the threats from outside, as well as the dangers growing within the walls of the hotel. But the longer the renovations go on, the stronger the dark forces become. Will Barry and Simon uncover the secrets behind the hotel's sinister history before it's too late, or will they become the hotel's latest victims? Rainbow Awards 2021 - Honorable Mention "Wonderfully strange" - Rainbow Awards
The Booker (M/M Haunted House)
Word Count:

7150
Summary: In a four-gendered world where correct gender identity is law, Venk struggles with his inability to choose one sexual orientation over another. His body has matured, but he still shows the multi-colored crest of a juvenile, someone who has not yet presented proper orientation. With his family losing patience and others beginning to whisper, Venk must find a way to change his crest or be labeled an aberration. But the only choice he sees is a dishonest one.
The Color of His Crest
Word Count:

13000
Summary: Poems written by Cyborgs in the future, melding sci-fi and poetry, human and machine. The Cyborg Anthology takes place in a future where there was a thriving world of Robots and Cyborgs living peacefully beside Humans, but a disaster destroyed all Robot and most Cyborg life. The book is organized like a typical anthology of literature, split into sections that include a biography of each poet and a sample of their poetry. It covers early Cyborg poetry, political, celebrity, and pop culture poets, and ends with the next generation of Cyborg poets. The narrative takes place in the time after a cataclysmic event, and the collection wrestles with this loss. Through the lives of the poets, the book chronicles the history of personhood for technological beings, their struggle for liberation, and demonstrates different ways a person can be Cyborg. The poems and biographies together tell the story of a complex and enthralling world-to-come, exploring topics that are important in the future, and also urgent right now. "With mordant wit and a playful satiric touch, these Cyborg poems showcase a dazzling range of poetic forms and ideas: imaginative and charmingly subversive. Move over Norton Anthology of Poetry, there's a new force in town, and they are a delight." —Renée Sarojini Saklikar, author of Listening to the Bees and Children of Air India "The premise of this collection alone is fabulous. The poems are potent and powerful. With echoes of Le Guin, Brunner and Monáe, Lindsay B-e's debut is layered and smart, provocative, and deeply satisfying. I was moved and fascinated. Speculative poetry at its best." —Hiromi Goto, author of Chorus of Mushrooms and Darkest Light
The Cyborg Anthology
Word Count:

114000
Summary: A Slow Burn Meet Cute! Baker. Wizard. God of Space and Time. Cupcake enthusiast. How long will it take to fan the flames and enrage this gentle phoenix? Start counting. What's a wounded and lonely little cinnamon roll to do? Stripped of his psychic powers, Calico Winghorse flees his homeworld and travels to 19th century Earth via his inter-dimensional portal. As a mixed-blood phoenix trapped in human form, he opens a bakery in the San Francisco Bay Area and quietly nurses his wounds. But the unique method of his arrival draws the unwanted attention of Infinity Corporation. Representing this angelic-run company is Agustin Chavez de la Cruz, the Demon Lord of California. Even though Agustin is IC's heir, he finds himself demoted from his duties to concentrate on his new assignment: take absolute control of Calico's portal. But Calico refuses to sell at any price. He is also very busy ensuring that the good people of the city are getting their fill of baked goods. Before Agustin can formulate a more gracious avenue of acquiring the gateway, the demanding head of IC interferes, further complicating matters. So as negotiations stumble along, Calico and Agustin come to realize they both want more than a stuffy business arrangement. However, due to Calico's injuries, the portal remains vulnerable to the darker forces that want it at any cost. Agustin will have to push both his angelic heritage, as well as his own psychic powers to the very limits to heal this sweet baker, who is also the portal world's God of Space and Time. The Demon Lord of California is the first book of an LGBTQ+ paranormal-fantasy series. You won't want to miss a first love found, hidden worlds, and a recovering workaholic grasping at his second chance. All centered around the control of an otherworldly portal. So curl up with your favorite beverage, and hang out with Cal and Gus for a while. You'll be happy you did!
The Demon Lord of California
Word Count:

92459
Summary: Ben and Alysia, sole mates, cursed to be separated by age and social norms until they live a life and raise a child together in love, struggle to defeat the curse. Meanwhile, the originator of the curse, Dorry, hounds them from life to life in a selfish and self- destructive vendetta. Follow these souls through Albert, Bernidine and Darius, nobles in fifteen hundreds France when the curse begins. To Abigail and Bernia Sapphic lovers in the year 1774 who are hounded by Donald, a false pretender to Abigail's Estates. Later still in the Colorado Territories of the American west shortly after the civil war Ada and Bailey, a young emancipated slave and a radical Doctor from the North, struggle to love against the bias of their time and the plots of Deigo. Then in our current times, the lovers strive to break the curse and let love triumph. But is love enough when the world is against you?
The Hollow Curse
Word Count:

40,400
Summary: Sequel to Lost in Time and Shadows on the Border Inadvertently tumbling through the border after Fenn and then thrown into the middle of the internecine political disputes of their people, Sergeant Will Grant of the Metropolitan Police has spent three months in prison in the Underhalls of the Frem. When Fenn comes to free him and return him home through the border, he has very little time to work out what's going on before the sudden appearance of Fenn's missing younger sibling, Keren, throws Fenn for a loop. Instead of returning them to London as planned, the trio step through the border to the Egyptian desert. Once they work out where they are, it's a two week trip back to England with the possibility of pursuit both onboard ship and when they reach home. Will the journey give Fenn and Will time to resolve the feelings they have been dancing around since the day they met? How will they keep Keren from recapture by the faction who tried to persuade Fenn they were dead? And has Will's friend Alec forgiven Fenn for lying about their motives when they first traveled to London four months ago? The Hunted and the Hind is the third and final book in the 1920s 'Lost in Time' trilogy. The books need to be read in order.
The Hunted and the Hind
Word Count:

100000
Summary: They say, "Never work with androids or children." Quirk had one job to do, deliver papers to a Milan mafia boss, before leaving Earth for his home in the asteroids. But that was before being tailed, poisoned—oh, yes—and hijacked into raising foulmouthed fourteen-year-old convent girl Angelika Moratti, aka Moth, who'd rather see him asphyxiate in space. Fleeing assassins, Quirk, Moth and her syRen® android S-0778 ride the space elevator to the Moon, where Quirk hires on to hunt an ex-terra-former who somehow used an android to murder his doctor. But which android of the two hundred under Lunaville's dome? The trail of bodies grows, time is running out; the only way they can save the dome and the two thousand souls beneath it is to solve The Mandroid Murders. Genres: Science Fiction / Thriller / Mystery / Adventure / LGBT and Non Binary Market: Adult
The Mandroid Murders
Word Count:

82000
Summary: Amber's astral projection ability is rare… … and it's everything the Council of Highmere has been waiting for. Trained in astronomy, Amber is bored by her tedious, Council-appointed job. When her mind wanders, so does her astral body, and always to the same place – a meteor-flattened crater in a forest with an ancient metal sign poking up through the dirt. The sign warns of Sudden Death. The virus had decimated the population of the planet, and left in its wake the seeming utopia Amber's people enjoyed. But with the warning, Amber starts to question her world like never before. Her quest to unbury the past makes her a threat to the Council. And they will use her family against her. Can Amber uncover the truth behind the ancient warning sign before the Council enacts their plan? You'll love this sci-fi adventure, because you can't protect your family if you don't know what's out there. Get it now!
The Qinali Virus
Word Count: Information not available
Summary:
Music and magic. Steampunky science. The Dissolution is coming.
Eighteen year old recluse Sam van Oen lives with his aunt, takes online college courses, works in technical support, and tries not to remember the freak storm that killed his parents ten years ago. But anxiety and reclusion bring up memories he doesn't want. Just as Sam gathers courage to send in his application for college away from home, the temperature drops and the sun goes dim. Ice forms in August, and a portal opens in his fireplace. This time, Sam can't run. This time he's sucked in. Now Sam must survive in the flourishing capital of ten alien species, home to thousands who can change the Symphony underlying the universe and alter reality. Sam's anxiety attacks and fear of crowds transforms the Nether into a frightening, expansive city. To find his home again, Sam must learn to control the music inside him, while devastating voids threaten to destroy the Nether and everyone he has grown to love. "
Simply Put, This is a Brilliant Book. Read it Now.
" -Scattered Thoughts and Rogue Words Blog If you're looking for an awesome ride across multiple homeworlds filled with magic, science, music, and diverse alien species, don't miss the first book in William C. Tracy's Dissolution Cycle! The Dissolution Cycle (Epic Space Opera, LGBT): Book 1: 
The Seeds of Dissolution
Book 2: 
Facets of the Nether
Book 3: 
Fall of the Imperium
Book 4: 
Tales of the Dissolutionverse
 (Novella collection)
The Seeds of Dissolution
Word Count:

87000
Summary: In the interstellar kingdom of Valoris, the balance of power has changed. Dressa Rhialden has all she ever wanted—except she only wanted Lesander, gorgeous prince of an enemy high house, not the kingdom meant for her sister. Unfortunately, her betrothal came with both, and now she has a lot of catching up to do. But she's falling hard for Lesander in the meantime, and with her kingdom on the line and Lesander maybe her enemy, is falling in love really a good idea? When alien attacks that shouldn't be possible plague her kingdom's distant worlds, Dressa's new position is put to the test. Why are the pacifist Kidaa attacking now, and were the attacks made by the Kidaa at all? There's more going on than an internal power shift, and she has far more secrets to uncover to keep her kingdom safe. Ari Rhialden had her whole life planned out: excel at being the Truthspoken Heir, controlling her kingdom with her shapeshifting powers, and then one day excel at ruling the kingdom. But when she contracts an incurable illness and loses her ability to shapeshift, those plans are derailed. Ari's sent undercover to a resort world for treatment, but all is not right in paradise. A young gardener with a mysterious past is taking too much interest in Ari's new persona, and a possessive duke is bent on capturing her attention for himself. Are these just the ordinary machinations of noble guests or something far more sinister? In a kingdom where subterfuge is the norm, coincidence is never just that, and now events are rapidly spinning out of control. Can Dressa and Ari find their way to truth before the kingdom comes crumbling down around them? The Shadow Rule is the second season of The Stars and Green Magics, an epic space fantasy serial set in a diverse, queernorm universe with shapeshifting royals, plotting nobles, and space magic! The Shadow Rule collects episodes 37-93, the complete second season. This book has main characters who are queer, nonbinary, trans, agender, genderfluid, ace and/or aro, lesbian, fat, POC, disabled, ND, and generally awesome. (Not all rep is stated, some is implied.) Barring the occasional burst of strong language, this book is PG-13.
The Shadow Rule
Word Count:

67000
Summary: In the interstellar kingdom of Valoris, everyone knows the royal family is watching. They can be anyone and anywhere with their shapeshifting abilities—they are Truthspoken and to be feared. Of course, that doesn't stop the high houses from trying to take them down by any means they can. Arianna is the perfect Truthspoken Heir: beautiful, intelligent, and a master of her shapeshifting craft, determined to one day rule with the same control as her father. Her dreams come crashing down, though, when she's attacked by a rogue Green Magicker at her betrothal to a rival high house prince, when it's known that magickers can't do violence. Was it treachery, was it personal, or was it something else? Arianna has been slowly getting ill for weeks, and Truthspoken don't get sick. Dressa is the second Truthspoken heir and would like to stay that way, thank you very much. She's the glittering socialite of her father's court, more loved than feared. But when her older sister falls ill and is secretly sent away from court, there's still the matter of a much needed marriage alliance with a rival high house—and an absolutely gorgeous prince, who her sister wasn't keen on marrying anyway. When her father orders her to take her sister's place until she returns—her name, her appearance, everything—can Dressa carry on the act without falling for her sister's intended bride? Paranoia around Green Magickers is growing, noble plots are closing in, and in deep space, the only aliens humans have met are showing signs of not being pacifists after all. Can the Truthspoken hold their kingdom against the coming storm when it's already crumbling from within? The Truthspoken Heir collects the first season of The Stars and Green Magics, an epic space fantasy serial set in a diverse, queernorm universe with shapeshifting royals, glittering court intrigue, and space magic! This book has main characters who are queer, nonbinary, trans, agender, genderfluid, ace and/or aro, lesbian, fat, POC, disabled, ND, and generally awesome. (Not all rep is stated, some is implied.) Barring the occasional burst of strong language, this book is PG-13.
The Truthspoken Heir
Word Count:

65000
Summary: Can home be a place you've never been, a place no one has ever been? The White Cloud is the most audacious experiment the human species has ever undertaken—to search for a new Earth. The ship and its crew exist for a solitary purpose—to reach a distant planet and establish a colony. However, the vast majority of people undertaking this journey will not live to see its result, nor were they part of the decision-making process to leave. A novel-in-stories, following the many generations who make the journey, The Voyage of the White Cloud asks how you can find meaning as a slave to destiny, a mere stepping-stone in history.These are the stories of the most ordinary people on a most extraordinary journey.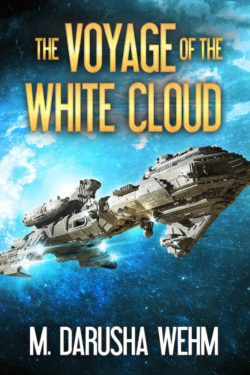 The Voyage of the White Cloud
Word Count:

76144
Summary: Fairy tales. Prince Charming fights evil, wins the princess, lives happily ever after. Three sons, three wishes, witches, dragons, a quest, and happily ever after. These stories are part of our cultural fabric. The stories change in retellings to reflect contemporary culture, such as Princess Charming, or heroes and heroines as people of color. In this collection, queer characters take center stage in stories that grew out of questions: What if the prince falls in love with Cinderella's gay stepbrother? What if Rumpelstiltskin doesn't really want the Queen's child but rather the King himself? What if Beauty and the Beast are two men? These stories explore metaphors of magic and the magical, this time, with a gay perspective. What price must be paid for happily ever after? Duty or love? Is love worth great sacrifice? Once upon a time ...
The Wicked Stepbrother and Other Stories
Word Count:

81,000
Summary: Explore the birth of a new world! Journey through time and space to the intricate biosphere of Juno, where three species have been birthed by the gods. First the Kuhifadi, inheritors of sun magic, able to do great deeds with magic stored in their bodies. Second the fearsome Uchafumlaji, technological savants who live in the depths of the ground. Third the weird Ngisikaa, a species uplifted from animals through communal memories. Small decisions and single individuals will affect the tide of history. Learn of the first Ngisikaa to meet death, whether a Kuhifadi will make the sacrifice to become a mage, and if an Uchafumlaji can build a bridge to the past. These stories and more will create The World of Juno! With content by: Nick Bright and Brent Lambert, C.J. Hosack, Nate Battalion, Daniel Eavenson, Malcolm F. Cross, Katie Cordy, William C. Tracy, N.L. Bates, Reese Hogan, Cedan Bourne, Robin C.M. Duncan, and X.M. Moon Genres: Science Fiction / Fantasy / Adventure / LGBT and Non Binary Market: Adult
The World of Juno