Word Count:
59337
Summary: The Brimstone. Demon owned and—mostly—demon operated. Shax, an exiled prince of Hell, has gathered only the best misfits for his motley crew. You've been with us from the rescue of a runaway angel in a psychedelic nightmare jungle to the house that Poe built. Now share some in-between moments with the Brimstone crew – flash fiction snippets plucked from various spots in each personal timeline, from Shax and Verin's youth in Hell to after the events of Beside a Black Tarn. The Brimstone Journals, Collection Two also includes an exclusive short story, never published as part of the blog series. Leopold meets his formidable grandmama, much to his father's dismay.
The Brimstone Journals: Collection Two
March 21, 2018
The Chimera: Bound Gods #1
March 22, 2016
Word Count:
24000
Summary: Every time something goes missing from the village, Sir Violet, the local knight, makes his way to the dragon's cave and negotiates the item's return. It's annoying, but at least the dragon is polite. But when the dragon hoards a person, that's a step too far. Sir Violet storms off to the mountainside to escort the baker home, only to find a more complex mystery—a quest that leads him far beyond the cave. Accompanied by the missing baker's wife and the dragon himself, the dutiful village knight embarks on his greatest adventure yet. The Dragon of Ynys is an inclusive fairy tale for all ages.
The Dragon of Ynys
September 15, 2020
Word Count:
43000
Summary: Shax can't walk away from an abandoned, hungry kitty. The fact that she can eat him in three bites is irrelevant. Someone abandons a pedigree hellcat right where Shax can conveniently claim her and sets off a cataclysmic domino line of events. It's time for the other shoe to drop since the Brimstone has a shadow cabal after them—partly due to Shax's own, er, interesting decisions and partly due to the presence of Agent Julian Parallax onboard. As ship security officer, Ness has a lot on his mind—a dangerous new pet, even more dangerous criminals tracking the Brimstone, and yet another unexpected rescued guest. The last thing he needs is a distraction and Julian, who confuses and confounds him more every moment, is exactly the distraction he doesn't need. Between Shax's reckless gambits and Julian's disregard for his own safety, how is Ness supposed to keep anyone safe? The Brimstone and her intrepid crew do all they can to stay one step ahead, but this time the hunters are closing in.
The Hunt for Red Fluffy: Brimstone 6
September 12, 2019
Word Count:
82000
Summary: Amber's astral projection ability is rare… … and it's everything the Council of Highmere has been waiting for. Trained in astronomy, Amber is bored by her tedious, Council-appointed job. When her mind wanders, so does her astral body, and always to the same place – a meteor-flattened crater in a forest with an ancient metal sign poking up through the dirt. The sign warns of Sudden Death. The virus had decimated the population of the planet, and left in its wake the seeming utopia Amber's people enjoyed. But with the warning, Amber starts to question her world like never before. Her quest to unbury the past makes her a threat to the Council. And they will use her family against her. Can Amber uncover the truth behind the ancient warning sign before the Council enacts their plan? You'll love this sci-fi adventure, because you can't protect your family if you don't know what's out there. Get it now!
The Qinali Virus
April 17, 2020
Word Count: Information not available
Summary:
Music and magic. Steampunky science. The Dissolution is coming.
Eighteen year old recluse Sam van Oen lives with his aunt, takes online college courses, works in technical support, and tries not to remember the freak storm that killed his parents ten years ago. But anxiety and reclusion bring up memories he doesn't want. Just as Sam gathers courage to send in his application for college away from home, the temperature drops and the sun goes dim. Ice forms in August, and a portal opens in his fireplace. This time, Sam can't run. This time he's sucked in. Now Sam must survive in the flourishing capital of ten alien species, home to thousands who can change the Symphony underlying the universe and alter reality. Sam's anxiety attacks and fear of crowds transforms the Nether into a frightening, expansive city. To find his home again, Sam must learn to control the music inside him, while devastating voids threaten to destroy the Nether and everyone he has grown to love. "
Simply Put, This is a Brilliant Book. Read it Now.
" -Scattered Thoughts and Rogue Words Blog If you're looking for an awesome ride across multiple homeworlds filled with magic, science, music, and diverse alien species, don't miss the first book in William C. Tracy's Dissolution Cycle! The Dissolution Cycle (Epic Space Opera, LGBT): Book 1: 
The Seeds of Dissolution
Book 2: 
Facets of the Nether
Book 3: 
Fall of the Imperium
Book 4: 
Tales of the Dissolutionverse
 (Novella collection)
The Seeds of Dissolution
December 19, 2017
Word Count:
65000
Summary: Can home be a place you've never been, a place no one has ever been? The White Cloud is the most audacious experiment the human species has ever undertaken—to search for a new Earth. The ship and its crew exist for a solitary purpose—to reach a distant planet and establish a colony. However, the vast majority of people undertaking this journey will not live to see its result, nor were they part of the decision-making process to leave. A novel-in-stories, following the many generations who make the journey, The Voyage of the White Cloud asks how you can find meaning as a slave to destiny, a mere stepping-stone in history.These are the stories of the most ordinary people on a most extraordinary journey.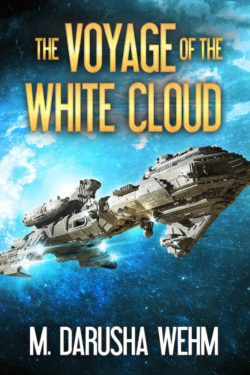 The Voyage of the White Cloud
November 27, 2018
Word Count:
143365
Summary: Viva la revolucion! The Primus, Vasilia Newling, is facing her worst nightmares: A revolution on Luna Titan and the Asteroids abandoning the Solarian Union. Defections from within her own government. All because of those damned Cassidys! But she's still as ruthless as ever. And if Aiyana and Kendra thought she was playing dirty before? They're going to see how filthy she really can get. There isn't room for both the Terran Federation and the Union. This time, one is going down. For good. Return to the future for the fifth installment of The Cassidy Chronicles: Triumph's Ashes.
Triumph's Ashes
August 15, 2021
Word Count:
73000
Summary: "Your bullets can't kill me. I'm already dead. Inside and out." When his fiancée is brutally murdered on Valentine's Day, Ash Corvus is unwittingly plunged into the nightmarish world of the Arpadeem, or as the movies call them… Vampires. What begins as a personal quest for revenge becomes a struggle for the fate of the city itself as Ash's search takes him into Cedar Rapids' secret criminal underworld. Ash must cast off his humanity and become a monster himself if he hopes to bring vengeance upon the monster who murdered his love… the man with the scar. A dark, violent thriller from the author of The Weller and War of the Worlds: Goliath!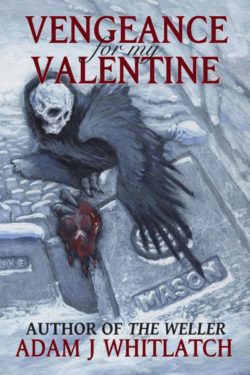 Vengeance for My Valentine
April 27, 2018
Word Count:
103061
Summary: SISTER. ASSASSIN. VESSEL. Echo Rodrigal isn't just a survivor; she's a success. But in a land where the law is there are no laws, the terms of success rest on a knife's edge, and Echo's luck is about to change. The Vindicata are one of the top vengeance crews in the Ten Realms of Interra. Their oaths to only commit crimes of justice have earned them the respect of their peers. But the Vindicata are more than a crew, they're a family. And ever since they adopted Echo, she's cared about one thing: making her family proud. For years, that's meant becoming the continent's most feared assassin. But each kill wreaks havoc on her soul, no matter how justified. Echo's unraveling fast, complicated by the mysterious rift growing between her and her beloved sister. Miyala's keeping dangerous secrets, and Echo cannot find the key to unlock her sister's trust. When the Warlord orders the Vindicata to transport foreign dissidents to a new prison, they must put their personal issues aside to face an impossible choice: die for defying orders, or die for breaking their oaths to uphold justice. Between meddling gods returning to the continent, mercenaries around every corner, and an ancient prophecy that foretells the end of all worlds, the pressure on Echo is mounting fast. Can she make enough right moves to save her family? The fate of many worlds rests in Echo's next choice.
Vessel of Starfire
September 22, 2020
Word Count: Information not available
Summary: Mobsters, Monsters, and Magic. It's 1929 at the height of Prohibition in Plymouth, Massachusetts. Bill Chiavo and his twin sister Millie are learning Wisdom, the family magic. Wise families should take care of their own but when the stock market crashes, their Irish Uncle Finn hoards his visions. He reaps the rewards and the Chiavos head to the poor house. Now the twins are on the outs while their uncle's got the money, the power, and the connections to take over. Bill and Millie need allies and the mob-run Supper Club just might have the muscle they need. Millie wants them to skip town but Bill refuses to leave his family or friends at Finn's mercy. The twins will need to wise up if they are to thwart their uncle's conquest. But how do you defy a man who sees the future? The Wise and crime families clash in this small town for big stakes. But who will claim the prize?
Wiser Guys
Word Count:
81,000
Summary: In the last surviving cities of a ruined world, the concept of "woman" has been forgotten to history. Those unfortunate enough to lack a Y chromosome live as second-class citizens in a world dominated by mascs. Ember is Y negative. He is scorned, bullied, abused by every masc he encounters, at work and at the gym. Not even his Y negative roommate cuts him any slack. He wants so desperately to be accepted as a masc that he'd rather buy black market testosterone than food. Something's gotta give—he needs a change in his life, but has no idea how to find it. Jess is a masc with a passion for studying the recovery of their devastated world. His boyfriend is pressuring him for more commitment, and his father expects him to take over the family business. He can't wait to get away from civilization for his seasonal research out in the wild. When Jess offers Ember a job, their lives collide in the isolated wasteland, and their initial attraction turns into a relationship that horrifies those around them. Soon their struggle to stay together and to be who they are turns into a fight for their lives.
Y Negative
June 8, 2019