Word Count:
66000
Summary: Sarah Wright woke up a few times after parties in strange places―but the morgue's a first. At eighteen, she's eager for a taste of independence, moving out of state to attend college. A change of scenery is extra-needed due to a bad breakup with her boyfriend, Scott. However, soon after escaping the body cooler, she makes two startling realizations: vampires are real, and she is one. There's nothing quite like an untimely death to ruin plans. California's sunny beaches aren't the best place for vampires to chill, and worse, not only does she wind up stuck in Seattle, she's still living (figuratively) with her parents. They take the news surprisingly well―after all, it's better than burying her―even helping move her bedroom to the basement. A disinterested sire, distraught friends, nosy Men in Black, and awestruck younger siblings complicate her adjustment to the new normal of being an immortal still subject to her parents' rules. Undeath has its perks, but it also brings enemies. Without a copy of 'Fangs for Dummies,' Sarah's left scrambling for answers when one such new enemy attacks her siblings and friends. If she can't figure out how to vampire, her attempt to spare her family the grief of losing her may wind up killing them.
A Nighttime of Forever
February 20, 2018
Word Count: Information not available
Summary: Olson lives in a city that has been sealed from the outside world. He's an Eleven Year and close to citizenship. His life is upended when one of the few adults who cares about him commits suicide - or so it appears at first. While investigating, Olson meets a girl named Natalie snooping around his school. He soon learns that one of her friends died under similarly mysterious circumstances. Together, they start looking for answers, and end up discovering the city's darkest secrets.
Atmospheric Pressure
September 9, 2016
Word Count:
73000
Summary: ::The Seignso have our own plans for the remains of Genghis Khan.:: Alien warmongers have cloned an ancient emperor to lead an unstoppable army. Gifted with superhuman powers and advanced technology, he sets his sights on his home planet, Earth, and then... the stars! However, countermeasures have already been set in place. A young Iowa farm boy, oblivious to his powers or destiny, is thrust into a battle that will decide the fate of humanity against the new and improved Genghis Khan! A thrilling, interstellar adventure from the author of The Weller and War of the Worlds: Goliath!
Birthright
March 17, 2015
Word Count:
88000
Summary: Sierra and Max arrive in 2062, and find the world has somewhat changed. Joe Biden was President from 2009-2017, and train travel is much more prominent. Was this due to the scrolls that she rescued from the Library of Alexandria? Heron's Chronica, which describes how to build a time travel device and was one of the texts Sierra saved from burning, has not yet been published, and Sierra soon realizes that Heron is doing everything in his lethal power to prevent that from happening. Her attempt to safeguard the Chronica, which she left in William Henry Appleton's keeping, takes her to the end of the 1890s, where she dines, plots, and otherwise interacts with John Jacob Astor IV, Nikola Tesla, Thomas Edison, J. P. Morgan, film pioneers William Dickson and Edwin Porter, and other denizens of The Gilded Age.
Chronica
December 1, 2014
Word Count:
41600
Summary: A book in the tradition of the Heinlein juveniles. Young Alex Bredakoff always wanted to be a star trader. But it wasn't until his family moved to the Nexus space colony and he met Kasinda Venderling--daughter of a trader, and someone who's been plying the star lanes her entire life--that he realized how truly exciting--and dangerous--his life could become. But when you're in a runaway starship with a kidnapped alien prince, flying straight into a sun, it's a little late to re-evaluate your options.
Crossroads of the Galaxy
Word Count:
91154
Summary: Flame is scarred from a past filled with lies, deceptions, and heartbreak. He is not guilty of what his brothers believe, but Blaze is the only one who knows the truth. He was betrayed by the king he had served. The girls he gave the dark gift to had been innocent. When he finds his Valkyrie, beaten, raped, broken, and fading after having been forced to accept the dark gift without her consent, Flame vows that he will do anything to save her. The light seems gone from both her and the world she finds herself in. Little does Flame know that for her to have the light again, he will sacrifice his honor, his integrity, and his life after breaking every law he can manage to break and even demand absolution for crimes he never committed. Many men say they will die for the love of their life. Flame somehow needs to do it four damn times, find a way to fix not only her broken magic, but fix her broken spirit as well, and then figure out how to live for her! All men wish to love a vampire, but Flame burns in his soul for one who holds the fire and has been granted the dark gift of an immortal vampire princess.
Draoithe: The Dark Gift
July 29, 2019
Word Count:
41000
Summary: Terror lies waiting in the jungle island of Flores. Terror in the form of cryptids called ebu gogo. Terror for the cryptozoologists who dream to discover them. The one thing Lewis Dare wants more than anything in the world is to discover the ebu gogo - three-foot-tall cryptids in the genus of Homo rumored to live in Indonesia. But Lewis Dare's ex-wife Linda, wanting to beat the famous cryptozoologist at his own game, has rushed to Indonesia in order to discover the ebu gogo before he does. On the Indonesian island of Flores, their dream to discover a cryptid becomes a nightmare when the ebu gogo turn out to be primitive, savage, sex fiends. Warning: Ebu Gogo has repugnant sex, disgusting nudity, nauseating violence, unlikable characters, deranged humor, and cruelty to furries. It's a lot of fun.
Ebu Gogo
May 18, 2020
Word Count:
109728
Summary: Henry Ross Murray was a Revolutionary War hero, and his house in Boston has been converted into a museum. Everything is original to the period… including the ghosts. The Ghost U team is called in to help figure out who's haunting the Colonial mansion in Beacon Hill. They encounter family secrets and angry spirits in the course of their investigation, and they learn that some heroes aren't as heroic as they seem. So much drama. And that's nothing compared to what's happening behind the scenes. Faces in the Fog: Ghost U Volume Two is a paranormal Reverse Harem adventure with horror elements and is intended for mature audiences.
Faces in the Fog
July 28, 2020
Word Count: Information not available
Summary: The Dissolution approaches, and all will change. "Science fantasy with fantastic queer rep" -J.S. Fields, Author of the Ardulum Series The Dissolution approaches. Sam has saved the Assembly of Species, but at a terrible cost. Locked in his apartment, his memories gone and his best friend abducted, he is once again crippled with anxiety. Meanwhile, Enos struggles to free her brother from imprisonment, alone for the first time in her life. Her true species has been revealed, and there are hints the deadliest of her kind survived an ancient war. But the Nether contains more secrets. A musical chime disrupts daily life, signaling changes to its very fabric. To solve this mystery, Sam must face his anxiety and confront truths about his memories and unique abilities. Only then can he save his friends from the machinations of the Life Coalition, by understanding the reality behind the Facets of the Nether. If you like epic fantasy, space opera and music-based magic, you'll love William C. Tracy's Dissolution Cycle. Download Facets of the Nether today and discover the diverse cultures, genders, and alien species of an epic science fantasy space opera! The Dissolution Cycle (Epic Space Opera, LGBT): Book 1: The Seeds of Dissolution Book 2: Facets of the Nether Book 3: Fall of the Imperium Book 4: Tales of the Dissolutionverse (Novella collection)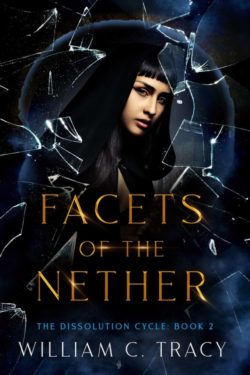 Facets of the Nether
June 22, 2020
Word Count: Information not available
Summary: The Dissolution is here. It is both an end, and a beginning. "Science fantasy with fantastic queer rep" -J.S. Fields, Author of the Ardulum Series The Dissolution has begun. Sam is finally reunited with Enos and Inas, only to see his new home under siege by beings that dissolve reality at a single touch. Even as they battle their personal demons, the three apprentices must also fight to save their home. Enos lashes out at those she loves, plagued by voices she's consumed, and Inas must risk his sanity to access ancient memories of the Nether. Sam must learn how he uniquely affects the Symphony, but there is little time to master what usually takes a lifetime. The Nether is leaderless and the Assembly is in chaos. The three apprentices must counter an invasion by aliens who rip the Symphony, and the very universe, apart. Ancient antagonists will resurface, a battle must be fought, and the secrets of the Nether and the universe will be laid bare in this final book of the Dissolution Cycle. If you like epic fantasy, space opera and music-based magic, you'll love William C. Tracy's Dissolution Cycle. Download Fall of the Imperium today and discover the diverse cultures, genders, and alien species of an epic science fantasy space opera! The Dissolution Cycle (Epic Space Opera, LGBT): Book 1: The Seeds of Dissolution Book 2: Facets of the Nether Book 3: Fall of the Imperium Book 4: Tales of the Dissolutionverse (Novella collection)
Fall of the Imperium
August 24, 2020
Word Count: Information not available
Summary: Imagine that every sixteen years, you died and started over, with no memory of the past. Could true love ever find you? Only if it were immortal. In 1915, a coven of vampires attacked the town of Fairville, MA, the disappearances making headlines. Sixteen-year-old Lundy Guillory and the boy who loved her, Harlan Wallace, discovered the culprits, so the vampires devised a cruel punishment: Lundy was cursed to die and be reborn every sixteen years, each time retaining no memory of her past lives. Harlan was turned into a vampire, so that, immortal, he would be tortured with the task of finding her again in every new life, and telling her their story. Over ninety years later, Lundy Lawson and her parents move into Fairville, one month before her sixteenth birthday, with desperate hopes that the doctors there will be able to help Lundy, whose health has been diminishing steadily. But Lundy begins to have strange dreams. First there seems to be a ghost in the library, trying to reach her; then a stranger shows up at her window at night - Harlan, unearthly, impossibly pale and sharp-teethed, and madly in love with her. It's Lundy's first lifetime back in the town where it all began, and this time she and Harlan have their chance to break the vampire's curse.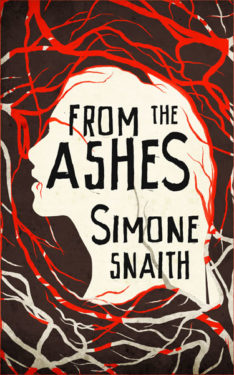 From The Ashes
November 14, 2012
Word Count:
46100
Summary: Miller College's Parapsychology Department has a student-run ghost hunting group that's all the rage on basic cable. The third season is about to begin filming, and the producers want to up the ante. The three macho, pseudoscience brosephs - Quinn, Tyler and Brent - are about to be joined by a very female psychic, Emma Ray. The team is instantly resentful of her presence on their show, and lead investigator Quinn has made it clear that he doesn't believe in psychics. They're going to give Emma the hardest of hard times until they can expose her as a phony. They're going to learn that Emma is the real deal, and that it's not always wise to bully a psychic when you don't know how many ghosts are in her posse...or exactly what you'll be facing in the next haunted house. "Ghosted by You" is a medium-burn Reverse Harem paranormal ghost-hunting adventure. Not suitable for readers under 18 years of age.
Ghosted By You
May 15, 2020
Word Count: Information not available
Summary: If ultimate power corrupts, how does one learn to be incorruptible? I'm Aliyah Morgenstern. All of my life, I grew up on tales of my great-grandfather's magic bringing light and healing to the world. Then, I bonded with my dragonet Ember on my sixteenth birthday, which means I'll be scary powerful someday. There's one problem. Mom's kept secrets that everyone at my new school seems to know. Turns out, I've got an infamously criminal uncle and now everyone's waiting for me to do something evil. After my first horrible day at school I'm convinced I'm going to do something evil. My biggest challenge this year isn't history, math, Gym, or even the dreaded Magiscience Lab. No, it's keeping a devastating secret from almost everyone, including my own family. I'm an extramagus. Is evil really my destiny, or can I fight it somehow?
Hawthorn Academy Year One
Word Count: Information not available
Summary: The system is broken and if I'm not careful, it'll break me too. While my peers get excited for college, I brace for disaster. I've learned at Hawthorn Academy that danger can happen to anyone. To the jock. To the class clown. To my brother. Now I'm in the line of fire. All known extramagi must have their abilities tested. The way they do it is a horrifying secret. After witnessing one last year, I made a plan to expose the ugly truth. But there's a mind magus on campus now, threatening me. And he's totally within his rights to do so. Mr. Fairbanks leads the Board of Trustees, which demoted the headmaster and expelled my brother. Last year's threat was only a symptom of bigger problems. Half the Trustees play quid pro quo while the rest flex their authority for personal vendettas. Mr. Fairbanks blames me for his daughter's troubles. Mrs. Onassis says I poisoned her son's mind. And Mr. Pierce thinks I'm taking advantage of his children. All because extramagi are supposedly evil. But now I suspect we're scapegoats the influential families pin blame on. They say you make your own future. But can I survive the present first?
Hawthorn Academy Year Three
December 9, 2020
Word Count: Information not available
Summary: The only way to stop a threat is to eclipse it. And last year, we discovered an enormous one. Temperance Fairbanks: the most powerful and sadistic water magus ever to set foot on campus. Hawthorn Academy will host a series of extramural challenges. That means we're hosting shifters, changelings, psychics, and even a vampire. Temperance vowed to hurt them any way she can, and she's already got help. My roommate Grace has a plan. Social warfare, breaking reputations and hearts, including her own. And she wants me to be her muscle. Last year I almost burned the school down. But this time, I might just be sitting on a powder keg.
Hawthorn Academy Year Two
June 30, 2020
Word Count: Information not available
Summary: Genevieve doesn't know if her unhappiness and feelings of not fitting in are different from anyone else's on her college campus. Recovering from a break-up and struggling with depression, she takes comfort in her impulsive sketches of strange creatures to try to escape the dark cloud that looms over her. But the truth is her place in this world is a lot more complicated than she could ever imagine. With two strange men following her, vines that engulf her dorm overnight, and a cactus that overruns the campus library, she is forced to face the possibility that her origins are more mysterious than the fact that she was abandoned as a baby. Especially as a powerful urge takes hold of her to draw something new and frightening. Can it be that her reality is stranger than her imagination? The one thing she can't imagine is that her happiness and talents just might be the key to save or destroy an invisible world.
In The Drawing
August 8, 2019
Word Count:
91000
Summary: The government wants them dead. They want to know why. And if they want answers, the crew will have to pull what may be their most dangerous job yet. Long before signing on with the Ungovernable, back in his university days, ex-convict and one-time-student Lev stumbled onto a secret, a secret that ended in his professor and mentor disappearing, never to be heard from again. Now he and the rest of the crew are going back to university—but this time they're breaking in, and they're bent on sabotage. They need to find out what the government thinks they know, and why they're all supposed to be dead. But the deeper they dig, the darker the secrets they find, and soon they realize that it's not just them that the government is after. What's happening in the labs and the storage rooms of the university might just destroy the entire system as they know it. Insider Threat is the fourth book in R.M. Olson's science fiction space opera series The Ungovernable. With a crazy, close-knit crew, plenty of humour, and loads of action, Firefly meets Ocean's Eleven in this fast-paced, kick-ass, wickedly fun series.
Insider Threat
August 31, 2020
Word Count:
70400
Summary: Tamara Ruben and ten of her high school classmates are on a field trip in the California desert when they stumble across a long-dormant spaceship. Without warning, the ship takes off with them aboard, stranding them alone in interstellar space with no idea where they're going or what they must do when they get there. Now they must figure out the ship's workings to keep themselves alive... and Tamara realizes her mind is being taken over by a set of alien Voices that may or may not be trying to help her. Can the inexperienced teenage crew learn to cooperate to solve the unprecedented challenges they'll face on their historic journey?
Into the Out
Word Count:
80000
Summary: Celebrate those who light a candle in the darkness in this compelling and eye-opening tale. Teddie is into country music, her old pick-up truck and getting through high school with as little drama as possible. Yet somehow her best friend, Michelle, talks her into spending a semester in Darjeeling, India. The thrilling adventure turns treacherous when she uncovers a seedy underworld in which young women are bartered and sold—including her friends. As she fights to understand a depravity she never dreamed existed, a stranger makes her an unexpected offer. He will train her to find her missing friends, but she will need to have trust in abilities she barely believes exist and more courage than she ever thought she could summon. And there will be no going back. Given the choice between this and abandoning her friends to their horrifying fate, the decision is simple. She must rise to the challenge. But how can she be a superhero when she doesn't know what her power is? (Layers of Light is part a collection of interrelated stand-alone novels. It contains some non-graphic mature content and references to human trafficking and the sex trade.)
Layers of Light
January 29, 2014
Word Count: Information not available
Summary: She wanted to meet aliens… … she wasn't expecting to die for them. Life on Unity space station is tough but so is Kayla. When Kayla learns that her half-human friend Salfera is being treated as a slave, Kayla jumps to her defense. But, Kayla doesn't understand the consequences of her activism. A genetically-engineered hybrid, Salfera has spent her life as a science experiment. She knows Kayla needs to end her crusade before she gets hurt . . . or worse. When Kayla starts hearing voices, it's too late. She is part of the experiment now. Join Kayla's fight to save her friend and avoid dissection. -- Advanced Review Copies are available here. Pre-orders are available here.
Nebula's Edge
April 12, 2021