Word Count:

66000
Summary: Sarah Wright woke up a few times after parties in strange places―but the morgue's a first. At eighteen, she's eager for a taste of independence, moving out of state to attend college. A change of scenery is extra-needed due to a bad breakup with her boyfriend, Scott. However, soon after escaping the body cooler, she makes two startling realizations: vampires are real, and she is one. There's nothing quite like an untimely death to ruin plans. California's sunny beaches aren't the best place for vampires to chill, and worse, not only does she wind up stuck in Seattle, she's still living (figuratively) with her parents. They take the news surprisingly well―after all, it's better than burying her―even helping move her bedroom to the basement. A disinterested sire, distraught friends, nosy Men in Black, and awestruck younger siblings complicate her adjustment to the new normal of being an immortal still subject to her parents' rules. Undeath has its perks, but it also brings enemies. Without a copy of 'Fangs for Dummies,' Sarah's left scrambling for answers when one such new enemy attacks her siblings and friends. If she can't figure out how to vampire, her attempt to spare her family the grief of losing her may wind up killing them.
A Nighttime of Forever
Word Count: Information not available
Summary: Olson lives in a city that has been sealed from the outside world. He's an Eleven Year and close to citizenship. His life is upended when one of the few adults who cares about him commits suicide - or so it appears at first. While investigating, Olson meets a girl named Natalie snooping around his school. He soon learns that one of her friends died under similarly mysterious circumstances. Together, they start looking for answers, and end up discovering the city's darkest secrets.
Atmospheric Pressure
Word Count:

73000
Summary: ::The Seignso have our own plans for the remains of Genghis Khan.:: Alien warmongers have cloned an ancient emperor to lead an unstoppable army. Gifted with superhuman powers and advanced technology, he sets his sights on his home planet, Earth, and then... the stars! However, countermeasures have already been set in place. A young Iowa farm boy, oblivious to his powers or destiny, is thrust into a battle that will decide the fate of humanity against the new and improved Genghis Khan! A thrilling, interstellar adventure from the author of The Weller and War of the Worlds: Goliath!
Birthright
Word Count:

85000
Summary: A charming traditional quest fantasy, full handsome villains, dangerous sorcerers, and a pretty, perky apprentice. Not to mention lots of very cool magic!
Blade Light
Word Count: Information not available
Summary: The world has changed, and new superheroes—and villains—have emerged! Seventeen-year-old Carlos Domínguez wants to change the world. Believing a lie and following a dark promise to become a superhero, he finds himself cold and alone in dark woods with no memories. Driven by fear, he runs, somehow knowing the powerful forces that hunt him must not find him. Luck is on Carlos' side, and he finds shelter from the winter cold with a kind, elderly couple. Life quickly becomes awkward when Vanessa, a beautiful redhead claiming to be his girlfriend, tries to bring him back to The Order, the organization that gave him superhuman abilities. Things start to unravel when the superhero Blue Spekter finds him, triggering memories of home, high school, his real girlfriend, and life back in New Hampshire. Carlos must decide what kind of superhero he wants to become while slowly regaining his memories and discovering who he is—and why he hates the hero in blue and distrusts the man in black. But when you can't remember who you are or what you believe in, how do you tell truth from lie? DAWN OF THE SUPERHERO AGE is the first book of The Superhero Age series and is part of the Spekter Superhero Universe™. Get it now.
Dawn of the Superhero Age
Word Count: Information not available
Summary: Kenzie Washington, fourteen-year-old girl genius, signs up for a two-week tour as a cadet on the spaceship of her idol, Captain Dash Drake. Too bad Dash, who once saved the galaxy from the evil Forgers, is a broke loser and much less than meets the eye.But when an intergalactic evil appears and launches an attack, Dash, Kenzie, and the ship's crew escape, making them the next target. On the run and low on gas, Dash and Kenzie encounter cannibal space-pirates, catastrophic equipment failure, and a cyborg who's kind of a jerk.Kenzie is determined to discover the bad guys' secret plan. But for her to succeed, Dash needs to keep his brilliant, annoying cadet from getting killed …which is a lot harder than it sounds.
Dim Stars: A Novel of Outer-Space Shenanigans
Word Count:

91154
Summary: Flame is scarred from a past filled with lies, deceptions, and heartbreak. He is not guilty of what his brothers believe, but Blaze is the only one who knows the truth. He was betrayed by the king he had served. The girls he gave the dark gift to had been innocent. When he finds his Valkyrie, beaten, raped, broken, and fading after having been forced to accept the dark gift without her consent, Flame vows that he will do anything to save her. The light seems gone from both her and the world she finds herself in. Little does Flame know that for her to have the light again, he will sacrifice his honor, his integrity, and his life after breaking every law he can manage to break and even demand absolution for crimes he never committed. Many men say they will die for the love of their life. Flame somehow needs to do it four damn times, find a way to fix not only her broken magic, but fix her broken spirit as well, and then figure out how to live for her! All men wish to love a vampire, but Flame burns in his soul for one who holds the fire and has been granted the dark gift of an immortal vampire princess.
Draoithe: The Dark Gift
Word Count:

41000
Summary: Terror lies waiting in the jungle island of Flores. Terror in the form of cryptids called ebu gogo. Terror for the cryptozoologists who dream to discover them. The one thing Lewis Dare wants more than anything in the world is to discover the ebu gogo - three-foot-tall cryptids in the genus of Homo rumored to live in Indonesia. But Lewis Dare's ex-wife Linda, wanting to beat the famous cryptozoologist at his own game, has rushed to Indonesia in order to discover the ebu gogo before he does. On the Indonesian island of Flores, their dream to discover a cryptid becomes a nightmare when the ebu gogo turn out to be primitive, savage, sex fiends. Warning: Ebu Gogo has repugnant sex, disgusting nudity, nauseating violence, unlikable characters, deranged humor, and cruelty to furries. It's a lot of fun.
Ebu Gogo
Word Count: Information not available
Summary: The Dissolution approaches, and all will change. "Science fantasy with fantastic queer rep" -J.S. Fields, Author of the Ardulum Series The Dissolution approaches. Sam has saved the Assembly of Species, but at a terrible cost. Locked in his apartment, his memories gone and his best friend abducted, he is once again crippled with anxiety. Meanwhile, Enos struggles to free her brother from imprisonment, alone for the first time in her life. Her true species has been revealed, and there are hints the deadliest of her kind survived an ancient war. But the Nether contains more secrets. A musical chime disrupts daily life, signaling changes to its very fabric. To solve this mystery, Sam must face his anxiety and confront truths about his memories and unique abilities. Only then can he save his friends from the machinations of the Life Coalition, by understanding the reality behind the Facets of the Nether. If you like epic fantasy, space opera and music-based magic, you'll love William C. Tracy's Dissolution Cycle. Download Facets of the Nether today and discover the diverse cultures, genders, and alien species of an epic science fantasy space opera! The Dissolution Cycle (Epic Space Opera, LGBT): Book 1: The Seeds of Dissolution Book 2: Facets of the Nether Book 3: Fall of the Imperium Book 4: Tales of the Dissolutionverse (Novella collection)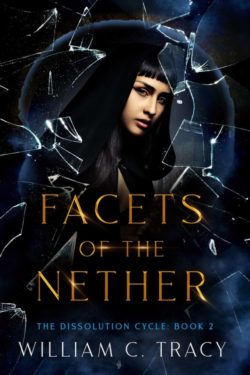 Facets of the Nether
Word Count: Information not available
Summary: The Dissolution is here. It is both an end, and a beginning. "Science fantasy with fantastic queer rep" -J.S. Fields, Author of the Ardulum Series The Dissolution has begun. Sam is finally reunited with Enos and Inas, only to see his new home under siege by beings that dissolve reality at a single touch. Even as they battle their personal demons, the three apprentices must also fight to save their home. Enos lashes out at those she loves, plagued by voices she's consumed, and Inas must risk his sanity to access ancient memories of the Nether. Sam must learn how he uniquely affects the Symphony, but there is little time to master what usually takes a lifetime. The Nether is leaderless and the Assembly is in chaos. The three apprentices must counter an invasion by aliens who rip the Symphony, and the very universe, apart. Ancient antagonists will resurface, a battle must be fought, and the secrets of the Nether and the universe will be laid bare in this final book of the Dissolution Cycle. If you like epic fantasy, space opera and music-based magic, you'll love William C. Tracy's Dissolution Cycle. Download Fall of the Imperium today and discover the diverse cultures, genders, and alien species of an epic science fantasy space opera! The Dissolution Cycle (Epic Space Opera, LGBT): Book 1: The Seeds of Dissolution Book 2: Facets of the Nether Book 3: Fall of the Imperium Book 4: Tales of the Dissolutionverse (Novella collection)
Fall of the Imperium
Word Count: Information not available
Summary: Imagine that every sixteen years, you died and started over, with no memory of the past. Could true love ever find you? Only if it were immortal. In 1915, a coven of vampires attacked the town of Fairville, MA, the disappearances making headlines. Sixteen-year-old Lundy Guillory and the boy who loved her, Harlan Wallace, discovered the culprits, so the vampires devised a cruel punishment: Lundy was cursed to die and be reborn every sixteen years, each time retaining no memory of her past lives. Harlan was turned into a vampire, so that, immortal, he would be tortured with the task of finding her again in every new life, and telling her their story. Over ninety years later, Lundy Lawson and her parents move into Fairville, one month before her sixteenth birthday, with desperate hopes that the doctors there will be able to help Lundy, whose health has been diminishing steadily. But Lundy begins to have strange dreams. First there seems to be a ghost in the library, trying to reach her; then a stranger shows up at her window at night - Harlan, unearthly, impossibly pale and sharp-teethed, and madly in love with her. It's Lundy's first lifetime back in the town where it all began, and this time she and Harlan have their chance to break the vampire's curse.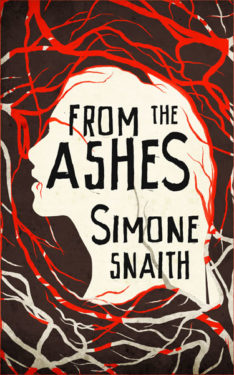 From The Ashes
Word Count: Information not available
Summary: Genevieve doesn't know if her unhappiness and feelings of not fitting in are different from anyone else's on her college campus. Recovering from a break-up and struggling with depression, she takes comfort in her impulsive sketches of strange creatures to try to escape the dark cloud that looms over her. But the truth is her place in this world is a lot more complicated than she could ever imagine. With two strange men following her, vines that engulf her dorm overnight, and a cactus that overruns the campus library, she is forced to face the possibility that her origins are more mysterious than the fact that she was abandoned as a baby. Especially as a powerful urge takes hold of her to draw something new and frightening. Can it be that her reality is stranger than her imagination? The one thing she can't imagine is that her happiness and talents just might be the key to save or destroy an invisible world.
In The Drawing
Word Count:

80000
Summary: Celebrate those who light a candle in the darkness in this compelling and eye-opening tale. Teddie is into country music, her old pick-up truck and getting through high school with as little drama as possible. Yet somehow her best friend, Michelle, talks her into spending a semester in Darjeeling, India. The thrilling adventure turns treacherous when she uncovers a seedy underworld in which young women are bartered and sold—including her friends. As she fights to understand a depravity she never dreamed existed, a stranger makes her an unexpected offer. He will train her to find her missing friends, but she will need to have trust in abilities she barely believes exist and more courage than she ever thought she could summon. And there will be no going back. Given the choice between this and abandoning her friends to their horrifying fate, the decision is simple. She must rise to the challenge. But how can she be a superhero when she doesn't know what her power is? (Layers of Light is part a collection of interrelated stand-alone novels. It contains some non-graphic mature content and references to human trafficking and the sex trade.)
Layers of Light
Word Count:

195000
Summary: Belonging can sometimes be Hell Jin is 17, pansexual, blue-haired, half-Korean and a lifelong outsider. His modus operandi, after years of neglect and chaos, is never belong, never attach, because both just bring pain. What he doesn't know, and mustn't, is if he does ever belong, his lust demon father will take him to Hell forever the day he turns 18. But when he moves to the remote Scottish town of Hammer Falls, where he shouldn't fit in at all, he finds being supernatural and queer aren't quite the barriers to belonging he'd hoped. As his lust demon blood begins to show and he grows ever closer to gorgeous part-angel demonstalker Nate, how long can Jin continue to convince himself he doesn't belong and isn't getting attached? Lust & Other Demons is the first in a trilogy containing a snarky, prickly half lust demon, hot demon hunters, werebears, angst, messy love and explicit MM sex. Books 2 & 3 also contain steamy MMM+ polyamory scenes as part of a key relationship. NOTE - These books are NOT suitable for younger readers or people likely to be offended by speculative views about religion.
Lust & Other Demons
Word Count:

13,800
Summary: Get ready to enter a world where the only way to escape from work is death! Richard is a man who would rather be in jail than have to get a job, but his attempts to get arrested keep failing. That is, until he's transported to an office planet where the cubicles are made of particle board, the spreadsheets are endless, and the boss is a whip-wielding maniac. With the help of a rebel coworker named Destiny and a newfound power, Richard must navigate the impossible maze of the office and take on the oppressive boss to save her people. Planet of the Wage Slaves is a hilarious, satirical take on the modern work environment that will have you laughing and cringing at the same time. It's the perfect read for anyone who has ever felt trapped in a soul-sucking job or who just wants a good dose of surreal sci-fi comedy. So put down that TPS report, grab a copy of Planet of the Wage Slaves, and join Richard on his absurd journey through the cubicle jungle!
Planet of the Wage Slaves
Word Count:

31857
Summary: How does a nice young woman from a nice American neighborhood become a sensually augmented assassin trapped in an Arabian king's household? Is she a superhero or a monster? A victim or a villain? All will be revealed, and you can decide for yourself, while enjoying a raucous ride with Poison Patty!
Poison Patty
Word Count:

92000
Summary: He wants to rule the world. She was born to stop him. Fale secretly began having visions of things before they happen when she turned 18. But when she uses the vision of a deadly encounter to save the life of her hot, biomechanical crush in a fight, she sets into motion the race of their lives. Henchmen emerge from the shadows, and Fale and Keron battle to stay alive. When Fale's only remaining family disappears, leaving a kidnapper's note, they go into hiding. There, they discover a hidden romance that steams up their hideaway. Fale searches for clues to discover why she is being hunted, and how to get her family back. When the answers come, no one could have expected the role Fale is called to be, or the impossible task she must fulfill. Fale's powers awaken as she learns who her true enemy is and why they want the antique key her father gave her as he lay dying, saying it was her destiny. The human citizens of Alloy City have believed the lies they were fed, and magic has been forgotten, though the war between wizards and mages has been brewing for centuries. If Fale can accept the identity she's been given and the power that runs in her veins, a greater fate awaits her, but the war has awakened with her in the center. Rebellion is in her blood, but can she admit that she has the strength to be a warrior princess? Can she defeat the greatest evil her world has ever known? Can she love a man who is part machine? ♥ For fans of Sarah J Maas's Throne of Glass and Suzanne Collins's The Hunger Games. Are you ready for the adventure?
Princess of the Blood Mages
Word Count:

72000
Summary: Have you ever looked at a picture, perhaps a photo of two guys in a tight hug, or two girls holding hands, and wondered, "What happened before that moment? What will they do next?" These fifteen stories were inspired by images from the Young Adult LGBT Books Group. In these pages you'll find LGBTQ teenagers living their lives - experiencing first encounters and long relationships, coming out, staying closeted, questioning, loving, having adventures, dealing with family, with prejudice, with magic. Author Kira Harp provides this collection of Young Adult romantic, fantasy and contemporary short stories. Any author royalties from this book will be donated to The Trevor Project, which provides crisis intervention and resources for LGBTQ youth. (**This book is a free download in ebook everywhere except Amazon, and also available in print.)
Rainbow Briefs
Word Count:

100000
Summary: Dragons don't care what gender you are. A small town may be a refuge, or a trap. Some younger brothers really do save the planet. Three people can be the strongest shape. There's nothing quite like a gorgeous girl on a shape-shifting motorcycle. This second Kira Harp collection brings together LGBTQ teens in 21 stories of adventure, discovery, and romance, in fantasy, paranormal, contemporary, and SciFi settings. Ranging from a few short pages to 12,000 words, each story was inspired by a prompt picture from the YA LGBTQ Books Group on Goodreads. (Content warnings for abduction, bullying, self harm, substance abuse, suicidal ideation.) **This book is free in ebook everywhere except Amazon
Rainbow Briefs volume 2
Word Count: Information not available
Summary: On a parallel Earth called Kale-Ra, humans born under "star signs" are blessed with magical powers. Two factions exist: the Star Guardians, and the Shadow Guardians. Clarabelle Stewart is your average teenage girl. She doesn't have any hobbies, and manages a C+ average in most of her classes. At least, she would be average, if not for her late father. He betrayed the government while attempting to steal a treasure for a Shadow Guardian terrorist organization, the Penumbra. Ever since his death, her family has been scorned and marginalized. But when the Starlite Academy--a prestigious military school for aspiring Star Guardians--grants Clarabelle a full-ride scholarship, she realizes that this is her opportunity to turn her life around. She eagerly sets off for school, and meets a wonderful group of friends. Yet, some things are still... off. Her teacher, Slade, and her roommate, Wulfgar, claim that they know her from their past, but she doesn't remember them. And Ursula, the bubbly senior student who welcomed her into their friend group, is hiding her own set of dark, tumultuous secrets. Unbeknownst to them all, weaving backwards through the years, a sinister plot has taken hold, setting the course for each of their lives. And suddenly, the world turned upside down. Nothing is what it seems.
Star Guardians: Legend of the White Nova Volume 1