Word Count: Information not available
Summary: At Providence Paranormal College, class is about to start. Who's enrolled? Students who are a bit different: vampires, werewolves, changelings, shifters, psychics, and magi. For one-hundred years, the college has taught and trained only psychics or magi, and for the first time, it's opening the doors to those not different: regular humans. At this Ivy-League school, the students are expected to learn their powers and keep high grades. Unfortunately, grades are slipping, but that's what happens when a mysterious villain is hunting you down… Because someone is angry about this new admissions policy and they'll kill to stop integration. To defeat this rising evil, the students must band together and master their strange powers – because if they don't.. Well, it's pretty hard to graduate when you're dead.
Providence Paranormal College
Word Count: Information not available
Summary: The Education Continues at Providence Paranormal College! Five more books, no waiting. Read. Laugh. Catch a case of the feels. Book 6: Roundtable Redcap: Can Fred rescue his brother from the Fae Queen with just reluctant Psychic Irina to help? Book 7: Better Off Undead: Lane and his vampire punk band Night Creatures are broke and broken. Can they pick up their pieces and shine in a Battle of the Bands? Book 8: Ghost of a Chance: Ghostly Horace and his Medium, Bianca, must solve a mystery to save Professor Watkins. Book 9: Nine Lives: It's time for Olivia Adler to trust her instincts or Tony Gitano just might die for good. Book 10: Fae of Fae Knot: The family that's Fae together can't stay together. The series concludes as they bend the tantamount Faerie Law to its breaking point.
Providence Paranormal College
Word Count:
72000
Summary: Have you ever looked at a picture, perhaps a photo of two guys in a tight hug, or two girls holding hands, and wondered, "What happened before that moment? What will they do next?" These fifteen stories were inspired by images from the Young Adult LGBT Books Group. In these pages you'll find LGBTQ teenagers living their lives - experiencing first encounters and long relationships, coming out, staying closeted, questioning, loving, having adventures, dealing with family, with prejudice, with magic. Author Kira Harp provides this collection of Young Adult romantic, fantasy and contemporary short stories. Any author royalties from this book will be donated to The Trevor Project, which provides crisis intervention and resources for LGBTQ youth. (**This book is a free download in ebook everywhere except Amazon, and also available in print.)
Rainbow Briefs
October 31, 2013
Word Count:
100000
Summary: Dragons don't care what gender you are. A small town may be a refuge, or a trap. Some younger brothers really do save the planet. Three people can be the strongest shape. There's nothing quite like a gorgeous girl on a shape-shifting motorcycle. This second Kira Harp collection brings together LGBTQ teens in 21 stories of adventure, discovery, and romance, in fantasy, paranormal, contemporary, and SciFi settings. Ranging from a few short pages to 12,000 words, each story was inspired by a prompt picture from the YA LGBTQ Books Group on Goodreads. (Content warnings for abduction, bullying, self harm, substance abuse, suicidal ideation.) **This book is free in ebook everywhere except Amazon
Rainbow Briefs volume 2
August 31, 2018
Word Count: Information not available
Summary: On a parallel Earth called Kale-Ra, humans born under "star signs" are blessed with magical powers. Two factions exist: the Star Guardians, and the Shadow Guardians. Clarabelle Stewart is your average teenage girl. She doesn't have any hobbies, and manages a C+ average in most of her classes. At least, she would be average, if not for her late father. He betrayed the government while attempting to steal a treasure for a Shadow Guardian terrorist organization, the Penumbra. Ever since his death, her family has been scorned and marginalized. But when the Starlite Academy--a prestigious military school for aspiring Star Guardians--grants Clarabelle a full-ride scholarship, she realizes that this is her opportunity to turn her life around. She eagerly sets off for school, and meets a wonderful group of friends. Yet, some things are still... off. Her teacher, Slade, and her roommate, Wulfgar, claim that they know her from their past, but she doesn't remember them. And Ursula, the bubbly senior student who welcomed her into their friend group, is hiding her own set of dark, tumultuous secrets. Unbeknownst to them all, weaving backwards through the years, a sinister plot has taken hold, setting the course for each of their lives. And suddenly, the world turned upside down. Nothing is what it seems.
Star Guardians: Legend of the White Nova Volume 1
April 22, 2018
Word Count:
75000
Summary: One hundred years ago, the vampire Victory retired from a centuries-long mercenary career. She settled in Limani, the independent city-state acting as a neutral zone between the British and Roman colonies on the New Continent. Twenty years ago, Victory adopted a human baby girl, who soon showed signs of magical ability. Today, Victory is a city councilwoman, balancing the human and supernatural populations within Limani. Her daughter Toria is a warrior-mage, balancing life as an apprentice mercenary with college chemistry courses. Tomorrow, the Roman Empire invades.
Steel Victory
June 15, 2015
Word Count:
71000
Summary: I've got a secret. Two, actually. I'm not that powerful. My best friend Gerald, though, he's got enough superpowers to fill the role of two heroes. His abilities are so strong, he can even make everyone believe I'm destined to be more than a sidekick. My other secret? I love him. My crush is getting harder to hide now that we're headed off to superhero university together. With Gerald as my roommate, it's only a matter of time before he figures out how I feel. And from there, our other secrets will inevitably unravel, too. Including what truly happened the night we stumbled on a League of Villains meeting. I never counted on the League ruining my plans to enjoy the university experience with my bestie. Or the nemesis who haunts my nightmares turning his telepathy on the city I grew up expecting to protect with my powers. One thing's for sure, superhero school isn't for the faint of heart. Super U: Rising Storm is an M/X superhero slow-burn best friends to lovers romance. It is part of a multi-author shared universe following the university adventures of superheroes in training. Gerald is a trans man who commands the wind and electricity. Ignatius is his non-binary and autistic best friend, who controls electric sparks. Read now to watch them turn their spark into a storm.
Super U: Rising Storm
October 12, 2021
Word Count: Information not available
Summary: Discover ten planets, joined through music-based magic and an immense sentient crystal. This anthology contains nine stories from the popular Dissolutionverse universe! Join Origon as he investigates the Pixie homeworld and tries to avert a war! Learn how to change the Symphony with Rilan, as she searches for Origon's lost brother. Travel with merchants in an old war train with some suspicious cargo. Fly with the first majus in space! Discover the food and culture of the ten species. Learn what lurks in the basement of the House of Potential. Music, magic, and murder is afoot with Mandamon, as someone plots to bring down the secret Society of Two Houses! An ancient being confronts other-dimensional entities. And a climbing crew searches for the top of a miles-high wall, riding a giant steampunk beetle! If you like space opera, fast-paced adventure, music-based magic, and complex, diverse characters, then you'll love this collection of stories from William C. Tracy's Dissolutionverse. Pick up Tales of the Dissolutionverse to discover the music today! There's more adventure in The Dissolution Cycle (Epic Space Opera, LGBT): Book 1: The Seeds of Dissolution Book 2: Facets of the Nether Book 3: Fall of the Imperium Book 4: Tales of the Dissolutionverse
Tales of the Dissolutionverse
May 20, 2019
Word Count: Information not available
Summary: High schooler Crispin Haugen already has so many identities to sort through—Asian, Scandinavian, not to mention gay. Then a messenger from another world arrives to tell him he also carries the blood of dragonsin his veins. Transported to the Realm of Fire, where dragons and humans live in harmony, Crispin falls for Davix, a brooding, nerdy scholar. But dark mysteries threaten the peace of Crispin's new world. Without warning, dragons from the Realm of Air unleash a bloody war. With everything he cares about on the line, Crispin must find the courage to fight...for justice and for love. The writing of this book was supported by the Toronto Arts Council with funding from the City of Toronto.
The Dubious Gift of Dragon Blood
December 15, 2020
Word Count:
57,360
Summary: Edward Peach is a fourteen-year-old wizard who receives a letter that he has been accepted into the prestigious Prymoutekhny Wizards Academy for Boys, in the faraway land of Aradia. His parents are overjoyed, but he feels reluctant to leave his family, friends, and his comfy cottage in the English coastal village of Manley. As term begins, Edward adjusts to life in his new school, dealing with bullies, strict teachers, and challenging wizardry classes. He is almost ready to give up when he falls in love with a charismatic, privileged boy—and talented wizard—named Mr. Andreas. Prymoutekhny is a school that has still not opened up to same-sex attraction, so he must keep his feelings secret. Soon, Edward and the impressive boy realize their deep attraction for each other. This causes immediate controversy in the school, as they are the first two boys from feuding houses to come together—especially in a school where house rivalry can end in murder. He is then put to the ultimate test as he must risk being with the boy he loves even at the cost of his own life!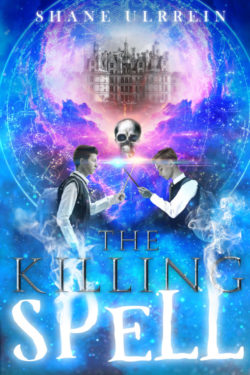 The Killing Spell
July 9, 2019
Word Count:
60000
Summary: Jeff Harris goes back in time to prevent the explosion of the space shuttle Challenger, but gets pulled into November 1963, and has 23 years to plan his intervention with the Challenger. He discovers that his actions in the past may result in the Soviet Union continuing in the 21st century. He strives with Laura and Karina to prevent this, and also the murder of John Lennon and the September 11 attacks, but the resilience and interconnections of history make it unlikely that they'll be able to stop all of those calamities, and the personal survival of at least one of them may be incompatible with their goals. The Saga contains "Loose Ends" -- the novella nominated for Hugo, Nebula, and Sturgeon Awards -- and its sequels "Little Differences," "Late Lessons," and "Last Calls".
The Loose Ends Saga
September 26, 2016
Word Count:
95000
Summary: Paul Levinson's astonishing science fiction novel is a surprise and a delight: In the year 2042, Sierra, a young graduate student in Classics, is shown a new dialog of Socrates, recently discovered, in which a time traveler tries to argue that Socrates might escape death by travel to the future! Thomas, the elderly scholar who has shown her the document, disappears, and Sierra immediately begins to track down the provenance of the manuscript with the help of her classical scholar boyfriend, Max. The trail leads her to time machines in gentlemen's clubs in London and in New York, and into the past--and to a time traveler from the future, posing as Heron of Alexandria in 150 AD. Complications, mysteries, travels, and time loops proliferate as Sierra tries to discern who is planning to save the greatest philosopher in human history. Fascinating historical characters from Alcibiades to William Henry Appleton, the great nineteenth-century American publisher, to Hypatia and Socrates himself appear. With surprises in every chapter, Paul Levinson has outdone himself in The Plot to Save Socrates.
The Plot to Save Socrates
February 7, 2006
Word Count: Information not available
Summary:
Music and magic. Steampunky science. The Dissolution is coming.
Eighteen year old recluse Sam van Oen lives with his aunt, takes online college courses, works in technical support, and tries not to remember the freak storm that killed his parents ten years ago. But anxiety and reclusion bring up memories he doesn't want. Just as Sam gathers courage to send in his application for college away from home, the temperature drops and the sun goes dim. Ice forms in August, and a portal opens in his fireplace. This time, Sam can't run. This time he's sucked in. Now Sam must survive in the flourishing capital of ten alien species, home to thousands who can change the Symphony underlying the universe and alter reality. Sam's anxiety attacks and fear of crowds transforms the Nether into a frightening, expansive city. To find his home again, Sam must learn to control the music inside him, while devastating voids threaten to destroy the Nether and everyone he has grown to love. "
Simply Put, This is a Brilliant Book. Read it Now.
" -Scattered Thoughts and Rogue Words Blog If you're looking for an awesome ride across multiple homeworlds filled with magic, science, music, and diverse alien species, don't miss the first book in William C. Tracy's Dissolution Cycle! The Dissolution Cycle (Epic Space Opera, LGBT): Book 1: 
The Seeds of Dissolution
Book 2: 
Facets of the Nether
Book 3: 
Fall of the Imperium
Book 4: 
Tales of the Dissolutionverse
 (Novella collection)
The Seeds of Dissolution
December 19, 2017
Word Count:
87000
Summary: Summary of Book: Their leap of faith could unleash magic -- or plunge them into darkness. Henry Thorn has worked at Larkin's since graduating high school. He likes it -- especially when he can use his secret skill of hiding inside shadows so his boss can't find them. Without that talent, he would never had survived growing up different. When a hire enters the store, Henry's other latent talent kicks in. He can smell an emotional response even before he lays eyes on the redhead. Jamey Currey came out, and his conservative parents promptly kicked him out. He, too, is different -- he senses Henry's attraction the moment they met. The first time they kiss, torrential rains fall from skies split by lightning. Their kiss also awakens the Watchers, diabolical hunters who will stop at nothing -- even extermination -- to keep magic suppressed. With the help of a friendly coven of friendly witches, the boys embark on a quest to discover an ancient key to restoring magic to the world, and to understand mysteries of their own hearts. The question is, will this quest cost them their lives?
The Werewolf and His Boy
August 26, 2020
Word Count: Information not available
Summary: Too much family drama at home. That's what Morgan Patterson was thinking when she left the States to finish her final year of college studying abroad in Northern Ireland. She quickly finds herself immersed in a hidden world of magic and danger with the man of her dreams at the center of it. Only he's not a man. Tiernan Doherty is an honest-to-goodness faerie lord with family drama of his own. There's a blood feud to be settled, not to mention a messy chain of duty that binds him to the queen of the dark fae, a woman he truly despises. None of that matters to Morgan, though. She realizes Tiernan's not just the man of her dreams, he's the man she's meant to protect. But what she does to protect him surprises everyone, threatening the longstanding peace between humans and faeries, and causing more than enough tears for them all. "These Are for Tears," is the third book in the Will-o'-the-Wisp Stories, a serialized, epic urban fantasy that proves nothing is what it seems, promises are meant to be kept and words are binding things.
These Are for Tears
October 29, 2020
Word Count:
36000
Summary:
"Wanna know what sucks most about an apocalypse? You don't get to pick which kind you get!"
Surviving a worldwide plague can lead to unlikely alliances, especially in Hanning County.
It's hard enough for Ashley Korrs keep the tribe of young survivors alive and together, but the pressure is on to learn all she can from their unlikely sage, Toby Cracken, the handyman, before he succumbs to his mental decline. When Toby is snatched by a violent gang, Ashley must consider cozying up with old adversaries to rescue him. Adversaries like the notorious MacKenzie Tanner—a girl as manageable as a wolverine stuck in a water bucket with the lid on—and her twin outlaw boyfriends who may be the chaos needed to free Toby... if Ashley can keep the whole thing from going off the rails.
Dirty secrets are exposed as the truth comes to light in this story of small town reputations, rivalries, and survival.
"Rich with pulpy apocalyptic dysfunction, 'gritty' is not a raw enough description—put on your grown-up pants before taking this journey."
Reader Advisory: This novella contains violence, explicit language, graphic sexual content, and gritty, adult situations; kinda like life.
This'n Apocalypse Or Not?
July 16, 2014
Word Count: Information not available
Summary: In Book 2 of The Fairville Woods series - the sequel to "From The Ashes" - the ghost of a little girl begins to haunt Lundy, in a stark reminder that Karel's curse has not been completely broken. Harlan is now a happy fixture in her life, unbeknownst to her parents, but the school year begins and she finds herself dealing with mean girls, popular guys, and troubled friends, as well as her developing physical relationship with Harlan. But even with Karel's coven gone, all is not right in Fairville - children are missing from the elementary school, and Harlan and Dr. Weinhelm sense an alarming presence in the town. Lundy begins to have dreams about a mad woman who has lost her children, while the little girl ghost leaves her clues she doesn't understand. The vampires from the Smoky Mountains reluctantly arrive to help defeat a creature from ancient, frightening legends - one whose existence yields an unlikely clue to the new nature of Lundy's curse.
Through The Eyes
February 25, 2013
Word Count:
93765
Summary: Home, a place where we belong and are safe and loved. Home, the house in which we grew up, a neighborhood, a culture, even a country. Home is a state of mind, it is a place of the heart, and in the heart. Finding home, coming home, and bringing home the one we love is a journey, a journey that can be a dangerous adventure. For the lovers in these stories, adventures can include quests and fighting dragons and demons, past and present, physical as well as mental and emotional. Rocket launchers need to be dodged, the Wild Hunt needs to be outrun. For some of the lovers here, home has been lost, or they have been forced to leave, as is too common for LGBT+ youth. In this collection queer positive speculative fiction stories, explore the idea of what and where home is in the lives of these lovers. Will they survive their quests, defeat their monsters? Will they find a place to call home?  
To Bring Him Home and Other Tales
September 11, 2021
Word Count: Information not available
Summary: Being too close to the truth got Jon Xiong's mother killed. While searching for answers, a murderous cult shows up at his door. A secretive organization called the Tuners comes to his aide and teaches him about his rare ability to travel between worlds called tuning. He grapples with his new superpower and is stuck between those who would maintain order in the multiverse and those who would destroy it. Jon must avoid the same gruesome fate as his mom and figure out what happened to his family.
Tuners
March 25, 2020
Word Count:
60000
Summary: Mid-twenty-first century time traveler Sierra Waters, fresh from her mission to save Socrates from the hemlock, is determined to alter history yet again, by saving the ancient Library of Alexandria - where as many as 750,000 one-of-a-kind texts were lost, an event described by many as "one of the greatest intellectual catastrophes in history." Along the way she will encounter old friends such as William Henry Appleton the great 19th century American publisher and enemies like the enigmatic time travelling inventor Heron of Alexandria. And her quest will involve such other real historic personages as Hypatia, Cleopatra's sister Arsinoe, Ptolemy the astronomer, and St. Augustine - again placing her friends, her loved-ones, and herself in deadly jeopardy. In this sequel to the THE PLOT TO SAVE SOCRATES, award winning author Paul Levinson offers another time-traveling adventure spanning millennia, full of surprising twists and turns, all the while attempting the seemingly impossible: UNBURNING ALEXANDRIA.
Unburning Alexandria
May 1, 2013