Word Count:

80000
Summary: Beware the demon prince who's sick and tired of running. Federico Duomo is dead, to begin with. But this is only the first bit of Shax's problems resolved. Powerful crime lords and an obscenely wealthy oligarch are still determined to destroy him and his crew, and Fluffy's original owner may be coming after the Brimstone now, too. It would be splendid to be able to take on one thing at a time. Adding to the external conflicts, life on board the Brimstone has only grown increasingly stranger. Shax has no idea what to do with the seven partly human children that Heckle rescued from slavers. Heckle himself has grown short-tempered, even with Mac. Someone from Julian's past catches up to them on Barbary. It's enough to put a demon off his cinnamon buns. Shax isn't panicking, though. In fact he's had it up to his handsome royal nose with the people he loves having to live in constant fear. The fox has turned at bay and the Brimstone's enemies are in for a shock. The demon prince of thieves is coming for them.
A Fine Mess: Brimstone 7
Word Count:

184000
Summary:
An unexpected romance. A space-heist gone wrong. A galactic catastrophe in the making.
At the furthest reaches of the known galaxy, cyber-thief Rowland Hale's biggest score turns into a fight for his life.  Beaten but not broken, ex-navy captain Toar Grithrawrscion can save that life, but only by risking his own. With a toothy foe hell-bent on domination, can these two unlikely heroes come together and not only save the galaxy, but each other? Their destiny is in their hands, but only if they keep their hands to themselves. A high-adventure space epic with a touch of charming romance,
Allure of Oartheca
tells the story of two men from different worlds who must face battles both from without and from deep within – an Allure that whispers promises of rapture and destruction, that dares not be risked, and cannot be refused. If our heroes give up, they fail.  If they give in, they fail too – and the fate of the universe rests in the balance.
Allure of Oartheca
Word Count:

35656
Summary: When Shax stumbles across rumors of an experimental house that responds to the occupant's brain functions, creating scenarios to please and delight, naturally he wants to steal it. While stealing an entire house sounds impossible, the demon prince has a cunning plan. But a night at the ballet heralds the return of a troubled and hunted Julian Parallax. He brings ominous news to whisper in Shax's ear and forces Ness to battle a new emotion – raging jealousy. With nefarious plots in the background and an overabundance of Poe references, even Shax's scheming may not be enough to get the Brimstone crew out alive this time.
Beside A Black Tarn: Brimstone 5
Word Count:

85000
Summary: A charming traditional quest fantasy, full handsome villains, dangerous sorcerers, and a pretty, perky apprentice. Not to mention lots of very cool magic!
Blade Light
Word Count:

136000
Summary: With his career firmly established and his reputation as a successful PI growing, Hades should have the perfect life with his human lover, his faithful ferryman, his dogs and the parts of his family still speaking to him. But murder and chaos are never far away for death lords as his nephew Dionysus and his oldest friend Charon are drawn into the maelstrom. Includes: Books, Bulls & Bacchanals: Brandywine Investigations #4 Midwinter Dancing: Brandywine Investigations #4.5 Pack Up The Moon: Brandywine Investigations #5 Please note: Books, Bulls & Bacchanals has been re-edited for this edition.
Brandywine Investigations: Family Matters
Word Count:

125662
Summary: When humans forsake the temples, the gods need to find other employment. Hades opens Brandywine Investigations after his divorce and his subsequent move to the modern world. If he was hoping for boring infidelity cases and lost dogs, he's sorely mistaken as murder and mayhem find his agency and his extended family at an astonishing rate. Includes: Canines, Crosshairs & Corpses: Brandywine Investigations #1 No Enemy But Time: Brandywine Investigations #2 Dragons, Diamonds & Discord: Brandywine Investigations #3
Brandywine Investigations: Open For Business (BI 1-3)
Word Count:

117,600
Summary: The Action Packed Conclusion to the Peridot Shift Trilogy Peridot is on the edge of annihilation. Once life-giving, the world's Trade Winds are transforming people into soulless monsters. The surviving Alchemist gods neglect their followers or take advantage of them. Even worse, a delicate peace has been wasted, and everything and everyone is at stake, especially Meran, the mistreated embodiment of the planet. Captain Talis and the crew of Fortune's Storm must try to do some good with what's left of Peridot in the hope that, together, they'll reclaim the hidden pieces of Meran's soul before the chaos seals her disastrous fate.
Cast Off
Word Count:

72000
Summary: Vampires and werewolves live long lives. The Sleepless City saga might have ended but the story continues… Welcome to the Vampire Guard, where legend and myth meet science and technology.   Vampires make the best spies. Throw a smart-mouthed werewolf in with three vampires, mix well, and The Vampire Guard's newest team is bound to become one of their greatest assets. Super spies with a full range of skills. Warrior, hacker, thief, and scientist.  They get in, do the job and get out before the bad guys ever know what hit them. Forge, Blair, Declan, and Lucas are thrust into the world of high-tech spies and top-secret espionage conspiracies. Recruited into the world's most elite and secret organization with one singular mission. Protect those who can't defend themselves from ruin. Life becomes complicated when an impending Presidential visit to their town, Boggslake, throws them headlong into the world of the vampires and werewolves of the Vampire Guard. Very quickly they uncover and confront a werewolf terrorist organization known as the Qiguan. Together they must thwart an assassination attempt on the open waters of Lake Superior while tracking a previously unknown biological weapon controlled by the Qiguan—a weapon which may very well mean death for one of them.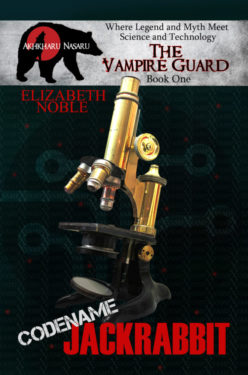 Code Name Jack Rabbit
Word Count:

132,000
Summary: Rules were made to be broken. From terraformed outposts to magical realms, journey to worlds where deadly plants, rampant biodiversity, or failed colonies have created irresistible opportunities for those brave enough to seize them. New worlds, found family, mystical secrets, and deadly science weave together in this lesbian-centric anthology focusing on a very different kind of first time—a first encounter with a world, or being, entirely unlike our own. If you like diverse stories with lesbian heroines practicing science, magic, and seduction, buy Distant Gardens today!
Distant Gardens
N.L. Bates , Sara Codair , Robin C.M. Duncan , Wil...
Word Count:

93000
Summary: Three vampires. Three lives. Three stories intertwined. Bearing the guilt of destroying the holiest of books after becoming a vampire, the Dragon, Lord Desmond searches the world for lost knowledge, but instead, discovers truth in love. Born a slave in Ancient Greece, Alexandra craves freedom above all else, until a vampire sets her free, and then, she must pay the highest price of all … her human soul. An assassin who lives in the shadows, Roquelaure is cloaked even from himself, until he discovers the power of friendship and loyalty. Three vampires, traveling the world by moonlight—one woman and two men who forge a bond made in love and blood. Together they form a band of mercenaries called the Scarlet Order, and recruit others who are like them. Their mission is to protect kings and emperors against marauders, invaders, and rogue vampires as the world descends into the chaos of the Dark Ages.
Dragon's Fall
Word Count:

62,900
Summary: A werewolf and seven vampires are all that stand between the world and complete annihilation. When Kai Richter and Ori Bier met, sparks flew. Then a train blew up. Tracking an organism deadly to not only humans, but vampires and werewolves alike, brings Kai and Ori into the Vampire Guard. Decades later, they, along with Operative Team Jack Rabbit, come face to face with the horrors that same virus produces. Dead bodies are coming back to life, and rational people are becoming violent and brutal killers. A massacre is taking place nearly a mile under the Atlantic Ocean. Two teams of The Vampire Guard are in the thick of it, fighting to survive.
Endosymbiont
Word Count:

76787
Summary: When a rebel werewolf and a vampire thief fall in love, only one thing is certain—trouble. For as long as Lucas Coate can remember, werewolves have been taught to mistrust vampires. Lucas is an exception—he has close friends who are vampires. The werewolf pack in Boggslake—and their leader, Jacob Coate—have made it clear that Lucas's association with vampires is barely tolerated, and another transgression will be his last. When Lucas finds out about the plague of werewolf deaths in the area, he wants to help even though his own life may already be in danger. Declan has been away from Boggslake for ten years, but he isn't surprised to learn that the internal politics of the Supernatural Council haven't changed for the better. When a series of burglaries hit close to home soon after he arrives, Declan—a vampire and professional thief—is their prime suspect, although for once, he isn't responsible. With the council keeping secrets, no one is safe. Time is running out, and for Lucas and Declan, everything is about to change. Authors Note: This story was originally released in 2015 by another publisher. This edition has been re-edited.
Family and Reflection
Word Count:

97000
Summary: The seas spell freedom. Pirates and kraken, boats and submarines, deadly sirens, mermaids, and the women who face them all. These are our heroes. High seas adventure, fantasy, and magic weave together in this sapphic anthology focusing on the joy of the unbounded oceans. If you like diverse stories with lesbian and sapphic heroines exploring oceans, battling sea monsters, and seducing pirates, buy Farther Reefs today! With stories by: Sarah Day and Tim Pratt, Kim Pritekel, Kyoko M. Sara Codair, William C. Tracy, N.L. Bates, Robin C.M. Duncan, Vanessa Ricci-Thode, Margaret Adelle, and J.S. Fields Genres: Science Fiction / Fantasy / Adventure / Lesbian / LGBT and Non Binary Market: Adult
Farther Reefs
Word Count:

31368
Summary:
While Shax recovers from a near fatality, his shipmates have been busy. He's rather proud of them for taking the initiative and finding them a lucrative cargo run. His pride turns to outright horror, though, when he finds out what sort of cargo. Frogs. The one thing in the universe that incites mindless panic in Shax. Unfortunately, he also soon discovers that a healthy fear of frogs doesn't prevent frog-driven disasters.
An unlikely series of overlapping mishaps hurls the Brimstone back to an even more unlikely point in history for a couple of demons and a fallen angel in a spaceship. Somehow they need to repair and refuel, and puzzle out how to get home. Time travel has never been so messy.
Fear Of Frogs: Brimstone 3
Word Count:

120600
Summary: Captain Talis just wants to keep her airship crew from starving, and maybe scrape up enough cash for some badly needed repairs. When an anonymous client offers a small fortune to root through a pile of atmospheric wreckage, it seems like an easy payday. The job yields an ancient ring, a forbidden secret, and a host of deadly enemies. Now on the run from cultists with powerful allies, Talis needs to unload the ring as quickly as possible. Her desperate search for a buyer and the fallout from her discovery leads to a planetary battle between a secret society, alien forces, and even the gods themselves. Talis and her crew have just one desperate chance to make things right before their potential big score destroys them all.
Flotsam
Word Count:

23000
Summary: Shax, the Demon Prince of Thieves, has reconciled himself to exile. He has a grand time careening around the galaxy as a high-end, intergalactic purloiner of pretties. Everything's going just fine, thank you very much. All right, fine, the anti-gravity cows are a bit problematic and some of his buyers are bad for his health, but he manages until he comes across an injured angel in a psychedelic alien jungle. He only rescues the wing boy for his golden feathers, but what Shax doesn't know about angels could fill an intergalactic encyclopedia. Ness, since his full, angelic name is too much to deal with, is shockingly naïve and seems convinced that Shax and Verin have brought him aboard to torture him or perhaps eat him. Little by little, Shax begins to earn his trust in the quest to wheedle a golden feather or two from him until to Shax's dismay, the yearning after pretties becomes a different sort of yearning entirely.
Hell For The Company: Brimstone 2
Word Count:

149,000
Summary: Peridot is headed for its second cataclysm. War has broken ancient alliances, sealed borders, and locked down the skies. The Five, Peridot's alchemist gods, have seen one of their number die and another fall in their efforts to protect their world from invaders beyond the stars. Defeated and diminished, they have ceased to answer the prayers of their people and have left the rapidly unraveling world to fend for itself. Talis and the orphaned crew of the lost airship Wind Sabre have a plan to set things to rights, but they're stranded on a rock far from the heart of the conflict. When an old enemy comes and offers them a ship and a path forward, it comes with strings that will pull them further from the home they are so desperate to save. Can Talis and her crew chart a course through hostile skies, shifting allegiances, and subverted governments before the true enemies of Peridot claim a power that can destroy the world once and for all?
Salvage
Word Count:

39865
Summary: The boys desperately need a vacation. With the not-quite-ill-gotten gains from the Frog incident, Shax takes the Brimstone's crew to the exclusive resort planet, Opal, for some much needed rest and relaxation. The resort has everything a demon prince and his crew could want, but an incident on the Trauma Ball court has Ness stalking off in anger and sends events swiftly spiraling out of control. ​Loving a demon isn't easy, as Ness has discovered, and harder still for a newly fallen who's still sorting out what that means. A new friend lending a sympathetic ear helps until Ness learns too late that friendship was the last thing on BJ's mind. Shax will need every bit of his cunning and his legendary luck to save his Ness as he's drawn into a web of criminal experiments and…pink hedgehogs?
Shax's War: Brimstone 4
Word Count:

76, 000
Summary: She tried to steal treasure from the dragons' hoard… and stole their hearts instead. To save her sister from a lascivious lord, Venya must steal a piece of treasure from a legendary dragon's hoard. Dragons haven't been seen in several generations, so imagine her surprise when she wakes not one, but two dragons from their hibernation. While the battle-honed Onyx is intent on having her for lunch, the graceful Gold appears more curious than angered by the theft.Abyss and Ray have very different ideas about what to do with the thief when they catch her. Abyss wants to punish her while Ray is intrigued by her audacity. After Ray turns his mate's anger to desire, the dragons set out on a rescue mission, intent on capturing the brazen thief and learning more about her. And to see if her Song matches theirs.Neglected and discarded by her parents, Venya has never bonded with anyone except her sister. Now she has two mighty dragons wanting to woo her and take her as their mate. While she finds delight in their company, she must reassess her own self-worth before she can trust them enough to love them.But the dragons have exposed themselves to the outside world, and many covet not only their hoard but Ray's golden scales. And when Venya's closely held secret is revealed, she becomes a prize worth killing for.
Song of Flames
Word Count:

44366
Summary: The Brimstone. Cargo ship, hive of thievery and profiteering. Captained by a demon prince and manned by a crew that puts any batch of misfits to shame. You've come along with a cargo of anti-gravity cows and one of jeweled-toned potatoes. You've shared the horrors of frogs and nightmares. Now share some, more or less, quieter moments with the Brimstone crew—small snippets plucked from various spots in each personal timeline, from Shax and Verin's childhood in Hell to after the events of Beside a Black Tarn. The Brimstone Journals, Collection One also includes an exclusive holiday short story, never published as part of the blog series. Shax would probably like to keep it that way, but too bad.
The Brimstone Journals: Collection One