Word Count: Information not available
Summary: Welcome to the last of the great flying Cities! It's 9172, YE (Year of the Empire), and the future has forgotten its past. Soaring miles over the Earth, Autumn, the sole surviving flying city, is filled to the brim with the manifold forms of humankind: from Human Plus "floor models" to the oppressed and disfranchised underclasses doing their dirty work and every imaginable variation between. Valerius Bakhoum is a washed-up private eye and street hustler scraping by in Autumn. Late on his rent, fetishized and reviled for his imperfect genetics, stuck in the quicksand of his own heritage, Valerius is trying desperately to wrap up his too-short life when a mythical relic of humanity's fog-shrouded past walks in and hires him to do one last job. What starts out as Valerius just taking a stranger's money quickly turns into the biggest and most dangerous mystery he's ever tried to crack – and Valerius is running out of time to solve it. Now Autumn's abandoned history – and the monsters and heroes that adorn it – are emerging from the shadows to threaten the few remaining things Valerius holds dear. Can the burned-out detective navigate the labyrinth of lies and maze of blind faith around him to save the City of Autumn from its greatest myth and deadliest threat as he navigates his feelings for his newest client, the handsome golem Alejandro?
A Fall in Autumn
January 1, 2019
Word Count: Information not available
Summary: **Also available in "Guardians of a Giant's Treasure" anthology** For three years, Jeth and Kodie and their soldiers have guarded a hostile mountain pass against the invading Dathians in a war that has waged for decades. Jeth has the blood of giants running through his veins, and it has caused bigotry and death to dog his steps his entire life. After a childhood tragedy shatters his world, it takes the courage and loyalty of his best friend, Kodie, to protect him from himself. Jeth knows he's a danger to everyone around him and joins the army to control and focus the black rage inherited from his bestial bloodline. Kodie follows his friend into the army, determined to stay close to the one he loves most. He has never revealed his deeper feelings for Jeth, and is ignorant of Jeth's own feelings. Their bond is too precious for either of them to risk rejection. Yet they might have to take the chance when Kodie's life is threatened, and their enemy forges an alliance with a giant clan. Jeth must call upon his darker heritage to brave the hostile environment to make an alliance of his own—with a giant clan that knows more about him than he does himself.
A Giant's Friend
December 14, 2021
Word Count:
93700
Summary:
Keola is a mermaid – and bound for marriage to a foreign human prince. Unable to face a life cut off from the ocean with a man she despises, she chooses freedom at a terrible cost. Posing as a human wavesinger to remain hidden from her pursuers, she finds work on the ship of the dashing captain Anaar Kahlani. Anaar is searching for a mythical treasure and believes that Keola is the key to finding it. Amidst the hunt for fame and fortune, Anaar begins to fall for the mysterious wavesinger. Confronted with a secret and a dangerous revelation, she must decide what price she is willing to pay for untold riches – and for love. When Keola's past catches up with her, can they survive the oncoming storm together, or will the trials ahead demand more of them than they are willing to sacrifice?
A Melody in the Deep
July 20, 2021
Word Count:
108000
Summary: Now what? As Kendra recovers from her wounds, Artemis is planning their next strike. But so are others. Artemis has been too corrupt for too long; their own people are ready to take control. It's just going to take a little encouragement...
A Quiet Revolution
April 16, 2021
Word Count:
115000
Summary: Aaron Okonkwo, a Nigerian scientist, travels with a crew in the 24th century to evaluate Viridis, which proves to be a beautiful and fabulous world. There, Aaron discovers a strange, alien species and amazing machines and technology left in a vast underground complex by a mysterious race called the Creators. Aaron soon falls under the irresistible, seductive spell of Nightsong, a green alien female with ominous and bewitching powers. However, an even greater danger rises. He will be forced to fight for the planet's survival against a ruthless invasion of many ships to conquer and enslave the planet – just as Africa itself was once enslaved. Aaron knows it's A Senseless Act of Beauty to try to reclaim his ancient warrior heritage and fight back against such overwhelming odds, but he knows he must try.
A Senseless Act of Beauty - John B. Rosenman
April 13, 2018
Word Count:
161705
Summary: An underground city, built centuries ago to ride out the devastating heat. A society under attack. And a young solar engineer whose skills may be the key to saving her city…if she doesn't get herself killed first. When Jossey was ten, the creatures of the aboveground took her brother and left her for dead, with horrible scars. Now, years later, she's a successful solar engineer, working to keep her underground city's power running, but she's never really recovered. After she saves dozens of people during a second attack, she is offered a top-secret assignment as a field Engineer with Patrol, but fear prevents her from taking it…until Patrol finds bones near where her brother disappeared. She signs on and finds herself catapulted into a world that is far more dangerous, and requires far more of her, than she ever imagined. The creatures and the burning heat aboveground are not the only threats facing the City, and what she learns during her assignment could cost her her life: one of the greatest threats to the City may in fact lie within. With thousands of lives at stake, can she act in time? Aestus is an adult dystopian science-fiction series set centuries after climate change has ravaged much of Earth. An epic story of vengeance, power, shifting loyalties, and survival that looks at just how far people will go to protect what they love, brought to you by science writer S.Z. Attwell, Aestus paints a picture of a world in which far too little has changed. 
Aestus, Book 1: The City
August 6, 2020
Word Count: Information not available
Summary: Memories of another life and lover guide her, but are they even hers? She is a Bearer—keeper of past lifetimes and gifted with strange talents. Ember must find her answers away from safe Longquan Village, snared instead in the sensuality and dangers of The City. Hidden among spider farmers and slaves, prostitutes and weavers, a nest of people like her are waiting. A powerful man outside The City raises his forces, determined to hunt down the 'demons' who could taint his followers. Threatened from without and within, can the Bearers even trust each other? Powers will rise and alliances will be forged in a dark new world. The Memory Bearers are coming. This book includes violent and mature content. Reader discretion is advised.
After the Garden
November 14, 2014
Word Count:
73,151
Summary: Time travel. For mages, it violates their number one rule: what the Mother has written, let no one unwrite. The Mother writes the destinies of the creatures on the world of Karishian. If her writings were undone, it is feared that Creation itself could be undone. The dark mage Morgorth takes this rule to heart, but there are others who do not. Morgorth is about to claim a stone of power when it is stolen from him by a female mage he hasn't seen in decades. As they struggle for the stone, she activates it, and Morgorth is unwillingly plunged into another time and another place. It isn't long before he realizes what time he's found himself in and there are a few familiar faces. Most notable is a much younger version of Aishe. His mate. Living with a tribe who will be massacred, caring for a young lad who will become his mate, and fighting a battle against a mage who can travel from past to future at a whim—Morgorth's life has never been easy but now he must contend with the will of the Mother. Unable to change the future and the tragedies of Aishe's life, he must decide what his role in his mate's past will be, and ask himself one vital question: how does one defeat time?
Agate: Then and Now
May 2, 2017
Word Count:
73900
Summary: "It's not all about serving coffee and typing reports." Working for a secret organisation specialising in alien cover-ups, Connor Smith is no stranger to the abnormal or dangerous. His love life on the other hand… not so exciting. Until he reluctantly agrees to a blind date and meets the perfect bloke, Jason. Things are finally falling into place for Connor, so of course that's when he attracts an alien stalker. Noah Jones, ex-alien, has been stranded on Earth and forced to live as a human since 1648. Alone and detached from the world around him, Noah has spent centuries observing and recording humankind. In all that time, he's only experienced a connection with a human once… until he finds Connor. Even knowing Connor is in a relationship, Noah can't ignore their potential bond, or stay away. While dealing with missing alien artefacts, a dangerous and shadowy group of collectors, and the ever-present Noah, Connor finds his orderly life crumbling around him. At least he still has the perfect boyfriend… When Noah goes missing, Connor is forced to face the feelings growing between them and the mounting evidence that Jason isn't who he says he is…
Aliens, Smith and Jones
October 1, 2018
Word Count:
87000
Summary: In a world where everyone has a soulmate, uniquely powerful mage Royiora and reluctant assassin Kalo collide in the worst of ways. Royiora Daralkaen, the only mage alive able to use all five kinds of magic, has a near idyllic childhood in the country of Porescalia - before war breaks out with their antagonistic neighbors, Kloria. Kalo Porla, a naturally magic-proof individual known as a Null, is trained to be as an assassin by the authoritarian empire known as the Domain. When Kalo and his partner assassin are sent to kill a mage and his apprentice, it starts a journey neither man was prepared to begin. Content warnings: harm to children, physical and psychological abuse, implied (off-page) rape, violence, mature language, minors in implied sexual situations (teenaged romance), implied sexual situations, bigotry towards fictional races, and suggestive language.
All or None
August 15, 2020
Word Count:
1100
Summary: A muddy trench in France during the Great War wasn't the most auspicious place for Tom and Michael to reach an understanding of their own natures. A small, individual tragedy unfolds … But then Tom discovers a place beyond, where he and other men like him are blessed with all that life denied them.
An English Heaven
December 15, 2017
Word Count: Information not available
Summary: It's her first job...and it's already going wrong. Freshly graduated from university with a degree in engineering, Crystal approaches her placement on the wormhole-constructive ship Crossing Paths with nothing but enthusiasm. But while Crystal gets used to the ins and outs of a multispecies, multicultural ship, tension brews both at work and back home. Not murdering her coworker Jai is hard enough; the last thing she needs are the terrifying errors cropping up on her maps. Reality and space are either tearing themselves apart - or someone else is attacking them. With conspiracies lurking everywhere, friendship won't be enough to see her through these dangerous new problems... Fans of Becky Chambers' Wayfarers series will enjoy this sometimes joyful, sometimes dark personal adventure set in a world of politics, bureaucracy - and piracy.
And The Stars Will Sing
February 2, 2012
Word Count:
20000
Summary: A story born in the hollers of Eastern Kentucky. Elizabeth Robinson. An Elizabeth Robinson has lived in the hills of Eastern Kentucky as long as people have built permanent settlements in the lush, green forests. While the mountains recover from the War of Northern Aggression, the simple folk seek the healings of the Robinson women. Three generations, working the ways from the old country, live in isolation. The youngest Elizabeth Robinson, a healer by happenstance, despises her role in the family. She longs for freedom, the wilderness of her youth, an escape from a dark secret. Alone in the forest, she stumbles upon the ghost of a Yankee soldier, Samuel Henry. Determined to help Samuel pass beyond the veil, Elizabeth brings him back to her mountain home. Turning of the wheel of fortune, prosperity changes to misfortune for the Robinsons, and a menacing figure lingers like a thick fog. Generations, built on lies, force Elizabeth to face a bleak reality and make the ultimate sacrifice.
Apparitions of Elizabeth Robinson
December 19, 2019
Word Count:
171995
Summary: There will be time to crown a king, but first a warlord must rise. Arthur's battle summer is upon him, and he must be victorious if he is to claim his throne and rid the land of Saxon invaders. The teenage king has pulled the sword from the stone, but still the petty kings will not accept his rule. The Saxons are invading, Lot and Uriens are united against him, and he still has to prove himself to the common folk of the land. Next stop: the mysterious standing stones of the Giants' Dance and the Beltane ritual. Warfare does not wait for Arthur to catch his breath. Battle follows battle. Love is lost and found. Allies fall, enemies rise, and betrayals come to the young High King. If he stays strong, he can lead his people through a bloody summer. If not, all of Britannia will fall. Arthur alone will be responsible for the glory or ruin to come. Merlin will help him to see it through. But what secrets is the druid keeping? Arthur Rex: Dux Bellorum is the third installment in an epic retelling of the King Arthur legend. You only think you know the story.
Arthur Rex: Dux Bellorum
September 15, 2019
Word Count:
82290
Summary: Merlin has devised a test. All of the petty kings have gathered in Londinium to see who will be the next High King. Arthur and his retinue travel to the city in secret, but they are not the only ones with an interest in the Sword in the Stone. Morgana, Arthur's half-sister and the renegade queen of Rheged, has journeyed there with her Saxon lover, and petty kings have come with no kind welcome for the young High King. Arthur pulls the sword, but the kings will not accept him. He is given the temporary title of Dux Bellorum, and with Merlin at his side, he sets out to unite the tribes of Britannia as the Saxon threat grows more menacing on their eastern shore. Some battles are easy. Others are carried out in secret. It is the secret battles that Arthur will need to fear. "Arthur Rex: Ex Lapis" is the second installment of an epic retelling of the Arthurian legend. You only think you know the story.
Arthur Rex: Ex Lapis
July 20, 2019
Word Count:
100260
Summary: The High King is dead. While royal bastards and petty kings squabble for the power to take the vacant throne, only the druid Merlin and his succubus mother know where to find the late king's only legal heir. Arthur is young, idealistic, and living a quiet life at Caer Gai, protected by his foster father. Merlin put him there, and he will take him back out when the time is right, but first he has to set the stage and sweep away distractions… like the boy that Arthur loves. Merlin and his mother have plans for the hidden king, and they will stop at nothing to get him where they want him to go. But Arthur is no mere pawn, and though Merlin is a master manipulator, Arthur has ideas of his own about how his life should be. "ARTHUR REX: In Principio" is the first installment of an epic retelling of the Arthurian legend. You only think you know the story.
Arthur Rex: In Principio
March 16, 2019
Word Count:
125,000
Summary: For the past few years Yarroway L'Estrella has lived in exile, gathering arcane power.  But that power came at a price, and he carries the scars to prove it. Now he must do his duty: his uncle, the king, needs him to escort Prince Garith to his wedding, a union that will create an alliance between the two strongest countries in the known world. But Yarrow isn't the prince's only guard. A whole company of knights is assigned to the mission, and Yarrow's not sure he trusts their leader. Knight Duncan Purefroy isn't sure he trusts Yarrow either, but after a bizarre occurrence during their travels, they have no choice but to work together—especially since the incident also reveals a disturbing secret, one that might threaten the entire kingdom. The precarious alliance is strained further when a third member joins the cause for reasons of his own—reasons that may not be in the best interests of the prince or the kingdom. With enemies at every turn, no one left to trust, and the dark power within Yarrow pulling dangerously away from his control, the fragile bond the three of them have built may be all that stands between them and destruction.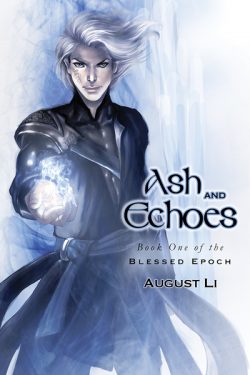 Ash and Echoes
June 15, 2012
Word Count: Information not available
Summary:
Withrow Surrett, cantankerous vampire lord of North Carolina, is passing the long winter nights of the off-season in the sleepy resort town of Sunset Beach. When the nights are long and humanity slumbers, where else would a vampire go but the beach? This is no mere vacation for Withrow and his cousin Roderick, though. They're hunting down a nest of nasty elder vampires who want to take over the world!
Of course it's not that simple, because for Withrow nothing ever is. Withrow and Roderick - and their team of frienemies, rivals, and allies - soon learn there are stranger things afoot than vampiric machinations among the dunes of Sunset Beach: mysterious mortals, twisted sorceries, and fleeting apparitions. Through sabotage, espionage, and bare-knuckled brutality Withrow must find and stop the elder vampires before they play the ace up their sleeve!
Kick back in the sand with the fourth installment of this vampire and urban fantasy series, perfect for fans of Rick Gualtieri, Jeff Strand, or Christopher Moore.
Attempted Immortality
August 21, 2017
Word Count:
121000
Summary: A child's memory. A journey's end. Lance doesn't remember the time before Ulfr found him. It's a dark pit in his mind that he avoids at all costs. And yet, despite his best efforts, pieces start to fall, and echoes from the past begin to ring. However, he has little time to comprehend their meaning, since the Captain of the Imperial Army herself has come to collect him and bring him to the capital city of the Nifdem Empire. Whisked away to the gilded streets and glittering court of the Hill of Tarran, and then to the snowy reaches of Swenen, Lance and Gust will learn the answers to questions they've had from the start. And be forced to acknowledge their roles in the survival of the empire and the ripple effects of their actions. But such knowledge can come at a steep price. As allies and enemies begin to step from the shadows, Lance will learn the truth of his past and the price of his redemption, and all the pain that comes with them. While Gust will have to decide what he's willing to sacrifice to safeguard the one he loves.
Avenging Lance
September 29, 2020
Word Count:
95877
Summary: A bargain must be struck before the Age of Mortals can be truly realized. For Elise, Ermolt, and Athala, the price is high. Not only do they have to find the dragons that have been hidden for centuries, but they have to kill them. ​ Their first stop is Jalova, home of Teis, God of the Sky, and their enemies the overseers, a group of thieves led by Merylle Callac, former High Priest of Teis. ​ Merylle wants help them, and her terms are simple - she wants revenge of her former God. Elise and her companions are more than willing to comply. ​Will Elise, Athala, and Ermolt be able to slay Sirur with Merylle's help, or will they face the wrath of Meodryt for their failure?
Bargain
March 31, 2018