Word Count:
65000
Summary: A young man sold into servitude has his loyalties tested in ways he never imagined. Raised in an orphanage in Dickens, Daniel doesn't know who his parents were, where he comes from, or even his last name. Like all orphans, on his 16th birthday, he's sold to the highest bidder. Not knowing where he's going, who's bought him, or what they even want with him, Daniel embarks on an adventure he never thought he'd take. He finds love, a family, and a secure future - yet in a split second, makes a decision he ends up regretting the rest of his life. Brothers begins fifteen years before the Red Dog Conspiracy series. Warning: Language, smoking, use of alcohol and drugs, attempted suicide by hanging, M/M underage sexuality with consent issues, forced servitude, blood, gun violence, a man being beaten by a horsewhip, murder, discussion of child prostitution, underage M/F sexuality with age gap (female older).
Brothers
June 1, 2022
Word Count: Information not available
Summary:
The war is over. Resources are scarce. The population is dwindling in the Forkstream Territories.
Pinnacle Officer Wilcox has created FERTS amidst the chaos, a facility designed to protect the female population from raiding hordes.
Beth 259201, a newly-demoted Epsilon Internee, suspects that there is something more that lurks beneath the carefully constructed order of the facility.
She has a gift, one that could brand her a defective. A novice fighter, she must use her intellect to survive. Her own life, and the lives of many more may be at risk. Will she succumb to the plans in store for her or will she conceal her secret long enough to discover her own path?
FERTS
June 26, 2015
Word Count: Information not available
Summary: Elderly, unarmed, and extremely dangerous. Ajay Andersen was the best hacker the NSA had ever hired. He sank corporations, toppled governments, and broke cryptography. All of it. Retirement hasn't slowed him down one bit, thank you very much. When his estranged daughter shows up on his doorstep with his two granddaughters, Ajay will do anything to keep them safe. He'll hack biotech corporations and criminal enterprises alike. He'll brave the woods of Minnesota. Nobody after his girls will be safe, but the more he digs, the more he dredges up the shadows of his own dangerous past. He only needs to know one thing: What makes his granddaughters so darn dangerous?
Grandfather Anonymous
July 5, 2021
Word Count:
99000
Summary: Gavin Booker, a school librarian at Cooper Road Elementary, Raleigh, Northern Carolina, leads an orderly, normal life. Work, jogging, friends from work, his son every other weekend. Gavin is also a secret. He is a hybrid, or part-fairy, and in the Columbian Empire, hybrids are under an automatic death sentence. Magic is illegal. So is loving another man, another capital crime. Fairies are locked away in ghettoes, magical beasts, such as gryphons, unicorns, and pegasi are kept in zoos. The others, the tree and water spirits, the talking beasts, fauns, and the rest, are in hiding. This is the world in which Gavin grew up. He survived, thanks to his mother. He can never forget he is different: ministers preach against people like him constantly; hating the other is a part of every school's curriculum. But now, things are changing fast, and apparently, for the worst. Earthquakes, volcanoes, killer storms are all frequent occurrences. The medicine Gavin takes to suppress his body's glowing, isn't working. The spells cast by his doctor, a witch, are losing their power. If anyone finds out what Gavin is, he is dead. Under threat, the Empire always goes after its marginalized people. Can Gavin survive the coming catastrophe? Will he ever recover from losing the boys he loved? Can he find the fairy man who has haunted his dreams all his life before it is too late? Can his scarred heart ever heal?
In Light's Shadow
September 3, 2022
Word Count: Information not available
Summary: It's 1919. Matty returns home to the family farm from the trenches only to find his brother Arthur dying of an unknown illness. The local doctor thinks cancer, but Matty becomes convinced it's connected to the mysterious books his brother left strewn around the house. Rob knows something other than just Arthur's death is bothering Matty. He's know him for years and been in love with him just as long. And when he finds something that looks like a gate, a glowing, terrifying doorway to the unknown, it all starts to fall in to place. Matty's looking sicker and sicker in the same way Arthur did. What is Rob prepared to sacrifice to save him? The answer is in the esoteric books…and with the mysterious Lin of the Frem, who lives beyond the gate to nowhere. It's taken Matty and Rob more than a decade to admit they have feelings for each other and they are determined that neither social expectations or magical illness will part them now. A stand-alone 35k novella set in the Lost in Time Universe, beginning with the 7.5k short story The Gate.
Inheritance of Shadows
April 6, 2020
Word Count: Information not available
Summary: Who doesn't crave a little escape? Dreaming of small town life and rural charm, Alex and Rainey find a deal on an old rustic home they can't resist. But soon after Rainey moves, her preoccupation with weird local history and the complications of living alone in the woods take a toll. Alex worries that the long nights and growing isolation are driving her stir crazy. When the Sugar House is damaged and Rainey goes missing, Alex doesn't know where to turn. Was it a storm, vandals, or something worse? What happened at the Sugar House? The only thing worse than wondering is finding out.
Liar: Memoir of a Haunting
February 22, 2021
Word Count:
195000
Summary: Belonging can sometimes be Hell Jin is 17, pansexual, blue-haired, half-Korean and a lifelong outsider. His modus operandi, after years of neglect and chaos, is never belong, never attach, because both just bring pain. What he doesn't know, and mustn't, is if he does ever belong, his lust demon father will take him to Hell forever the day he turns 18. But when he moves to the remote Scottish town of Hammer Falls, where he shouldn't fit in at all, he finds being supernatural and queer aren't quite the barriers to belonging he'd hoped. As his lust demon blood begins to show and he grows ever closer to gorgeous part-angel demonstalker Nate, how long can Jin continue to convince himself he doesn't belong and isn't getting attached? Lust & Other Demons is the first in a trilogy containing a snarky, prickly half lust demon, hot demon hunters, werebears, angst, messy love and explicit MM sex. Books 2 & 3 also contain steamy MMM+ polyamory scenes as part of a key relationship. NOTE - These books are NOT suitable for younger readers or people likely to be offended by speculative views about religion.
Lust & Other Demons
August 5, 2022
Word Count:
50000
Summary: Asking a necromancer for help is scary; falling for him may be downright terrifying. Darien Green's afraid he's going insane. The voices in his head are getting louder, weirder, and more numerous. But tattoos appearing on his skin say that there might be a magical reason, something other than his own brain going around the bend. He's worked up the nerve to ask the local necromancer for help. Now he just has to survive his encounter with tall, dark, and talks-to-ghosts. Necromancer Silas Thornwood doesn't appreciate being woken out of his bed by a stranger pounding on his door. But when that stranger turns out to be a half-frozen young man with an unexpected appeal, Silas can't turn him away. Even Grim, his cat-familiar, agrees— in a world of death and demons, protecting gorgeous, ghost-ridden Darien is Silas's next difficult job.
Marked by Death
October 23, 2020
Word Count:
85,000
Summary: Oh, so you thought your quarantine was bad? John Farno wakes up in a rover on a Mars-like world to discover the rest of the planet has been purged of all human life. With only the contents of his rover, he must figure out how to survive. He has no communications off-world, no ship to use for escape, and no human being within 40 light-years. It is the ultimate in social distancing.
No Marigolds in the Promised Land
March 22, 2020
Word Count:
48821
Summary: More than fifty years before Leah Corbyn became a werewolf, Amélie Orne was cast out of werewolf society, manipulated into taking the blame for crimes she did not commit. After living for so long on the run as a Feral wolf, she found unexpected comfort and companionship from Leah and her lover Amy Oakley. As they grow closer, can she dare to hope for a real future together with them after a lifetime of betrayal and misery? Amélie has allies to stand with her now, but it will mean uncovering secrets long buried, and reopening dangerous old wounds...
Outcast's Song
April 23, 2022
Word Count:
13,800
Summary: He didn't want a job, but he fell into a portal, and now he's going to learn that there's no escape from beneath an office planet! Planet of the Wage Slaves is a 13,800 word sci fi satire.
Planet of the Wage Slaves
September 8, 2022
Word Count:
83000
Summary: Seeing the future is not the same as saving it. When the first premonition hits, Amanda thinks it's a hallucination. She doesn't have psychic power; she echoes the powers of others. No one on the ship has that power, but the Confluence stones they acquired on Terrana seems to have extended her range. Her sudden ability to see the future has done little to help her crew prepare. Led off course, their ship finds Nola, a peaceful farming town celebrating their annual Festival. The moment she enters the city, Amanda feels more echoes of power than she can control. Overwhelmed by both the Festival and the spirit power in the city, Amanda begins a hunt for a powerful human-spirit half-breed that can help her, and finds herself at the center of the city's battle to purge spirit-kind from their midst. Can Amanda's borrowed powers give the crew the edge the need? Find out in this epic sci-fi thriller, because knowing the future is only half the battle.
Premonition
December 5, 2020
Word Count:
72000
Summary: Have you ever looked at a picture, perhaps a photo of two guys in a tight hug, or two girls holding hands, and wondered, "What happened before that moment? What will they do next?" These fifteen stories were inspired by images from the Young Adult LGBT Books Group. In these pages you'll find LGBTQ teenagers living their lives - experiencing first encounters and long relationships, coming out, staying closeted, questioning, loving, having adventures, dealing with family, with prejudice, with magic. Author Kira Harp provides this collection of Young Adult romantic, fantasy and contemporary short stories. Any author royalties from this book will be donated to The Trevor Project, which provides crisis intervention and resources for LGBTQ youth. (**This book is a free download in ebook everywhere except Amazon, and also available in print.)
Rainbow Briefs
October 31, 2013
Word Count:
100000
Summary: Dragons don't care what gender you are. A small town may be a refuge, or a trap. Some younger brothers really do save the planet. Three people can be the strongest shape. There's nothing quite like a gorgeous girl on a shape-shifting motorcycle. This second Kira Harp collection brings together LGBTQ teens in 21 stories of adventure, discovery, and romance, in fantasy, paranormal, contemporary, and SciFi settings. Ranging from a few short pages to 12,000 words, each story was inspired by a prompt picture from the YA LGBTQ Books Group on Goodreads. (Content warnings for abduction, bullying, self harm, substance abuse, suicidal ideation.) **This book is free in ebook everywhere except Amazon
Rainbow Briefs volume 2
August 31, 2018
Word Count:
70,000
Summary: Do you know what your problem is? Sulphur knows hers. This 13th-century woman has trained as a fighter all her life in hopes of joining the army. Then, within days, both of her older sisters announce plans and suddenly Sulphur is expected to find a man to marry instead. Is it her good fortune her homeland is gripped by fear of a pending invasion and the army now goes door to door encouraging recruits? Sulphur thinks it is. But once she's forced to kill in a small skirmish, she's ready to rethink her career decision. Too bad it's too late. The invasion is coming, and Ilari needs every good soldier it has. Once Sulphur learns Ilari's army has made the strategic decision to not defend certain parts of the realm, including the one where her family lives, she has to re-evaluate her loyalty. Is it with the military she's always admired? Or is it with her sisters, who are hatching a plan to defend their homeland with magic? The problem with being a woman who fights for what's right is that now, she has to figure out what is.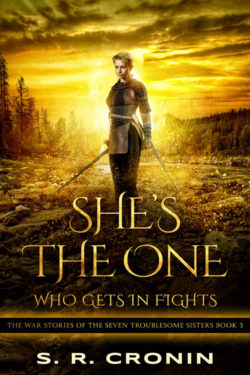 She's the One Who Gets in Fights
May 14, 2021
Word Count:
68000
Summary: What price would you pay to rescue a friend from hell? For Logan Conner, the answer is almost anything. Guilt-ridden over trapping his college roommate in a ghost war rooted in Portland's pioneer past, Logan has spent years searching for a solution. Then his new boyfriend, folklorist Riley Morrel, inadvertently gives him the key. Determined to pay his debt—and keep Riley safe—Logan abandons Riley and returns to Portland, prepared to give up his freedom and his future to make things right. Crushed by Logan's betrayal, Riley drops out of school and takes a job on a lackluster paranormal investigation show. When the crew arrives in Portland to film an episode about a local legend of feuding ghosts, he stumbles across Logan working at a local bar, and learns the truth about Logan's plan. Their destinies once more intertwined, the two men attempt to reforge their relationship while dodging a narcissistic TV personality, a craven ex-ghost, and a curmudgeonly bar owner with a hidden agenda. But Logan's date with destiny is looming, and his life might not be the only one at stake.
Stumptown Spirits
May 16, 2016
Word Count:
114000
Summary: A Slow Burn Meet Cute! Baker. Wizard. God of Space and Time. Cupcake enthusiast. How long will it take to fan the flames and enrage this gentle phoenix? Start counting. What's a wounded and lonely little cinnamon roll to do? Stripped of his psychic powers, Calico Winghorse flees his homeworld and travels to 19th century Earth via his inter-dimensional portal. As a mixed-blood phoenix trapped in human form, he opens a bakery in the San Francisco Bay Area and quietly nurses his wounds. But the unique method of his arrival draws the unwanted attention of Infinity Corporation. Representing this angelic-run company is Agustin Chavez de la Cruz, the Demon Lord of California. Even though Agustin is IC's heir, he finds himself demoted from his duties to concentrate on his new assignment: take absolute control of Calico's portal. But Calico refuses to sell at any price. He is also very busy ensuring that the good people of the city are getting their fill of baked goods. Before Agustin can formulate a more gracious avenue of acquiring the gateway, the demanding head of IC interferes, further complicating matters. So as negotiations stumble along, Calico and Agustin come to realize they both want more than a stuffy business arrangement. However, due to Calico's injuries, the portal remains vulnerable to the darker forces that want it at any cost. Agustin will have to push both his angelic heritage, as well as his own psychic powers to the very limits to heal this sweet baker, who is also the portal world's God of Space and Time. The Demon Lord of California is the first book of an LGBTQ+ paranormal-fantasy series. You won't want to miss a first love found, hidden worlds, and a recovering workaholic grasping at his second chance. All centered around the control of an otherworldly portal. So curl up with your favorite beverage, and hang out with Cal and Gus for a while. You'll be happy you did!
The Demon Lord of California
January 3, 2023
Word Count:
54000
Summary: He was the shameful cause of his sister Elena's death and he stole state papers from England, yet Adrian Hart is feted by the best of society in Rome, and boldly dubs himself 'Iago'. Determined to avenge Elena, his unrequited love, Lieutenant Andrew Sullivan asks the advice of poet and Shakespearian John Keats, and his artist friend Severn. Soon Percy and Mary Shelley join them, then Lord Byron and his servant Fletcher. But how can the seven of them work against this man, when they can't even agree what he is? The atheist Shelley insists that Hart is an ordinary man, while Byron becomes convinced he's the Devil incarnate, and Keats flirts with the idea that he's Dionysius… As death and despair follow in Hart's wake, Sullivan knows he must do something to stop Hart before even Sullivan himself succumbs – but what…?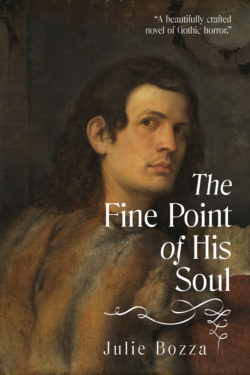 The Fine Point of His Soul
July 1, 2016
Word Count:
75000
Summary: What if the person who hated you most was the only one who could save you? Thousands of gentlemen have gone bankrupt in Bridges and trouble brews between the Diamond and Spadros crime families. Yet the city is united in its desire to exact vengeance for those murdered in the zeppelin disaster. Penniless and alone, private eye Jacqueline Spadros confronts the lowest point of her life. Seen as an accomplice in the financial crisis and accused of a crime she didn't commit, Jacqui faces trial in front of a hostile jury - and could receive the death penalty. Jacqui knows she's been framed by the illusive Red Dog Gang. But will the jury believe her?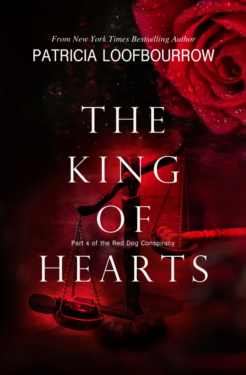 The King of Hearts: Part 4 of the Red Dog Conspiracy
October 1, 2018
Word Count:
91000
Summary: She barely survived the last round. As the Red Dog Gang closes in on her Family, can she survive the next? After the devastating events of our last chapter, all private eye and mafia wife Jacqueline Spadros wants is to get her life back. Then a missing person she thought she'd never track down falls into her lap. Jacqui is thrown into a series of events which not only puts her and everyone around her into danger, but changes her life forever. Warning: on-screen murder, major consent issues, smoking, language, infidelity, betrayal, description of injury, gore, on-screen suicide, child injury This is chapter 9 of a 13-part serial novel. Please read these books in order: * The Jacq of Spades * The Queen of Diamonds * The Ace of Clubs * The King of Hearts * The Ten of Spades * The Five of Diamonds * The Two of Hearts * The Three of Spades * The Knave of Hearts <-- you are here Book 10 coming October 2023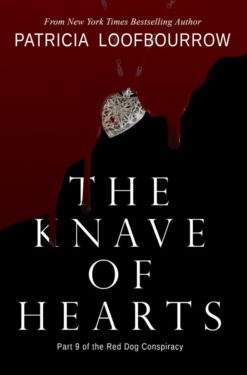 The Knave of Hearts
October 1, 2022