Word Count:

70000
Summary: Do you know what your problem is? Ryalgar knows hers. People have been telling this over-educated 13th-century woman for years. So when an equally intellectual prince decides he loves her, it looks like everyone was wrong and her dreams have come true. Except, this prince is obligated to marry another. He is leading the army training to defend their tiny realm against an expected Mongol invasion. And he is considering sacrificing Ryalgar's home nichna by abandoning it's rich farmlands to their foes. If only he wasn't such a nice guy.  Another woman would ….. Actually, Ryalgar has no idea what another would do. All she knows is she has a multitude of university intellectuals and a family of tough farmers behind her, and a newfound connection with the witches in the forest. Why not devise her own strategy to keep the invaders from destroying her home? Then she can figure out what to do about this problem prince. It's just the sort of thing that happens when a woman thinks too much.
She's the One Who Thinks Too Much
Word Count:

76000
Summary: Can a merman and an Atlantean, separated by centuries and prejudices, find love together? Merman Delwyn is an Oracle of the past. He loves nothing better than observing the comings and goings of those who lived centuries before he was born. His favorite time period to visit is when both Atlantean and mer inhabited the sunken city of Atlantis, and his guilty pleasure is watching lovers come together in passion. Secure in the knowledge that no one can see him when he's viewing the past, nothing can prepare Delwyn for the moment Fabian, an Atlantean living in the past, speaks to him. Fabian is a man with divided loyalties. The demi-god son of the Goddess of Sea Creatures has sworn to serve the Goddess of Prophecy as her Oracle of the present. His unique status gives him the power to see anything in the present, including the mysterious merman voyeur from the distant future. Despite the centuries that separate them, Delwyn and Fabian find they have a lot in common and quickly form a friendship that both hope one day will become something more. But before they can be together in the present, Delwyn and Fabian must unravel the mysteries of the past. Only time will tell if truth about the long-since vanished Atlanteans will bring them together or tear them apart, as the battle for the sunken city of Atlantis begins.
Shifting Currents
Word Count:

47,000
Summary: A collection of tales filled with monsters, be they human or beast, ranging in setting from dystopia to pitch black noir and even general silliness. From the ludicrous to the frighteningly plausible; from deep space to after the end of the world. There are clumsy werewolves and bloody revenge, monster sleep overs and a dieting fad sure to kill your appetite. Whether looking into the past or the future, you're sure to find that stuff gets really weird.
Shotgun Bastards and Other Stories
Word Count:

90500
Summary: Starting from the fabled holy city of Ravan, two paths diverge that will take their respective travelers to the farthest reaches of Parsina. The black-hearted thief Hakem Rafi comes into possession of the ultimate power of evil, while the storyteller Jafar al-Sharif and his daughter Selima begin a longer involuntary journey that will test the limits of their ingenuity. But first, they must fool the world's greatest wizard into believing that they, too, are practitioners of the mystic arts. Thus begins the Parsina Saga, a journey through a world of djinni, flying carpets and high adventure in exotic realms -- with the fate of the world at stake.
Shrine of the Desert Mage
Word Count:

82000
Summary: Does a bear shift in the woods? Well, partially. That was what got grizzly shifter Ted Farnsworth into trouble. He wasn't trying to break the Secrecy Pact. He just wants people to see the real him. So he signs up with the mate-matching service Supernatural Selection — which guarantees marriage to a perfect partner. Not only will Ted never be lonely again, but once his new beaver shifter husband arrives, they'll build Ted's dream wilderness retreat together. Win-win. Quentin Bertrand-Harrington, scion of an incubus dynasty, has abstained from sex since nearly killing his last lover. When his family declares it's time for him to marry, Quentin decides the only way not to murder his partner is to pick someone who's already dead. Supernatural Selection finds him the ideal vampire, and Quentin signs the marriage agreement sight unseen. But a mix-up at Supernatural Selection contracts Quentin with Ted. What's Ted supposed to do with an art historian who knows more about salad forks than screwdrivers? And how can Quentin resist Ted's mouthwatering life force? Yet as they work together to untangle their inconvenient union, they begin to wonder if their unexpected match might be perfect after all.
Single White Incubus
Word Count: Information not available
Summary: What do you do when you're the last of your kind, hunted every day of your life? Become a famous pop star! Dylan Rivers is the last siren in existence. His family were slaughtered by the evil oil barons, his homeland ravaged and stolen from him. He is a target for hatred, the last thorn in the side of those who just want to see him a corpse. For him to survive is the biggest middle finger to his enemies. He could hide in the dark, be terrified of his own shadow, but that isn't Dylan Rivers. Music is Dylan's life, as are the pleasures that can be found with his celebrity lifestyle—good food, beautiful clothes, fabulous parties, and gorgeous men. He particularly enjoys the company of his two favourite bodyguards—a handsome fae and a delicious werewolf—who are always on hand to look after his body in more ways than one. Something is stirring… Pleasure of the flesh drowns out pain, pushes away the sting of broken memories. He cannot fully remember what had happened to bring down his once glorious realm, but one day the opportunity to discover the full truth presents itself, and everything points to him. Dylan must travel the river of prophecy… There is change in the air, whispers on the water. His life is about to be turned upside down, for the idea of hope has risen... The last siren has a debt to pay… Join singing sensation Dylan Rivers in a journey of discovery, danger and seduction! A dark and steamy urban fantasy tale, with a Why Choose? MM romance. *This series is set in the same universe as Coldharbour Chronicles. However, there is no need to have read that series to enjoy this one.*
Siren's Debt
Word Count:

400000
Summary:
A future king. A slave's last hope. Can a sacrifice become something more?
Ilyas wants someone he can trust. As the heir to a great kingdom, all he can count on is the treachery of his younger brothers as he protects his future throne. When he receives his latest spoils of war, he meets a slave who's different. A slave with a hidden agenda… Jem is the last chance for his people. Shunned by his brethren, he yearns to save them with an impossible task: kidnap Prince Ilyas and sacrifice him to Jem's Dark God. Against all odds, he captures the prince and carts him across the frozen wasteland. Now Jem must keep Ilyas safe for the sacrifice and push down his urges to do more than protect the heir to the throne. Ilyas knows he can't trust the slave, but he feels like he's finally found a man he can love. As their attraction builds, they grow closer to a god that could destroy them both.
Snowmancer
is an LGBT dark fantasy novella set in a far-off kingdom. If you like unpredictable plot twists, rich descriptions, and tantalizing chemistry, then you'll love Olivia Helling's incredible tale of adventure, sacrifice, and love.
Buy Snowmancer to warm up to a forbidden love story today!
Snowmancer
Word Count:

49000
Summary: Thrust into the role of Prince of the Lycans, Tristan strives to find his footing in a life suddenly rife with secrets and lies—and danger. Betrayed by a Goddess meant to safeguard him, desperate to protect his consort and their growing tribe, he can only prepare for the worst and struggle to hope. And then the worst comes to kill them...
Songs of the Earth
Word Count:

49000
Summary: Thrust into the role of Prince of the Lycans, Tristan strives to find his footing in a life suddenly rife with secrets and lies—and danger. Betrayed by a Goddess meant to safeguard him, desperate to protect his consort and their growing tribe, he can only prepare for the worst and struggle to hope. And then the worst comes to kill them...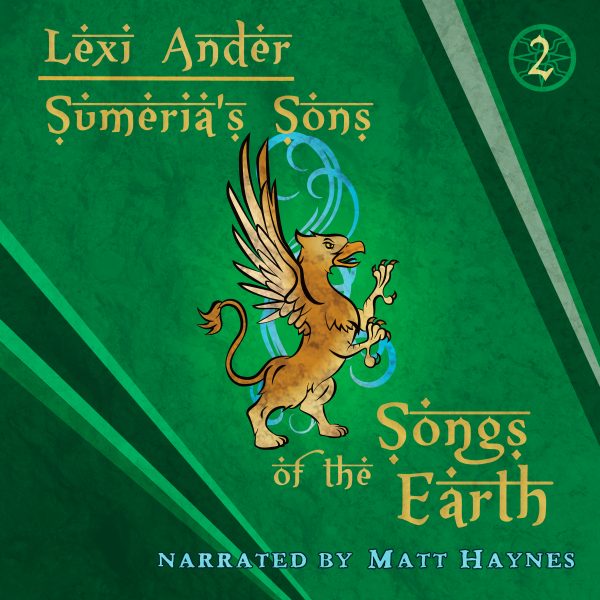 Songs of the Earth (Audiobook)
Word Count:

52000
Summary: Detective Thaddeus Ezax is in over his head. He's the only wizard in Rockshade's Paranormal Investigations Department, and it was his name that got him the job. The Ezaxs are known as some of the most powerful wizards in the world, but Thaddeus isn't your average Ezaxs. Is it any wonder his family shuns him? When a kidnapping case is dropped into his lap, Thaddeus must act fast. While most five-year-olds can cast a location spell, Thaddeus can't and is forced to get creative. When he finds himself in possession of a black market werewolf skull with a ghost trapped inside, accidentally releases the spirit, and somehow forms a connection with it, things get even crazier. Sandulf Hunter doesn't remember dying, but he remembers the last thing he saw before everything went black—a wizard. All wizards must die! The only problem is, the wizard standing next to him smells too damned good, so good Sandy thinks he might have to keep him. And since wherever Thaddeus goes, Sandulf finds himself yanked along, he might not have a choice in the matter anyway.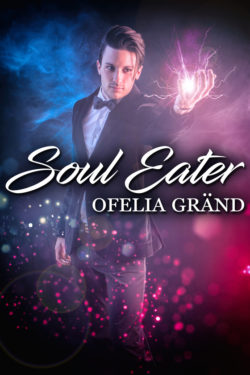 Soul Eater
Word Count:

95000
Summary: When Orion joins an established coven of powerful mages he is unsure how he will fit into the group. The four elemental mages have had centuries to build both their powers and their relationships while Orion is little more than a stranger. As a light mage, Orion has the power to heal, but as he comes to know the other members of the coven, he learns that not all wounds are visible, and healing tortured souls and broken hearts isn't as easy as fixing broken bones. Orion must bring them all together before they tear themselves apart. Only when the coven is strong will they be able to welcome the dark mage who will complete the circle and give them the power to defeat a mage who has waited centuries to exact revenge on the former members of his coven. READER ADVISORY: This story is a ménage and more story with emphasis on the more.
Soul Magic
Word Count:

56000
Summary: Sergeant David Lucas was an elite US Army Ranger deployed in Afghanistan until werewolves took down his unit. Caught in the middle of a fight between light and dark, Lucas finds himself the guardian of the young djinn Vash. As forces he doesn't understand circle them, Lucas struggles to make sense of everything while keeping Vash safe. He wanted to be a soldier, that was all he ever wanted to be. Shooting things he understands, but how can he survive when he runs into things bullets can't stop? Even with new friends around, turning furry might be more than Lucas can deal with. Failure could mean the end of a world he no longer comprehends. And worse, what does a strong ex-ranger do when he's forced to deal with girl's fashions for the first time in his life? Magic from the Middle East and West collide with the fate of one little djinn girl hanging in the balance.
Spark
Word Count:

40000
Summary: Spells & Stardust is Scott's first anthology - eight sci fi and fantasy shorts that run the gamut from regeneration to redemption. The Bear at the Bar: A gay fish out of water tale with a pinch of magic. Tight: What happens when your lover disappears in midair? Morgan: The year when everything changed. Re-Life: What if you were reborn in a strange new future? A New Year: They met every eleven years. And each time, Hank's life changed. Repetition: What if you wanted to go back in the closet? Gargoyle: Sometimes you get what you deserve. Sometimes it happens on All Hallows Eve. Avalon: A few bright moments in the sun, stolen from outside time. Most of these stories have been previously published in various anthologies and journals. This is the first time they have all been collected in one place.
Spells & Stardust
Word Count: Information not available
Summary: On a parallel Earth called Kale-Ra, humans born under "star signs" are blessed with magical powers. Two factions exist: the Star Guardians, and the Shadow Guardians. Clarabelle Stewart is your average teenage girl. She doesn't have any hobbies, and manages a C+ average in most of her classes. At least, she would be average, if not for her late father. He betrayed the government while attempting to steal a treasure for a Shadow Guardian terrorist organization, the Penumbra. Ever since his death, her family has been scorned and marginalized. But when the Starlite Academy--a prestigious military school for aspiring Star Guardians--grants Clarabelle a full-ride scholarship, she realizes that this is her opportunity to turn her life around. She eagerly sets off for school, and meets a wonderful group of friends. Yet, some things are still... off. Her teacher, Slade, and her roommate, Wulfgar, claim that they know her from their past, but she doesn't remember them. And Ursula, the bubbly senior student who welcomed her into their friend group, is hiding her own set of dark, tumultuous secrets. Unbeknownst to them all, weaving backwards through the years, a sinister plot has taken hold, setting the course for each of their lives. And suddenly, the world turned upside down. Nothing is what it seems.
Star Guardians: Legend of the White Nova Volume 1
Word Count: Information not available
Summary: The Triangle Anchorpoint City, 2082. Half a year after the death of his lover Takeshi, Rory remains devastated, deflecting Nick's attempts to drawhim out. Lorcan takes it upon himself to coax Rory back to life. Thenan innocent gesture of affection explodes into a sensational scandal,forcing them to make choices they would otherwise never have considered. Will their friendship survive the pressure of Nightwalker politics, or will their relationship be just another casualty of war? The Spacers In memory of his love for Tobias, Rafael became Antonio's closest friend and ally, supporting his protege's advancement in the Spacer Guilddespite Nick's deep disapproval. Captain of the Jumpvessel Singularity,Antonio has spent his entire adult life navigating the void between thestars, blissfully avoiding any part of the fate decreed for him in thewar between the White Wind and the Red. Mentor and student are reunited when Antonio returns home on the one hundredth anniversary of hisfather's death, intending to stay only long enough to pay his respectsto a man he never had a chance to know and the family he left behind.But in a world where immortality is commonplace, death is not alwayswhat it seems, and destiny is not so easily cast aside. The Spy Razheel has served the Court of Shadows with honor for over a century as the Night's Herald, never openly taking sides in the divide betweenNightwalker and Daywalker alliances. Now, after thirty thousand yearsof conflict, something new walks the Earth, which may be the greatestweapon yet in the battle between the races. As Antonio's fate becomesclear, she steps seamlessly into the role of revolutionary, and hercarefully planned insurrection will set the Nightwalker race on the path to final victory, or to total extinction.
Starlight
Word Count: Information not available
Summary: Warrior-mage partners Toria Connor and Kane Nalamas have reached the pinnacle of their mercenary career, known far and wide and offered their pick of jobs. Mixing business with friendship, they accept a long-term contract across the ocean in Londinium, even though it means a six-month separation from their loved ones in Limani. Lady Zhinu Wallace has no actual need for bodyguards, with her ability to change form into a dragon, but she wants the status and support of her long-time friends as she makes her official debut into British noble society. What should be a simple job, escorting the client to teas, business meetings, and galas, grows complicated when Zhinu is accused of murder. Her arrest thrusts Kane and Toria into the mystery of a dead scientist, a pickpocket with intriguing tattoos, and a magically encoded notebook. Toria and Kane split up to untangle all the threads that lead to a lab filled with impossible technology. But to save lives, the partners must work closer together than ever before -- merging not only their magic, but their very souls.
Steel Justice
Word Count: Information not available
Summary: Funerals are usually the end of the story, not the beginning. Newly graduated warrior-mages Toria Connor and Kane Nalamas find themselves the last remaining mages in the city when a mage school teacher mysteriously falls ill and dies. But taking over the school themselves isn't in the cards. They're set to become professional mercenaries–if they make it through the next 18 months as journeymen first. The debate over whether to hunt mutated monsters in the Wasteland or take posh bodyguard jobs is put on hold when a city elder hires them to solve the mystery of the disappearing mages. Toria and Kane's quest brings them to the British colonial city of New Angouleme, where their initial investigation reveals that the problem is even greater than they feared. But when a friend is kidnapped, they'll have to travel to the other side of the globe to save her, save themselves, and save magic itself.
Steel Magic
Word Count:

75000
Summary: One hundred years ago, the vampire Victory retired from a centuries-long mercenary career. She settled in Limani, the independent city-state acting as a neutral zone between the British and Roman colonies on the New Continent. Twenty years ago, Victory adopted a human baby girl, who soon showed signs of magical ability. Today, Victory is a city councilwoman, balancing the human and supernatural populations within Limani. Her daughter Toria is a warrior-mage, balancing life as an apprentice mercenary with college chemistry courses. Tomorrow, the Roman Empire invades.
Steel Victory
Word Count:

122000
Summary: If Sūnder Alārd had been born female he would have been cherished for being Faeborn—born with magick—and his birth celebrated. Instead, the L'fÿn insisted on his death. Only his Panthrÿn father's desperate escape saved him. With most Chándariāns uneasy in his presence due to whispers that he is doomed to become a darksoul, and unlikely to find a mate because of it, Sunder has nevertheless carved out an honorable existence as a warrior and commander. Now bodyguard and chaperone for the Chándariān prince, Sūnder attends the annual mating festival on Earth with his charge. He can't help but be fascinated by Gabriel St. Baptista, the tongue-tied nurse he meets after the prince's accident. When he was sixteen, Gabe came home to discover his parents had headed out into space, leaving him behind. Gabe never recovered from the unexpected desertion and keeps everyone at arm's length to avoid being abandoned again. However, after meeting Sūnder, Gabe finds himself unable to resist the bond between them and breaks all of his carefully crafted rules to spend time with the Chándariān—regardless of the fact that Sūnder will soon leave Earth. Scared by how fast he is falling for Sūnder, Gabe just hopes his heart won't be too broken when Sūnder leaves. Neither expects the deceit and treachery stalking them, and when Gabe saves Sūnder's life, it sets off a chain of events that could either tear Gabe and Sūnder apart—or give them both exactly what they want.
Sūnder
Word Count: Information not available
Summary: An unlikely savior emerges to prevent the advent of mass destruction and genocide descending on the world… By Day Los Angeles, 2040. When the terrorist known as Medusa threatens to kill millions with a stolen nuclear bomb, Nick Jameson makes a fateful decision. He reveals himself on global television as a Daywalker - a vampire with a soul. To save Los Angeles, Nick exposes not only his own gifts but three separate cultures based on millennia-old magic. By Night The three metahuman races exist in careful balance, working to maintain a fragile peace. Nick and his fellow Daywalkers successfully master their natural bloodlust. The Sentinels, armed with both magic and steel, repress their warlike instincts. And even some Nightwalkers, normally their natural enemies, have deserted the Court of Shadows to join the triple alliance. Nick Jameson is deeply involved with two such Nightwalkers - handsome Lorcan and powerful Rory. Both men love Nick. But neither can protect the new Ambassador to Humanity from the events he has set in motion. By the Sword Jeremy Harkness was lured into Medusa's service under false pretenses. A loner with no one and nothing to cling to, he was willing to die for his cause. But the night Medusa tried to obliterate Los Angeles, Jeremy met Nick Jameson, triggering the onset of his own psychic gifts. For Jeremy is the third race of metahuman, a Sentinel, born to kill the Nightwalkers with no quarter asked or offered. And neither Medusa nor the Court of Shadows will settle for peace when they can make war. Betrayal and treachery lurk around every corner on the road to coexistence, and at every turn, Nick must question who to trust among his metahuman allies, friends, and lovers—before their civilization is plunged into the depths of darkness and bloodshed. With millennia-old magic, emerging romance, and ever-shifting allegiances, this inventive series unveils a scintillating, homoerotic world of Nightwalkers, Daywalkers, Sentinels, and Humans, who battle for world dominance in the not-too-distant future.
Sunset