Word Count:

93000
Summary: When the magical secrets of The Emerald Isle beckon, will she survive answering the call? Pittsburgh, 1846. Valentia McDowell wishes she could rest. Plagued by nightmares of her grandmother's mysterious brooch lost in Ireland, the well-off woman grows more troubled when a fire ravages her family's business. But as she buries herself in the rebuilding efforts, she can't shake the sense that a powerful inheritance awaits her across the ocean… if she can weather the treacherous journey. Horrified when the voyage claims her brother's life and afflicts her with malaria, Valentia believes her grief will be for nothing if she returns from the famine-struck island empty-handed. But as she nears her gran's birthplace and the last known location of the heirloom, the determined woman draws ever closer to a force beyond her imagination… and a battalion of deadly danger. Can Valentia uphold a destiny she doesn't yet understand without losing everyone she loves? Legacy of Hunger is the sweeping first book in The Druid's Brooch historical fantasy series. If you like compelling female characters, immersive authenticity, and a dash of magic, then you'll love Christy Nicholas's transatlantic quest. Buy Legacy of Hunger to trace a family treasure today!
Legacy of Hunger
Word Count:

24000
Summary:
When Prince Aiden sets out to rescue a princess, the last thing he expects to find is a cross-dressing artist named Robert. Can he set aside his fears and find the fairy tale ending he longs for?
In a world where fairy stories are historical fact, Prince Aiden is on a quest to find a princess to rescue and bring home as his bride. Deep in the Enchanted Forest, he finds Robert, a cross-dressing artist who lives alone in his tower. Mistaking him for a woman, Prince Aiden is determined to have Robert as his bride.
When the prince of his dreams shows up at Robert's tower he is far from happy, especially when the handsome prince refuses to believe he is a man. Can he convince Prince Aiden to love him as the man he is, or is their happily ever after doomed from the start?
Let Down Your Hair
Word Count:

119,0000
Summary: Ben is a recovering vampire determined to pick up the pieces of the life that came to a halt when he was murdered over a year ago—even if that means distancing himself from his few remaining friends. Nate, struggling to navigate his new identity as a Class 3 Unknown paranormal, knows it will take more than mastery of his affinity with plants to convince Ben they belong together. When Ben's application for human status is denied, he must fight to leave the paranormal world behind him while Nate's generous impulses drag him into conflict with a werewolf pack with designs on ruling New Camden. As Ben's vampire family draws closer to finding him, his vampire instinct awakens—throwing his continued existence into jeopardy. The hunt for the missing werewolf continues, and Nate and Ben become pawns in Councilor Wisner's plans to take control of the city. Their only hope is each other—if they can see that before all is lost.
Life After Humanity
Word Count:

44000
Summary: Gu Non couldn't stop thinking about the magic. They'd lied to her about it. They'd lied to everyone. No one lied to Gu Non. Lord's Dome is a slipstream fantasy about a girl who refuses to believe that the fate of her family is to suffer, the mining elder who must suddenly decide whether to trust this lone girl, and their search for the truth of an enigmatic god while the unyielding everstorm rages overhead.
Lord's Dome
Word Count:

35000
Summary: The guide mentioned puddles, but I envisioned lakes, deep treacherous lakes, and I was drowning. One turn has passed, another Solstice is just around the corner, and having an illicit affair with not one but two lovers—smith Ianys and shunned forester Taruif—is taking its toll on truth seeker Kelnaht. A stripling has gone missing from the tribe, and heavy rainfall hides all traces of his whereabouts. With days creeping by without a lead, it's hard to keep the tribe's spirits up, more so when Kelnaht's own future depends on the elders. Taruif has been shunned for almost twenty turns, but now that a possible forester's apprentice is coming of age, the elders consider reducing his sentence. Taruif could be set free. In gaining one lover, Kelnaht may lose another. Ianys seems to be pulling away from them both. He doesn't want to hinder Taruif's happiness while an old promise keeps Ianys from loving Kelnaht openly. But Taruif needs Kelnaht and Ianys' support more than ever. If they lose faith in each other, the puddles in their paths will swallow them all.
Lost and Found
Word Count:

54000
Summary:
Lew's life is pleasantly boring until his friend Mira messes with magic she doesn't understand. While searching for her, he is pulled back in time to 1919 by a catastrophic magical accident. As he tries to navigate a strange time and find his friend in the smoky music clubs of Soho, the last thing he needs is Detective Alec Carter suspecting him of murder.
 London in 1919 is cold, wet, and tired from four years of war. Alec is back in the Metropolitan Police after slogging out his army service on the Western Front. Falling for a suspect in a gruesome murder case is not on his agenda, however attractive he finds the other man.
 They are both floundering and out of their depth, struggling to come to terms with feelings they didn't ask for and didn't expect. Both have secrets that could get them arrested or killed. In the middle of a murder investigation that involves wild magic, mysterious creatures, and illegal sexual desire, who is safe to trust?
Lost In Time
Word Count:

2600
Summary: Jake is a trapper working high in the mountains of Wyoming Territory, usually not seeing another human from one month to the next. Recently, however, he's had an unexpected guest – an Easterner named Edwin, who pitches in to ensure that Jake has enough supplies to survive the coming winter. As the evenings draw in, Jake works on knitting a blanket, adding a bit of love (and maybe even magic) into every stitch, hoping to entice Edwin to join him under its warmth…
Love in Every Stitch
Word Count:

195000
Summary: Belonging can sometimes be Hell Jin is 17, pansexual, blue-haired, half-Korean and a lifelong outsider. His modus operandi, after years of neglect and chaos, is never belong, never attach, because both just bring pain. What he doesn't know, and mustn't, is if he does ever belong, his lust demon father will take him to Hell forever the day he turns 18. But when he moves to the remote Scottish town of Hammer Falls, where he shouldn't fit in at all, he finds being supernatural and queer aren't quite the barriers to belonging he'd hoped. As his lust demon blood begins to show and he grows ever closer to gorgeous part-angel demonstalker Nate, how long can Jin continue to convince himself he doesn't belong and isn't getting attached? Lust & Other Demons is the first in a trilogy containing a snarky, prickly half lust demon, hot demon hunters, werebears, angst, messy love and explicit MM sex. Books 2 & 3 also contain steamy MMM+ polyamory scenes as part of a key relationship. NOTE - These books are NOT suitable for younger readers or people likely to be offended by speculative views about religion.
Lust & Other Demons
Word Count: Information not available
Summary: In a world where infants with magical powers are torn from their parents to be raised exclusively by the mysterious and powerful Danisoba, Kestrel has managed to keep her abilities concealed--and herself free. She hid when they killed her parents, lived as a street urchin in back alleys, and then served as a young tavern maid before escaping to sea, where magic is canceled by water. Now an adult and quartermaster of a pirate ship, Kestrel loves the freedom of living on the seas. But her way of life could end if anyone on board learns her closely guarded secret--that she has magical control over the wind. One day a black ship appears, and her life changes. Its captain is a handsome rogue of whom Kestrel is strangely, constantly aware. When Kestrel's captain is led into a trap and is arrested, Kestrel gathers her crew and sets sail in relentless pursuit.
Mad Kestrel
Word Count:

22400
Summary: When King Lucius is imprisoned in a magic mirror by an evil wizard, he is forced to watch as his life is destroyed and his kingdom brought to the brink of ruin.  Trapped in his own reflection, he only has the freedom to move and talk when the wizard sleeps. With his subjects under the dark spell of the wizard, Lucius is forced to rely on the most unlikely of heroes if he hopes to get his life back. Harry comes from a long line of assassins and prides himself on being one of the best in the kingdom, but when he is hired to kill King Lucius he discovers that all is not as it seems in the Kingdom of Cinders. Harry agrees to help Lucius in return for a full pardon for his crimes, but to complete his quest he may have to give up everything, including his freedom and the king he has come to love.
Magic & Mirrors
Word Count:

54000
Summary: "Tell me of your homeworld…" "Nope. And that's the last time you watch that movie before bed, baby boy." Talos cut off Kikoi who pouted. "Fine. Then tell me about when Uncle Majid finally stopped being so grumpy and murdery all the time." Kikoi batted his thick eyelashes. "Okay, I can tell you all about that. Well, I don't think he'll ever stop being murdery as you put it." Talos settled into his customary story telling position. "Some would say that story begins well over two thousand years ago when I first met my best friend and powerful unicorn shadow. Some others would say it started a little over a thousand years ago when tragedy struck. But I think it starts when my eldest brother, the crazy half-giant vampire that he is, retired and went on a quest for redemption."  Kikoi draped himself across Talos as he closed his eyes. "Little did Majid and Odin know that Fate sent a tough, smart, wasn't going to take lip from them polar bear to cross their path when they needed it most…" Majid's best friend, Talos, has found his mate and finally recognized his lover of the past several hundred years as his other mate. The mate Majid had spent the last eleven hundred years trying to forgive was back in his life. Will Majid rescue one mate only to lose the other? Or will the fierce polar bear, Siku, give him a chance to redeem himself? Will Odin forgive himself for the actions that tore Majid from his life? And will the not so little bear find him to be a worthy mate? Or is he doomed to die on a quest for redemption? Will Siku find his place not only within the relationship his mates clearly already have but also the entirely different world that is city life? Or is he just fooling himself that he can get over the wall between him and his mates? Bloodlines of Fate is an urban fantasy series set in a world destroyed by humans and resurrected by supernatural beings. This book contains depictions of omega polar bears who will eat you in self-defense, sturdy hair brushes that break naughty butts, timeouts for coloring and painting toes, and a family reunion for the history books. Majid is part two of a two-part story arch that tells the love story of two triads (MMM). It is necessary to read Talos to fully enjoy this book that does end in a HEA despite bickering chefs who try to burn the estate down. This is a type of omegaverse with mpreg.
Majid
Word Count: Information not available
Summary: In the sixth novel in the Rainbow Award-nominated paranormal M/M SoulShares series, Fiachra Dubhdara is a Fae living a stolen life, in a body that isn't his own. He's also the most junior detective on the D.C. Vice squad, assigned the task of infiltrating and shutting down Tiernan Guaire's Purgatory. Peri Katsura is the newest and hottest masseur at Lochlann Doran's Big Boy Massage, inexplicably drawn to the gorgeous cop assigned to bust him but needing to hide a dark secret of his own. And the owner of Fiachra's body has a plan to get it back – a plan that may cost Fiachra his SoulShare and close the doors of Purgatory forever. Unless the Marfach gets there first…
Mantled in Mist
Word Count:

50000
Summary: Asking a necromancer for help is scary; falling for him may be downright terrifying. Darien Green's afraid he's going insane. The voices in his head are getting louder, weirder, and more numerous. But tattoos appearing on his skin say that there might be a magical reason, something other than his own brain going around the bend. He's worked up the nerve to ask the local necromancer for help. Now he just has to survive his encounter with tall, dark, and talks-to-ghosts. Necromancer Silas Thornwood doesn't appreciate being woken out of his bed by a stranger pounding on his door. But when that stranger turns out to be a half-frozen young man with an unexpected appeal, Silas can't turn him away. Even Grim, his cat-familiar, agrees— in a world of death and demons, protecting gorgeous, ghost-ridden Darien is Silas's next difficult job.
Marked by Death
Word Count: Information not available
Summary: The Magician Washington, D. C., 2042. Toby Jameson is accustomed to being overshadowed by his brother Nick, but he doesn't have to like it. While attending the funeral of the First Lady of the United States, he finds a kindred spirit in Andrea Daniels, the President's daughter. When Nick discovers Andrea's supernatural destiny as a latent leader of the Sentinel race, Toby is happy to accept a secret assignment to protect her as she leaves the Armistice Zone, if only to gain a little distance from his relationship with his lover, Layla. The Daywalker Layla, the leader of the Daywalker race, has had three thousand years to earn her reputation as the Prince of Wrath. Her romance with the strong-willed young Sentinel has been contentious at best, but neither is willing to walk away nor give voice to a deeper commitment. When her protective overtures go awry prior to Toby's departure, provoking them into frank combat, it seems their relationship is finally doomed. Then a shocking discovery changes everything, casting the very nature of Sentinels and Daywalkers into question. The Wind In the wake of her mother's death, Andrea returns to England to escape the watchful eye of her estranged father. When Toby shows up on her doorstep unannounced, she knows he has a hidden agenda, but is willing to overlook his silence in the spirit of friendship that kindled between them at their last meeting. But nothing stays buried forever, and it's only a matter of time before they find themselves fighting for their lives against both the enemy they know, and a new menace that has emerged from within the virtual world.
Moonlight
Word Count:

43,000
Summary: What do you do when your heart contradicts everything you know? Ieuan is a young morgen in a lot of trouble. The storm he sung up to soothe his broken heart attracted the attention of the Cursed One, an underwater sorcerer exiled from the morgen group for a terrible crime. But the Cursed One wants Ieuan's help to save a life -- that of Zane, a sailor shipwrecked in Ieuan's storm. Ieuan finds himself drawn into the Cursed One's impossible task against his better judgement. But as his morgen kin mount a search for him, Ieuan's help might be all of their undoing. Set in the same world as Deep Magic, Morgen Curse explores what happened to the morgen who left the Llyn Peninsula.  Morgen Curse is not a sequel, exactly. And it's not exactly a romance either. It's a beginning.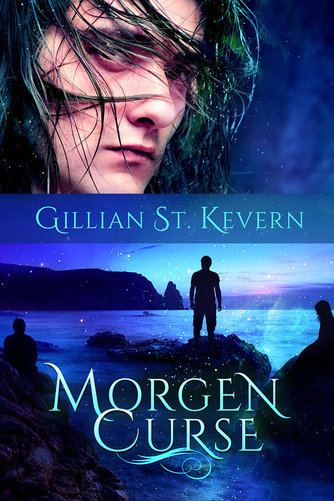 Morgen Curse
Word Count:

86,000
Summary: Does an underwater king have a future on land? A wave of near drownings along the Welsh coast can only mean one thing: the morgenau, Welsh sirens, have returned to the Llŷn Peninsula. Myrhydion seizes the chance to prove himself as future king. Instead, he falls under the spell of a cunning underwater sorcerer. Myrhydion fights to free himself, while keeping up the fiction of his human identity. As he loses more and more of his power to the sorceror, Myrhydion risks more than the crown. He could lose the life he's created on land with Olly. As Myrhydion and Olly struggle to protect the people of the Llŷn, Myrhydion faces an impossible choice. Surrender the magical powers that are his only defense against the machinations of the former king, his evil grandfather, or risk the lives of everyone he cares about. Rapidly running out of magic, options and friends, Myrhydion knows that only a king can win this battle--and Myrhydion is prince of nothing. Morgen Song rejoins the cast of Deep Magic eight months after the events of the first novel. Welsh folklore meets modern sensibilities as Olly and Myrhydion fight for their happily-ever-after, facing foes that range from an ancient and bitter king to mothers-in-law and AirBNB guests--as well as some new foes familiar to readers of Morgen Curse. Morgen Song is a modern fantasy perfect for readers of gay romance who like their happy endings with a touch of mythology!
Morgen Song
Word Count: Information not available
Summary: This is book one of three. All books are full-length novels and must be read in order. All books are available now. The My Brother's Keeper Trilogy The town of Gilford has a Big and Terrible secret hidden in the ground. Infecting those it touches. Exploiting their darkness. Consuming their souls. It's hungry. It's vile. It's evil. And it wants out. Book One: The First Three Rules Marshal Jon Foster lost his purpose and his sanity the day he saw the image of his dead brother. The distraction saved Jon's life but cost the lives of innocent people including his best friend and partner. It was a price for survival Jon couldn't live with and was sure he'd never understand. Driven by grief and guilt he tried to escape his past by fleeing to a small town in the middle of nowhere. Only instead of peace, the memories festered. Then the offer of a stick of gum from a stranger changes Jon's life and puts him on a road out of the nightmare he's trapped in. Ellis Harper has lived the past twenty years isolated from the outside world and sole caretaker for his mentally disabled brother, Rudy. While Ellis loves his brother, he longs for a life he'll never be able to have. Shut away, his days consist of chores, endless cartoons, and games of Go Fish. A world that seemed to have no end until an innocent misunderstanding turns Ellis and his brother into a target for a town bully. It's a fight Ellis can never win on his own but thanks to a chance meeting with a stranger, he doesn't have to. What begins as a new journey in love for both men quickly unfolds into something neither of them could have ever imagined.
My Brother's Keeper (Book One): The First Three Rules
Word Count:

30000
Summary:
A dying lover. A demonic foe. One confession could save them all...
Damon knows he shouldn't need aid to stay at his dying lover's side. But as Byrne deteriorates, Damon bolts to take solace in his friend and fellow molly, Rogers. Rogers will always be there for Damon – if Damon would ever open up. He even risks a trip home to cheer him up, only to be stalked by his old demonic foe. But when Damon invites him into their home, Rogers can't keep the skeletal demon a secret. Not when the demon threatens to steal Byrne's precious last days. Damon and Rogers must band together to stop it – if they can ever admit they need the other's help.
Necromancer Vow
is the fifth book in the gay historical fantasy Damon Snow series. If you love deep emotional tension, Regency-era London and deviant romance, then you'll love this latest story of love, hurt and comfort from Olivia Helling.
Buy Necromancer Vow to continue Damon's lessons today!
Necromancer Vow
Word Count:

100000
Summary: The Nephilim loom over Niflheim. Gods, Dharkan and mortals fight amongst themselves in their shadow. And Time is on no one's side. The gods are outmatched, their talents useless against the Nephilim's technology. Desperate, they turn on each other. New alliances form and fall apart, for there can be no peace when survival is at stake. Psyche, torn between a goddess's duty and a mortal's hate, sets off on her own to learn the truth behind her fate, unaware of the danger following her. Meanwhile, Chronos' own agenda involves a power so dangerous and unpredictable it's been long forsaken by both the gods and the Nephilim. Will it be worth the risk?
Nephilim's Hex
Word Count: Information not available
Summary:
The action-packed conclusion to the award-winning series!
Withrow, Roderick, the Technopagans, the Book People, and all the rest of Withrow's friends, allies, and accomplices are back again to bring the fight to their enemies – and to finish it once and for all!
The elder vampires have issued their challenge and Withrow has taken them up on it. Now he and the rest of the gang have teamed up to go to where they've always known they shouldn't trespass: the stronghold of the elders, a gated community on the outskirts of Charlotte, North Carolina. Tucked away behind the high walls of their unholy fortress, the elders are ready to spring their villainy on the unsuspecting modern age and only Withrow stands in their way.
Withrow, Roderick, Jennifer, and their friends know they have only one chance to stop these ancient evils from roaring back out of the past – and it will take risking everything and everyone they hold dear if they're to succeed. Join the fight alongside these unlikely heroes as they risk life, limb, souls, and sanity itself in a no-holds-barred free-for-all against the monsters who stand ready to re-enslave the world!
Nobody Gets Out Alive