Word Count:

141270
Summary: Everything Tristan, Ushna, and Brian have fought for comes down to the moment they face Inanna and Marduk. Before then, Ushna must embrace his destiny and be transformed by Tiamat. But he returns with a fractured mind and will need the help of the new firebird or he'll be lost to the insanity of a primordial God. If he's lost, so is the balance Brian and Tristan sorely need. Tristan has vowed to care for his ex-Flame, Theo Sullivan, who is doomed to forget more and more with each use of his new ability. When not dealing with his stubborn ex, Tristan must free the warriors stolen by the government and devise a trap for Inanna. And that's only the start of the challenges, and everything that can still go wrong. Note: Releasing Chaos is the final book in the Sumeria's Sons series and features a poly (M/M/M) relationship. This book was previously released by another publisher and has been re-edited.
Releasing Chaos
Word Count:

11000
Summary:
A trapped recruit. A genius sorcerer. When war turns the world upside down, will they dare to fight for love?
Ben knew the price for surviving the exalted University of Magic: keep his head down and his mouth shut, no matter what. He never expected to attract the interest of the genius magician Maurice. He certainly never dreamed that Maurice would love him back. Whether experimenting in his laboratory or protesting the current regime, Maurice has never found a problem he can't argue his way out of. That is, until he starts dating his shy fellow classmate, and Ben simply refuses to argue back. When Ben is called up to fight an unjust war, Maurice brews the argument of the century. Anything to keep Ben safe. But when a spell goes wrong, Maurice's life is on the line. Will Ben destroy his remaining hope and dare to speak out?
Buy Requiem Inverted today to find out.
Requiem Inverted
Word Count: Information not available
Summary: By day, Ruby Killingsworth is a billionaire media mogul. By night, she's a magic wielding supervillain. Her worst day ever came last year when a ritual gone wrong robbed her of the ability to use her powers, and now she will stop at nothing to get them back. With the help of her old pal, Loki (yes, that Loki), and the band of supernatural minions he sends to her aid, Ruby sets out to unlock the secrets of an ancient African gem-- which proves easier said than done. And she's going about this while simultaneously working to seduce her neighbor: fellow billionaire Jaccob Stevens-- also known as Stardust, the city's preeminent superhero, also known as the city's least eligible man. Did I mention he hates magic? As though that isn't enough, Ruby must also deal with the unwanted attentions of a certain Lyle Prather: notorious former reality TV star and recently inaugurated President of the United States (sound familiar?). The going is tough, but Ruby just might be tougher. And a trickster god is never on anybody's side but his own....
Rites & Desires
Word Count: Information not available
Summary: The realm of Maldhonia was happy and prosperous, until strangers fell from the sky She'd given her life for power and a fresh start, but Calianthema had found a new trap—caught in a love spell with a dangerous nemesis. And this wasn't the worst of her problems. RIVER'S ROAR is a standalone MAGE ERA prequel to the WOODPELL SERIES and one of the TALES OF ARDONNA. Content Advisory: Adult themes and situations
River's Roar
Word Count:

72014
Summary: Lord Morgorth is a dark mage on the planet Karishian. He's considered a villain by his peers and relishes the title, having embraced the role early in his life. However, not all of his actions are necessarily villainous. Despite owning several of the Stones of Power—gemstones infused with powerful magick—he doesn't use them, preferring to keep them hidden away and out of destructive, power-hungry hands. He hates them more than anything. So when a sorcerer gets a hold of a major stone, Morgorth has no choice but to go after him. But, to his irritation, he is not alone. Aishe is a dialen whose tribe was massacred by the sorcerer, and is now on a mission of vengeance. The attraction is instant between them, but Morgorth keeps his distance. Because of a traumatic childhood and a deadly destiny, he has no desire for emotional complications. But Aishe's very presence challenges Morgorth's resolve. Not only does Morgorth admire Aishe's strength and intelligence, but he begins to see Aishe as a friend. As their hunt continues and their time together lengthens, their bond deepens, as does Morgorth's fear. If he becomes the monster that destiny claims he will be, will he hurt Aishe? Will he harm the one person who sees right through him? Who accepts him wholeheartedly? Determined to not let that happen, Morgorth keeps Aishe at a distance. But when Aishe is kidnapped by the sorcerer, what will Morgorth do to get him back?
Ruby: Lost and Found
Word Count:

74127
Summary: AURA's offices have been quiet since the mage tower incident—as quiet as they can be for an agency dedicated to policing holes in reality—and the department heads have been free to turn their attention back to mundane matters. The return to quiet bureaucracy gives AURA's Director of Research, Kai Hiltas, the time to turn his energy to a new issue—a young drow with unusual and dangerous powers named Ryld. Though his shadows always lurk at the edges of his vision, Ryld does his best to live peacefully and not let them hurt anyone. He has his work, his apartment and a succession of minders assigned by AURA who are, ostensibly, there to keep him safe in his new world and to prevent him from causing any scenes with his shadows. Most of the time, the arrangement works. But one disastrous incident causes Ryld's minder to leave him unattended and lost—the precise thing he was hired to prevent. To replace the faithless minder, Kai suggests Hank, a half-goblin accountant recently in the middle of a string of terrible luck, while Kai works out how best to get Ryld the magical training he so desperately needs. For his part, Hank truly likes Ryld and insists he would be happier working as Ryld's companion rather than as a controlling minder. As Hank and Ryld slowly come to terms with sharing space—and eventually more—Kai's search for a teacher for Ryld takes them out west on the invitation of the Elvenhome's aelfe queen and right into the lap of inter-elven feuds, ancient prejudice, conspiracies and trafficking rings. What should have been a pleasant visit soon turns into more than even forever-scheming Kai can handle.
Ryld's Shadows
Word Count:

149,000
Summary: Peridot is headed for its second cataclysm. War has broken ancient alliances, sealed borders, and locked down the skies. The Five, Peridot's alchemist gods, have seen one of their number die and another fall in their efforts to protect their world from invaders beyond the stars. Defeated and diminished, they have ceased to answer the prayers of their people and have left the rapidly unraveling world to fend for itself. Talis and the orphaned crew of the lost airship Wind Sabre have a plan to set things to rights, but they're stranded on a rock far from the heart of the conflict. When an old enemy comes and offers them a ship and a path forward, it comes with strings that will pull them further from the home they are so desperate to save. Can Talis and her crew chart a course through hostile skies, shifting allegiances, and subverted governments before the true enemies of Peridot claim a power that can destroy the world once and for all?
Salvage
Word Count: Information not available
Summary: Samantha Rain thought she was a normal woman approaching forty. Until she gets bitten by a hellhound puppy and finds herself thrown into a hidden supernatural world where saying the wrong thing could have dire consequences. With her new hellhound puppy by her side, and the captivating Lilith teaching her the ropes, Sam soon puts her detective training to use and starts uncovering the secrets of the Nox. - The Samantha Rain Mysteries Complete series includes The Case Of The Night Mark, The Case Of The Pixie Deal, The Case Of The Ruby Curse, and The Case Of The Puppy Academy. It is an urban fantasy mystery series with a slow burn f/f romantic subplot and a hellhound puppy.
Samantha Rain Mysteries
Word Count:

60000
Summary:
Bonded soul mates. Shocking secrets. Protecting the one he loves could destroy everything…
Ilyas defeated the Dark God and won the spoils of a lifetime: a new kingdom, a new soulmate, and a chance at revenge. Just when he has the chance to humiliate the brother who sold him out, Ilyas learns a closely-guarded secret. He has a son, and now he'll do everything he can to protect him. Jem's life was pure loneliness before he met Ilyas. But with the Dark God thwarted, Jem is completely powerless. When Ilyas begins to devote his full attention to the baby, Jem becomes determined to win his soulmate back. After allying with a powerful secret society, Jem conspires to deliver an uninhabited world where Ilyas' young son can truly be safe. But Jem didn't realize that his new alliance comes at a high price, one that may cost him the love of Ilyas forever.
Sandmancer
is a spellbinding LGBT dark fantasy novel. If you like rich world-building, captivating storytelling, and edge-of-your-seat action, then you'll love this story of love and horror from Olivia Helling.
Buy Sandmancer to test the bonds of love today!
Sandmancer
Word Count:

64,390
Summary: The time has come. The Dark Mage, Lord Morgorth, and Aishe of the Ravena Tribe, are to become bondmates. Morgorth is equal parts nervous and excited. He wants to unite with Aishe in the sacred dialen ceremony, to proclaim their devotion to the world, to show everyone that Aishe is his equal and deserving of respect. After all they've survived together, why shouldn't they make the cosmic promise before friends and family? But duty must often come before pleasure. When Morgorth's estranged mentor, Master Ulezander, comes to him with a time-sensitive mission involving a major stone of power, Morgorth has little choice but to acquiesce. Aishe knows his mate struggles with the revelation of his true destiny, after a lifetime of defining himself as the future Destroyer of Karishian. All he can do is reassure Morgorth that being the Savior is a far better fate for both of them. But as Morgorth and Aishe leap through worlds and dimensions in pursuit of a stone of power, more pieces to the puzzle of Morgorth's destiny are revealed. And they form an image of sacrifice and tragedy. The dark cloud of an ancient enemy looms ever closer, and the path to becoming the Savior might prove more monstrous than that of the Destroyer.
Sapphire: Home and Abroad
Word Count:

37,000
Summary: Fate and a dragon unite two men in a battle for love, magic, the march of time, and holiday joy. ___________ In a time of tall-masted ships and hand-made lives, a Guardian and a sailor find true love and their fates in each other. But romance, and a future together must wait, for duty calls. In a battle against dragons, can they seize victory in time to rescue the magic of Darknight and deliver holiday joy to a world that can no longer find its own way? ____________ All Reo Faramund plans for the evening is to take his son Pariso to the Festival of Lights in Sailor's Cove, their home when they're not out to sea on the tall-masted merchant ship, Mighty Hawk. Then, in less than a blink, the festival, the town, and the life he knows all vanish. When they find themselves high on a wintry mountain, Reo fears for their lives until an extraordinary stranger comes out of the night to offer help. First Guardian Jael Kohlinor patrols high up on Mount Lucia's flank, his sole purpose to make sure no Flatlanders find out about Lucia, a tiny country hidden in a fold of time where a dragon named Nicholas presides over a bloom of dragon eggs that yields gems and riches every Darknight solstice. Without the Darknight cache, Nicholas can't deliver holiday wonders across time, and time itself will suffer the consequences. When Jael finds Reo and Pariso shocked and shivering in the winter cold on the night before Darknight, he contemplates wiping their memories and getting them off the mountain, which is what the need for secrecy dictates. But invisible bonds pull Jael toward Reo like fate, and defying all rules he takes the strangers in out of the cold. Unknown to anyone on Mount Lucia, strange and greedy dragons are already winging toward Lucia with plans to steal Nicholas's wealth. Jael and Reo might have a future, a family, a fated love, but only if they can first save Darknight.
Saving Darknight
Word Count:

73900
Summary: How far is too far to go to save someone you love? Brandon Lynch is magical. He's a scintilla, wielder of electricity and is in love with a werewolf—or maybe he'd just in love with the idea of loving a werewolf? Raul Fierro is a bounty hunter and a werewolf. He knows he loves Brandon. He's made a promise to always protect Brandon and will carry out that promise at all costs. When Brandon and Raul go head to head with human traffickers, Brandon's morals are stretched to their limits. Will Raul keeping his promise tear them apart?
Scintilla
SALE
Word Count:

53000
Summary: Previously on Dragon War Chronicles, we left our heroes fighting for their lives in the midst of battle... Kollin races against time to get samples of the weapon used in Canada to their lab in Oslo. Kenshin races to get Danica back home in time to save her, Aiden and Xander. Danica's allies converge in Toulouse to prepare for what may come. Will Kollin be able to help save Danica, Aiden, and Xander before all is lost? Will Matt be able to track down who's responsible for a new weapon that threatens them all? What will happen when Danica's biggest secret is revealed? Secrets are revealed that will change the future for all dragon and SLIP kind alike. Warning: This book contains explicit sexual situations that are MM, MF, and MMMF. There are romantic relationships displayed that are MM and some depictions of loving and consensual BDSM relationships. There are also bad puns, a game of tag with an invisible dragon, and lions, jaguars, and bears. Oh my! Dragon War Chronicles is a continuous series. It is best read in order. SYN Consulting Secrets Revealed First Strike Dragon's Hoard
Secrets Revealed
Word Count:

98000
Summary: Zack thought he had a strange job before---Marine medic in a secret government base was odd, but personal assistant to a sidhe prince is downright bizarre and damn dangerous. Zack thought he had a strange job before. Working as a Marine medic in a secret government installation was odd, but working as a human liaison to the /fae/ and as the personal assistant to a sidhe prince is downright bizarre. Throw in the fact that he's pretty damn sure he's fallen in love with his boss, and things are close to unmanageable. Of course, around the fae, one never says 'things can't possibly get any worse.' Unexplained events plague the human world. Strange sightings, spontaneous magical explosions, and odd bends in reality crop up. When Finn falls ill and a monstrous creature attacks Zack, things quickly slide into disaster. Lycanthropy, loose-cannon mages, and Lugh conspire to make a hellish mess of things---but the real peril begins when Diego loses an important piece of his mind.
Semper Fae
Word Count:

57000
Summary:
Embracing his inner darkness could be his only chance to save the man he loves…
Ilyas refuses to give up his power. Not in the negotiations with his kingdom's old enemy, and not in his relationship with the man he loves. To keep the possibility of victory all to himself, Ilyas shuts Jem out of the talks and puts their love at incredible risk… Jem can no longer trust his own mind. While Ilyas has helped keep his inner demons at bay, the vessel of the Dark God senses the void growing between them. When the shadowmancer arrives at the negotiations, Jem keeps a close eye on a foe who seems to have won over everyone but him… As Jem uncovers the shadowmancer's true purpose, nobody believes him, including Ilyas. Before a dormant, deadly menace is released, Jem's only chance to save the peninsula and his soulmate is to embrace the monster he was made to be…
Shadowmancer
 is the riveting final installment in a trilogy of LGBT dark fantasy novels. If you like gay romance against all odds, action-packed adventures, and far-away fantasy worlds, then you'll love Olivia Helling's engaging tale.
Buy Shadowmancer to conclude the fantastical love story today!
Shadowmancer
Word Count:

58,000
Summary:
Sequel to Lost in Time
Newspaper reporter Lew Tyler and his lover, Detective Alec Carter, are working out the parameters of their new relationship. Meanwhile, time traveler Lew is trying to decide whether he wants to stay in the 1920s or find a way to get back to 2016, and Alec doesn't know if he can bear the vulnerability of being in love with someone who uses such dangerous magic. Fenn is a Hunter from the Outlands, come through the Border to search for the murderous Creature and its offspring at the behest of the Ternants, who maintain the balance between Fenn's world and ours. Fenn strikes a bond with Sergeant Will Grant, Alec's second in command, who is keen to learn more about his own magical abilities. As time goes on, Will grows keen to learn more about Fenn, as well. Fenn has their own painful secret, and when they appear to have betrayed the team and goes missing in London, Will is devastated. He has to choose between following his heart or following his duty. Moving through the contrasting rich and poor areas of post-First World War London from West End hotels to the London docklands, the men need to work together to capture the Creature ... and choose who – and what -- is important enough to hold on to and what they may need to give up to make that happen.
Shadows On The Border
Word Count:

70000
Summary: Do you know what your problem is? Celestine, the fifth of seven sisters, is tired of hearing about hers. Father thinks she's frivolous because she likes pretty clothes and caters to the crowds in the taverns who adore her music. Mother thinks that because she's the most social daughter in the family, she can't keep quiet about anything. They're both wrong. Celestine hides a secret she has kept for most of her life. As the family beauty and a talented musician with a lyrical voice, she has the best prospects for marriage to a prince. When such a liaison never happens, people assume Celestine is too choosy. But even in somewhat tolerant Ilari, a daughter hates to disappoint her family. How can she tell them she's in love with a princess instead? Lucky for Celestine, all her sisters are obsessed with an invading army headed to their realm. Celestine would rather ignore the threat and enjoy the freedom their lack of attention gives her. But, her voice can unlock a power that may help save Ilari. And the woman she loves is determined to fight these invaders. And her family, for all their talents, seems clueless about how to motivate the masses. Celestine knows she can inspire the citizens of Ilari to do what needs to be done. Is it time to put her inhibitions aside and use her voice to save those she cares about?
She's the One Who Can't Keep Quiet
Word Count:

70,000
Summary: Do you know what your problem is? Coral knows hers. People have been telling this tenderhearted 13th-century woman for years. So when a heroic army officer proposes, she decides she's stronger than people realize and her dreams have come true. Except, the perfect man turns out to be less than ideal. And she's gotten pregnant. And her homeland is gripped with fear of a pending Mongol invasion and she cries about everything now that she's with child. When a friend suggests the ever-caring Coral possesses a power well beyond what anyone imagines, Coral's sister decides this formidable talent is what the realm needs. Can Coral raise a baby, placate an absent military husband who thinks he's stopping the invasion, and help her sister save her homeland? This is just the sort of problem encountered by a woman who cares too much.
She's the One Who Cares Too Much
Word Count:

70,000
Summary:
Do you know what your problem is? Olivine knows hers. This quiet thirteen century artist has been hiding a secret as she travels to K'ba to meet her friends. Others assume she's fallen in love with another artist, but it's much worse than that. For on the way to K'ba is the dirt poor nichna of Scrud, a place scorned by other Ilarians. And in Scrud is the one man who understands her. However, Bohdan recognizes the dangers posed by an impending Mongol invasion. When he learns of Olivine's unusual visual powers, he convinces her to pick up her bow and start practicing. She does, though she's more concerned with moving to K'ba where she can paint all day and see Bohdan whenever she wants. If only her sister hadn't decided Olivine and her fellow long eyes held one key to defending the realm. Then, as if life wasn't complicated enough, Olivine learns the artist community she yearns to be part of has developed a different take on the invasion. They're certain the only way to survive is to capitulate completely to the Mongols' demands. Artists who feel otherwise are no longer welcome.
Where does her future lie? The invasion is coming soon and Olivine doesn't have much time to decide.
She's the One Who Doesn't Say Much
Word Count:

70,000
Summary: Do you know what your problem is? Sulphur knows hers. This 13th-century woman has trained as a fighter all her life in hopes of joining the army. Then, within days, both of her older sisters announce plans and suddenly Sulphur is expected to find a man to marry instead. Is it her good fortune her homeland is gripped by fear of a pending invasion and the army now goes door to door encouraging recruits? Sulphur thinks it is. But once she's forced to kill in a small skirmish, she's ready to rethink her career decision. Too bad it's too late. The invasion is coming, and Ilari needs every good soldier it has. Once Sulphur learns Ilari's army has made the strategic decision to not defend certain parts of the realm, including the one where her family lives, she has to re-evaluate her loyalty. Is it with the military she's always admired? Or is it with her sisters, who are hatching a plan to defend their homeland with magic? The problem with being a woman who fights for what's right is that now, she has to figure out what is.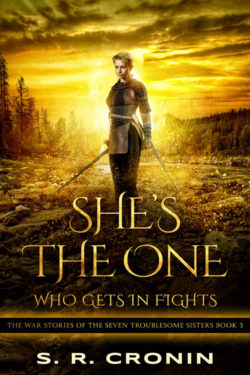 She's the One Who Gets in Fights