Word Count:

85788
Summary: Kris Starr used to be famous. Rock and roll. Sold-out shows. Literal magic. Empathic talents and screaming fans. But he has a problem or two. He's having a hard time writing new music. It's Midwinter, which means he's surrounded by depressing holiday cheer. And he's in love with Justin, his manager, who has a talent for rescuing almost- or once-famous bands ... and who's hiding secrets of his own. Justin Moore, on the other hand, is very good at keeping those secrets -- he's had to be for years. One secret involves a demonic inheritance that would make him a target of suspicion. Another involves his past. And the third involves Justin's feelings for Kris Starr, rock and roll icon and now his client ... and a powerful empath.
A Demon for Midwinter
Word Count: Information not available
Summary: Twenty four short stories, written by E.D.E. Bell between 2014 and 2020. Primarily a fantasy collection – sprinkled with humor, romance, and hope. Stories of wizards, Beatles, and a great many frustrated women.
Awkward Tomatoes
Word Count: Information not available
Summary:
Lucee Fearney legitimately inherited the leadership of the Fae faction known as Eleriannan, but what will happen when they find out that she still only has the magical skills of a Mortal?
---
When unexpected, dangerous visitors show up at the door of Maithe House, they bring word of an enemy that none of the Fae know how to fight. Even if Lucee can learn to trust herself and lean on her friends for help, will it be enough to take down the powerful and mysterious foe  known as the Mealladhan? Rejoin Lucee, Cullen, Merrick, Vali, Sousa, and all the other Mortal-born and Fae of Baltimore in another magical, musical adventure! 
Now with 100% more outdoor summer music festivals, uncanny graffiti, and shadowy forces.
Cast a Shadow of Doubt
Word Count:

79,025
Summary: Solving mysteries is her business. Finding love is her dream. Will combining the two get her killed? Victorian Era England. Stetson revels in being unconventional. So when society shies away from her independent nature, the bold woman creates an imaginary boss and opens her own detective agency. And her keen observational skills, convincing disguises, and Holmesian methods quickly bring in a string of tough-to-crack cases. Struggling to squeeze a personal life in around a series of hazardous investigations, Stetson worries she'll never find a woman of like-passions. But with her heart set on true love despite the risk, she carries on hunting for the perfect relationship. Will her clever escapades lead to death… or delight? Daring Duplicity: The Wellington Mysteries, Vol. 1, Adventures of a Lesbian Victorian Detective is a collection of five sequential novellas, each encompassing its own exciting mystery while furthering the story of Stetson's life in London. If you enjoy crime dramas, Victorian era fiction, or a sweet lesbian romance, then you'll love award-winning author Edale Lane's Daring Duplicity. Order yours today!
Daring Duplicity
Word Count: Information not available
Summary: He killed the only family she had. Now he's after her. When Maia Gellman loses her home, job, and family in one night, she does the only thing she can do: run. It's easy to get lost on the road with a new band, new friends, perhaps a new life. But the demon she left behind is gaining ground, and it awakens something sinister within her. Will Maia find a way to stand and face the demon, or will she succumb to the fate he has in store for her?
Demon Veil
Word Count:

30000
Summary: Flee. Scatter. Take your mates and your offspring and run. The escape pods fall to Earth one by one over the course of weeks, a mysterious and diverse alien diaspora, each pod containing a different alien race and leaving the world's governments scrambling to deal with this unexpected immigration. Serge Kosygin, still grieving and isolated after his husband's death, watches events with gray disinterest until one day he witnesses a pod crash for himself while driving home. Two of the alien visitors have died, but one survives, badly injured, and Serge is determined that if this alien is also going to die, it won't be under the harsh lights of a government facility. Devastated by the loss of his life mates in their desperate effort to reach safety, the knowledge that Een is the last Aalana in this sector of the galaxy only compounds his sorrow. He wakes in an alien dwelling under the care of one of the native dominant builder species, a being who appears to share nothing with Een besides a bipedal structure. Slowly, with the help of his patient and kind host, he discovers they are more similar than he imagined as they share harmonies and his host assists him with language acquisition. Their tentative first contact soon evolves into a deepening friendship, a balm for two grief-weary souls. They'll need each other and their growing bond for the troubles lurking just ahead. Publisher's Note: Eating Stars was previously published as part of Meteor Strike: Serge & Een as a novelette. It has undergone extensive rewrites and edits with over 10,000 words of new content added.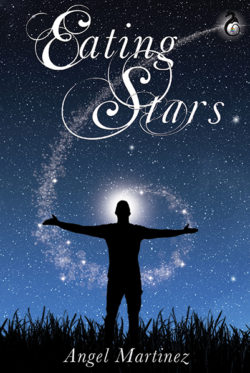 Eating Stars
Word Count:

98400
Summary: Sarah Colby is a musician, teacher, lover, sister, and so much more. In the past year, she learned that sometimes life takes you places you never even knew existed. For Sarah and her sister Annie, they found out that not only were the monsters real but sometimes you loved them. Now the Colby sisters and their friends are being targeted by someone with a grudge. They must discover who is attacking the people of Columbus or risk losing all that they hold dear. Nobel Keller is with them every step of the way but will she bring salvation or merely the end of their lives in Columbus?
Embracing Forever
Word Count: Information not available
Summary: The Dissolution approaches, and all will change. "Science fantasy with fantastic queer rep" -J.S. Fields, Author of the Ardulum Series The Dissolution approaches. Sam has saved the Assembly of Species, but at a terrible cost. Locked in his apartment, his memories gone and his best friend abducted, he is once again crippled with anxiety. Meanwhile, Enos struggles to free her brother from imprisonment, alone for the first time in her life. Her true species has been revealed, and there are hints the deadliest of her kind survived an ancient war. But the Nether contains more secrets. A musical chime disrupts daily life, signaling changes to its very fabric. To solve this mystery, Sam must face his anxiety and confront truths about his memories and unique abilities. Only then can he save his friends from the machinations of the Life Coalition, by understanding the reality behind the Facets of the Nether. If you like epic fantasy, space opera and music-based magic, you'll love William C. Tracy's Dissolution Cycle. Download Facets of the Nether today and discover the diverse cultures, genders, and alien species of an epic science fantasy space opera! The Dissolution Cycle (Epic Space Opera, LGBT): Book 1: The Seeds of Dissolution Book 2: Facets of the Nether Book 3: Fall of the Imperium Book 4: Tales of the Dissolutionverse (Novella collection)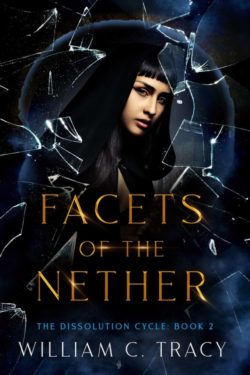 Facets of the Nether
Word Count: Information not available
Summary: The Dissolution is here. It is both an end, and a beginning. "Science fantasy with fantastic queer rep" -J.S. Fields, Author of the Ardulum Series The Dissolution has begun. Sam is finally reunited with Enos and Inas, only to see his new home under siege by beings that dissolve reality at a single touch. Even as they battle their personal demons, the three apprentices must also fight to save their home. Enos lashes out at those she loves, plagued by voices she's consumed, and Inas must risk his sanity to access ancient memories of the Nether. Sam must learn how he uniquely affects the Symphony, but there is little time to master what usually takes a lifetime. The Nether is leaderless and the Assembly is in chaos. The three apprentices must counter an invasion by aliens who rip the Symphony, and the very universe, apart. Ancient antagonists will resurface, a battle must be fought, and the secrets of the Nether and the universe will be laid bare in this final book of the Dissolution Cycle. If you like epic fantasy, space opera and music-based magic, you'll love William C. Tracy's Dissolution Cycle. Download Fall of the Imperium today and discover the diverse cultures, genders, and alien species of an epic science fantasy space opera! The Dissolution Cycle (Epic Space Opera, LGBT): Book 1: The Seeds of Dissolution Book 2: Facets of the Nether Book 3: Fall of the Imperium Book 4: Tales of the Dissolutionverse (Novella collection)
Fall of the Imperium
Word Count:

85000
Summary: ALSO AVAILABLE FROM INGRAM FOR BOOKSTORES We're a world beset by crises. Climate change, income inequality, racism, pandemics, an almost unmanageable tangle of issues. Sometimes it's hard to look ahead and see a hopeful future. We asked sci-fi writers to send us stories about ways to fix what's wrong with the world. From the sixty-five stories we received, we chose twelve most amazing (and hopefully prescient) tales. Dive in and find out how we might mitigate climate change, make war obsolete, switch to alternative forms of energy, and restructure the very foundations of our society, The future's not going to fix itself.
Fix the World Anthology
Word Count: Information not available
Summary: Imagine that every sixteen years, you died and started over, with no memory of the past. Could true love ever find you? Only if it were immortal. In 1915, a coven of vampires attacked the town of Fairville, MA, the disappearances making headlines. Sixteen-year-old Lundy Guillory and the boy who loved her, Harlan Wallace, discovered the culprits, so the vampires devised a cruel punishment: Lundy was cursed to die and be reborn every sixteen years, each time retaining no memory of her past lives. Harlan was turned into a vampire, so that, immortal, he would be tortured with the task of finding her again in every new life, and telling her their story. Over ninety years later, Lundy Lawson and her parents move into Fairville, one month before her sixteenth birthday, with desperate hopes that the doctors there will be able to help Lundy, whose health has been diminishing steadily. But Lundy begins to have strange dreams. First there seems to be a ghost in the library, trying to reach her; then a stranger shows up at her window at night - Harlan, unearthly, impossibly pale and sharp-teethed, and madly in love with her. It's Lundy's first lifetime back in the town where it all began, and this time she and Harlan have their chance to break the vampire's curse.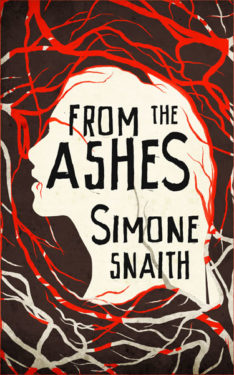 From The Ashes
Word Count: Information not available
Summary:
Even the grittiest blue collar city has a spark of magic under the surface; but in Baltimore, graffiti holds secret messages and artists are the spellcasters. Abandoned buildings hide ancient beings, and at the local club, you might find yourself rubbing shoulders with menacing and otherworldly creatures. If you know how to look, of course.
---
Merrick Moore is just a regular guy with dreams of making it big with his garage band, but not much else – until he crashes a party thrown by reclusive eccentrics. He gets more than he bargained for: new powers, a girlfriend who can visit him in his dreams, and a seven year bond with the local Fae court. When the mortal enemies of his new friends show up to his band's first gig, Merrick finds himself trying to prevent the start of a war that will have consequences for everyone, Fae and human alike.
In Sleep You Know
Word Count: Information not available
Summary: The Education Continues at Providence Paranormal College! Five more books, no waiting. Read. Laugh. Catch a case of the feels. Book 6: Roundtable Redcap: Can Fred rescue his brother from the Fae Queen with just reluctant Psychic Irina to help? Book 7: Better Off Undead: Lane and his vampire punk band Night Creatures are broke and broken. Can they pick up their pieces and shine in a Battle of the Bands? Book 8: Ghost of a Chance: Ghostly Horace and his Medium, Bianca, must solve a mystery to save Professor Watkins. Book 9: Nine Lives: It's time for Olivia Adler to trust her instincts or Tony Gitano just might die for good. Book 10: Fae of Fae Knot: The family that's Fae together can't stay together. The series concludes as they bend the tantamount Faerie Law to its breaking point.
Providence Paranormal College
Word Count: Information not available
Summary: Rhonda Wray: Raptor Wrangler is about a teenage girl who was innocently trying to listen to some live music … her favorite boy band happened to be playing a festival on a dinosaur planet … when bad things suddenly happened. Now she and her trusty robot are all alone in the wilderness, picking up survival skills and looking for her favorite singer, Sebastian Rose, just in case he needs to be rescued. There's hard science, explosions, plenty of dinosaurs (with feathers), diversity, no sex (although there are a few references to it), less violence than many dinosaur stories, cliffhangers galore, and a little bogus science just to honor the fine tradition of speculative fiction (what if raptors had syrinxes and could sing like birds?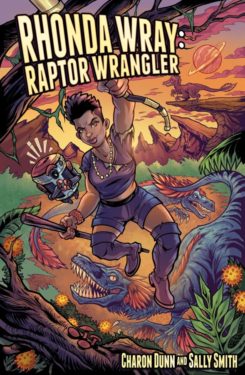 Rhonda Wray: Raptor Wrangler
Word Count:

74000
Summary: Sarah Colby has always run from commitment. But after more than a year on the road following her musical dreams, even she yearns for a little stability. Her sister Annie is only too happy to welcome her back home. When she meets Annie's boss, Nobel Keller, she's immediately drawn to the woman's youthful good looks and dangerous charisma. The first night together leaves Sarah aching for more, but the second shows her the true price of passion.
Welcome to Columbus, where the only thing hotter than the music scene is what happens after the last note is played.
Running From Forever
Word Count:

70000
Summary: Do you know what your problem is? Celestine, the fifth of seven sisters, is tired of hearing about hers. Father thinks she's frivolous because she likes pretty clothes and caters to the crowds in the taverns who adore her music. Mother thinks that because she's the most social daughter in the family, she can't keep quiet about anything. They're both wrong. Celestine hides a secret she has kept for most of her life. As the family beauty and a talented musician with a lyrical voice, she has the best prospects for marriage to a prince. When such a liaison never happens, people assume Celestine is too choosy. But even in somewhat tolerant Ilari, a daughter hates to disappoint her family. How can she tell them she's in love with a princess instead? Lucky for Celestine, all her sisters are obsessed with an invading army headed to their realm. Celestine would rather ignore the threat and enjoy the freedom their lack of attention gives her. But, her voice can unlock a power that may help save Ilari. And the woman she loves is determined to fight these invaders. And her family, for all their talents, seems clueless about how to motivate the masses. Celestine knows she can inspire the citizens of Ilari to do what needs to be done. Is it time to put her inhibitions aside and use her voice to save those she cares about?
She's the One Who Can't Keep Quiet
Word Count:

19017
Summary: Should he change the past for love? As an agent for the Tempus Institute, Jason Adams' task is to observe the past, not change it. But when he's sent to 21st-century Wellington, New Zealand, during the last week of aspiring songwriter Sean Henderson's life, Jason finds he can't just watch from a distance. He and Sean quickly become friends and then lovers, and when the song that's haunted Jason for years connects them in a way he never anticipated, he'll risk changing history for the chance of sharing a future with Sean. Author's note:  This story was originally published in 2012 by another publisher. This edition has some added content, and uses UK/NZ spelling to reflect its setting.
Slow Dreaming
Word Count: Information not available
Summary: Life sucks and then you die. Sort of. Valentino Crispo loves Mom's Italian cooking, sun on the beach, and working for the Cranston Police Department. He loses it all after getting vamped. Now, he's the noobiest vampire in Providence. This collection includes the complete four-book Supernatural Vigilante Society at a great price! Be Counted When a hitwoman apparently shoots Valentino Crispo's dad and one of Cranston's Finest on the same night, Tino stops letting vampirism bite him. He'll mix supernatural and PD skills to solve the crime. But he hasn't got the hang of being a vampire yet. The mystery of whodunit and why is tied up with Tino's own turning. The Providence vampire elders hate nosy vamps almost as much as new ones. Will Valentino stand up and be counted or add to the body count? Body Count Valentino Crispo's just started sinking his fangs into unlife as a vampire. He's got a decent start in his new PI business, too. Cases walk through the door and he solves them with a little help from his paranormal pals and the vigilante hobby they've got on the side. Wash, rinse, repeat. But there's big trouble in the little Ocean State. Powerful nouns in the supernatural community are going missing. These people, places, and things threaten to leave a power vacuum in their absence. Tino and his gang don't like the crew likely to step in and fill it, either. It gets personal when an old enemy shows up, asking the Supernatural Vigilante Society to help hide a tween psychic who knows too much about what's fishy in Providence. Are Tino and his friends in too deep this time? Can they stop the body count from rising or will they go out with the tide? Counting Costs There's no fortune in favors owed. After saving a king but losing a kingdom, Tino's up to his fangs in debt. But he doesn't owe money. A vampire's word is his bond. When a rival, a witch, and a hunter all call in their markers at the same time, Tino's suddenly got a metric ton promises to keep. To keep his vows, Providence's newest vampire must find missing memories, adopt an orphan, and cure a comatose fiance. Sounds easy, right? Wrong. The Mafia's standing in his way at every turn. And the holes in his own recall are a total roadblock. Meeting obligations is impossible if they're forgotten. Can Tino pay his debts without cashing in his unlife? Counting Stars Undead stars still burn. Still adjusting to recent changes, Tino Crispo, vampire PI, saddles himself with a new case. An ailing friend charges him with investigating a series of mysterious assaults. Rhode Island's youngest vampire has to balance his work life and new domestic responsibilities. With his extended supernatural family counting on him, he'll need help. Which is in short supply. Tino's biggest advantage is his circle of friends. But the threads he follows in this case seem connected to some of his closest allies. Who can he trust?
Supernatural Vigilante
Word Count: Information not available
Summary: Discover ten planets, joined through music-based magic and an immense sentient crystal. This anthology contains nine stories from the popular Dissolutionverse universe! Join Origon as he investigates the Pixie homeworld and tries to avert a war! Learn how to change the Symphony with Rilan, as she searches for Origon's lost brother. Travel with merchants in an old war train with some suspicious cargo. Fly with the first majus in space! Discover the food and culture of the ten species. Learn what lurks in the basement of the House of Potential. Music, magic, and murder is afoot with Mandamon, as someone plots to bring down the secret Society of Two Houses! An ancient being confronts other-dimensional entities. And a climbing crew searches for the top of a miles-high wall, riding a giant steampunk beetle! If you like space opera, fast-paced adventure, music-based magic, and complex, diverse characters, then you'll love this collection of stories from William C. Tracy's Dissolutionverse. Pick up Tales of the Dissolutionverse to discover the music today! There's more adventure in The Dissolution Cycle (Epic Space Opera, LGBT): Book 1: The Seeds of Dissolution Book 2: Facets of the Nether Book 3: Fall of the Imperium Book 4: Tales of the Dissolutionverse
Tales of the Dissolutionverse
Word Count: Information not available
Summary: ONE UNDERWORLD ENTANGLEMENT. ONE HAUNTED MUSIC VENUE. ONE CHANCE TO MAKE IT OUT ALIVE. Despite the ghosts, Barry Matthews takes on the job as booker for the Boardwalk View Hotel. But the renovations uncover something much more sinister. When Barry "Bazza" Matthews leaves his band The Maggots to become the booker for Melbourne's hottest music venue, he never expects to find a link to the past buried deep within the rubble from the renovations. And now the new spate of threatening phone calls are becoming as troubling as the disappearing visitors and the malevolent activity in the basement. Trapped within the hotel with the alluring Simon, or Felicia, depending on his choice of outfit, they must join together to survive the threats from outside, as well as the dangers growing within the walls of the hotel. But the longer the renovations go on, the stronger the dark forces become. Will Barry and Simon uncover the secrets behind the hotel's sinister history before it's too late, or will they become the hotel's latest victims? Rainbow Awards 2021 - Honorable Mention "Wonderfully strange" - Rainbow Awards
The Booker (M/M Haunted House)