Word Count:
1100
Summary: A muddy trench in France during the Great War wasn't the most auspicious place for Tom and Michael to reach an understanding of their own natures. A small, individual tragedy unfolds … But then Tom discovers a place beyond, where he and other men like him are blessed with all that life denied them.
An English Heaven
December 15, 2017
Word Count: Information not available
Summary:
Withrow Surrett, cantankerous vampire lord of North Carolina, is passing the long winter nights of the off-season in the sleepy resort town of Sunset Beach. When the nights are long and humanity slumbers, where else would a vampire go but the beach? This is no mere vacation for Withrow and his cousin Roderick, though. They're hunting down a nest of nasty elder vampires who want to take over the world!
Of course it's not that simple, because for Withrow nothing ever is. Withrow and Roderick - and their team of frienemies, rivals, and allies - soon learn there are stranger things afoot than vampiric machinations among the dunes of Sunset Beach: mysterious mortals, twisted sorceries, and fleeting apparitions. Through sabotage, espionage, and bare-knuckled brutality Withrow must find and stop the elder vampires before they play the ace up their sleeve!
Kick back in the sand with the fourth installment of this vampire and urban fantasy series, perfect for fans of Rick Gualtieri, Jeff Strand, or Christopher Moore.
Attempted Immortality
August 21, 2017
Word Count:
70000
Summary: When ghosts reach across the veil, Daniel Collins is there to tell their stories. Dan is a vlogging ghost hunter. He has devoted his life to documenting paranormal activity. In his converted van, he travels around the country exploring haunted sites. He loves the thrill of filming restless spirits. Chad Brewer, skeptic, works for an insurance company. He doesn't believe in ghosts, but watching Dan's vlog is his guilty pleasure. The cute vlogger is accident prone. He has Chad's work extension on speed-dial. The two talk whenever Dan gets hurt during an investigation, a frequent occurrence. When Chad loses his job for approving too many claims, Dan offers him a position as his personal assistant. The pair sets out to investigate a haunted dairy barn for the vlog's next video series. The catch is that they must live and work together in Dan's tiny traveling home. As the paranormal activity at the haunted dairy ramps up, so does the romantic tension between the two men. Can the love between a skeptic and a social media sensation conquer a vengeful ghost? Dan's Hauntastic Haunts is a paranormal MM romance between a gay vlogger and his trans personal assistant. Buckle up for a hauntastic good time.
Dan's Hauntastic Haunts Investigates: Goodman Dairy
October 22, 2019
Word Count:
64000
Summary: When ghosts cry out, Dan and Chad heed their call. Daniel and Chad are on the road to Hawk Lake, Maine, to investigate rumors of a haunting. With his new role in Daniel's life, Chad feels like he has something to prove. He is determined to make the Hawk Lake haunting videos the best Hauntastic Haunts has ever aired. Daniel gets sidetracked when he realizes that he might have gotten in over his head with his long distance apprenticeship to a genuine medium. Old insecurities rear their heads and threaten the budding relationship between Dan and Chad. Neither member of the Hauntastic Haunts crew is ready for what they uncover when they discover the truth behind the ghost ship haunting Hawk Lake. Secrets and lies that threaten to tear apart a community that is still healing from their grief might be better left buried. Daniel and Chad have to decide which is more important, telling the stories of the living or preserving the memories of a handful of ghosts. Get ready for another hauntastic adventure with this paranormal trans M/M romance.
Dan's Hauntastic Haunts Investigates: Hawk Lake
June 20, 2020
Word Count:
74000
Summary: When a curse comes calling, Dan and Chad confront their greatest challenge yet. Hauntastic Haunts is investigating the historic Ivarsson School. With Halloween right around the corner, the vlog is in peak season. Dan and Chad are eager to explore the decades-long string of strange deaths among the school's young scholars. While they delve into the mystery, both men must come to grips with Chad's newfound talents as a medium. Dan and Chad's efforts to uncover the haunting's truth meet with mixed messages from both the living and the dead. They're left wondering if this month's site is full of tricks, or if there's a treat awaiting discovery. The locals blame a curse for all the misfortune at the one-room schoolhouse, and if the pattern holds, the guys are at risk of becoming the latest victims. Join ghost hunters Dan and Chad on their third hauntastic adventure in this trans M/M paranormal romance.
Dan's Hauntastic Haunts Investigates: Ivarsson School
September 30, 2020
Word Count:
60000
Summary: A teen without a home. A dangerous residence. Can she survive one terrifying night to secure her future? Charlene Griffin never thought she'd be without a home. But when she's kicked out on her eighteenth birthday, she has no choice but to sleep inside an ominous Victorian mansion. And with the owner offering the estate to anyone who can spend a full night in the haunted property, Charlene decides to risk life and limb to get off the streets. Refusing to heed the warnings of those sent running in fear for their lives, Charlene is confident she can last from sunset to sunrise. But she'll need all her wits about her to withstand the hours of terror, because these ghosts are determined to get rid of her. Will Charlene outsmart her supernatural foes and make it to dawn? Defying the Ghosts is an eerie YA haunted house story. If you like heart-racing action, fearless heroes, and survival adventures, then you'll love Joan Marie Verba's thrilling tale. Buy Defying the Ghosts to explore forbidden shadowy corners today!
Defying the Ghosts
September 26, 2020
Word Count:
68000
Summary: When a vampire finds his soulmate, the bond is forever. It's love at first sight. Or is it? Homicide Detective Jonas Forge has been a vampire for centuries. He's fought wars, seen life go from the simple colonial days to the modern high-tech world. He's evolved with the times, adapted to each new era, blended into each new life. The one constant is his best friend, mentor, and lover, Declan. Even though not fated to bond as soulmates, Forge and Declan are happy and settled in their life together. Until Forge's real soulmate falls, literally, into his life. Forge isn't thrilled with the guy, despite the pheromones attracting them to each other, and the feeling seems mutual. While trying to adjust to his clumsy soulmate and equally awkward feelings, Forge is also on the hunt for a serial-killer witnesses can't identify who's leaving a trail of bodies in its wake. Will the bond Forge is finally forming with his soulmate be destroyed when the hunter becomes the victim? If you like fated mates who aren't perfect for each other, a paranormal killer who might not be caught and found families then you'll love Elizabeth Noble's Electric Candle.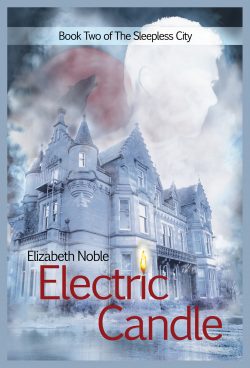 Electric Candle
August 18, 2020
Word Count:
42,203
Summary: Katja has long spent her life buried in the pain and sorrow of her past, a vampire abandoned to her fate for over 300 years, she never expects to meet another who could help her reclaim her existence. Raven, a poet and fellow lost soul, could be the one to spur her on, but in order to have the future she has only begun to grasp, she must uncover the truth about her origins and the awful event which left her alone centuries before. If she cannot face her past and reclaim her strength, she will lose everything.
Eyes Like Blue Fire
July 18, 2019
Word Count:
109728
Summary: Henry Ross Murray was a Revolutionary War hero, and his house in Boston has been converted into a museum. Everything is original to the period… including the ghosts. The Ghost U team is called in to help figure out who's haunting the Colonial mansion in Beacon Hill. They encounter family secrets and angry spirits in the course of their investigation, and they learn that some heroes aren't as heroic as they seem. So much drama. And that's nothing compared to what's happening behind the scenes. Faces in the Fog: Ghost U Volume Two is a paranormal Reverse Harem adventure with horror elements and is intended for mature audiences.
Faces in the Fog
July 28, 2020
Word Count: Information not available
Summary: Imagine that every sixteen years, you died and started over, with no memory of the past. Could true love ever find you? Only if it were immortal. In 1915, a coven of vampires attacked the town of Fairville, MA, the disappearances making headlines. Sixteen-year-old Lundy Guillory and the boy who loved her, Harlan Wallace, discovered the culprits, so the vampires devised a cruel punishment: Lundy was cursed to die and be reborn every sixteen years, each time retaining no memory of her past lives. Harlan was turned into a vampire, so that, immortal, he would be tortured with the task of finding her again in every new life, and telling her their story. Over ninety years later, Lundy Lawson and her parents move into Fairville, one month before her sixteenth birthday, with desperate hopes that the doctors there will be able to help Lundy, whose health has been diminishing steadily. But Lundy begins to have strange dreams. First there seems to be a ghost in the library, trying to reach her; then a stranger shows up at her window at night - Harlan, unearthly, impossibly pale and sharp-teethed, and madly in love with her. It's Lundy's first lifetime back in the town where it all began, and this time she and Harlan have their chance to break the vampire's curse.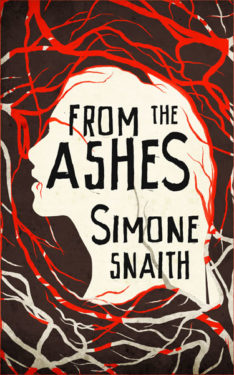 From The Ashes
November 14, 2012
Word Count:
46100
Summary: Miller College's Parapsychology Department has a student-run ghost hunting group that's all the rage on basic cable. The third season is about to begin filming, and the producers want to up the ante. The three macho, pseudoscience brosephs - Quinn, Tyler and Brent - are about to be joined by a very female psychic, Emma Ray. The team is instantly resentful of her presence on their show, and lead investigator Quinn has made it clear that he doesn't believe in psychics. They're going to give Emma the hardest of hard times until they can expose her as a phony. They're going to learn that Emma is the real deal, and that it's not always wise to bully a psychic when you don't know how many ghosts are in her posse...or exactly what you'll be facing in the next haunted house. "Ghosted by You" is a medium-burn Reverse Harem paranormal ghost-hunting adventure. Not suitable for readers under 18 years of age.
Ghosted By You
May 15, 2020
Word Count:
7000
Summary: Emma and her Aunt Agathe share a family resemblance - they can both speak to ghosts. But Agathe, rejected by her family and constantly beset by heartache, has spent her whole life fleeing her unusual gift. Emma, however, embraces it. Grave Songs for the Dead is a cycle of three interconnected short stories, gothic with a touch of magic realism, set in the late 19th century.
Grave Songs for the Dead: A Short Story Cycle
April 5, 2022
Word Count: Information not available
Summary: Charlie Harrington not only sees the dead and speaks with them, he can make them real. Lucky for him, because the love of his life, Ethan, isn't among the living. While their relationship is unusual, things are good between them until Charlie is accused of murder and Detective Daniel Briggs walks into his life. Then, for the first time in years, Charlie is attracted to someone alive. Ethan knows he should step aside and let Charlie live his life, but he just can't give Charlie up--even if staying with Charlie may eventually kill him.
He Speaks Dead
July 20, 2014
Word Count: Information not available
Summary: Some ghosts want your soul. For these ghosts, it is only the beginning. Two brothers try to forget the tragic encounter they had with the spirits of the dead. But the years, and miles, they've run aren't enough distance between them and their tormentors. As the attacks escalates, no one is safe, including their friends. In their efforts to rid themselves of the spreading evil, they find themselves in places that blur the lines of reality, life, and death.
In Shadows of The Wicked
May 4, 2018
Word Count: Information not available
Summary: Bart is just a simple folk trying to get by. With a posse comprisin' of a sparkle-loving horse, an unsettled ghost, and a magic old whiskey bottle, they wander from town to town in search of some needed coin, and maybe a brighter day.
Just Bart
April 4, 2021
Word Count:
68900
Summary: Romance, mystery, and an impossible relationship. Meet David:  Sculptor.  Wealthy.  Introvert.  Suffering from the loss of his wife.  The last thing he needs is to discover that his newly purchased mansion is haunted. Meet Sarrinah:  Born 1882, died 1903.  She was smart, well read, fun.  Too bad she can't rest in peace. Sarrinah and David are both flawed, but just so lovely – if only they can get over the tragedies of their past that are weighing them down… and the fact that one of them is a ghost.
Love Whispers Through the Veil
May 15, 2021
Word Count: Information not available
Summary: This is book one of three. All books are full-length novels and must be read in order. All books are available now. The My Brother's Keeper Trilogy The town of Gilford has a Big and Terrible secret hidden in the ground. Infecting those it touches. Exploiting their darkness. Consuming their souls. It's hungry. It's vile. It's evil. And it wants out. Book One: The First Three Rules Marshal Jon Foster lost his purpose and his sanity the day he saw the image of his dead brother. The distraction saved Jon's life but cost the lives of innocent people including his best friend and partner. It was a price for survival Jon couldn't live with and was sure he'd never understand. Driven by grief and guilt he tried to escape his past by fleeing to a small town in the middle of nowhere. Only instead of peace, the memories festered. Then the offer of a stick of gum from a stranger changes Jon's life and puts him on a road out of the nightmare he's trapped in. Ellis Harper has lived the past twenty years isolated from the outside world and sole caretaker for his mentally disabled brother, Rudy. While Ellis loves his brother, he longs for a life he'll never be able to have. Shut away, his days consist of chores, endless cartoons, and games of Go Fish. A world that seemed to have no end until an innocent misunderstanding turns Ellis and his brother into a target for a town bully. It's a fight Ellis can never win on his own but thanks to a chance meeting with a stranger, he doesn't have to. What begins as a new journey in love for both men quickly unfolds into something neither of them could have ever imagined.
My Brother's Keeper (Book One): The First Three Rules
March 25, 2014
Word Count:
132,220
Summary: Bobby Gene is a man who stands out even among his people. Guided by the knowledge of his heritage as a backwoods shaman and more perceptive than many, he's grown to be a valuable asset to those he knows. While he isn't surprised to be the first to know when the woods around him begin to show clues that something isn't right, he doesn't expect just how much these omens and signs will prove to foretell something far more sinister to come. Soon strange dreams and inexplicable encounters have him questioning everything he knows- and then the people who live in his woodland Appalachian community begin to disappear. It's his job to protect and guide the others, what will he do when he's the only thing between them and the end of life as they know it?
Night is Falling
January 22, 2022
Word Count:
103000
Summary: First I was a sorcerer. Then I was a hermit. For so long—for years that seemed to go on forever—I couldn't bear to be touched. I put up not just walls but whole stone bunkers to keep everyone out, emotionally, and physically as well. I was protected from people, from ghosts, from specters real and imagined. Sure, I was alone. But I felt safe. Only, after a while, I wasn't sure any longer whether a totally "safe" empty life was really worth living. Then Tobin came along. Out of the blue, out of my past, with a summons from the king that he wouldn't let me ignore. I tried to cling to my isolation, but he wouldn't give up on me. Tobin never believed in walls. This story was written as a part of the M/M Romance Group's "Love Has No Boundaries" event. Group members were asked to write a story prompt inspired by a photo of their choice. Authors of the group selected a photo and prompt that spoke to them and wrote a short story. 103,000 words
Nor Iron Bars a Cage
October 4, 2013
Word Count: Information not available
Summary: A paranormal thriller filled with dark twists and hidden betrayal. Takes the traditional 'haunted house' story and turns it upside down. Peter always thought his daughter's imaginary friends were just that, imaginary, until a chance discovery reveals a hidden cultic lair within the walls of his house and his daughter's imaginary friends start to appear as ghastly apparitions. Darker forces remain at play, as the ghosts seek to warn Peter of old, unfinished business between a long-missing cult leader and the demon he summoned decades ago.
Orobas
August 29, 2019