Word Count:

100,000
Summary: When Fancy sent Richard from Barbados, she did not tell him her plans. Richard arrives unexpectedly after she and Kirk go to Ireland. Richard discovers she has adopted Kirk's daughter, and he concludes she will never abandon Kirk. Brokenhearted, Richard returns to the future before Fancy can tell him her marriage to Kirk is void. Richard's departure allows Kirk to woo Fancy again in earnest and they remarry. The couple sail to Bermuda, where Kirk leaves Fancy and the children at Spring Haven to sail to Barbados. A hurricane destroys the Spring Haven house. Fancy takes the children to the mainland and on to the safety of McCarron's Corner. En route, she learns Kirk's ship was destroyed in the hurricane and Kirk is believed to be dead. At McCarron's Corner, Fancy manages to go forward in time, where Richard finds her. She gives Richard another chance. They fall in love again, marry, and she writes a best-selling memoir, which attracts unwanted attention. Will they survive when a stalker's dangerous obsession threatens to destroy their future?
Diary of the Reluctant Duchess
Word Count:

97000
Summary: The seas spell freedom. Pirates and kraken, boats and submarines, deadly sirens, mermaids, and the women who face them all. These are our heroes. High seas adventure, fantasy, and magic weave together in this sapphic anthology focusing on the joy of the unbounded oceans. If you like diverse stories with lesbian and sapphic heroines exploring oceans, battling sea monsters, and seducing pirates, buy Farther Reefs today! With stories by: Sarah Day and Tim Pratt, Kim Pritekel, Kyoko M. Sara Codair, William C. Tracy, N.L. Bates, Robin C.M. Duncan, Vanessa Ricci-Thode, Margaret Adelle, and J.S. Fields Genres: Science Fiction / Fantasy / Adventure / Lesbian / LGBT and Non Binary Market: Adult
Farther Reefs
Word Count:

115000
Summary: Battles and adventure crisscross the Viking Age! From monumental sea clashes to beleaguered mountain strongholds to war with the tribes of Eire, circumstance drives the scattered Agneson clan across the known world. And beyond the lands of Midgard, mythic hidden folk challenge our forerunner hero. The award-winning Forerunner Series epic continues…. Fleeing an arranged marriage, Kara escapes across the narrow sea to follow her warrior dreams. Escaping slavery, Cub joins Rollo's horde in Britany, while his outlawed brother Sorven fights for survival in the Welsh mountains. Uncle Karl and his warriors rally to Harald Tanglehair in his ambition to unify the wild kingdoms of the North Way, and young Thorfinn is left behind, safe and secure in a tiny fishing village... or is he? Kara gains her place in king of Dublinn's ranks to prove her mettle, but being a warrior is not what she expected, and what of these new feelings she finds for her closest companion? Will Karl and his crew perish in the great battle of Hafrsfjord? And how will an unprepared Thorfinn survive kidnapping by an 8-armed giant, leaving behind worried friends and a very angry dragon? Don't miss this 5-star epic fantasy critics are calling "whimsical and gritty," with "fabulous, engaging characters." If you enjoy the history of The Last Kingdom and Nordic myths and legends, the Forerunner Series is a grand tale not to be missed!
Kara Shieldmaiden of Eire
Word Count:

43,000
Summary: What do you do when your heart contradicts everything you know? Ieuan is a young morgen in a lot of trouble. The storm he sung up to soothe his broken heart attracted the attention of the Cursed One, an underwater sorcerer exiled from the morgen group for a terrible crime. But the Cursed One wants Ieuan's help to save a life -- that of Zane, a sailor shipwrecked in Ieuan's storm. Ieuan finds himself drawn into the Cursed One's impossible task against his better judgement. But as his morgen kin mount a search for him, Ieuan's help might be all of their undoing. Set in the same world as Deep Magic, Morgen Curse explores what happened to the morgen who left the Llyn Peninsula.  Morgen Curse is not a sequel, exactly. And it's not exactly a romance either. It's a beginning.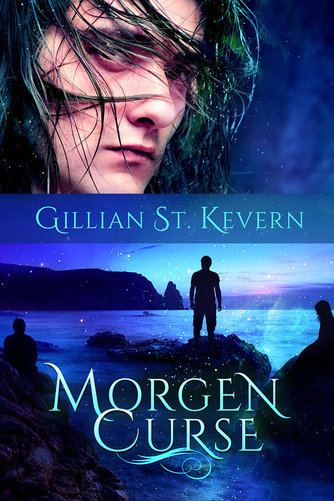 Morgen Curse
Word Count:

115000
Summary: From Cornish pit mines to Jorvik back alleys, from the Mercian Court to beyond the North Sea, the Agneson clan continues their adventures across Midgard and the 9 realms: Scheming aldermen, duplicitous monks, slave drivers, dark elves, trolls, ghosts, shapeshifting witches, the legendary Norse Wild Hunt, and… a dragon! With the fall of the Danish army at the battle of Ethandun, historical events scatter the Agneson family: Cub is enslaved in the Devonshire tin mines while Sorven stalks retribution in Jorvik; Kara is unwillingly propelled toward a convenient Saxon marriage while Karl and his crew are castaway on a mythic floating island. Separated and marooned, each is forced to tackle their challenges alone while the forerunner Thorfinn faces supernatural revenge, a battle to lift a Jarl's curse and the release of his Jotunhiem wyrm in Midgard! Can Cub escape his overseers in the tin pits of Devon? Can Kara evade her Saxon uncle's plans for her marriage? Will Sorven succeed in his bloody revenge? Can Finn save a Jarl's daughter and break a mysterious curse? Can the forerunner find and help his scattered family overcome their trials? And what can Finn do with… a pet dragon?!? Based on actual historical events and authentic legends, this epic fantasy follows the paths of the sons and daughters of Agne, Son of Ironfist in the Viking Era circa the year 880. Don't miss this grand panoramic tale!
On Viking Seas
Word Count:

80000
Summary: Sail the Pacific in this mystery adventure where things are not always as they appear. Zane, a young man who can change his physical appearance, is starting his first job at Penthes Pharmaceuticals. It's nothing like what he expects. Soon he is drawn into a world of corporate secrets and dangerous knowledge. But the deceptions are only beginning. Sent on a sales trip to the South Pacific, Zane finds new friends with abilities as surprising as his own. Too bad an unsolved murder sends them all fleeing, as issues from back home threaten to destroy lives half a world away. Can Zane use his unique talents to unravel the mysteries he's encountered? Can he find love in a world so different from his own? More importantly, can he find out who framed his friend for murder before it's too late?
Shape of Secrets
Word Count:

119500
Summary:  Slingshot is a love story—about a man, a woman, another man, another woman, some gender bending…and a machine, the largest ever built.      Slingshot is a mystery—about a missing aviatrix, a conspiracy, a true-believer. Slingshot is an adventure—about following a dream, the ocean-deep, outer space. Slingshot is about constructing the first space launch-loop stretching 2,600 km between Baker and Jarvis Islands in the Equatorial Pacific. It's about high finance, intrigue, unlimited ambition, heroism, fanaticism, betrayal…and about opening space to the common person. With a cast of 69, Slingshot takes you from Seattle's world financial district, to the ocean bottom at 5,000 meters off Baker Island, to the edge of space 80 km above. You play with dolphins and battle sharks. You fly and sail and dive, you work and play and love across the vast panorama of an Equatorial Pacific being put to leash to serve humanity's surge into outer space. While its accurate science and precise engineering will appeal to hard science-fiction buffs, Slingshot's major focus is the grand journey, the opening of outer space to the common person by men and women who loom larger than life as they work, play, and love.
Slingshot: Building the largest Machine in Human History
Word Count:

36,000
Summary: King Oeneus has just been given the secret of wine by the god Dionysus. Unable to hold his liquor, the drunken monarch forgets to honor Artemis at the harvest festival. In revenge, the angry goddess sends a crazed wild boar to ravage the kingdom with burning breath and razor-sharp tusks. Nothing can stop it. The befuddled king, desperate to save his land, calls upon the greatest heroes of Greece to hunt the beast. Meleager, the king's son, reluctantly finds himself leading a group of men he doesn't respect or trust. Soon the party of mighty mythical heroes is on the trail of the fearsome monster - but one of them is a heroine! Atalanta is a huntress to match Artemis herself, and quickly wins the heart of Meleager, despite the objections of the others. Will one of the men make the kill, or will they be humiliated when the prize goes to a woman? Will Prince Meleager woo and win Atalanta, or will the gods intervene? Who will die and who will survive in this tale of loves and even greater lusts in ancient Greece? A rip-roaring tale of jealousy and foul play, a family at war with itself and a battle of the sexes - told in Weichsel's unique, no-holds-barred style. A pulse-pounding adventure that will appeal to fans of fantasy and horror, a wild ride through the weirder corners of Greek mythology. Strap on your sandals, grab your spear, and get ready to hunt the wildest boar of them all.
The Calydonian Boar Hunt
Word Count:

54000
Summary: He was the shameful cause of his sister Elena's death and he stole state papers from England, yet Adrian Hart is feted by the best of society in Rome, and boldly dubs himself 'Iago'. Determined to avenge Elena, his unrequited love, Lieutenant Andrew Sullivan asks the advice of poet and Shakespearian John Keats, and his artist friend Severn. Soon Percy and Mary Shelley join them, then Lord Byron and his servant Fletcher. But how can the seven of them work against this man, when they can't even agree what he is? The atheist Shelley insists that Hart is an ordinary man, while Byron becomes convinced he's the Devil incarnate, and Keats flirts with the idea that he's Dionysius… As death and despair follow in Hart's wake, Sullivan knows he must do something to stop Hart before even Sullivan himself succumbs – but what…?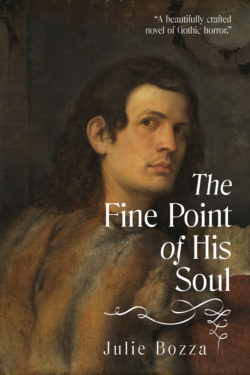 The Fine Point of His Soul
Word Count:

80,000
Summary: "If it weren't for bad luck, she'd have no luck at all," lament the family of Fancy Selk, who has been the victim of horrific abuse. Fancy decides it is high time she learns to make lemonade from lemons instead of always making lemons from lemonade. As she learns to survive her past abuse, young Dr. Richard "Rick" Winslow manages to go back in time to find the beautiful young woman. Rick learns Fancy is married to another man. When her husband is killed at Yorktown, she finally admits her attraction for the handsome physician, as they fall in love, only to be ripped apart not once, but twice.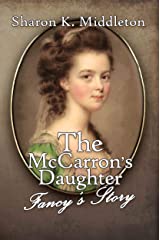 The McCarron's Daughter
Word Count:

131000
Summary: Are we the children of starchildren? The Starchild Compact is an adventure of heroic proportions, commencing on a planet 500 lightyears distant, arriving here just a few years from now, and ending up in the far distant expanses of the Universe. Is Saturn's moon Iapetus an artifact? To find out, Jon Stock takes his international exploration team on a 1.4 billion km journey to Saturn, but will Jihadist stowaway Saeed Ismail succeed in sabotaging the mission? On Iapetus, Jon Stock and his team meet the Founders. Where are they from? How did they get here? How will they impact Earth and the Solar System? Will the Founder's presence signal the end of humanity, or will it pave the way for a joint push to the distant reaches of the Galaxy?  The Starchild Compact is hard SciFi reminiscent of Arthur C. Clarke or James P. Hogan, with a geopolitical twist worthy of Tom Clancy or Clive Cussler.
The Starchild Compact: A Novel of Interplanetary Exploration
Word Count:

110000
Summary: Vikings war with the last Saxon Kingdom, blood feuds stalk the family, the werebear takes revenge and our forerunner hero must face trolls, a kelp man and his nuggles, and a dark elf… The epic adventures of the Agneson Clan continue! The year is 878… Danish forces assemble for war on Wessex and the loyal Agneson Clan heeds the call to join the Great Viking Horde, but while honorable men gather in the midlands, a blood feud draws mercenaries to their undefended homestead for murderous revenge. Sailing his Viking crew to fulfill their oath, Karl harbors suspicions over strange occurrences that bedevil his nephew Thorfinn, while far to the north their sworn enemy the werebear and his dark elf master strike back… And the young forerunner Thorfinn learns the Nine Realms are full of surprising hidden folk, but to earn his place aboard the Viking's ship he must accept a mast troll's quest…. Will the family escape the despicable vendetta? Can Thorfinn face the evils prowling the bottom of the Humber Estuary? Does Cub battle to victory against King Alfred's men? How can Karl and his Vikings find and defeat a mysterious lair of were-beasts? The epic saga of Thorfinn the forerunner and his clan in Danelaw England continues….
The Vardoger Boy
Word Count:

81,000
Summary: Explore the birth of a new world! Journey through time and space to the intricate biosphere of Juno, where three species have been birthed by the gods. First the Kuhifadi, inheritors of sun magic, able to do great deeds with magic stored in their bodies. Second the fearsome Uchafumlaji, technological savants who live in the depths of the ground. Third the weird Ngisikaa, a species uplifted from animals through communal memories. Small decisions and single individuals will affect the tide of history. Learn of the first Ngisikaa to meet death, whether a Kuhifadi will make the sacrifice to become a mage, and if an Uchafumlaji can build a bridge to the past. These stories and more will create The World of Juno! With content by: Nick Bright and Brent Lambert, C.J. Hosack, Nate Battalion, Daniel Eavenson, Malcolm F. Cross, Katie Cordy, William C. Tracy, N.L. Bates, Reese Hogan, Cedan Bourne, Robin C.M. Duncan, and X.M. Moon Genres: Science Fiction / Fantasy / Adventure / LGBT and Non Binary Market: Adult
The World of Juno
Word Count:

90000
Summary: A new generation of vampires embarks on a quest to save humanity. Opening a forgotten crypt during a military exercise, Dr. Jane Heckman is made a vampire and begins a journey to unlock the secret origins of her new kindred. Elsewhere, solitary vampire Marcella DuBois emerges from the shadows and uncovers a government plot to create vampire-like super soldiers. Daniel McKee, a vampire working as an astronomer, moves to a new town where he's adopted by a family, only to have government agents strip those he loves away from him. All three vampires discover the government is dabbling in technologies so advanced they'll tap into realms and dimensions they don't understand. To save humans and vampires alike, Jane, Marcella, and Daniel must seek out the legendary master vampire Desmond, Lord Draco and encourage him to resurrect his band of mercenaries, the Scarlet Order.
Vampires of the Scarlet Order