Word Count:

30500
Summary: Caleb has been cursed for two hundred years. He is doomed to watch every man he has sex with forget him as soon as they part company. Each of his lovers then meets their true love within hours of leaving his presence. As rumours about his strange ability spread, more and more men come to his bed, hoping to find love—just not with him. When Ethan's best friend makes him an appointment with the mysterious Caleb, Ethan is sceptical but curious. Despite a shaky start, Ethan and Caleb connect sexually and emotionally then soon begin to wonder if Ethan has the power to break the curse by being the only one to remember Caleb after he leaves. Whether Ethan remembers Caleb or not, with a warlock standing between them, the road to happiness is going to be tough.
Always Forgotten
Word Count:

171995
Summary: There will be time to crown a king, but first a warlord must rise. Arthur's battle summer is upon him, and he must be victorious if he is to claim his throne and rid the land of Saxon invaders. The teenage king has pulled the sword from the stone, but still the petty kings will not accept his rule. The Saxons are invading, Lot and Uriens are united against him, and he still has to prove himself to the common folk of the land. Next stop: the mysterious standing stones of the Giants' Dance and the Beltane ritual. Warfare does not wait for Arthur to catch his breath. Battle follows battle. Love is lost and found. Allies fall, enemies rise, and betrayals come to the young High King. If he stays strong, he can lead his people through a bloody summer. If not, all of Britannia will fall. Arthur alone will be responsible for the glory or ruin to come. Merlin will help him to see it through. But what secrets is the druid keeping? Arthur Rex: Dux Bellorum is the third installment in an epic retelling of the King Arthur legend. You only think you know the story.
Arthur Rex: Dux Bellorum
Word Count:

82290
Summary: Merlin has devised a test. All of the petty kings have gathered in Londinium to see who will be the next High King. Arthur and his retinue travel to the city in secret, but they are not the only ones with an interest in the Sword in the Stone. Morgana, Arthur's half-sister and the renegade queen of Rheged, has journeyed there with her Saxon lover, and petty kings have come with no kind welcome for the young High King. Arthur pulls the sword, but the kings will not accept him. He is given the temporary title of Dux Bellorum, and with Merlin at his side, he sets out to unite the tribes of Britannia as the Saxon threat grows more menacing on their eastern shore. Some battles are easy. Others are carried out in secret. It is the secret battles that Arthur will need to fear. "Arthur Rex: Ex Lapis" is the second installment of an epic retelling of the Arthurian legend. You only think you know the story.
Arthur Rex: Ex Lapis
Word Count:

100260
Summary: The High King is dead. While royal bastards and petty kings squabble for the power to take the vacant throne, only the druid Merlin and his succubus mother know where to find the late king's only legal heir. Arthur is young, idealistic, and living a quiet life at Caer Gai, protected by his foster father. Merlin put him there, and he will take him back out when the time is right, but first he has to set the stage and sweep away distractions… like the boy that Arthur loves. Merlin and his mother have plans for the hidden king, and they will stop at nothing to get him where they want him to go. But Arthur is no mere pawn, and though Merlin is a master manipulator, Arthur has ideas of his own about how his life should be. "ARTHUR REX: In Principio" is the first installment of an epic retelling of the Arthurian legend. You only think you know the story.
Arthur Rex: In Principio
Word Count:

128000
Summary: In the wake of a worsening climate crisis, magic runs rampant and demons roam across the Canadian prairies. A long-dead god stirs in the Pacific Ocean, while the wilderness is choked by invasive, screaming grass. The Cascade has shattered political stability, leaving a scandal-plagued government clinging to power in Ottawa. As catastrophe looms ahead, a precognitive rainman, Ian Mallory, stands between run-of-the-mill corruption and a nightmarish, dystopian future. It is up to a diverse and unlikely band of activists, scientists, journalists, and one underpaid, emoji-spell wielding intern to save their beleaguered country from its own worst impulses
Cascade
Word Count:

191000
Summary: Farrell's excitement at finding his legendary ancestor Kel is tempered by the knowledge it signals the beginning of the end of the war. As he and Kel race to recover the last two Gifts of the Gods, Meglar is not quiet. Fighting erupts around the world, and new allies reveal their hand. To complicate matters, Arritisa has refused Farrell's request for Her Gift. Searching for answers, Farrell travels to Bowient, home to Falcron's main temple. While there, Farrell uncovers a plot to destroy the temple and the city. The attack fails, but Farrell kills Neldin's priestess in the fight. The death of His priestess prompts Neldin to visit Farrell. Despite Farrell's rejection, Neldin shows Farrell that he is more like his father than he'd like to admit. Shaken by Neldin's visit, Farrell doubts himself and his abilities. In an attempt to prove loyalty to the Six and deny Neldin, Farrell secretly embarks on a risky mission he can't win. Kel rushes to find Farrell, but it might be too late. The seeds Neldin planted have found fertile ground. Even if Kel saves Farrell, can even a legend stop a god from claiming the son of Meglar for His cause?
Child of Night and Day
Word Count: Information not available
Summary: I didn't think things could get worse… …but people started dying, and it was my fault. At first, I thought someone was playing a cruel trick on me, but that didn't explain the bizarre truth that defied scientific explanation: I had unwillingly become part of something ominous and evil. I'm not the kind of guy who cries often, and I'm certainly not a killer. I wouldn't even wish death upon my worst enemy, if I had one. But after losing two of my closest friends, I questioned my morals and beliefs: could I kill to survive? I didn't have time to mourn because I needed to discover where I fit in the supernatural world of Vampires, Lycan, and Spellcasters. If the crazy old priest and the Fae were right, then my place is second only to Lucifer Morningstar himself. Children of the Sun is the third book of The Snakeheart Series (Season 1), a supernatural novella series about Dante Coranguis and the ancient prophecy of the End Times.
Children of the Sun
Word Count:

20000
Summary: Only one magician remains to defend the kingdom. And he's cursed. What could go wrong? Ellis is cursed. Not a little cursed. Completely cursed, as in cursed as cursed can be! Only the poor can afford an arcanist of Ellis' questionable magic abilities. Yet the queen has asked for his help. What does she want with the likes of him? Turns out, an assassin has been dispatching the arcanists of the kingdom. Ellis is the only one left. The queen suspects her rival, King Anders, as the culprit. With the king set to arrive in a few days, the queen orders Ellis to hunt down the murderer. It's a matter of urgency. If he fails, her majesty might be next. Can Ellis find the killer in time? Or will the bumbling arcanist screw up yet again?
Cursed Magic
Word Count: Information not available
Summary: The world of Avern has moved on. It has been almost a thousand years since the day the entire pantheon disappeared. Since the Abandonment, the mortals have learned to live without gods and goddesses. The world became mundane with little magic, and even less hope. Tyrants have risen, and those able to wield what is left of magic are powerful. Forces surge in the darkness that threaten to topple the already fragile world. The plight of the world of Avern is not unknown, however, and those that watch from a distance have decided to intervene. The mortals are sleeping, however, unknowing that two great powers will soon by vying for control.Then something happens that changes things. A young princess makes a bid for power by murdering her father. She then attempts to murder her sister, the crown princess of Lineria, Keiara. Despite a true strike, aided by dark powers, Keiara doesn't die. Instead, the strike pierces the barrier between her human soul and the soul sleeping within her, the soul of the Dark Phoenix. More than a goddess, the Dark Phoenix is the legendary mother of the gods. She is a part of the Eternal Phoenix that brought life to their world eons ago, one of the primal forces of the cosmos.
Dark and the Sword
Word Count:

22000
Summary: All Jet wants is a fun night out at the club he's finally old enough to get into. Okay, not all -- he also wants mystery, adventure, love, college tuition, and a new best friend who isn't too busy to spend time with him. But he wasn't expecting any of those to find him at Club Nox. And he definitely wasn't expecting a gorgeous stranger to offer him his heart's desire in exchange for ... his actual heart? What kind of crazy deal is this? And what does the alluring Darken mean when he says it's too late for Jet to change his mind? Why can't Jet take off the heart-shaped pendant? Darken feels a little guilty about tricking the cute goth boy at the club into taking on his curse. But what choice did he have? Any one person can only wear the heart pendant for so long before it drains them, and he's served his three years. As curses go, this one honestly isn't so bad. And maybe Jet will let Darken sweeten the deal with a few kisses. He isn't sticking around now that he's free, though. And he definitely isn't falling in love again. That's what got him into this mess in the first place. Soon Jet realizes Darken told him the truth: Jet has made a bargain he can't escape. Does he even want to, if Darken is part of the package? If only human hearts were as easy to win as magical ones...
Dark Arts For Bright Hearts
Word Count: Information not available
Summary: Lucifer has been waiting for me to awaken… …and now I welcome the growing darkness inside me as I become who I'm meant to be. The Vampires are afraid of me, the Lycan want to disembowel me, the Spellcasters want to harvest my power, the Fae want to control me, and the Roman Catholic Church wants to murder me. The Soul Hunters… well, who knows what they want with me. I've never been on the run from anyone before, but after I started running from the Devil, I decided the only way to survive was to run back to him and embrace the evil power within and claim my destiny. My name is Dante Coranguis, but you might know me as The One, the Herald of Satan, or the Antichrist. From here on out, you can call me Snakeheart, the most feared man throughout the ages. Darkness Awakens is the sixth book of The Snakeheart Series (Season 1), a supernatural novelette series about Dante Coranguis and the ancient prophecy of the End Times. Get it now.
Darkness Awakens
Word Count:

118937
Summary: Frank Grimes is a lowlife, no count, barely classifiable as a human, male who just happens to have enough sense to hire and retain qualified construction workers. He landed the contract to build most of Draoithe in January of 2016. He's not only worthless, but he's also criminal filth. He will do anything for an easy dollar. After the Draoithe housewarming party, his true colors shine through when he attempts to rape the architectural designer in her apartment after driving her home. Luke can't afford to let Jace kill him or allow Flame to turn him as dragonsworn, but there is no way that Frank can be allowed to just get away with what he's done. Even the Assassin King wants him dead, and he is the dragon called to serve one miscreant underking. Sentenced to house arrest and forced labor, Grimes seeks a way to fulfill the requirements Luke sets on him to gain enough respect that Javier will turn him into a canine shifter until he meets a blood demon who wants to help Luke out. Is it possible to totally rehabilitate the walking filth that is Frank Grimes into a real man in order to help him avoid certain death and turn him into a wolf? Or will the demon simply drink him dry and slowly end his miserable existence?
Draoithe: Filth and Death
Word Count:

107884
Summary: Julian Gypsun used to be a young man on his way to becoming a contractor. Everything changed when he died and was resurrected as a wizard's familiar. He was immortal and far better off physically than he had been as a human. Still, he was trapped with his life chained to a giant of a wizard who had no problem abusing him in every way imaginable. Julian was powerless to stop it without ending his own existence. That is until he was yanked bodily through his own portal, transported to Draoithe, and assigned to babysit the visiting dignitary, Amazon Warrior Princess Zephyra, and try to convince her that her people should ally themselves with Luke and Draoithe. That sounded easy, but it wasn't. He liked her. He had no clue how to act on that. Best to avoid that altogether. Keeping her safe just might equal his death. (Please see her warrior princess title.) She was old and so far out of his league. Worse, she liked him and was determined to have him. He can't even consider that. She has no idea how broken he really is.
Draoithe: Midnight Magic
Word Count:

135408
Summary: Alexio Asmodai is the demon king of Eaglafonn, a small outpost kingdom in the Netherworld overruled by the Demon Lord Asmodeus. It is Alexio's responsibility to protect and police the frontier borders against any threats. He is an accomplished knight, so that part came easy. Eaglafonn is a cold and isolated kingdom. Alexio needed to stay and build his castle atop the hot springs to beat an addiction to seduction sickness. After over seven centuries, he thinks his loneliness has finally come to an end when he opens a crate to find a woman sent by Asmodeus for him to keep safe. He falls for her instantly. She is a human woman, fragile, timid, and irresistible. He must follow his liege's directive, convince her to become his queen, and see that she is cared for properly in a place that is inhospitable to her existence. This leads to a realization that his castle lacks a lot to be a first-class home for a lady. Can a tainted demon prince rise to the challenge to become a true king and win the woman who stole his heart? Dread Allies 7-14 The Shadow king of Eaglafonn has chosen his queen, but his castle lacks the feminine element. To make her more comfortable, he orders the demon princes to seek out and claim their own mates. That is easier said than done. Eaglafonn is a cold dark isolated kingdom in the Netherworld. It might be easier to claim mates from the Domhain, but not everyone could survive on the brutal dangerous frontier. The other options afforded from the Netherworld come with their own dangers. The magic is unbalanced and balancing comes with a price. Claiming their mates lead the demon princes on epic mini journeys and reveals the need for Eaglafonn to take a greater role in helping Luke aid the dream. Dread Allies is a miniseries set in the Netherworld in the dream. It is an ancillary group of stories to the Draoithe saga. While it is set in that world, it is not in the direct series lineup. The dream just got darker and colder. Welcome to Eaglafonn.
Dread Allies: Shadow King
Word Count:

50000
Summary: Can Scott and his new friends survive a trip to the "Dead Zone". Is it REALLY dead? if not who or WHAT lives there?
Enimnori Discovery
Word Count: Information not available
Summary: When pressure from his materialistic children turns Claude into a thief, it is down to his youngest daughter to set things right. Angelique agrees to take her father's place as prisoner to what she is told is a hideous beast. Angelique soon discovers that the so called beast is nothing more than Rosalie, a princess cursed to remain trapped in a castle, unless the curse can be broken, something she assures her is impossible. Angelique does not believe in the impossible, and sets about trying to find a way to save her new friend, who she is rapidly growing to love. Eye of the Beholder is the first in a series of queer fairy tale retellings in C H Clepitt's Magic Mirror Collection.
Eye of the Beholder
Word Count: Information not available
Summary: The Dissolution approaches, and all will change. "Science fantasy with fantastic queer rep" -J.S. Fields, Author of the Ardulum Series The Dissolution approaches. Sam has saved the Assembly of Species, but at a terrible cost. Locked in his apartment, his memories gone and his best friend abducted, he is once again crippled with anxiety. Meanwhile, Enos struggles to free her brother from imprisonment, alone for the first time in her life. Her true species has been revealed, and there are hints the deadliest of her kind survived an ancient war. But the Nether contains more secrets. A musical chime disrupts daily life, signaling changes to its very fabric. To solve this mystery, Sam must face his anxiety and confront truths about his memories and unique abilities. Only then can he save his friends from the machinations of the Life Coalition, by understanding the reality behind the Facets of the Nether. If you like epic fantasy, space opera and music-based magic, you'll love William C. Tracy's Dissolution Cycle. Download Facets of the Nether today and discover the diverse cultures, genders, and alien species of an epic science fantasy space opera! The Dissolution Cycle (Epic Space Opera, LGBT): Book 1: The Seeds of Dissolution Book 2: Facets of the Nether Book 3: Fall of the Imperium Book 4: Tales of the Dissolutionverse (Novella collection)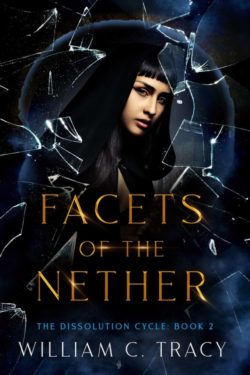 Facets of the Nether
Word Count: Information not available
Summary: The Dissolution is here. It is both an end, and a beginning. "Science fantasy with fantastic queer rep" -J.S. Fields, Author of the Ardulum Series The Dissolution has begun. Sam is finally reunited with Enos and Inas, only to see his new home under siege by beings that dissolve reality at a single touch. Even as they battle their personal demons, the three apprentices must also fight to save their home. Enos lashes out at those she loves, plagued by voices she's consumed, and Inas must risk his sanity to access ancient memories of the Nether. Sam must learn how he uniquely affects the Symphony, but there is little time to master what usually takes a lifetime. The Nether is leaderless and the Assembly is in chaos. The three apprentices must counter an invasion by aliens who rip the Symphony, and the very universe, apart. Ancient antagonists will resurface, a battle must be fought, and the secrets of the Nether and the universe will be laid bare in this final book of the Dissolution Cycle. If you like epic fantasy, space opera and music-based magic, you'll love William C. Tracy's Dissolution Cycle. Download Fall of the Imperium today and discover the diverse cultures, genders, and alien species of an epic science fantasy space opera! The Dissolution Cycle (Epic Space Opera, LGBT): Book 1: The Seeds of Dissolution Book 2: Facets of the Nether Book 3: Fall of the Imperium Book 4: Tales of the Dissolutionverse (Novella collection)
Fall of the Imperium
Word Count:

21000
Summary: Aurora Rose slumbers in the city of Oldpass, a cursed kingdom once allied with Grimvein. The victim of a malicious spell, she is powerless to control her own fate. At least, that's how the story goes. Now, as Grimvein faces attack, Prince Amir has been tasked with the life-threatening rescue of Aurora, his parents hopeful he will marry the princess and secure safety for their kingdom. Talia, the strongest spell-caster in the known lands, protects and guides the prince in his quest to save a woman that threatens to change their lives forever. In finding Aurora, the pair will realise the truth about themselves and each other, coming to understand just what – and who – they really want in life.
Finding Aurora
Word Count:

41000
Summary: When a satanic wizard runs the insane asylum, nobody believes the inmates, even when they're sane. Jonah is entirely normal in every respect but one: whenever he's frightened he turns into his evil alter ego, Maldeus. When Jonah discovers Maldeus is working with the asylum doctor to sacrifice women on a giant pentagram, he's thrust into the middle of a diabolic plot involving occult magic, invisible people, and a perverted, sex-crazed blue demon! Will he keep his wits about him as he pretends to be Maldeus and stop the rise of Satan?
Five Maidens on the Pentagram