Fantasy stories that involve sword-wielding heroes, often on exciting and violent adventures. Return to general Fantasy
Note: these books are currently sorted by release date, with newest first.
Word Count:

82290
Summary: Merlin has devised a test. All of the petty kings have gathered in Londinium to see who will be the next High King. Arthur and his retinue travel to the city in secret, but they are not the only ones with an interest in the Sword in the Stone. Morgana, Arthur's half-sister and the renegade queen of Rheged, has journeyed there with her Saxon lover, and petty kings have come with no kind welcome for the young High King. Arthur pulls the sword, but the kings will not accept him. He is given the temporary title of Dux Bellorum, and with Merlin at his side, he sets out to unite the tribes of Britannia as the Saxon threat grows more menacing on their eastern shore. Some battles are easy. Others are carried out in secret. It is the secret battles that Arthur will need to fear. "Arthur Rex: Ex Lapis" is the second installment of an epic retelling of the Arthurian legend. You only think you know the story.
Arthur Rex: Ex Lapis
Word Count:

87000
Summary: A dying city. An ancient, forgotten accord. And two gifted men caught in a web of greed and dark magic. Despite belonging to different guilds, glass master Minel and warrior captain Falcon are friends. Their duties keep them apart, but when Minel falls ill and chooses death rather than the only known cure, nothing can keep Falcon from his side. As their friendship grows into more, old wrongs and one man's machinations threaten the floating city and leave both Minel and Falcon fighting for their lives. Can they learn to combine their gifts to save the city and its magic, or will everything they know and love perish before their eyes? Healing Glass is an LGBT fantasy adventure with its head in the clouds. If you like medieval backdrops, impressive world-building, three-dimensional characters and a touch of magic, then you'll love Jackie Keswick's socially-conscious adventure.
Buy Healing Glass to visit the floating city today!
Healing Glass
Word Count: Information not available
Summary:
A long forgotten god. An abandoned Temple full of undead. Can the Favor of Isadon really bring the dead back to life?
The Age of Mortals temporarily forgotten, Elise Bresch and Ragan Ermolt regroup to focus on returning their friend and companion, Athala Dohn, from the Nether. Or wherever Meodryt's fateful bite sent her. Following instructions that are little more than campfire tales leads them to Marska, a long-abandoned city full of rumors - and bandits. Finding the fabled Temple of Isadon - a relic of centuries past - is easy, but getting inside proves to be a bit tougher. Elise and Ermolt refuse to leave empty handed; their goal is to retrieve the Favor of Isadon, a magic relic of the forgotten God of Death, and use it to bring Athala back. But the guardians of the Temple - including the fearsome Champion - refuse to just let them take it. Will Elise and Ermolt overcome the trials of Isadon's Temple, or will the long-dead God of Death gain two new servants?
Crossroad
 is the fourth book in the Heroes by Necessity saga of sword and sorcery fantasy novels. If you like magical Dungeons and Dragons inspired worlds, multifaceted and diverse characters, and pulse-pounding action, then you'll love Riley S. Keene's epic tale.
Crossroad
Word Count:

121650
Summary: The helpless Noble I was once is no more. I am Red Sister Sirana, watching my city from the shadows. Once silent and disposable, I've found a place among the Sisterhood of Sivaraus, coarse, crude, and stirring to my blood. In crimson uniform I walk among sensual consorts, studious wizards, and sadistic Priestesses. I am an initiate with true influence in my underground city, a power both freeing and addicting. Everyone keeps secrets which bind them up if they jerk on the web too hard, and none are more vulnerable than novices wielding new power. Should my own secret come to the surface, I know I can't survive alone. I won't give up what I've found. Neither will the Sisterhood. Sivaraus will always need new Red Sisters, no matter what strangeness we bring with us. In Treasure Revealed, A.S. Etaski weaves threads of intrigue and action in this second tale of the Sister Seekers, where a new fighter tastes her potential in new connections that she must dare to strengthen by choice. Sister Seekers is dark epic fantasy for adults with an ever-broadening scope. The saga genre-hops a bit so things never get stale. Found Family is a core theme throughout. Perfect for fans of entwined plots, challenging themes, immersive worldbuilding, and elements of erotic horror. Sexuality and inner conflict play into character growth with nuanced intrigue, intense action, and fantastical magic.
Treasure Revealed: Sister Seekers 2
Word Count:

100260
Summary: The High King is dead. While royal bastards and petty kings squabble for the power to take the vacant throne, only the druid Merlin and his succubus mother know where to find the late king's only legal heir. Arthur is young, idealistic, and living a quiet life at Caer Gai, protected by his foster father. Merlin put him there, and he will take him back out when the time is right, but first he has to set the stage and sweep away distractions… like the boy that Arthur loves. Merlin and his mother have plans for the hidden king, and they will stop at nothing to get him where they want him to go. But Arthur is no mere pawn, and though Merlin is a master manipulator, Arthur has ideas of his own about how his life should be. "ARTHUR REX: In Principio" is the first installment of an epic retelling of the Arthurian legend. You only think you know the story.
Arthur Rex: In Principio
Word Count:

86786
Summary: Meet Ashira. She can heal with a touch and command the dead. And she would like her kingdom back. After all, she is the reincarnation of the legendary pharaoh Nephtet-Ka. It's hers by rights. The prophecy said so after all. But she will find that an empire won't just hand over power, even if she unleashes an army of reanimated corpses on those who stand in her way. Fleeing an empire that wants her dead, she will have to cross the desert and seek out new allies and counsel from the ancient priest who started the prophecy. Her only ally is Mwarthes, a sly assassin who speaks with serpents and lets his curiosity get the better of him. Will he help her reclaim her crown from the Alvari empire? Or will she end up another corpse in the desert?
Vessels
Word Count: Information not available
Summary:
In every legend of Fairyland, the fairies have their own reasons for crossing the border…
Oliver has spent his life as the crown prince, preparing to rule but in no hurry about it, enjoying life and taverns with Tirian, his fairy-companion and best friend. But when the traditional Vision Quest calls— and a dragon appears—Oliver finds himself facing difficult questions about heroism, sacrifice… and the emotions he's discovering about Tir. But Tirian has secrets of his own, about his purpose, his magic, his feelings for Oliver, and a prophecy that will change the fates of two kingdoms forever.
A Prophecy for Two
Word Count:

125650
Summary: My sister deserved to die, but I didn't kill her. The Sisterhood couldn't care less. I'm trapped in the most wretched spot of any scheme, accused of assassinating the Matron's heir. If I take the blame, I am next on the sacrificial altar. Dark Elves live for intrigue in our underground matriarchy. We always bend the rules for the cunning and the bold. To survive, I must play the game. Reweave those pervasive webs spun by a sadistic priesthood and the Queen's brutal enforcers. The Red Sisters delight in watching me try. They want to see if I end up a tasty snack for our goddess, or if I thrive beneath their ravenous gazes. A.S. Etaski spins the first threads of an intense and epic tale with No Demons But Us, in which the trials of a young Davrin test her resolve to rise from the depths of fear and hatred tearing her down. Sister Seekers is dark epic fantasy for adults with an ever-broadening scope. Found Family is a core theme throughout the saga. Perfect for fans of entwined plots, challenging themes, elements of erotic horror, and immersive worldbuilding. Sexuality and inner conflict play into the character growth with nuance, intrigue, action, and fantastical magic. The series begins underground with an isolated race of Dark Elves whose intricate webs first ensnare then catapult us to places a Red Sister can only imagine in her dreams.
No Demons But Us: Sister Seekers 1
Word Count: Information not available
Summary: To fulfill her destiny, Athala Dohn must slay the dragon of the God of Night. There's just one small problem: everyone is trying to stop her. The city of Jirda is under the control of an interloper known as the Prophet. They have convinced the people of Jirda that Athala and her companions are the enemy, and they've sworn to stop Elise, Ermolt, and Athala from carrying out Ydia's plans to bring about the Age of Mortals. Athala has never heard of the Prophet before coming to Jirda. But she has a sinking suspicion she knows who they are. With a whole city against them, will Athala and her companions have any chance of taking on the dragon Undyt, or will the Prophet's darkest desires be filled? Destiny is the third book in the epic Heroes by Necessity series, a Dungeons-and-Dragons inspired take on the fantasy genre, overflowing with rich world building, diverse characters, and heart-pounding adventure
Destiny
Word Count:

80435
Summary: A modern-day knight in shining armor is a man with a secret. He's an immortal direwolf shifter. A man who can trace at will into a lethally dangerous canine who holds the ability to step into the stillness and achieve any goal. When he finds himself without a career after retiring disabled from his last mission in the military, he has to rethink the direction of his life. He needs to reinvent himself before anyone realizes that he stopped aging at the age of thirty-five. He's learned just enough to make his existence a bit dangerous. The sexy high school teacher neighbor he's been near stalking has her own secret. She feels like everything and claiming her is all he can focus on. He's determined to win her as his own until a shadowy evil attacks her and reveals a situation that forces him to be the man of action that he's always been. To keep the woman he loves safe, he'll become the alpha pack leader he was born to be. A Pack Forms is the first volume in the steamy paranormal romance saga of Draoithe.
Draoithe: A Pack Forms
Word Count:

146000
Summary: Princess Oona Talomir enjoys the little things that come with her station: a handmaiden, her lavish bedchamber, and scores of fancy dresses―the duty to win a decades' long war, not so much. Oh, did I mention assassins? Seers foretold the conflict would end by her hand. From the moment she drew her first breath, the neighboring kingdom has been trying to kill her so she could not grow powerful enough to destroy them. Fearing for his daughter's life, the king has kept her confined to the castle grounds for most of her sixteen years. With the tide of war turning against them, the burden of her crown becomes too much to bear, yet one thing lifts her spirits amid the gloom. Her servant girl, Kitlyn. Alas, in a kingdom obsessed with the god of purity, she is terrified to confess her forbidden love. When her father makes a demand she cannot abide―marry a prince to forge a military alliance―Oona panics. He is handsome and honorable, but he's not Kitlyn. Unable to admit why she cannot obey, Oona does the only thing she can think of, and runs away. Alone and unprepared in the wilderness, she prays the gods will let Kitlyn find her—before the assassins do.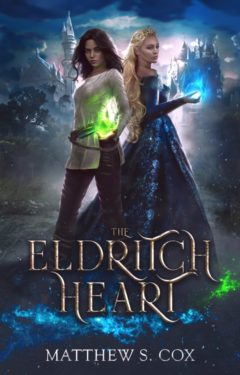 The Eldritch Heart
Word Count:

95877
Summary: A bargain must be struck before the Age of Mortals can be truly realized. For Elise, Ermolt, and Athala, the price is high. Not only do they have to find the dragons that have been hidden for centuries, but they have to kill them. ​ Their first stop is Jalova, home of Teis, God of the Sky, and their enemies the overseers, a group of thieves led by Merylle Callac, former High Priest of Teis. ​ Merylle wants help them, and her terms are simple - she wants revenge of her former God. Elise and her companions are more than willing to comply. ​Will Elise, Athala, and Ermolt be able to slay Sirur with Merylle's help, or will they face the wrath of Meodryt for their failure?
Bargain
Word Count: Information not available
Summary: In a world where infants with magical powers are torn from their parents to be raised exclusively by the mysterious and powerful Danisoba, Kestrel has managed to keep her abilities concealed--and herself free. She hid when they killed her parents, lived as a street urchin in back alleys, and then served as a young tavern maid before escaping to sea, where magic is canceled by water. Now an adult and quartermaster of a pirate ship, Kestrel loves the freedom of living on the seas. But her way of life could end if anyone on board learns her closely guarded secret--that she has magical control over the wind. One day a black ship appears, and her life changes. Its captain is a handsome rogue of whom Kestrel is strangely, constantly aware. When Kestrel's captain is led into a trap and is arrested, Kestrel gathers her crew and sets sail in relentless pursuit.
Mad Kestrel
Word Count:

97,641
Summary:
A quest for power. A growing evil. Can a scholar of magic keep an incredible discovery from the forces of chaos?
Wizard and bookworm Athala Dohn pursues her research with a fiery passion. So when she uncovers evidence of an ancient spell buried deep within the city, she won't rest until she's the one who makes the find. Determined to outwit potentially-deadly magical protections, Athala brings help: a Conscript, Elise Bresch, and a barbarian, Ragan Ermolt. Together they enter the sewers completely unprepared for what awaits… With undead skeletons, giant rats, and even a dragon in their path, Athala never expected a set of metal bars to thwart her. But when a corrupt man imprisons and tortures her and her friends, the scholar realizes her curiosity may have unleashed destruction upon all of Neuges. Athala has one chance to escape captivity and claim the spell before the Age of Mortals slips from humanity's grasp.
Ancients
is the first book in the Heroes by Necessity saga of sword and sorcery fantasy novels. If you like magical Dungeons and Dragons inspired worlds, multifaceted and diverse characters, and pulse-pounding action, then you'll love Riley S. Keene's epic tale.
Buy Ancients today!
Ancients
Word Count:

73,667
Summary: Lord Morgorth is haunted by dreams of his father. Though Morgorth killed him, his father's presence and brutality won't completely die. But now he has more to worry about—in the form of the Council of Mages' inquiry into the duel between Morgorth and an elder of the council. Morgorth expects sabotage and prepares accordingly. He fears for Aishe's life, knowing that the best way to sabotage the inquiry is to eliminate the witnesses. He sets into motion a desperate plan that, though it will protect Aishe, could put a strain on their relationship not easily removed. Yet the true danger lurks unseen, and it will take all of Morgorth's skill, strength, and devotion to Aishe, to save his mate from the hold of a foe Morgorth has yet to tangle with: a dream demon. Now Morgorth must throw aside caution, restraint, and fear if he is to save the one most dear to him. He must call upon the power of the one thing he hates more than even his father: a stone of power. But even if he manages to save Aishe, his mate's experiences in Dreamworld—at the mercy of the dream demon—have changed him forever and could shatter their bond irrevocably.
Carnelian: Dreams and Visions
Word Count:

76,765
Summary: Home. Family. Those words often invoke a sense of love and comfort. But for the dark mage Morgorth, they mean hate and pain. As the seventh son of a seventh son, many believe Morgorth's destiny is to become the Destroyer. His father embraced such a future and trained Morgorth through torture and fear to become his weapon. Morgorth managed to escape his father's cruelty, but not the nightmares that still haunt him. For many years he's lived with the stain of his father's savagery, but now he must confront his nightmares head-on. His father has found a stone of power. Morgorth must return to his land of birth, to the memories he's tried his entire life to suppress. Aishe is determined to help Morgorth defeat his inner demons, but he knows he might not be enough to save Morgorth from embracing his darkness. They know it will be a fight to the death and that Morgorth won't be the same if he survives. With Aishe by his side, Morgorth hunts for his father, and finds answers to questions he never dared to ask—and must live with the truths they reveal.
Emerald: Good and Evil
Word Count:

73,151
Summary: Time travel. For mages, it violates their number one rule: what the Mother has written, let no one unwrite. The Mother writes the destinies of the creatures on the world of Karishian. If her writings were undone, it is feared that Creation itself could be undone. The dark mage Morgorth takes this rule to heart, but there are others who do not. Morgorth is about to claim a stone of power when it is stolen from him by a female mage he hasn't seen in decades. As they struggle for the stone, she activates it, and Morgorth is unwillingly plunged into another time and another place. It isn't long before he realizes what time he's found himself in and there are a few familiar faces. Most notable is a much younger version of Aishe. His mate. Living with a tribe who will be massacred, caring for a young lad who will become his mate, and fighting a battle against a mage who can travel from past to future at a whim—Morgorth's life has never been easy but now he must contend with the will of the Mother. Unable to change the future and the tragedies of Aishe's life, he must decide what his role in his mate's past will be, and ask himself one vital question: how does one defeat time?
Agate: Then and Now
Word Count:

70,034
Summary: Every story has more than one point of view. As the mate to the dark mage Morgorth, Aishe has learned a lot about magick, love, and himself. He tries to find a home with Morgorth, to be accepted into his world; to survive in a world full of magick, treachery, and deception. But all the while he struggles to keep a secret about his past and their intertwined destinies. Despite all the obstacles thrown at both of them, Aishe is determined to stay by Morgorth's side, no matter what the future brings—even if that future turns dark with death should Morgorth embrace his grim destiny. But when Morgorth leaves with his mentor to collect another stone of power, Aishe is left behind. It is then a surprise attack comes and Aishe, determined to protect and defend his new home, decides to take the invaders on by himself. It might prove too much for him to handle...especially when he learns the one who leads the invaders is a mage. This book allows us a glimpse inside the mind of Lord Morgorth's better half, a dialen named Aishe: his motivations, his personal sorrows, and his struggle to find a place to call home.
Amethyst: Bow and Arrow
Word Count:

61770
Summary: Morgorth is considered a villain by his own people and known as Dark Mage of the North. But now all he feels is light and love as he pursues a budding relationship with Aishe, a dialen of the Ravena tribe. Morgorth hardly believes his good fortune. He has allowed Aishe into his home, into his bed, into his heart. He laughs more, smiles more, and feels happier than he ever has before. He should have known such bliss never lasts. The Council of Mages, the ruling body over all mages on Karshian, knows he has Rambujek, a major stone of power—a stone won from an evil sorcerer. They also know his destiny—to become the Destroyer. Fearful, they send two emissaries to take the stone from Morgorth, using whatever means necessary. This includes tricks, threats to those under his protection, and the threat of war. A war Morgorth knows he would never survive. Conflict soon arises between him and Aishe. Their tenuous relationship is put into jeopardy, their very beliefs about themselves and their love is put into question. Morgorth doubts if he should keep Aishe in his life. He doesn't know if he can protect Aishe from his enemies. Or from the monster he might become.
Peridot: War and Peace
Word Count:

72014
Summary: Lord Morgorth is a dark mage on the planet Karishian. He's considered a villain by his peers and relishes the title, having embraced the role early in his life. However, not all of his actions are necessarily villainous. Despite owning several of the Stones of Power—gemstones infused with powerful magick—he doesn't use them, preferring to keep them hidden away and out of destructive, power-hungry hands. He hates them more than anything. So when a sorcerer gets a hold of a major stone, Morgorth has no choice but to go after him. But, to his irritation, he is not alone. Aishe is a dialen whose tribe was massacred by the sorcerer, and is now on a mission of vengeance. The attraction is instant between them, but Morgorth keeps his distance. Because of a traumatic childhood and a deadly destiny, he has no desire for emotional complications. But Aishe's very presence challenges Morgorth's resolve. Not only does Morgorth admire Aishe's strength and intelligence, but he begins to see Aishe as a friend. As their hunt continues and their time together lengthens, their bond deepens, as does Morgorth's fear. If he becomes the monster that destiny claims he will be, will he hurt Aishe? Will he harm the one person who sees right through him? Who accepts him wholeheartedly? Determined to not let that happen, Morgorth keeps Aishe at a distance. But when Aishe is kidnapped by the sorcerer, what will Morgorth do to get him back?
Ruby: Lost and Found