Welcome to the advanced "filter" search page. This page lists all the books on the Liminal Fiction site. Use the filters at the left to narrow down the list of books, and then hit "Go". If your results come up blank, your combination of filters may be too specific.
Note: you may need to scroll down within each filter box to see all the options.
You can also add a keyword in the search box – this searches the title, author, and book summary fields.
To change the order of your results, use the sort order pulldown at right.
To start over, hit the clear all link – this will clear your search parameters/filters and restore all books to the page.
clear all
Genre
Fantasy
Fantasy - Alternate History
Fantasy - Comedy
Fantasy - Contemporary
Fantasy - Dark Fantasy
Fantasy - Erotica
Fantasy - Faery & Fae
Fantasy - Fairy Tale / Folklore
Fantasy - Fantasy of Manners
Fantasy - Gothpunk
Fantasy - Heroic
Fantasy - High & Other World
Fantasy - Historical
Fantasy - Hopepunk
Fantasy - Knights & Castles
Fantasy - Latinpunk
Fantasy - LGBTQ+
Fantasy - LitRPG
Fantasy - Low Fantasy
Fantasy - Magical Realism
Fantasy - Mythic
Fantasy - Mythpunk
Fantasy - New Adult
Fantasy - Paranormal
Fantasy - People of Color
Fantasy - Piratepunk
Fantasy - Quiet
Fantasy - Romance
Fantasy - RPG
Fantasy - Slipstream
Fantasy - Steampunk
Fantasy - Sword & Sorcery
Fantasy - Urban & Magical Beings
Fantasy - Weird Fantasy
Fantasy - Young Adult
Fantasy – Gods and Heroes
Horror
Horror - Angels & Devils
Horror - Comedy
Horror - Fairy Tale/Folklore
Horror - Ghosts & Haunted Houses
Horror - Gothic
Horror - LGBTQ+
Horror - LitRPG
Horror - Lovecraftian/Cthulhu
Horror - Man-Made Horrors
Horror - Monsters
Horror - Mythic
Horror - New Adult
Horror - Noir
Horror - Occult
Horror - People of Color
Horror - Post-Apocalyptic
Horror - Psychic Talents
Horror - Psychological
Horror - Shifters
Horror - Splatterpunk
Horror - Vampires
Horror - Weird Horror
Horror - Werewolves
Horror - Witches
Horror - Young Adult
Horror - Zombies
Nonfiction
Nonfiction - Writing Guides
Paranormal
Paranormal - Angels & Devils
Paranormal - Comedy
Paranormal - Dark
Paranormal - Ghosts & Haunted Houses
Paranormal - LGBTQ+
Paranormal - LitRPG
Paranormal - Magical Beings
Paranormal - Monsters
Paranormal - New Adult
Paranormal - People of Color
Paranormal - Psychic Talents
Paranormal - Reincarnation
Paranormal - Romance
Paranormal - Shifters
Paranormal - Vampires
Paranormal - Young Adult
Paranormal - Zombies
Poetry
Sci Fi
Sci Fi - Alien Invasion
Sci Fi - Alien Races
Sci Fi - Aliens
Sci Fi - Alternate / Parallel Reality
Sci Fi - Alternative History
Sci Fi - Apocalyptic Fiction
Sci Fi - Artificial Intelligence
Sci Fi - Biopunk
Sci Fi - Candlepunk
Sci Fi - Christian
Sci Fi - Climate Fiction (Cli-Fi)
Sci Fi - Clockpunk
Sci Fi - Clones
Sci Fi - Colonization
Sci Fi - Comedy
Sci Fi - Cyberpunk
Sci Fi - Cyberspace
Sci Fi - Decopunk
Sci Fi - Detective
Sci Fi - Dieselpunk
Sci Fi - Distant Planet
Sci Fi - Dying Earth
Sci Fi - Dystopian & Post-Apocalyptic
Sci Fi - First Contact
Sci Fi - Frontier
Sci Fi - Furry
Sci Fi - Galactic Empire
Sci Fi - Generation Ship
Sci Fi - Genetic Manipulation
Sci Fi - Gothpunk
Sci Fi - Greenpunk
Sci Fi - Hard Sci Fi
Sci Fi - Hollow Earth
Sci Fi - Hopepunk
Sci Fi - Human Evolution
Sci Fi - Immortality
Sci Fi - LGBTQ+
Sci Fi - LitRPG
Sci Fi - Lost Worlds
Sci Fi - Military
Sci Fi - Mind Uploads
Sci Fi - Multiverse
Sci Fi - Mutants
Sci Fi - Nanopunk
Sci Fi - Near Future
Sci Fi - New Adult
Sci Fi - Nowpunk
Sci Fi - People of Color
Sci Fi - Piratepunk
Sci Fi - Pulp
Sci Fi - Realistic
Sci Fi - Robots/Androids
Sci Fi - Romance
Sci Fi - RPG
Sci Fi - Science Fantasy
Sci Fi - Singularity
Sci Fi - Slipstream
Sci Fi - Social
Sci Fi - Soft
Sci Fi - Solarpunk
Sci Fi - Space Exploration
Sci Fi - Space Opera
Sci Fi - Space Western
Sci Fi - Spacepunk
Sci Fi - SpyFi
Sci Fi - Steampunk
Sci Fi - Superheroes & Villains
Sci Fi - Terraforming
Sci Fi - Teslapunk
Sci Fi - Theological
Sci Fi - Time Travel
Sci Fi - Transhuman
Sci Fi - Uplift
Sci Fi - Utopian
Sci Fi - Virtual Reality
Sci Fi - Weird Sci Fi
Sci Fi - Young Adult
Series
46 Ascending
A Bad-Ass Faerie Tale
A Balance of Magic
A Demon for Midwinter
A New World
A Warrior's Redemption
Aces High Jokers Wild
Adventure of a Lifetime
Aestus
Agents of the Imperial Special Investigation Service
Aggressor Queen
Aisling Trilogy
Alex McKenna
Alterations
Anchorage
and Beyond
Andersson Dexter
Andlios
Ardulum
Ariadne
Ariadne Cycle
Arrow of Artemis
Art Medium
Arthur Rex
As Above
As Above So Below
Atmospheric Pressure
AURA
Autumn
Bastard Prince Saga
Bed Breakfast and Beyond
Behind Blue Eyes
Black Flag
Black Swan Planet
Blackwood Pack
Blessed Epoch
Blood Resonance
Blood Sealed
Bloodlines of Fate
Blue Solace
Bound Gods
Brandywine Investigations
Brassbright Cooks
Brassbright Kids
Brimstone
Broken Stars
BuzzCuts
Cadicle
Cassidy Chronicles
Central Galactic Concordance
Centricity Cycle
Chanda Kasmira
Changing Bodies
Chaos Menagerie
Chronicles of Tournai
Cold Cosmos
Cold Fingers
Coldharbour Chronicles
Colonizing Saturn's Moon
Compact Universe
Constable Inspector Reva Lunaria
Continuing Journeys
Creatures of Darkness
Crossdimensional Chronicles
Cryptomorphs
Crystal Throne
Cybers Wild Card
Daire's Devils
Dalí Tamareia Missions
Damien the devil
Dark Folklore
Dark is the Night
Darkening Stars
Darkly Enchanted Romance
Daughter of Mars
Dead Geniuses
Defending the Future
Demon Tales and Fairy Games
Detective Duarte Mysteries
Diamondsong
Division Zero
Dome of Souls Series
Dome Stories
Dragon Souls
Dragon War Chronicles
Draoithe
Dylan Rivers Chronicles
El Corazon
Eldritch Heart
Elemental Magicae
Ellowyn Found
Enchanted Occasions
Endangered Fae
Enimnori
ESTO Universe
Evergreen
Exiles of the Drift
Extraordinary
Faded Skies
Fae Out of Water
False Icons
Fantastic Tales of Science Fiction and Fantasy
Fantasy
Felines of Furyne
FERTS
Five Seasons of Night
Forerunner Series
Four Moons
Fox-Hat
Freedom Fight Trilogy
Freedom Series in the Switchboard Univers
Future History of the Grail
G-Force Federation
Gates of Divinity
Gay Ever After Fairy Tales
Ghost U
Gifted Guilds
Grimaulkin
Guardians
Guardians of the PHAE
H2LiftShips
Hammer Falls
Hard Way Home
Hauntastic Haunts
Haven
Hawthorn Academy
Heavenly Sins Trilogy
Heavy Metal Magic
Heroes by Necessity
Hidden Wolves
Him for the Holidays Short Story
House of Witches
Hybrid Nation
IMP Universe
Infinity 8
Infinity's End
Jack Hansard
Jake & Dean Investigations
James & Harriet
Jon's Mysteries
Jordan Abbey
Kedgetown
KHNM Series
Kitten & Witch
Lancaster's Luck
Last Chance
Legacy of the Phoenix
Legend Tripping
Leif the Lucky
Lenna's Arc
Lifehack
Liminal Fiction Anthologies
Liminal Sky
Liquid Onyx
Lost in Time
Love Death & The After
Luxor City
Mad Kestrel
Magic Emporium
Magic Mirror Collection
Magnificent Devices
Mara of the League
Mating Flight
Max Porter Paranormal Mysteries
McCarron's Corner
Mermen & Magic
Mike Christopher
Mindsaga
Moon Hunter's Inc.
My Brother's Keeper
Mystery of the Makers
Myth World
Mythmatched
Necromancer
Nel Bentley Books
Northern Witch
Oarthecan Star Saga
Oberon Cycle
Offbeat Crimes
Office of Preternatural Affairs
Old Code
On Mars
On Wings Saga
Outlaws of Interra
Perilous Miles
Phoenix in Flames
Pirates of Aletharia
Pixel Dust
Planet Alpha
Planet Hy Man
Plans
Poetry Inspired by Science
Pōneke Shadows
Progenitor
Prophet of the Badlands
Providence Paranormal College Boxed Sets
Proxima Odyssey
Queer Sci Fi Flash Fiction Contest
Qwyrk Tales
Rainbow Briefs
Rainbow Reader
Read by Candlelight
Red Dog Conspiracy
Resonant Earth
Revin's Heart
ROAM
ROAR
Rockshade's PID
Royal Powers
Rubberman
Saga of the Bold People
Saul Imbierowicz
Scarlet Order Vampires
Scars
Sentries
Serial Killer Z
Serpentia
SERVANT/SOVEREIGN
Shades
Shades of Midnight
Shentonia
Ship Whisperer
Sierra Waters
Sing For Me
Sister Seekers
Sister Seekers Bundles
Sisters of Chaos
Sixguns and Sorcery
Small Things
Small Things trilogy
Smoke and Moonlight
Snakeheart
So Below
Soldiers and Mercenaries
Somnia Online
Songs of the Sage
SoulShares
Sovereigns of Bright and Shadow
Space Pilot
Space Pirates' Legacy
Star Guardians: Legend of the White Nova
Star Marked
Star Rigger Universe
Star Stories
Starman Jones
Starship Teapot
Steel Empires
Stories of the Eleriannan
Strange, Strange World
Subsumption Series
Suicide Arc
Sunshine and Specter
Super U
Supernatural Selection
Survey Intragalactic
Surviving the Apocalypse
Systema Paradoxa
Taking Shield
Tales From A Warming Planet
Tales from Norvegr
Tales of a gay witch
Tales of Ardonna
Tales of Ardonna: Woodspell Series
Tales of Miurag
Tales of the Crypto-Hunter
Tales of the Forest
Tales of the Shadow City
Tales of Tolari Space
Tales within Chains
Taran Empire Saga
Tempus Institute
Teristaque Chronicles
Terran Space Project
Tharassan Cycle
The Adventures of Bodacious Creed
The Arcadia Trust
The Artifice Mage Saga
The Ascended
The Autobiography of Calista Antoine
The Awakened
The Biomass Conflux
The Bodyguard and the Heir
The Books of Locurnia
The Books of the Wode
The Brassbright Chronicles
The Calling
The Casebook Of Elilsha Grey
The Cassie Tam Files
The Chaos Chronicles
The Clockwork Legion
The Conn-Mann Chronicles
The Council Of Twelve
The Coven of Zora
The Daedalus Files
The Dandelion Farmer
The Deiparian Saga
The Dissolution Cycle
The Druid's Brooch Series
The Dusk Eternal
The Dynamicist Trilogy
The Empire
The Evie Chester Files
The Faction
The Fairville Woods
The Fellowship Dystopia
The Forester Trilogy
The God Fragments
The Guild of Dream Warriors
The Hallowed Bloodline
The Hybrid of High Moon
The Interscission Project
The Mage Conspiracy
The Magicsmith
The Mating Games
The Meaning Wars
The Memory Bearers Saga
The MIndbender
The New Dawn
The Night Flyer Series
The Novels of Loch Moigh
The Oort Chronicles
The Others Project
The Parallel Society
The Parsina Saga
The Peridot Shift
The Place Of Things
The Poison Patty Saga
The Pudding Protocol Universe
The Rehumanization of Jade Darcy
The Remembrance War
The Samantha Rain Mysteries
The Secret Histories
The Seer Saga
The Sehnsucht Series
The Six Worlds
The Sleep of Reason
The Sleepless City
The Society Universe
The Spindown Saga
The Starchild Trilogy
The Stones of Power
The Superhero Age
The Temujin Saga
The Tome of Bill
The Twins of Bellesfées
The Ungovernable
The United Federation Marine Corps
The Unwoven Tapestry
The Valespian Pact
The Vampire Guard
The Vampire Hunters Academy
The Vega Bloodmire Wicked Witch Mystery Series
The Voidstrider Saga
The Way of the Warrior
The Web of Arcana
The Weller
The Wellington Mysteries
The Will-o'-the-Wisp Stories
The Withrow Chronicles
The Z-Tech Chronicles
Thung Toh Jig
Time Burrito
Timeless Keeper Saga
Timelessness
Tinker's World
Tome of Báirseach
Toronto Time Agents
Towers of the Earth
Tracefinder
Transdimensional Authority/Multiverse
Treasures Retold
Treasures Retold Omnibus
Truck Stop at the Center of the Galaxy
Truthspoken Universe
Trystero
Tuners
Vampire Innocent
Variant Configurations
Virian Chronicles
Virian Companions
Vyrdigaan Prophecies
WalrusTech
War Mage
War Stories of the Seven Troublesome Sisters
Wasp Squadron: The Navy of Humankind
White Hart
Witch-Hunter
Wolf's-own
Womby's School for Wayward Witches
Women of the United Federation Marines
Worlds Apart: A Universe of Sapphic Science Fiction and Fantasy
Writers Save the World
Wyrdwood Welcome
Tag
author - american
author - arabian
author - australian
author - belgian
author - british
author - canadian
author - dutch
author - european
author - french
author - italian
author - new zealander
author - saudi arabian
format - anthology
format - audiobook
format - book
format - box set
format - collection
format - free
format - hardcover
format - illustrated novel
format - kindle
format - kindle unlimited
format - kindle vella
format - large print
format - netgalley
format - novel
format - novel >100K
format - novel <100K
format - novel 40-100K
format - novella 15k-40K
format - novellette <15k
format - omnibus edition
format - paperback
format - payhip
format - planner
format - prequel
format - self published
format - sequel
format - series
format - shared universe
format - short stories
format - short story <15K
identity - aromantic
identity - asexual
identity - bisexual
identity - demisexual
identity - gay
identity - gender fluid
identity - intersex
identity - lesbian
identity - non-binary
identity - pansexual
identity - polyamorous
identity - transgender
potential trigger
potential trigger - abduction-captivity
potential trigger - addiction
potential trigger - avalanche
potential trigger - blood
potential trigger - death
potential trigger - gore
potential trigger - graphic torture
potential trigger - murder
potential trigger - rape
potential trigger - sexual abuse
potential trigger - stalking
potential trigger - suicidal ideation
potential trigger - suicide
potential trigger - torture
potential trigger - traumatic past
potential trigger - violence
what - concept - amnesia
what - concept - curse
what - condition - blindness
what - condition - disability
what - condition - mental illness
what - condition - ptsd
what - element - ferocious poodle
what - holiday - general
what - topic - cartel
what - topic - chinese medicine
what - topic - chinese mythology
what - topic - climate change
what - topic - compassion
what - topic - crime
what - topic - desert survival
what - topic - disaster
what - topic - flying
what - topic - genetic engineering
what - topic - harem
what - topic - haunting
what - topic - japanese mythology
what - topic - learning disabilities
what - topic - legend
what - topic - magic
what - topic - multicultural
what - topic - music
what - topic - natural disaster
what - topic - non-violence
what - topic - politics
what - topic - ransom
what - topic - reincarnation
what - topic - religion
what - topic - revenge
what - topic - science experiment
what - topic - secret
what - topic - secret organization
what - topic - superstition
what - topic - taboo
what - topic - technology
what - topic - terrorism
when - period - 16th century
when - period - 17th century
when - period - 18th century
when - period - 1920s
when - period - 1930s
when - period - 1940s
when - period - 1950s
when - period - 1960s
when - period - 1970s
when - period - 1980s
when - period - 1990s
when - period - 19th century
when - period - 20th century
when - period - ancient greece
when - period - ancient rome
when - period - edwardian
when - period - georgian
when - period - great war
when - period - middle ages
when - period - near future
when - period - prehistoric
when - period - prohibition
when - period - victorian
where - fictional - moon colony
where - general - alternate universe
where - general - carnival
where - general - castle
where - general - cave
where - general - cruise ship
where - general - forest
where - general - military
where - general - mountains
where - general - private school
where - general - rural
where - general - small town
where - general - swamp
where - general - uncharted island
where - general - underground
where - general - underwater
where - Mars
where - non-Earth planet
where - space - international space station
where - space - space station
where - space station
where - spaceship
who - description - alpha male
who - description - alphas and omegas
who - description - tattoos
who - magical humans
who - occupation - apothecary
who - occupation - archaeologist
who - occupation - artist
who - occupation - assassin
who - occupation - astronaut
who - occupation - astronomer
who - occupation - author
who - occupation - baker
who - occupation - barista
who - occupation - bodyguard
who - occupation - botanist
who - occupation - bounty hunter
who - occupation - castle laird
who - occupation - computer programmer
who - occupation - contractor
who - occupation - coroner
who - occupation - cowboys
who - occupation - detective
who - occupation - doctor
who - occupation - engineer
who - occupation - ex-convict
who - occupation - federal agent
who - occupation - guard
who - occupation - hacker
who - occupation - healer
who - occupation - herbalist
who - occupation - historian
who - occupation - horsemaster
who - occupation - innkeeper
who - occupation - inventor
who - occupation - journalist
who - occupation - king
who - occupation - knight
who - occupation - law enforcement
who - occupation - librarian
who - occupation - lord
who - occupation - mage
who - occupation - marine
who - occupation - mechanic
who - occupation - medical
who - occupation - mercenary
who - occupation - military
who - occupation - missionary
who - occupation - motorcycle rider
who - occupation - musician
who - occupation - nurse
who - occupation - pilot
who - occupation - pirate
who - occupation - police
who - occupation - politician
who - occupation - priest
who - occupation - prince
who - occupation - prisoner
who - occupation - professor
who - occupation - psychic
who - occupation - royalty
who - occupation - sailor
who - occupation - scientist
who - occupation - security
who - occupation - serial killer
who - occupation - servant
who - occupation - sex worker
who - occupation - sheriff
who - occupation - soldier
who - occupation - space marines
who - occupation - spaceship captain
who - occupation - spy
who - occupation - starship captain
who - occupation - student
who - occupation - superhero
who - occupation - tattoo artist
who - occupation - teacher
who - occupation - thief
who - occupation - tracker
who - occupation - undercover agent
who - occupation - warrior
who - occupation - writer
who - religion - catholic
who - religion - jewish
who - religion - muslim / islamic
who - religion - pagan
who - religion - shinto
who - sea dragon shifter
who - sea serpent shifter
who - shifter
who - type - alien
who - type - altered human
who - type - angels
who - type - badass heroine
who - type - bear shifters
who - type - bigfoot
who - type - centaur
who - type - cyborg
who - type - demons
who - type - dragon shifters
who - type - dragons
who - type - elves
who - type - fae
who - type - fox
who - type - gator shifter
who - type - ghosts
who - type - god
who - type - griffins
who - type - incubus
who - type - kitsune
who - type - merman
who - type - nekomata
who - type - nephilim
who - type - panther shifters
who - type - reindeer shifters
who - type - robot / cyborg
who - type - sea god
who - type - selkie
who - type - spiders
who - type - spirit
who - type - succubus
who - type - unicorns
who - type - vampires
who - type - vegan
who - type - werecats
who - type - werewolves
who - type - witch
who - type - wizard
who - type - wolf
who - type - yokai
who - type - zombies
who - world defender
Tropes
Abandoned Place
AI Uprising
Alien Artifacts
Alien Eggs
Alien Invasion
Alien Ruins
Aliens Among Us
Aliens as God
Aliens in History
Ancient Astronauts
Ancient Weapon
Antihero
Arthurian Legends
Asteroid Miner
Astral Projection
Bad Robot
Band of Brothers/Sisters
Band of Misfits
Bar Tales
Becoming a Monster
Benevolent Aliens
Beyond the Grave Communication
Big Sword
Black and White Morality
Body Modifications
Bodysnatchers
Book of Spells
Born Hero
Burial Ground/Cemetary
Changing Painting
Chosen One
Clones
Conspiracy
Crazy Clairvoyants
Cross-Species Friendships
Cryosleep
Dark Enemy
Dark Lord
Death by Sex
Demonic Possession
Dragonriders
Dying World
Dystopian Governments
Enemy to Ally
Evil Megacorporation
Evolving Powers
Fallen Hero
Farmer to Hero
Farmer to Royalty
Fated Mates
Fellowship
Fetus of Doom
First Contact
Fish Out of Water
Found Family
FTL
Galactic Civilization
Generation Ships
Good Robots
Haunted House
Here Comes the Cavalry
Humanity is Dangerous
Humanity is Good
Humans Evolved From Aliens
Hunted
I Am Your Father
I See Dead People
Immortality
Inaccessible Magic
Interspecies Adoption
Interspecies Romance
Interstellar Travel
Killer Aliens
Library of Secrets
Lost Civilization
Lucky Novice
Mad Scientist
Magic Furniture
Magic Talisman
Magical Disaster
Marooned
Mirror Shows True Self
Modern Human in Fantasy World
Museum/Store of the Unusual
No Cell Coverage
Old Person in the Woods
Oxygen Leak
Parallel Worlds
Past People/Future Tech
Person in Distress
Portals
Possession
Post-Apocalyptic
Powerful Artifact
Prophesy
Pseudo European Society
Psionic Powers
Quest
Redemption Arc
Reluctant Hero
Reluctant Vampires
Robin Hood Legends
Roguish Thief
Secret Heir
Secret Royalty
Secret Society
Sentient AI
Sentient Spaceships
Sex Magic
Singularity
Space Battles
Space Dentistry
Space Detectives
Space is Empty
Space is Full
Space Medicine
Space Pilot
Space Pirates
Space Psychology
Space Smugglers
Superpowers
Sword of Destiny
Time Loop
Time Travel
Training
Ultimate Evil
Undiscovered Planet
Uploaded Consciousness
Vengeful Spirit
Villain to Hero
Waiting/Sleeping Evil
Wise Mentor
Showing all books.
Word Count: Information not available
Summary: When Selena Dillon is caught in an assassination attempt on her planet's ruler, she finds herself sentenced to twenty-five years servitude in the most feared military force, the Penal Regiments. Much to her surprise she enjoys the harsh military life and is quickly selected for officer training. But something's wrong, worlds are falling silent. There's no cry for help and no warning, just a sudden eerie silence. When a flotilla of ships is despatched to investigate they exit hyperspace to find themselves facing a massive alien armada. Outnumbered and outgunned the flotilla fight a rear-guard action, allowing one of their number to slip away and warn mankind. As worlds fall in battle, and mankind's fleets are decimated, Selena is selected to lead a team of the Penal Regiment's most battle-hardened veterans, in a last ditch attempt to destroy the aliens' home world. If she fails mankind is doomed. Little does Selena know that one of her crew is a psychopathic killer and another is the husband of his victim. Can she hold her team together, get them to their target and succeed in the attack? Selena knows that if she fails then there will be nothing at all left to go home to.
A Pride of Lions
Word Count:

53,000
Summary: "Orcs are the answer but what is the question?" Elias is a priest at the Temple of the Divine Sibyl. When he becomes lost in the woods after his brother's hunting party abandons him, it's just his luck that he'd stumble upon an angry orc caught in a trap. Unable to stomach the suffering of others, Elias throws self-preservation to the wind and frees the orc. Then Gurrkk—that's a name?—ends up leading him to safety. Gurrkk finds himself rather smitten by the sweet, awkward human. He's always been fascinated with his people's sworn enemy, and now he has a life debt to fulfill to maintain his honor. Hiding an orc among the temple's crypts wouldn't have been Elias's first choice but Gurrkk is stubborn about leaving. As they learn each other's languages and spend more time together, Elias realizes they've become friends… and maybe more. And when the dying sibyl gives her last prophecy, Elias knows it wasn't chance that brought them together, it was the gods. But why? This is a sweet, ace romance, so no sexy times, but plenty of snuggles and cuddles!
A Priest, a Plague, and a Prophecy
Word Count: Information not available
Summary:
In every legend of Fairyland, the fairies have their own reasons for crossing the border…
Oliver has spent his life as the crown prince, preparing to rule but in no hurry about it, enjoying life and taverns with Tirian, his fairy-companion and best friend. But when the traditional Vision Quest calls— and a dragon appears—Oliver finds himself facing difficult questions about heroism, sacrifice… and the emotions he's discovering about Tir. But Tirian has secrets of his own, about his purpose, his magic, his feelings for Oliver, and a prophecy that will change the fates of two kingdoms forever.
A Prophecy for Two
Word Count:

108000
Summary: Now what? As Kendra recovers from her wounds, Artemis is planning their next strike. But so are others. Artemis has been too corrupt for too long; their own people are ready to take control. It's just going to take a little encouragement...
A Quiet Revolution
Word Count:

115000
Summary: Aaron Okonkwo, a Nigerian scientist, travels with a crew in the 24th century to evaluate Viridis, which proves to be a beautiful and fabulous world. There, Aaron discovers a strange, alien species and amazing machines and technology left in a vast underground complex by a mysterious race called the Creators. Aaron soon falls under the irresistible, seductive spell of Nightsong, a green alien female with ominous and bewitching powers. However, an even greater danger rises. He will be forced to fight for the planet's survival against a ruthless invasion of many ships to conquer and enslave the planet – just as Africa itself was once enslaved. Aaron knows it's A Senseless Act of Beauty to try to reclaim his ancient warrior heritage and fight back against such overwhelming odds, but he knows he must try.
A Senseless Act of Beauty - John B. Rosenman
Word Count: Information not available
Summary: When young paleontologist, Ryan Thompson, finds a new species of mosasaur in Cretaceous seaway sediments, he is thrilled. The discovery should jumpstart his career. Joy quickly turns to fear when he touches an artifact buried among the sea reptile's ribs. Suddenly, he must fight a mental takeover by an alien intelligence committed to transforming the Earth into a refuge for her own race. As Ryan and his girlfriend, Skeets, attempt to thwart alien plans to colonize Earth begun in the deep past, even this crisis becomes trivial. The uneasy symbiosis of Ryan and the alien, Siu, generates a new entity with the power to transform the entire universe.
A Singular Prophecy
Word Count:

25000
Summary: The brutal murder of a nobleman with connections to British and Fae nobility sends ripples of shock through the country. Arkady Bloom, half-fae Agent of Her Majesty's Secret Service Supernatural Division, is commanded by the Crown to assist the Metropolitan Police in their search for the killer. As the body count rises, the delicate peace between Humans and Fae threatens to break. As Bloom races to solve the mystery, he is pitted against not only a mysterious murderer, but a shadowy organization threatening the British Empire itself. And now Bloom might just be the next target…
A Study in Violet
Word Count: Information not available
Summary: He believes in science, but only magic can help his mom. Twelve-year-old Finn is used to people in his family disappearing. His twin sister, Faith, drowned when they were three years old. A few months ago, his mom abandoned him and his dad with no explanation. Finn clings to the concrete facts in his physics books—and to his best friend, Gabi—to ward off his sadness. But then his grandmother tells him a secret: the women in their family are Travelers, able to move back and forth in time. Finn's mom is trapped somewhere in the timeline, and she's left Finn a portal to find her. But to succeed, he'll have to put his trust in something bigger than logic. "This is an incredible book, no matter which time universe you're in. I couldn't put it down. One of my favorite debut novels of the year."—Erin Entrada Kelly, New York Times bestselling author and 2018 Newbery Medal winner
A Time Traveler's Theory of Relativity
Word Count:

4500
Summary: In love, time is relative, until they run out… Regulations limit time digger Ish and time cop Kabal, born years and worlds apart, to two dates a year, making every date precious. But when Kabal announces his retirement at their tenth anniversary, what should have been a happy occasion might be their last night together. Previously appeared in Storm Moon Press' Sweethearts & Seduction anthology
A Time Traveler's Valentine
Word Count: Information not available
Summary: In the shadows, treachery and betrayal grow unseen. The state funeral of Princess Olivia at Port Ruth marks the end of the Queen of the Desert's reign of terror. As Lucinda, Magda and Ascara attend this grand ceremony, all is not as it seems. A storm of secrets and lies emerge from the shadows and the darkness threatens to destroy them all. No matter where Magda goes, her heritage calls to her. Even when they make their way home, peace and safety are still not theirs. Malice and betrayal, hidden and out of sight, finds the three women and threatens to pull them under the waves of death and pain once more. For the Trinity of Truth: Raven, Fire and Ice, there can be only one way forward, but at what price? This is the third in the Towers of the Earth fantasy adventure series.
A Touch of Darkness
Word Count: Information not available
Summary: A promise made in fire and ice. A promise kept in death and stone. A truth in three, arise the trinity. Home to Gidhera. Here Ascara must prove herself through combat and the strength of her heart and soul. These tests of fire are nothing when compared to the danger she has yet to face. Ancient foes, asleep for generations, rise up from the sea and swarm across the land like a blight of fang and claw. These dark creatures are different now. They have evolved into something bigger, stronger, and more resilient. They bring with them magic of their own. These new powers could render the whole of Gidhera defenseless. Guns and cannons are no match for these dark powers of the deep. To save her people, the clan and her home, Ascara needs a tower and the full power of fire, and three. Without them will bring the destruction of her clan, and all that she holds dear. Join Magda, Lucinda, and Ascara as they face their biggest and most deadly challenges yet.
A Touch of Fire
Word Count:

94000
Summary:
To have a future, they must face their past. Magda, Ascara, and Lucinda must draw upon the strength of their trinity to seek out the truths of the past that hold the key to their future. They travel north, to Magda's place of birth amongst the Oceanics. For Magda, this is an unwelcoming place, a reminder that she was banished and dealt a cruel fate. Named Stoner and landlocked, for an Oceanic this is a dishonour and a fate worse than death. To return to the float again would place her life, and those with her, at risk. In the freezing waters of the far north, Magda finds herself defending her honour and birthright.  She must succeed as their fate depends upon it. Failure is not an option, the costs are too high. Will Magda allow the past to hold her back, or will she find her destiny? A Touch of Ice is the fourth book in the Towers of the Earth fantasy adventure series.
A Touch of Ice
Word Count: Information not available
Summary: Hidden in the shadows, something unseen is hunting them all. The Raven Tower summons the trinity to return home. Neither the tower nor magic tell them why. One by one the soldiers tasked with defending its people, fall to an insidious contagion. Once infected, they succumb to a rabid and animalistic state. If they survive, then they become minions of the dark to spread their touch even further. Magda, Ascara and Lucinda must seek out the dark places foretold by the clan dreamers. When they do, they discover more than they expected. As the rot at the heart of Veritas takes hold, no cure is in sight. When all seems lost, they must face their deadliest foe yet. Now, the war on humanity has become deadly serious. The trinity must triumph. The world depends upon it.
A Touch of Purple
Word Count: Information not available
Summary: As foretold, the Trinity of Truth must finally face the Mistress of the Night. Lucinda, Ascara, and Magda have survived several dangerous encounters with the various agents of Sh'Na. It is time for them to brave the beast herself in the pyramid from Lucinda's dreams. Magda, however, has met this Queen of the Desert before. Now her past history has risen to confront her with the evidence of her mistakes, and brings new dangers to the trinity. Although she can draw strength from her bonds with Lucinda and Ascara, she fears that even the power of the three of them will not be enough to withstand Sh'Na's evil. But there is more to face than just the desert beast. There are other dangers directed at the three women, and they must act with care and forethought, or be caught in the traps of others. From the city of Port Ruth, their troop travels into the burning lands of sand and sun, where they will face Sh'Na in a battle for more than their lives. Failure will mean the end of the world as they know it. Success will bring a new truth, and the revelation of a new path for all three of them. The trinity must continue to work together, not only to save the world, but also the very nature of time itself. "When the Hours are true, the gates of time will open". In the end, will the trinity prevail? Or will darkness rise again? This is the second in the Towers of the Earth fantasy adventure series.
A Touch of Rage
Word Count: Information not available
Summary:
Three women. One bloody mystery, and a prophesy that transcends time.  People have gone missing and no one knows where they've gone. The only clue left behind is blood, lots of blood, and a single silver brooch. Magda Stoner, captain of the airship Verity, has questions, and the Order for which she works has no answers to give. She has been directed to enlist assistance from Lucinda Ravensburgh, a tower witch and truthsayer. Lucinda sees truth in everything she touches, a gift, or curse, enhanced by the magic of the tower in which she resides. It's a gift that comes with great responsibility and a duty to those she serves. When Magda asks for aid, Lucinda cannot refuse. Whilst Magda and Lucinda seek the evil behind the disappearances, all manner of threats imperil their lives. Ascara is the warrior who must protect them as their search becomes more and more dangerous. At the moment Lucinda touches the silver brooch, all three lives are changed forever.  Three must become one if these strong women are to succeed when traversing the path of justice. But the path they tread is littered with lies, deception, betrayal, and dark forces. No matter what, the Trinity of Truth must form and hold strong. "Wise birds whisper, Rage of Fire, Strength of Ice". This is the first in the Towers of the Earth fantasy adventure series. (Note previously released as Raven, Fire and Ice in 2018)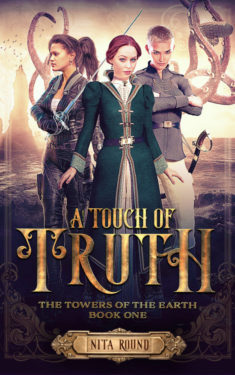 A Touch of Truth
Word Count:

95900
Summary: "There is always a way." Kelnaht, Taruif, and Ianys are meant to be together, but old promises and the decree of the elders prevent them from claiming each other openly at Solstice. Kelnaht can investigate murder and foul play, but he can't see how he can keep both his lovers without breaking the rules. But if he believes in the guide's words and trusts his faith in Ma'terra, they will find a way to clear the fog and puddles from their paths. The Forester Kelnaht, a cloud elf, is a truth seeker caught between love and faith, when a murder reveals an illicit affair between two tree elves he desires more than he can admit. Kelnaht's former lover Ianys once betrayed him, and the shunned forester Taruif is not allowed to talk to anyone but the guide, their spiritual pathfinder. Lost and Found A stripling goes missing from the tribe, and heavy rainfall hides all traces of his whereabouts. With days creeping by without a lead, it's hard to keep the tribe's spirits up, more so when Kelnaht's own future depends on the elders. Taruif has been shunned for almost twenty turns, but now that a possible forester's apprentice is coming of age, the elders consider reducing his sentence. Taruif could be set free. Full Circle When several children fall ill with more than a summer bug, truth seeker Kelnaht is assigned to investigate. What he finds is deadly and threatens the life of every underage child in the tribe, including Ianys' daughter Atèn. Then a wounded traveller is found in the forest, left to die after a vicious attack.
A Triad in Three Acts
Word Count: Information not available
Summary: Rudyard Albert Goldstein, inventor of the Biomic Network Algorithm, made piece with death once in the 22nd century, but an idiot doctor hijacked his mind, placing it in the care of Nessie, an impish AI guardian. Nessie preserved him from a civilization-ending asteroid strike so that he could help his descendants survive contact with an alien species 923,000 years, four months, and three days later. Then, he died again, merged with a worm-a-pede alien male who narrowly survived fulfilling his mating duties. They expired peacefully on a cliff top, pondering the nature of existence—and the promise of abominable liaisons. Two deaths should be quite sufficient for any genius to endure. Somehow, Nessie resurrected him from oblivion. His descendants needed him again. New hostile aliens roamed the Earth—along with an immortal, alien-human hybrid whose agenda was unclear. Was the healthy young body Nessie had prepared for him, along with the prospect of finally discovering "the meaning of it all" enough of a bribe to risk dying a third time? Apparently so. Readers of Raham's A Singular Prophecy (Biostration, 2011), and A Once-Dead Genius in the Kennel of Master Morticue Ambergrand (Penstemon Publications, 2018) will reconnect with old friends (both human and alien). But even those new to the author's quirky sense of humor will enjoy this third and final adventure that spans the breadth of time and space.
A Twice-Dead Genius Comporting With Misunderstood Abominations
Word Count: Information not available
Summary: Vampires live. And they hunger… Otto Jones, a cop assigned to the seemingly random murder of a vampire, would rather hide out in the nearest bar than waste his time on a dead vamp. He hates the bloodthirsty demons. But when the king of the vampires commands him to work with one of the lesser princes and find the killer, he has no choice. Prince Jessamine Senera is ready to sacrifice his happiness in a loveless marriage for his family's benefit… but not yet. He dreams of adventure, excitement, and true love. He lives on romance novels and detective stories and wishes he could drink synthetic blood like every other vampire. But he can't. He needs human blood to survive and is hated by vampires and humans alike. As Otto and Jessa draw closer to an entity that doesn't want to be discovered, Otto finds the heart he thought long dead opening to the romance-loving Jessa. No good can possibly come from falling in love with a vampire, but when a shadowy assailant attacks Jessa, Otto will descend into the darkest pit of the earth to rescue him. If you like vampires, mythical and urban settings, intense suspense, and happy ever after, then you'll love this first book in the dark and mysterious Ellowyn Found trilogy! A Vampire's Heart is a stand-alone paranormal dystopian noir romance with a satisfying conclusion to the love story and a central mystery that weaves the trilogy together.
A Vampire's Heart
Word Count: Information not available
Summary: Years ago, the true king of the vampires sacrificed his throne and his fated love for the common good. But it wasn't enough… Rune knows the Adini Treasure is real, and he wants it. With the treasure, he'll have the power to crush his enemy—the Adi 'el Lumi—forever. Isaac longs for love but is sick of waiting for it.  When he witnesses the murder of a strange vampire with an even stranger map, he isn't sure what he's found. But he isn't letting it go. Not even for the swoon-worthy vampire prince who comes to claim it. When a witch's calling card leads Rune to a snarky vampire with secrets and a sassy human with a treasure map, he takes them on a perilous hunt into the forgotten vampire cities. His worst fears and darkest desires await him. With everything at stake, he'll have only one chance to either fulfill his destiny… or save Isaac, his fated love.
A Vampire's Honor
Word Count:

102,000
Summary: Hate consumes.         But love waits… After Asa ran from the lover who betrayed him, he vowed revenge. Now, years later, a powerful vampire wants him to steal seven necklaces from the king of the Ellowyn—or murder him. When Asa discovers that the king is his long lost love, he stumbles into a web of secrets and dark power plays he might not escape, because Asa isn't the only one who wants the king dead. A promise he made long ago is tearing Zeveriah apart. He's a false king, haunted by his past and despised by many of his own kind. When a new employee, who looks uncannily like his old love, appears at the royal manor, Zev thinks he's found his fated one again. But this lookalike calls himself Emek and can't hide his horror of vampires. Zev longs to woo him back, but the annual coven meeting and threats to his life demand his attention. Though he escapes a mysterious attack, one of the lesser princes isn't so lucky, and all signs point to Asa as the killer. Now with a murderer running loose and enemies surrounding him, Zev has one last chance to save his love. But time is running out. Are you looking for a romance that smolders with passion? Then you'll love A Vampire's Promise, because it's an intense, enemies to lovers, second chance romance that will stay with you a long time. You'll get vampires, mystery, and fated love. Plus, it comes with a satisfying conclusion to the love story and a central mystery that weaves the trilogy together. Don't miss it! This is book 2 of the trilogy. Please note that the previous book, A Vampire's Heart, should be read first for full enjoyment.
A Vampire's Promise