Word Count:

47053
Summary: It's the last straw when three prudish pigs play a nasty trick on the set. So where else would Wolf go to plan the perfect payback, but Harry's Behind the Scenes Bar, Baths & Grill? Soaking wet when he arrives at the back door, Harry's dragon-magick fireplace soon gets Wolf's fur mostly dry. Shifting to his human, silver-hair-to-his-bare-butt self, he's almost done when the door opens again. And what to his wondering eyes does appear but a trio of boorish boar brothers—without a single reindeer!—all in a row from short to not-very-tall: Guy, Gresham and Grant Graham. Wolf's idea is so brilliant, it's definitely dawn coming up like thunder, "outer China 'crost the Bay." (Wolf really likes Kipling). A maybe mean, surely sneaky, snake-in-Eden idea. Payback is a dish best served hot...and hard. Join the fun as payback plays out. There's help from Tom Thumb, fine food, expensive bottles of Harry's Dragon's Own Special Reserve wine (the only thing which gets a shifter drunk), Death by Chocolate, Lady Flame, a private tour of the baths. Plus rooms of straw and sticks and bricks, and an Easter Egg, which might be hiding in Manhattan. Fair warning: there's a lot of huffing and puffing as part of the plan. Just not at doors. 47,053 words in the story
3 Boars & A Wolf Walk Into A Bar...
Word Count: Information not available
Summary: Science Fiction & Fantasy Translation Award Winner Best Translated Book Award Shortlist "The celebrated Châteaureynaud, who over the course of a distinguished career has created short tales that are not exactly contes cruels but which linger on the edge of darkness and absurdity." —New York Times Georges-Olivier Châteaureynaud is well known to readers of French literature. This comprehensive collection—the first to be translated into English—introduces a distinct and dynamic voice to the Anglophone world. In many ways, Châteaureynaud is France's own Kurt Vonnegut, and his stories are as familiar as they are fantastic. A Life on Paper presents characters who struggle to communicate across the boundaries of the living and the dead, the past and the present, the real and the more-than-real. A young husband struggles with self-doubt and an ungainly set of angel wings in "Icarus Saved from the Skies," even as his wife encourages him to embrace his transformation. In the title story, a father's obsession with his daughter leads him to keep her life captured in 93,284 unchanging photographs. While Châteaureynaud's stories examine the diffidence and cruelty we are sometimes capable of, they also highlight the humanity in the strangest of us and our deep appreciation for the mysterious. Reviews "Châteaureynaud is a master craftsman, encapsulating weighty themes with pith and heart. In his hands, the short story is a Gothic cathedral whittled from a wine cork." —The Believer "Châteaureynaud celebrates the quiet, hidden beauties of the world and the objects or knowledge we hold tight like talismans to protect us from its losses and horrors." —The Quarterly Conversation "Châteaureynaud makes expert thematic use of both light and shadow to reveal his fantastical realms of wonder and fear. His unassuming prose startles as it entrances, holding readers on the edge of elegantly rendered, fantastical dream-worlds while all at once alluding to their more nightmarish qualities. In the style of Kafka and Poe, Châteaureynaud makes the supernatural seem not only present, but ubiquitous, inclined to encroach at any moment on the humdrum lives of unsuspecting mortals. More sinister than fairy tales, yet not quite definable as horror stories, Châteaureynaud's whimsical writings leave one unsettled and alert, appreciating anew the possibilities of the chilly night air while simultaneously feeling the urge to draw nearer to the fire—just in case." —Catherine Bailey, Three Percent "The collection will perhaps appeal especially to those who enjoy their fiction short and concise, not to mention intense and decidedly peculiar. If you . . . are interested in dream-logic, fantastic situations, the unexplainable and/or macabre . . . this volume delivers again and again." —Neon Magazine "Châteaureynaud's stories are disorienting, bizarre, mythical. The stories don't end with epiphanies or a tidy wrapping-up. Some of the endings are abrupt, even unsatisfying; they feel more like a beginning. So what? A Life on Paper is fantastic in both meanings: it's fantastic, as in strange, unreal, weird, imaginary; and it's fantastic, as in absolutely fucking awesome. People will call A Life on Paper magical realism. A few will call it irrealism. I don't care what you call it. I just want you to read it." —Bookslut "Both classic and modern, strange and simple, Châteaureynaud's stories remind not only of Vonnegut but of Gogol and Kafka. What's endearing about the stories is the amount of tenderness running through them. Even in stories about bizarre cruelty (the title story tells of a father who had his daughter photographed a dozen times a day for her entire life), affection provides the glue." —Time Out Chicago "A Life on Paper is a brief selection from more than thirty years of fiction. Châteaureynaud has a backlist for American readers that this book makes enticingly tangible, almost real. His own work is such that it might be subject of one of his stories. This might be all there is, the rest pure fabrication. The unreal, awaiting translation." —Rick Kleffel, The Agony Column "These 22 curious tales verging on the perverse will strike new English readers of Châteaureynaud's work as a wonderful find. Beautiful prose featuring ingenuous protagonists and clever, unexpected forays into horror are the hallmarks of these mischievous stories." —Publishers Weekly "Georges-Olivier Châteaureynaud is 63 and has never published a book in English until now. A Life on Paper: Selected Stories, brilliantly translated by Edward Gauvin, opens the door at last. . . . Nothing matters in this book unless it has been told, everything is told. Open this book." —John Clute, Strange Horizons "Châteaureynaud's dance steps are so nimble that he seems, without effort, to show us what is best in others." —Brooklyn Rail "Châteaureynaud has sometimes been called the Kurt Vonnegut of France. However, this collection of 22 of Châteaureynaud's stories—which are often other-worldly and not infrequently unsettling—may speak to some readers more directly of Kafka." —Christian Science Monitor "As weird as they are elegant, as delicious as they are unsettling, these fables place Châteaureynaud in the secret brotherhood that has only exemplars, no definition: Kafka, Bruno Schulz, Nathanael West, Aimee Bender. We are lucky indeed to have them, in a very skilled translation." —John Crowley (Little, Big) Table of Contents Foreword by Brian Evenson
A Life on Paper
Word Count: Information not available
Summary:
In every legend of Fairyland, the fairies have their own reasons for crossing the border…
Oliver has spent his life as the crown prince, preparing to rule but in no hurry about it, enjoying life and taverns with Tirian, his fairy-companion and best friend. But when the traditional Vision Quest calls— and a dragon appears—Oliver finds himself facing difficult questions about heroism, sacrifice… and the emotions he's discovering about Tir. But Tirian has secrets of his own, about his purpose, his magic, his feelings for Oliver, and a prophecy that will change the fates of two kingdoms forever.
A Prophecy for Two
Word Count:

11500
Summary: A dark fairy tale in a modern Welsh setting. The lives of a diver and a reclusive mermaid collide. Will one be the death of the other? When Erin comes to the aid of a sea creature caught in fishing nets, she's shocked to discover she's rescued an injured mermaid. Though it quickly disappears, Erin is determined to find the creature again. A twist of circumstance finds her trapped in the mermaid's lair, wrestling with her own conscience and the instinct to survive... This is a standalone novelette of about 11,500 words, and is the third installment in the Dark Folklore series.
Across Screaming Seas
Word Count:

19696
Summary: What happens when porn star "Big Johnson" Galt decides to stop the engine of the world? Can a mystery novelist/magician find true love while solving The Wodehouse Murder Case? Will a plucky small-town Satanist be able to make it in the cutthroat world of Satanic lifestyle publishing? Can a savage Cimmerian barbarian win a proper 1800s English woman or will The Sword of Darcy fail them both? Atlas Shagged is a collection of humorous fantasy stories that I've published in various magazines, plus the all-new title story. The hard copy edition has several added stories.
Atlas Shagged
Word Count: Information not available
Summary: Come, Best Beloved, and sit you by my feet. I shall tell you a tale such as sister Scheherazade could have scarce imagined... In the Nejd there is nothing at all...except secrets. A band of thieves wishes such secrets to remain hidden. In England, far from his desert home, Ali bin-Massoud serves as apprentice to the famed Charles Babbage. One night a mysterious box is delivered by a clockwork falcon and Ali's world is never the same again. Heartache, danger, and thieves mark his journey as Ali is summoned home at the death of his father. It will take faith, knowledge, and yes, love to realize his destiny, and more than a little skill with steam-driven technology. Can he unravel the mystery of the puzzle box and the clockwork djinn before it is too late? An ancient legacy and Ali's very life depend on his success. Hear you the tale of Baba Ali and the Clockwork Djinn.
Baba Ali and the Clockwork Djinn
Word Count: Information not available
Summary: Once upon a time in a world where magic and technology collide with unexpected consequences… Bellarosa sleeps, her previous life forgotten. As she dreams, she can but observe the world she sees in her mind and wonders if it is real. But one day, Tolliver stumbles into a tunnel leading to her resting place, and he can hear her. As she becomes part of his life, her dreams fill with budding love. But is Tolliver a figment of her imagination or a real human being? Can Bellarosa find her memories and learn the truth about her long sleep before she loses Tolliver and her own life? What if the Brothers Grimm had taken the dreams of "Sleeping Beauty" into account? The book includes a bonus story and the original fairy tale.
Bellarosa
Word Count:

11500
Summary: A dark fairy tale in a modern Greek setting. Hiding in the mountains, a harpy and her adopted daughter struggle to survive. Iphis has always known that survival comes hand in hand with loneliness, but when she catches feelings for a girl in the nearby town, her heart yearns for a different kind of future. When she's suddenly attacked by a group of enraged harpies, things only become more complicated... and dangerous.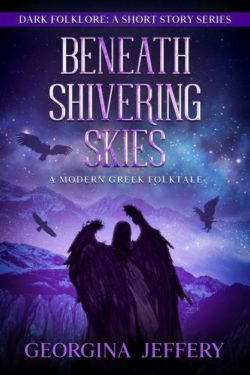 Beneath Shivering Skies
Word Count:

36000
Summary: Being invisible makes it really hard to get laid. When half-human Kai Schiffer steps into the Interstices—the post-creation gaps between realms—his supernatural half kicks in and he literally disappears unless…well, don't ask. But in a stroke (heh) of good fortune, Kai finally has a chance to show his face (and other parts, stars willing) to his long-time crush Jovan Kos—Interstitial Law Enforcement agent, wolf warrior, occasional berserker, and best man at their mutual best friends' Imbolc wedding. Jovan, who's half in love with Kai already, is grateful his best man duties are light enough that he can focus all his attention on Kai. After all, with Enchanted Occasions Event Planning handling the Olesson-Pakulski wedding, what could possibly go wrong?
Best Beast
Word Count: Information not available
Summary: Emeline's quiet village has three important rules: Don't look at the shadows. Don't cross the river. And don't enter the forest. An illustrated fantasy filled with beauty and power, Between the Water and the Woods sweeps you into a world where forests are hungry; knights fight with whips; the king is dying; and a peasant girl's magic will decide the future of the realm . . . When Emeline's little brother breaks all three of their village's rules, she is forced to use her family's forbidden magic to rescue him from the dark things he awakens, the Ithin. Now that the Ithin are afoot in the land, she must, by law, travel to the royal court and warn the king. But the only way she and her family can make the journey to the capital is with the protection of a sour magister and a handsome, whip-wielding Lash Knight. Will Emeline survive in a city where conspiracies swirl like smoke and her magic is all but outlawed? Seven full-page black-and-white illustrations accompany Between the Water and the Woods, a lush, fairy-tale-style fantasy perfect for readers of Karen Cushman and Shannon Hale.
Between The Water and The Woods
Word Count:

8700
Summary: A dark fairy tale in a modern Norwegian setting. Ida, a young girl grieving the loss of her mother, is wandering in the snowy wilderness when she meets the mysterious Maja - a huldra from myth and legend. Taking comfort in Maja's kind arms, Ida makes a desperate wish for her family to be whole again... and gets far more than she bargained for. With her own home turned against her, Ida must race across the wild valley to save her Pappa and confront the huldra before time runs out.
Beyond Thundering Waters
Word Count:

30020
Summary: Willem's father never approved of his artistic talents, his choices in life, or the fact that he's gay. When the only thing Horst leaves to Willem is the family cat, he thinks it's his father's last insult from the grave. That is, until the cat starts talking to him. Though Willem's lost his boyfriend, his home, and his job, Kasha, who claims to be a magic cat, reassures him that all will be well. All he needs is Willem's trust and a good pair of boots. But giving boots to a talking cat has unexpected consequences when odd events ambush Willem at every turn, such as the appearance of a handsome stranger in his arms at night. While he begins to suspect Kasha's plans might be dangerous for all involved, how can he distrust such a charming kitty in cowboy boots?
Boots
Word Count:

60097
Summary: Once upon a time, on a rocky island with enchantment under the ocean ... Cadence Bell left the windswept Northern Isles and his parents' inn for the theaters and royal masques and glitter of Londre, swearing he'd make his fortune as a playwright and poet, trading fish stew and rain for fame and adoration and a place at the Queen's Court. Now his parents are gone and Cade's inheritance brings him back home, where he'd never wanted to return. But magic lurks beneath the waves, a stray pearl might be a key to another world, and even the quiet local schoolteacher has secrets of his own. Jeremiah Carver never meant to hide secrets. But he promised to tell no one about the other world he's seen, and he keeps his word. Even if that means concealing magic from Cadence Bell. Which is difficult, since Cade's not only a dazzling literary success, but also the person Jeremiah's loved from afar since their years-ago childhood. And he's afraid he's falling for Cade all over again now. When Cadence falls under the siren spell of the ocean's magic, Jeremiah has to make a choice and return to a world he's left behind once before to rescue his heart from the sea.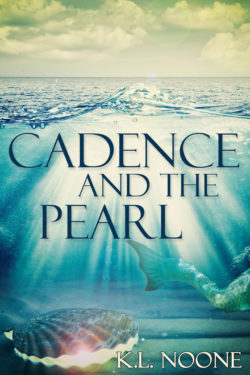 Cadence and the Pearl
Word Count:

49549
Summary: He is known as "The Living Curse" and the progenitor of the species know as "vampire". He is the Darkness that even the shadows hide from and the plague that no man can cure. He is the prophecy of all that is to come and the sworn enemy of Huntress and angel alike. He is the beginning and has the will power and strength to survive to the very end... His name is Cain.
Cain
Word Count:

33000
Summary: Clarity (noun) Four definitions to inspire writers around the world and an unlimited number of possible stories to tell: 1) Coherent and intelligible 2) Transparent or pure 3) Attaining certainty about something 4) Easy to see or hear Clarity features 300-word speculative flash fiction stories from across the rainbow spectrum, from the minds of the writers of Queer Sci Fi.
Clarity
Word Count:

7700
Summary: A lion sleeps in the hearts of brave men. When Prince Theodorin refuses to wed the general's youngest son because he loves another, he is trapped on a cursed island. He spends his days trying to escape, his nights listening to his lover's soothing voice echoing through the forest. His attempts to escape only lead back to where he started… until an encounter with a lion reveals a crack in the illusion. Theo has to believe, or he may never find his way home. Previously appeared in Wilde City Press' Bedtime Stories anthology
Click Your Heels
Word Count:

115800
Summary: Continuing his reluctant odyssey, the storyteller Jafar al-Sharif must cope with fiendish assassins, a city of apes, the King of the Winds, the Isle of Illusions and a mysterious long-vanished underwater city as he attempts to save the life of his beloved daughter. This is Book 3 of the Parsina Saga, a journey through a world of djinni, flying carpets and high adventure in exotic realms -- with the fate of the world at stake.
Crystals of Air and Water
Word Count:

15180
Summary: A traumatic event in his childhood keeps Tuxtax from being able to shift into his were-griffin form. Ashamed of his looks and terrified of rejection, he spends his life in seclusion, with his sister Eleuthereia and centaur friend Rixa as his only connections to the outside world. Even though Tuxtax yearns to be with the elfin soulmate he had met before the accident, the vanth's insecurity and self-doubt keep him from reaching out. But now Rixa needs his help. Tuxtax joins his friend on a desperate rescue mission to save the centaur's pregnant soulmate, hoping that the quest will give him a chance to overcome his insecurities and prove himself. Their rescue mission leads him back into the land of the elves, where Tuxtax must confront his past and the fears that are holding him back. The further Tuxtax travels, the louder he hears his soulmate's call. Can Tuxtax find the courage he needs to return to his soulmate and reclaim the man of his dreams?
Cupid's Ax
Word Count:

75000
Summary: Temp worker David Evans has been dreaming of Dr. Alun Kendrick ever since that one transcription job for him, because holy cats, that voice. Swoon. So when his agency offers him a position as Dr. Kendrick's temporary office manager, David neglects to mention that he's been permanently banished from offices. Because, forgiveness? Way easier than permission. Alun Kendrick, former Queen's Champion of Faerie's Seelie Court, takes his job as a psychologist for Portland's supernatural population extremely seriously. Secrecy is paramount: no non-supe can know of their existence. So when a gods-bedamned human shows up to replace his office manager, he intends to send the man packing. It shouldn't be difficult—in the two hundred years since he was cursed, no human has ever failed to run screaming from his hideous face. But cheeky David isn't intimidated, and despite himself, Alun is drawn to David in a way that can only spell disaster: when fae consort with humans, it never ends well. And if the human has secrets of his own? The disaster might be greater than either of them could ever imagine.
Cutie and the Beast
Word Count:

112,000
Summary: Where does magic end and love begin? ​Oliver Evans spent his youth spinning one tall tale after another until it got him over his head in trouble. Now he has returned to his grandmother's cottage in Aberdaron, determined to put his past behind him and settle down. But the misty Llŷn Peninsula hides dangerous secrets and Olly is torn between the Longing, a powerful force driving him away from the only home he has ever known, and the growing conviction that the prince of his childhood make-believe is real and in need of Olly's help. There is more truth in Olly's stories than he realises. If he is to have any chance of righting past wrongs and rescuing his prince, Olly must navigate the truth in his old stories and discover the magic right in front of him. But Olly has a powerful enemy on the ​Llŷn, an ancient king who would like to end Olly's story-telling permanently. Written for the M/M Romance Groups 2015 Don't Read in the Closet event, Deep Magic was produced with the support and effort of members of the M/M Romance Group. You can find out more about the event and discover hundreds of other free stories here. Cover art produced by Bree Archer. Deep Magic does contain adult material.
Deep Magic