Word Count:

138400
Summary: The Conceiver wants to ruin me for the Sisterhood. I can't let this happen. I stumbled into a place I wasn't supposed to be. Priestess Wilsira isn't angry. She merely demands penance at her side, only too delighted to wreck my Elder's plans for me. Serving her and her demon-blooded son, I'm caught in a cascade of revelations. I begin to understand the real powers which govern out city, consuming most of us eventually. Will I fall prey to city's worst monstrosities like so many fighters before me? Or can my private battle gain an edge for the Sisterhood when the sweeping chain of events finally reaches its end? In The Daedal Pit, intrigue and horror, action and drama weave Etaski's third act of the Spider Queen's web into a consummation of promise. Fulfilling that promise catapults one determined survivor to a place she once could see only in her dreams. Sister Seekers is dark epic fantasy for adults with an ever-broadening scope. Found Family is a core theme throughout the saga. Perfect for fans of entwined plots, challenging themes, elements of erotic horror, and immersive worldbuilding. Sexuality and inner conflict play into the character growth with nuance, intrigue, action, and fantastical magic. The series begins underground with an isolated race of Dark Elves whose intricate webs first ensnare then catapult us to places a Red Sister can only imagine in her dreams.
The Daedal Pit: Sister Seekers 3
Word Count:

78740
Summary: Dare to explore the darkest tales where sunlight never touches. Etaski's dark fantasy epic, Sister Seekers, begins underground with its denizens living and dying in eternal night. A novice Red Sister leads us through much of the series, but her Elven ancestors have their own stories to share. Tales of Miurag: The Deepearth is a same-world anthology exploring critical moments in the history for the Dark Elves of Sivaraus. This collection contains explicit and sometimes grim content, though we are never lacking all hope. Stories included in this collection: House Aurenthin - a novella on the dramatic origins of the lowest-ranking noble house in Sivaraus. Auranka the Keeper - a chilling horror tale on the monstrous Mistress of the Driders. Rohenvi - the tragic romance in the early reign of the Matron of the Twelfth House. Gaelan - a "dark slice of life," how future Red Sisters sometimes make connections long before their trials Sister Seekers is dark epic fantasy for adults with an ever-broadening scope. The saga genre-hops a bit so things never get stale. Found Family is a core theme throughout. Perfect for fans of entwined plots, challenging themes, immersive worldbuilding, and elements of erotic horror. Sexuality and inner conflict play into character growth with nuanced intrigue, intense action, and fantastical magic.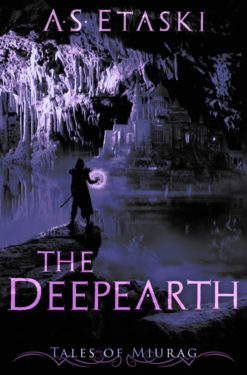 The Deepearth: Tales of Miurag 1
Word Count:

111,172
Summary: Two sisters born in the Red Desert, young Daughters of an ancient Queen. One seizes the delights of the present. The other sees and despairs for their future. Innathi and Ishuna, the heirs of the Dark Elf Queen of V'Gedra, travel the sand dunes with their entourage. In need of water, the sisters enter the sacred canyons of Koorul, where they interrupt a mystic rite of passage for the Human son of a Sorcerer-King. Negotiations fare well between the two desert peoples until powerful magic blends with the discoveries of youth which get quickly out of control. Incomprehensible joy crashes into a dark dread which cannot be named, and a schism begins between the sisters. Diplomacy is critical to avoid unnecessary conflict, yet the Queen's daughters do not agree on the goal. Each has her version of the events at Koorul, and each is certain of the outcome should Innathi pursue the wild magic of the Zauyrian son. A close alliance with a Sorcerer-King could bring pleasure, prosperity, and new life thriving in the Desert, or it might corrupt a delicate balance to bring down the realms and all they had ever known. This second volume of Tales of Miurag is a standalone novel which can be read on its own. Dramatic events and mature themes weave into broad history and lore headed toward a cataclysm which will change the entire world. The Desert is also Etaski's ultimate villains' origin, featuring several antagonists introduced in the Sister Seekers series. This story takes place approximately 3500 years before No Demons But Us, where hints of these events past echo forward and impact future generations.
The Desert: Tales of Miurag 2
Word Count: Information not available
Summary: As the son of a wealthy man, Enitan Javed has spent his life frivolously—drinking, fighting, and making love. But after his father dies, Enitan is unjustly accused of murdering him and is given the harshest sentence possible. Judged irredeemable, he is banished to the Downs. As even young children know, nothing lives in the Downs except demons who delight in torturing the condemned. Brutalized by the men who transport him to his fate, Enitan has nothing left but his thirst for vengeance. His plummet to the Downs nearly kills him, and Enitan finds himself battered and helpless in a frightening, mysterious land. But many surprises await him there, including a strange man named Rig. And the realization that the demons he must face aren't at all the ones he expected.
The Downs
Word Count:

108100
Summary: Corentin is a scholar with a secret—his magical Talent allows him to turn into a dragon, and he isn't alone in that ability. Long ago, dragons were hunted fiercely, until they went into hiding, becoming things of legend. Corentin has traveled the world with one aim—to protect his people and keep their secret safe. Drawn to the principality of Tournai by news of someone close to discovering that secret, he hopes to avert suspicion. His attraction to the too-serious Bastien isn't convenient for his purpose, but it isn't something he can ignore either. Lord Bastien, Earl of Ardesia, inherited his title unexpectedly when his parents were killed in a sailing accident along with the parents of his cousin, Prince Philip. Since then, Bastien has devoted his life to the obligations of his family and estate—so much so, that it has caused tension between him and his siblings. His world is further shaken when he receives an anonymous letter informing him that the tragic boating accident may, in fact, have been murder. Bastien throws himself into investigating whether the allegations are true and finding out who killed his parents. As Corentin and Bastien become closer, the mystery of Bastien's parents' death draws him further into danger. Corentin feels compelled to protect Bastien, but the threat is closer than they know. Now, Corentin must decide whether preserving his secret—and potentially his people's safety—is more important than saving the man he loves.
The Dragon's Devotion
Word Count: Information not available
Summary: High schooler Crispin Haugen already has so many identities to sort through—Asian, Scandinavian, not to mention gay. Then a messenger from another world arrives to tell him he also carries the blood of dragonsin his veins. Transported to the Realm of Fire, where dragons and humans live in harmony, Crispin falls for Davix, a brooding, nerdy scholar. But dark mysteries threaten the peace of Crispin's new world. Without warning, dragons from the Realm of Air unleash a bloody war. With everything he cares about on the line, Crispin must find the courage to fight...for justice and for love. The writing of this book was supported by the Toronto Arts Council with funding from the City of Toronto.
The Dubious Gift of Dragon Blood
Word Count: Information not available
Summary: The magic is gone…or is it? Lucian is a jaded flirt and professional bard who knows all the old songs about sorcery. When he meets Corwin, a shy mage who can still use magic despite the Drought, Lucian finds his desire growing with each passing day—not just for answers, but for Corwin himself. Sparks fly as they find themselves passionately entangled in adventure and each other. But learning the true origin of the Drought and the Key to ending it comes at a price that their bond may not survive…
The Eighth Key
Word Count:

146000
Summary: Princess Oona Talomir enjoys the little things that come with her station: a handmaiden, her lavish bedchamber, and scores of fancy dresses―the duty to win a decades' long war, not so much. Oh, did I mention assassins? Seers foretold the conflict would end by her hand. From the moment she drew her first breath, the neighboring kingdom has been trying to kill her so she could not grow powerful enough to destroy them. Fearing for his daughter's life, the king has kept her confined to the castle grounds for most of her sixteen years. With the tide of war turning against them, the burden of her crown becomes too much to bear, yet one thing lifts her spirits amid the gloom. Her servant girl, Kitlyn. Alas, in a kingdom obsessed with the god of purity, she is terrified to confess her forbidden love. When her father makes a demand she cannot abide―marry a prince to forge a military alliance―Oona panics. He is handsome and honorable, but he's not Kitlyn. Unable to admit why she cannot obey, Oona does the only thing she can think of, and runs away. Alone and unprepared in the wilderness, she prays the gods will let Kitlyn find her—before the assassins do.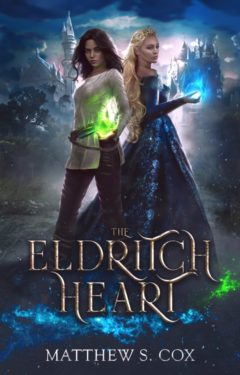 The Eldritch Heart
Word Count:

103800
Summary: Second son of an earl and cousin to the Crown Prince, Griffen has worked hard to forge a career in diplomacy for the principality of Tournai, but he never expected his diplomatic skills would be necessary for a problem so personal to him and his family. A delegation from the mysterious kingdom of Ivria has come to Tournai to make sure the secret of their people—the magical Talent allowing them to change into dragons—and therefore their kingdom itself remain safe. The delegation is concerned with Corentin, an Ivrian, and the man Griffen's older brother is soon to marry. The Ivrians seem to want to drag Corentin back to Ivria for the offense of revealing their secret, but Griffen refuses to let it happen. His determination puts him into contact—and conflict—with Kirill, a negotiator for the king of Ivria who possesses the dragon Talent himself. The two clash and connect, getting closer and pulling away as they try to negotiate the needs of their people and an unwanted attraction between themselves. However, just as trust might be growing between them, a plot is uncovered and a member of the Ivrian delegation murdered. Griffen and Kirill must discover who is behind both for the safety of their countries and the people they love…and for a chance to be together.
The Envoy's Honor
Word Count:

9600
Summary: After defeating Meglar at Belsport, Farrell returns to Haven to recover from his injuries, but Khron, the god of war, has other ideas. He gives Farrell a new mission: free the survivors of the ancient dwarf realm of Trellham from their three-thousand-year banishment. To fulfill Khron's near impossible task, Farrell will need the help of his distance ancestor, the legendary wizard Kel. But Kel has been dead for a thousand years. Farrell finds information hinting that Kel is alive, so he moves his search to Dumbarten, Kel's birthplace. To reach Dumbarten unannounced, Farrell and Miceral disguise themselves as mercenaries on board a merchant vessel. Their journey is disrupted when pirates attack their ship. While attempting to subdue the attack, Farrell is struck down by one of Meglar's minions. Unconscious and trapped in his own mind, Farrell's only chance for survival rests with Miceral and the peregrine king Rothdin entering his thoughts and helping him sort fact from illusion. To reach Farrell, they will need to rely on an untested spell from one of Kel's spellbooks. If they succeed, Miceral can guide Farrell home safely. If not, Farrell will destroy not only himself, but Miceral, Rothdin, and everyone around him.
The Eye and the Arm
Word Count:

24000
Summary: A prince without power In a land where magic is commonplace, Prince Llyskel has none. He can't command spells, he has never been taught to fight, and as the fifth son of the King, he will never rule. Everyone believes he's a weakling, most of all himself. Powerlessness is Llyskel's problem—and his pleasure. In his secret fantasies, the prince dreams of nothing more than finding himself helpless at another man's hands… particularly the hands of Captain Ariv of the Guards. Then Ariv makes Llyskel's dream a reality, and as the powerless prince surrenders to the soldier's desire, he finds his own true strength at last. But a web of royal politics is closing around Llyskel, threatening to tear him from his lover, and it will take all his newfound courage to escape… 24,000 words | 76 pages (pdf) contains five shaded black-and-white illustrations by Yana Goya
The Fifth Son
Word Count:

18600
Summary: "Your Path is muddy, Kelnaht, but don't think avoiding the puddles will make it easier to travel." Kelnaht, a cloud elf, is a truth seeker caught between love and faith when a murder committed ten days before Solstice reveals an illicit affair between two tree elves he desires more than he can admit. Kelnaht's former lover Ianys once betrayed him, and the shunned forester Taruif is not allowed to talk to anyone but the guide, their spiritual pathfinder. When Taruif turns out to be the only witness to the crime, Kelnaht must suppress his forbidden feelings or face the ire of the elders. Ianys is terrified the tribe will blame Taruif for the crime, and despite their painful history, Kelnaht tries to keep his impulsive ex-lover from sacrificing his freedom for an impossible love. If Taruif and Ianys' affair becomes known, Ianys will lose his daughter. Kelnaht finds himself yearning to claim both Taruif and Ianys at the coming Solstice and turns to the guide, who gives him only cryptic advice. It is up to Kelnaht to prove Taruif's innocence and find a path free of puddles and mud for all three of them.
The Forester
Word Count:

80000
Summary: If the Gods were real, could you believe? Hitra, high priestess of Revestre, already has enough on her hands: political upheaval, a distractingly attractive male servant, and an upcoming harvest festival. But when a column of flame from the heavens sends a city into tumult, it upends more than just her schedule. Now, Hitra must deal with a religious schism, ethnic strife…and a God growing out of control.
The Gods Awoke
Word Count:

148000
Summary: I've confronted the half-blood mercenary who has what I need to find Jael, wherever she may be. Neither of us will leave until we reach a bargain which yields what we most desire. The Dragonchild has brought me into a city he knows to its foundations, where I am at a disadvantage. My devout Deathwalker may be content to wait for the coming war between Manalar and the Ma'ab, secure in his value to a newly revealed influence in the conflict, but my position seems neither secure nor desirable to anyone but me. I must dig deeper into the motives of all involved, including my own, to convince the Guild's leaders to lend me their vast knowledge and far reach within strangely familiar plots. I have to succeed for Jael's sake, for she is my only sister left. In The Guild's Design, outcasts from the Deepearth dare to reveal resolute hopes waiting within quiet hearts. This time and opportunity must not pass them by, lest the promise of war rend their chances for a future beyond the next conflict. Sister Seekers is dark epic fantasy for adults with an ever-broadening scope. The saga genre-hops a bit so things never get stale. Found Family is a core theme throughout. Perfect for fans of entwined plots, challenging themes, immersive worldbuilding, and elements of erotic horror. Sexuality and inner conflict play into character growth with nuanced intrigue, intense action, and fantastical magic.
The Guild's Design: Sister Seekers 7
Word Count:

119000
Summary: In a war that shook the earth, the six gods of Nendor defeated their brother Neldin, god of evil. For three thousand years, Nendor and the Seven Kingdoms have known peace and prosperity and Neldin's evil was nearly forgotten. But then Meglar, wizard king of Zargon, unleashes the dark magic of the underworld and creates an army of creatures to carry out his master's will. One by one, the sovereign realms fall as a new war between the gods threatens to engulf Nendor. Leading the opposition to Meglar is Grand Master Farrell. Young and untried, Farrell carries a secret that could hold the key to defeating Meglar—or it could destroy the world. Farrell is joined by Nerti, queen of the unicorns and Miceral, an immortal muchari warrior the Six have chosen as Farrell's mate. As Farrell and his new allies make plans to counter Neldin's evil, Meglar forces their hand when he invades a neighboring kingdom. Rushing to help their ally, Farrell and Miceral find themselves in the middle of the battle. Cut off from help, Farrell attempts an untried spell that will either turn the tide or cost he and Miceral their lives.
The Last Grand Master
Word Count:

128600
Summary: I escape into a twisted wilderness with a stolen relic protecting me from madness. Behind me is the mysterious stalker from across the plains. He's caught up to us. My sisters are out there somewhere out, and my unborn is here with me. Struggling to tell guardians from beguilers on a warped battlefield, I worry for all our fates. Somehow, I must bear the terrifying risk of bargaining with Surfacers in ways which ensure enslavement back home. No Red Sister can give up her mission when compelled by her Queen to see it through. Surrounded by allies and enemies alike seeking to influence the only free Davrin Elf on the Surface, I must relearn my limits when confronted by those who have none. The true scope of Etaski's saga arises in The Mark of Gold. Tangible peril meets cryptic visions, forcing a driven few to redefine what it takes to break the shackles of compulsion and forge them as bonds of loyalty. Sister Seekers is dark epic fantasy for adults with an ever-broadening scope. The saga genre-hops a bit so things never get stale. Found Family is a core theme throughout. Perfect for fans of entwined plots, challenging themes, immersive worldbuilding, and elements of erotic horror. Sexuality and inner conflict play into character growth with nuanced intrigue, intense action, and fantastical magic.
The Mark of Gold: Sister Seekers 6
Word Count:

106100
Summary: Faelen, cousin to the prince and son of a diplomat, has finally come home to Tournai after years away. The pull to return was almost tangible, and the sense of rightness at being back is absolute. He wants nothing more than to put down roots and build a life among family while pursuing his linguistic studies. Becoming involved in magic meant to protect Tournai isn't part of his plans…and falling in love is even more unexpected and unfamiliar, but he finds himself doing just that as his friendship with Maxen deepens into something more. Maxen, second son of a wealthy merchant family, longs to leave Tournai and visit everywhere he can. All his life, he's found places on maps and dreamed, planning out routes to get to them. For now, he's tied to Tournai's capital city by family obligations and his position in their shipping business. Someday, though, he'll be able to travel. His sudden attraction to Faelen shocks him, but their friendship soon becomes a necessary part of his life. Love, however, has no place in his plans, especially not love for a royal cousin with secrets who wants nothing more than to stay in one place. For Faelen and Maxen to build something real between them, they must resolve their differences, but when magic goes awry and all Faelen's secrets are revealed, will Maxen remain at his side?
The Merchant's Love
Word Count: Information not available
Summary: In a world where magic is real and evil walks amongst humanity, a young sorcerer is beset upon by enemies, both old and new. Angelus Salvatore is the only necromancer in all of Boston, and his name is whispered warily by the undead and fellow sorcerers alike. He and his brother Isaac are the lone survivors of an attack by an army of the undead, in which Angel used a spell so powerful it forever marked his place in history. Now, years later, Angel struggles to balance his career as a teacher of the higher magical arts, his role as big brother, and a tenuous relationship with an Elder vampire from the local clan. When his brother's boyfriend is used as a pawn in a mysterious plot to draw Angel out, Angel is once again drawn back into the old hostilities that fueled the Blood Wars and led to his family's death. Leaning on others for help is something Angel cannot do, and while he searches for clues into who may be targeting him and his brother, Angel finds his heart steadily growing occupied with Simeon, Elder and vampire. Dealing with death magic and vampires on a daily basis may leave Angel jaded when it comes to life and staying that way, but the more time he spends fending off the ancient vampire's attention and affections, the more he realizes he wants to give in. Can Angel find out who wants him dead, and keep his heart safe in the process? How can he fall for a vampire, when his whole family was torn apart by an army of the undead? Death stalks the streets of Boston's historic Beacon Hill....and there is no one more suited to battle against death than a necromancer. MATURE CONTENT Contains graphic violence, male/male sexual contact, a cranky necromancer, a sexy Irish vampire, and a pesky demon.
The Necromancer's Dance
Word Count: Information not available
Summary: Even love can die without trust. Angel's brother, Isaac, has returned home, and the pair begins to make slow and awkward attempts back to each other. Learning how to be a brother to a grown man instead of a parental figure has Angel adjusting his behaviors and habits, and Isaac still remains a mystery. Was it merely entering adulthood that turned Isaac away from an overprotective Angel, or does Isaac carry a secret that will keep them from finally being a real family? Daniel Macavoy, Angel's new apprentice, is torn between his bond with Angel and the grasping machinations of his father. Dealing with a traumatized apprentice with dangerous holes in his magical education, saving Daniel may be harder than Angel first thought—especially since the biggest problem is not revenge, but guilt. The one shining beacon in his life is Simeon, Elder vampire of Boston's only Bloodclan. Four hundred years old and sexy as sin, Simeon is warrior and sage, patient and cunning. The strength Angel draws from Simeon's devotion and the newborn mate-bond between them is steadfast and true…and the fount of death magic that animates the undead lord places Angel in the midst of a power struggle for control over himself, his lover, and his family. Through it all, Angel is beleaguered by the unwanted attention of a troll-hybrid, the adventures of a dragon in the city, and a serial killer has decided to hunt the back alleys and midnight streets of Boston. **72k words. Contains bonus short story at the end, "The Necromancer's Birthday Surprise", written for Crystal's Many Reviewers, March 2016. Book TWO in a series. Not standalone. **Contains male/male sexual content. Violence, gore, sex, vampires. A cute dragon and some snark. Okay, lots of snark.
The Necromancer's Dilemma
Word Count:

103,300
Summary: Legends tell of large cats defending the principality of Tournai, but such creatures are only myth. Or are they? Prince Philip inherited the throne of Tournai at a young age, and since then, his life has centered around ruling his country and resisting those pressuring him to do as they want both in matters of governance and those more personal. He's become isolated and lonely. Amory is the second son of a wealthy merchant who has never approved of anything about him or had any use for him. Until now. When kind-hearted Amory is offered to the prince in exchange for more time for Amory's merchant father to complete a commission, both Philip and Amory are horrified. But Philip agrees to keep Amory at the palace, where they gradually become friends, then lovers. For the first time in his life, Philip is free to share not only his heart, but the magical shape-shifting ability that runs in the royal bloodline—something the royal family has kept secret from all but those closest to them for generations. Neither Amory nor Philip imagined falling in love, and they certainly don't expect what those who oppose their relationship will do to keep them apart—maybe even resorting to murder.
The Prince's Consort