Word Count:

20000
Summary: Living in a quiet house on the outskirts of town, Ginger isn't like the other girls. When she wakes up and discovers the unthinkable about her adoptive parents, she runs away and goes on a rampage straight to the only friend she has. Can she control what they both become? With a violent, growing hunger and more questions than answers, Ginger has nowhere to turn.
As Fast as She Can
Word Count:

83000
Summary: THERE ARE REASONS WE FEAR THE NIGHT. HE'S NOT ONE OF THEM. Bill Ryder was a dateless dork, but then he met a girl to die for – so he did. Too bad his death is about to make his life a hell of a lot more interesting. Now he's a vampire, surrounded by creatures stronger, deadlier, and much cooler than he is. They're giving him just ninety days to prove he has what it takes to be an apex predator of the night, assuming he doesn't give them a reason to dust his ass sooner. Bill isn't exactly average, though. A vamp like him hasn't been seen in centuries. He's got a few tricks up his sleeve, unexpected allies, and an attitude that makes him too obnoxious to quit. Good thing, too, because he'll need all the help he can get if he wants to keep from dying – again. Join him in this hilarious tale of bloodthirsty monsters, gory mayhem, and an unlikely hero who, fangs or not, is still at the bottom of the food chain.
Bill The Vampire
Word Count:

33000
Summary: Clarity (noun) Four definitions to inspire writers around the world and an unlimited number of possible stories to tell: 1) Coherent and intelligible 2) Transparent or pure 3) Attaining certainty about something 4) Easy to see or hear Clarity features 300-word speculative flash fiction stories from across the rainbow spectrum, from the minds of the writers of Queer Sci Fi.
Clarity
Word Count:

4000
Summary: Who expects a haunted doll to be such a nuisance? When Dare's dog discovers an abandoned doll on their doorstep, Dare assumes it's nothing more than a lost toy… until it begins to talk. After the doll offers up a string of bad suggestions and unhelpful advice, Dare is left wondering if the isolation of lockdown has finally proved too much. Struggling to get rid of the bad-tempered toy, Dare has no idea that this not-quite-scary fiend will accidentally change everything. With a dash of humour, this queer cosy-horror short story is a fun, quirky tale – perfect for readers who like the idea of being scared more than the reality of it.
Dare vs the Doll
Word Count:

41000
Summary: Terror lies waiting in the jungle island of Flores. Terror in the form of cryptids called ebu gogo. Terror for the cryptozoologists who dream to discover them. The one thing Lewis Dare wants more than anything in the world is to discover the ebu gogo - three-foot-tall cryptids in the genus of Homo rumored to live in Indonesia. But Lewis Dare's ex-wife Linda, wanting to beat the famous cryptozoologist at his own game, has rushed to Indonesia in order to discover the ebu gogo before he does. On the Indonesian island of Flores, their dream to discover a cryptid becomes a nightmare when the ebu gogo turn out to be primitive, savage, sex fiends. Warning: Ebu Gogo has repugnant sex, disgusting nudity, nauseating violence, unlikable characters, deranged humor, and cruelty to furries. It's a lot of fun.
Ebu Gogo
Word Count:

36000
Summary: INK (NOUN) Five definitions to inspire writers around the world and an unlimited number of possible stories to tell: 1) A colored fluid used for writing 2) The action of signing a deal 3) A black liquid ejected by squid 4) Publicity in the written media 5) A slang word for tattoos Ink features 300-word speculative flash fiction stories from across the rainbow spectrum, from the minds of the writers of Queer Sci Fi.
Ink
Word Count:

41000
Summary: The dream of a mad scientist has evolved into a nightmare! Jennifer will do anything to be famous. She thinks she's gotten her big break after a night at the club lands her in bed with a producer, and the next morning he offers her a jungle adventure show. But instead, she and her two friends are unwittingly trafficked to the Congo for a sinister purpose. A cult lives in the jungle that worships the dark legacy of Ilya Ivanovich Ivanov as they work to accomplish his insane life's goal. Will Jennifer escape the jungle compound, or will she fulfill their twisted vision of humanity's future and become a broodmare to make an inhuman monster?
Jungle Jitters
Word Count:

5200
Summary: There's something in the dark … but is Lem's imagination worse than reality? Out in the vast emptiness of the galaxy, anything can happen. It's a fact that Lem and her trusty companion Spock know all too well. Sometimes, the things lurking in the darkness are all in your head. Then again, maybe there really is something out there. With her talking dog and an infuriatingly literal AI by her side, Lem must rely on nothing but her strength and wits to help her.  As a humorous homage to Arthur C Clarke's classic A Walk in the Dark, this short adventure is a not-actually-scary sci-fi horror story that's perfect for fans of Martha Wells and John Scalzi. 
Jurassic Dark
Word Count:

83000
Summary: A hook-up gone bad can be purrder. Fresh from a breakup, deeply closeted freshman Zach jumps at the chance to housesit his family home and enjoy a long, horny summer free of both his ex and his religious parents. But when an old enemy turned hot hook-up falls to his death, Zach turns to the only true friend he's ever known-his cat, Grace Jones. With the dead man's phone and a knack for texting, she promises Zach help, for a price that will satisfy both their appetites. Does it matter if Grace Jones' powers draw on something far more ancient and sinister than a cell phone? "Get laid, Zachary. Get laid." Each new hook-up brings Zach darkly humorous discoveries about life, love, sex, and his own desires. But Zach knows it's only a matter of time before someone discovers his secret. Can he rely on his feline protector, or is he trapped in a hungry devil's bargain?
My Cat's Guide to Online Dating
Word Count: Information not available
Summary: "Stephen Colbert meets Stephen King" - Book Nerd's Brain Candy Winner of the 2012 Laine Cunningham Award! Withrow Surrett is more than just his neighborhood's resident curmudgeon: he's also the self-declared vampire lord of North Carolina. Across the state, Jennifer McCordy is a genius stuck in a dead-end job. When the dead rise, which will Withrow's neighbors find worse: the monsters outside or the vampire who might be their only hope? When Jennifer takes matters in hand, will the people around her trust her competence or surrender to their own prejudices? And when they meet, will anything survive? Perishables is a novel in three parts, telling the story of reclusive vampires, reluctant heroes, questionable potlucks, late-night electronics sales, retail hell, unexpected friendships, and post-apocalyptic recipes. It's sometimes funny, sometimes deadly serious, and utterly original! Fans of The Black Knight Chronicles, The Tome of Bill, and Fred, the Vampire Accountant will love this series.
Perishables
Word Count:

81,198
Summary: Tyler Vaughan is a wildlife biologist who spends his days ear-tagging elk and monitoring bear populations in the Oregon Cascades. . . until the day one of his remote cameras captures an image of a strange, thin, eyeless humanoid—right around the time that children start disappearing from the nearby town of Crooked Creek. Tyler, his would-be girlfriend Rainey Carrington, and the skeptical, blustering Chief of Police Dale Blodgett, are reluctantly drawn into investigating a terrifying possibility—that their town is being visited by the specter of Slender Man, an evil entity long associated with kidnapping of children. The stakes only get higher when their inquiries turn them into targets. Will they be able to stop whoever is abducting the children of Crooked Creek, or will they be the next ones to disappear?
Signal to Noise
Word Count:

27900
Summary: A mind-blowing collection of short fiction. This anthology of Davyne DeSye's short stories includes twelve speculative fiction stories, ranging from science fiction to fantasy, and from humorous to horrific. This collection – which includes one new tale published here for the first time – contains: -A Ray Bradbury-esque story about a boy whose wishes come true; -A dark testimony of alien invasion and the redemptive power of a single selfless act; -The true story of Little Red Riding Hood; -An inside look into robot-assisted psychotherapy of a killer; and -A guided tour of a shop for recycled dreams. These twisted tales and others may be discovered in this anthology, which includes: "The Slide," "Moron," "There I Was…," "Death, By Any Other Name," "Mine Eyes," "Mirror, Mirror," "Carapace," "…I Win," "It's Not What You Think," "Shattered," "The Cloak," and "The Thief Speaks."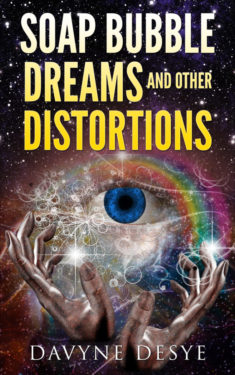 Soap Bubble Dreams and Other Distortions
Word Count:

36,000
Summary: King Oeneus has just been given the secret of wine by the god Dionysus. Unable to hold his liquor, the drunken monarch forgets to honor Artemis at the harvest festival. In revenge, the angry goddess sends a crazed wild boar to ravage the kingdom with burning breath and razor-sharp tusks. Nothing can stop it. The befuddled king, desperate to save his land, calls upon the greatest heroes of Greece to hunt the beast. Meleager, the king's son, reluctantly finds himself leading a group of men he doesn't respect or trust. Soon the party of mighty mythical heroes is on the trail of the fearsome monster - but one of them is a heroine! Atalanta is a huntress to match Artemis herself, and quickly wins the heart of Meleager, despite the objections of the others. Will one of the men make the kill, or will they be humiliated when the prize goes to a woman? Will Prince Meleager woo and win Atalanta, or will the gods intervene? Who will die and who will survive in this tale of loves and even greater lusts in ancient Greece? A rip-roaring tale of jealousy and foul play, a family at war with itself and a battle of the sexes - told in Weichsel's unique, no-holds-barred style. A pulse-pounding adventure that will appeal to fans of fantasy and horror, a wild ride through the weirder corners of Greek mythology. Strap on your sandals, grab your spear, and get ready to hunt the wildest boar of them all.
The Calydonian Boar Hunt
Word Count: Information not available
Summary: Backwoods brothers, Otis and Clyde Clovis, mourn the loss of their mama by eating her. With nothing to go home to, they hit the open road. The Pigg Brother's rampage of murder, necrophilia and cannibalism begins! They soon discover the delicious taste of pig and human meat combined. Which then gives them the idea to sell burgers out of a truck. Since supplies eventually run out, they have to keep killing. Luckily, they run across a serial killer with a farm on prime real estate, so they kill him and have themselves a base of operations. The bodies pile up and people love the new 'Pigg Bros' Burgers! Hopefully they can stay in business, but the brothers aren't too smart, and start making dumb mistakes. Will the Clovis brothers stay in business, or does every good pig eventually get slaughtered?
The Pigg Brothers
Word Count:

120552
Summary: Like a spout pushing its way through soil extending deep mighty roots as it grows firm and tall, Michael like those around him has become renewed in the sun. The Wheel of Creation continues to turn through tragedy and triumph with secrets and mysteries revealed, truth discarding deceit to rot away into dust. Terror still lurks in shadow, hinting at battles yet to come and while the union of souls may reign down catastrophe upon all involved, there is a newly shared optimism that this town, rebirthed and revived again after decades can meet the oncoming storm together. Bonded in battle, humbled in heart new friendships have replaced old animosities as all the residents are finding their place in creation.Despite the odds, the couple continues their path toward blending, but if the sun sets on their hopes or the union is not supported by the Mother, disaster could befall not just Michael and Kurra but the entire Grove.Book four of The Place Of Things is Blood. The blood spilled and shared through trial and combat, forged in a family or spilled through injury, death, or pain and joy. Will the Great Mother approve of a blending of souls, or will the remains and splatter of not just Michael, but all those he holds dear be splashed in chunks upon the wedding alter.As this story concludes in the middle it continues on like the cycle of the seasons. Never ceasing always evolving. Until next time, Love from the Sacred Grove.
The Place Of Things Book Four: Blood
Word Count:

216321
Summary: Root by Daniel Fisher, the third book in the Place of Things series is the continuing story of Michael and his new, rather unique fiancée. From the Winter's Solstice to the Vernal Equinox we find our lovers and their friends explore new and creative ways to adapt to life-altering events. Having relocated and now a resident in the sanctuary town of Sacred Grove, Michael is finding his place among the mythical, mystical, and mostly immortal residents who've hidden away from the outside world. Not only is he coming out of his own isolation, but they are also finding he is dragging them out of self-imposed exile as well. Sometimes against their instincts. As his and Kurra's love deepens, new mysteries are added to the mysteries and his and their worlds will never be the same.As the union between two souls from two drastically different worlds draws closer, new mysteries, challenges, and threats crop up for Michael, the mortal, and all the immortals that get caught in his wake. Enchantments and wards may not be enough to hold back the onslaught of supernatural forces if the wedding gets bumpy. Many may yet perish if things go awry. May the Goddess help them all.Book four, the conclusion to this tale coming soon.
The Place Of Things Book Three: Root
Word Count:

50,000
Summary: J. Manfred Weichsel's versatility, unique style, and refusal to be bound by genre conventions have made him a force to be reckoned with in the world of speculative fiction. Now, Weichsel invites you to strip down and expose yourself to his raw and unfiltered imagination with Warrior Soul & Other Stories. Weichsel's stories peel away the veneer of societal norms and delve deep into the human psyche, exposing the rawest and most vulnerable parts of our existence. Through his boundary-shattering tales of science fiction, adventure, horror, and humor, Weichsel fearlessly explores the fringes of what is possible in fiction, revealing the naked truth of our humanity. From the mind-bending science fiction of "Warrior Soul", to the fantastical realm of "The Rainbow-Colored Rock Hopper", from the light comedy of "Queen of the House", to the darkest depths of horror of "Complicit in Their Bondage", these twelve tales will leave you feeling exposed and vulnerable in the best possible way. The bold and daring themes that run throughout Weichsel's work strip away all pretense and artifice to reveal the unvarnished truth of the human experience. So if you're ready to shed your inhibitions and explore the depths of what's possible in fiction, then get your copy of Warrior Soul & Other Stories now. It's time to embrace your innermost desires and take the plunge into the raw, unbridled world of J. Manfred Weichsel.
Warrior Soul & Other Stories