Word Count:
36000
Summary: IN-NO-VA-TION (Noun) 1) A new idea, method, or device. 2) The introduction of something new. 3) The application of better solutions to meet unarticulated needs. Three definitions to inspire writers around the world and an unlimited number of possible stories to tell. Here are 120 of our favorites. Innovation features 300-word speculative flash fiction stories from across the rainbow spectrum, from the minds of the writers of Queer Sci Fi.
Innovation
SALE
August 8, 2020
Word Count: Information not available
Summary: Josh Caplan is your average late-night convenience store clerk, but the Quik-Mart where he works is nothing like normal with that hell vortex in the parking lot. Waiting on zombies, demons, and other things that go bump in the night might scare some, but they're actually more polite than the stoners, and Josh welcomes the break in the monotony—especially when he acquires himself a sexy new boyfriend with a deadly secret. Will Josh survive this retail nightmare? It's a Big Gulp of a chance, but between the hazard pay and the hottie with a sweet tooth for Josh's candy, it's a chance he's willing to take. This box set includes: - Pretty Monsters (Josh of the Damned, #1) - Peek-a-Boo (Josh of the Damned, #2) - Josh of the Damned Triple Feature #1 - Josh of the Damned Triple Feature #2: The Final Checkout
Josh of The Damned Complete Collection
December 12, 2013
Word Count:
41000
Summary: The dream of a mad scientist has evolved into a nightmare! Jennifer will do anything to be famous. She thinks she's gotten her big break after a night at the club lands her in bed with a producer, and the next morning he offers her a jungle adventure show. But instead, she and her two friends are unwittingly trafficked to the Congo for a sinister purpose. A cult lives in the jungle that worships the dark legacy of Ilya Ivanovich Ivanov as they work to accomplish his insane life's goal. Will Jennifer escape the jungle compound, or will she fulfill their twisted vision of humanity's future and become a broodmare to make an inhuman monster?
Jungle Jitters
SALE
July 11, 2021
Word Count: Information not available
Summary: Who doesn't crave a little escape? Dreaming of small town life and rural charm, Alex and Rainey find a deal on an old rustic home they can't resist. But soon after Rainey moves, her preoccupation with weird local history and the complications of living alone in the woods take a toll. Alex worries that the long nights and growing isolation are driving her stir crazy. When the Sugar House is damaged and Rainey goes missing, Alex doesn't know where to turn. Was it a storm, vandals, or something worse? What happened at the Sugar House? The only thing worse than wondering is finding out.
Liar: Memoir of a Haunting
February 22, 2021
Word Count:
86000
Summary: Regan has her ups and downs. -Dumping her girlfriend: Down. -Moving in with her loving brother: Up. -Waking up to a plague of undead: REALLY down. After the undead began roaming the neighborhood, Regan lost track of her brother. She's spent the last two years searching for him. In the meantime, she's fallen in love, only to be told, "Sorry, I'm straight. And you're a lunatic." There's a psycho out there somewhere who caused the outbreak, using nanotechnology, just for the fun of it, and Regan intends to hunt him down. Oh, and the crush she still has on the straight gal? Dangerously distracting, when there's a zombie around every corner.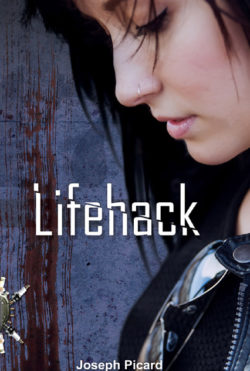 Lifehack
June 3, 2012
Word Count:
90000
Summary: When the succubus Lorelei sees Azaziel across Lost Angels, she knows he's been kicked out of Heaven, but is not yet Fallen. She resolves to do whatever it takes to bring the angel down. Unfortunately, Lorelei doesn't realize that Azaziel has an agenda of his own. Taking her back to a burned-out church, he forces a mortal girl's soul into the devil girl's flesh. Then the succubus needs to find an exorcist who can cast the ghost out of her. With all the supernatural warriors of Los Angeles looking on, neither the angel nor the succubus can imagine how love will derail their plans…
Lost Angels
March 20, 2016
Word Count: Information not available
Summary:
Bad "Things" lurk in dark, abandoned spaces...
Love, Death, & The After: Abandoned Spaces picks up the story where Rainey and her Team, along with Kendale's survivors, left off in Darkness.
Escaping a late-night Nagual attack, and with her lover held together by "shoelaces and bailing wire," Rainey encounters the secret behind the Nagual hidden within a black site lab--a secret from The Before with a treacherous purpose in The After.
Stopping the Nagual plan is hard enough, but her team has betrayed the trust of the town's survivors, while an attack by the Nagual's "Maker" and his militant allies looms. When someone compromises Preston's life, Rainey might be out of time and luck altogether.
The black site's lead scientist puts his agenda on hold until he and his militia support team can eliminate Rainey and her team. Tesla has a golden opportunity to test his Nagual creations against an old nemesis and the geopolitical forces standing in the way of his greater destiny.
Meanwhile, the emergent Nagual, Adam and Cain, have plans of their own.
Book 2 of 3 in this four part series, "Love, Death, & The After: Abandoned Spaces" brings a science-fiction take on cutting edge bioengineering that pits the limits of romance, loyalty, and community against a violent world hell-bent on devouring it all.
Book 1: Love, Death, & The After: Darkness
Book 2: Love, Death, & The After: Abandoned Spaces
Book 3: Love, Death, & The After: Never Again
Love, Death, & The After: Abandoned Spaces
July 12, 2018
Word Count: Information not available
Summary:
"Human civilization has collapsed. Rainey Vidic, MD is a genius, and she has Preston Hayes--her open hand, or hammering fist...
...Only the strongest and smartest will survive in The After.
A gifted surgeon, her retired warrior lover, a former Marine, and a taciturn drone pilot fight for survival in a dangerous and pitiless world, while navigating human needs for love, family and community.
When one of their own faces a lethal illness, Dr. Rainey Vidic's efforts are compromised by a savage horde of highly intelligent, relentlessly evil creatures that threaten the lives of the entire team.
Desperate to save their teammate, the Team encounters an imperiled town of survivors that may hold the key to saving them all. . . or send humanity into extinction.
With echoes of McCarthy's "The Road" and the thrill ride of "Jurassic Park," this three volume, four part series, "Love, Death, & The After," tests the limits of romance, loyalty, and community against a violent world hell-bent on devouring it all.
This book, Love, Death, & The After: Darkness is the first of three:
Book 2: Love, Death, & The After: Abandoned Spaces
Book 3: Love, Death, & The After: Never Again"
Love, Death, & The After: Darkness
May 15, 2015
Word Count: Information not available
Summary: Love defies time, crosses the infinite distance of space, and sparks formidable magics in the hearts of those it touches. And immortality? Yeah, it's got that covered, too. In this powerful volume, Pop Seagull Publishing presents twelve science fiction and fantasy short stories on the theme of love and its role as a force of nature. Follow an ambitious 1930's journalist and her high-society boyfriend as they defend the world from evil beings that hide in shadows. Can love prevail when science fails? Take a wild ride with Zephraim Cochrane as he searches for his long lost love through inter-dimensional travel. After all, the best inventions are always made to get dates. Embark on a whirlwind romance with a creature of the Fey in seven days, a beautiful story of friendship and finding self-love before all else. Descend into a very Torontonian sort of hell in search of lost love in Melanie in the underworld... just don't forget to pet the corgi. You'll find these adventures, and many more, inside.
Love, Time, Space, Magic
March 29, 2015
Word Count: Information not available
Summary: As the Conover family drives from L.A. to Chicago strange things begin to happen. Nine year old Michael sees a face form in the window of the family car. Two creepy children stare at fourteen year old Alison at a motel. A car follows the family for many miles, then hits their car and drives away. Wherever the Conover family goes, wherever they look, they see a large woman and her children coming closer. The woman and her children are superhumanly strong. They can enter a locked room without opening the door. Confused and scared, the Conovers can't comprehend what is happening to them. Everywhere they turn they see the woman and her children. The woman is Mama, and as she teaches her children, like a lioness teaching her cubs to hunt, the Conovers realize that they are the prey.
Mama
May 4, 2011
Word Count:
36000
Summary: MI-GRA-TION (Noun) 1) Seasonal movement of animals from one region to another. 2) Movement of people to a new area or country in order to find work or better living conditions. 3) Movement from one part of something to another. Three definitions to inspire writers around the world and an unlimited number of possible stories to tell. Here are 120 of our favorites. Migration feaures 300-word speculative flash fiction stories from across the rainbow spectrum, from the minds of the writers of Queer Sci Fi.
Migration
July 24, 2019
Word Count: Information not available
Summary: This is book one of three. All books are full-length novels and must be read in order. All books are available now. The My Brother's Keeper Trilogy The town of Gilford has a Big and Terrible secret hidden in the ground. Infecting those it touches. Exploiting their darkness. Consuming their souls. It's hungry. It's vile. It's evil. And it wants out. Book One: The First Three Rules Marshal Jon Foster lost his purpose and his sanity the day he saw the image of his dead brother. The distraction saved Jon's life but cost the lives of innocent people including his best friend and partner. It was a price for survival Jon couldn't live with and was sure he'd never understand. Driven by grief and guilt he tried to escape his past by fleeing to a small town in the middle of nowhere. Only instead of peace, the memories festered. Then the offer of a stick of gum from a stranger changes Jon's life and puts him on a road out of the nightmare he's trapped in. Ellis Harper has lived the past twenty years isolated from the outside world and sole caretaker for his mentally disabled brother, Rudy. While Ellis loves his brother, he longs for a life he'll never be able to have. Shut away, his days consist of chores, endless cartoons, and games of Go Fish. A world that seemed to have no end until an innocent misunderstanding turns Ellis and his brother into a target for a town bully. It's a fight Ellis can never win on his own but thanks to a chance meeting with a stranger, he doesn't have to. What begins as a new journey in love for both men quickly unfolds into something neither of them could have ever imagined.
My Brother's Keeper (Book One): The First Three Rules
March 25, 2014
Word Count:
132,220
Summary: Bobby Gene is a man who stands out even among his people. Guided by the knowledge of his heritage as a backwoods shaman and more perceptive than many, he's grown to be a valuable asset to those he knows. While he isn't surprised to be the first to know when the woods around him begin to show clues that something isn't right, he doesn't expect just how much these omens and signs will prove to foretell something far more sinister to come. Soon strange dreams and inexplicable encounters have him questioning everything he knows- and then the people who live in his woodland Appalachian community begin to disappear. It's his job to protect and guide the others, what will he do when he's the only thing between them and the end of life as they know it?
Night is Falling
January 22, 2022
Word Count: Information not available
Summary: In a city whose gritty underbelly might try to eat you... weird creatures that normally inhabit band dreams roam the streets. Lovecraftian horror have day jobs, things that defy imagination are running convenience stores and fast food joints. Twila Matthews, an underpaid shapeshifting private detective is hired on a simple missing person's case. But when she finds her target dead, an unraveling conspiracy leads Twila and her crew into the darkest parts of the city in direct confrintation with the most evil and diabolical of monsters. Published by Black Bed Sheet Books
Night Shall Overtake
June 1, 2014
Word Count:
125650
Summary: My sister broke her neck, and the Red Sisters suspect I pushed her. They're watching me now. I'm afraid but also ready for them. I am too young to be trapped in the most wretched spot of any scheme: accused of killing the Matron's heir. Dark Elves live for intrigue in our underground city of Sivaraus, and justice means nothing to the Red Sisters who enforce the Queen's edict. Yet, I know the rules bend for the cunning and the bold, if only I can seize on the aspirations of those who succeeded before me. I must confront what lies beneath the ravening eyes of the Sisterhood, for they will give me no choice. I must discover that which is unspoken as they gaze at me. If I would thrive in pervasive webs of conspiracies, I must fight to reweave my place within them. In No Demons But Us, A.S. Etaski spins the first threads of an intense and epic tale, in which the trials of a young Davrin test her resolve to rise from the depths of the fear and hatred tearing her down. Sister Seekers is adult epic fantasy series with an ever-broadening scope, perfect for fans of entwined plots, challenging themes, elements of erotic horror, and immersive worldbuilding. Sexuality and inner conflict play into the character growth with intrigue, action, and fantastical magic.
No Demons But Us: Sister Seekers 1
August 8, 2018
Word Count: Information not available
Summary:
The action-packed conclusion to the award-winning series!
Withrow, Roderick, the Technopagans, the Book People, and all the rest of Withrow's friends, allies, and accomplices are back again to bring the fight to their enemies – and to finish it once and for all!
The elder vampires have issued their challenge and Withrow has taken them up on it. Now he and the rest of the gang have teamed up to go to where they've always known they shouldn't trespass: the stronghold of the elders, a gated community on the outskirts of Charlotte, North Carolina. Tucked away behind the high walls of their unholy fortress, the elders are ready to spring their villainy on the unsuspecting modern age and only Withrow stands in their way.
Withrow, Roderick, Jennifer, and their friends know they have only one chance to stop these ancient evils from roaring back out of the past – and it will take risking everything and everyone they hold dear if they're to succeed. Join the fight alongside these unlikely heroes as they risk life, limb, souls, and sanity itself in a no-holds-barred free-for-all against the monsters who stand ready to re-enslave the world!
Nobody Gets Out Alive
May 16, 2019
Word Count:
26000
Summary: Jealous angels with no genitals discover the passion and ecstasy that humans experience through sex. In revenge, the frustrated but impotent celestial beings banish the men to the wilderness. Will the women save the human race, or will they become the mothers of great evil?
Not Far from Eden
SALE
December 5, 2021
Word Count:
254
Summary: Nukekubi are a form of Japanese goblin that during the day look like ordinary folk. At night they separate their head from their body and fly around scaring people to death to feed on the energies released. Ray McAndrues, a Pagan wizard/priest, encounters a Nukekubi that is feasting on the people of Toronto and decides that he has got to put a stop to it. Ray gains allies in his quest in the form of two Japanese martial artists who have made hunting Nukekubi their life's work and his on-again, off-again girlfriend Cathy, who is also a mystic. Problems arise when east and west do not communicate wall and Cathy is his on-again, off-again girlfriend. Also, what is the centuries-spanning tie that binds Ray to the Nukekubi and will it help or hinder the quest?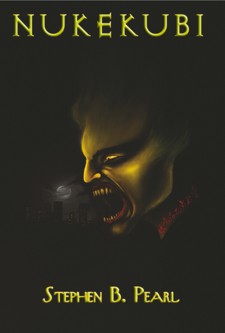 Nukekubi
January 8, 2012
Word Count: Information not available
Summary: A paranormal thriller filled with dark twists and hidden betrayal. Takes the traditional 'haunted house' story and turns it upside down. Peter always thought his daughter's imaginary friends were just that, imaginary, until a chance discovery reveals a hidden cultic lair within the walls of his house and his daughter's imaginary friends start to appear as ghastly apparitions. Darker forces remain at play, as the ghosts seek to warn Peter of old, unfinished business between a long-missing cult leader and the demon he summoned decades ago.
Orobas
August 29, 2019
Word Count:
94560
Summary: Leah Corybn was a regular mail carrier who thought she had been bitten by a dog, until the next full moon revealed that she had become a werewolf. After months of hiding her secret in the city of London, she is about to learn she is not alone. As she attempts to navigate a world she never knew existed, can she find her place among the wolves of Londinium, or will she fail to prove herself in time?
Orphan's Cry
February 26, 2022