Word Count:
108000
Summary: Now what? As Kendra recovers from her wounds, Artemis is planning their next strike. But so are others. Artemis has been too corrupt for too long; their own people are ready to take control. It's just going to take a little encouragement...
A Quiet Revolution
April 16, 2021
Word Count:
75400
Summary: JT Austin. Hero of Amargosa's liberation. One of the Children of Amargosa. Now a Navy pilot. Serving with his comrade, Mitsuko Yamato, aboard the Queen Maria Sophia, he is handed what should be a milk run: Retrieve Lt. Cmdr. Edward Windsor from his garrison on a remote – and smelly – planet as he has just become king of Bonaparte, the Compact's only planetwide monarchy. However, an unknown attacker disables the Sophie, boards the ship with killer mechs, and sends JT with the new king and his entourage fleeing their ship. He will have to talk fast to make a deal with the enemy Gelt, summon his mentor Suicide for help, and get the king to safety. He will also discover he has at least one traitor in his midst. He will also discover his surrogate mother has a secret that will shatter his world.
Checkmate
February 8, 2022
Word Count:
33000
Summary: Clarity (noun) Four definitions to inspire writers around the world and an unlimited number of possible stories to tell: 1) Coherent and intelligible 2) Transparent or pure 3) Attaining certainty about something 4) Easy to see or hear Clarity features 300-word speculative flash fiction stories from across the rainbow spectrum, from the minds of the writers of Queer Sci Fi.
Clarity
October 5, 2022
Word Count:
106,000
Summary: In the early 21st century, Rowan is fighting a secret war against alien pirates bent on subjugating all of mankind. At least, that's what she thinks. In reality, it's a thousand years later, Earth has long been part of an interstellar and interspecies republic, and she's a character on Angel Black, an e-entertainment that allows viewers a complete sensory experience through her perspective. Who needs actors when you can clone famous performers and splice in some alien DNA? Since studio clones have no rights, their lives and experiences can be tailor-made for the program. It's just too bad the clones don't know that. Ryan Chandler was a decorated war hero until he was cloned to save his life. His career options died with his original body and the best job he can get is a technician on Angel Black. He's planning to escape to a newly colonized system when Rowan is scheduled to be killed off. With help from unexpected allies, Ryan stages Rowan's rescue, but getting her off the set is only the beginning. To succeed, they must evade a manhunt supported by the state that fears Rowan's liberation might be the triggering event of a clone rights movement that could cost the establishment billions and shake the foundations of human society. Can two clones find their freedom in a society that treats them as second-class citizens?
Cloning Freedom
December 4, 2020
Word Count:
416800
Summary: Colonists struggle to build their lives, but first they have to survive. Read the complete series through generations.
Glory on Mars - Emma joins the first settlers amid death and betrayal. She must learn the truth before Mars kills them all.
Born on Mars - Jake didn't ask to be born into a failing habitat, but new arrivals bring hope and peril. Can he save his friends and family?
Hermit on Mars - Sig will rescue the ungrateful Martian prospectors, even if it kills him.
Water on Mars - Scoundrels on Mars and Earth drag Bliss into their lethal schemes.
Storm on Mars - An AI may be a psychopath's only friend. Zeker's always close by when something weird happens.
Colony on Mars - All 5 Books
January 12, 2018
Word Count: Information not available
Summary: Saoirse Kenneally is on a mission to save the people of a distant world. But first, she has some problems of her own to deal with. Saoirse is an alcoholic and an addict who has been disowned by her family. None of the rehabs she has been in will take her back. And she just woke up in jail. Again. To avoid doing time she commits to a two-year term of off-planet service, one that will take her to Saturn\'s moon Titan and then to a faraway star. The first hurdle is making it through training because Saoirse has a way of finding trouble even when she\'s trying to behave. Then she\'s posted to Titan, where every move she makes leads her deeper into a web of corruption, interstellar drug smuggling, violence, and power politics that is likely to end in disaster. Can a twenty-year old woman with a checkered past, a tenuous grip on sobriety, and an on-again off-again relationship with the truth save an entire world from a bloody power grab? And can she save herself in the bargain?
Complicated: The Interstellar Life and Times of Saoirse Kenneally
January 26, 2021
Word Count: Information not available
Summary: Unraveling myths is messy … but the lies have to die for humanity to survive. Twin spirits born a decade apart, Velia and Virgil are bored by their trivial teenage lives, sensing they're meant for so much more.  Velia's mother wants to wrap her in a straightjacket of protective love, while Virgil's father wants him to follow in his violent footsteps.  But the arrival of a mythical video game and the forced exile to a wilderness camp for troubled kids will turn their worlds upside down. Neither teen knows this is a test to see if they're ready to fulfill their destiny and join humanity's secret alien ally in preventing the end of the universe.  For these siblings of synchronicity to succeed, they'll have to capture, contain, or kill a high-value target of an opposing alien force bent on conquering Earth. Desperate for a life on their own terms, Velia and Virgil must complete brutal trials to learn why they're uniquely capable of saving all life in the universe. Will their families hold them back? And what about the sadistic one-eyed man determined to stand in their way? If he doesn't kill them, the truth will. Their lives have been a lie …, but they're about to learn that the truth is even more dangerous. Coverted is an introductory novella to the Subsumption Series, a story about humanity's pivotal position between two warring alien empires. If you enjoyed Ready Player One, Stranger Things, and Jean-Claude Van Damme movies, then Coverted and the Subsumption Series is for you!
Converted: A Sci-fi Novella to Inspire
August 18, 2020
Word Count:
80000
Summary: Other stories will take you to Mars. This one will take you inside the boardroom, the pub, and the bedroom with the people planning the mission. Gurdeep is an engineer and a soldier. Georgie's a food scientist. One is pragmatic with a tough outer shell; the other's an optimist, a person of ideas and compassion. In the span of a single afternoon, the couple find themselves in charge of planning a self-sustaining colony on Mars. Together, they're humanity's last hope for survival. They have 160 slots to fill with experts from all over the world as they set about designing an all-new society with its own government, economy, and culture – and that's just the tip of the iceberg. Among those chosen for the mission is Devon, an autistic scientist with a unique skill set who finds life on Earth strange and alienating. Maybe a whole new planet is exactly what's needed. With 1,114 days until the launch, excitement and tensions run high. Earth's second chance hangs in the balance. Between strict genetic requirements and the dangers of the dystopian almost-present, will everyone make it to the final countdown? This is a work of neurodiverse, culturally diverse, gender-bendy, socio-politico-economic, drunken-arguments-in-the-pub science fiction – not bang-bang-pew-pew science fiction.
Devon's Island
January 20, 2020
Word Count: Information not available
Summary: A galactic war begins at dawn … so tonight they're going to party like it's 2020. Marcus is ready to put a terrible year behind him. The virus and social unrest made his first semester at University a memorable one for all the wrong reasons. It's New Year's Eve and tomorrow, he'll become a legal adult. So tonight, with his loved ones, they'll race against the darkness to summon a brighter future. But Marcus can't shake the feeling that something is off. Maybe it's conditioning, or maybe it's the series of unwelcome guests pushing the party toward chaos. Underestimating his abilities, Marcus takes a step too far, forcing his family and friends to fight over his well-being as an unidentified object appears in the sky. All celebration ends once an artificial intelligence discloses the arrival of friendly extraterrestrials sent to stop another alien force bent on enslaving the planet. Now the galactic clock is ticking, and according to the AI, Marcus is the key to humanity's defenses against the imminent invasion by these hostile outsiders. Can an artificial emissary be trusted? Or are Marcus's friends right to doubt the alien's intentions? The world has changed irrevocably as zero day begins. The party is over, and humanity is fighting for their lives. Disclosure is a short story prequel to the Subsumption Series, a story about humanity's pivotal position between two warring alien empires. If you enjoyed Armada, Signs, and the Joe Rogan Experience, then Disclosure and the Subsumption Series is for you!
Disclosure : A Sci-fi Shorty Story to Inspire
September 15, 2020
Word Count:
130000
Summary: Life after the Crash. Over a century after the end of the Earth, life goes on in Redemption, the sole remaining Lunar colony, and possibly the last outpost of humankind in the Solar System. But with an existential threat burrowing its way into the Moon's core, humanity must recolonize the homeworld. Twenty brave dropnauts set off on a mission to explore the empty planet. Four of them—Rai, Hera, Ghost and Tien—have trained for two-and-a-half years for the Return. They're bound for Martinez Base, just outside the Old Earth city of San Francisco. But what awaits them there will turn their assumptions upside down—and in the process, either save or destroy what's left of humanity.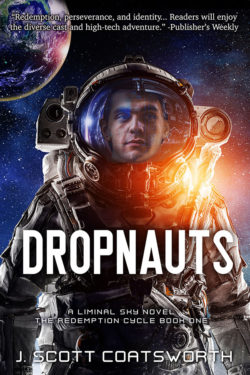 Dropnauts
August 1, 2022
Word Count:
20,900
Summary: One day, someday soon, Jeeze Madrid was going to wake up and realize just what he'd been passing up; he'd see what Cal Paxton was offering him so faithfully—"Faithfully, Jeeze! Even you can't deny that!"—and grab it. And they'd finally have what Cal wanted. Cal Paxton and Jeeze Madrid are the top scouting team on the Pathfinder-class starship, the Carson, on the very outer edge of Earth's expansion across the galaxy. Cal and Jeeze find the uninhabited planets, the Carson evaluates them for colonization. Cal and Jeeze are wingmen, best friends... and lovers. Cal wants more than a casual relationship but Jeeze, recently divorced, is wary of commitment. When Jeeze's scout ship is shot down over a planet inhabited by a race Earth has never before encountered, what will Cal find when the Carson can finally mount a rescue mission? Will he ever succeed in persuading Jeeze to take up his offer of hand and heart?
FlashWIred
January 14, 2017
Word Count:
37,067
Summary: The son of a wealthy woman and an admiral tries to run away to the center of humanity only to end up… on a farm. There, he is introduced a radical new concept called "hard work." As he has to deal with life without the universe at his fingertips, he captures the attention of a farmer's daughter. And a local constable who believes an alien invasion is imminent.
Gimme Shelter (Seeds of War Book 3)
September 14, 2018
Word Count:
79700
Summary:
First settlers on Mars may be the last.
Emma Winters wants to explore with her robotic walkabouts.
When the tiny colony's psychologist walks out an airlock, she takes the one-way journey to Mars despite misgivings. As more deaths and illness plague humanity's tiny foothold, Emma must discover the truth before the Red Planet kills them all.
Glory on Mars
November 8, 2015
Word Count:
95,100
Summary: Earth's last known colony, Albion, is fighting an alien enemy. In the first of the Taking Shield serial, Shield Captain Bennet is dropped behind the lines to steal priceless intelligence. A dangerous job, and Bennet doesn't need the distractions of changing relationships with his long-term partner, Joss, or with his father—and with Flynn, the new lover who will turn his world upside-down. He expects to risk his life. He expects the data will alter the course of the war. What he doesn't expect is that it will change his life or that Flynn will be impossible to forget.
Gyrfalcon
December 5, 2016
Word Count:
81000
Summary: H2LiftShips Anti-Dystopian SciFi Sentients beyond the next 3 pandemics SolarSails, nuclear boosts, coal for steel No aliens, but an Octopus 1st Mate No blasters, but spinning meat bola weapon
H2LiftShips, a tech manual for a future
February 29, 2020
Word Count:
93,900
Summary: Shield Captain Bennet is on Telnos, a unpleasant little planet inhabited by religious fanatics and unregistered miners running illegal solactinium mines. It's about to be about to be overrun by the Maess. Bennet's job is to get out as many civilians as he can, but the enemy arrives before the evacuation is complete. Caught in a vicious fire fight, Bennet is left behind, presumed dead. His family is grieving. Joss, his long-term partner, grieves with them; lost, unhappy, remorseful. First Lieutenant Flynn has no official 'rights' here. He isn't family. He isn't partner or lover. All he is, is broken.
Heart Scarab
December 6, 2016
Word Count:
22000
Summary: Spaceman meets wolfman. When his own world is destroyed, Aldiss and his crew barely manage to escape, leaving friends and lovers behind. What was meant to be an exploratory trip back to the home world becomes a mad dash for survival. When they awaken from deep sleep on Earth, abandoned by humanity five centuries before, they must quickly learn about their new home. While exploring the region around the ship, Aldiss meets Hari, a human-wolf hybrid, whose people harbor secrets which just might cost the crew their lives. Will Hari and Aldiss uncover the secrets of the past and find common ground? Or are Aldiss and his team doomed to failure?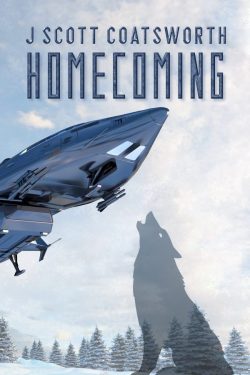 Homecoming
June 26, 2019
Word Count:
36000
Summary: IN-NO-VA-TION (Noun) 1) A new idea, method, or device. 2) The introduction of something new. 3) The application of better solutions to meet unarticulated needs. Three definitions to inspire writers around the world and an unlimited number of possible stories to tell. Here are 120 of our favorites. Innovation features 300-word speculative flash fiction stories from across the rainbow spectrum, from the minds of the writers of Queer Sci Fi.
Innovation
August 8, 2020
Word Count:
5000
Summary: They needed to escape... But there was nowhere to run. When the air on the terraformed Mirabel colony became toxic, there was no choice but to evacuate and hope what little supplies they had would sustain them until a rescue from Earth could be mounted. Dr. Talia Mendoza blames herself. She lead the terraforming effort on this world. Could she be trusted to terraform the next? The clock is ticking. The evacuees are relying on her. Grab your free copy of this fast-paced short story today.
Invasive Species
January 1, 2020
Word Count:
270000
Summary: Oberon is unique among the Common Worlds - a half-world with a strange past and an uncertain future. Jameson Havercamp and Xander Kinnson are thrust into the middle of a world-ending event and have to scramble to save the world - and themselves. Along the way, they peel back the layers of the onion to discover secrets wrapped in secrets that will eventually take them to where it all started - and may provide the key to saving Oberon and everyone on it. SKYTHANE Jameson Havercamp, a psych from a conservative religious colony, has come to Oberon—unique among the Common Worlds—in search of a rare substance called pith. He's guided through the wilds on his quest by Xander Kinnson, a handsome, cocky skythane with a troubled past. Neither knows that Oberon is facing imminent destruction. Even as the world starts to fall apart around them, they have no idea what's coming—or the bond that will develop between them as they race to avert a cataclysm. Together, they will journey to uncover the secrets of this strange and singular world, even as it takes them beyond the bounds of reality itself to discover what truly binds them. LANDER The world needs saving, again. Xander and Jameson thought they'd fulfilled their destiny when they brought the worlds of Oberon and Titania back together, but their short-lived moment of triumph is over. Reunification has thrown the world into chaos. A great storm ravaged Xander's kingdom of Gaelan, leaving the winged skythane people struggling to survive. Their old enemy, Obercorp, is biding its time, waiting to strike. And to the north, a dangerous new adversary gathers strength, while an unexpected ally awaits them. In the midst of it all, Xander's ex Alix returns, and Xander and Jameson discover that their love for each other may have been drug-induced. Are they truly destined for each other, or is what they feel artificial? And can they face an even greater challenge when their world needs them most? ITHANI Time is running out. After saving the world twice, Xander, Jameson and friends plunge headlong into a new crisis. The ithani―the aliens who broke the world―have reawakened from their hundred millennia-long slumber. When Xander and Jameson disappear in a flash, an already fractured world is thrown into chaos. The ithani plans, laid a hundred thousand years before, are finally coming to pass, and they threaten all life on Erro. Venin and Alix go on a desperate search for their missing and find more than they bargained for. And Quince, Robin and Jessa discover a secret as old as the skythane themselves. Will alien technology, unexpected help from the distant past, destiny and some good old-fashioned firepower be enough to defeat an enemy with the ability to split a world? The final battle of the epic science fiction adventure that began in Skythane will decide the fate of lander and skythane alike. And in the north, the ithani rise….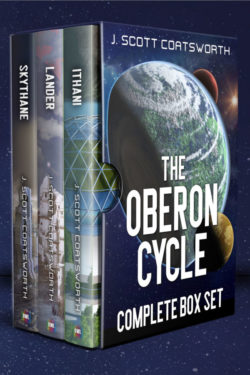 Liminal Fiction: Oberon Cycle Complete Box Set
March 24, 2021