Word Count:

100000
Summary: They say, "Never work with androids or children." Quirk had one job to do, deliver papers to a Milan mafia boss, before leaving Earth for his home in the asteroids. But that was before being tailed, poisoned—oh, yes—and hijacked into raising foulmouthed fourteen-year-old convent girl Angelika Moratti, aka Moth, who'd rather see him asphyxiate in space. Fleeing assassins, Quirk, Moth and her syRen® android S-0778 ride the space elevator to the Moon, where Quirk hires on to hunt an ex-terra-former who somehow used an android to murder his doctor. But which android of the two hundred under Lunaville's dome? The trail of bodies grows, time is running out; the only way they can save the dome and the two thousand souls beneath it is to solve The Mandroid Murders. Genres: Science Fiction / Thriller / Mystery / Adventure / LGBT and Non Binary Market: Adult
The Mandroid Murders
Word Count: Information not available
Summary: Douglas Best is in trouble. Seven weapons of mass destruction have been removed from a planet he has setup as Jefivah's newest colony. But they've gone missing. They hold Best responsible. Now his only hope to avoid prison is a cult to Marilyn Monroe.
The Marilynists: Seeds of War Book 2
Word Count:

41000
Summary: Welcome to the mercenary ship, The Blue Solace: Leti Ando needs off planet and fast. He has a best friend and a new half-sister to rescue, and he needs to be sneaky about it. Unfortunately sneaky isn't really his thing. With the help of a friend, Leti and his menagerie, along with his two companions, stow away aboard a mystery ship. Little does he know that The Blue Solace belongs to the infamous mercenary, Captain Will Hackett, a man he'll come to love with everything inside him. Will has been in a bitchy ass mood for the past six months. He's restless and grumpy, but doesn't know why. He knows he needs something and he can't find it, but his crew are out of patience and insist on some R &R back home at Charybdis Station. Then Hack finds a stow away angel and everything changes. Leti is his mate and he'll do anything to keep him safe and happy, even smile. The galaxy's not a safe place, though, and The Blue Solace has a job to do: pick up a renowned scientist and his mysterious artifact. Then get them safely back to Charybdis Station. Hack and Leti don't realize their romance story is about to get hijacked by Concord mercenaries. Their love is easy, it happens just like that. Staying alive and keeping the galaxy safe? That's a little harder. Author's Note: 41,801 words. (Previously published as "Happens Just Like That"). This is a m/m love story with no angst and no cheating, just a HEA. There is lots of action, sex, mpreg, and a few potty mouths involved in the story. 18+ readers only, please. It is also the first of two books about this specific couple.
The Mercenary's Mate
Word Count:

86600
Summary: Why would someone, apparently chosen at random, have their consciousness swapped with someone else in another reality? How would someone, apparently chosen at random, have their consciousness swapped with someone else in another reality? Why would another three persons, apparently chosen at random, have their consciousness swapped with three other someone elses in another reality? Why would the entire bridge crew of a starship, apparently… well, you get the picture. What will happen to all these very confused people? How does the Alternate Reality News Service get scoops on these events so quickly? Why are their reporters acting so dodgy – do they have something to hide, or just issues? Who are the Pops, and can they help? Does the editor know what's going on, and if she does would she even tell Noomi (our favourite TA investigator)? What was that noise from her office when Noomi was 'interviewing' her? Why am I asking you these questions when you haven't even read the story yet?
The Multiverse is a Nice Place, But I Wouldn't Want to Live There
Word Count:

3,000
Summary: Lem and her dog, Spock, have a late-night encounter with a stowaway. 'Twas the night before Christmas, when all through the Teapot… Not a creature was stirring, not even a lonely robot; The stockings were hung in the mess hall with care In hopes that St. Nicholas soon would be there.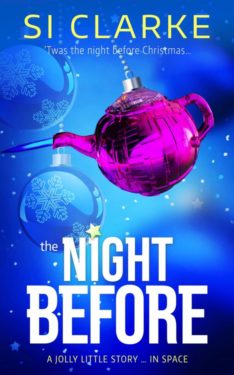 The Night Before
Word Count:

55,000
Summary: Welcome back to Charybdis Station and the crew of the Blue Solace: (Seventh Book in the series) Finn Sterling is still adjusting to becoming the lieutenant of the blue fleet of Charybdis Station. As an orphan on Cardinal Hold, he never imagined he would have a position of authority as an adult and the trust his friends put in him makes failure impossible. When he is given the monumental task to find a large number of missing Vextonians, he'll take all the help he can get. When Finn's journey brings him to his mate, he discovers that finding the missing is only one part of the quest ahead of him. Aiden Crow has spent the last year consumed with grief and his search for vengeance. When he meets Finn, he knows instantly that the man is his mate, but what could he possibly offer the beautiful, smiling Cardinal? As the search for the missing draw the two men together, Crow realizes that the greatest risk he faces is losing his heart. Crow and Finn must work together to gather information so they can find the innocent before they are lost forever.
The Rebel's Mate
Word Count:

45000
Summary: Manifesto the Great comes from a dynasty of leaders who treat women like breeding machines. When his father dies, he must take over as leader, but will he be able to keep control of the women? Planet Hy Man is a planet as pure as a baby's belly button until a spaceship arrives; a spaceship full of men and women who have spent a lifetime of celibacy. Sex, like roast chicken and football being off the menu until a planet was found.  They hurl themselves into a frenzy of real meat, real air, and sex until a leader emerges to create order, civilization and a sewage system. Manifesto the Great watches as his forefathers pollute the planet, treat women as walking wombs, and make dodgie robots until it is his turn.  Will he rise over the tidal wave of discontented women, or will he drown under a sea of underwire and oestrogen? The Rise Of Manifesto The Great is the first of three prequels to the Planet Hy Man science-fiction comedy series. If you like high-mileage heroines, fast-paced satire, and meticulously crafted universes, then you'll love Kerrie Noor's otherworldly farce. 
The Rise Of Manifesto The Great
Word Count:

55,000
Summary: Morgan Murray is an easy, fun-loving guy. He excels at being a soldier, but never wanted more out of life. Somehow, he ends up in a position of authority on Dru's new ship, the Blue Sparrow. Now he has to deal with what he dreads most. Responsibilities. Dru and her crew are given the task of finding Wyatt Morrick and telling him about his father's death. Along the way, Morgan soon learns that responsibility can be painful, difficult, and frightening. It can also lead to something very special. Dr. Wyatt Morrick is in trouble. Big trouble. He and his medical crew are stuck on a planet under attack. He may not be a soldier, but he has patients and friends to worry about. With very few supplies left, something has to give for them to survive. The whole planet's future is at stake and he is stuck hiding in a cave. When Morgan saves Wyatt and his friends, the two men are given a gift, each other. Their love can't stop the Concord, though, and someone has to. Morgan has to grow and accept his responsibilities, and Wyatt has to move on from his father's death. That death just happens to be a little more complicated then Wyatt expected.
The Soldier's Mate
Word Count:

24000
Summary: Chief Engineer Shandi Leavenworth has been crushing on Major Tyra Sur ever since she joined station staff, though the laconic customs officer doesn't give up personal information easily. A few scraps of information lead Shandi to the perfect Solstice present, until of course everything goes horribly wrong. Major Sur took the job on Onwa Station for the stability, the quiet, and out of a need to be useful. It's been all of those things up until the moment the woman she's been quietly flirting with at the bar puts in a desperate call for help. There's no question they need to save the station, but Tyra's not so sure about saving their budding relationship.
The Solstice Pudding
Word Count:

55000
Summary: With great burrito comes great responsibility. Pete's food truck at the University of New Mexico isn't going well. Seniors dare freshman to eat his burritos. Frats use them for pledges and pranks. Rumors fly around campus that they are chupacabra ground up with rat. Pete needs a change, and it comes in the form of a physics experiment gone awry. After being sucked into the past, he stumbles across an ingredient that goes great in one of his creations. First, there was Marty McFly. Then there was Bill and Ted. And now Pete--
Time Burrito
Word Count:

39000
Summary: How many ways could civilisation, mankind or even the whole world come to an end? Is time travel something that can be controlled? But what if time travel controls you? Here are eighteen short stories from the author of Time Portals of Norwich and Splinters that seek to explore both themes, some with humour, others nightmarishly horrifying. Some stories even manage to combine both themes.
Time Enough for the World to End
Word Count:

50,000
Summary: J. Manfred Weichsel's versatility, unique style, and refusal to be bound by genre conventions have made him a force to be reckoned with in the world of speculative fiction. Now, Weichsel invites you to strip down and expose yourself to his raw and unfiltered imagination with Warrior Soul & Other Stories. Weichsel's stories peel away the veneer of societal norms and delve deep into the human psyche, exposing the rawest and most vulnerable parts of our existence. Through his boundary-shattering tales of science fiction, adventure, horror, and humor, Weichsel fearlessly explores the fringes of what is possible in fiction, revealing the naked truth of our humanity. From the mind-bending science fiction of "Warrior Soul", to the fantastical realm of "The Rainbow-Colored Rock Hopper", from the light comedy of "Queen of the House", to the darkest depths of horror of "Complicit in Their Bondage", these twelve tales will leave you feeling exposed and vulnerable in the best possible way. The bold and daring themes that run throughout Weichsel's work strip away all pretense and artifice to reveal the unvarnished truth of the human experience. So if you're ready to shed your inhibitions and explore the depths of what's possible in fiction, then get your copy of Warrior Soul & Other Stories now. It's time to embrace your innermost desires and take the plunge into the raw, unbridled world of J. Manfred Weichsel.
Warrior Soul & Other Stories
Word Count:

81000
Summary: This hilarious science-fiction comedy novel follows the first case for Noomi Rapier, rookie investigator with The Transdimensional Authority – the organisation that regulates travel between dimensions. When a dead body is found slumped over a modified transdimensional machine, Noomi and her more experienced partner, Crash Chumley, must find the dead man's accomplices and discover what they were doing with the technology. Their investigation leads them to a variety of realities where Noomi comes face-to-face with four very different incarnations of herself, forcing her to consider how the choices she makes and the circumstances into which she is born determine who she is. Ira Nayman's new novel is both an hilarious romp through multiple dimensions in a variety of alternate realities, and a gentle satire on fate, ambition and expectation. Welcome to the Multiverse (Sorry for the Inconvenience) will appeal to comedy fans who have been bereft of much good science-fiction fare these last eleven years. Ira's style is at times surreal, even off-the-wall, with the humour flying at you from unexpected angles; he describes it as fractal humour. Anyone who has read his Alternate Reality News Service stories will know how funny Ira is. The characters we meet from around the multiverse deserve to become firm favourites with all fans of science fiction comedy.
Welcome to the Multiverse (Sorry for the Inconvenience)
Word Count:

95000
Summary: The God of Time wants to destroy Eternity. A mysterious immortal seeks vengeance. And a reclusive deity does what no god should ever do: she answers a prayer. As punishment, she is stripped of her powers and trapped in a mortal's body. Now a Wyrd – a fated god – she is haunted by the memories and thoughts of her host and must hide her true identity in order to survive in Niflheim, the rival Norse Underworld. There she discovers the afterlife is not quite what it used to be. Niflheim's new ruler threatens the precarious balance of a world overrun with outcast deities and mortals alike. To save her own sanity and find her way back to the stars, she must help the other Wyrd overcome their grievances to defeat this enemy, but those who would be her allies appear to have motives as hidden as her fragmented consciousness. And yet it seems the greatest threat to her freedom comes from within, and the prize it seeks is her immortal soul...
Wyrd Gods
Word Count:

84500
Summary: It's just another day in the Transdimensional Authority, with teams of investigators doing what they do best (well, after breakdancing) – investigating. Bob Blunt is en route through a Dimensional Portal™ to Earth prime 4-7-5-0-0-7 dash iota to investigate cars exhibiting most uncarlike behaviours – ribbit! (Breaking all of the Transdimensional Authority rules…number 127, he is without his partner, 'Breakfront' Balboa, who is on leave after an unfortunate incident with the Vulvar Ambassador to Earth Prime and a staple gun). Beau Beaumont and Biff Buckley have already arrived on Earth Prime 5-9-2-7-7-1 dash theta to find themselves surrounded by machines whose only intention is to serve human masters – even if it kills them! Recently recruited TA investigator Noomi Rapier, with her partner 'Crash' Chumley, is on Earth Prime 6-4-7-5-0-6 dash theta where all matter at all levels of organisation (from sub-atomic particles to the universe itself) has become conscious. Meanwhile Barack Bowens and Blabber Begbie, taking the Dimensional DeLorean™ to Earth prime 4-6-3-0-2-9 dash omicron, face multiple apocalypses (already in progress), and Bertrand Blailock and Bao Bai-Leung are having trouble travelling to their intended destination: the home of the digital gods. At first, they all appear to be looking for unauthorised and probably counterfeit Home Universe Generator™s, but could what's really happening be more sinister? (Yes. Yes, it could. We wouldn't want to leave you in suspense…)
You Can't Kill the Multiverse (But You Can Mess With its Head)
Word Count:

29000
Summary: Sofia Cancino is tired of her mundane life, her artificial environment and her large, boisterous family descending every holiday season. She's promised herself this year will be different and books a stay on the exclusive—and expensive--holiday-themed resort, Yule Planet. She looks forward to being pampered while reconnecting with Old Earth traditions steeped in the magic and mysticism of nature. Everything will be perfect and she'll leave as a more authentic human, better connected to her roots. Naturally, things go horribly wrong. Sofia's landing pod goes off course and instead of stepping out on the landing pad at the resort, she finds herself in the snow-swept perpetual winter of the planet's hinterlands. If that wasn't bad enough, she's "rescued" by a band of criminals on work release who run deliveries to the resort from far-flung shuttle delivery sites. They refuse to take her, a paying customer, to the resort and insist on dragging her along on their parcel run. Riding giant monsters. In frigid weather. Not to mention, Marta, who handles the monsters, obviously hates her. If Sofia survives her vacation, she's definitely yelling at someone's supervisor until she gets a refund.
Yule Planet