Word Count:

52,500
Summary: The cerebral interface has revolutionised society. Need a ride? With a thought, the cab is on its way. Want an adventure? Enter a VR 5 computer game nearly indistinguishable from reality. Amanda arranges for her Big Sisters Program little sister, Rachel, to spend a day gaming as a fourteenth birthday present. Amanda never suspects that her insane ex-boyfriend, Jim, will use a computer virus to trap her and her companions in the game. A pleasant diversion becomes a life and death struggle as her party seek a way to come back to the real world without triggering a program that will cause nanobots to rip their brains to shreds. To complicate matters, in the game scenario the adventurers have been transformed into cats. Will the party survive? Will Amanda admit that Rachel's older brother, Tyrell, might just be her future? Will the computer virus Jim used to trap them become a cyber plague that could kill thousands?
Cats
Word Count:

106,000
Summary: In the early 21st century, Rowan is fighting a secret war against alien pirates bent on subjugating all of mankind. At least, that's what she thinks. In reality, it's a thousand years later, Earth has long been part of an interstellar and interspecies republic, and she's a character on Angel Black, an e-entertainment that allows viewers a complete sensory experience through her perspective. Who needs actors when you can clone famous performers and splice in some alien DNA? Since studio clones have no rights, their lives and experiences can be tailor-made for the program. It's just too bad the clones don't know that. Ryan Chandler was a decorated war hero until he was cloned to save his life. His career options died with his original body and the best job he can get is a technician on Angel Black. He's planning to escape to a newly colonized system when Rowan is scheduled to be killed off. With help from unexpected allies, Ryan stages Rowan's rescue, but getting her off the set is only the beginning. To succeed, they must evade a manhunt supported by the state that fears Rowan's liberation might be the triggering event of a clone rights movement that could cost the establishment billions and shake the foundations of human society. Can two clones find their freedom in a society that treats them as second-class citizens?
Cloning Freedom
Word Count:

52,000
Summary: A secret unicorn, a desperate family, and a cop dead set on hunting them down. Lem and the rag-tag gang of galactic adventurers on the starship Teapot are set to become roadies for the galaxy's hottest band – but an urgent call from Bexley's family means the rock stars will have to wait. Bexley's soon-to-be-born sibling has a big secret: wings. On planet Hwin, skeledivergence is outlawed, so the Teapot crew swoop in to help the family escape. But their planet won't let them go that easily. Hunted across the galaxy by a fanatical and eerily familiar cop, the Teapotters must find a way to outwit their pursuer and secure a future for skeledivergent people everywhere. Dive into the next adventure in this satirical space opera series. Artfully intertwining deep themes with tongue-in-cheek humour and intergalactic ridiculousness, Consider Pegasus is a must-read for fans of Ryka Aoki's Light from Uncommon Stars or TJ Berry's Space Unicorn Blues.  Scroll up and grab your copy now!
Consider Pegasus
Word Count:

132,000
Summary: Rules were made to be broken. From terraformed outposts to magical realms, journey to worlds where deadly plants, rampant biodiversity, or failed colonies have created irresistible opportunities for those brave enough to seize them. New worlds, found family, mystical secrets, and deadly science weave together in this lesbian-centric anthology focusing on a very different kind of first time—a first encounter with a world, or being, entirely unlike our own. If you like diverse stories with lesbian heroines practicing science, magic, and seduction, buy Distant Gardens today!
Distant Gardens
N.L. Bates , Sara Codair , Robin C.M. Duncan , J.S...
Word Count:

56000
Summary: This time, the universe puts the cat in catastrophe. Plucked from her home on Earth and ending up aboard a strange spaceship in an even stranger universe, Lem and the misfit crew of the Teapot have more than enough trouble on their hands… and then they receive an urgent last-minute call to save a race of cat-people from certain destruction. Stuck with a disaster-platypus of a project manager and an entire race of people seemingly determined to thwart their own rescue, the Teapot's crew face the impossible job of herding cats and helping evacuate the planet before it's blown to smithereens. Can Lem and the gang avert disaster and save this race of infuriating cat-people? Perfect for fans of wacky and imaginative sci-fi stories, this satirical space opera is a ridiculous adventure that will delight readers of John Scalzi's take on Fuzzy Nation or TJ Berry's Space Unicorn Blues.
Judgement Dave
Word Count:

5200
Summary: There's something in the dark … but is Lem's imagination worse than reality? Out in the vast emptiness of the galaxy, anything can happen. It's a fact that Lem and her trusty companion Spock know all too well. Sometimes, the things lurking in the darkness are all in your head. Then again, maybe there really is something out there. With her talking dog and an infuriatingly literal AI by her side, Lem must rely on nothing but her strength and wits to help her.  As a humorous homage to Arthur C Clarke's classic A Walk in the Dark, this short adventure is a not-actually-scary sci-fi horror story that's perfect for fans of Martha Wells and John Scalzi. 
Jurassic Dark
Word Count: Information not available
Summary: NOTE: This the 8th of Bad Dog Books' annual themed furry fiction anthology series, Roar. Though the book features a lot of diverse representation, not all the stories are queer. Paradise can be the stark natural beauty of our own world; it can be the connections we have with the people we love; it can be a moment in time. Paradise can be a place we're seeking or a place that we didn't realize we already had until it started to slip away. It can have a dark side. Even shining science-fiction utopias can come with a price. Read this book and take a journey through eighteen different visions of paradise—beginning with the personal and natural, traveling through the societal and technological, and all the way out to the supernal and divine. A great book can heal you when you're hurting, give you an escape that you desperately need, or even rekindle a lost spark of hope. Let this book be a small piece of paradise for you.
Roar Volume 8: Paradise
Word Count: Information not available
Summary: NOTE: This the 8th of Bad Dog Books' annual themed furry fiction anthology series, Roar. Though the book features a lot of diverse representation, not all the stories are queer. RESIST. Join the RESISTANCE. Meet a whole host of characters -- a drunk, grumpy frog; a nerdy pizza delivery cat, haunted by a ghost; an alligator and a cat in love; a lion and a human in love; soulmates tied together across the boundaries of reincarnation and transformation; a dhole in a rock band; a pangolin with social anxiety; a raccoon stranded planet-side when his spaceship has to leave in a hurry; and many more! These are stories of resistance, but they're also stories to give you a break from the real world, let you rest while the racoon lawyers and magical kittens do the fighting, and then you can come back recharged. Read fifteen stories from both writers new to the furry writing scene and familiar names like Watts Martin, Ryan Campbell, KC Alpinus, and Amy Fontaine in this powerful collection!
Roar Volume 9: Resist
Word Count:

51000
Summary: Escaping intergalactic kidnappers has never been quite so ridiculous. When Lem and her faithful dog, Spock, retreat from the city for a few days of hiking in Algonquin Park, the last thing they expect is to be kidnapped by aliens. No, scratch that. The last thing they expect is to be kidnapped by a bunch of strangely adorable intergalactic bounty hunters aboard a ship called the Teapot. After Lem falls in with an unlikely group of allies – including a talking horse, a sarcastic robot, an overly anxious giant parrot, and a cloud of sentient glitter gas – the gang must devise a cunning plan to escape their captors and make it back home safely. But things won't be as easy as they first seem. Lost in deep space and running out of fuel, this chaotic crew are faced with the daunting task of navigating an alien planet, breaking into a space station, and discovering the real reason they're all there… Packed with preposterous scenarios, quirky characters, and oodles of humour, The Left Hand of Dog tackles complex subjects such as gender, the need to belong, and the importance of honest communication. Perfect for fans of Charlie Jane Anders' Victories Greater than Death – especially ones who enjoy endless references to Red Dwarf, Star Trek, and Doctor Who. This book will show you that the universe is a very strange place indeed. Scroll up and grab your copy now!
The Left Hand of Dog
Word Count:

3,000
Summary: Lem and her dog, Spock, have a late-night encounter with a stowaway. 'Twas the night before Christmas, when all through the Teapot… Not a creature was stirring, not even a lonely robot; The stockings were hung in the mess hall with care In hopes that St. Nicholas soon would be there.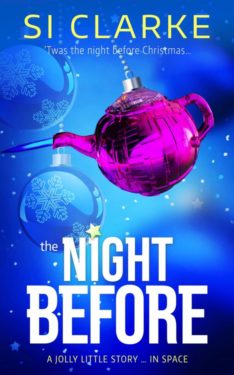 The Night Before