Word Count:

125000
Summary: Is Leif really lucky?  Stranded in orbit, viewing a destroyed civilization on Earth through the screens of a starship almost out of fuel and food, he doesn't feel that way. It wasn't supposed to be like that. As the starship Dauntless returns from a successful mission to the planet called Heaven, Earth holds no attractions for Exoplanetary Scout Leif Grettison.  He wants only to complete the mission and leave for another star, along with ace pilot Yang Yong.  In fact, he would be happy spending the rest of his life flying the starways with her. But they and the rest of the ship's skeleton crew awaken from hibernation to find Earth's solar system dark and silent—no signals, no responses to their transmissions. When they make orbit, the magnitude of the disaster becomes clear: An apocalyptic war has killed billions and destroyed every last source of power and tech that 22nd-Century humans relied on to survive. Getting down to Earth is only the beginning of Leif's problems.  Those few who survived the apocalypse are still divided, fighting over what's left. The disastrous re-entry to Earth leaves him with no resources or allies. He lands in the middle of a makeshift family that needs him more than he's comfortable with and hears stories—even nursery rhymes—that speak of a lucky starman.  For once, he's the only person with tech—but if he's caught using it, they might kill him. Can a man back from the stars end the warfare on Earth, or will he make it worse?  Can he save a family that might become his?  Is he everyone's lucky starman?
The Lucky Starman
Word Count:

100000
Summary: They say, "Never work with androids or children." Quirk had one job to do, deliver papers to a Milan mafia boss, before leaving Earth for his home in the asteroids. But that was before being tailed, poisoned—oh, yes—and hijacked into raising foulmouthed fourteen-year-old convent girl Angelika Moratti, aka Moth, who'd rather see him asphyxiate in space. Fleeing assassins, Quirk, Moth and her syRen® android S-0778 ride the space elevator to the Moon, where Quirk hires on to hunt an ex-terra-former who somehow used an android to murder his doctor. But which android of the two hundred under Lunaville's dome? The trail of bodies grows, time is running out; the only way they can save the dome and the two thousand souls beneath it is to solve The Mandroid Murders. Genres: Science Fiction / Thriller / Mystery / Adventure / LGBT and Non Binary Market: Adult
The Mandroid Murders
Word Count:

19582
Summary:
The War Of The Worlds continues.... The terror of the coming of the Martians is all but a distant memory, a bad dream that has faded with time.
All George wants is a quiet suburban life – but at breakfast one morning his newspaper reports the shocking discovery of a Martian cylinder, found intact and unopened, and carefully transported to London. Could it be from the first alien invasion and after more than seven years are there Martians still alive inside?
By teatime George learns that vengeance seeking Martians and their tripod fighting machines are already on their way back. This time they are armed with a doomsday weapon, able to destroy all bacteria and completely annihilate Earth. The countless numbers of their projectiles form a huge green comet and invasion day will be just before Christmas.
The first attack by aliens was enough for any lifetime, but who would expect to be involved with two? Can George and his wife escape this new Martian apocalypse and how will our planet survive a second time? The Day Of The Martians continues the iconic Mars novel by H.G. Wells, in this exciting action adventure – the first volume of The Martian Diaries science fiction series.
If you're a fan of The War Of The Worlds you won't want to miss this award-winning 3 part continuation. Get the ebook today or check out the action-packed audio version featuring original music and sound effects.
Winner of 5 awards in the 2020 Los Angeles Science Fiction Film Awards, Audio Drama category, together with volume 2 Lake On The Moon.
WHAT PEOPLE HAVE SAID ABOUT THE AUDIO VERSION
"...a wonderfully executed tribute to H.G. Wells." Readers Favorite 5 stars
"...sometimes in life, amongst all the boring stuff, something comes along to shake up your life and make you grateful for other people's creations." Breakaway Reviews
"A splendid sequel." C.A. Powell, science fiction author of The Last Days Of Thunder Child
"A little diamond from Mars!" Goodreads reviewer
The Martian Diaries: Vol. 1 The Day Of The Martians
Word Count:

109,000
Summary: Time is running out for planet Earth. An insidious Martian plague has been infecting the planet for over twenty years, and has resisted all human efforts to eradicate it. With all life on Earth facing extinction, the only solution left is to directly access a specific piece of Martian technology. But, according to diaries left behind by Ogilvy the astronomer, the Martians have hidden it at the lake on the moon. In 1945, three rockets converted from Martian cylinders take off on the vital lunar mission, and amongst the crew is Ogilvy's nephew, Jack Stent. Will the astronauts locate the Martian shadow-weapon, thought to hold the desperately needed cure for Marseria? Can it really be used to instigate another timeline on Earth so that mankind can survive? The stakes are high and so is the risk of contact and conflict with Martians. Nearly two hundred years later, at a scientific colony on Mars, a shocking discovery is made about Jack Stent, and Ogilvy's Martian diaries are once again pivotal to human survival and the continuation of life on Earth. Gateway To Mars is the third volume of The Martian Diaries series that continues the classic H.G. Wells Mars novel in a compelling, unmissable action adventure. If you're a fan of The War Of The Worlds you won't want to miss this story of survival, despair and hope, that brings the original tale full circle. Get your copy today! What readers have said: "A really well written, excellent continuation of the story and a truly brilliant tribute to HG Wells! I do recommend!" "An excellent third part to this incredible series!" "Boy this was a good book! I love the writing style... it's very true to the original story."
The Martian Diaries: Vol.3 Gateway To Mars
Word Count:

107000
Summary: As the Oort Federation becomes a major force in the Solar System, Braxton Thorpe passes the Federation chairmanship to former US President John Butler. Thorpe's group offers humanity virtual immortality, but Isidor Orlov and his Udachny Enterprises oppose their every move. While terraforming Mars for more living space, the Mars Reds prove formidable as resisters. If the Asterian starship fighter pilots are released, will they align with Phoenix or Udachny, and who will develop the right FTL technology? In this tense space adventure, Thorpe, his team, and Max the tabby cat travel to Proxima Centauri and beyond to the Aster system, 84 lightyears distant. Will Thorpe bring together humans and Asterians in their quest for intergalactic travel? Will long life prove more than mere humans can handle?
The Oort Federation: To the Stars
Word Count:

141000
Summary: The starstream is beautiful. But beauty turns deadly when an ancient AI bent on destruction uses it to travel uptime, to our near-future. The Mindaru are dead. Or so exiled-Earthman John Bandicut and his alien companions believe, when they return to Shipworld after saving the Orion Nebula and countless inhabited worlds. But now another horde from this ancient and malicious AI colony is swarming toward the present from its birthplace deep in the past. Their opening: a temporal disturbance in the starstream, a hyperspatial thoroughfare used by myriad civilizations. The disturbance emanates from the planetary defenses of nearby Karellia, whose people know nothing of the starstream or the galaxy-threatening Mindaru. Only Bandicut and his friends have the knowledge and experience to act. But several of Bandicut's company have gone missing. Bandicut and Li-Jared must team with the pandimensional Ruall and her gokat—the oddest aliens Bandicut has met since the shadow-people—and journey to Karellia to find a way to cut off the timestream. Meanwhile, on Shipworld, the "missing" Ik meets another human of Earth—a former lover of Bandicut's—and embarks with her on a perilous mission far back into deep time, seeking a way to stop the Mindaru at their source. The Chaos Chronicles returns at last in The Reefs of Time, part one of a heartstopping, two-part adventure. Concluded in Crucible of Time—from Nebula-nominated Jeffrey A. Carver! PRAISE FOR THE REEFS OF TIME / CRUCIBLE OF TIME: "Classic science fiction with engaging characters and richly imagined worlds!" --Greg Bear; author of The Unfinished Land and The War Dogs Trilogy "Jeffrey A. Carver's remarkable long-awaited duology The Reefs of Time / Crucible of Time is a welcome addition to The Chaos Chronicles, certifying his continuing mastery of action and adventure at the boundaries of space opera and hard SF." --Steve Miller, co-author of The Liaden Universe "Rich, dignified prose wedded to excellent and imaginative storytelling on the grandest scale. If you've grown weary of the hasty, hyperkinetic stories and styles that typify so many other independently-published novels, come home to Jeffrey Carver's timeless and triumphant The Reefs of Time." --Charles E. Gannon, author of the Caine Riordan world "Mind-blowing in its complexity... I settled in to enjoy a wild ride." --Ann Tonsor Zeddies, author of Riders of Leviathan and Steel Helix "Underpins its stunning science fiction and character-driven narrative with a strong theme of 'coming home'... As narratives intertwine at separate ends of the timescale, Carver's talent for weaving incredible technology and worldbuilding with meaningful character moments is a standout." --Terence MacManus, Aurealis Magazine PRAISE FOR THE CHAOS CHRONICLES: "Remarkably expansive vision." --Analog "Masterfully captures the joy of exploration." -- Publishers Weekly "Master craftsman of compelling hard science fiction." -- Booklist One of the best SF novels of the year -- Science Fiction Chronicle "A dazzling, thrilling, innovative space opera." --Kirkus "Fertile imagination and... a host of engagingly sympathetic characters." --Library Journal
The Reefs of Time
Word Count:

131000
Summary: Are we the children of starchildren? The Starchild Compact is an adventure of heroic proportions, commencing on a planet 500 lightyears distant, arriving here just a few years from now, and ending up in the far distant expanses of the Universe. Is Saturn's moon Iapetus an artifact? To find out, Jon Stock takes his international exploration team on a 1.4 billion km journey to Saturn, but will Jihadist stowaway Saeed Ismail succeed in sabotaging the mission? On Iapetus, Jon Stock and his team meet the Founders. Where are they from? How did they get here? How will they impact Earth and the Solar System? Will the Founder's presence signal the end of humanity, or will it pave the way for a joint push to the distant reaches of the Galaxy?  The Starchild Compact is hard SciFi reminiscent of Arthur C. Clarke or James P. Hogan, with a geopolitical twist worthy of Tom Clancy or Clive Cussler.
The Starchild Compact: A Novel of Interplanetary Exploration
Word Count:

366200
Summary: This is a Kindle book and Audible book of all three volumes in the set.      The Starchild Trilogy begins with building a Space Launch Loop enabling massive movement off Earth and subsequent settlement of Cislunar-Space, Mars, and beyond.      Slingshot is the story of the struggle behind constructing the largest machine ever built stretching between Baker and Jarvis Islands in the Equatorial Pacific, and how the men and women behind Slingshot overcome the project's physical, economic, and human obstacles.      In The Starchild Compact, a team exploring Saturn's moon Iapetus discovers it to be a derelict starship, and meets the Founders, remnants of an ancient, advanced race, the Ectarians, that arrived in the Solar System 150,000 years ago. Together, they create the Starchild Institute governed by a document they call the Starchild Compact to further develop and introduce Ectarian technology to the Solar System. Using Ectarian technology, they develop near lightspeed spacecraft, artificial wormholes, FTL starships, and human longevity.      As human colonies expand into the Solar System, they form a governing coalition: The Iapetus Federation. While a united Islam pursues a global Jihad that rages across the planet putting millions to the sword, the Federation enables an exodus from Earth using artificial wormholes. From hand-to-hand combat in the oceans, to battles on Earth's surface, to the challenge of living off-Earth and reaching for the stars, our heroes fight to survive and to expand humankind to the far reaches of the universe.
The Starchild Trilogy
Word Count:

99,000
Summary: Oil reserves depleted. Society collapsed. A few places cling to modern technology. For everywhere else, there are the Tinkers. In southern Ontario, Novo Gaia uses sustainable energy to support its citizens in comfort. From there, Novo Gaia sends Doctors of Applied General Technology, tinkers, into the Dark Lands to install everything from solar stills to televisions—and make a profit. Brad Cooper is a tinker on his route in Guelph when he finds himself at the epicentre of a plague outbreak. Stranded without support in a tenuously-held quarantine zone, he must use his limited medical training in a desperate search for a treatment against an insidious relic from an age of excess. Meanwhile, fuelled by panic, other townspeople caught within the quarantine zone conspire to sabotage relief efforts. Distrusted by the people he's trying to help, hampered by political rivals, under-supplied, over-worked, and with his own risk of infection increasing, Brad seems to be fighting a losing battle as the casualties mount...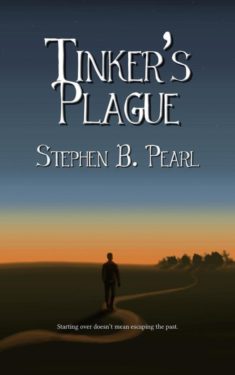 Tinker's Plague
Word Count:

115,674
Summary: Oil reserves depleted. Society collapsed. A few places cling to modern technology. For everywhere else, there are the Tinkers. In southern Ontario, Novo Gaia uses sustainable energy to support its citizens in comfort. From there, Novo Gaia sends Doctors of Applied General Technology, tinkers, into the Dark Lands to install everything from solar stills to televisions—and make a profit. After twenty years as an E.R. nurse, Tabitha "Tabby" Drivensky's failing marriage sent her into the tinker program and the open waters of the Great Lakes. While fulfilling her Coast Guard service obligation, she rescues a boy named Andy Camble from a sinking ship. Andy turns out to have vital information on Packer, a pirate captain who has been plaguing the Great Lakes for generations in an ancient, nuclear-powered submarine. Using Andy's intelligence, Tabby sets out ostensibly to scout out a new aquatic tinker route along Lake Huron but secretly assigned by Novo Gaia to find and put an end to Packer once and for all.
Tinker's Sea
Word Count:

81000
Summary: A hijacked spaceship... kidnapped colonists... their destiny changed forever Award-winning first book of the Titan trilogy follows a family whose torn loyalties threaten doom on a strange world that real-life science has only begun to explore. What if you awoke on a shadowy moon where water freezes as hard as granite and lakes fill with liquid methane? On Titan, a bizarre cult seeks utopia, but what will be different on this distant world? Real readers say: Dynamic story - Engaging characters - Feel like you were there - Devoured this book Discover a riveting mix of science and society on Saturn's deadly frozen moon. If you love gripping science fiction with twists and turns, you won't want to put it down.kk
Titan
Word Count: Information not available
Summary: Forty years after landing on Lida, the colony still isn't finished. Agetha has survived many more battles than she anticipated when she first landed on her new home planet. She's older and wiser, has gained family and lost loved ones. And yet her reward for four decades of service is to be pushed to the colony's outer edges with the other aging Generationals. But that was only the beginning of her adventure. The biomass has spent years studying the intruders who landed on its surface, carving a new home from its very essence. Never satisfied in its attempt to communicate with this new and invasive species, finally it has found a way to express its intentions. The colonists may never be the same. Discover the fate of the colony in the second book of The Biomass Conflux trilogy!
To a Fungus Unknown
Word Count:

140000
Summary: Jack Kirby just wants peace. Deeply scarred from a failed mission and struggling with the loss of his lover, Jack takes a job  as a Religious Program Specialist on a remote PreCol station. There, he finds what he never expected: a family. Marsha, a complicated woman with a deep connection to the spiritual world. Jenny, a cheerful ensign with a dangerous past. Mark, driven to demolish the atavistic cult he was born into. Can Jack protect them all as they become entangled in an espionage game with galactic stakes?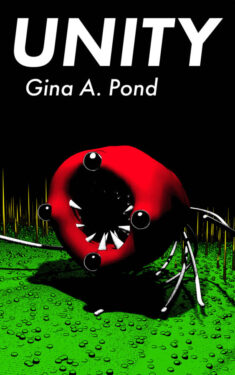 Unity
Word Count: Information not available
Summary: Our visions of the future - whether dark or hopeful, thrilling or mundane - have always challenged us to examine our world. How can we improve? What challenges will we face? Are we even ready? Top Science Fiction authors, collectively holding 25 Hugo, Nebula, Locus, and Sturgeon awards (a few for Vital stories!), employ the power of engaging fiction to explore these questions and today's most critical issues in medicine. But Vital doesn't stop at speculation. Proceeds will be donated to the COVID-19 Solidarity Response Fund for the World Health Organization, the global guardian of public health, coordinating the worldwide pandemic response. Read on to build a better future of Healthcare! Featuring stories by Paolo Bacigalupi, David Brin, Tananarive Due, Sally Wiener Grotta, Congyun ("Mu Ming") Gu, James Patrick Kelly, Justin C. Key, Seanan McGuire, Annalee Newitz, Julie Nováková, Lola Robles, Eric Schwitzgebel, Alex Shvartsman, Caroline M. Yoachim Edited by RM Ambrose
Vital: The Future of Healthcare
RM Ambrose , Paolo Bacigalupi , David Brin , Tanan...
Word Count:

109700
Summary: Cassidy needed a fresh start, and the offer of a guard posting for a historic temple in the middle of the desert sounded like a good way to clear her head. She didn't expect to find a new girlfriend- maybe even a soul mate. She didn't expect to be in the crossfire of a terrorist, a cowardly scientist, and a fleet of microscopic invaders. She didn't expect to lose. In the years after Lifehack and the Erebus incident, the world settles into relative quiet under strict nanite bans, but underground activity keeps dangerous nano-tech alive and well. (Although Watching Yute is a complete tale within the Lifehack series, it chronologically takes place between Lifehack and Echoes of Erebus.)
Watching Yute