Word Count:

161705
Summary: An underground city, built centuries ago to ride out the devastating heat. A society under attack. And a young solar engineer whose skills may be the key to saving her city…if she doesn't get herself killed first. When Jossey was ten, the creatures of the aboveground took her brother and left her for dead, with horrible scars. Now, years later, she's a successful solar engineer, working to keep her underground city's power running, but she's never really recovered. After she saves dozens of people during a second attack, she is offered a top-secret assignment as a field Engineer with Patrol, but fear prevents her from taking it…until Patrol finds bones near where her brother disappeared. She signs on and finds herself catapulted into a world that is far more dangerous, and requires far more of her, than she ever imagined. The creatures and the burning heat aboveground are not the only threats facing the City, and what she learns during her assignment could cost her her life: one of the greatest threats to the City may in fact lie within. With thousands of lives at stake, can she act in time? Aestus is an adult dystopian science-fiction series set centuries after climate change has ravaged much of Earth. An epic story of vengeance, power, shifting loyalties, and survival that looks at just how far people will go to protect what they love, brought to you by science writer S.Z. Attwell, Aestus paints a picture of a world in which far too little has changed. 
Aestus, Book 1: The City
Word Count:

67000
Summary: Androids & Aliens is Scott's third short story collection - eight sci fi and sci-fantasy shorts that run the gamut from cyborgs to (comedic) alien invasions: Rise: The rise in sea levels caused by climate change swallowed Venice beneath the lagoon half a century ago. But what if we could bring it back? Ping: I was a real estate agent by day, and a museum curator in the evening at a sci-fi museum. What I saw one night changed everything. What the Rain Brings: Miriam struggles to make a living in post-climate-change Vancouver. But her friend Catalina has it even worse in the Arizona desert. So Miri hatches a plan. High Seven: Zan dreams of making full reals - immersive live virtual reality skins - but his low score may doom him to a life of cheap coding. Full Real: Dek's given up his life of spying for the city. But one more case awaits him. Will he regret it more if he takes it, or turns it down? Shit City: The Bay Area is being walloped by a hurricane, and seventeen-year-old Jason Vasquez has been relocated to a refugee city in the Nevada Desert. Will it be temporary shelter, or change his life? Firedrake: Kerry has always wondered about his deadly powers. But a mysterious bunch of violet roses starts him on the path to discovery - even if he's not sure he's going to like what he finds. The Last Human Heart: I'm one of the Remainers, the few cyborg humans still living on this busted planet. But if my still-human heart finally gives out, I may not live to find out the truth about who I am. This is the first time all of these stories have all been collected in one place, and the first publication of the Pacific Climate Tryptich - What the Rain Brings, High Seven, and Full Real - in any form.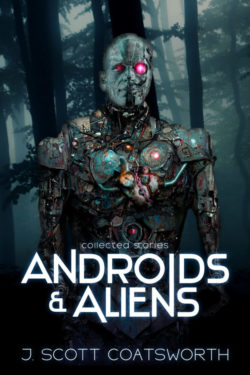 Androids & Aliens
Word Count:

50000
Summary: Fourteen-year-old Samantha spends her days exploring the shallow reef behind her island home. With her world locked in a battle against rising seas, scientists deploy genetically modified corals to rebuild reefs and protect the coastline. No one expects the reefs to be a hotbed of evolution, but they are. When an octopus flows off a rock in her lagoon, Samantha is startled. When he purposefully arranges pieces of coral on the sand, trying to communicate, she is shocked. How she responds may determine the fate of life on Earth. The year is 2045, and fourteen-year-old Samantha lives in a world where ocean levels are rising, destroying coastal cities and swallowing islands. Millions of displaced people are homeless. The planet is in a climate tailspin that threatens civilization. Researchers deployed genetically modified corals that can grow in warmer waters. They aimed to sequester carbon dioxide and stabilize the climate. The successful project produced an extensive barrier reef system along the coasts of Georgia and Florida. Samantha lives on a research island off the coast of Georgia with her scientist parents. She becomes obsessed with the ocean, spending all her time exploring the reef. One day, she encounters an octopus attempting to communicate with her. The story dives deep into an exploration of species' intelligence and the quest to save the planet.
Charlie's Story
Word Count: Information not available
Summary: Their connection was immediate. Was it destined or pre-programmed? Kenner Ford is trying not to panic. After his beautiful girlfriend suddenly disappeared from Beijing, he hops on a ballistic rocket to New York to begin a global search. And after a whirlwind romance filled with passionate sex and unsurpassed creativity, he's distraught to think she's gone forever. When warnings about Chinese intrusions get a cyberwarfare guru killed, Kenner and his missing lover become embroiled in a worldwide conflict. And after he learns they've both been surveilled for years by ambitious AIs, the troubled man flees from a deadly assassin while terrified for his woman's life… Can he reunite with his dream girl before they're permanently deleted? Control Theory is a thrilling science fiction romance. If you like compelling visions of the future, the evolution of advanced technology, and a sexy love story, then you'll adore Timothy Bult's futuristic roller coaster.
Control Theory
Word Count:

12500
Summary: SEALS Winged Insertion Command (SWIC) has based Tiger Bailey's operational SWIC-3 out of Howland Island near the Equator in the central Pacific, just a few kilometers away from Baker Island, location for the socket where Amelia Earhart Skytower terminates. Tiger Bailey's squad is tasked to drop from Low Earth Orbit (LEO) to Mayotte Island, northwest of Madagascar in the Indian Ocean, to rescue a U.S. Senator and his family who were taken hostage by pirates.
DAEDALUS COMBAT—Combat drop from Low Earth Orbit
Word Count:

15600
Summary: Following his successful base jump from Fred Noonan Skyport, Tiger Bailey undertakes the next step in the development process of the Gryphon hardshell wingsuit, a drop from Low Earth Orbit. Using the Gryphon-10 with enhanced navigation and computer control, and with a greater wingspan, he uses the Slingshot Space Launch Loop to gain Low Earth Orbit (LEO), but experiences equipment problems that nearly destroy him and doom the project. Ultimately, Tiger perseveres and drops into the Earth's atmosphere. He skips out in in several times before eventually making a harrowing but safe landing.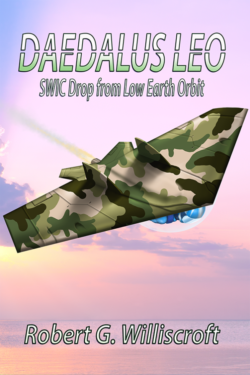 DAEDALUS LEO—SWIC drop from Low Earth Orbit
Word Count:

12300
Summary: After his successful proof-of-concept drop from Low Earth Orbit (LEO), Tiger Bailey's squad undertakes the next step in the development process of the Gryphon hardshell wingsuit, a coordinated drop from LEO by six team members. They tried to plan for every conceivable contingency, however, Mother Nature intervened with disastrous results.
DAEDALUS SQUAD—SWIC Squad drop from Low Earth Orbit
Word Count:

13500
Summary: Using a new Gryphon-7 hard-shell wingsuit, Tiger Baily, irreverent member of the Navy SEALS Winged Insertion Command, makes a harrowing first experimental base jump from the edge of Space, the Fred Noonan Skyport 80,000 meters above Jarvis Island in the Equatorial Pacific. Tiger's target, which he must reach to survive, is Kiritimati Island, a tiny isolated atoll 379 km northeast of Jarvis over ever-threatening and oh-so-deep ocean waters.
DAEDALUS: SWIC Basejump from Fred Noonan Skyport
Word Count:

80000
Summary: Other stories will take you to Mars. This one will take you inside the boardroom, the pub, and the bedroom with the people planning the mission. Gurdeep is an engineer and a soldier. Georgie's a food scientist. One is pragmatic with a tough outer shell; the other's an optimist, a person of ideas and compassion. In the span of a single afternoon, the couple find themselves in charge of planning a self-sustaining colony on Mars. Together, they're humanity's last hope for survival. They have 160 slots to fill with experts from all over the world as they set about designing an all-new society with its own government, economy, and culture – and that's just the tip of the iceberg. Among those chosen for the mission is Devon, an autistic scientist with a unique skill set who finds life on Earth strange and alienating. Maybe a whole new planet is exactly what's needed. With 1,114 days until the launch, excitement and tensions run high. Earth's second chance hangs in the balance. Between strict genetic requirements and the dangers of the dystopian almost-present, will everyone make it to the final countdown? This is a work of neurodiverse, culturally diverse, gender-bendy, socio-politico-economic, drunken-arguments-in-the-pub science fiction – not bang-bang-pew-pew science fiction.
Devon's Island
Word Count:

50000
Summary: Can Scott and his new friends survive a trip to the "Dead Zone". Is it REALLY dead? if not who or WHAT lives there?
Enimnori Discovery
Word Count:

79700
Summary:
First settlers on Mars may be the last.
Emma Winters wants to explore with her robotic walkabouts.
When the tiny colony's psychologist walks out an airlock, she takes the one-way journey to Mars despite misgivings. As more deaths and illness plague humanity's tiny foothold, Emma must discover the truth before the Red Planet kills them all.
Glory on Mars
Word Count: Information not available
Summary: Seasoned, strange, and dangerously clever Some invitations are impossible to refuse. When Ajay and Kylie are invited to a dinner party hosted by one of the wealthiest women around, Ajay sees it as an opportunity to dig into her past. He needs to find what shady business she's been up to and how dangerous she really is. Never mind that she's Kylie's grandmother. What starts out as a dinner party turns quickly to trouble when a guest is murdered. Was the killer the billionaire socialite, the odd chef, or one of the other guests? Ajay needs to cut through the complex connections between the reluctant guests, because one of them is a killer–but they aren't the only one. Too old to learn decent manners? Maybe. Too old to solve a murder? Not this grandfather.
Grandfather-Guardian
Word Count:

58000
Summary: Allen, a graduate student, and Sam, a cop, are unlikely lovers in the small college town of Hollenbeck. When a serial killer stalks young men in the town, Sam investigates, and the clues lead back to the genetically engineered dogs in Allen's lab. Danger mounts as the killer closes his grip on the city.
Hounds of Hollenbeck
Word Count:

94000
Summary: Braxton Thorpe has discovered a threat to the entire Solar System, but he has a problem: he's dead. Frozen at death, he awakens to find himself uploaded into an electronic matrix. Exploring beyond the matrix and the larger GlobalNet, he discovers the Oort, a distributed electronic entity older than humanity, with an unnerving secret: aliens wiped out nearly all life on Earth once, and are coming back to do it again. The mathematical entity that is Thorpe has to find a way to convince humans of the threat, and in time to do something about it. But how, and what? If you've read Niven's A World Out of Time or Taylor's We Are Legion, the opening of Icicle will only seem familiar. Buckle up for a wild ride; you ain't seen nothing.
Icicle: A Tensor Matrix
Word Count: Information not available
Summary: Kal has always been considered too "fragile" to participate in the village activities. Her lithe stature links her to her father and distances her from everyone else. He left the village to fight in the Teristaque Wars and never returned. She meets Sarge, a strange star species of the human race who seems to know the secret of the patch from her father's uniform. Kal has always known she is different than her fellow villagers, and finally she may be closer to finding out why.
Kal's Fall
Word Count:

174000
Summary: In a race against time to save David from near-certain death as he confronts his mystical fate, his partners Bryan and Brennan are plunged into a new world of mystery and intrigue among London's supernatural factions. Faced with new threats to their relationship greater than any they've known, the three men must confront what it means to love someone unconditionally. Aided by a rogue anti-corporatist werewolf and Bryan's own strong-willed daughter, Leap takes readers on an unparalleled journey across two continents to uncover technology giants' sinister plots to harness the supernatural to transform the world for their own gain. Ancient prophecies, mythical beings, ethical quandaries, and the seedy underbelly of a technological corporatocracy all converge in the third book in Lilith Frost's breakout Hard Way Home series. Can love overcome any obstacle when they come from another world? Leap continues to blend the best of science fiction and fantasy while introducing unique themes that make it a must-read for fans across genres of LGBTQ romance, urban fantasy, and dystopian drama.
Leap
Word Count:

80000
Summary: A fresh start, a queer social liberal dream, and a planet that wants to kill you. Carving out a life on Mars is no easy feat. With Earth in the throes of a devastating pandemic, autistic scientist Devon and her fellow colonists are faced with the momentous task of establishing a new society – one that learns from the past and prioritises sustainability over short-term gain. Noble aspirations are easier said than done, though – especially when the entire planet wants to kill you. Grappling with the realities of human nature and with their batteries slowly dying, the colony's 150 women and 10 men must overcome their differences to create a lasting community. But things aren't always what they seem and maybe the colonists aren't as alone as they thought… Perfect for fans of Mary Robinette Kowal's 'Lady Astronaut' series and the writing styles of Robert J. Sawyer and Becky Chambers. This thought-provoking sci-fi novel blends classic science fiction ideas with neurodiverse and LGBTQIA+ themes.
Livid Skies
Word Count:

299
Summary: This action filled, edge of your seat dystopian adventure is set in the near future, when a space probe is returning to Earth from the Cares 1 Asteroid with geological and biological samples frozen in ice for billions of years. It's big news, the discovery of ancient organisms from an extra-terrestrial body. After the samples arrive at Interplan Astro-Research facility in the quiet city of Worcester Massachusetts, with the world's media gathered, eager to hear official announcement that the samples are indeed biological, thus discovering evidence of complex life beyond our planet. Not everyone's excited or happy about having alien lifeforms coming to Earth, and one group of terrorists have planted a thermobaric bomb in an elevator shaft of the facility. The bomb detonates and the facility explodes, killing hundreds of people, workers, protestors, scientists and TV crews, but far from destroying the samples, the explosion has released them from their level one quarantine and unleashes a deadly parasite that quickly infects the citizens of Worcester with infestations of strand red worms that infest the living. Despite efforts to contain the "Cares Pestis" AKA the "MR. Ripple" it spreads fast and becomes through the USA and beyond, causing a complete breakdown of society. But then comes something else, something far more menacing that threatens the very existence of human life on earth, and for Colonel Troy Glass and his fiancé Yvette, a deadly struggle for survival begins as they head west, to a secret government facility known as Haven. On their way, they pick up an eclectic group of fellow survivors, who together, battle against all the odds, both human and alien…
Mr. Ripple
Word Count:

325
Summary: It's 200 years after WWIII and he earth is poisoned with Carbon-14 and plutonium. Following the decade long night of nuclear winter and the Great Famines, what's left of the human race is fragmented and much of the old world is nuclear wastelands inhabited by different factions, from the cannibalistic Ferals, who have reverted to savagery, to the Scavengers who pick among the ruins of the old world cities for useful items to barter with the Dusteaters, nomadic warlike factions who are at war with the despotic Utopians, the most technologically advanced and powerful of the human enclaves, who have forged a new civilization that is controlled by an elite of fertile scientists and intelligentsia who live underground in Sub City, which sprawls beneath Silo City and Surfer Town, where the infertile topsiders called the Mudsurfers live and work for their troglodyte masters. Thundersky often wonders why he doesn't get sick? All the topsiders get sick from the radiation and the cancers. So sick, that living to 35 is considered a grand old age. Only the Scholars live for longer. But the Scholars manufacture the medicinals that everybody needs to survive. Thundersky is different, not only is he immune from the radiation and cancers that have plagued the earth for 500 years, he's also a genius and just 19, he has designed an antimatter impulse drive capable of achieving 50% the speed of light. It's been months since Thundersky submitted his data and applied to the prestigious Tech Training Academy but has heard nothing since. Not all the Scholars are tyrants; some believe the exploitation of topsiders is cruel and wrong. The human experimentations conducted in the Utopian prisons on Dusteater terrorists is barbaric and inhuman. Among them, Grand High Scholar Blackstone Washington and High Scholar Blossom Flora, who for the past twenty years, following the purge of the geneticists and bioengineers have been protecting the "Genesis Child" from the Grand High Council who would kill him. But now people are getting suspicious and asking questions about the topsider who never gets sick, they must act quickly before his true identity is discovered and contrive to bring Thundersky into Sub City and alter his records with a little help from the ARTI-QS-Six-Zero-Two Quantum AI. Zim Steven, head of the SSS is soon suspicious of the new young genius and discovers that he is the Genesis Child, but before he can act, an ancient quantum system is activated at a secret location beneath the flooded ruins of Manhattan, and a countdown begins to unleash another thermonuclear holocaust upon our dying world and a race against time begins. Thundersky is selected to go to New York with an elite team of military tacticals to locate the NORAD system and deactivate it. Meanwhile, Zim Steven lays his plans to make certain that Thundersky and his companions never return to Silo City alive. After their transport drone is shot down by Dusteaters, Corporal Venus Jane and Fox, Thundersky and his best friend Tiger White are the only survivors, with just an armored vehicle. They are pursued by Dusteaters and the infamous Godders of Pennsylvania and a desperate battle for survival begins. While in the wilderness, the foursome make unlikely allies, and Thundersky falls in love with a handsome young Dusteater fighter, Reaper Bloodbuck. Utopia's arch enemy, the queen of the Dusteaters, the Prophetess will reveal things to Thundersky's that will unravel his life and everything he believes in, and soon, it's realized that the humble Mudsurfer is far more powerful than even the Scholars could have imagined…
NORAD's Ghost
Word Count:

111,000
Summary:
New York: two years after the Third World War. Humanity is rebuilding its cities brick by brick; the damage done to the people, however, is a lot harder to repair.
Dan Hardacre is one of those people. An aspiring stage actor and experienced draft-dodger, Dan struggles to find his place within the Utopic rebuild of New York City. When he's not caught up with the duties of work, Dan lives a quiet life in mourning for his mother, Dyani, who went missing when he was a teenager.
One night, Dan experiences a vivid, terrifying nightmare that puts him right on the front lines of the war for which he dodged the draft; it ends with him facing Death itself in the form of a metallic, faceless humanoid creature that calls itself the Valkyrie. To investigate the reason behind his haunting experience, Dan seeks out a meeting with his estranged father, who reveals the startling truth about Dan's dream: it wasn't a dream.
With this newfound knowledge and the powers it brings, Dan makes it his mission to return to the scene of his nightmare. However, he soon comes to know that confronting the Valkyrie not only endangers him but the war-withstanding world he leaves behind.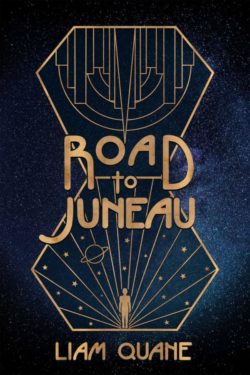 ROAD TO JUNEAU