Word Count: Information not available
Summary: This short novella follows Fixit, a worker on the surface of Tau Ceti Prime in another adventure. As Prime comes out of its perihelion orbit at the end of the pass, a new peril raises its head and only Fixit, Vega, is in any position to save the star system from calamity. Vega and Glitch must put all of their knowledge, skills, and creativity to the test to go off world to save Vashon and the population of the floating cities of Prime from certain death. Familiar friends and new enemies abound as Fixit races against time in the harshest environment she has ever faced... space!
Descent
August 26, 2018
Word Count:
51,180
Summary: Elvis impersonators, art-fueled lust, forbidden longings, hot women, unexpected love, rekindled flames, magic, all these and more populate the pages of DESIRE. Meet thieves and goddesses, activists and actors, ex-spies and tourists in this spicy collection of 11 tales of sensual lesbian erotica by author Emily L. Byrne. Table of Contents: Viva Las Vegas The Further Adventures of Miss Scarlet Summer Stock Spoonbridge and Cherry An Evening in Estelí A Room with a View Treehugger Diplomacy The Old Spies Club Heart's Thief The Goddess Within
Desire
November 26, 2017
Word Count:
130000
Summary: Life after the Crash. Over a century after the end of the Earth, life goes on in Redemption, the sole remaining Lunar colony, and possibly the last outpost of humankind in the Solar System. But with an existential threat burrowing its way into the Moon's core, humanity must recolonize the homeworld. Twenty brave dropnauts set off on a mission to explore the empty planet. Four of them—Rai, Hera, Ghost and Tien—have trained for two-and-a-half years for the Return. They're bound for Martinez Base, just outside the Old Earth city of San Francisco. But what awaits them there will turn their assumptions upside down—and in the process, either save or destroy what's left of humanity.
Dropnauts
SALE
May 10, 2021
Word Count:
83000
Summary: Desperate for a cure, Amanda will trade anything. Even her supernatural echo power. Plagued by schizophrenia, Amanda often has trouble distinguishing her delusions from the insights of her supernatural echo power. When her case catches the interest of a Cordovan geneticist, she soon discovers there's a fine line between a patient and a test subject. Even worse, the treatment for her disease might also erase her power. With Amanda left vulnerable by her treatment, the crew is in a race to save both her and the other test subjects. But their lone ship is no match for the Cordovan's advanced technology.  Can Amanda use her power to save them before her consciousness is erased? Echo is the thrilling continuation of the New Dawn science fiction series. If you like complex characters, clashing cultures, and supernatural powers, you'll love this multi-realm space opera.
Echo
July 15, 2021
Word Count: Information not available
Summary: A young bodyguard finds her special abilities are no match for a flirtatious delegate willing to gamble everything on the galaxy trade talks. Assigned to guard a diplomat at the galaxy trade talks, Security Officer Anais wants to shine during her first solo mission for the Chezeray Palace Conglomerate. An Elusive with the ability to make herself invisible, Anais knows her modified genes designate her servant class, but she yearns to be more than simply a protector to the beautiful delegate. Savea Blackmun arrives alone to the trade talks with the weight of her planet's future resting on her slim shoulders. Flirting with her pretty bodyguard reveals Anais' knowledge of the colony markets and Savea realizes there's much more to her protector than meets the eye. As their attraction grows, will the diplomat and the bodyguard reject society's rules to give in to desire instead?
Elusive Radiance
June 7, 2016
Word Count:
10400
Summary: "5 Stars - This action-packed adventure will fully immerse the reader... any fan of science fiction or action-adventure would enjoy this book." - Reader's Favorite "...a gifted story that is exceptionally compelling." - D. Donovan, Senior Reviewer, Midwest Book Review "5 Stars - ... something both sci-fi and fantasy fans will enjoy." - Jim's Sci-Fi Blog Even gods have secrets... On planet Vastire, worth is set by the sins of one's ancestors. Good families rise to the elite and the wicked fall into poverty. Unfortunately for sixteen-year-old Darynn Mark, his father incited a revolution. Now, Darynn scrounges his way through life in the slums. When Vastire is surrounded by an embargo, it gets even harder to survive. That all changes when an alien ship slips through the embargo, seeking Darynn with an offer: finish the revolution and the embargo ends. He might have a chance thanks to mysterious magic powers, and his two companions: clairvoyant crush Fyra and soldierly alien Kaylaa. Cutthroat killers, mystical beasts, Vampires, power-hungry priests and lords, and self-serving spies stand in their way. If the three of them can crack his father's secret, maybe they can end the embargo and save the poor. If not, another poor orphan will be added to the growing piles of dead.
Embargo on Hope
August 20, 2021
Word Count:
109,500
Summary: Break the treaty, be destroyed. We forgot. Now we pay the price. Jason Sietinen lives in the shadow of greatness. He's worked hard to become a TSS officer in his own right, but having war heroes for parents is hard to top. When Jason is assigned to investigate a mysterious attack, he finds evidence of powerful transdimensional beings never before seen. Or so he thought. Jason soon learns that critical information was lost through the millennia: Tarans had an ancient treaty with the aliens. Unfortunately, rogue actions by a shadow faction within the Empire just broke the peace. With the future of the Empire hanging in the balance, Jason must find a way to unite the Taran worlds, including the lost colony of Earth, against the mounting threat. There's just one problem: how do you fight an enemy you can't see or touch? Perfect for fans of epic sci-fi featuring sprawling galactic empires, drama, intrigue, and psionic abilities, Empire Reborn is the first book in the Taran Empire Saga, a new entry point to the bestselling Cadicle Universe.
Empire Reborn (Taran Empire Saga Book 1)
March 19, 2021
Word Count:
109,500
Summary: Ancient secrets may be the way forward… Tarans have reached a tentative peace with the Erebus. While politicians on Tararia address the political ramifications of the new alliance, Jason and the rest of the TSS refocus their efforts on defense. The Erebus are after something. It's unclear what, but Jason is convinced they can't be trusted. The Aesir's data archive may hold the key to an effective defense, except keeping anything from the Erebus and their seemingly omnipotent abilities will put the fragile Taran Empire in even greater danger. Fearing for the Empire's security, the TSS implements a covert plan to upgrade the fortifications across the Taran worlds using ancient technology that has long been buried. Only, those secrets were locked away for a reason, and reopening the archives will initiate a conflict no one is prepared to fight. Empire Uprising is the second installment of the Taran Empire Saga set in the Cadicle Universe, perfect for fans of epic sci-fi featuring sprawling galactic empires, drama, intrigue, and psionic abilities.
Empire Uprising (Taran Empire Saga Book 2)
August 20, 2021
Word Count:
214000
Summary: Starship lost in eternity... Ghost ship Impris, lost during the War of a Thousand Suns, is the stuff of legend. Her very name conjures the perils of interstellar travel. But no mere legend, she is real—glimpsed on occasion in the hyperdimensional Flux, and then gone. Her passengers and crew live on in a strange limbo, their fate hopelessly caught up in quantum defects in space-time, interstellar piracy, and galactic coverup. To the pirates of Golen Space, she is a perfect lure, drawing passing ships to their doom. Many innocent star riggers have been captured in such raids and forced to pilot for the murderous pirates. One such rigger, Renwald Legroeder, makes a daring escape and flees to the presumed safety of the Centrist Worlds. But instead of finding asylum, he is framed for treason. Something is terribly wrong in the Guild of Riggers and the government that should be protecting him. To clear his name--and perhaps to avert a disastrous war between worlds—he must escape a second time, and partner with the amphibious Narseil to return to the Deep Flux and search for the lost Impris. Legroeder's journey takes him back into the heart of raider territory, where he encounters a bewildering array of motives, conspiracies, and even deep-cyber romance. Forging friendships and finding love in the unlikeliest of places, Legroeder must nevertheless put his life on the line to protect the innocent, and preserve a shaky interstellar peace. A finalist for the Nebula Award, Eternity's End stands as a highlight of the Star Rigger saga, and one of Jeffrey A. Carver's most memorable novels. Can be read as a stand-alone book, or as part of the future history. PRAISE FOR ETERNITY'S END: "True love, cognitive dissonance, divisions among the enemy, ambitious schemes, another mission—this one deeper than anyone has ever gone before into the substrata of the Flux—and a final resolution that leaves the reader both breathless and satisfied." —Analog "You don't want to wait for the paperback." —Science Fiction Chronicle "A mesmerizing tale of human perseverance and courage under pressure that updates the legend of the Flying Dutchman." —Library Journal "Carver never runs out of new plot twists to keep the reader coming back for more." —The Washington Post
Eternity's End
December 11, 2010
Word Count: Information not available
Summary: The Dissolution approaches, and all will change. "Science fantasy with fantastic queer rep" -J.S. Fields, Author of the Ardulum Series The Dissolution approaches. Sam has saved the Assembly of Species, but at a terrible cost. Locked in his apartment, his memories gone and his best friend abducted, he is once again crippled with anxiety. Meanwhile, Enos struggles to free her brother from imprisonment, alone for the first time in her life. Her true species has been revealed, and there are hints the deadliest of her kind survived an ancient war. But the Nether contains more secrets. A musical chime disrupts daily life, signaling changes to its very fabric. To solve this mystery, Sam must face his anxiety and confront truths about his memories and unique abilities. Only then can he save his friends from the machinations of the Life Coalition, by understanding the reality behind the Facets of the Nether. If you like epic fantasy, space opera and music-based magic, you'll love William C. Tracy's Dissolution Cycle. Download Facets of the Nether today and discover the diverse cultures, genders, and alien species of an epic science fantasy space opera! The Dissolution Cycle (Epic Space Opera, LGBT): Book 1: The Seeds of Dissolution Book 2: Facets of the Nether Book 3: Fall of the Imperium Book 4: Tales of the Dissolutionverse (Novella collection)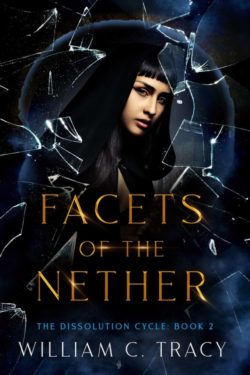 Facets of the Nether
June 22, 2020
Word Count: Information not available
Summary: The Dissolution is here. It is both an end, and a beginning. "Science fantasy with fantastic queer rep" -J.S. Fields, Author of the Ardulum Series The Dissolution has begun. Sam is finally reunited with Enos and Inas, only to see his new home under siege by beings that dissolve reality at a single touch. Even as they battle their personal demons, the three apprentices must also fight to save their home. Enos lashes out at those she loves, plagued by voices she's consumed, and Inas must risk his sanity to access ancient memories of the Nether. Sam must learn how he uniquely affects the Symphony, but there is little time to master what usually takes a lifetime. The Nether is leaderless and the Assembly is in chaos. The three apprentices must counter an invasion by aliens who rip the Symphony, and the very universe, apart. Ancient antagonists will resurface, a battle must be fought, and the secrets of the Nether and the universe will be laid bare in this final book of the Dissolution Cycle. If you like epic fantasy, space opera and music-based magic, you'll love William C. Tracy's Dissolution Cycle. Download Fall of the Imperium today and discover the diverse cultures, genders, and alien species of an epic science fantasy space opera! The Dissolution Cycle (Epic Space Opera, LGBT): Book 1: The Seeds of Dissolution Book 2: Facets of the Nether Book 3: Fall of the Imperium Book 4: Tales of the Dissolutionverse (Novella collection)
Fall of the Imperium
August 24, 2020
Word Count: Information not available
Summary: Here you'll find tales of the supernatural, betrayal and murder; the mistakes that lead to the fall of empires and the constant tug of war that haunts mankind. There's a blend of science fiction, fantasy and horror - from a modern day detective facing a serial killer to a future utopia filled with disloyalty. Lovers of romance will find a little something for them too, but within these bright sparks of hope shades of darkness lurk.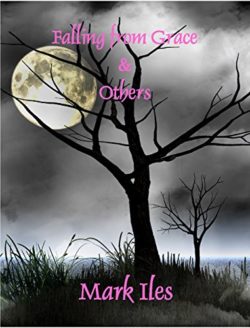 Falling from Grace, & Others
October 27, 2014
Word Count:
89000
Summary: An exiled ruler turned hired assassin, Farryn plots his revenge on his home planet while building a criminal empire on the human colony world of Far India. But when his former wife dares to follow him into human space and attracts the attention of Earth Central Security, Farryn is forced to choose between hatred and love, ambition and heart's desire. Described by Kirkus Reviews as "a solid entry for readers craving new, original space operas," Farryn's War promises to thrill fans of science fiction and romance alike in this first book of a new series by award-winning author Christie Meierz.
Farryn's War
September 22, 2015
Word Count:
31368
Summary:
While Shax recovers from a near fatality, his shipmates have been busy. He's rather proud of them for taking the initiative and finding them a lucrative cargo run. His pride turns to outright horror, though, when he finds out what sort of cargo. Frogs. The one thing in the universe that incites mindless panic in Shax. Unfortunately, he also soon discovers that a healthy fear of frogs doesn't prevent frog-driven disasters.
An unlikely series of overlapping mishaps hurls the Brimstone back to an even more unlikely point in history for a couple of demons and a fallen angel in a spaceship. Somehow they need to repair and refuel, and puzzle out how to get home. Time travel has never been so messy.
Fear Of Frogs: Brimstone 3
February 22, 2014
Word Count:
87000
Summary: The crew of the Ungovernable might have just gambled more than they can pay. Ex-smuggler pilot Jez and the crew of the Ungovernable desperately need is a way to stop the government killing them all. And they're running out of time. So when Grigory Korzhikov, the godfather of the biggest mafia organization in the System, invites them aboard his private gambling ship and tells them he can give them a way out, it's an offer they can't refuse. But accepting means dealing into Grigory's game, and he's playing with a stacked deck. He hasn't forgotten the money they cost him in their first heist, and he's notorious for holding grudges. If they don't want to end up floating in space without a space suit, they'll have to find a way to beat him at his own game, and in Grigory's ship, the odds are on the house. Firewall is the fifth book in R.M. Olson's science fiction space opera series The Ungovernable. With a crazy, close-knit crew, plenty of humour, and loads of action, Firefly meets Ocean's Eleven in this fast-paced, kick-ass, wickedly fun series.
Firewall
October 29, 2020
Word Count:
13208
Summary: Fixit, she's out of this world... This short novella follows Fixit, a worker on the surface of Tau Ceti Prime. She is an ace mechanic who keeps the automated harvesting machines in good running order. She has never missed a quota in her efforts help to feed all the people "topside" in the giant floating cities in the sky. She has to make her first trip to the technologically advanced cities for the first time in her life to make an emergency shipment to New Terra City because Betweeners had hijacked the prior shipment. With the help of her pinger friends, the maintenance drones who are there to aide her, she gets an old airship repaired to make the flight. But things go bad when she is intercepted by those same pirates. Can she hold out until the Sky Guard can arrive?
Fixit
November 26, 2016
Word Count:
20,900
Summary: One day, someday soon, Jeeze Madrid was going to wake up and realize just what he'd been passing up; he'd see what Cal Paxton was offering him so faithfully—"Faithfully, Jeeze! Even you can't deny that!"—and grab it. And they'd finally have what Cal wanted. Cal Paxton and Jeeze Madrid are the top scouting team on the Pathfinder-class starship, the Carson, on the very outer edge of Earth's expansion across the galaxy. Cal and Jeeze find the uninhabited planets, the Carson evaluates them for colonization. Cal and Jeeze are wingmen, best friends... and lovers. Cal wants more than a casual relationship but Jeeze, recently divorced, is wary of commitment. When Jeeze's scout ship is shot down over a planet inhabited by a race Earth has never before encountered, what will Cal find when the Carson can finally mount a rescue mission? Will he ever succeed in persuading Jeeze to take up his offer of hand and heart?
FlashWIred
January 14, 2017
Word Count:
37,450
Summary: Giddeus Modesto and Mitsuko Yamato, two well-connected junior officers, get a front-row seat to the build-up to liberate Amargosa. Between a completely avoidable crash on frozen Demeter to the distant core world of Metis to the burgeoning new world of Hanar, they will train with both human and Gelt to retake Amargosa from its occupiers. What happens next is anyone's guess. However, they'll find their biggest battle with not be with the invaders. It will be with each other.
Flight Blade (Gathering Storm Arc 3)
July 4, 2020
Word Count:
555,000
Summary:
The Taran Empire is fighting a secret interdimensional war... and they're losing.
When High Dynasty heir Wil Sietinen comes face-to-face with the Bakzen, a mysterious race skilled in advanced telekinesis, he's forced to confront his destiny. A secret war is being waged within a hidden dimensional rift, and his unique gifts can help win the fight. As the dire nature of the conflict and the truth about his own abilities unfolds, Wil realizes he's at the center of a galactic conspiracy. And enemies are not who they seem. With the future of the entire Taran Empire hanging in the balance, Wil holds the key to victory—but saving his people may come at the ultimate price. The Cadicle series is a sweeping epic that will grab you from the first page, offering a rich blend of adventure, intrigue, and the intersection of technology with mental powers. Join multiple generations of one noble family in their battles against unimagined foes to change the course of an empire. This series is an entry point into the award-winning Cadicle Universe. The Fractured Empire boxset contains the complete Cadicle series:
Volume 1: Architects of Destiny
Volume 2: Veil of Reality
Volume 3: Bonds of Resolve
Volume 4: Web of Truth
Volume 5: Crossroads of Fate
Volume 6: Path of Justice
Volume 7: Scions of Change
Fractured Empire: Complete Cadicle Series
November 11, 2017
Word Count:
62300
Summary: Finally the evil conspiracy reveals itself in all its true power, bringing the Empire to its knees. Even the Imperial Special Investigation Service is helpless in the face of the unexpected, overwhelming attack. But the Empire strikes back with all the resources at its disposal--hoping against hope that will be enough to save humanity.
Galactic Collapse