Word Count:

109,500
Summary: Ancient secrets may be the way forward… Tarans have reached a tentative peace with the Erebus. While politicians on Tararia address the political ramifications of the new alliance, Jason and the rest of the TSS refocus their efforts on defense. The Erebus are after something. It's unclear what, but Jason is convinced they can't be trusted. The Aesir's data archive may hold the key to an effective defense, except keeping anything from the Erebus and their seemingly omnipotent abilities will put the fragile Taran Empire in even greater danger. Fearing for the Empire's security, the TSS implements a covert plan to upgrade the fortifications across the Taran worlds using ancient technology that has long been buried. Only, those secrets were locked away for a reason, and reopening the archives will initiate a conflict no one is prepared to fight. Empire Uprising is the second installment of the Taran Empire Saga set in the Cadicle Universe, perfect for fans of epic sci-fi featuring sprawling galactic empires, drama, intrigue, and psionic abilities.
Empire Uprising (Taran Empire Saga Book 2)
Word Count:

62,900
Summary: A werewolf and seven vampires are all that stand between the world and complete annihilation. When Kai Richter and Ori Bier met, sparks flew. Then a train blew up. Tracking an organism deadly to not only humans, but vampires and werewolves alike, brings Kai and Ori into the Vampire Guard. Decades later, they, along with Operative Team Jack Rabbit, come face to face with the horrors that same virus produces. Dead bodies are coming back to life, and rational people are becoming violent and brutal killers. A massacre is taking place nearly a mile under the Atlantic Ocean. Two teams of The Vampire Guard are in the thick of it, fighting to survive.
Endosymbiont
SALE
Word Count:

50000
Summary: An act of desperation by young magician Brandon accidentally snatches Scott Hathaway from our world. Struggling to adapt to his new life, Scott becomes ensnared in dark local politics. He realizes he can use the knowledge he brought from his world to save his new friends, but at what cost? The first in a series. A story about an engineer who gets accidentally transported to a medieval type world where magic is real. But all is not as it seems!
Enimnori
SALE
Word Count:

50000
Summary: Can Scott and his new friends survive a trip to the "Dead Zone". Is it REALLY dead? if not who or WHAT lives there?
Enimnori Discovery
Word Count:

214000
Summary: Starship lost in eternity... Ghost ship Impris, lost during the War of a Thousand Suns, is the stuff of legend. Her very name conjures the perils of interstellar travel. But no mere legend, she is real—glimpsed on occasion in the hyperdimensional Flux, and then gone. Her passengers and crew live on in a strange limbo, their fate hopelessly caught up in quantum defects in space-time, interstellar piracy, and galactic coverup. To the pirates of Golen Space, she is a perfect lure, drawing passing ships to their doom. Many innocent star riggers have been captured in such raids and forced to pilot for the murderous pirates. One such rigger, Renwald Legroeder, makes a daring escape and flees to the presumed safety of the Centrist Worlds. But instead of finding asylum, he is framed for treason. Something is terribly wrong in the Guild of Riggers and the government that should be protecting him. To clear his name--and perhaps to avert a disastrous war between worlds—he must escape a second time, and partner with the amphibious Narseil to return to the Deep Flux and search for the lost Impris. Legroeder's journey takes him back into the heart of raider territory, where he encounters a bewildering array of motives, conspiracies, and even deep-cyber romance. Forging friendships and finding love in the unlikeliest of places, Legroeder must nevertheless put his life on the line to protect the innocent, and preserve a shaky interstellar peace. A finalist for the Nebula Award, Eternity's End stands as a highlight of the Star Rigger saga, and one of Jeffrey A. Carver's most memorable novels. Can be read as a stand-alone book, or as part of the future history. PRAISE FOR ETERNITY'S END: "True love, cognitive dissonance, divisions among the enemy, ambitious schemes, another mission—this one deeper than anyone has ever gone before into the substrata of the Flux—and a final resolution that leaves the reader both breathless and satisfied." —Analog "You don't want to wait for the paperback." —Science Fiction Chronicle "A mesmerizing tale of human perseverance and courage under pressure that updates the legend of the Flying Dutchman." —Library Journal "Carver never runs out of new plot twists to keep the reader coming back for more." —The Washington Post
Eternity's End
Word Count:

93000
Summary: Harper Cody used to worry about the SATs or a getting a new laptop for Christmas… but now, she only wants to keep her little sister alive. At 5:59 a.m. early in September, life as she knew it came to an end with a nuclear flash ninety miles away in Colorado Springs. For two months, her family sheltered in the basement of their home, surviving on whatever canned goods Dad could scavenge. Passing evacuees told of a safe haven in the mountains, but her father refused to leave. He thought their home was safe… until a gang of looters kicked in the door. Four years ago at thirteen, Harper won trophies for competition shooting, but killing a man pointing a gun at her is nothing like nailing targets at a range. Hesitation cost her parents' lives. With no other options, she grabbed her little sister and ran away from the only home she'd ever known into a world she no longer recognized. The promise of safety in Evergreen gives her hope, but unless the girl voted sweetest in her class can find the nerve to kill, Harper—and her kid sister—are as good as dead.
Evergreen
Word Count: Information not available
Summary: After centuries of warfare, a world of conquerors has at last defeated their enemies and destroyed their god-like creators. With their society now teetering on collapse and an aging ruler close to death, two young scions from legendary imperial families contend to take control. One has a progressive vision for changing their world by integrating their former enemies. The other has a darker plan that calls for the expulsion and extermination of those who once opposed them. Only one can succeed, and their struggle to destroy each other may be the spark that burns their empire to ashes.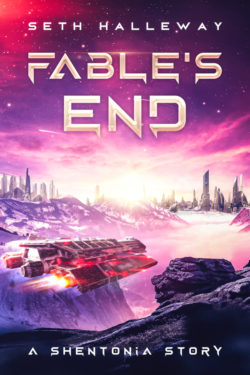 Fable's End
Word Count: Information not available
Summary: The Dissolution approaches, and all will change. "Science fantasy with fantastic queer rep" -J.S. Fields, Author of the Ardulum Series The Dissolution approaches. Sam has saved the Assembly of Species, but at a terrible cost. Locked in his apartment, his memories gone and his best friend abducted, he is once again crippled with anxiety. Meanwhile, Enos struggles to free her brother from imprisonment, alone for the first time in her life. Her true species has been revealed, and there are hints the deadliest of her kind survived an ancient war. But the Nether contains more secrets. A musical chime disrupts daily life, signaling changes to its very fabric. To solve this mystery, Sam must face his anxiety and confront truths about his memories and unique abilities. Only then can he save his friends from the machinations of the Life Coalition, by understanding the reality behind the Facets of the Nether. If you like epic fantasy, space opera and music-based magic, you'll love William C. Tracy's Dissolution Cycle. Download Facets of the Nether today and discover the diverse cultures, genders, and alien species of an epic science fantasy space opera! The Dissolution Cycle (Epic Space Opera, LGBT): Book 1: The Seeds of Dissolution Book 2: Facets of the Nether Book 3: Fall of the Imperium Book 4: Tales of the Dissolutionverse (Novella collection)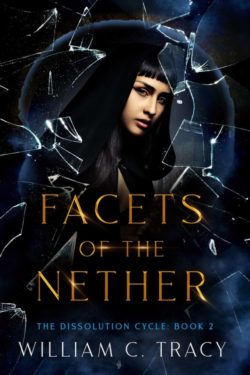 Facets of the Nether
Word Count: Information not available
Summary: Sir Percival Rathkeale, the red-haired knight of Viridiae, the Green Land, seeks the lost Grail, a powerful device critical to the survival of his king, his country, and the planet. Merlin, the king's chief science advisor, discovers new clues to the Grail's location. The king appoints Sir Percival to a new expedition to find the Grail. With Sirs Galahad and Bors, and Dame Lancelot du Lac, the strongest warrior in the land, Percival sails for the island of Koda, where he faces dark forces determined to oppose his mission and usurp the king. Will Percival find the Grail, restore his country, and save the world? Fall of the Green Land, the first novel in the fantasy series The Future History of the Grail, re-imagines the King Arthur legends, placing them a thousand years in the future. The second and third books are War for the Green Land and Return to the Green Land.
Fall of the Green Land (The Future History of the Grail Book 1)
Word Count: Information not available
Summary: The Dissolution is here. It is both an end, and a beginning. "Science fantasy with fantastic queer rep" -J.S. Fields, Author of the Ardulum Series The Dissolution has begun. Sam is finally reunited with Enos and Inas, only to see his new home under siege by beings that dissolve reality at a single touch. Even as they battle their personal demons, the three apprentices must also fight to save their home. Enos lashes out at those she loves, plagued by voices she's consumed, and Inas must risk his sanity to access ancient memories of the Nether. Sam must learn how he uniquely affects the Symphony, but there is little time to master what usually takes a lifetime. The Nether is leaderless and the Assembly is in chaos. The three apprentices must counter an invasion by aliens who rip the Symphony, and the very universe, apart. Ancient antagonists will resurface, a battle must be fought, and the secrets of the Nether and the universe will be laid bare in this final book of the Dissolution Cycle. If you like epic fantasy, space opera and music-based magic, you'll love William C. Tracy's Dissolution Cycle. Download Fall of the Imperium today and discover the diverse cultures, genders, and alien species of an epic science fantasy space opera! The Dissolution Cycle (Epic Space Opera, LGBT): Book 1: The Seeds of Dissolution Book 2: Facets of the Nether Book 3: Fall of the Imperium Book 4: Tales of the Dissolutionverse (Novella collection)
Fall of the Imperium
Word Count: Information not available
Summary: It's the find of a lifetime – an ancient alien spaceship hanging in a forgotten corner of space. For Song this could change everything. She's got as many problems with her finances as she does in her marriage, but maybe at last her passion for wreck-diving will pay off. One piece of unknown tech could set her whole crew up for life. The ship conforms to nothing in their records and dwarfs the largest human vessels. Battle-scarred and old before humanity ever reached the stars, it's a mausoleum of an unknown, long-dead species. And it's just winked at her.
Falling Dark
Word Count: Information not available
Summary: Here you'll find tales of the supernatural, betrayal and murder; the mistakes that lead to the fall of empires and the constant tug of war that haunts mankind. There's a blend of science fiction, fantasy and horror - from a modern day detective facing a serial killer to a future utopia filled with disloyalty. Lovers of romance will find a little something for them too, but within these bright sparks of hope shades of darkness lurk.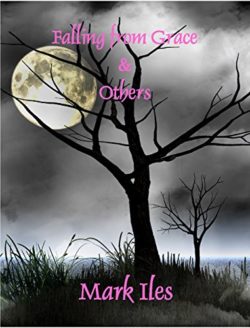 Falling from Grace, & Others
Word Count:

89000
Summary: Exiled Tolari ruler turned hired assassin, Farryn never stops plotting revenge on his home planet while building a criminal empire on the human colony world of Far India. But when his former wife dares to follow him into human space and attracts the attention of Earth Central Security, Farryn is forced to choose between hatred and love, ambition and heart's desire. Described by Kirkus Reviews as "a solid entry for readers craving new, original space operas," Farryn's War promises to thrill fans of science fiction and romance alike in this first book of a new series by award-winning author Christie Meierz.
Farryn's War
Word Count:

97000
Summary: The seas spell freedom. Pirates and kraken, boats and submarines, deadly sirens, mermaids, and the women who face them all. These are our heroes. High seas adventure, fantasy, and magic weave together in this sapphic anthology focusing on the joy of the unbounded oceans. If you like diverse stories with lesbian and sapphic heroines exploring oceans, battling sea monsters, and seducing pirates, buy Farther Reefs today! With stories by: Sarah Day and Tim Pratt, Kim Pritekel, Kyoko M. Sara Codair, William C. Tracy, N.L. Bates, Robin C.M. Duncan, Vanessa Ricci-Thode, Margaret Adelle, and J.S. Fields Genres: Science Fiction / Fantasy / Adventure / Lesbian / LGBT and Non Binary Market: Adult
Farther Reefs
Word Count:

31368
Summary:
While Shax recovers from a near fatality, his shipmates have been busy. He's rather proud of them for taking the initiative and finding them a lucrative cargo run. His pride turns to outright horror, though, when he finds out what sort of cargo. Frogs. The one thing in the universe that incites mindless panic in Shax. Unfortunately, he also soon discovers that a healthy fear of frogs doesn't prevent frog-driven disasters.
An unlikely series of overlapping mishaps hurls the Brimstone back to an even more unlikely point in history for a couple of demons and a fallen angel in a spaceship. Somehow they need to repair and refuel, and puzzle out how to get home. Time travel has never been so messy.
Fear Of Frogs: Brimstone 3
Word Count: Information not available
Summary:
The war is over. Resources are scarce. The population is dwindling in the Forkstream Territories.
Pinnacle Officer Wilcox has created FERTS amidst the chaos, a facility designed to protect the female population from raiding hordes.
Beth 259201, a newly-demoted Epsilon Internee, suspects that there is something more that lurks beneath the carefully constructed order of the facility.
She has a gift, one that could brand her a defective. A novice fighter, she must use her intellect to survive. Her own life, and the lives of many more may be at risk. Will she succumb to the plans in store for her or will she conceal her secret long enough to discover her own path?
FERTS
Word Count:

72000
Summary: Trix works as a prostitute on the Pleasure Station, a space station devoted to entertainment, gambling, and the pleasures of the flesh. He never intended to spend his life there, but the place offers him security, regular cream, and over time it has become his home. As a dual-gendered feline, Trix knows the risk of pregnancy is high and sets his prices equally high to discourage customers. Trix never imagines that Delta, a canine with credits to spare will call his bluff. When Delta pays for himself and Farron, a naïve avian from the swan clan, to spend the night with Trix, the three of them forge an unexpected bond, one that leaves Trix pregnant. As a swan avian, Farron is incapable of being unfaithful to his mate, even when the bond is only partially formed. To complete the bond Farron must find Trix before the babies are born, or the bond will break forever, and Farron will be forced to live a life of celibacy. In the meantime, the Pleasure Station is under new ownership, and when the humans ban prostitution on the station Trix is left homeless. When Delta hears about the Pleasure Station, he too races back to find Trix. Both Farron and Delta arrive too late. Trix has vanished and the race is on to find him before he gives birth. Only then will they know if the bond they formed on their first night is strong enough to last a lifetime.
Finding Trix
Word Count:

87000
Summary: The crew of the Ungovernable might have just gambled more than they can pay. Ex-smuggler pilot Jez and the crew of the Ungovernable desperately need is a way to stop the government killing them all. And they're running out of time. So when Grigory Korzhikov, the godfather of the biggest mafia organization in the System, invites them aboard his private gambling ship and tells them he can give them a way out, it's an offer they can't refuse. But accepting means dealing into Grigory's game, and he's playing with a stacked deck. He hasn't forgotten the money they cost him in their first heist, and he's notorious for holding grudges. If they don't want to end up floating in space without a space suit, they'll have to find a way to beat him at his own game, and in Grigory's ship, the odds are on the house. Firewall is the fifth book in R.M. Olson's science fiction space opera series The Ungovernable. With a crazy, close-knit crew, plenty of humour, and loads of action, Firefly meets Ocean's Eleven in this fast-paced, kick-ass, wickedly fun series.
Firewall
Word Count:

85000
Summary: ALSO AVAILABLE FROM INGRAM FOR BOOKSTORES We're a world beset by crises. Climate change, income inequality, racism, pandemics, an almost unmanageable tangle of issues. Sometimes it's hard to look ahead and see a hopeful future. We asked sci-fi writers to send us stories about ways to fix what's wrong with the world. From the sixty-five stories we received, we chose twelve most amazing (and hopefully prescient) tales. Dive in and find out how we might mitigate climate change, make war obsolete, switch to alternative forms of energy, and restructure the very foundations of our society, The future's not going to fix itself.
Fix the World Anthology
Word Count:

13208
Summary: Fixit, she's out of this world... This short novella follows Fixit, a worker on the surface of Tau Ceti Prime. She is an ace mechanic who keeps the automated harvesting machines in good running order. She has never missed a quota in her efforts help to feed all the people "topside" in the giant floating cities in the sky. She has to make her first trip to the technologically advanced cities for the first time in her life to make an emergency shipment to New Terra City because Betweeners had hijacked the prior shipment. With the help of her pinger friends, the maintenance drones who are there to aide her, she gets an old airship repaired to make the flight. But things go bad when she is intercepted by those same pirates. Can she hold out until the Sky Guard can arrive?
Fixit