Word Count:
144680
Summary:
A secret revealed. A plot within a plot. A battle to reunite.
"Author James Siewert has certainly breathed new life into science fiction with this superb and spicy work."
-
K.C. Finn for Readers' Favorite Reviews
Headed in opposite galactic directions, Rowland Hale and Toar Grithrawrscion must find a way to reunite despite the myriad of challenges dogging their every step. An unwelcome surprise finds Rowland picking up the pieces of what he thought was his life, and Toar learns the hard way that the Pryok'tel always settle the score. Can their blossoming relationship survive, or will it be torn to bits between needle-sharp teeth? In
Barons of Oartheca
, the exciting sequel to the one-of-a-kind adventure
Allure of Oarthec
a, James Siewert plunges our two heroes into an epic fight for survival with adversaries both old and new, and asks the question, 'Is family those you love, or those you trust … with your life?'
Advisory:
this book contains scenes of explicit male/male romance, sex and sexuality, and is recommended only for readers ages 18+.
Barons of Oartheca
April 30, 2022
Word Count:
127000
Summary: For fans of Blade Runner, Ghost in the Shell and Altered Carbon! Welcome to the year 2095. Killer cyborgs hunt down anyone who disagrees with the perfection that is society. Nephilim is the best operator in these elite death squads. Genetically and cybernetically enhanced, she and her team strike terror wherever they go. Knowing nothing besides this lifestyle, Nephilim believes that she's part of a righteous cause. Then a system glitch changes everything. Separated from the grid, for the first time, Nephilim begins doubting the world she lives in. Things get even more complicated when she meets Jake, a 100% bio-human, who opens her neon-blue eyes to the lies she had been exposed to all her life. Nephilim decides to take a stand against her creators. But in this brave new world, can one person beat an all-powerful system of oppression? Soon, Nephilim finds herself hunted by her own people... Corporate megacities, dystopian themes, cyborg assassins, badass heroines, charismatic villains - an adrenaline ride that never stops. If you love action-driven cyberpunk full of unexpected plot-twists, you don't want to miss this! "Sexy, violent and absolutely intriguing!" -Review
Behind Blue Eyes
May 20, 2020
Word Count:
93000
Summary: When a change in collective conscious sends the Outsiders, a group of aliens, to the shadows below the city, humans reason that the demonization of their peers is simply more "humane." There's no question, nor doubt. Just acceptance. Lydia had embraced that sense of "truth" for as long as she can remember. The daughter of a powerful governor, she has been able to live her life with more comforts than most. Comforts can be suffocating, though, and when the opportunity to teach Outsider children in their private, "humane" community becomes available, she takes it. What she finds beneath the city is far from the truth she had grown to know. There she meets Alessia, an Outsider with the knowledge and will to shake the foundation of all those who walk above ground. The two find a new and unexpected connection despite a complete disconnect from the technological world. Or perhaps in spite of it. Still, it takes a lot more than an immutable connection to change the world. Lydia, Alessia, and a small group of Outsiders must navigate a system of corruption, falsehoods, and twists none of them ever saw coming, all while holding on to the hope to come out alive in the end. But it's a risk worth taking, and a future worth fighting for.
Beneath the Surface
January 19, 2018
Word Count:
35656
Summary: When Shax stumbles across rumors of an experimental house that responds to the occupant's brain functions, creating scenarios to please and delight, naturally he wants to steal it. While stealing an entire house sounds impossible, the demon prince has a cunning plan. But a night at the ballet heralds the return of a troubled and hunted Julian Parallax. He brings ominous news to whisper in Shax's ear and forces Ness to battle a new emotion – raging jealousy. With nefarious plots in the background and an overabundance of Poe references, even Shax's scheming may not be enough to get the Brimstone crew out alive this time.
Beside A Black Tarn: Brimstone 5
February 10, 2016
Word Count: Information not available
Summary: No (battle) plan survives contact with the enemy. Winning a war has never been just a cold collection of numbers on a tally sheet. The Faiths always play their part in fifteen stories exploring when things go wrong. With stories by James Chambers, Nancy Jane Moore, Maria V. Snyder, Jack Campbell (John G. Hemry), Bud Sparhawk, Peter Prellwitz, John L. French, Jeff Young, Keith R.A. DeCandido, David Sherman, Jeffrey Lyman, Judi Fleming, Danielle Ackley-McPhail, Eric V. Hardenbrook, and CJ Henderson.
Best Laid Plans
October 29, 2021
Word Count:
55300
Summary: Luxor City, a once lawless metropolis on the brink of civil war, is now at peace, but even in lighter times there are always shadows. In the technicolor streets of the Southern Empire, Junsu Sun, the Alpha heir to one of Luxor City's great crime families, busies himself by dealing with a blacklisted group known as the Underground. After taking down one of the Underground's notorious leaders, Junsu assumes he'll be given time to rest and recuperate, but his mother, Alpha Xijuan Sun, has a new mission for him, involving a luxury cruise and a new mate, Omega Kaito Yamaguchi, of the powerful Yamaguchi family. Ever the dutiful son, Junsu obeys his orders as if it were any other mission, but this sort of engagement isn't exactly the type of thing he's used to and Kaito Yamaguchi certainly isn't the sort of Omega he's used to either. Kaito is impatient, impassable, and impossible. He's a spoiled Omega who is pissed off that his family have reorganized his life and thrust him into this arranged mating with some Luxor City Alpha he's never met before. Kaito hasn't even seen a picture of Junsu Sun, a fact that Junsu uses to his advantage. Faced with a week spent trapped on a luxury cruise with a rude, bratty Omega who doesn't even know who he is, Junsu decides to play a little trick on his future mate. But just how far will he let things go and where is the line between a little trick and a painful deception? Meanwhile, other secrets floating between empires and continents are about to spill out onto the deck.
Between Empires and Continents
May 10, 2021
Word Count:
100000
Summary: Sassy and Owen Winslow were historical experts on the Revolutionary War and the Culpers, Washington's spy ring. After her husband dies unexpectedly, Sassy struggles to find new meaning in her life. When she goes exploring in the Cohutta Wilderness, she falls through a hole in time, and finds herself in the Indian Territory in 1778, falling in love with Big Sexy Will Selk. Will Selk, one of Washington's spies, falls in love with the spunky widow who came to live at McCarron's Corner after her husband's death. When he learns she came from Beyond, both Will and the Commander-in-Chief are eager to pick the historian's knowledge of the American Revolution – and in the process, Washington identifies the Culper Ring's Madame X, who turns the tide for the patriots to win the war when Sassy provides vital information.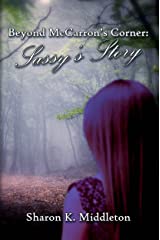 Beyond McCarron's Corner
February 18, 2018
Word Count:
73000
Summary: ::The Seignso have our own plans for the remains of Genghis Khan.:: Alien warmongers have cloned an ancient emperor to lead an unstoppable army. Gifted with superhuman powers and advanced technology, he sets his sights on his home planet, Earth, and then... the stars! However, countermeasures have already been set in place. A young Iowa farm boy, oblivious to his powers or destiny, is thrust into a battle that will decide the fate of humanity against the new and improved Genghis Khan! A thrilling, interstellar adventure from the author of The Weller and War of the Worlds: Goliath!
Birthright
March 17, 2015
Word Count: Information not available
Summary: In the future, the only solution to mass overcrowding and dwindling resources is the lottery. A game where people are paid to play but, if they win, they legally become food. Two such lottery-winners, a suicidal teenager named Sammie and an impoverished middle-aged woman named Kim, find themselves 'purchased' by the upscale Bistro Viande which is run by celebrity Chef Nick Delano and his jaded sous-chef, Anne. In the few remaining days of their lives, Kim decides to make the best of her life in enjoying what few pleasures remain for her, while Sammie decides to make the best of her death in ensuring she is at her tastiest. Little does anyone else know, however, that Sammie hides a dark secret, one that could both save her life and destroy the Bistro.
Bistro Viande
January 15, 2017
Word Count:
100000
Summary: Raka Varoule survived the events of Black Swan Planet and returns to Earth, but things have changed. What has happened to the people he knew and cared for, and is Marco still wearing assless chaps? Find out in Black Swan Antithesis [audio mp3="https://www.limfic.com/wp-content/uploads/2020/06/BSA-Audio-Sample.mp3"][/audio]
Black Swan Antithesis
August 24, 2018
Word Count: Information not available
Summary: Raka Varoule, Maven Blackheart, and Marco return for one final adventure in Black Swan Empire! When Maven nearly starts WWIII as a result of an international nuclear incident, she and Raka are forced to flee from Earth and return to the Galactic Empire, but they aren't exactly welcomed with open arms. They are quickly drawn into a plot that just happens to involve the assassination of Emperor Caligula himself. With the help of some old friends and a few frenemies, they face their biggest challenge yet when the entire Empire is on the line.
Black Swan Empire
February 15, 2022
Word Count:
100000
Summary: Raka Varoule is a second-rate investigative reporter, traveling between the twenty-seven worlds of the Galactic Empire exposing minor scandals. His big break comes when he weasels his way onto the Emperor's personal star-cruiser to report live, across the galaxy, how the Emperor is celebrating his birthday. When he exposes the biggest scandal in galactic history, he narrowly escapes with the help of a drug runner, a dominatrix, and a monkey wearing ass-less chaps. Together, they search for an escape from the Empire; a barbarian world outside Imperial control. Then things get weird. Black Swan Planet is a rare treat of a novel. A satirical science-fiction story told in a unique way, utilizing a variety of perspectives. This story will make you both laugh out loud and keep you guessing what will happen next. James Peters has woven a story you'll never forget, even if you lack mnemonic implants or prescription vibrating undergarments [audio mp3="https://www.limfic.com/wp-content/uploads/2020/06/BSP-Retail-Sample.mp3"][/audio]
Black Swan Planet
September 21, 2017
Word Count:
19852
Summary: No government lasts forever, and the Third Confederation is no exception. With its collapse, the starship Midnight Ride has no choice but to run—from rebels, pirates, and warlords, with a cargo bay of political refugees who've been cryogenically frozen. Now, after centuries of drifting through space, trying to get home, the starship's systems are failing, and her occupants don't have much time left. Fortunately, they've wandered into a solar system containing a G-type star, and it's left to Chief Scout Hart and his scout pod Sarah to explore the sole planet that seems as if it might be hospitable. However, others call the blue and green planet home, and Hart must determine if they're a threat. Will what Hart finds on the planet be enough to ensure the survival of the Midnight Ride's passengers and crew, or will the desire for power overtake the refugees and lead to disaster?
Blue and Green Persuasion
May 25, 2019
Word Count: Information not available
Summary:
Kimolijah Adani—Class 2 gridTech, beloved brother, most promising student the Academy's ever had the privilege of calling their own, genius mechanical gridstream engineer, brilliantly pioneering inventor... and dead man. But that's what happens when a whiz kid messes with dynamic crystals and, apparently, comes to the attention of Baron Petra Stanslo. Killed for his revolutionary designs, Kimolijah Adani had been set to change the world with his impossible train that runs on nothing more than gridstream locked in a crystal. Technically it shouldn't even be possible, but there is no doubt it works. Bas is convinced the notoriously covetous and corrupt Stanslo had something to do with Kimolijah Adani's tragic and suspicious end. A Directorate Tracker, Bas has finally managed to catch the scent of Kimolijah Adani's killer, and it leads right into Stanslo's little desert barony. For almost three years, Bas has tried to find a way into Stanslo's Bridge, and when he finally makes it, shock is too small a word for what—or, rather, whom—he finds there.
Blue on Black
June 16, 2015
Word Count:
120000
Summary: U.S. Marshal James Creed has known loss, starting from the untimely death of his wife and daughter in a sudden fire. His work, chasing down and arresting outlaws across the Wild West, is all he has left to live for. Then one day, in 1876, the infamous killer Corwin Blake catches Creed by surprise and guns him down. Creed awakes after a mysterious young woman resurrects him in a basement laboratory beneath a brothel. Half alive, Creed feels torn between his need for justice and his desire to fall back into the peace of death. Creed's instincts drive him to protect the city of Santa Cruz, California, from the outlaws it harbors while searching for Blake. He uncovers a secret criminal organization, likely protecting Blake, determined to use resurrection technology for its own ends. The former marshal, now faster, stronger, and a more deadly shot than ever before, must work with a brothel madam, a bounty hunter, and the remaining marshals to uncover the criminal syndicate before they can misuse the machines of rebirth and create more mindless zombies. Meanwhile, he must also stop Blake, before the outlaw kills the only people he cares about. His own death can wait.
Bodacious Creed
August 17, 2017
Word Count:
61,000
Summary: James "Bodacious" Creed stopped a killer and helped bring peace to Santa Cruz, a coastal California city on the edge of the American frontier. Now, the undead lawman, resurrected with steam-based technology, takes on dangerous criminal cases as a private investigator. One night while riding by the wharf, Creed hears a gunshot. He and his coyote companion, Coconino, rush to the scene. In a forest clearing, he finds two dead men and a dying woman. Mechanical parts ring her neck and wrist, and as she whispers of her travails, the former Chinese slave dies in his arms. Someone in San Francisco is using illegal machinery to alter and control women like her. To hunt down the perpetrator, Creed travels to the City by the Bay. His journey takes him into the depths of Chinatown, reveals a secret society, and puts old and new friends in danger. How can Creed learn the truth before more women are changed, manipulated, or killed?
Bodacious Creed and the Jade Lake
August 7, 2021
Word Count:
81000
Summary: Alessia is an Outsider—a member of the not-quite-human community that has recently been released from their underground prison. Shortly after their liberation, Alessia is given an ultimatum: obey all the United Earth Alliance's demands, or her mother will forever remain a hostage—a mother she'd believed dead for fifteen years. Reluctantly, she agrees, though she has no idea what those demands may be or how she will balance her obligations to the UEA with her responsibilities to her people and her family. As the UEA tightens its grip on humans and Outsiders alike, it becomes clear that meaningful social change will not be possible without a revolution. Alessia and her peers embark on a mission to discover just how far the government is willing to go to maintain their monopoly on power. What Alessia and her comrades discover, however, goes much deeper than they'd ever anticipated. Who are the Outsiders, really? What secrets of their destiny lay hidden within a top-secret space station? And why are the Outsiders linked to an emerging disease the UEA seems desperate to keep secret?  As they delve deeper, it isn't only Alessia's identity that will be called into question, but the fate of the entire planet.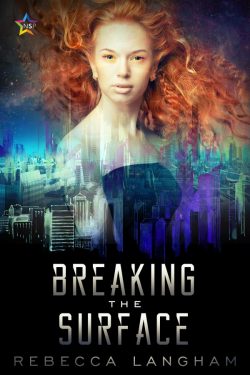 Breaking the Surface
January 13, 2020
Word Count:
55000
Summary: In a world where humans are genetically designed, altered and sold for pleasure and breeding, a young prince of the powerful Cassian Dynasty decides to take a mate and sire heirs. Not wishing to saddle himself with royal and meddlesome in-laws, and a wife he would have no desire to bed, Prince Edward goes to Heritage Breeders, and finds far more than just a warm body to carry on his lineage. Percy is the result of a master DNA architect designing himself his own personal slave and breeder. Yet when his creator and Master dies, leaving Percy alone at the mercy of the callous stable masters and the new owner of Heritage, he fears his future. Afraid he'll be bought by a wretched old man or a deviant monster, Percy is terrified when he is dragged from his cell and presented to the most prestigious client Heritage has ever welcomed...a Cassian Royal. Prince Edward is immediately infatuated with the shy, nervous and enchantingly beautiful Percy, and claims him for his own. Yet not everyone is pleased by a royal purchasing a breeder, especially one like Percy, and tensions rise both in Heritage and in the palace. Torn between need, duty, a king's command and the innermost desires of their hearts, Edward and Percy are set on path that is anything but easy. Can Percy trust Edward with his heart as he does his body? Can Edward keep an angry king and unseen enemies away from the young slave who is steadily stealing his heart? And what happens when Nature takes its course, and Percy's true purpose is fulfilled?
Bred For Love
April 21, 2015
Word Count:
60,000
Summary: Queer Handmaid's Tale meets hyper-capitalist dystopia. Nonbinary, queer main character BREEDER is set in a distant but bleakly familiar future, where each person exists to repay Units to the violent Corporation. But girls and women can only be Breeders in this world, and can only repay the Corporation through reproduction. Is the price of survival worth the cost of submission? Will Meadows is a seemingly average fifteen-year-old Westie, who lives and works in Zone F, the run-down outermost ring of the Corporation. In the future state of the Corp, a person's value comes down to productivity: the right actions win units, the wrong ones lose them. If Will is unlucky and goes into unit debt, there's only one place to go: the Rator. But for Zone F Breeders, things are much worse—they're born into debt and can only accrue units through reproduction. Every day in Zone F is a struggle, especially for Will who is fighting against time for access to an illegal medical drug, Crystal 8. Under the cover of night, Will travels to the Gray Zone, where life is less regulated and drugs—and people—are exchanged for gold. There, Will meets Rob, a corrupt member of the Corporation running a Breeder smuggling operation. Will also meets Alex, another teen whom he quickly recognizes as a Breeder in disguise. Suddenly, Will has an illicit job and money, access to Crystal, and a real friend. As the pair grows closer, Alex shares her secret: she is part of the Response, an uprising to overthrow the Corporation. Caught up in the new friendship, Will and Alex become careless as the two covertly travel into Zone B for a day of adventure. Nothing goes as planned and Will's greatest fear is realized. Will his true identity be revealed?
BREEDER
July 13, 2021
Word Count:
117000
Summary: Sometimes growing up means giving up your preconceptions. Aaron Anderson and Jake Matthews were childhood sweethearts until Aaron developed psionic abilities that turned both of their worlds upside down and tore them apart. Six years later they reconnect when Aaron returns home to work with a youth summer camp affiliated with SPIRE. Jake is at the same camp, along with his current partners, to protest the organization funding it. Sparks fly when the couple reunites and Aaron discovers hidden abilities that bring him to the attention of SPIRE. Aaron and Jake have every intention of seizing their second chance at love. But once more, forces outside their control are at play. And the organization Aaron believes in is at the center of events targeting vulnerable youth. This M/M urban fantasy contains an open M/M/M relationship as well as an M/M relationship.
Bright Spark
February 22, 2019