Word Count:
100000
Summary: Raka Varoule survived the events of Black Swan Planet and returns to Earth, but things have changed. What has happened to the people he knew and cared for, and is Marco still wearing assless chaps? Find out in Black Swan Antithesis [audio mp3="https://www.limfic.com/wp-content/uploads/2020/06/BSA-Audio-Sample.mp3"][/audio]
Black Swan Antithesis
August 24, 2018
Word Count: Information not available
Summary: Raka Varoule, Maven Blackheart, and Marco return for one final adventure in Black Swan Empire! When Maven nearly starts WWIII as a result of an international nuclear incident, she and Raka are forced to flee from Earth and return to the Galactic Empire, but they aren't exactly welcomed with open arms. They are quickly drawn into a plot that just happens to involve the assassination of Emperor Caligula himself. With the help of some old friends and a few frenemies, they face their biggest challenge yet when the entire Empire is on the line.
Black Swan Empire
February 15, 2022
Word Count:
100000
Summary: Raka Varoule is a second-rate investigative reporter, traveling between the twenty-seven worlds of the Galactic Empire exposing minor scandals. His big break comes when he weasels his way onto the Emperor's personal star-cruiser to report live, across the galaxy, how the Emperor is celebrating his birthday. When he exposes the biggest scandal in galactic history, he narrowly escapes with the help of a drug runner, a dominatrix, and a monkey wearing ass-less chaps. Together, they search for an escape from the Empire; a barbarian world outside Imperial control. Then things get weird. Black Swan Planet is a rare treat of a novel. A satirical science-fiction story told in a unique way, utilizing a variety of perspectives. This story will make you both laugh out loud and keep you guessing what will happen next. James Peters has woven a story you'll never forget, even if you lack mnemonic implants or prescription vibrating undergarments [audio mp3="https://www.limfic.com/wp-content/uploads/2020/06/BSP-Retail-Sample.mp3"][/audio]
Black Swan Planet
September 21, 2017
Word Count:
19852
Summary: No government lasts forever, and the Third Confederation is no exception. With its collapse, the starship Midnight Ride has no choice but to run—from rebels, pirates, and warlords, with a cargo bay of political refugees who've been cryogenically frozen. Now, after centuries of drifting through space, trying to get home, the starship's systems are failing, and her occupants don't have much time left. Fortunately, they've wandered into a solar system containing a G-type star, and it's left to Chief Scout Hart and his scout pod Sarah to explore the sole planet that seems as if it might be hospitable. However, others call the blue and green planet home, and Hart must determine if they're a threat. Will what Hart finds on the planet be enough to ensure the survival of the Midnight Ride's passengers and crew, or will the desire for power overtake the refugees and lead to disaster?
Blue and Green Persuasion
May 25, 2019
Word Count: Information not available
Summary:
Kimolijah Adani—Class 2 gridTech, beloved brother, most promising student the Academy's ever had the privilege of calling their own, genius mechanical gridstream engineer, brilliantly pioneering inventor... and dead man. But that's what happens when a whiz kid messes with dynamic crystals and, apparently, comes to the attention of Baron Petra Stanslo. Killed for his revolutionary designs, Kimolijah Adani had been set to change the world with his impossible train that runs on nothing more than gridstream locked in a crystal. Technically it shouldn't even be possible, but there is no doubt it works. Bas is convinced the notoriously covetous and corrupt Stanslo had something to do with Kimolijah Adani's tragic and suspicious end. A Directorate Tracker, Bas has finally managed to catch the scent of Kimolijah Adani's killer, and it leads right into Stanslo's little desert barony. For almost three years, Bas has tried to find a way into Stanslo's Bridge, and when he finally makes it, shock is too small a word for what—or, rather, whom—he finds there.
Blue on Black
June 16, 2015
Word Count:
120000
Summary: U.S. Marshal James Creed has known loss, starting from the untimely death of his wife and daughter in a sudden fire. His work, chasing down and arresting outlaws across the Wild West, is all he has left to live for. Then one day, in 1876, the infamous killer Corwin Blake catches Creed by surprise and guns him down. Creed awakes after a mysterious young woman resurrects him in a basement laboratory beneath a brothel. Half alive, Creed feels torn between his need for justice and his desire to fall back into the peace of death. Creed's instincts drive him to protect the city of Santa Cruz, California, from the outlaws it harbors while searching for Blake. He uncovers a secret criminal organization, likely protecting Blake, determined to use resurrection technology for its own ends. The former marshal, now faster, stronger, and a more deadly shot than ever before, must work with a brothel madam, a bounty hunter, and the remaining marshals to uncover the criminal syndicate before they can misuse the machines of rebirth and create more mindless zombies. Meanwhile, he must also stop Blake, before the outlaw kills the only people he cares about. His own death can wait.
Bodacious Creed
August 17, 2017
Word Count:
61,000
Summary: James "Bodacious" Creed stopped a killer and helped bring peace to Santa Cruz, a coastal California city on the edge of the American frontier. Now, the undead lawman, resurrected with steam-based technology, takes on dangerous criminal cases as a private investigator. One night while riding by the wharf, Creed hears a gunshot. He and his coyote companion, Coconino, rush to the scene. In a forest clearing, he finds two dead men and a dying woman. Mechanical parts ring her neck and wrist, and as she whispers of her travails, the former Chinese slave dies in his arms. Someone in San Francisco is using illegal machinery to alter and control women like her. To hunt down the perpetrator, Creed travels to the City by the Bay. His journey takes him into the depths of Chinatown, reveals a secret society, and puts old and new friends in danger. How can Creed learn the truth before more women are changed, manipulated, or killed?
Bodacious Creed and the Jade Lake
August 7, 2021
Word Count:
81000
Summary: Alessia is an Outsider—a member of the not-quite-human community that has recently been released from their underground prison. Shortly after their liberation, Alessia is given an ultimatum: obey all the United Earth Alliance's demands, or her mother will forever remain a hostage—a mother she'd believed dead for fifteen years. Reluctantly, she agrees, though she has no idea what those demands may be or how she will balance her obligations to the UEA with her responsibilities to her people and her family. As the UEA tightens its grip on humans and Outsiders alike, it becomes clear that meaningful social change will not be possible without a revolution. Alessia and her peers embark on a mission to discover just how far the government is willing to go to maintain their monopoly on power. What Alessia and her comrades discover, however, goes much deeper than they'd ever anticipated. Who are the Outsiders, really? What secrets of their destiny lay hidden within a top-secret space station? And why are the Outsiders linked to an emerging disease the UEA seems desperate to keep secret?  As they delve deeper, it isn't only Alessia's identity that will be called into question, but the fate of the entire planet.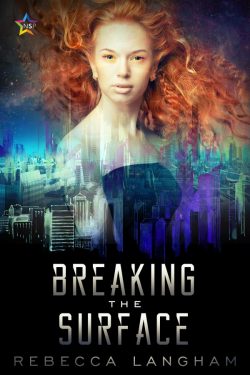 Breaking the Surface
January 13, 2020
Word Count:
55000
Summary: In a world where humans are genetically designed, altered and sold for pleasure and breeding, a young prince of the powerful Cassian Dynasty decides to take a mate and sire heirs. Not wishing to saddle himself with royal and meddlesome in-laws, and a wife he would have no desire to bed, Prince Edward goes to Heritage Breeders, and finds far more than just a warm body to carry on his lineage. Percy is the result of a master DNA architect designing himself his own personal slave and breeder. Yet when his creator and Master dies, leaving Percy alone at the mercy of the callous stable masters and the new owner of Heritage, he fears his future. Afraid he'll be bought by a wretched old man or a deviant monster, Percy is terrified when he is dragged from his cell and presented to the most prestigious client Heritage has ever welcomed...a Cassian Royal. Prince Edward is immediately infatuated with the shy, nervous and enchantingly beautiful Percy, and claims him for his own. Yet not everyone is pleased by a royal purchasing a breeder, especially one like Percy, and tensions rise both in Heritage and in the palace. Torn between need, duty, a king's command and the innermost desires of their hearts, Edward and Percy are set on path that is anything but easy. Can Percy trust Edward with his heart as he does his body? Can Edward keep an angry king and unseen enemies away from the young slave who is steadily stealing his heart? And what happens when Nature takes its course, and Percy's true purpose is fulfilled?
Bred For Love
April 21, 2015
Word Count:
60,000
Summary: Queer Handmaid's Tale meets hyper-capitalist dystopia. Nonbinary, queer main character BREEDER is set in a distant but bleakly familiar future, where each person exists to repay Units to the violent Corporation. But girls and women can only be Breeders in this world, and can only repay the Corporation through reproduction. Is the price of survival worth the cost of submission? Will Meadows is a seemingly average fifteen-year-old Westie, who lives and works in Zone F, the run-down outermost ring of the Corporation. In the future state of the Corp, a person's value comes down to productivity: the right actions win units, the wrong ones lose them. If Will is unlucky and goes into unit debt, there's only one place to go: the Rator. But for Zone F Breeders, things are much worse—they're born into debt and can only accrue units through reproduction. Every day in Zone F is a struggle, especially for Will who is fighting against time for access to an illegal medical drug, Crystal 8. Under the cover of night, Will travels to the Gray Zone, where life is less regulated and drugs—and people—are exchanged for gold. There, Will meets Rob, a corrupt member of the Corporation running a Breeder smuggling operation. Will also meets Alex, another teen whom he quickly recognizes as a Breeder in disguise. Suddenly, Will has an illicit job and money, access to Crystal, and a real friend. As the pair grows closer, Alex shares her secret: she is part of the Response, an uprising to overthrow the Corporation. Caught up in the new friendship, Will and Alex become careless as the two covertly travel into Zone B for a day of adventure. Nothing goes as planned and Will's greatest fear is realized. Will his true identity be revealed?
BREEDER
July 13, 2021
Word Count:
117000
Summary: Sometimes growing up means giving up your preconceptions. Aaron Anderson and Jake Matthews were childhood sweethearts until Aaron developed psionic abilities that turned both of their worlds upside down and tore them apart. Six years later they reconnect when Aaron returns home to work with a youth summer camp affiliated with SPIRE. Jake is at the same camp, along with his current partners, to protest the organization funding it. Sparks fly when the couple reunites and Aaron discovers hidden abilities that bring him to the attention of SPIRE. Aaron and Jake have every intention of seizing their second chance at love. But once more, forces outside their control are at play. And the organization Aaron believes in is at the center of events targeting vulnerable youth. This M/M urban fantasy contains an open M/M/M relationship as well as an M/M relationship.
Bright Spark
February 22, 2019
Word Count: Information not available
Summary: A lady of resources has the power to change the world—if she can stay alive long enough to do it. Lady Claire Trevelyan had been looking forward to glittering balls, congenial society, and relief from pursuit during her stay with Lord and Lady Dunsmuir in the Canadas. Though being pursued by a handsome airship captain is rather satisfying, especially when it appears Andrew Malvern is becoming distracted by a certain blond mechanic. But a shot fired in the night puts an end to such diversions, and instead plunges her and her orphaned band of children into a fight for their very survival. Between secret conversations at the highest levels of society and skullduggery in the diamond mines, Claire must discover who is behind the attempts on her friends' lives—before her mother is compelled to make funeral arrangements yet again.
Brilliant Devices
December 19, 2013
Word Count: Information not available
Summary: Someone killed Grandfather Jefferson. Victor is sure of it. But he's the only one. Diagnosed with mirror resonance syndrome and shunned by Semiautonomous California society, Victor suffers from "blank outs," hallucinations, and vivid nightmares. He violently overreacts to even minor confrontations. Victor's grandfather devoted his life to researching and curing mentally ill Broken Mirrors like Victor, but now that he's gone, Victor must walk a narrow path between sanity and reclassification—a fate that all but guarantees he'll lose his freedom. Victor is determined to uncover the truth about his grandfather's death and grows increasingly suspicious of the medicine he must take to help manage his "symptoms." As he tries to sort his allies from his enemies, a conspiracy with global implications emerges. Can he trust his Aunt Circe, the only person in his family who's even somewhat sympathetic to his plight? His former classmate-turned-brainhacker Ozie, who wields information as damaging as any weapon and who seems intent on luring Victor away from his home? What about his old friend Elena, who reappears in his life abruptly, claiming to have miraculously overcome a devastating addiction? With its self-driving cars, global firearms ban, and a cure for cancer, the world of Broken Mirror may sound utopic, but history has taken a few wrong turns. The American Union is a weak and fractious alliance of nations in decline. Europe, a superpower, manipulates its citizens through technology. And Asia is reeling from decades of war. Amid shifting geopolitical sands, Broken Mirrors like Victor find themselves at a crossroads: evolve or go extinct. Broken Mirror is the first novel in a sci-fi cyberpunk detective saga tailor-made for fans of William Gibson, Haruki Murakami, and Neal Stephenson.
Broken Mirror
January 22, 2016
Word Count:
30,700
Summary: Quentin Austin is on a mission to retake Amargosa and try to rescue his son. As the mission starts to fall apart around him decides to salvage something useful and begins looking into why the invasion happened in the first place. He follows a mysterious trail that leads to a company called Juno, and takes him to the hellish industrial landscape of Bromdar. But someone doesn't want him learning the truth. But the clock is ticking and he must discover the answers before another colony world falls to invasion.
Broken Skies (Homefront Arc Book 1)
August 11, 2019
Word Count:
65000
Summary: A young man sold into servitude has his loyalties tested in ways he never imagined. Raised in an orphanage in Dickens, Daniel doesn't know who his parents were, where he comes from, or even his last name. Like all orphans, on his 16th birthday, he's sold to the highest bidder. Not knowing where he's going, who's bought him, or what they even want with him, Daniel embarks on an adventure he never thought he'd take. He finds love, a family, and a secure future - yet in a split second, makes a decision he ends up regretting the rest of his life. Brothers begins fifteen years before the Red Dog Conspiracy series. Warning: Language, smoking, use of alcohol and drugs, attempted suicide by hanging, M/M underage sexuality with consent issues, forced servitude, blood, gun violence, a man being beaten by a horsewhip, murder, discussion of child prostitution, underage M/F sexuality with age gap (female older).
Brothers
June 1, 2022
Word Count: Information not available
Summary: Jennifer Bronwen, deep-space freighter skipper, sometime smuggler, and occasional blaster-for-hire is flat broke and in desperate need of a job. With her bills mounting and her ship one unlucky micrometeorite collision away from the scrapheap, when she's offered a lucrative contract for a risky heist, well, it's an opportunity she can't afford to pass up. Keera Naraymis, a secret agent on deep-cover assignment in alien space, has just one more job to finish before her mission is complete. Getting it right means making the galaxy a safer place, and taking a trip to the Terran homeworld should be simple enough. But in the espionage game, your enemies are never quite who they appear. When their lives collide with catastrophic consequences, Jen and Keera form an unlikely alliance to find out why anyone would want to kill either one of them. What they discover runs far deeper than they could ever have anticipated, and throws them into a race against time to stop a conspiracy that threatens to unravel a thousand years of peace in the galaxy of the Burning Suns.
Burning Suns: Conflagration (Book One)
November 3, 2015
Word Count: Information not available
Summary: Having been shot at, shot up, and almost shot down, Jen and Keera have finally learned to trust one another, but there's no time to stop and enjoy their newly forged relationship. Commissioned by a rogue Guardian to attempt the most audacious theft in history, they head to the capital of the Assembly with a single objective—steal the weapon Jen should have acquired in Berlin. If they can get to it first, they'll stop a war before it starts. Kiith Kohath, meanwhile, has assumed command of an allied fleet to deal with the Reaver invasion. The stakes couldn't be higher: if he can't retake Ice Serpent, the entire Assembly will become nothing more than feedstock for Darkstar's corrupted army. Kohath needs more than a victory, he needs a rout, but the odds of that grow slimmer with every new Reaver that rolls off the assembly line. With tensions rising and armies mobilizing, the smallest spark could set the whole galaxy ablaze. And when Jen and Keera discover a plot that threatens the safety of every Envoy on Kyzar, it's not a question of if, but when that spark will fall…
Burning Suns: Conflagration (Book Three)
June 10, 2017
Word Count: Information not available
Summary: Thrown into an unwilling partnership by a heist gone bad and a botched assassination, mercenary captain Jennifer Bronwen and changeling intelligence agent Keera Naraymis are on the run from just about everybody. If they can learn to trust one another, maybe they can figure out exactly how their lives got turned upside down. But right now, mired as they are in a game of cat and mouse in the bowels of a criminal's lair, that seems like a big if. On the other side of the galaxy, Admiral Kiith Kohath has an even bigger problem—a corrupted cohort of cyborgs intent on pillaging the Assembly systems. Tracking the enemy to the sites of their atrocities, Kohath and his team must piece together the Reavers' plan and determine their next target, preferably before they have a chance to slaughter yet another defenceless colony. With alliances and agreements fraying at the seams, and new and old trusts being put to the test, the personal and political stakes rise ever higher as Jen, Keera, and Kohath struggle to prevent the galaxy from slipping into all-out war…
Burning Suns: Conflagration (Book Two)
August 9, 2016
Word Count: Information not available
Summary: War has engulfed the Burning Suns. As the Templars reconquer their ancient empire, driving the Changelings and the Terrans from system after system, the Assembly is on the brink of tearing itself apart. With each new squabble over vendettas, vengeance, and injured pride, the long-held accords of galactic unity are cast further into the void. Shanghaied back into the Marauder military, former mercenary Jen Bronwen is keeping a low profile, dodging enemy patrols while awaiting the opportunity to free herself from the Marine Corps' grasp. Meanwhile, Changeling intelligence agent Keera Naraymis is on the diplomatic front line, assigned to the Assembly's capital to hold together as many alliances as she can. When tragedy strikes, Jen is recruited by the Guardians for a desperate mission to salvage the smallest sliver of hope from the wreckage. Caught between two destinies, she must decide between obedience and insurrection, even as an ancient enemy stirs in the far reaches of the galaxy. The wrong choice might condemn every soul beneath the Suns. But obedience has never been Jen's strong suit…
Burning Suns: Insurrection (Book One)
November 5, 2019
Word Count:
38000
Summary: An Imperial prince can only hide for so long—but his solution of a hastily invented engagement could backfire spectacularly. Marsh Kensinger's work as the utility mechanic for Bremen Station keeps his life interesting - but never quite as interesting as finding a pilot still hidden inside a hibernation drawer in what should have been a salvage craft. He knows he shouldn't get involved, but the Altairian Imperial crest on the private craft and the semi-conscious pilot's odd questions pique his always-whirling curiosity. Still unattached at a concerning age for an imperial son, Prince Shiro Shinohara hadn't been running from the endless, mind-numbing rounds of omiai his mother, the Empress, had mandated. Not exactly. He'd just wanted a break from persistent suitors at the family retreat on Ceti Tau. The short respite becomes a panicked flight for his life when one of the suitors stalking him attacks the family compound. Worried for the soldiers he was forced to leave behind, afraid there's a conspiracy to kidnap him, Shiro confides in the handsome mechanic who found him and in a moment of panic, concocts the fiction of a serious relationship with Marsh. It's only until Shiro's people can reach him and he can press charges back home. Marsh is willing to play along and Shiro's just going to have to keep himself together and not, under any circumstances, fall for the wonderful, generous man who refuses to stop helping him.
By Imperial Decree
November 17, 2020