Julie Bozza is an Aussie-Anglo hybrid empowered by writing, fuelled by espresso, calmed by knitting, overexcited by photography, and madly in love with Amy Adams and John Keats.
Contact Information:
Email Address: info@juliebozza.com
Books By Julie Bozza
Word Count: Click here to reveal110000 (Click here to hide)
Summary: Courage. Honor. Loyalty. All fine things, but they've led John Ringo to kill a man. He was raised right and he knows he's not a murderer, but otherwise he's a mystery even to himself. Doc Holliday claims to have some insights, but Doc is too devoted to Wyatt Earp to spare much attention for the man who's already lost his soul. Which leaves Johnny Ringo prey to the distractions of a demon. Imaginary or not, if this creature abandons him, too, then surely his sanity is forfeit – and what will his life be worth then? This Queer Weird West novel follows these three along the complex trails that lead into and out of Tombstone, Arizona in 1881.
Writ in Blood
Julie Bozza ...
October 26, 2021
Word Count: Click here to reveal2600 (Click here to hide)
Summary: Jake is a trapper working high in the mountains of Wyoming Territory, usually not seeing another human from one month to the next. Recently, however, he's had an unexpected guest – an Easterner named Edwin, who pitches in to ensure that Jake has enough supplies to survive the coming winter. As the evenings draw in, Jake works on knitting a blanket, adding a bit of love (and maybe even magic) into every stitch, hoping to entice Edwin to join him under its warmth…
Love in Every Stitch
Julie Bozza ...
December 19, 2020
Word Count: Click here to reveal1100 (Click here to hide)
Summary: A muddy trench in France during the Great War wasn't the most auspicious place for Tom and Michael to reach an understanding of their own natures. A small, individual tragedy unfolds … But then Tom discovers a place beyond, where he and other men like him are blessed with all that life denied them.
An English Heaven
Julie Bozza ...
December 15, 2017
Word Count: Click here to reveal54000 (Click here to hide)
Summary: He was the shameful cause of his sister Elena's death and he stole state papers from England, yet Adrian Hart is feted by the best of society in Rome, and boldly dubs himself 'Iago'. Determined to avenge Elena, his unrequited love, Lieutenant Andrew Sullivan asks the advice of poet and Shakespearian John Keats, and his artist friend Severn. Soon Percy and Mary Shelley join them, then Lord Byron and his servant Fletcher. But how can the seven of them work against this man, when they can't even agree what he is? The atheist Shelley insists that Hart is an ordinary man, while Byron becomes convinced he's the Devil incarnate, and Keats flirts with the idea that he's Dionysius… As death and despair follow in Hart's wake, Sullivan knows he must do something to stop Hart before even Sullivan himself succumbs – but what…?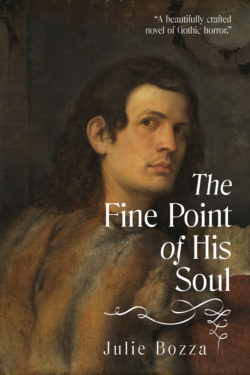 The Fine Point of His Soul
Julie Bozza ...
July 1, 2016