Paranormal fiction includes supernatural elements – elements that cannot be easily explained by science. You can also check out these subcategories:
angels & devils | comedy |  dark | ghosts & haunted Houses | litrpg | magical beings | psychic talents | reincarnation | romance | shifters | vampires | zombies
Note: these books are currently sorted by release date, with newest first.
Word Count:

55000
Summary: In Unsafe Words, the first full-length collection of her edgy, award-winning short stories, Loren Rhoads punctures the boundaries between horror, dark fantasy, and science fiction in a maelstrom of sex, drugs, and rock-n-roll. Ghosts, succubi, naiads, vampires, the Wild Hunt, and the worst predator in the woods stalk these pages, alongside human monsters who follow their cravings past sanity or sense. Featuring an introduction by Lisa Morton and cover art by Lynne Hansen, these never-before-collected stories come from the magazines Cemetery Dance, Space & Time, City Slab, and Instant City, the Wily Writers podcast, and from the books Sins of the Sirens, Demon Lovers, The Haunted Mansion Project: Year Two, Tales for the Camp Fire, and more. One story, "With You By My Side It Should Be Fine," is original to the collection.
Unsafe Words
Word Count:

41000
Summary: When a satanic wizard runs the insane asylum, nobody believes the inmates, even when they're sane. Jonah is entirely normal in every respect but one: whenever he's frightened he turns into his evil alter ego, Maldeus. When Jonah discovers Maldeus is working with the asylum doctor to sacrifice women on a giant pentagram, he's thrust into the middle of a diabolic plot involving occult magic, invisible people, and a perverted, sex-crazed blue demon! Will he keep his wits about him as he pretends to be Maldeus and stop the rise of Satan?
Five Maidens on the Pentagram
Word Count:

76787
Summary: When a rebel werewolf and a vampire thief fall in love, only one thing is certain—trouble. For as long as Lucas Coate can remember, werewolves have been taught to mistrust vampires. Lucas is an exception—he has close friends who are vampires. The werewolf pack in Boggslake—and their leader, Jacob Coate—have made it clear that Lucas's association with vampires is barely tolerated, and another transgression will be his last. When Lucas finds out about the plague of werewolf deaths in the area, he wants to help even though his own life may already be in danger. Declan has been away from Boggslake for ten years, but he isn't surprised to learn that the internal politics of the Supernatural Council haven't changed for the better. When a series of burglaries hit close to home soon after he arrives, Declan—a vampire and professional thief—is their prime suspect, although for once, he isn't responsible. With the council keeping secrets, no one is safe. Time is running out, and for Lucas and Declan, everything is about to change. Authors Note: This story was originally released in 2015 by another publisher. This edition has been re-edited.
Family and Reflection
Word Count:

48600
Summary: "Tell me a story Daddy." Kikoi, xolos wrangler by night and King Talos' snuggle monster by day, demanded. "What story do you want to hear tonight, baby boy?" Talos, Vampyr King and Supernatural Council Member, asked while he pulled Kikoi onto his lap. "I want to hear about when you met Daddy Bayne." Almost three hundred years old and Kikoi would never get tired of story time. "Again?" Talos arched an eyebrow with amusement. "Yes! It's a good one." Kikoi beamed at Talos. Talos leaned against the headboard of their bed as Bayne, former assassin but still looked damn good in armor, joined them and began… The Age of Man has passed, and a new age is upon the Earth. An age of magic and technology ruled by the supernatural beings that once hid amongst humanity has begun. Bayne is thrust into a world he thinks he knows but quickly discovers his whole life has been built on lies. Talos, perfectly happy ruling his corner of the world, is faced with an unexpected and unwelcome change that comes with the mate chosen by Fate. Together they must discover how to live and, in the end, love one another. Fate has more in store for them than learning to love someone they should hate. Will they be open to all the possibilities Fate lays out for them? Bloodlines of Fate is a new urban fantasy series set in a world destroyed by humans and resurrected by supernatural beings. Fate has many plans for the vampires, unicorns, therianthropes, elves, and humans of this new world. While their mates may be fated, love isn't that easy. This book contains depictions of gladiatorial combat, snarky fem twinks who will cut you, kings in stilettos, and awkward heats with a pinch of daddy kink. Talos is part one of a two-part story arch that tells the love story of two triads (MMM). It does end in an HFN with a HEA tied into the second part. This is a type of omegaverse with mpreg.
Talos
Word Count: Information not available
Summary: I thought my boss was just another eccentric billionaire… …but I didn't realize he was the financier of a global satanic cult, too. No matter how much sleep I lose thinking about my life, I can't escape the numbing evil that surrounds me. Ever since the Vampires dragged me into this mess, my life has been an uphill battle against supernatural forces I barely understand. I'm not a religious man by any stretch of the imagination, and the mere thought of stepping into a church makes me nauseous. But the insane, unexplainable events happening in my life make me truly wonder if destiny has condemned me to an unholy fate: the Herald of Satan, or the Antichrist himself. When I found out the company I work for is nothing more than a front for a secret human organization that has been financing the end of the world (aka the apocalypse) and the coming of Lucifer Morningstar, well, that was the day I decided to foil the Devil and end it all. Unholy Alliances is the fourth book of The Snakeheart Series (Season 1), a supernatural novelette series about Dante Coranguis and the ancient prophecy of the End Times. Get it now.
Unholy Alliances
Word Count:

87000
Summary: Summary of Book: Their leap of faith could unleash magic -- or plunge them into darkness. Henry Thorn has worked at Larkin's since graduating high school. He likes it -- especially when he can use his secret skill of hiding inside shadows so his boss can't find them. Without that talent, he would never had survived growing up different. When a hire enters the store, Henry's other latent talent kicks in. He can smell an emotional response even before he lays eyes on the redhead. Jamey Currey came out, and his conservative parents promptly kicked him out. He, too, is different -- he senses Henry's attraction the moment they met. The first time they kiss, torrential rains fall from skies split by lightning. Their kiss also awakens the Watchers, diabolical hunters who will stop at nothing -- even extermination -- to keep magic suppressed. With the help of a friendly coven of friendly witches, the boys embark on a quest to discover an ancient key to restoring magic to the world, and to understand mysteries of their own hearts. The question is, will this quest cost them their lives?
The Werewolf and His Boy
Word Count:

68000
Summary: When a vampire finds his soulmate, the bond is forever. It's love at first sight. Or is it? Homicide Detective Jonas Forge has been a vampire for centuries. He's fought wars, seen life go from the simple colonial days to the modern high-tech world. He's evolved with the times, adapted to each new era, blended into each new life. The one constant is his best friend, mentor, and lover, Declan. Even though not fated to bond as soulmates, Forge and Declan are happy and settled in their life together. Until Forge's real soulmate falls, literally, into his life. Forge isn't thrilled with the guy, despite the pheromones attracting them to each other, and the feeling seems mutual. While trying to adjust to his clumsy soulmate and equally awkward feelings, Forge is also on the hunt for a serial-killer witnesses can't identify who's leaving a trail of bodies in its wake. Will the bond Forge is finally forming with his soulmate be destroyed when the hunter becomes the victim? If you like fated mates who aren't perfect for each other, a paranormal killer who might not be caught and found families then you'll love Elizabeth Noble's Electric Candle.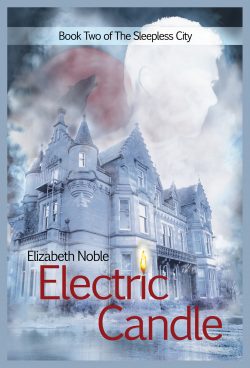 Electric Candle
Word Count:

58161
Summary: So what's a young gay boy living in the eighty's from suburbs of Dayton, Ohio to do, when he comes out to his family, only to finds out his family has been keeping their own secrets. Jason Wynwood just turned 18 finding out he is in a long bloodline of witches. As Jason searches for love, he falls for a mysterious black haired gentleman named Damien. Jason is thrown into a dangerous world of magic with witches, vampires and werewolves, and a glittery nightlife sexual pleasures. He also discovers Young gay men have been turning up dead at rest stops all over surrounding areas. Police suspect that it's the work of a serial killer. But when a friend ends up dead it becomes personal. Can Jason find the killer before anyone else turns up dead?
Skeletons in the Closet
Word Count:

44000
Summary: Gu Non couldn't stop thinking about the magic. They'd lied to her about it. They'd lied to everyone. No one lied to Gu Non. Lord's Dome is a slipstream fantasy about a girl who refuses to believe that the fate of her family is to suffer, the mining elder who must suddenly decide whether to trust this lone girl, and their search for the truth of an enigmatic god while the unyielding everstorm rages overhead.
Lord's Dome
Word Count:

36000
Summary: IN-NO-VA-TION (Noun) 1) A new idea, method, or device. 2) The introduction of something new. 3) The application of better solutions to meet unarticulated needs. Three definitions to inspire writers around the world and an unlimited number of possible stories to tell. Here are 120 of our favorites. Innovation features 300-word speculative flash fiction stories from across the rainbow spectrum, from the minds of the writers of Queer Sci Fi.
Innovation
Word Count:

157790
Summary: Michael Brian Anderson is a cynic, a mess and an agnostic, who in spirit is truly a wayward soul lost in suffering until this person finds their life turned upside down in an epic journey through Myth, Folklore and a world of the strange, the wyrd, and the gifts from creation.Transforming like a chrysalis from a broken body into a full realized and rather imposing figure.This tale I spin is an epic invocation that transcends billions of years through space/time and evolution to cast what one can blossom into when unconstrained by limitations of the mind, and a full realization of the spirit, that a broken body and heart can heal and effect the very outcome of the Great Web of Creation herself.
The Place Of Things, Book One: Bone
Word Count:

127000
Summary: An ex-cop and a psychic on the mend find their safe haven threatened by vandalism, arson, and the shadow of their dangerous past. After overusing his Talent till he almost died, Brian wants nothing more than a quiet job on the farm, with Nick to come home to. He's trying to start a new life, despite bad dreams he can't shake, vandalism close to home, and his sister's problematic baby on the way. Nick gave up the police force and moved to North Carolina to be with Brian, and he doesn't regret it. But he's at loose ends, with no real work, the lurking specter of Brian's brother Damon hanging around, and a worry in the pit of his stomach that Damon's old enemies might still be after Brian. Nick's keeping his eyes open and his gun loaded.
Tracefinder: Choices
Word Count:

109728
Summary: Henry Ross Murray was a Revolutionary War hero, and his house in Boston has been converted into a museum. Everything is original to the period… including the ghosts. The Ghost U team is called in to help figure out who's haunting the Colonial mansion in Beacon Hill. They encounter family secrets and angry spirits in the course of their investigation, and they learn that some heroes aren't as heroic as they seem. So much drama. And that's nothing compared to what's happening behind the scenes. Faces in the Fog: Ghost U Volume Two is a paranormal Reverse Harem adventure with horror elements and is intended for mature audiences.
Faces in the Fog
Word Count: Information not available
Summary: Twenty stories of fantasy, science fiction, pirates, horror, spies, and kindergarten noir. From the space-based lothario to the diminutive thief each looking for their next score, and from the jilted romantic traveling through time to the kingdom refugee whose day never ends, there's something for everyone In A Flash!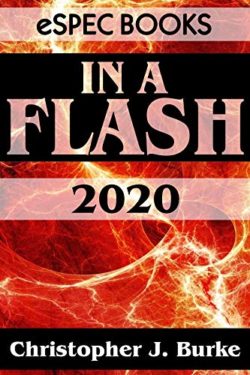 In A Flash 2020
Word Count:

71513
Summary: To be soulmates they first have to survive. A serial killer stalks the streets of Boggslake, Ohio. The victims are always found in pairs, one human and one vampire. Simon Hawthorne has been a vampire for nearly a hundred years, and he has never seen anything like it. Neither have the other supernaturals he works with to keep the streets safe for both their kind and the humans. One meeting with Simon finds Ben Leyton falling for a man he knows is keeping secrets, but he can't ignore the growing attraction between them. A recent arrival in Boggslake, Ben finds it very different from his native New Zealand, but something about Simon makes Ben feel as though he's found a new home. After a close friend falls victim to the killer, Simon is torn between revealing his true nature to Ben, and walking away to avoid the reaction he fears. But with the body count rising and the murders becoming more frequent, either, or both of them, could be the killer's next target.
Shades of Sepia
Word Count:

49549
Summary: He is known as "The Living Curse" and the progenitor of the species know as "vampire". He is the Darkness that even the shadows hide from and the plague that no man can cure. He is the prophecy of all that is to come and the sworn enemy of Huntress and angel alike. He is the beginning and has the will power and strength to survive to the very end... His name is Cain.
Cain
Word Count: Information not available
Summary: The enemy is defeated. The gods strike a truce. And the Dharkan strike against the gods. Victory has cost both gods and mortals dearly. The veil between life and death in Niflheim is thinner than ever. Try as they might, the gods are powerless against the influence of Time, and their past mistakes threaten not only their future but their very existence. Now the fate of eternity rests in the unlikely alliance between the goddess of the soul and a soulless Dharkan, as they must work together to achieve peace between the living and the dead in Aegea. And although their goals may seem similar, the motivations behind them couldn't be more at odds with each other. Meanwhile, a greater enemy approaches. Or maybe it's already here...
The Dharkan
Word Count: Information not available
Summary: I didn't think things could get worse… …but people started dying, and it was my fault. At first, I thought someone was playing a cruel trick on me, but that didn't explain the bizarre truth that defied scientific explanation: I had unwillingly become part of something ominous and evil. I'm not the kind of guy who cries often, and I'm certainly not a killer. I wouldn't even wish death upon my worst enemy, if I had one. But after losing two of my closest friends, I questioned my morals and beliefs: could I kill to survive? I didn't have time to mourn because I needed to discover where I fit in the supernatural world of Vampires, Lycan, and Spellcasters. If the crazy old priest and the Fae were right, then my place is second only to Lucifer Morningstar himself. Children of the Sun is the third book of The Snakeheart Series (Season 1), a supernatural novella series about Dante Coranguis and the ancient prophecy of the End Times.
Children of the Sun
Word Count: Information not available
Summary: The only way to stop a threat is to eclipse it. And last year, we discovered an enormous one. Temperance Fairbanks: the most powerful and sadistic water magus ever to set foot on campus. Hawthorn Academy will host a series of extramural challenges. That means we're hosting shifters, changelings, psychics, and even a vampire. Temperance vowed to hurt them any way she can, and she's already got help. My roommate Grace has a plan. Social warfare, breaking reputations and hearts, including her own. And she wants me to be her muscle. Last year I almost burned the school down. But this time, I might just be sitting on a powder keg.
Hawthorn Academy Year Two
Word Count:

64000
Summary: When ghosts cry out, Dan and Chad heed their call. Daniel and Chad are on the road to Hawk Lake, Maine, to investigate rumors of a haunting. With his new role in Daniel's life, Chad feels like he has something to prove. He is determined to make the Hawk Lake haunting videos the best Hauntastic Haunts has ever aired. Daniel gets sidetracked when he realizes that he might have gotten in over his head with his long distance apprenticeship to a genuine medium. Old insecurities rear their heads and threaten the budding relationship between Dan and Chad. Neither member of the Hauntastic Haunts crew is ready for what they uncover when they discover the truth behind the ghost ship haunting Hawk Lake. Secrets and lies that threaten to tear apart a community that is still healing from their grief might be better left buried. Daniel and Chad have to decide which is more important, telling the stories of the living or preserving the memories of a handful of ghosts. Get ready for another hauntastic adventure with this paranormal trans M/M romance.
Dan's Hauntastic Haunts Investigates: Hawk Lake