Sci fi stories that posit a society or world destroyed by something terrible and/or under autocratic rule. Return to general Sci Fi
Note: these books are currently sorted by release date, with newest first.
Word Count:

20000
Summary: Zeke is a hermit in his late forties who lives a quiet life in a small cabin in the Western Montana mountains, a few miles outside of Thompson Falls. He's gotten used to being alone since the end of the world, and has everything he needs. Everything but someone to talk to. Nathan is a younger man on a cross-country trek, searching the country for someone... anyone still alive. Saddled with a ghost from his old life and a case of OCD, he stumbles upon Thompson Falls and a pack of rabid dogs. Rescued by Zeke, he has to figure out how to be human again. And with Christmas just a week away, both men have to figure out if there's something left to be hopeful for, and if they might have a future together.
Wonderland
Word Count: Information not available
Summary: The Complete Powerless World Series in one set! Prequel, Before the Power was Gone "My name is Anne Mathews. I'm a prepper. But I haven't always been. This is how it started." Book 1, When the Power is Gone Russ and Anne Mathews live in a rural suburb in Tennessee. Regular people, with regular jobs, living a normal life - except for one thing. They are what many people call "preppers". They have stocked up on supplies to survive any kind of event they can think of that may occur to disrupt life as they know it. When that event comes, they start preparing for the new way of life they will face. Along with their teenage son, and their next door neighbors and best friends, they plan their exit from a neighborhood too close to the city to a farm in the country. They just have to get there. Their faith in their own capabilities and in humankind will be challenged, as they fight to protect and keep their supplies and, quite possibly, their lives. Book 2, When the Peace is Gone Russ and Anne Mathews made their escape from their home, along with family, friends, and new friends they made along the way. Now, they must build a new life for themselves at the Warren farm, without the luxury of electricity and very few traces of the 21st century. The problem: there are a lot of people who didn't prepare for something like this, and some of those people will stop at nothing to take what the group has, by whatever means necessary. They must protect the farm and their supplies day and night from those who would do them harm to acquire them. These people are not soldiers. They are everyday people like you and me. They're building a clan. How far will they have to go in order to secure the safety of the ones they love in their new home? What price will they pay in the process? Book 3, When the Pain is Gone They thought they were safe, somewhat hidden from the world. They were wrong. They thought they knew how to protect themselves and each other. They were wrong again. In the blink of an eye, they lost people, good people, who were trying to help others. When the evil outside the farm finds its way in, how will they react? Will they hide themselves away, or join in the fight for survival and freedom? They've paid the ultimate price. How much more will this new way of life cost them?
Powerless World Series
Word Count:

101000
Summary: Brey would rate himself least likely to survive a zombie apocalypse. Yet here he is. True, it was a viral apocalypse not zombies, but still… Gone from spoiled rich kid to convict in sixty seconds flat. Stuck in prison with his family three thousand miles away. But not for long. Soon everyone is on the run from the virus. When guards set the convicts loose, Brey vows to reunite with his family no matter what it takes. So what if he sucks at keeping promises? He's damned if he's breaking this one. Getting home is his only goal. Too bad there's somebody who won't make that easy for him… Hank is a cop. He enforces the law. Even the toxic ones. Waterfall, a small city that made it through the apocalypse, survives on the sale of human beings. Nobody's getting in the way of Hank's plans to stop them. Nobody but the rich kid he once arrested for murder. Now the guy's up for sale, and Hank's plans go south in a hurry. On the spot to make a quick decision, he buys him. What else can he do?… Dark with snark and crazy romantic. Want to tag along with Brey and Hank while they figure out how to reconcile the irreconcilable? For heart-stopping drama, heart-breaking scenes, swoon-worthy love, and a happy-ever-after to last a lifetime, read now or buy On the Eve of Forever and enjoy! NOTE: On the Eve of Forever was previously published as Backbone by Pride Publishing. It has been rewritten and expanded by approximately 25,000 words.
On the Eve of Forever
Word Count:

75000
Summary: A storm is coming ... One year has passed since the unpopular second Diamond Purge began. When the trains in Bridges mysteriously stop running, tensions among the populace rise to the point that the other three Families decide something must be done. Private investigator Jacqueline Spadros gets an unusual request: mediate with Cesare Diamond so that Inventors from all Four Families may meet to find a solution to the crisis. But Jacqui has more pressing problems. Her best friend is dying, she has a missing-persons case that she can't seem to solve, and her teenage sister-in-law is out of control. When her lawyer blackmails her for the enormous amount she owes him, Jacqui does something no one would ever have expected.
The Five of Diamonds: Part 6 of the Red Dog Conspiracy
Word Count:

13000
Summary: Poems written by Cyborgs in the future, melding sci-fi and poetry, human and machine. The Cyborg Anthology takes place in a future where there was a thriving world of Robots and Cyborgs living peacefully beside Humans, but a disaster destroyed all Robot and most Cyborg life. The book is organized like a typical anthology of literature, split into sections that include a biography of each poet and a sample of their poetry. It covers early Cyborg poetry, political, celebrity, and pop culture poets, and ends with the next generation of Cyborg poets. The narrative takes place in the time after a cataclysmic event, and the collection wrestles with this loss. Through the lives of the poets, the book chronicles the history of personhood for technological beings, their struggle for liberation, and demonstrates different ways a person can be Cyborg. The poems and biographies together tell the story of a complex and enthralling world-to-come, exploring topics that are important in the future, and also urgent right now. "With mordant wit and a playful satiric touch, these Cyborg poems showcase a dazzling range of poetic forms and ideas: imaginative and charmingly subversive. Move over Norton Anthology of Poetry, there's a new force in town, and they are a delight." —Renée Sarojini Saklikar, author of Listening to the Bees and Children of Air India "The premise of this collection alone is fabulous. The poems are potent and powerful. With echoes of Le Guin, Brunner and Monáe, Lindsay B-e's debut is layered and smart, provocative, and deeply satisfying. I was moved and fascinated. Speculative poetry at its best." —Hiromi Goto, author of Chorus of Mushrooms and Darkest Light
The Cyborg Anthology
Word Count:

110000
Summary: Five years later, and the living is easy. Well, it would be if you were anyone except Cass and Kendra. Yes, they inherited enough money so they can pursue their dreams. Cass's teleportation system is becoming accepted all over the planet, and Kendra's starship is nearly ready for its first flight. Throw in a pair of precocious daughters and what more could they want? Except the universe has other plans for them. A global crisis is brewing, one which the United Earth government has kept under wraps, one which will end up with 9 billion dead in 20 years. And a brilliant bureaucrat at the UE has decided the Cassidy's are exactly the people to help. Now they have another project: helping the UE break the crippling Artemis Accords. Unfortunately, Artemis and the Solarian Union don't want to give them up. This time it's going to take more than quick talking and a fast car if they're going to continue their dreams.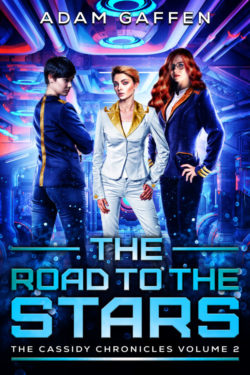 The Road to the Stars
Word Count:

131000
Summary: As the epic trilogy hurtles toward its conclusion, the fight for the future isn't over yet. It could lead to a new beginning, or it might spell the end for the last vestiges of humankind. The generation ship Forever has left Earth behind, but a piece of the old civilization lives on in the Inthworld—a virtual realm that retains memories of Earth's technological wonders and vices. A being named Lilith leads the uprising, and if she succeeds in setting its inhabitants free, they could destroy Forever. But during the generation ship's decades-long voyage, humanity has evolved. Liminals with the ability to connect with the world mind and the Inthworld provide a glimmer of hope. They'll have to face not only Lilith's minions, but also the mistrust of their own kind and persecution from a new government as homotypicals continue to fear what they can't understand. The invasion must be stopped, the Inthworld must be healed, and the people of Forever must let go of their past and embrace what they're meant to become.
The Shoreless Sea
Word Count:

119900
Summary: The year is 2156. The moon colonies watch in fear as an asteroid, far larger than the one that wiped out the dinosaurs, plummets towards the Earth. The collision leaves the planet blackened and lifeless. But is the Earth as dead as it appears?
Splinters
Word Count:

115000
Summary: The Earth is dead. Five years after the Collapse, the remnants of humanity travel through the stars inside Forever: a living, ever-evolving, self-contained generation ship. When Eddy Tremaine and Andrissa "Andy" Hammond find a hidden world-within-a-world under the mountains, the discovery triggers a chain of events that could fundamentally alter or extinguish life as they know it, culminate in the takeover of the world mind, and end free will for humankind. Eddy, Andy, and a handful of other unlikely heroes must find the courage and ingenuity to stand against the rising tide. Otherwise they might be living through the end days of human history. "Quality, innovative worldbuilding grounds this volume in the "Liminal Sky" series. Fans of The Expanse will find plenty to enjoy here as different groups with widely varying goals and beliefs come together in a struggle to survive the vastness of space and one another." -Library Journal
The Rising Tide
Word Count:

36000
Summary: IN-NO-VA-TION (Noun) 1) A new idea, method, or device. 2) The introduction of something new. 3) The application of better solutions to meet unarticulated needs. Three definitions to inspire writers around the world and an unlimited number of possible stories to tell. Here are 120 of our favorites. Innovation features 300-word speculative flash fiction stories from across the rainbow spectrum, from the minds of the writers of Queer Sci Fi.
Innovation
Word Count:

161705
Summary: An underground city, built centuries ago to ride out the devastating heat. A society under attack. And a young solar engineer whose skills may be the key to saving her city…if she doesn't get herself killed first. When Jossey was ten, the creatures of the aboveground took her brother and left her for dead, with horrible scars. Now, years later, she's a successful solar engineer, working to keep her underground city's power running, but she's never really recovered. After she saves dozens of people during a second attack, she is offered a top-secret assignment as a field Engineer with Patrol, but fear prevents her from taking it…until Patrol finds bones near where her brother disappeared. She signs on and finds herself catapulted into a world that is far more dangerous, and requires far more of her, than she ever imagined. The creatures and the burning heat aboveground are not the only threats facing the City, and what she learns during her assignment could cost her her life: one of the greatest threats to the City may in fact lie within. With thousands of lives at stake, can she act in time? Aestus is an adult dystopian science-fiction series set centuries after climate change has ravaged much of Earth. An epic story of vengeance, power, shifting loyalties, and survival that looks at just how far people will go to protect what they love, brought to you by science writer S.Z. Attwell, Aestus paints a picture of a world in which far too little has changed. 
Aestus, Book 1: The City
Word Count: Information not available
Summary: Twenty stories of fantasy, science fiction, pirates, horror, spies, and kindergarten noir. From the space-based lothario to the diminutive thief each looking for their next score, and from the jilted romantic traveling through time to the kingdom refugee whose day never ends, there's something for everyone In A Flash!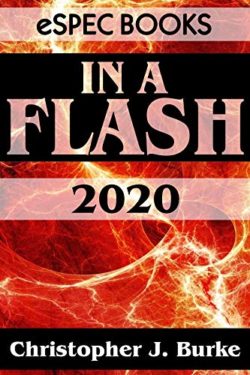 In A Flash 2020
Word Count:

87200
Summary: Some stories are epic. The Earth is in a state of collapse, with wars breaking out over resources and an environment pushed to the edge by human greed. Three living generation ships have been built with a combination of genetic mastery, artificial intelligence, technology, and raw materials harvested from the asteroid belt. This is the story of one of them—43 Ariadne, or Forever, as her inhabitants call her—a living world that carries the remaining hopes of humanity, and the three generations of scientists, engineers, and explorers working to colonize her. From her humble beginnings as a seedling saved from disaster to the start of her journey across the void of space toward a new home for the human race, The Stark Divide tells the tales of the world, the people who made her, and the few who will become something altogether beyond human.
The Stark Divide
Word Count:

325
Summary: It's 200 years after WWIII and he earth is poisoned with Carbon-14 and plutonium. Following the decade long night of nuclear winter and the Great Famines, what's left of the human race is fragmented and much of the old world is nuclear wastelands inhabited by different factions, from the cannibalistic Ferals, who have reverted to savagery, to the Scavengers who pick among the ruins of the old world cities for useful items to barter with the Dusteaters, nomadic warlike factions who are at war with the despotic Utopians, the most technologically advanced and powerful of the human enclaves, who have forged a new civilization that is controlled by an elite of fertile scientists and intelligentsia who live underground in Sub City, which sprawls beneath Silo City and Surfer Town, where the infertile topsiders called the Mudsurfers live and work for their troglodyte masters. Thundersky often wonders why he doesn't get sick? All the topsiders get sick from the radiation and the cancers. So sick, that living to 35 is considered a grand old age. Only the Scholars live for longer. But the Scholars manufacture the medicinals that everybody needs to survive. Thundersky is different, not only is he immune from the radiation and cancers that have plagued the earth for 500 years, he's also a genius and just 19, he has designed an antimatter impulse drive capable of achieving 50% the speed of light. It's been months since Thundersky submitted his data and applied to the prestigious Tech Training Academy but has heard nothing since. Not all the Scholars are tyrants; some believe the exploitation of topsiders is cruel and wrong. The human experimentations conducted in the Utopian prisons on Dusteater terrorists is barbaric and inhuman. Among them, Grand High Scholar Blackstone Washington and High Scholar Blossom Flora, who for the past twenty years, following the purge of the geneticists and bioengineers have been protecting the "Genesis Child" from the Grand High Council who would kill him. But now people are getting suspicious and asking questions about the topsider who never gets sick, they must act quickly before his true identity is discovered and contrive to bring Thundersky into Sub City and alter his records with a little help from the ARTI-QS-Six-Zero-Two Quantum AI. Zim Steven, head of the SSS is soon suspicious of the new young genius and discovers that he is the Genesis Child, but before he can act, an ancient quantum system is activated at a secret location beneath the flooded ruins of Manhattan, and a countdown begins to unleash another thermonuclear holocaust upon our dying world and a race against time begins. Thundersky is selected to go to New York with an elite team of military tacticals to locate the NORAD system and deactivate it. Meanwhile, Zim Steven lays his plans to make certain that Thundersky and his companions never return to Silo City alive. After their transport drone is shot down by Dusteaters, Corporal Venus Jane and Fox, Thundersky and his best friend Tiger White are the only survivors, with just an armored vehicle. They are pursued by Dusteaters and the infamous Godders of Pennsylvania and a desperate battle for survival begins. While in the wilderness, the foursome make unlikely allies, and Thundersky falls in love with a handsome young Dusteater fighter, Reaper Bloodbuck. Utopia's arch enemy, the queen of the Dusteaters, the Prophetess will reveal things to Thundersky's that will unravel his life and everything he believes in, and soon, it's realized that the humble Mudsurfer is far more powerful than even the Scholars could have imagined…
NORAD's Ghost
Word Count:

454
Summary: For 60 years, the "Founders" have been secretly infiltrating every aspect of the American government, law enforcement, military and judiciary, influencing government policy and biding their time for the day they can seize power, in the chaos that has followed the Covid Pandemic, the Founders believe that day has come... A titanic power struggle is taking place between the western democracies; China and Russia and a new Cold War with hotspots of proxy-wars, such as the American led Anglo-American-French coalition in Iran, where British SAS Colonel Elizabeth Brooks commands an elite unit of Anglo-American Special Forces. Following a mission behind enemy lines, Elizabeth's brother-in-law, John Crane of "Crane Technologies" shows up in Iran. Crane Tech has developed a cloaking device, but the secret's out, the Founders know about it and they want it desperately and will stop at nothing to get it. Fearing he will be murdered, John needs a contingency plan. Elizabeth and her team are that plan… FBI Special Agent Dexter Quills is in Virginia hunting a vicious serial killer, the "Three-Sixty Strangler" when he receives a call that will change his life forever when he's ordered to the Crane Mansion, where the entire family with the exception of John's youngest son Adam (Elizabeth Brooks's biological son) have been murdered by Founder terrorists who want the "Perseus II" cloaking device in order to detonate a nuclear weapon over Washington DC to wipe out the Government. Fate bring Elizabeth and Dexter together and the fate of millions of Americans and the free world itself is in their hands, in a violent race against time to prevent the greatest tragedy in American history…
Twisted Maze
Word Count:

61,000
Summary: New Colorado Protectorate fell with the assassination of Chancellor Clarke. Like many others, Todd and Nick Ruger left the land of their birth and made a home to the north in Yellowknife. Their world was ever changing. The time came to say a sad farewell to some of their friends and loved ones, but they were taken in with open arms by others and in turn offered shelter to yet more. Through the years they remained steadfast in their duty as sentries to protect and defend those that needed it the most. Time marches on but through it all they hold each other dear and cherish the love they've shared. There are still angry ghosts, Windigos and water spirits to contend with. Their lives change, offering them new roles. When the time comes, they do what sentries have done for generations prior and teach others the skills to carry on as sentries. The Rugers lives were rich and their hearts full with their devotion and love for each other. The tradition of the sentries lived on forever. It was the legacy of Todd and Nick Ruger. That was the way it was always meant to be. Winner Gay Fantasy Romance category 2016 Rainbow Awards and Runner Up Best Gay Book 2016 Rainbow Award
Ringed Love
Word Count: Information not available
Summary: The year: 2157 The mission: change everything The Unit: Democratic State Force Base 1407 Call handle: The Wildcards Seven Corporations control what was the United States of America. The food supply and its production is controlled by American AgCo. All agricultural seeds in the United States have been genetically designed to fail outside Corporate control. At least, that's what the Corporations say. There's a rumor that a seed bank has survived the destabilization that brought down old America, and the seventy-five years of Corporate ownership that followed. If it still exists, it would provide free, accessible food for the Democratic State Force and everyone in their care. It's a risky hunt for a treasure that may or may not exist. Something to put the most resourceful team in the Force to work on. The Wildcards just got the call. A hunt for hidden treasure. Free food. What could go wrong? Never ask that question. Life's a bitch. She'll answer.
Aces and Eights
Word Count:

51700
Summary: The Mythric Kingdom has raided the Five Cities. Sebastian has been rescued and Christopher is now the one in chains. The leader of the rescue team, the ice dragon Prince Azanel, says that Sebastian is his Mate. The face Sebastian dreamed while he was in captivity belongs to Azanel, but he still loves Christopher – but is that love real, or is it only conditioning? A soldier named Cavan claims to be Sebastian's closest friend, and the King of Mythria, Goxtli, has sent him and a strange creature named Kliyo to bring Sebastian home. Nothing feels familiar, and Sebastian knows that he's surrounded by lies. His time in the Countess's custody is over, but the battle for Sebastian's soul is just beginning. And the Countess and Lord Ashmar cast a very long shadow... This is a dark LGBT science fiction/fantasy romance not suitable for anyone under 18 years of age. Contains dark, adult themes, graphic gay sex and BDSM elements.
Dragon's Gambit
Word Count:

82000
Summary: Amber's astral projection ability is rare… … and it's everything the Council of Highmere has been waiting for. Trained in astronomy, Amber is bored by her tedious, Council-appointed job. When her mind wanders, so does her astral body, and always to the same place – a meteor-flattened crater in a forest with an ancient metal sign poking up through the dirt. The sign warns of Sudden Death. The virus had decimated the population of the planet, and left in its wake the seeming utopia Amber's people enjoyed. But with the warning, Amber starts to question her world like never before. Her quest to unbury the past makes her a threat to the Council. And they will use her family against her. Can Amber uncover the truth behind the ancient warning sign before the Council enacts their plan? You'll love this sci-fi adventure, because you can't protect your family if you don't know what's out there. Get it now!
The Qinali Virus
Word Count:

130000
Summary: When the slightest touch triggers visions of horror, you learn not to let anyone close. After more than a decade hiding from society, Seth Albright is sheltered. His visions make it a necessary evil. After a precocious emergence as a seer when he was eight, his mother took him to live in the woods. To protect him. When he can't take another day of isolation, Seth turns to SPIRE. There, he gets partnered with Roy Merchant as his anchor. Enough inexperienced psions have burned Roy by using him as a stepping stone to last a lifetime. Roy has seen scandals come and go in his time with SPIRE. Seth has seen atrocities most people couldn't imagine. But neither of them has seen anything like what's coming for them next. This is MM urban fantasy containing some mild BDSM elements and an age gap.
Clear Sight