Sci fi stories that involve the arrival of aliens (often on Earth) for the first time. Return to general Sci Fi
Note: these books are currently sorted by release date, with newest first.
Word Count: Information not available
Summary:
The Past doesn't easily Forgive. Or Forget.
Distraught over the loss of his crewmates, Caspian Robeaux no longer believes he can pretend to be part of the crew of the
USCS Tempest
. He has to face the fact he's become an outsider and that's who he'll always be. He has no place on a Coalition starship anymore. But the mission must continue and until it's complete, he's stuck on board. Will he find a way to cope, or will the ghosts of his mistakes drive him mad first? Meanwhile Commander Evelyn Diazal is dealing with her own issues. After a visit with her infirmed father goes horribly wrong, she begins to see and hear things that aren't really there. Afraid her father somehow passed his madness on to her; Evie does everything she can to cover up her problems until it puts another crewmember in mortal danger. Amidst all of this, the
Tempest
has traveled far beyond the borders of Coalition space, searching for the mysterious
Andromeda
threat. However what they find is far more dangerous and destructive than they ever could have imagined. Will Cas and Evie manage to pull the crew together to survive, or will their ailments cripple them before the
Tempest
can escape?
Full of action, humor and characters you can't help but root for, JOURNEY'S EDGE is the rousing fourth chapter in the hugely popular INFINITY'S END saga!
Journey's Edge
Word Count: Information not available
Summary: He tried to bury it. But some things refuse to stay hidden. Having survived his encounter with the mysterious Sil race, Caspian and the crew of the USCS Tempest receive a new assignment: investigate the threat emerging far beyond the Coalition's borders. With its advanced engines, Tempest is the only ship fast enough to reach whatever is out there before they cross into Coalition territory. But just because Cas is part of the mission now doesn't mean the crew has to like it. Being back on board a starship hasn't been easy, and now that he's been tasked with keeping their new ally from killing the crew, it isn't getting any easier. It seems his only option is to bury what the Coalition did to him and return to the model officer he used to be. Tensions and tempers rise when the ship gets stuck at the edge of a seldom-traveled nebula, costing them precious time and energy. But is there something more to this dark edge of space? As the mystery unfolds, Caspian realizes not only is this unlike anything he's ever seen before, but he may not be able to bury his past as deep as he hoped. Brand new from bestselling author Eric Warren, DARKEST REACH is the third installment in the INFINITY'S END SAGA. Fans of Star Trek, Firefly and The Twilight Zone will enjoy this illuminating look into what really resides in the darkest corners of space and our minds.
Darkest Reach
Word Count:

32,507
Summary: In Sacrum Umbra you were treated to tales from the shadows, the literary darkness that lives within all of us. Here you will find tales of another sort, the type you might find in the less wholesome end of the collective unconscious and the very depths of the gut. From stories of childhood gone horribly wrong to sex and madness with an impossible cost, this is where you'll find the more gruesome end of the spectrum.
In Ventre Tuo
Word Count:

87800
Summary:
Logan McRae never expected to see two aliens when he woke from cryogenic sleep. He has lost his ship and his people and he questions whether he has lost his mind. As he gets to know Halor and Kit he realises he might just lose his heart as well.
Logan expected to wake on the spacecraft Mercury, ready to pilot the ship down to New Earth. Instead he comes out of cryogenic stasis to find he is on another ship with two alien beings, neither of whom can understand anything he says. Unfortunately, they are all the help he has if he wants to find his people and resume his journey.
Kit doesn't know what sort of creature he has accidentally purchased, but it is definitely male and isn't so very different from him and his lover, Halor. The language barrier might be a problem, but Kit knows the language of love doesn't always need words.
Prince Halor of the Hawk Clan has always been reluctant to expand his nest beyond himself and Kit, but it is obvious from the start that his feline lover is attracted to their unexpected guest. Halor will do anything to give Kit the happiness he deserves, even invite another man into their bed.
Logan has no idea that Kit isn't quite like other men until their passion results in unexpected consequences. Now he must choose between his mission and the two men who have given him everything he ever wanted, as well as things he never dreamed of.
Loving Kit
Word Count: Information not available
Summary:
It was just supposed to be one job. But once the Coalition has you, they never let go…
Caspian Robeaux thought his troubles were over when he disrupted the Coalition's plans and the person who had betrayed him found himself behind bars. But life is rarely so simple. Now the Coalition has a new mission for him, one that takes him right back into the heart of the enemy who helped cost him his freedom. The question is, can he step up to the challenge, or will his past continue to determine his future?
Immerse yourself in the world of the Sovereign Coalition with this second volume in the highly successful
INFINITY'S END
series from Bestselling Author Eric Warren.
Tempest Rising
Word Count: Information not available
Summary: Discover ten planets, joined through music-based magic and an immense sentient crystal. This anthology contains nine stories from the popular Dissolutionverse universe! Join Origon as he investigates the Pixie homeworld and tries to avert a war! Learn how to change the Symphony with Rilan, as she searches for Origon's lost brother. Travel with merchants in an old war train with some suspicious cargo. Fly with the first majus in space! Discover the food and culture of the ten species. Learn what lurks in the basement of the House of Potential. Music, magic, and murder is afoot with Mandamon, as someone plots to bring down the secret Society of Two Houses! An ancient being confronts other-dimensional entities. And a climbing crew searches for the top of a miles-high wall, riding a giant steampunk beetle! If you like space opera, fast-paced adventure, music-based magic, and complex, diverse characters, then you'll love this collection of stories from William C. Tracy's Dissolutionverse. Pick up Tales of the Dissolutionverse to discover the music today! There's more adventure in The Dissolution Cycle (Epic Space Opera, LGBT): Book 1: The Seeds of Dissolution Book 2: Facets of the Nether Book 3: Fall of the Imperium Book 4: Tales of the Dissolutionverse
Tales of the Dissolutionverse
Word Count: Information not available
Summary: He needs a payday. He'll settle for payback. Betrayed and left to rot on the edges of the galaxy, Caspian Robeaux is deep in debt and stuck flying courier missions in an old rustbucket he can barely keep afloat. His only friends are an annoying robot named Box and a bottle of booze. It's a far cry from his once-promising military career, but Cas stopped caring a long time ago. Things start to look up, though, when a stranger arrives and offers a lucrative job that Cas can't refuse, with a payday big enough to change his fortunes permanently. His luck gets even better when Cas learns that the job might offer him the one thing he wants more than his next drink: A chance to clear his name. But nothing in his life is ever that simple, and for a man trying to buy his way out of debt, the price of redemption might be too steep. From bestselling author Eric Warren, Caspian's Fortune is the first book in the Infinity's End series. With a rich universe full of quirky characters and breathtaking adventure, it's perfect for fans of JN Chaney and Michael Anderle.
Caspian's Fortune
Word Count:

103900
Summary: A little blue world, the third planet from the sun. It's home to 7 billion people with all manner of faiths, beliefs and customs, divided by bigotry and misunderstanding, who will soon be told they are not alone in the universe. Anyone watching from the outside would pass by this fractured and tumultuous world, unless they had no other choice. Todd Landon is one of these people, living and working in a section of the world called the United States of America. His life is similar to those around him: home, family, work, friends and a husband. After the attack on San Jose, Todd is appointed to Special Envoy for Terran Affairs by the nentraee, a position many world leaders question. Undeterred Todd wants to build bridges between both people. However, this new position brings with it a new set of problems that not only he, but his new allies Mi'ko and Mirtoff must overcome. Will the humans and nentraee learn to work together despite mistrust and threats of more attacks by a new global terrorist group, or will the terrorists win? Will this bring an end to an already shaky alliance between nentraee and humans?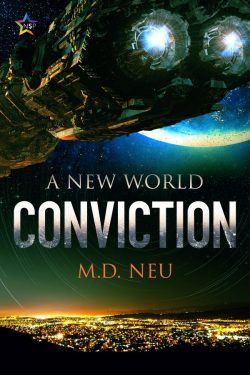 Conviction
Word Count:

71800
Summary: A little blue world, the third planet from the sun. It's home to 7 billion people with all manner of faiths, beliefs and customs, divided by bigotry and misunderstanding, who will soon be told they are not alone in the universe. Anyone watching from the outside would pass by this fractured and tumultuous world, unless they had no other choice. Todd Landon is one of these people, living and working in a section of the world called the United States of America. His life is similar to those around him: home, family, work, friends and a husband. On the cusp of the greatest announcement humankind has ever witnessed, Todd's personal world is thrown into turmoil when his estranged brother shows up on his front porch with news of ships heading for Earth's orbit. The ships are holding the Nentraee, a humanoid race who have come to Earth in need of help after fleeing the destruction of their homeworld. How will one man bridge the gap for both the Humans and Nentraee, amongst mistrust, terrorist attacks and personal loss? Will this be the start of a new age of man or will bigotry and miscommunication bring this small world to its knees and final end?
Contact
Word Count:

73,900
Summary: Three complete novellas: The Roots of War - Beware the alien with a potato. The "hew-man" Marq offers such a tuber to Kai and Tishla as the face a famine. But there's more at stake than the failure of a prison colony on a poisonous planet. Marq says three planets are really rogue colonies causing a mysterious "Compact" trouble. Invade away, and they're problems are solved. Only Kai smells the Gelt equivalent of a rat. But can he stop two species from going to war? Read an excerpt! The Marylinists - Douglas Best has found three colonies for his backward world of Jefivah. Just remove the military's weapons of mass destruction. But Compact Intelligence is not happy. The weapons have disappeared. They think Best knows where they are. And to avoid prison, Best is going to have to turn to Jefivah's only major religion for help: A cult to the Blessed Mother, Marilyn Monroe. Read an excerpt! Gimme Shelter - JT Austin has it all. His mother is a wealthy shipping heiress leading the Compact's largest corporate entity. His father is a newly minted admiral. But when he abuses his mother's wealth one too many times, they decide he needs military school. He decides he needs to flee to Tian, humanity's richest and most advanced world. Instead, he ends up on the distant farming world of Amargosa, lusted after by a farmer's daughter, suspected by a shady constable, and in the crosshairs of an alien invasion. Read an excerpt! All three novellas now in one volume. Get yours today!
Seeds of War Omnibus
Word Count:

161800
Summary: Following the dramatic events in The Starchild Compact, the starship Starchild departs on a 185-year interstellar journey. Meanwhile, the Iapetus Federation in cooperation with the Founders, descendants of the people who originally constructed Iapetus, expands to include the Mirs Complex at L-4, the Lunar Complex, a new habitat being constructed at L-5, the growing Mars settlements, and several asteroids including Daphne and Ceres. On Earth, America turns away from its world leadership position to focus on internal matters and the idea of an all-inclusive, multicultural society. Saeed Esmail, the stowaway Jihadist who played a significant role in The Starchild Compact, becomes the guiding prophet of a new form of Islam that quickly dominates the vanquished Persian Caliphate territories, and threatens the rest of the planet. Aided by Founder Asshur, the besieged Israelis reluctantly forge a new homeland on Mars, while the United States balkanizes into a half-dozen smaller units dominated by the Lone Star Conservancy under the leadership of Texan Sam Houston, who had earlier established the Lone Star Settlement on Mars. Science does not stand still. Founder researchers develop a longevity treatment that has the potential to extend human life indefinitely. The Starchild Institute, headed by former U.S. President Marc Bowles, develops advanced spacecraft, and a new form of transportation based on artificial wormholes. As the global Jihad on Earth heats up, most of the planet falls under the domination of Saeed Esmail, with only the Lone Star Conservancy, Columbia Freehold, Australia, and New Zealand left as independent territories. The Institute opens evacuation portals between Earth and Iapetus to rescue as many people as possible. While Earth sinks into medieval barbarism, the focus of human activity shifts from Earth to the Iapetus Federation as humans settle virtually every potentially habitable spot in the Solar System and begin planning for expansion into the rest of the Galaxy.
The Iapetus Federation: Exodus From Earth
Word Count:

366200
Summary: This is a Kindle book and Audible book of all three volumes in the set.      The Starchild Trilogy begins with building a Space Launch Loop enabling massive movement off Earth and subsequent settlement of Cislunar-Space, Mars, and beyond.      Slingshot is the story of the struggle behind constructing the largest machine ever built stretching between Baker and Jarvis Islands in the Equatorial Pacific, and how the men and women behind Slingshot overcome the project's physical, economic, and human obstacles.      In The Starchild Compact, a team exploring Saturn's moon Iapetus discovers it to be a derelict starship, and meets the Founders, remnants of an ancient, advanced race, the Ectarians, that arrived in the Solar System 150,000 years ago. Together, they create the Starchild Institute governed by a document they call the Starchild Compact to further develop and introduce Ectarian technology to the Solar System. Using Ectarian technology, they develop near lightspeed spacecraft, artificial wormholes, FTL starships, and human longevity.      As human colonies expand into the Solar System, they form a governing coalition: The Iapetus Federation. While a united Islam pursues a global Jihad that rages across the planet putting millions to the sword, the Federation enables an exodus from Earth using artificial wormholes. From hand-to-hand combat in the oceans, to battles on Earth's surface, to the challenge of living off-Earth and reaching for the stars, our heroes fight to survive and to expand humankind to the far reaches of the universe.
The Starchild Trilogy
Word Count:

131000
Summary: Are we the children of starchildren? The Starchild Compact is an adventure of heroic proportions, commencing on a planet 500 lightyears distant, arriving here just a few years from now, and ending up in the far distant expanses of the Universe. Is Saturn's moon Iapetus an artifact? To find out, Jon Stock takes his international exploration team on a 1.4 billion km journey to Saturn, but will Jihadist stowaway Saeed Ismail succeed in sabotaging the mission? On Iapetus, Jon Stock and his team meet the Founders. Where are they from? How did they get here? How will they impact Earth and the Solar System? Will the Founder's presence signal the end of humanity, or will it pave the way for a joint push to the distant reaches of the Galaxy?  The Starchild Compact is hard SciFi reminiscent of Arthur C. Clarke or James P. Hogan, with a geopolitical twist worthy of Tom Clancy or Clive Cussler.
The Starchild Compact: A Novel of Interplanetary Exploration
Word Count:

23,454
Summary: First contact with an alien race calling themselves Humans. Kai and Tishla face a food crisis, and the humans offer a solution, a plant they call "Potato". But will this root be the cure the humans claim, or will it make things worse?
The Roots of War: Seeds of War Book 1
Word Count:

115000
Summary: Aaron Okonkwo, a Nigerian scientist, travels with a crew in the 24th century to evaluate Viridis, which proves to be a beautiful and fabulous world. There, Aaron discovers a strange, alien species and amazing machines and technology left in a vast underground complex by a mysterious race called the Creators. Aaron soon falls under the irresistible, seductive spell of Nightsong, a green alien female with ominous and bewitching powers. However, an even greater danger rises. He will be forced to fight for the planet's survival against a ruthless invasion of many ships to conquer and enslave the planet – just as Africa itself was once enslaved. Aaron knows it's A Senseless Act of Beauty to try to reclaim his ancient warrior heritage and fight back against such overwhelming odds, but he knows he must try.
A Senseless Act of Beauty - John B. Rosenman
Word Count: Information not available
Summary:
Music and magic. Steampunky science. The Dissolution is coming.
Eighteen year old recluse Sam van Oen lives with his aunt, takes online college courses, works in technical support, and tries not to remember the freak storm that killed his parents ten years ago. But anxiety and reclusion bring up memories he doesn't want. Just as Sam gathers courage to send in his application for college away from home, the temperature drops and the sun goes dim. Ice forms in August, and a portal opens in his fireplace. This time, Sam can't run. This time he's sucked in. Now Sam must survive in the flourishing capital of ten alien species, home to thousands who can change the Symphony underlying the universe and alter reality. Sam's anxiety attacks and fear of crowds transforms the Nether into a frightening, expansive city. To find his home again, Sam must learn to control the music inside him, while devastating voids threaten to destroy the Nether and everyone he has grown to love. "
Simply Put, This is a Brilliant Book. Read it Now.
" -Scattered Thoughts and Rogue Words Blog If you're looking for an awesome ride across multiple homeworlds filled with magic, science, music, and diverse alien species, don't miss the first book in William C. Tracy's Dissolution Cycle! The Dissolution Cycle (Epic Space Opera, LGBT): Book 1: 
The Seeds of Dissolution
Book 2: 
Facets of the Nether
Book 3: 
Fall of the Imperium
Book 4: 
Tales of the Dissolutionverse
 (Novella collection)
The Seeds of Dissolution
Word Count:

88400
Summary: On planet Earth, it's aliens against humans and humans are losing the battle. While a few brave humans are ready to fight to regain their freedom from their alien conquerors, the future of the human race falls on Khara, a woman whose sole focus is her personal fight for survival. As the human population dwindles toward extinction, will the strange and reluctant friendship that develops between Khara and an alien show them all a new way - coexistence? Or will the human race finally be eliminated once and for all? This gritty alien invasion story is told from both human and alien points of view, a la C.J. Cherryh, and puts a new twist on the idea of "first contact."
Carapace
Word Count: Information not available
Summary: How does a world armed with bows, arrows and catapults, where steam power is just beginning to replace horses and sailing ships, avert a conquest from beyond the stars? Prince Regilius has been engineered to combat the Dalthin, a predatory alien species that enslaves worlds telepathically, and to do so he must unite his people. But when his mother murders his father, the land descends into chaos and his task may prove impossible. Faced with slaying the one who gave him life in order to protect his world, he seeks a better way. Set in a vast and varied land where telepaths and those with unusual mental abilities tip the course of events, Awakening goes to the heart of family, friendship and betrayal. "In AWAKENING Raymond Bolton presents us with an intricate and interesting problem, characters you care for, aliens who -are- alien, and a carefully-thought-out future."—Mike Resnick "Raymond Bolton's genre shattering Awakening is a skillfully woven hybrid of science fiction and fantasy that brings cultural conflict to a whole new, thoroughly believable level that goes straight to the heart of what really matters."—Matthew J. Pallamary – author of Land Without Evil and Spirit Matters. "Bolton navigates through the plot lines and the mixed genres (Science Fiction but not exactly, Fantasy but not entirely, Paranormal but not completely) with the clear gesture of the conductor of a large orchestra. A new voice and author who is bound to grow a faithful readership."—Massimo Marino, international award-winning author of The Daimones Trilogy "it's a grand debut. An ambitious and well considered SF crossover [that] breathes originality into the genre"—BookViral
Awakening
Word Count:

20,900
Summary: One day, someday soon, Jeeze Madrid was going to wake up and realize just what he'd been passing up; he'd see what Cal Paxton was offering him so faithfully—"Faithfully, Jeeze! Even you can't deny that!"—and grab it. And they'd finally have what Cal wanted. Cal Paxton and Jeeze Madrid are the top scouting team on the Pathfinder-class starship, the Carson, on the very outer edge of Earth's expansion across the galaxy. Cal and Jeeze find the uninhabited planets, the Carson evaluates them for colonization. Cal and Jeeze are wingmen, best friends... and lovers. Cal wants more than a casual relationship but Jeeze, recently divorced, is wary of commitment. When Jeeze's scout ship is shot down over a planet inhabited by a race Earth has never before encountered, what will Cal find when the Carson can finally mount a rescue mission? Will he ever succeed in persuading Jeeze to take up his offer of hand and heart?
FlashWIred
Word Count:

27900
Summary: A mind-blowing collection of short fiction. This anthology of Davyne DeSye's short stories includes twelve speculative fiction stories, ranging from science fiction to fantasy, and from humorous to horrific. This collection – which includes one new tale published here for the first time – contains: -A Ray Bradbury-esque story about a boy whose wishes come true; -A dark testimony of alien invasion and the redemptive power of a single selfless act; -The true story of Little Red Riding Hood; -An inside look into robot-assisted psychotherapy of a killer; and -A guided tour of a shop for recycled dreams. These twisted tales and others may be discovered in this anthology, which includes: "The Slide," "Moron," "There I Was…," "Death, By Any Other Name," "Mine Eyes," "Mirror, Mirror," "Carapace," "…I Win," "It's Not What You Think," "Shattered," "The Cloak," and "The Thief Speaks."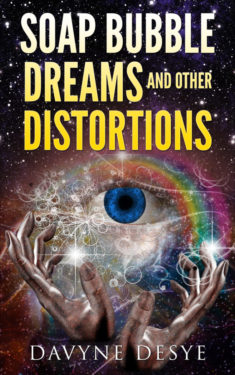 Soap Bubble Dreams and Other Distortions