about limFic
We're an inclusive library of spec fic titles (fantasy, sci fi, paranormal and horror). Use the book search, our filter search, or the menu links. Join our weekly newsletter list, and we'll give you four free ebooks (and you can sign up for more each month via the newsletter). You'll be able to add books to your TBR list and "favorite" authors. Questions? Email scott@limfic.com.
Using this Site
Authors: Join Us
our blog
Planetary scientists have found groundbreaking evidence of recent volcanic activity on Venus. Archives from NASA's Magellan mission show telltale signs...
Read More
new from limfic authors
Check out our "coming soon" titles here too.

Word Count:

45000
Summary: These three tales tell the story of Tharassas before the Tharassas Cycle, including the origin of the hencha queens, the ce'faine, and the colonization of the Highlands, essential companions for the four novels that make up the cycle: The Fallen Angel Charlie Fah, Cha'Fah to most of the world, has never fit in with the other citizens of Gully Town, thanks to his darker skin that sets him apart. But one day, an Angel arrives on a supply run from Earth, and what happens next sets Charlie on a new path that will turn his life upside down. The Last Run Sera is the last runner from Earth, bringing badly needed supplies to the Tharassas Colony across a twenty-five year gulf between the planets. Jas works on a hencha farm to make ends meet, harvesting berries from the semi-sentient plants. Neither one that knows their lives—and worlds—are about to change forever. The Emp Test Jey awakens to find himself in the care of a handsome stranger—a cheff from one of the mountain tribes. Afraid for his life, Jey has no choice but to let the man take care of him and his broken leg. Avain is on his Aud'ling—the coming-of-age test that requires him to spend a couple months away from his own people. The two of them will have to come to an understanding if they're going to help one another. The Last Run and The Emp Test have been published before in previous stand-alone editions, but The Fallen Angel is a new story written exclusively for this collection.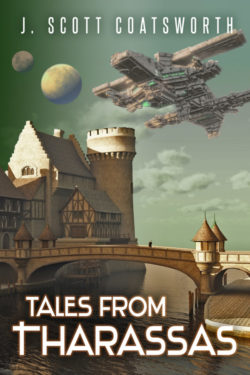 Tales From Tharassas
Word Count: Information not available
Summary: There's a kettle of rotten fish on the fire … and the stink's about to get worse. – Jeskan proverb Once in a generation, the matriarchs of Jeska choose a new king to manage the government and command the Guard — protecting Jeskans from crime, invaders, and insurgency. Corren's been training for that job since he was six, but this is an unsettled time: rumors of strange incursions, grumbling discontent, and increasing brigandry. Corren's own problems are multiplying. His father, a skeptical shaman, has gone missing, His polyamorous foster-brother keeps interfering with his personal and professional business. And the king needs him to track down the conspirators behind a simmering insurrection. When a strange woman turns up wearing a shaman's cape, speaking a weird language, and hiding knowledge that doesn't belong in this world, all his plans will have to change.
Shadows of Insurrection
Word Count:

119,312
Summary: Are you a fantasy author who wants to create more vivid worlds or give them greater depth?  If so, this is the book you have been waiting for.  Subjects covered include: - How to create complex characters and an epic cast - Detailed lists of intelligent fantasy beings from myths and the world of fantasy, including celestial and paranormal species - How to create a celestial world and an underworld - Planning a novel - Ideas for plots, sub-plots, plot twists and book themes - Twenty-seven individual sub-sections on creating every aspect of a fantasy culture, from its history and jobs to its level of technology - Another five sub-sections on creating a planet, from geography to different realms to the effects of the sun(s) and moon(s) on the planet - Seven sub-sections about every aspect of creating a magic system - A list of fantasy creatures and how to create your own - Find inspiration and add an extra layer to your writing by using real myths, legends, folktales, historical events and stories of the paranormal - Eighteen detailed sub-sections on fantasy subgenres - Ideas to help you market your books - Twelve templates that you can use again and again every time you begin a new fantasy novel or series, that let you take the ideas in the book and turn them into something unique of your own In addition to all this, the paperback version of "Writing Fantasy" also contains over 100 illustrations to give you extra information and even more ideas. This is the perfect book for writers of fantasy.  Get your copy now so that you can take your writing to a whole new level.
Writing Fantasy (The Ultimate Guide and Complete Reference Book)
Word Count:

88000
Summary: From the back cover: Tiffani Angus (Ph.D.) and Val Nolan (Ph.D.) met at the 2009 Clarion Writers' Workshop in California and since then have collaborated many times as fans and scholars on panels for SFF conventions and writing retreats. Working together on this book and combining their experience as SFF writers and as university lecturers in Creative Writing and Literature made perfect sense! Every year they see new students who want to write SFF/Horror but have never tried the genres, have tried but found themselves floundering, or, worse, have been discouraged by those who tell them Science Fiction, Fantasy, and Horror are somehow not "real" literature. This book is for all those future Science Fiction, Fantasy, and Horror writers. Tiffani and Val are approaching these three exciting fields by breaking them down into bite-sized subgenres with a fun, open, and contemporary approach. Each chapter contains 10 subgenres or tropes, with a quick and nerdy history of each derived from classroom teaching practices, along with a list of potential pitfalls, a description of why it's fun to write in these subgenres, as well as activities for new writers to try out and to get them started!
Spec Fic for Newbies
Word Count:

35000
Summary: Will the Manderians choose security over freedom? Keyla Damaer presents the second collection of short stories featuring characters from the Sehnsucht Series. The Manderian Directorate is born from the ashes of a past dripping blood. Existential dilemmas, double agents undercover, epic battles, old and new enemies promise a thrilling read. Thrust into it now!
Tale From The Sehnsucht Series Part Two - The Manderian Directorate
Word Count: Information not available
Summary: Four tales of terror. Haunting dolls live upstairs in The Doll Lady.  A psychotic serial killer is obsessed with Lady Gaga and lets the world know with each murder in Gaga for Murder. A Stranger's Rope is a modern-day nod to Hitchcock's Rope and Strangers on a Train. Insected features a 90-year-old woman as the main character in a sci-fi thriller with deadly insects from another world.
Word Count:

93700
Summary: Raven's a thief who just swallowed a dragon. A small one, sure, but now his arms are growing scales, the local wildlife is acting up, and his snarky AI familiar is no help whatsoever. Raven's best friend Aik is a guardsman carrying a torch for the thief. A pickpocket and a guard? Never going to happen. And Aik's ex-fiancé Silya, an initiate priestess in a magical crisis, hates Raven with the heat of a thousand suns. This unlikely team must work together to face strange beasts, alien artifacts, and a world-altering threat. If they don't figure out what to do soon, it might just be the end of everything. Things are about to get messy.
The Dragon Eater
SALE
Word Count:

50,000
Summary: J. Manfred Weichsel's versatility, unique style, and refusal to be bound by genre conventions have made him a force to be reckoned with in the world of speculative fiction. Now, Weichsel invites you to strip down and expose yourself to his raw and unfiltered imagination with Warrior Soul & Other Stories. Weichsel's stories peel away the veneer of societal norms and delve deep into the human psyche, exposing the rawest and most vulnerable parts of our existence. Through his boundary-shattering tales of science fiction, adventure, horror, and humor, Weichsel fearlessly explores the fringes of what is possible in fiction, revealing the naked truth of our humanity. From the mind-bending science fiction of "Warrior Soul", to the fantastical realm of "The Rainbow-Colored Rock Hopper", from the light comedy of "Queen of the House", to the darkest depths of horror of "Complicit in Their Bondage", these twelve tales will leave you feeling exposed and vulnerable in the best possible way. The bold and daring themes that run throughout Weichsel's work strip away all pretense and artifice to reveal the unvarnished truth of the human experience. So if you're ready to shed your inhibitions and explore the depths of what's possible in fiction, then get your copy of Warrior Soul & Other Stories now. It's time to embrace your innermost desires and take the plunge into the raw, unbridled world of J. Manfred Weichsel.
Warrior Soul & Other Stories
Word Count:

80000
Summary: Trapped outside the world, unlikely hero Thaddeus Wright must partner with sexy Secret Agent Peter Pan to save a new generation of Lost Boys. THADDEUS WRIGHT would love to forget his childhood. A bi-racial bastard orphaned at four, he was the very definition of sin, according to the strict and disapproving grandparents who raised him. Twenty years later, Thad works with at-risk youth as both coach and counselor. Even after his grandparent's spare-the-rod, spoil-the-child parenting, Thad just wants to help people. But when three young boys he coaches go missing, he's the prime suspect. Especially when he goes missing himself! That's when paranormal policing agency Borderless Observers Org. (B.O.O.) sends in recent recruit Peter Batique on his first solo mission. Peter had another name once, but he's all grown up now and looking to prove himself an adult and a capable agent. However, after a hundred years as an unruly boy in Neverland, growing up holds some pretty unique challenges for Peter. Despite their differences, Thad and Peter must learn to work together to rescue a whole new generation of Lost Boys and take down the black market shadow dealer responsible. Can Thad learn he's worthy of love? Can Peter finally grow up? Can the Lost Boys be found?
Lost Boys 2.0 (BOO #2)
Word Count:

45000
Summary: IMAGINE BEING the only un-magical kid at Hogwarts. That's how sixteen-year-old orphan Jaden Raines feels as he enters Azunya High. He struggles to fit in, but he's really a fish out of water. The magical isle of Azunya, where paranormal policing agency B.O.O. is headquartered, is shocking to Jaden after having lived his entire life in the American Midwest. Back there, his classmates were freaks, geeks and gangstas. Here, his classmates are genies, witches, healers… A whole pantheon of beings and monsters. And worse yet, he'll have to read The Old Man and the Sea. Again. Jaden might be the new kid in town, but he's still a teen. It's love at first sight with handsome skater-boy Stiltz. They have three things in common: neither is able to use magic, they're both petrified of water, and, lucky for Jaden, they're both gay. They should bond, but their relationship's stormy from the start. To try to fit in, Jaden hides his powerless state, accidentally creating the myth that he's the most powerful being of them all. But when the entire school demands a demonstration, what's Jaden to do? New lies and cruel deceptions leave Jaden and Stiltz stranded at sea in the middle of a deadly tropical storm. In order to survive, the boys must spill their secrets. It's sink or swim for our heroes. Only the truth can set them free. And keep them alive.
Mysterical (Tales of B.O.O. Book 3)
Word Count: Information not available
Summary: In this stunning work of speculative urban fiction, Redfern Jon Barrett breaks down the binary between utopia and dystopia—presenting an ambitopian vision of the world's first gay state. A glittering gay metropolis of 24 million people, Berlin is a bustling world of pride parades, polyamorous trysts, and even an official gay language. Its distant radio broadcasts are a lifeline for teenagers William and Gareth, who flee toward sanctuary. But is there a place for them in the deeply divided city? Meanwhile, young mother Cissie loves Berlin's towering high rises and chaotic multiculturalism, yet she's never left her heterosexual district—not until she and her family are trapped in a queer riot. With her husband Howard plunging into religious paranoia, she discovers a walled-off slum of perpetual twilight, home to the city's forbidden trans residents. Challenging assumptions of sex and gender, Proud Pink Sky questions how much of ourselves we need to sacrifice in order to find identity and community.
Proud Pink Sky