Word Count:
1100
Summary: A muddy trench in France during the Great War wasn't the most auspicious place for Tom and Michael to reach an understanding of their own natures. A small, individual tragedy unfolds … But then Tom discovers a place beyond, where he and other men like him are blessed with all that life denied them.
An English Heaven
December 15, 2017
Word Count:
93000
Summary: When a change in collective conscious sends the Outsiders, a group of aliens, to the shadows below the city, humans reason that the demonization of their peers is simply more "humane." There's no question, nor doubt. Just acceptance. Lydia had embraced that sense of "truth" for as long as she can remember. The daughter of a powerful governor, she has been able to live her life with more comforts than most. Comforts can be suffocating, though, and when the opportunity to teach Outsider children in their private, "humane" community becomes available, she takes it. What she finds beneath the city is far from the truth she had grown to know. There she meets Alessia, an Outsider with the knowledge and will to shake the foundation of all those who walk above ground. The two find a new and unexpected connection despite a complete disconnect from the technological world. Or perhaps in spite of it. Still, it takes a lot more than an immutable connection to change the world. Lydia, Alessia, and a small group of Outsiders must navigate a system of corruption, falsehoods, and twists none of them ever saw coming, all while holding on to the hope to come out alive in the end. But it's a risk worth taking, and a future worth fighting for.
Beneath the Surface
January 19, 2018
Word Count:
81000
Summary: Alessia is an Outsider—a member of the not-quite-human community that has recently been released from their underground prison. Shortly after their liberation, Alessia is given an ultimatum: obey all the United Earth Alliance's demands, or her mother will forever remain a hostage—a mother she'd believed dead for fifteen years. Reluctantly, she agrees, though she has no idea what those demands may be or how she will balance her obligations to the UEA with her responsibilities to her people and her family. As the UEA tightens its grip on humans and Outsiders alike, it becomes clear that meaningful social change will not be possible without a revolution. Alessia and her peers embark on a mission to discover just how far the government is willing to go to maintain their monopoly on power. What Alessia and her comrades discover, however, goes much deeper than they'd ever anticipated. Who are the Outsiders, really? What secrets of their destiny lay hidden within a top-secret space station? And why are the Outsiders linked to an emerging disease the UEA seems desperate to keep secret?  As they delve deeper, it isn't only Alessia's identity that will be called into question, but the fate of the entire planet.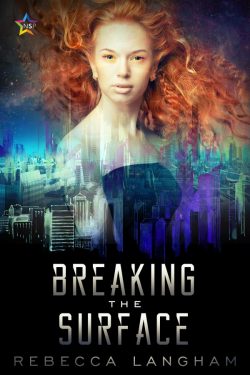 Breaking the Surface
January 13, 2020
Word Count:
26000
Summary: Wilderness tour guide, Patrick Morgan, wakes to discover Harlan Quinn—the man he'd invited home for the night—has left, with no traces of his presence. Disconcerting as that might be, Patrick is shocked when the police turn up a week later, demanding to know Harlan's whereabouts. He's an ex-patrol officer, accused of manslaughter. Harlan Quinn is desperate. Not only has he been dismissed from the Space Patrol, on a charge he strongly denies, but now he is on the run.   He can't find a legitimate job. With no money and no prospects, what's left? When Patrick's tour group is caught up in a kidnapping plot, the last person he expects to run into is Harlan. With everything he knows, can Patrick dare to trust him?
Dangerous Love
October 19, 2021
Word Count:
123000
Summary: Corruption is a disease with no cure that ends with a rapid descent into madness and violence. And until now it only targeted mages. When an infected warden shows up challenging everything Margot thought she knew she is thrown into the chase to find the impossible cure. But to understand this new revelation she needs someone who knows possession ... She needs Nea and lucky for Margot, her warden friend Garret has been tasked with tracking the rogue necromancer down. Garret is used to dealing with dangerous mages so this should be like any other job: find the mage and deliver her to the king. But from the moment he finds Nea he is dragged into a deadly game of dark secrets and brutal machinations. Now he must make a choice: deliver Nea as promised and place a weapon in the hands of a mad man or deny his king and change the lives of mages and wardens forever.
Deathborn
November 10, 2020
Word Count: Information not available
Summary: He killed the only family she had. Now he's after her. When Maia Gellman loses her home, job, and family in one night, she does the only thing she can do: run. It's easy to get lost on the road with a new band, new friends, perhaps a new life. But the demon she left behind is gaining ground, and it awakens something sinister within her. Will Maia find a way to stand and face the demon, or will she succumb to the fate he has in store for her?
Demon Veil
June 26, 2018
Word Count: Information not available
Summary:
The war is over. Resources are scarce. The population is dwindling in the Forkstream Territories.
Pinnacle Officer Wilcox has created FERTS amidst the chaos, a facility designed to protect the female population from raiding hordes.
Beth 259201, a newly-demoted Epsilon Internee, suspects that there is something more that lurks beneath the carefully constructed order of the facility.
She has a gift, one that could brand her a defective. A novice fighter, she must use her intellect to survive. Her own life, and the lives of many more may be at risk. Will she succumb to the plans in store for her or will she conceal her secret long enough to discover her own path?
FERTS
SALE
June 26, 2015
Word Count:
21000
Summary: Aurora Rose slumbers in the city of Oldpass, a cursed kingdom once allied with Grimvein. The victim of a malicious spell, she is powerless to control her own fate. At least, that's how the story goes. Now, as Grimvein faces attack, Prince Amir has been tasked with the life-threatening rescue of Aurora, his parents hopeful he will marry the princess and secure safety for their kingdom. Talia, the strongest spell-caster in the known lands, protects and guides the prince in his quest to save a woman that threatens to change their lives forever. In finding Aurora, the pair will realise the truth about themselves and each other, coming to understand just what – and who – they really want in life.
Finding Aurora
December 24, 2018
Word Count:
24500
Summary: Heir to a wealthy shipping family, Adam S Hayes has his life carefully mapped out.  Career, marriage, family.  After establishing himself  successfully as Captain of the Patrol Ship Revel, it is time for the next step.  Marriage to Fiona Becker, daughter of the Capella space station manager, might not be the biggest romance of the year but there are strategic advantages in the alliance, and no-one is surprised when Fiona accepts his proposal. Everything is going according to plan ... until he meets Danyel King.  Tall, dark and handsome and as open about himself as he is about his homosexuality,  King throws all his plans into total confusion.  Trapped underground together after an explosion, Hayes seizes the opportunity to try something he's only dreamed of, but finds he is totally unprepared for the consequences - and the passion that flares between them. King knows exactly what he wants, and it isn't to be someone's secret lover! Troubled and confused, Hayes risks losing his chance for love as he finds himself torn between his heart and his head. Revised edition released 31st March 2016
His Guilty Secret
June 12, 2013
Word Count:
2600
Summary: Jake is a trapper working high in the mountains of Wyoming Territory, usually not seeing another human from one month to the next. Recently, however, he's had an unexpected guest – an Easterner named Edwin, who pitches in to ensure that Jake has enough supplies to survive the coming winter. As the evenings draw in, Jake works on knitting a blanket, adding a bit of love (and maybe even magic) into every stitch, hoping to entice Edwin to join him under its warmth…
Love in Every Stitch
December 19, 2020
Word Count:
43000
Summary: Lieutenant Jack Alexander has wasted years, waiting for his best friend, Marc Duran, to return his affections.  Perhaps it is time to finally move on and find someone new. However, when Major Ethan Pattisson is sent to the planet Mayia to investigate the theft of hundreds of illegal weapons, Marc comes under suspicion, and Jack can't help stepping in to save him. When Jack finds himself caught in the middle between Ethan and Marc, he discovers that unrequited love might soon be the least of his problems.
Lunar Affair
August 10, 2013
Word Count:
36000
Summary: MI-GRA-TION (Noun) 1) Seasonal movement of animals from one region to another. 2) Movement of people to a new area or country in order to find work or better living conditions. 3) Movement from one part of something to another. Three definitions to inspire writers around the world and an unlimited number of possible stories to tell. Here are 120 of our favorites. Migration feaures 300-word speculative flash fiction stories from across the rainbow spectrum, from the minds of the writers of Queer Sci Fi.
Migration
July 24, 2019
Word Count:
46000
Summary: Lieutenant Mike Oliver has long dreamed of a Patrol ship berth, flying between the stars—surely this time his application will be successful. What he doesn't expect, is to be sent to establish a Patrol station on Asra, a tiny mining settlement on a frozen mudball of a planet, blanketed with nitrogen storms. Deeply resentful, Mike suspects he is being discriminated against. The only option he can see is to become celibate, at least while he is on Asra. And that means rejecting the advances of both Callan Rian, the colony's flamboyant Governor, and sexy Dane, Callan's business partner, despite the growing attraction. While sexual tension mounts between them, a far more sinister danger is lurking, and when Callan is abducted, Mike will have to choose—between his ambition and his heart. (Gay / Romantic Sci-Fi) A novella in the Aurigan Space Saga
Night Traveller
May 1, 2018
Word Count: Information not available
Summary: Sean has an otherworldly hangover. Either he's taken something stronger than beer, or fairies are real. Or both… When Sean meets Tam, his chosen one at a local bar, he thinks his luck may have taken a turn for the better. But when he accidentally drinks a spiked drink, he comes to a startling realisation. Either he is losing his mind or fairies are real. Enter Evie, who bears a striking resemblance to Tam, but is anything but human. Trapped in Sean's world, she brings her own brand of sparkly chaos which may scare Tam off for good. Can Sean find a way to fix things with his fairy, Tam and himself before the doors close forever?
Open Doors
February 27, 2016
Word Count:
36600
Summary: Undercover agent Liam Connell stared at his captor.  He looked like a pirate from a holovid— black trousers, a white, puffy-sleeved shirt, and a purple sash wrapped jauntily around his waist. Wavy black hair fell to his shoulders and ... Connell couldn't believe it.  He actually had gold hoops hanging from his ears. The pirate ran his forefinger lightly down Connell's cheek and smiled. "Mmm! Mmmm! What do we have here?" Just what had Connell gotten himself into? (M/M Romantic Sci-Fi) Word Count 36,600
Pirate
June 12, 2015
Word Count:
20,000
Summary: Aled is a gay man in a soldier's uniform. Unhappy with the turn his country is taking, Aled seizes the opportunity to enter a mysterious portal into the strange, primitive world of Thera. Finding himself trapped there, Aled discovers Marius, a man left to wander blindly in the wilderness. Surrounded by intrigue, Aled and Marius must find a way to trust each other, to save both themselves and Thera's Lady. Gay Romantic Sci-Fi Novella
Portal
June 27, 2020
Word Count:
115000
Summary: Frontiers have always attracted the Other - where they find that the Other is always already there. These 22 stories explore what happens when queer characters encounter weirdness on the edge of the worlds they know. Authors include: Julie Bozza, J.A. Bryson, Dannye Chase, S.E. Denton, Miguel Flores, Adele Gardner, Roy Gray, KC Grifant, Peter Hackney, Bryn Hammond, Narrelle M Harris, Justin Warren Jackson, Toshiya Kamei, Catherine Lundoff, Bunny McFadden, Angus McIntyre, Atlin Merrick, Eleanor Musgrove, Jennifer Lee Rossman, Lauren Scharhag, Sara L. Uckelman, and Dawn Vogel.
Queer Weird West Tales
August 31, 2022
Word Count:
60000
Summary: Planet Hy Man is in turmoil. Its' leader lost on earth. Will Mex rise to the challenge or fade faster than her hair dye? Mex is heading for the Edinburgh Festival in search of planet Hy Man's lost energy. A feat made near impossible considering her arch-rival has taken over Planet Hy man's "operations room" along with every high- tech spying equipment going. Led down the road of false leads by her `arch rival" Mex hooks up with a troupe of performing transvestites, delves into the seedier side of the festival and discovers gin. Saving Planet Hy Man could not be further from her mind if she was comatose until that is her personnel robot Pete finds her. Will Pete convince Mex to sober up and save their planet or will Mex stick with the padded bras and all who wear them? Rebel Without A Bra is the quirky second book in the Planet Hy Man science fiction comedy series. If you like high-mileage heroines, fast-paced satire, and meticulously crafted universes, then you'll love Kerrie Noor's otherworldly farce. 
Rebel Without A Bra
February 12, 2019
Word Count:
60000
Summary: Planet H Man has toppled under the coup of the century and Mex must choose. Will she settled for her retirement fund or politicians too young to take seriously? Planet Hyman is at a loss as their new and callous leader takes a sabbatical, she has found her "pleasure dome" and while she learns there is more to life than a new manifesto, a coup rises to the occasion. With Mex hungover in Scotland there is little to stand in their way apart from a hippy colony too chilled to care, a reporter with no scruples, and a missing set of batteries.  The coup has plans to runs things the "proletarian way" they are young, idealistic, and haven't tasted luxury yet. They almost make it, grab the operations room, when their new and callous leader arises from her pleasure dome and grabs back her throne.  Will Mex pick up her leathers and defend the coupe, or return to her planet to recuperate from a Scottish "good night out"? Rebel Without A Crew is the quirky third book in the Planet Hy Man science fiction comedy series. If you like high-mileage heroines, fast-paced satire, and meticulously crafted universes, then you'll love Kerrie Noor's otherworldly farce.
Rebel Without A Crew
September 12, 2019
Word Count:
15400
Summary: Space ship Lieutenant Matthew Ferris has desired Daniel Peters, his ship's newest recruit, from the moment he saw him. But Peters is a lowly private and as the senior officer, Ferris knows he must wait for a sign that his feelings are returned before making an approach. When Peters follows him into a two-man capsule after a mission, Ferris thinks all his dreams are about to come true. What he doesn't expect is to discover a scandal that could tear his ship apart. Some call it rough play, he calls it unacceptable. A novella in the Aurigan Space Series. Gay sci-fi romance.
Rough Play
June 25, 2014