Word Count:

1100
Summary: A muddy trench in France during the Great War wasn't the most auspicious place for Tom and Michael to reach an understanding of their own natures. A small, individual tragedy unfolds … But then Tom discovers a place beyond, where he and other men like him are blessed with all that life denied them.
An English Heaven
Word Count:

123000
Summary: Corruption is a disease with no cure that ends with a rapid descent into madness and violence. And until now it only targeted mages. When an infected warden shows up challenging everything Margot thought she knew she is thrown into the chase to find the impossible cure. But to understand this new revelation she needs someone who knows possession ... She needs Nea and lucky for Margot, her warden friend Garret has been tasked with tracking the rogue necromancer down. Garret is used to dealing with dangerous mages so this should be like any other job: find the mage and deliver her to the king. But from the moment he finds Nea he is dragged into a deadly game of dark secrets and brutal machinations. Now he must make a choice: deliver Nea as promised and place a weapon in the hands of a mad man or deny his king and change the lives of mages and wardens forever.
Deathborn
Word Count: Information not available
Summary: He killed the only family she had. Now he's after her. When Maia Gellman loses her home, job, and family in one night, she does the only thing she can do: run. It's easy to get lost on the road with a new band, new friends, perhaps a new life. But the demon she left behind is gaining ground, and it awakens something sinister within her. Will Maia find a way to stand and face the demon, or will she succumb to the fate he has in store for her?
Demon Veil
Word Count: Information not available
Summary: After centuries of warfare, a world of conquerors has at last defeated their enemies and destroyed their god-like creators. With their society now teetering on collapse and an aging ruler close to death, two young scions from legendary imperial families contend to take control. One has a progressive vision for changing their world by integrating their former enemies. The other has a darker plan that calls for the expulsion and extermination of those who once opposed them. Only one can succeed, and their struggle to destroy each other may be the spark that burns their empire to ashes.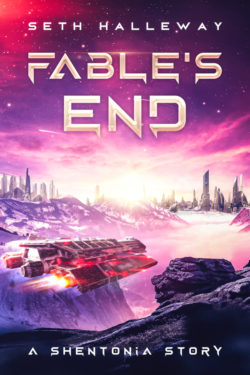 Fable's End
Word Count: Information not available
Summary:
The war is over. Resources are scarce. The population is dwindling in the Forkstream Territories.
Pinnacle Officer Wilcox has created FERTS amidst the chaos, a facility designed to protect the female population from raiding hordes.
Beth 259201, a newly-demoted Epsilon Internee, suspects that there is something more that lurks beneath the carefully constructed order of the facility.
She has a gift, one that could brand her a defective. A novice fighter, she must use her intellect to survive. Her own life, and the lives of many more may be at risk. Will she succumb to the plans in store for her or will she conceal her secret long enough to discover her own path?
FERTS
Word Count:

2600
Summary: Jake is a trapper working high in the mountains of Wyoming Territory, usually not seeing another human from one month to the next. Recently, however, he's had an unexpected guest – an Easterner named Edwin, who pitches in to ensure that Jake has enough supplies to survive the coming winter. As the evenings draw in, Jake works on knitting a blanket, adding a bit of love (and maybe even magic) into every stitch, hoping to entice Edwin to join him under its warmth…
Love in Every Stitch
Word Count:

83000
Summary: A hook-up gone bad can be purrder. Fresh from a breakup, deeply closeted freshman Zach jumps at the chance to housesit his family home and enjoy a long, horny summer free of both his ex and his religious parents. But when an old enemy turned hot hook-up falls to his death, Zach turns to the only true friend he's ever known-his cat, Grace Jones. With the dead man's phone and a knack for texting, she promises Zach help, for a price that will satisfy both their appetites. Does it matter if Grace Jones' powers draw on something far more ancient and sinister than a cell phone? "Get laid, Zachary. Get laid." Each new hook-up brings Zach darkly humorous discoveries about life, love, sex, and his own desires. But Zach knows it's only a matter of time before someone discovers his secret. Can he rely on his feline protector, or is he trapped in a hungry devil's bargain?
My Cat's Guide to Online Dating
Word Count: Information not available
Summary: Sean has an otherworldly hangover. Either he's taken something stronger than beer, or fairies are real. Or both… When Sean meets Tam, his chosen one at a local bar, he thinks his luck may have taken a turn for the better. But when he accidentally drinks a spiked drink, he comes to a startling realisation. Either he is losing his mind or fairies are real. Enter Evie, who bears a striking resemblance to Tam, but is anything but human. Trapped in Sean's world, she brings her own brand of sparkly chaos which may scare Tam off for good. Can Sean find a way to fix things with his fairy, Tam and himself before the doors close forever?
Open Doors
Word Count:

85,000
Summary: A school in turmoil over its senior play, a sly career as a teenage gigolo, an unpredictable girlfriend with damage of her own, and a dangerous housebreaker tied up downstairs. Any of these would make a great plot for budding filmmaker Eric's first movie. Unfortunately, they're his real life. When Julien, a handsome wannabe actor, transfers to Eric's class, he's a distraction, a rival, and one complication too many. Yet Eric can't stop thinking about him. Helped by Eric's girlfriend, Mary, they embark on a project that dangerously crosses the line between filmmaking and reality. As the boys become close, Eric soon wants to cross other lines entirely. Does Julien feel the same way, or is Eric being used on the gleefully twisted path to fame?
Puppet Boy
Word Count:

115000
Summary: Frontiers have always attracted the Other - where they find that the Other is always already there. These 22 stories explore what happens when queer characters encounter weirdness on the edge of the worlds they know. Authors include: Julie Bozza, J.A. Bryson, Dannye Chase, S.E. Denton, Miguel Flores, Adele Gardner, Roy Gray, KC Grifant, Peter Hackney, Bryn Hammond, Narrelle M Harris, Justin Warren Jackson, Toshiya Kamei, Catherine Lundoff, Bunny McFadden, Angus McIntyre, Atlin Merrick, Eleanor Musgrove, Jennifer Lee Rossman, Lauren Scharhag, Sara L. Uckelman, and Dawn Vogel.
Queer Weird West Tales
Word Count:

60000
Summary: Planet Hy Man is in turmoil. Its' leader lost on earth. Will Mex rise to the challenge or fade faster than her hair dye? Mex is heading for the Edinburgh Festival in search of planet Hy Man's lost energy. A feat made near impossible considering her arch-rival has taken over Planet Hy man's "operations room" along with every high- tech spying equipment going. Led down the road of false leads by her `arch rival" Mex hooks up with a troupe of performing transvestites, delves into the seedier side of the festival and discovers gin. Saving Planet Hy Man could not be further from her mind if she was comatose until that is her personnel robot Pete finds her. Will Pete convince Mex to sober up and save their planet or will Mex stick with the padded bras and all who wear them? Rebel Without A Bra is the quirky second book in the Planet Hy Man science fiction comedy series. If you like high-mileage heroines, fast-paced satire, and meticulously crafted universes, then you'll love Kerrie Noor's otherworldly farce. 
Rebel Without A Bra
Word Count:

60000
Summary: Planet H Man has toppled under the coup of the century and Mex must choose. Will she settled for her retirement fund or politicians too young to take seriously? Planet Hyman is at a loss as their new and callous leader takes a sabbatical, she has found her "pleasure dome" and while she learns there is more to life than a new manifesto, a coup rises to the occasion. With Mex hungover in Scotland there is little to stand in their way apart from a hippy colony too chilled to care, a reporter with no scruples, and a missing set of batteries.  The coup has plans to runs things the "proletarian way" they are young, idealistic, and haven't tasted luxury yet. They almost make it, grab the operations room, when their new and callous leader arises from her pleasure dome and grabs back her throne.  Will Mex pick up her leathers and defend the coupe, or return to her planet to recuperate from a Scottish "good night out"? Rebel Without A Crew is the quirky third book in the Planet Hy Man science fiction comedy series. If you like high-mileage heroines, fast-paced satire, and meticulously crafted universes, then you'll love Kerrie Noor's otherworldly farce.
Rebel Without A Crew
Word Count:

76,000
Summary: Abandoned by his werewolf lover, the only thing Reylan wants is to return to his vampire life of blood and beautiful boys. It's a solid plan, until his first meal as a single man tries to kill him. Hoping to free his young would-be assassin from the religious zealots that sent him, Reylan enlists the help of Iain Grieg, a charismatic priest with unsettling knowledge of the night's secrets. Surrounded by conflicting agendas and an army fuelled by hate, Reylan fights to secure his future, if he can only trust the mysterious priest and bury the ghosts of the past.
Sins of the Son
Word Count:

45,000
Summary: Kyle, a young newcomer to New Orleans, is haunted by the memory of his first lover, brutally murdered just outside the French Quarter. Marc, a young Quarter hustler, is haunted by an eccentric spirit that shares his dreams, and by the handsome but vicious lover who shares his bed. When the barrier between these men comes down, it will prove thinner than the veil between the living and the dead…or between justice and revenge.
Skin
Word Count:

75,000
Summary: Reylan is everything a Sydney vampire aspires to be: wealthy, handsome and independent, carefully feeding off companions plucked from the gay bars of Oxford Street. When one of those companions is killed by Jorgas, a hot-headed young werewolf prowling his streets, Reylan reluctantly puts his cherished lifestyle of blood and boys on hold to help a mysterious alliance of supernatural beings track down the beast. It can't be that hard... not when Jorgas keeps coming after him. But there's more to this werewolf than a body count and a bad attitude. As their relationship grows deeper and more twisted, Reylan tastes Jorgas' blood, reawakening desires the vampire had thought long dead. And what evolves between them may be far more dangerous than some rival predator in the dark...
The Beast Without
Word Count: Information not available
Summary: ONE UNDERWORLD ENTANGLEMENT. ONE HAUNTED MUSIC VENUE. ONE CHANCE TO MAKE IT OUT ALIVE. Despite the ghosts, Barry Matthews takes on the job as booker for the Boardwalk View Hotel. But the renovations uncover something much more sinister. When Barry "Bazza" Matthews leaves his band The Maggots to become the booker for Melbourne's hottest music venue, he never expects to find a link to the past buried deep within the rubble from the renovations. And now the new spate of threatening phone calls are becoming as troubling as the disappearing visitors and the malevolent activity in the basement. Trapped within the hotel with the alluring Simon, or Felicia, depending on his choice of outfit, they must join together to survive the threats from outside, as well as the dangers growing within the walls of the hotel. But the longer the renovations go on, the stronger the dark forces become. Will Barry and Simon uncover the secrets behind the hotel's sinister history before it's too late, or will they become the hotel's latest victims? Rainbow Awards 2021 - Honorable Mention "Wonderfully strange" - Rainbow Awards
The Booker (M/M Haunted House)
Word Count:

100000
Summary: Short Synopsis Agata Rosso, a once-mighty yet now prematurely aged European witch, believes that the special gifts in a young girl named Lía Munro can restore youth and vitality both to herself and her bedridden husband. She sets a deadly plan in motion to capture and use Lía—but will the girl have enough power to protect herself, plus the father she loves so much? Outline 1940 in a small farming region, and children have disappeared from the land. Local families—old-time Australians and newer European arrivals—know what to do about packs of wild, scavenging dogs in the forests, but they seem to have no way of finding children whose very bones have vanished from the earth. They also don't know how to deal with the strange couple Mr and Mrs Rosso, who might just hold the key to everything—including the miraculous breaking of a ten-year drought. Now it's 1977 and the wider city is growing, encroaching into these outlying communities and turning pristine farmlands into new housing estates. Paul Munro and his daughter, Lía, have arrived to inspect an available property; it's the secluded hillside old home of the Rossos. Paul and his wife—who has recently died—grew up around the area. Paul wants to show Lía the countryside of his early years, but when Lía experiences Rosso House for the first time its undeniable spell and the spirits it hides makes her understand that this is the place she really wants to be. Just turning sixteen, grieving the loss of her mother, experiencing a spiritual awakening she doesn't understand, Lía loves the quiet isolation and rural beauty that Rosso House and its land has to offer. At first her new life with her father seems idyllic, yet she's soon drawn into committing a terrible act of mercy. At the same time Paul meets the beautiful and enigmatic Candela, only to become ensnared in the evils that hold her and her baby captive. The connection between Lía's suffering and Candela's troubles might just be the wizened old witch, Agata Rosso. Constantly searching for a way to restore her youth and her husband's powers, Agata soon discovers just how useful Lía could be. She sends the most ruthless of men to capture her; in parallel, the terrifying man-wolf-father of Candela's baby will do anything to get his son back. Lía desperately needs her father's help; Candela is trying to escape a world of violence; both women are soon confronted by the very definition of evil. Will they find help from others, or is there some deeper answer within themselves? The shadow-worlds of ancient evil and modern corruption collide in this supernatural thriller, blending past and present, history and fiction, into a mesmerising adventure.
The Crying Forest
Word Count:

40000
Summary: Manifesto The Great rules Planet Hy Man, a Planet where meat is as toxic as nuclear waste. Faced with an uprising, Manifesto The Great turns to the only person he can trust----his mother; but she has days to live. With an army of malfunctioning Mae West robots and a committee as innovative as a sock puppet, Manifesto The Great loses control. And as his city falls under the hands of Fanny and her rebels, the grieving leader retreats to his cocktail bar. High on a cocktail of hormonal meat and hemp cocktails, Manifesto The Great returns to his committee for advice. But they have other plans, mainly to bat with the winning team, and from the looks of Manifesto The Great, he ain't one of 'em. Will he rise to command again or has he buried his balls along with his mother in a sea of cocktails and mad ramblings?
The Downfall Of Manifesto The Great
Word Count:

120000
Summary: A woman with the strength to rebel. A shapeshifter who wears the souls of the dead. Together, they face a lethal enemy. Em helped create it. Now she must craft its defeat. In a city owned by industrialists, Em sells her magic to make ends meet. The extraction procedure is brutal and potentially deadly. Desperate for change, she joins an underground resistance movement to weaponize her magic and stop the abuse of workers. Meanwhile, a mysterious voice wakes Ruk from a decades long slumber and compels him to become human. He wants to break free but is torn between his shapeshifter instincts and the needs of the soul that sustains him. On streets haunted by outcasts and predatory automatons, a new danger emerges – an ever-growing corruption of magic and science. Em and Ruk must put aside their differences and pursue it – each for their own reasons. What they discover will forever change their lives… Or end them. The Eternal Machine is set in a 19th Century alternative reality Australian city, where magic and science are equally valid disciplines.
The Eternal Machine
Word Count:

54000
Summary: He was the shameful cause of his sister Elena's death and he stole state papers from England, yet Adrian Hart is feted by the best of society in Rome, and boldly dubs himself 'Iago'. Determined to avenge Elena, his unrequited love, Lieutenant Andrew Sullivan asks the advice of poet and Shakespearian John Keats, and his artist friend Severn. Soon Percy and Mary Shelley join them, then Lord Byron and his servant Fletcher. But how can the seven of them work against this man, when they can't even agree what he is? The atheist Shelley insists that Hart is an ordinary man, while Byron becomes convinced he's the Devil incarnate, and Keats flirts with the idea that he's Dionysius… As death and despair follow in Hart's wake, Sullivan knows he must do something to stop Hart before even Sullivan himself succumbs – but what…?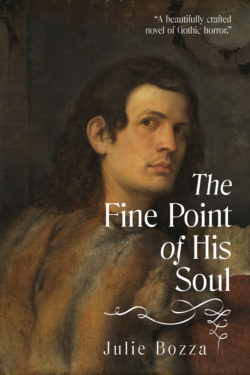 The Fine Point of His Soul