Word Count:

138000
Summary: In the years leading up to 2084 seven disparate men and women across the globe find themselves battling with their own personal frailties and human tragedies. Suddenly they find themselves drawn together in order to fight for survival against the ultimate global disaster - Armageddon! This is their story and mankind's destiny.
2084 The End of Days
Word Count:

138000
Summary: In the years leading up to 2084 seven disparate men and women across the globe find themselves battling with their own personal frailties and human tragedies. Suddenly they find themselves drawn together in order to fight for survival against the ultimate global disaster - Armageddon! This is their story and mankind's destiny.
2084 The End of Days eBook
Word Count:

26,823
Summary: Tel is an astrophysicist and an unwilling witch. A letter changes all that. Accepting the invitation within leads him into a nightmare existence on an alien world full of paranormal beings. Well it is like something out of a nightmare but the said paranormal beings are far from nightmarish and maybe just the type of people he needs in his life. Tel has to become the person he has been ignoring all his life. As the son of a hedge witch he has healing abilities he must now use. In fact he is potentailly so much more than a healer and that is why he is now where he now is, stuck on a world with little available magic unless you are special. Tel is on a journey to discover who he is and who the man from his past really is and how he could be the man of his future, his partner and lover in more than dreams. Star is the make believe friend of Tel's youth or so Tel thought. Tel discovers Star is real and the one responsible for Tel's current situation, stuck in a world similar to Earth but not Earth and empty of all 'human' life other than the the ones sharing his space. Maybe stuck is not the right word. Just maybe Tel is where he should be.
A Fallen Leaf
Word Count:

76208
Summary: She will do anything to protect those she loves – even risk losing her soul. Fifteen-year-old Keilena hates the Ascended, the powerful magic-possessors who rule Pellotal and think their own laws don't apply to them. She lives a quiet life with her carpenter father, enlivening it by getting into mischief whenever she can. Everything changes when a stranger arrives with a secret about her identity that destroys her current life. Forced to take a journey led by people she can't trust, Keilena hatches a plot to deceive the most dangerous people in the country by choosing a different destination. She wants nothing to do with her emerging magical abilities which scare those around her and which she fear might corrupt her soul and turn her evil. Desperate to protect her father and the friends travelling with them, though, she must use them again and again against increasingly deadly enemies. Will Keilena succeed in keeping everyone alive on this deadly journey and will she still recognise herself at the end? This is the gripping first novel in a Young Adult epic fantasy series and is perfect for fans of Tolkien, Robin Hobb and Bella Forrest.
A Perilous Journey (Ascended 1)
Word Count: Information not available
Summary: When Selena Dillon is caught in an assassination attempt on her planet's ruler, she finds herself sentenced to twenty-five years servitude in the most feared military force, the Penal Regiments. Much to her surprise she enjoys the harsh military life and is quickly selected for officer training. But something's wrong, worlds are falling silent. There's no cry for help and no warning, just a sudden eerie silence. When a flotilla of ships is despatched to investigate they exit hyperspace to find themselves facing a massive alien armada. Outnumbered and outgunned the flotilla fight a rear-guard action, allowing one of their number to slip away and warn mankind. As worlds fall in battle, and mankind's fleets are decimated, Selena is selected to lead a team of the Penal Regiment's most battle-hardened veterans, in a last ditch attempt to destroy the aliens' home world. If she fails mankind is doomed. Little does Selena know that one of her crew is a psychopathic killer and another is the husband of his victim. Can she hold her team together, get them to their target and succeed in the attack? Selena knows that if she fails then there will be nothing at all left to go home to.
A Pride of Lions
Word Count:

11500
Summary: A dark fairy tale in a modern Welsh setting. The lives of a diver and a reclusive mermaid collide. Will one be the death of the other? When Erin comes to the aid of a sea creature caught in fishing nets, she's shocked to discover she's rescued an injured mermaid. Though it quickly disappears, Erin is determined to find the creature again. A twist of circumstance finds her trapped in the mermaid's lair, wrestling with her own conscience and the instinct to survive... This is a standalone novelette of about 11,500 words, and is the third installment in the Dark Folklore series.
Across Screaming Seas
Word Count:

56000
Summary: New Hopeland was built to be the centre of the technological age, but like everywhere else, it has its dark side. Assassins, drug dealers and crooked businessmen form a vital part of the city's make-up, and sometimes, the police are in too deep themselves to be effective. But hey, there are always other options … For P.I. Cassie Tam, business has been slow. So, when she's hired to investigate the death of a local VR addict named Eddie Redwood, she thinks it'll be easy money. All she has to do is prove to the deceased's sister Lori that the local P.D. were right to call it an accidental overdose. The more she digs though, the more things don't seem to sit right, and soon, Cassie finds herself knee deep in a murder investigation. But that's just the start of her problems. When the case forces Cassie to make contact with her drug dealing ex-girlfriend, Charlie Goldman, she's left with a whole lot of long buried personal issues to deal with. Then there's her client. Lori Redwood is a Tech Shifter, someone who uses a metal exoskeleton to roleplay as an animal. Cassie isn't one to judge, but the Tech Shifting community has always left her a bit nervous. That wouldn't be a problem if Lori wasn't fast becoming the first person that she's been genuinely attracted to since splitting with Charlie. Oh, and then there's the small matter of the police wanting her to back off the case. Easy money, huh? Yeah, right.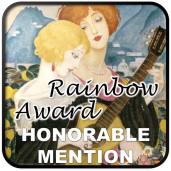 Honorable Mention: Rainbow Awards 2017 - Lesbian Sci-Fi Category
Addict
Word Count:

77000
Summary: There are worlds out there with a past. A past that is only poorly understood. The Song worlds are in that category. What are they? Why are they? What do they tell us about the rest of us? Should we investigate them or should we avoid them? What if our world was visited by the Song? Maybe that is not strong enough. What if ours is the result of a visitation by the Song. More to the point, what if they achieved what they wanted with us? What if it all went wrong? What category does the world of Forest come under? The inhabitants there only number a few thousand and they face numerous perils. Were they ever visited by the Song? Shanlee the story teller has been given the world to investigate. What is she in for? She has other things on her mind. She left the love of her life behind when she took this investigation on. Will she be waiting for her when Shanlee returns home? If she returns home? The people of Forest, the Kekimelu, have been deserted by their spirits but have not lost their beliefs. A young song writer decides he is going to ask the Song's representative on Forest some hard questions. The answers he gets may not be what he hopes for.
Air Song
Word Count:

1100
Summary: A muddy trench in France during the Great War wasn't the most auspicious place for Tom and Michael to reach an understanding of their own natures. A small, individual tragedy unfolds … But then Tom discovers a place beyond, where he and other men like him are blessed with all that life denied them.
An English Heaven
Word Count:

11500
Summary: A dark fairy tale in a modern Greek setting. Hiding in the mountains, a harpy and her adopted daughter struggle to survive. Iphis has always known that survival comes hand in hand with loneliness, but when she catches feelings for a girl in the nearby town, her heart yearns for a different kind of future. When she's suddenly attacked by a group of enraged harpies, things only become more complicated... and dangerous.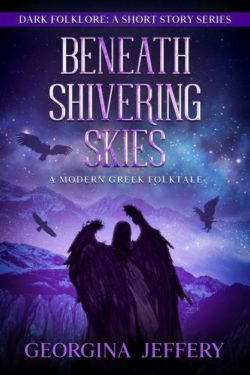 Beneath Shivering Skies
Word Count:

8700
Summary: A dark fairy tale in a modern Norwegian setting. Ida, a young girl grieving the loss of her mother, is wandering in the snowy wilderness when she meets the mysterious Maja - a huldra from myth and legend. Taking comfort in Maja's kind arms, Ida makes a desperate wish for her family to be whole again... and gets far more than she bargained for. With her own home turned against her, Ida must race across the wild valley to save her Pappa and confront the huldra before time runs out.
Beyond Thundering Waters
Word Count:

18000
Summary: ★A novella-length collection of female-centered MF, MMF and MFM★ Detailed SF erotica with wisps of romance and hints of humour. Female p.o.v. Women with sass and men who know how to be deeply intimate. With her and each other. Alien Tryst Planetary Surveyor Icara believes she is alone on the frozen planet, until she stumbles into Alien Hybrid Benj'in and his bonded mate, veteran Cyborg Jake. Survival in the cold soon gives way to the heat of passion, and the intimate promise of being fully filled. But Icara's debt to her employers threatens to tear the new lovers apart. Hot Pursuit Starship Captain Lanie Talbot prides herself on being responsible, until forbidden passions rise between her, Lt. Commander Nico Demelov, and his genetically modified partner Az. As the three pursue dangerous hijackers, Lanie craves submission to Az's primal nature, but she's already violated one rule by taking her First Officer Nico to her bed... Dirty Diplomacy Captain Siva is stranded in deep space with two demanding, lustful aliens. The demonic-looking alien ambassador wants an apology for the delay, while his well-built warrior husband is brazenly trying to seduce the Captain... and succeeding. If Siva can swallow her pride and say sorry, interplanetary relations will take a very passionate turn.
Bisexual Alien Collection: Three Hot and Steamy Sci-Fi Menage Shorts
Word Count: Information not available
Summary: Jennifer Bronwen, deep-space freighter skipper, sometime smuggler, and occasional blaster-for-hire is flat broke and in desperate need of a job. With her bills mounting and her ship one unlucky micrometeorite collision away from the scrapheap, when she's offered a lucrative contract for a risky heist, well, it's an opportunity she can't afford to pass up. Keera Naraymis, a secret agent on deep-cover assignment in alien space, has just one more job to finish before her mission is complete. Getting it right means making the galaxy a safer place, and taking a trip to the Terran homeworld should be simple enough. But in the espionage game, your enemies are never quite who they appear. When their lives collide with catastrophic consequences, Jen and Keera form an unlikely alliance to find out why anyone would want to kill either one of them. What they discover runs far deeper than they could ever have anticipated, and throws them into a race against time to stop a conspiracy that threatens to unravel a thousand years of peace in the galaxy of the Burning Suns.
Burning Suns: Conflagration (Book One)
Word Count: Information not available
Summary: Having been shot at, shot up, and almost shot down, Jen and Keera have finally learned to trust one another, but there's no time to stop and enjoy their newly forged relationship. Commissioned by a rogue Guardian to attempt the most audacious theft in history, they head to the capital of the Assembly with a single objective—steal the weapon Jen should have acquired in Berlin. If they can get to it first, they'll stop a war before it starts. Kiith Kohath, meanwhile, has assumed command of an allied fleet to deal with the Reaver invasion. The stakes couldn't be higher: if he can't retake Ice Serpent, the entire Assembly will become nothing more than feedstock for Darkstar's corrupted army. Kohath needs more than a victory, he needs a rout, but the odds of that grow slimmer with every new Reaver that rolls off the assembly line. With tensions rising and armies mobilizing, the smallest spark could set the whole galaxy ablaze. And when Jen and Keera discover a plot that threatens the safety of every Envoy on Kyzar, it's not a question of if, but when that spark will fall…
Burning Suns: Conflagration (Book Three)
Word Count: Information not available
Summary: Thrown into an unwilling partnership by a heist gone bad and a botched assassination, mercenary captain Jennifer Bronwen and changeling intelligence agent Keera Naraymis are on the run from just about everybody. If they can learn to trust one another, maybe they can figure out exactly how their lives got turned upside down. But right now, mired as they are in a game of cat and mouse in the bowels of a criminal's lair, that seems like a big if. On the other side of the galaxy, Admiral Kiith Kohath has an even bigger problem—a corrupted cohort of cyborgs intent on pillaging the Assembly systems. Tracking the enemy to the sites of their atrocities, Kohath and his team must piece together the Reavers' plan and determine their next target, preferably before they have a chance to slaughter yet another defenceless colony. With alliances and agreements fraying at the seams, and new and old trusts being put to the test, the personal and political stakes rise ever higher as Jen, Keera, and Kohath struggle to prevent the galaxy from slipping into all-out war…
Burning Suns: Conflagration (Book Two)
Word Count: Information not available
Summary: First of the Virian Companions First of the Virian Companions, telling the back-stories of Mustapha Morphew and Malawi Redigan, the lovers who never really were. Mustapha comes from one of the old Northern Virian travelling clans, but a chance meeting with a sorcerer from another world makes him yearn for more than the usual routine. His curiosity leads him in unexpected directions and his fascination with gambling shapes his future in ways which he could never have imagined. Malawi was born into a privileged Southern Virian family, growing up in a large mansion on the outskirts of the capital. She always feels overshadowed by her glamorous and graceful elder sister. The enduring feelings of jealousy shape her life and lead her to embrace the darker side of her nature. When the two meet, strong feelings are unleashed and their lives are transformed beyond all expectations. Mustapha pursues the unattainable Malawi, even though she regards him as a mere plaything, to be discarded once the initial excitement wears off. Eventually, Mustapha realises that she will never love him, but by that time, his life is in ruins, with no prospects for a happy future. Can he find love in the arms of another woman or will he be forever doomed to a life of poverty and misery?
Carrying A Torch (Virian Companions Book 1)
Word Count: Information not available
Summary: Fourth of the Vyrdigaan Prophecies, telling the back-story of Andreas Cesario. As the illegitimate child of a Carpathian Lord and his favourite housemaid, Andreas has to contend with his violent and hateful half-siblings and various power-plays within the household. He is a product of two different worlds — the privileged upbringing of a Carpathian son and the freedom of the streets where his mother was born. As he grows up, he discovers that he is far more important than he ever imagined, being part of a two-stage prophecy which dates back to the origins of the Founding Families of the Inner Circle. Set up for a fall by his scheming half-siblings, he has to rely on his natural intelligence in order to stay ahead in the game. This novel follows the story of his life from birth to his mid thirties.
Chimera Obscura
Word Count: Information not available
Summary: Eclectic, imaginative, and unexpected, Community of Magic Pens features forty genre-spanning flash and short stories--including fantasy, humor, science fiction, romance, historical fiction, satire, and mystery--bringing together a rich group of diverse voices from a wide range of backgrounds and intersections. Fountain pens, markers and ink, charcoals, spy pens, a braille writer, a printing press, virtual reality, and a supernatural pizza: whether revealing unspoken truths, fighting injustice, or finding friendship and love, our pens have power. Join us as a recent graduate of superhero school struggles to understand her gift, a disabled android interviews for a job, a queen's conscripted artist must pull reality from illustrations on parchment, and a grandmother's secret room is…better kept a secret. Tales of struggle and triumph, compassion and hope: Community of Magic Pens is a celebration of our shared story.
Community of Magic Pens
Word Count:

52,000
Summary: A secret unicorn, a desperate family, and a cop dead set on hunting them down. Lem and the rag-tag gang of galactic adventurers on the starship Teapot are set to become roadies for the galaxy's hottest band – but an urgent call from Bexley's family means the rock stars will have to wait. Bexley's soon-to-be-born sibling has a big secret: wings. On planet Hwin, skeledivergence is outlawed, so the Teapot crew swoop in to help the family escape. But their planet won't let them go that easily. Hunted across the galaxy by a fanatical and eerily familiar cop, the Teapotters must find a way to outwit their pursuer and secure a future for skeledivergent people everywhere. Dive into the next adventure in this satirical space opera series. Artfully intertwining deep themes with tongue-in-cheek humour and intergalactic ridiculousness, Consider Pegasus is a must-read for fans of Ryka Aoki's Light from Uncommon Stars or TJ Berry's Space Unicorn Blues.  Scroll up and grab your copy now!
Consider Pegasus
Word Count:

4000
Summary: Who expects a haunted doll to be such a nuisance? When Dare's dog discovers an abandoned doll on their doorstep, Dare assumes it's nothing more than a lost toy… until it begins to talk. After the doll offers up a string of bad suggestions and unhelpful advice, Dare is left wondering if the isolation of lockdown has finally proved too much. Struggling to get rid of the bad-tempered toy, Dare has no idea that this not-quite-scary fiend will accidentally change everything. With a dash of humour, this queer cosy-horror short story is a fun, quirky tale – perfect for readers who like the idea of being scared more than the reality of it.
Dare vs the Doll