Word Count:
138000
Summary: In the years leading up to 2084 seven disparate men and women across the globe find themselves battling with their own personal frailties and human tragedies. Suddenly they find themselves drawn together in order to fight for survival against the ultimate global disaster - Armageddon! This is their story and mankind's destiny.
2084 The End of Days
August 1, 2017
Word Count:
138000
Summary: In the years leading up to 2084 seven disparate men and women across the globe find themselves battling with their own personal frailties and human tragedies. Suddenly they find themselves drawn together in order to fight for survival against the ultimate global disaster - Armageddon! This is their story and mankind's destiny.
2084 The End of Days eBook
August 1, 2017
Word Count: Information not available
Summary:
When two sky pirates survive an attempt on their lives, they must ask themselves, who can they trust?
Magda keeps her emotions in check and her life in order. Beneath her cool exterior she battles with personal loss that has her questioning everything and everyone. Ascara's enthusiasm and passion cannot be contained by the army she once trained with. They became pirates to help people who have no one else, and now, the stakes are much higher. This is a mission they cannot refuse. A notorious slaver has acquired the latest in airship design, an Imperial Condor Class airliner. A ship designed to change the world, and if the slaver transforms it into an advanced warship then no one will be safe, anywhere. Magda and Ascara promise one more mission to free hundreds of slaves and prevent a world at war. Can they rescue the slaves and stop the creation of a super warship?
A Hint of Hope
is the second prequel in the fantasy adventure Towers of the Earth series. If you like exciting adventures that have you hooked from the start, then you'll love this imaginative, enthralling story from Nita Round.
A HInt of Hope
January 31, 2020
Word Count:
76208
Summary: She will do anything to protect those she loves – even risk losing her soul. Fifteen-year-old Keilena hates the Ascended, the powerful magic-possessors who rule Pellotal and think their own laws don't apply to them. She lives a quiet life with her carpenter father, enlivening it by getting into mischief whenever she can. Everything changes when a stranger arrives with a secret about her identity that destroys her current life. Forced to take a journey led by people she can't trust, Keilena hatches a plot to deceive the most dangerous people in the country by choosing a different destination. She wants nothing to do with her emerging magical abilities which scare those around her and which she fear might corrupt her soul and turn her evil. Desperate to protect her father and the friends travelling with them, though, she must use them again and again against increasingly deadly enemies. Will Keilena succeed in keeping everyone alive on this deadly journey and will she still recognise herself at the end? This is the gripping first novel in a Young Adult epic fantasy series and is perfect for fans of Tolkien, Robin Hobb and Bella Forrest.
A Perilous Journey (Ascended 1)
August 25, 2020
Word Count: Information not available
Summary: A survivor with no memory and a warrior looking for her path unite against the pirate horde. Two hundred soldiers walk into the burning sands of Gypta, but only a handful make it out. When Magda Stoner wakes in an infirmary halfway across the world, she discovers her memories of the desert are gone. Something happened that tore her mind and soul apart, and the only thing keeping her sane is the fact that she can't remember a thing. Ascara d'Jharaena ael Korphen is a warrior, not a soldier, and trying to fit herself into the lesser role at Veritas Traders has left her body battered and broken in the same infirmary where Magda recovers. As they both mend, they meet a survivor of a pirate attack that included gifted attackers. Finding themselves without a unit or mission, they propose a daring plan to infiltrate the pirate horde and bring them to justice. Can the pirates be stopped? Or will Magda and Ascara be caught before they even begin? This is the first prequel in the Towers of the Earth fantasy adventure series.
A Pinch of Salt
January 25, 2020
Word Count: Information not available
Summary: When Selena Dillon is caught in an assassination attempt on her planet's ruler, she finds herself sentenced to twenty-five years servitude in the most feared military force, the Penal Regiments. Much to her surprise she enjoys the harsh military life and is quickly selected for officer training. But something's wrong, worlds are falling silent. There's no cry for help and no warning, just a sudden eerie silence. When a flotilla of ships is despatched to investigate they exit hyperspace to find themselves facing a massive alien armada. Outnumbered and outgunned the flotilla fight a rear-guard action, allowing one of their number to slip away and warn mankind. As worlds fall in battle, and mankind's fleets are decimated, Selena is selected to lead a team of the Penal Regiment's most battle-hardened veterans, in a last ditch attempt to destroy the aliens' home world. If she fails mankind is doomed. Little does Selena know that one of her crew is a psychopathic killer and another is the husband of his victim. Can she hold her team together, get them to their target and succeed in the attack? Selena knows that if she fails then there will be nothing at all left to go home to.
A Pride of Lions
December 3, 2013
Word Count: Information not available
Summary: In the shadows, treachery and betrayal grow unseen. The state funeral of Princess Olivia at Port Ruth marks the end of the Queen of the Desert's reign of terror. As Lucinda, Magda and Ascara attend this grand ceremony, all is not as it seems. A storm of secrets and lies emerge from the shadows and the darkness threatens to destroy them all. No matter where Magda goes, her heritage calls to her. Even when they make their way home, peace and safety are still not theirs. Malice and betrayal, hidden and out of sight, finds the three women and threatens to pull them under the waves of death and pain once more. For the Trinity of Truth: Raven, Fire and Ice, there can be only one way forward, but at what price? This is the third in the Towers of the Earth fantasy adventure series.
A Touch of Darkness
April 2, 2020
Word Count:
94000
Summary:
To have a future, they must face their past. Magda, Ascara, and Lucinda must draw upon the strength of their trinity to seek out the truths of the past that hold the key to their future. They travel north, to Magda's place of birth amongst the Oceanics. For Magda, this is an unwelcoming place, a reminder that she was banished and dealt a cruel fate. Named Stoner and landlocked, for an Oceanic this is a dishonour and a fate worse than death. To return to the float again would place her life, and those with her, at risk. In the freezing waters of the far north, Magda finds herself defending her honour and birthright.  She must succeed as their fate depends upon it. Failure is not an option, the costs are too high. Will Magda allow the past to hold her back, or will she find her destiny? A Touch of Ice is the fourth book in the Towers of the Earth fantasy adventure series.
A Touch of Ice
June 9, 2020
Word Count: Information not available
Summary: Hidden in the shadows, something unseen is hunting them all. The Raven Tower summons the trinity to return home. Neither the tower nor magic tell them why. One by one the soldiers tasked with defending its people, fall to an insidious contagion. Once infected, they succumb to a rabid and animalistic state. If they survive, then they become minions of the dark to spread their touch even further. Magda, Ascara and Lucinda must seek out the dark places foretold by the clan dreamers. When they do, they discover more than they expected. As the rot at the heart of Veritas takes hold, no cure is in sight. When all seems lost, they must face their deadliest foe yet. Now, the war on humanity has become deadly serious. The trinity must triumph. The world depends upon it.
A Touch of Purple
June 1, 2022
Word Count: Information not available
Summary: As foretold, the Trinity of Truth must finally face the Mistress of the Night. Lucinda, Ascara, and Magda have survived several dangerous encounters with the various agents of Sh'Na. It is time for them to brave the beast herself in the pyramid from Lucinda's dreams. Magda, however, has met this Queen of the Desert before. Now her past history has risen to confront her with the evidence of her mistakes, and brings new dangers to the trinity. Although she can draw strength from her bonds with Lucinda and Ascara, she fears that even the power of the three of them will not be enough to withstand Sh'Na's evil. But there is more to face than just the desert beast. There are other dangers directed at the three women, and they must act with care and forethought, or be caught in the traps of others. From the city of Port Ruth, their troop travels into the burning lands of sand and sun, where they will face Sh'Na in a battle for more than their lives. Failure will mean the end of the world as they know it. Success will bring a new truth, and the revelation of a new path for all three of them. The trinity must continue to work together, not only to save the world, but also the very nature of time itself. "When the Hours are true, the gates of time will open". In the end, will the trinity prevail? Or will darkness rise again? This is the second in the Towers of the Earth fantasy adventure series.
A Touch of Rage
March 2, 2020
Word Count: Information not available
Summary:
Three women. One bloody mystery, and a prophesy that transcends time.  People have gone missing and no one knows where they've gone. The only clue left behind is blood, lots of blood, and a single silver brooch. Magda Stoner, captain of the airship Verity, has questions, and the Order for which she works has no answers to give. She has been directed to enlist assistance from Lucinda Ravensburgh, a tower witch and truthsayer. Lucinda sees truth in everything she touches, a gift, or curse, enhanced by the magic of the tower in which she resides. It's a gift that comes with great responsibility and a duty to those she serves. When Magda asks for aid, Lucinda cannot refuse. Whilst Magda and Lucinda seek the evil behind the disappearances, all manner of threats imperil their lives. Ascara is the warrior who must protect them as their search becomes more and more dangerous. At the moment Lucinda touches the silver brooch, all three lives are changed forever.  Three must become one if these strong women are to succeed when traversing the path of justice. But the path they tread is littered with lies, deception, betrayal, and dark forces. No matter what, the Trinity of Truth must form and hold strong. "Wise birds whisper, Rage of Fire, Strength of Ice". This is the first in the Towers of the Earth fantasy adventure series. (Note previously released as Raven, Fire and Ice in 2018)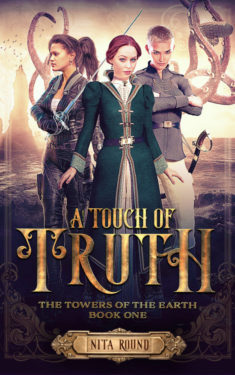 A Touch of Truth
March 2, 2020
Word Count:
56000
Summary: New Hopeland was built to be the centre of the technological age, but like everywhere else, it has its dark side. Assassins, drug dealers and crooked businessmen form a vital part of the city's make-up, and sometimes, the police are in too deep themselves to be effective. But hey, there are always other options … For P.I. Cassie Tam, business has been slow. So, when she's hired to investigate the death of a local VR addict named Eddie Redwood, she thinks it'll be easy money. All she has to do is prove to the deceased's sister Lori that the local P.D. were right to call it an accidental overdose. The more she digs though, the more things don't seem to sit right, and soon, Cassie finds herself knee deep in a murder investigation. But that's just the start of her problems. When the case forces Cassie to make contact with her drug dealing ex-girlfriend, Charlie Goldman, she's left with a whole lot of long buried personal issues to deal with. Then there's her client. Lori Redwood is a Tech Shifter, someone who uses a metal exoskeleton to roleplay as an animal. Cassie isn't one to judge, but the Tech Shifting community has always left her a bit nervous. That wouldn't be a problem if Lori wasn't fast becoming the first person that she's been genuinely attracted to since splitting with Charlie. Oh, and then there's the small matter of the police wanting her to back off the case. Easy money, huh? Yeah, right.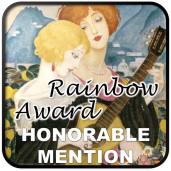 Honorable Mention: Rainbow Awards 2017 - Lesbian Sci-Fi Category
Addict
May 8, 2017
Word Count:
77000
Summary: There are worlds out there with a past. A past that is only poorly understood. The Song worlds are in that category. What are they? Why are they? What do they tell us about the rest of us? Should we investigate them or should we avoid them? What if our world was visited by the Song? Maybe that is not strong enough. What if ours is the result of a visitation by the Song. More to the point, what if they achieved what they wanted with us? What if it all went wrong? What category does the world of Forest come under? The inhabitants there only number a few thousand and they face numerous perils. Were they ever visited by the Song? Shanlee the story teller has been given the world to investigate. What is she in for? She has other things on her mind. She left the love of her life behind when she took this investigation on. Will she be waiting for her when Shanlee returns home? If she returns home? The people of Forest, the Kekimelu, have been deserted by their spirits but have not lost their beliefs. A young song writer decides he is going to ask the Song's representative on Forest some hard questions. The answers he gets may not be what he hopes for.
Air Song
November 30, 2020
Word Count:
30500
Summary: Caleb has been cursed for two hundred years. He is doomed to watch every man he has sex with forget him as soon as they part company. Each of his lovers then meets their true love within hours of leaving his presence. As rumours about his strange ability spread, more and more men come to his bed, hoping to find love—just not with him. When Ethan's best friend makes him an appointment with the mysterious Caleb, Ethan is sceptical but curious. Despite a shaky start, Ethan and Caleb connect sexually and emotionally then soon begin to wonder if Ethan has the power to break the curse by being the only one to remember Caleb after he leaves. Whether Ethan remembers Caleb or not, with a warlock standing between them, the road to happiness is going to be tough.
Always Forgotten
May 23, 2019
Word Count:
1100
Summary: A muddy trench in France during the Great War wasn't the most auspicious place for Tom and Michael to reach an understanding of their own natures. A small, individual tragedy unfolds … But then Tom discovers a place beyond, where he and other men like him are blessed with all that life denied them.
An English Heaven
December 15, 2017
Word Count:
61000
Summary: Is it possible for a demon to be a good man, or are all who have fallen for temptation evil at the core? Tristan, Machidiel and Alastor are bound together by love, but their lives are running far from smooth. Thanks to Tristan's demonic bargain with an incubus, they have no choice other than to accept that their lives are never going to be the same again. To fulfil his obligations to the demon Tristan has two choices—remain with the incubus as his trainee or find a mortal to take his place. Neither option is appealing. The three lovers struggle to release Tristan from his bargain, but find bigger problems on the horizon when a human caught up in the mess is taken prisoner by the Demon King himself. With no help forthcoming from either angels or demons, the three lovers are on their own with a seemingly impossible mission before them—rescue the mortal from the Underworld. Mac, meanwhile, has problems of his own. The archangels are voting on whether to ban relationships between angels and demons, and if the new law is passed he must choose between his wings and his lovers. The three of them believe their love is strong enough to see them through the hard times ahead, but if they aren't careful the repercussions of Tristan's bargain could tear their ménage apart forever.
Between Good & Evil
November 28, 2014
Word Count:
71500
Summary: When an angel and a demon fall for the same mortal man there is only one solution…share him. Halloween night at the Inferno club always draws a crowd. When Tristan spots a stunningly gorgeous man dressed as a demon across the dance floor he sets out to draw his attention, little realising he has already gained the notice of another. The demon disappears into the throng of revellers, but with the heavenly handsome Machidiel in his arms, Tristan doesn't mind. Even though Mac warns him they can never have more than a one-night stand, Tristan longs to see the man who gave him the best sexual experience of his life again. One year later, Tristan opens his door to find Alastor, the demon from the Inferno, who claims they have a date tonight. Alastor may be the one man who can make Tristan forget Mac. Little does he realise Mac isn't as far from his reach as he believes. When Mac reappears he has a proposition for Tristan and Alastor, one that means breaking rules and potentially getting him stripped of his wings. A ménage formed between an angel, a demon, and a human means the sex is hotter than hell itself, but only time will tell if the relationship they have forged together is made in Heaven or Hell.
Between Heaven & Hell
October 31, 2014
Word Count:
63000
Summary: With one of his lovers imprisoned in the Underworld, Mac has no choice except to go where most angels fear to tread. With Tristan imprisoned in the Underworld, the ménage is broken. Angels are forbidden to enter the demonic domain and while Mac has been breaking rules in recent months, he doesn't have the power to enter the Underworld. Alastor is still unsure about his position in the relationship following recent revelations, but he cannot walk away when he is the only real link between his two lovers. Splitting his time between Mac and Tristan, he hopes they can soon find a way to reunite the two men in his life. As time moves on, Alastor realizes he is struggling to satisfy Tristan's thirst for sex. His lover needs more than he can give him and craves Mac in his bed. Mac still believes he can complete his mission to save his two lovers, but with one of them out of his reach, it is going to be far from easy. During their time together they have made plenty of enemies, including one who would seek to separate them forever, even if it means biding his time until Alastor and Tristan are at their most vulnerable, when even the love of an angel can't save them.
Between Life & Death
January 16, 2015
Word Count:
8700
Summary: Ida, a young girl still grieving the loss of her mother, encounters a huldra in the snowy Norwegian wilderness. She makes a desperate wish to have her mother returned... and gets far more than she bargained for. With the huldra's meddling, Ida learns her Pappa's life is suddenly at stake. To save him, she must battle against the wild valley she calls home and find the strength to confront the huldra before time runs out. This is a standalone short story of about 8,700 words, and is the first installment in the Dark Folklore series.
Beyond Thundering Waters
May 3, 2022
Word Count: Information not available
Summary: Jennifer Bronwen, deep-space freighter skipper, sometime smuggler, and occasional blaster-for-hire is flat broke and in desperate need of a job. With her bills mounting and her ship one unlucky micrometeorite collision away from the scrapheap, when she's offered a lucrative contract for a risky heist, well, it's an opportunity she can't afford to pass up. Keera Naraymis, a secret agent on deep-cover assignment in alien space, has just one more job to finish before her mission is complete. Getting it right means making the galaxy a safer place, and taking a trip to the Terran homeworld should be simple enough. But in the espionage game, your enemies are never quite who they appear. When their lives collide with catastrophic consequences, Jen and Keera form an unlikely alliance to find out why anyone would want to kill either one of them. What they discover runs far deeper than they could ever have anticipated, and throws them into a race against time to stop a conspiracy that threatens to unravel a thousand years of peace in the galaxy of the Burning Suns.
Burning Suns: Conflagration (Book One)
November 3, 2015