Word Count: Information not available
Summary: Having been shot at, shot up, and almost shot down, Jen and Keera have finally learned to trust one another, but there's no time to stop and enjoy their newly forged relationship. Commissioned by a rogue Guardian to attempt the most audacious theft in history, they head to the capital of the Assembly with a single objective—steal the weapon Jen should have acquired in Berlin. If they can get to it first, they'll stop a war before it starts. Kiith Kohath, meanwhile, has assumed command of an allied fleet to deal with the Reaver invasion. The stakes couldn't be higher: if he can't retake Ice Serpent, the entire Assembly will become nothing more than feedstock for Darkstar's corrupted army. Kohath needs more than a victory, he needs a rout, but the odds of that grow slimmer with every new Reaver that rolls off the assembly line. With tensions rising and armies mobilizing, the smallest spark could set the whole galaxy ablaze. And when Jen and Keera discover a plot that threatens the safety of every Envoy on Kyzar, it's not a question of if, but when that spark will fall…
Burning Suns: Conflagration (Book Three)
June 10, 2017
Word Count: Information not available
Summary: Thrown into an unwilling partnership by a heist gone bad and a botched assassination, mercenary captain Jennifer Bronwen and changeling intelligence agent Keera Naraymis are on the run from just about everybody. If they can learn to trust one another, maybe they can figure out exactly how their lives got turned upside down. But right now, mired as they are in a game of cat and mouse in the bowels of a criminal's lair, that seems like a big if. On the other side of the galaxy, Admiral Kiith Kohath has an even bigger problem—a corrupted cohort of cyborgs intent on pillaging the Assembly systems. Tracking the enemy to the sites of their atrocities, Kohath and his team must piece together the Reavers' plan and determine their next target, preferably before they have a chance to slaughter yet another defenceless colony. With alliances and agreements fraying at the seams, and new and old trusts being put to the test, the personal and political stakes rise ever higher as Jen, Keera, and Kohath struggle to prevent the galaxy from slipping into all-out war…
Burning Suns: Conflagration (Book Two)
August 9, 2016
Word Count: Information not available
Summary: First of the Virian Companions First of the Virian Companions, telling the back-stories of Mustapha Morphew and Malawi Redigan, the lovers who never really were. Mustapha comes from one of the old Northern Virian travelling clans, but a chance meeting with a sorcerer from another world makes him yearn for more than the usual routine. His curiosity leads him in unexpected directions and his fascination with gambling shapes his future in ways which he could never have imagined. Malawi was born into a privileged Southern Virian family, growing up in a large mansion on the outskirts of the capital. She always feels overshadowed by her glamorous and graceful elder sister. The enduring feelings of jealousy shape her life and lead her to embrace the darker side of her nature. When the two meet, strong feelings are unleashed and their lives are transformed beyond all expectations. Mustapha pursues the unattainable Malawi, even though she regards him as a mere plaything, to be discarded once the initial excitement wears off. Eventually, Mustapha realises that she will never love him, but by that time, his life is in ruins, with no prospects for a happy future. Can he find love in the arms of another woman or will he be forever doomed to a life of poverty and misery?
Carrying A Torch (Virian Companions Book 1)
June 7, 2018
Word Count:
52000
Summary: Rakurai hunts demons. He doesn't consort with gods. Until he meets Tenzen. Tenzen cares for souls. He despises the callous, self-absorbed Yuvine. Until he meets Rakurai. A rescue and a sacrifice make a death god and a hunter fall in love, but a life of bliss is a long way off. Someone is disturbing the balance of magic and threatening two worlds. And while desire draws Rakurai and Tenzen together, duty, assassins, and clan politics keep them apart. Who will Tenzen and Rakurai save in the end? Two worlds or each other? *** Caught starts a new mm paranormal romance series, A Balance of Magic, featuring mortals and immortals from both sides of the veil, old promises, new revelations, and a bloody fight between love and duty. It is the first book of a trilogy and ends with a HFN. The characters will get their HEA in the final book. *** Tags: Tenzen doesn't look where he's going, how do you rescue a death god, Rakurai is honourable and Tenzen has no social skills, spending all your life alone does that to a god, yes - sharing a hot tub is a great idea; who is so stupid to send human assassins after a Yuvine hunter, Tenzen loses the plot - and his immortality, Rakurai is a mother hen, especially when Tenzen looks like that, this library is out of this world, Tenzen refuses to fall off the bridge, Rakurai can't decide which world he'd rather live in, that's what having a son does to you, a cinnamon roll death god in a rage, that happy ending is a long time coming.
Caught
September 24, 2021
Word Count: Information not available
Summary: Eclectic, imaginative, and unexpected, Community of Magic Pens features forty genre-spanning flash and short stories--including fantasy, humor, science fiction, romance, historical fiction, satire, and mystery--bringing together a rich group of diverse voices from a wide range of backgrounds and intersections. Fountain pens, markers and ink, charcoals, spy pens, a braille writer, a printing press, virtual reality, and a supernatural pizza: whether revealing unspoken truths, fighting injustice, or finding friendship and love, our pens have power. Join us as a recent graduate of superhero school struggles to understand her gift, a disabled android interviews for a job, a queen's conscripted artist must pull reality from illustrations on parchment, and a grandmother's secret room is…better kept a secret. Tales of struggle and triumph, compassion and hope: Community of Magic Pens is a celebration of our shared story.
Community of Magic Pens
Word Count:
78000
Summary: A blind merman fleeing the sunken city of Atlantis is torn between the family he left behind and the love he swims toward. When Dax lost his family to a shark attack he swam away from everything he had ever known. Now he has come to Atlantis, hoping to reconnect with those he left behind. When he finds his birth clan torn apart, he realizes his journey is just beginning. Kai is an Oracle, a blind merman, who only has sight when he has a vision. Atlantis, a sanctuary for so many merpeople, is his prison. Desperation drives him to beg the Atlantean Goddess of Love for help. With the goddess's promise of love to tempt him, Kai persuades Dax to take him along when he leaves the sunken city. Although Dax has some reservations about traveling through the ocean with a blind merman in tow, he quickly discovers Kai isn't as helpless as he appears. Attraction comes easy, but Kai doesn't seem to feel the same way. Kai knows he must seduce Dax if he hopes to win his heart, but his inexperience may be his downfall. With Dax's former lover waiting at the end of their journey, he knows time is running out. A goddess can only help so much, especially when another immortal would see them part. If the two stubborn mermen want a life together, they will have to learn to communicate and fight for their love.
Dangerous Waves
October 4, 2016
Word Count:
4000
Summary: Who expects a haunted doll to be such a nuisance? When Dare's dog discovers an abandoned doll on their doorstep, Dare assumes it's nothing more than a lost toy… until it begins to talk. After the doll offers up a string of bad suggestions and unhelpful advice, Dare is left wondering if the isolation of lockdown has finally proved too much. Struggling to get rid of the bad-tempered toy, Dare has no idea that this not-quite-scary fiend will accidentally change everything. With a dash of humour, this queer cosy-horror short story is a fun, quirky tale – perfect for readers who like the idea of being scared more than the reality of it.
Dare vs the Doll
May 17, 2021
Word Count:
106,300
Summary: 2018/19 RAINBOW AWARD WINNER First Place: Best LGBTA Book First Place: Best Contemporary General Fiction, Fantasy & Sci-Fi / Futuristic The Taking Shield series comes to its shattering conclusion in Day of Wrath, the fifth and final book. In less than a week, Bennet will finally return to the Shield Regiment, leaving behind the Gyrfalcon, his father, his friends… and Flynn. Promotion to Shield Major and being given command of a battle group despite the political fallout from Makepeace the year before is everything he thought he wanted. Everything he's worked towards for the last three years. Except for leaving Flynn. He really doesn't want to leave Flynn. There's time for one last flight together. A routine mission. Nothing too taxing, just savouring every moment with the best wingman, the best friend, he's ever had. That's the plan. Bennet should know better than to trust to routine because what waits for them out there will change their lives forever.
Day of Wrath
June 28, 2018
Word Count:
26900
Summary:
Lord Marcus is on a quest to slay the dragon, rescue the princess, and live happily ever after. Falling for the dragon was never part of the plan.
When Lord Marcus set out on his quest, it seemed a simple enough task to accomplish. Slay the dragon and rescue the princess, securing his father's approval and earning his happily ever after--only the princess is a witch and the dragon is nowhere to be seen. Instead he finds a young man who has a very big secret and is in far greater need of rescuing. Marcus's well planned quest might have taken an unexpected turn, but his happy ending could still be within his grasp, if he can earn the trust of a dragon who has been betrayed and hurt by everyone he has ever known.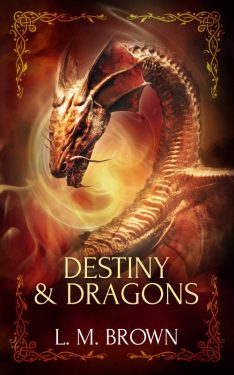 Destiny & Dragons
June 25, 2019
Word Count:
80000
Summary: Other stories will take you to Mars. This one will take you inside the boardroom, the pub, and the bedroom with the people planning the mission. Gurdeep is an engineer and a soldier. Georgie's a food scientist. One is pragmatic with a tough outer shell; the other's an optimist, a person of ideas and compassion. In the span of a single afternoon, the couple find themselves in charge of planning a self-sustaining colony on Mars. Together, they're humanity's last hope for survival. They have 160 slots to fill with experts from all over the world as they set about designing an all-new society with its own government, economy, and culture – and that's just the tip of the iceberg. Among those chosen for the mission is Devon, an autistic scientist with a unique skill set who finds life on Earth strange and alienating. Maybe a whole new planet is exactly what's needed. With 1,114 days until the launch, excitement and tensions run high. Earth's second chance hangs in the balance. Between strict genetic requirements and the dangers of the dystopian almost-present, will everyone make it to the final countdown? This is a work of neurodiverse, culturally diverse, gender-bendy, socio-politico-economic, drunken-arguments-in-the-pub science fiction – not bang-bang-pew-pew science fiction.
Devon's Island
January 20, 2020
Word Count:
25000
Summary: As the Light Festival draws near, the Něssyrians craft paper lanterns, awaiting the most important holiday of the year. The Lyliňg Fighting House, too, prepares for celebration—by laying fresh sand onto the arena and setting up a match against their top pit fighter, the unrivalled Yüuzuki Ōren. His last match. One he can't win. With the odds more than stacked against him, the gorgeous Barbarian is as good as dead. Unless his lover, healer Ĥaiatto Ẽkana, proves himself every bit as determined as he is clever and finds a way to protect the man he'd stop at nothing to save.
Don't Fight the Spark
April 26, 2019
Word Count: Information not available
Summary: When pressure from his materialistic children turns Claude into a thief, it is down to his youngest daughter to set things right. Angelique agrees to take her father's place as prisoner to what she is told is a hideous beast. Angelique soon discovers that the so called beast is nothing more than Rosalie, a princess cursed to remain trapped in a castle, unless the curse can be broken, something she assures her is impossible. Angelique does not believe in the impossible, and sets about trying to find a way to save her new friend, who she is rapidly growing to love. Eye of the Beholder is the first in a series of queer fairy tale retellings in C H Clepitt's Magic Mirror Collection.
Eye of the Beholder
June 14, 2020
Word Count:
85,000
Summary: All Keiron wants is a quiet life. Fat chance with a boyfriend like Bren. But if he thought Bren complicated his life, that was nothing compared to the complications that begin when he opens the door to what he thinks is a naked boy claiming to be his slave. Draven is a fairy with his sights set on the handsome human who keeps a wild place in the garden for fairies. When Draven slips through a fairy gate into the city, he sets in motion a series of events that binds him to Keiron forever, and just might be the end of him. While Draven explores Keiron's world with wide-eyed wonder, Keiron does everything he can to keep Draven's at bay, until the only way to save Draven and bring him home is to step into a world that should exist only in children stories.
Fairies At The Bottom Of The Garden
November 13, 2017
Word Count: Information not available
Summary: It's the find of a lifetime – an ancient alien spaceship hanging in a forgotten corner of space. For Song this could change everything. She's got as many problems with her finances as she does in her marriage, but maybe at last her passion for wreck-diving will pay off. One piece of unknown tech could set her whole crew up for life. The ship conforms to nothing in their records and dwarfs the largest human vessels. Battle-scarred and old before humanity ever reached the stars, it's a mausoleum of an unknown, long-dead species. And it's just winked at her.
Falling Dark
December 3, 2021
Word Count: Information not available
Summary: Here you'll find tales of the supernatural, betrayal and murder; the mistakes that lead to the fall of empires and the constant tug of war that haunts mankind. There's a blend of science fiction, fantasy and horror - from a modern day detective facing a serial killer to a future utopia filled with disloyalty. Lovers of romance will find a little something for them too, but within these bright sparks of hope shades of darkness lurk.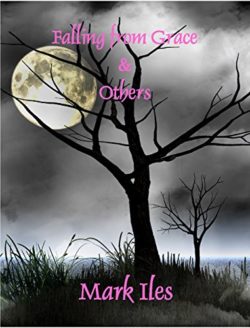 Falling from Grace, & Others
October 27, 2014
Word Count:
90000
Summary: Their love could save the soul of a fallen angel or damn an archangel to an eternity in hell. The realm of angels was created as a paradise where angels could watch over the earth as mankind took his first steps. For the archangel Michael, it is the only home he has ever known and he could never envisage another life. Michael's life changes the day his path crosses that of the favoured son of the morning. From the moment he sees him, Michael wants Lucifer for his own. When the two angels come together the passion surprises them both. Their love is forged in Heaven, but is doomed the moment Lucifer falls from grace to become the leader of an army of demons. Separated by war, the former lovers know the time will come when they must face each other in battle. Their confrontation will set in motion events that neither could have foreseen. For Lucifer it is the chance to persuade Michael to stand at his side, as his partner as leader of the demons. For Michael, it is a mission to save his lover's soul, while risking his own. Torn between his love for Lucifer and his duties as an angel, Michael walks a fine line, where one wrong step could result in his own fall from Heaven, and an eternity in Hell.
Falling into Darkness
December 13, 2016
Word Count:
72000
Summary: Trix works as a prostitute on the Pleasure Station, a space station devoted to entertainment, gambling, and the pleasures of the flesh. He never intended to spend his life there, but the place offers him security, regular cream, and over time it has become his home. As a dual-gendered feline, Trix knows the risk of pregnancy is high and sets his prices equally high to discourage customers. Trix never imagines that Delta, a canine with credits to spare will call his bluff. When Delta pays for himself and Farron, a naïve avian from the swan clan, to spend the night with Trix, the three of them forge an unexpected bond, one that leaves Trix pregnant. As a swan avian, Farron is incapable of being unfaithful to his mate, even when the bond is only partially formed. To complete the bond Farron must find Trix before the babies are born, or the bond will break forever, and Farron will be forced to live a life of celibacy. In the meantime, the Pleasure Station is under new ownership, and when the humans ban prostitution on the station Trix is left homeless. When Delta hears about the Pleasure Station, he too races back to find Trix. Both Farron and Delta arrive too late. Trix has vanished and the race is on to find him before he gives birth. Only then will they know if the bond they formed on their first night is strong enough to last a lifetime.
Finding Trix
June 7, 2019
Word Count:
61000
Summary: Hunter. Half-werewolf. One hell of a baker. Need someone, or something, hunted down? Akira Murakami is your man! No target is too small for him to get his energy-sucking blades swinging, and all jobs are welcome at the right price. The bills have to be paid after all. Living in a world where the apocalypse almost happened can be complicated, as is being the hybrid son of the High Werewolf of, well, everything. But Akira likes to live a relatively simpler life than dear old papa would like, shunning all the political crap, living by the sword and perfecting that recipe for dark chocolate and raspberry brownies. Killing is easy. Brownies are easy. Too easy. To hell with the simple life! There's a werewolf killer stalking the city, and Akira is about to be caught in the middle of everything. Step into an alternative London where the London Underground is above your head, Hyde Park a prison for some creepy shadow creatures, and plenty of baking goes down in a tiny flat on Grays Inn Road. A kick-ass Urban Fantasy adventure with a slow-burn MM Romance.
First Moon
February 28, 2020
Word Count:
20,900
Summary: One day, someday soon, Jeeze Madrid was going to wake up and realize just what he'd been passing up; he'd see what Cal Paxton was offering him so faithfully—"Faithfully, Jeeze! Even you can't deny that!"—and grab it. And they'd finally have what Cal wanted. Cal Paxton and Jeeze Madrid are the top scouting team on the Pathfinder-class starship, the Carson, on the very outer edge of Earth's expansion across the galaxy. Cal and Jeeze find the uninhabited planets, the Carson evaluates them for colonization. Cal and Jeeze are wingmen, best friends... and lovers. Cal wants more than a casual relationship but Jeeze, recently divorced, is wary of commitment. When Jeeze's scout ship is shot down over a planet inhabited by a race Earth has never before encountered, what will Cal find when the Carson can finally mount a rescue mission? Will he ever succeed in persuading Jeeze to take up his offer of hand and heart?
FlashWIred
January 14, 2017
Word Count:
86500
Summary: To save his clan from the ever-increasing shark attacks, merman Kyle seeks sanctuary for his people in the sunken city of Atlantis, even though he knows that as a homosexual merman he will be sacrificing his own chance for love. Love finds him anyway in the form of Prince Finn, the rebellious young heir to the Atlantean throne. When their relationship is discovered Kyle is the one to pay the price. Banished from the oceans he seeks shelter in England and finds a new love with human, Jake Seabrook. For Jake, Kyle is the chance to move on from the crush he has on his straight best friend. The strange man he found naked on the beach seems to fit into his life with ease.  If only Kyle weren't keeping secrets from him, Jake could see them having a future together. Things are not what they seem for either of the men and when Kyle discovers the truth about Finn he knows he must return to Atlantis. Three men, a tangled relationship, and one chance for happiness, if they can trust enough to take it.
Forbidden Waters
August 29, 2014