Word Count:
17700
Summary: Following his principles will break two hearts. Forester Veld loses a piece of himself to mute baker Oren when they first meet, but Oren is vowed to Haram. When Haram is killed, Veld denies his heart to respect the mourning period. It's the right thing to do. During Haram's funeral, Oren proudly bares the brands that show the nature of their love; Haram owned him, heart and body. The elves pity Oren and think he's broken. Veld has no intention of dishonouring Haram's memory, but his death may not have been an accident. Only a forester can learn what the trees have seen. However, Oren's independence is threatened, and if Veld does not offer what Oren needs, Oren may never be his to claim.
Oren's Right
May 10, 2015
Word Count:
60000
Summary: Planet Hy Man is in turmoil. Its' leader lost on earth. Will Mex rise to the challenge or fade faster than her hair dye? Mex is heading for the Edinburgh Festival in search of planet Hy Man's lost energy. A feat made near impossible considering her arch-rival has taken over Planet Hy man's "operations room" along with every high- tech spying equipment going. Led down the road of false leads by her `arch rival" Mex hooks up with a troupe of performing transvestites, delves into the seedier side of the festival and discovers gin. Saving Planet Hy Man could not be further from her mind if she was comatose until that is her personnel robot Pete finds her. Will Pete convince Mex to sober up and save their planet or will Mex stick with the padded bras and all who wear them? Rebel Without A Bra is the quirky second book in the Planet Hy Man science fiction comedy series. If you like high-mileage heroines, fast-paced satire, and meticulously crafted universes, then you'll love Kerrie Noor's otherworldly farce. 
Rebel Without A Bra
February 12, 2019
Word Count:
69000
Summary:
Planet Hy Man; where women rule and men obey. But will girl power survive when the energy runs out?
Mex is ready to hang up her catsuit. With her flashiest heroics decades behind her, she is all set to put her feet up and watch the galaxy pass by.
But when she is ordered to save Planet Hy Man or kiss her pension goodbye, she has no choice but to don her leathers and head to Scotland.
With a collapsable whip, and no idea what the Scot's are saying, let alone what a latte is, Mex combs Glasgow. Confused, disoriented, and with a growing love for vodka, she discovers her leader has not only lied, but toppled from power. Mex has only one way home, and it's in the hands of an old fella as elusive as the proverbial misplaced car keys. Will Mex find him in time and, if she does, will he be too Scottish to understand?
Rebel Without A Clue is the quirky first book in the Planet Hy Man science fiction comedy series. If you like high-mileage heroines, fast-paced satire, and meticulously crafted universes, then you'll love Kerrie Noor's otherworldly farce.
Rebel Without A Clue
January 23, 2018
Word Count:
110000
Summary: Earth's controlled environment is failing, and humanity's last hope lies with New Earth, the planet the Keepers of Jeronimo and their followers fled to a thousand years ago. One ship of the 81 that were sent, the Red Angel 42, finds New Earth and sends the happy message home once reaching orbit. Humanity's survival is ensured, or so they think. Captain Sumari's crew will have two years to prepare what they can for the arrival of colonists. Once planetside, Captain Sumari and his crew make contact with the descendants of the Jeronimo loyals only to discover they have no machines, no metal, and no memory of their ancestors... or Earth. The only one not surprised to see them is a young woman named Nimo. She sees millions of people in the Dome of Souls - an entity bestowing revelations both personal and powerful to a chosen few - and so is quite open to the strangers' arrival. Nimo quickly finds herself torn between her people and the Earthlings, and becomes entangled in the fight for survival Sumari and his crew face against the hazards of the new planet and Nimo's superstitious people.
Red Angel 42
July 13, 2019
Word Count: Information not available
Summary: Once upon a time in a world where magic and technology collide with unexpected consequences … When the royal family of the neighboring country visits, Prince Laurent turns down the princess—with dire results. Turned into swans, he and his brothers flee, followed by their sister in a flying machine. But then they crash on a remote cemetery. Can they regain their human bodies, before the angry princess catches up with them? And what about the strange ghost Laurent feels attracted to? What if Hans Christian Andersen had known what "The Wild Swans" were capable of? The book includes a bonus story and the original fairy tale.
Royal Swans
September 23, 2016
Word Count:
97000
Summary: Los Angeles is an apocalyptic wasteland. Without orientation, Colton stumbles through the vast, deserted city. He doesn't remember who he is and where he came from. Scavengers save his life from mutants and bring him to the only remaining inhabited area and safe Zone in former Hollywood. There he learns that after a devastating catastrophe called The Glitch, reality shifted, allowing nightmarish creatures from another dimension to enter our world. These co-called Dark Ones feed on suffering and violence, wanting nothing less than the complete annihilation of humanity. Colton discovers that he has extraordinary abilities and joins a league of unusual defenders: ex-cop Eric, female cyborg Bombshell and Vincent, a mighty entity from another world, disguised as a human soldier. But the Dark Ones are evil beyond imagination and with their ice-cold enforcer, the traitor Eurydice, they are a threat nearly impossible to overcome. Cunning and ruthless, Eurydice sets a ploy in action, which leads to the destruction of the Zone's defenses weakening the tiny community from within. It's up to Colton and his friends to take a desperate stand against the superior enemy and save what is left of humanity from extinction. Fast-paced, action-driven, and cinematic – an eternal fight of good vs. evil told in a way as never before.
Shadow City
November 7, 2019
Word Count:
52000
Summary: Detective Thaddeus Ezax is in over his head. He's the only wizard in Rockshade's Paranormal Investigations Department, and it was his name that got him the job. The Ezaxs are known as some of the most powerful wizards in the world, but Thaddeus isn't your average Ezaxs. Is it any wonder his family shuns him? When a kidnapping case is dropped into his lap, Thaddeus must act fast. While most five-year-olds can cast a location spell, Thaddeus can't and is forced to get creative. When he finds himself in possession of a black market werewolf skull with a ghost trapped inside, accidentally releases the spirit, and somehow forms a connection with it, things get even crazier. Sandulf Hunter doesn't remember dying, but he remembers the last thing he saw before everything went black—a wizard. All wizards must die! The only problem is, the wizard standing next to him smells too damned good, so good Sandy thinks he might have to keep him. And since wherever Thaddeus goes, Sandulf finds himself yanked along, he might not have a choice in the matter anyway.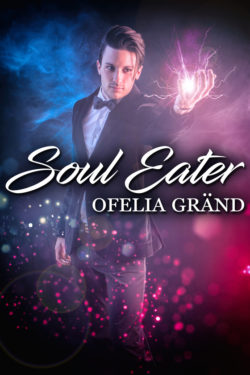 Soul Eater
October 31, 2020
Word Count: Information not available
Summary: "It is the little things that bind us" – Darryl, lead guru of the White Cloud Sect. Floyd Takashimoto sits amidst a collection of little things that might lead to the destruction of Earth. It's the explosive mix of people he calls friends. Darnar, for example, is the unscrupulous Master of the almighty Drug Guild of Tonasa, relentless in his acquisition of power. Marusar is an emotionally unstable "Dome Child" who suffers from her extraordinary gift to see the Dome of Souls, which bestows life- or world-changing revelations. There is Lofgar, an alien from Bahrein, whose mission is to obtain "Counter-Space" technology for interstellar travel that only humans possess. Floyd also meets Zero, the self-proclaimed leader of the poorest of the poor, who survive at the bottom of the "air streets", dreaming of a life in the luxury of Tonasa's skyscrapers. Floyd, a hapless nobody from the Politician Guild, is caught within the schemes and needs of these disparate friends. Unwittingly, he becomes pivotal in the play for world-dominance or world destruction by the "unalmatium" bombs. In the end, only Floyd can decide the fate of the Earth.
The Anatomy of Anarchy
August 2, 2016
Word Count:
47000
Summary:
In a world where all supernatural beings are either dominant or submissive, Shiro Amano doesn't have many choices. As a submissive, any dominant walking into his bakery can order him around. He hates it. All he wants is to live his life in peace and bake pastries he can spike with emotions far away from obnoxious alphas. 
Pitch Rhys wants a mate, but he won't settle for anything but a true mate. As a powerful wolf shifter, he has subs flocking around him, but his true mate is hiding in the kitchen of a bakery and refuses to see him. He can order him to, of course, but since he threatened Pitch with a knife when he allowed his power to leak, he doesn't think it's the way to go. Instead, he's settling to see how many pastries and cups of coffee he can consume in a day. 
Two years ago, Shiro escaped an abusive relationship, and he's not looking for a new one, but when word gets out Shiro is an unmated sub, dominants are invading the bakery. Pitch does his best to scare them off so he can woo Shiro at his own pace, but things escalate too fast. Will Pitch be able to get Shiro to trust him before it's too late? Can he convince him he wants nothing more than to make him happy and keep him safe? 
The Bear Claw
August 21, 2021
Word Count:
43000
Summary: Nick Adore has been in hiding for six years. He does his best to pass himself off as human and only wants to be left alone. But one day, he walks in on a robbery. Instead of quietly walking away, he reveals himself as a blood witch, and now the werewolf king demands to see him. Conri Biast is king. He has been the king of Norbridge for eleven years, but someone is trying to take him down. For months, he's known there's a blood witch in his territory who refuses to pay his respects, and that puts him on the top of his list of suspects. But when he goes to confront the witch, things don't turn out the way he'd planned. The witch is his mate. Nick doesn't want to be anywhere near Conri. Being close to kings always ends with him getting hurt, but he finds himself sucked into the power struggle. Conri doesn't know who he can trust, but he knows he needs Nick by his side. Together, they're strong, but are they strong enough to keep the throne?
The Blood Witch
March 26, 2022
Word Count:
12800
Summary: York Winter and his packmates are attacked by a rivaling werewolf pack at a lumberyard. Injured and exhausted, York runs into a part of town he's not familiar with, and when the enemy is closing in, he takes his chances and escapes into a bear-owned bakery. Torbjorn Holt doesn't do people, and he doesn't do wolves no matter what the pull in his heart is trying to tell him. He's learned his lesson and will not have wolves in the bakery, and he'll definitely not mate one. Luckily, York isn't too badly injured, so Torbjorn doesn't feel bad about kicking him out into the rain. York can't believe what's happening. He's finally found his mate, but Torbjorn refuses to let him stay. Torbjorn will never trust a wolf again, and if York doesn't leave soon, he'll knock him out with a rolling pin and dump him in the alley. York has to make Torbjorn understand he means him no harm, but how will he do that when Torbjorn refuses to talk to him?
The Cake Shop
April 9, 2022
Word Count: Information not available
Summary: Once upon a time in a world where magic and technology collide with unexpected consequences… Elfin, a male fairy, and Mikael, smith and inventor, want to know what's better, magic or technology. Unfortunately they didn't consider the human factor. Now they have to hurry to save their guinea pig and his loved-ones from the worst, before someone dies. What if Wilhelm Hauff hadn't realized who was really responsible for "The Cold Heart"? The book includes a bonus story and the original fairy tale.
The Challenge
December 1, 2016
Word Count: Information not available
Summary: Once upon a time in a world where magic and technology collide with unexpected consequences… A little boy who doesn't want to sleep easily becomes a problem — especially if the mother is extremely tired. How does the mother in Theodor Storm's fairy tale "The Little Havermann" feel? The book includes a bonus story and the original fairy tale.
The Cradle
October 24, 2016
Word Count:
24000
Summary: Every time something goes missing from the village, Sir Violet, the local knight, makes his way to the dragon's cave and negotiates the item's return. It's annoying, but at least the dragon is polite. But when the dragon hoards a person, that's a step too far. Sir Violet storms off to the mountainside to escort the baker home, only to find a more complex mystery—a quest that leads him far beyond the cave. Accompanied by the missing baker's wife and the dragon himself, the dutiful village knight embarks on his greatest adventure yet. The Dragon of Ynys is an inclusive fairy tale for all ages.
The Dragon of Ynys
September 15, 2020
Word Count: Information not available
Summary: Once upon a time in a world where magic and technology collide with unexpected consequences… When Martin helps a pregnant woman to flee from the king's men, he doesn't know that the twins she bears will change his solitary life forever. What if the Brother's Grimm misunderstood the dwarf in the original tale of "Snow White and Rose Red"? The book includes a bonus story and the original fairy tale.
The Dwarf and the Twins
October 4, 2014
Word Count:
75000
Summary: Uncovering and divulging an outlandish conspiracy will put a hard bump into any journalist's career, and Armin can only blame himself when he's dispatched from Frankfurt's skyscrapers into the depths of rural France on the unglamorous job of writing about a cobbing workshop. Natural building is messy, dirty and sweaty work, but it has its consolations. For example, Van, the greying but undeniably hot master cobber teaching the workshop. Sure, the man is a hopeless tree-hugger, with embarrassing notions about ancient folklore and religions, but he's still worth a week-long fling, right? When Van is revealed in all his majesty and power as a long forgotten forest god, however, the week-long fling might well become entangled with eternity, on the edge between life, death, madness, and immortality.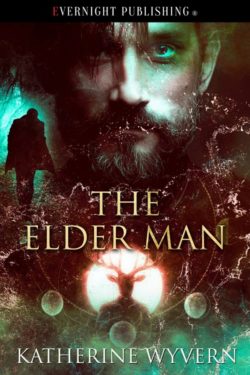 The Elder Man
April 9, 2020
Word Count:
24000
Summary: A prince without power In a land where magic is commonplace, Prince Llyskel has none. He can't command spells, he has never been taught to fight, and as the fifth son of the King, he will never rule. Everyone believes he's a weakling, most of all himself. Powerlessness is Llyskel's problem—and his pleasure. In his secret fantasies, the prince dreams of nothing more than finding himself helpless at another man's hands… particularly the hands of Captain Ariv of the Guards. Then Ariv makes Llyskel's dream a reality, and as the powerless prince surrenders to the soldier's desire, he finds his own true strength at last. But a web of royal politics is closing around Llyskel, threatening to tear him from his lover, and it will take all his newfound courage to escape…
24,000 words | 76 pages (pdf)
contains five shaded black-and-white illustrations by Yana Goya
The Fifth Son
November 28, 2014
Word Count:
18600
Summary: "Your Path is muddy, Kelnaht, but don't think avoiding the puddles will make it easier to travel." Kelnaht, a cloud elf, is a truth seeker caught between love and faith when a murder committed ten days before Solstice reveals an illicit affair between two tree elves he desires more than he can admit. Kelnaht's former lover Ianys once betrayed him, and the shunned forester Taruif is not allowed to talk to anyone but the guide, their spiritual pathfinder. When Taruif turns out to be the only witness to the crime, Kelnaht must suppress his forbidden feelings or face the ire of the elders. Ianys is terrified the tribe will blame Taruif for the crime, and despite their painful history, Kelnaht tries to keep his impulsive ex-lover from sacrificing his freedom for an impossible love. If Taruif and Ianys' affair becomes known, Ianys will lose his daughter. Kelnaht finds himself yearning to claim both Taruif and Ianys at the coming Solstice and turns to the guide, who gives him only cryptic advice. It is up to Kelnaht to prove Taruif's innocence and find a path free of puddles and mud for all three of them.
The Forester
August 15, 2016
Word Count:
16000
Summary: I, Lochan of the famed Féyes clan, know all about fighting. As a half-breed Elf, I have struggled against prejudice and feelings of inadequacy. A recluse by nature, I have battled my aversion to touch and interaction with others. To become an assassin of The Order, I have learnt to overcome the limitations of my mind and body. But denying the power Ervyn Morryés holds over me might be the one fight I lose. The truth is—damn it all—the relentless Highlander brings me to my knees. Note: This novelette is the second in the Order Series, and not a stand-alone installment. Reading THE MUTT is crucial for its full enjoyment.
The Highlander
August 31, 2017
Word Count:
90000
Summary: Arion and Jamie are the first humans in over two thousand years to set foot on Bahrein. They quickly discover that the horrid "purification" movement, led by the House of Kol, still rules the Bahreinian people with an iron fist. However, the opposition's leader, Lord Reeba of Mar, who hopes to win the upcoming elections against the House of Kol, welcomes the delegation from New Earth as his guests. While renegades around the first Bahrein who sees the Dome of Souls abduct Arion, Jamie befriends a mysterious, artificially produced Bahrein whose powers of mental energy and empathy are off the scale. Before they know it, the two humans are deep inside Bahreinian high politics, and come to realize they could play a part in Lord Reeba toppling the almighty House of Kol.
The Holy Void
August 29, 2020