Word Count:
12000
Summary: Luella Carey isn't crazy, not really, not that anyone believes her. Sent to Barrow Haven Asylum for a melancholic nature, she's locked away at the behest of her father and his new wife. Grieving for her mother's death, Luella finds comfortable solitude in the asylum until several anonymous letters appear. Mr. Winifred Carey's new wife intends murder. She plans to claim the Carey fortune as her own. Mere days to escape the asylum and warn her father, Luella turns to a new friend, Mr. Isaac McEwen. The clock ticking down the hour, Luella fears her final decision. A grave mistake, perhaps? But who can she trust?
August 20, 2020
Word Count: Information not available
Summary: When Selena Dillon is caught in an assassination attempt on her planet's ruler, she finds herself sentenced to twenty-five years servitude in the most feared military force, the Penal Regiments. Much to her surprise she enjoys the harsh military life and is quickly selected for officer training. But something's wrong, worlds are falling silent. There's no cry for help and no warning, just a sudden eerie silence. When a flotilla of ships is despatched to investigate they exit hyperspace to find themselves facing a massive alien armada. Outnumbered and outgunned the flotilla fight a rear-guard action, allowing one of their number to slip away and warn mankind. As worlds fall in battle, and mankind's fleets are decimated, Selena is selected to lead a team of the Penal Regiment's most battle-hardened veterans, in a last ditch attempt to destroy the aliens' home world. If she fails mankind is doomed. Little does Selena know that one of her crew is a psychopathic killer and another is the husband of his victim. Can she hold her team together, get them to their target and succeed in the attack? Selena knows that if she fails then there will be nothing at all left to go home to.
A Pride of Lions
December 3, 2013
Word Count:
108000
Summary: Now what? As Kendra recovers from her wounds, Artemis is planning their next strike. But so are others. Artemis has been too corrupt for too long; their own people are ready to take control. It's just going to take a little encouragement...
A Quiet Revolution
April 16, 2021
Word Count:
87000
Summary: In a world where everyone has a soulmate, uniquely powerful mage Royiora and reluctant assassin Kalo collide in the worst of ways. Royiora Daralkaen, the only mage alive able to use all five kinds of magic, has a near idyllic childhood in the country of Porescalia - before war breaks out with their antagonistic neighbors, Kloria. Kalo Porla, a naturally magic-proof individual known as a Null, is trained to be as an assassin by the authoritarian empire known as the Domain. When Kalo and his partner assassin are sent to kill a mage and his apprentice, it starts a journey neither man was prepared to begin. Content warnings: harm to children, physical and psychological abuse, implied (off-page) rape, violence, mature language, minors in implied sexual situations (teenaged romance), implied sexual situations, bigotry towards fictional races, and suggestive language.
All or None
August 15, 2020
Word Count: Information not available
Summary: Step through a portal in time - and steal a piece of history! Iria and Madge, witches extraordinaire, have summoned Joshua Norton I, self-declared Emperor of the United States, back from the nineteenth century to help them save the city of San Francisco from a demon of greed. Mammon, their infernal adversary, is running a real estate scam to end all real estate scams, and he's got his own helping hand from the city's past: Etta Place, famous in her day as the accomplice of Butch Cassidy and partner of the Sundance Kid. As Norton dodges mafia foot soldiers alongside another of San Francisco's larger-than-life figures from yesteryear on the fog-shrouded streets of Chinatown long ago, Iria and Madge find themselves face to face with Mammon and Etta in modern day - and trapped in very different timelines. It'll take all their ingenuity, bravery, and prowess to fix time itself, steal the prize, and get these three heroes back together!
All the Pomp of Earthly Majesty
April 28, 2020
Word Count:
171995
Summary: There will be time to crown a king, but first a warlord must rise. Arthur's battle summer is upon him, and he must be victorious if he is to claim his throne and rid the land of Saxon invaders. The teenage king has pulled the sword from the stone, but still the petty kings will not accept his rule. The Saxons are invading, Lot and Uriens are united against him, and he still has to prove himself to the common folk of the land. Next stop: the mysterious standing stones of the Giants' Dance and the Beltane ritual. Warfare does not wait for Arthur to catch his breath. Battle follows battle. Love is lost and found. Allies fall, enemies rise, and betrayals come to the young High King. If he stays strong, he can lead his people through a bloody summer. If not, all of Britannia will fall. Arthur alone will be responsible for the glory or ruin to come. Merlin will help him to see it through. But what secrets is the druid keeping? Arthur Rex: Dux Bellorum is the third installment in an epic retelling of the King Arthur legend. You only think you know the story.
Arthur Rex: Dux Bellorum
September 15, 2019
Word Count:
82290
Summary: Merlin has devised a test. All of the petty kings have gathered in Londinium to see who will be the next High King. Arthur and his retinue travel to the city in secret, but they are not the only ones with an interest in the Sword in the Stone. Morgana, Arthur's half-sister and the renegade queen of Rheged, has journeyed there with her Saxon lover, and petty kings have come with no kind welcome for the young High King. Arthur pulls the sword, but the kings will not accept him. He is given the temporary title of Dux Bellorum, and with Merlin at his side, he sets out to unite the tribes of Britannia as the Saxon threat grows more menacing on their eastern shore. Some battles are easy. Others are carried out in secret. It is the secret battles that Arthur will need to fear. "Arthur Rex: Ex Lapis" is the second installment of an epic retelling of the Arthurian legend. You only think you know the story.
Arthur Rex: Ex Lapis
July 20, 2019
Word Count:
100260
Summary: The High King is dead. While royal bastards and petty kings squabble for the power to take the vacant throne, only the druid Merlin and his succubus mother know where to find the late king's only legal heir. Arthur is young, idealistic, and living a quiet life at Caer Gai, protected by his foster father. Merlin put him there, and he will take him back out when the time is right, but first he has to set the stage and sweep away distractions… like the boy that Arthur loves. Merlin and his mother have plans for the hidden king, and they will stop at nothing to get him where they want him to go. But Arthur is no mere pawn, and though Merlin is a master manipulator, Arthur has ideas of his own about how his life should be. "ARTHUR REX: In Principio" is the first installment of an epic retelling of the Arthurian legend. You only think you know the story.
Arthur Rex: In Principio
March 16, 2019
Word Count:
125,000
Summary: For the past few years Yarroway L'Estrella has lived in exile, gathering arcane power.  But that power came at a price, and he carries the scars to prove it. Now he must do his duty: his uncle, the king, needs him to escort Prince Garith to his wedding, a union that will create an alliance between the two strongest countries in the known world. But Yarrow isn't the prince's only guard. A whole company of knights is assigned to the mission, and Yarrow's not sure he trusts their leader. Knight Duncan Purefroy isn't sure he trusts Yarrow either, but after a bizarre occurrence during their travels, they have no choice but to work together—especially since the incident also reveals a disturbing secret, one that might threaten the entire kingdom. The precarious alliance is strained further when a third member joins the cause for reasons of his own—reasons that may not be in the best interests of the prince or the kingdom. With enemies at every turn, no one left to trust, and the dark power within Yarrow pulling dangerously away from his control, the fragile bond the three of them have built may be all that stands between them and destruction.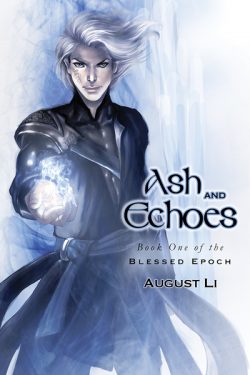 Ash and Echoes
June 15, 2012
Word Count: Information not available
Summary:
Withrow Surrett, cantankerous vampire lord of North Carolina, is passing the long winter nights of the off-season in the sleepy resort town of Sunset Beach. When the nights are long and humanity slumbers, where else would a vampire go but the beach? This is no mere vacation for Withrow and his cousin Roderick, though. They're hunting down a nest of nasty elder vampires who want to take over the world!
Of course it's not that simple, because for Withrow nothing ever is. Withrow and Roderick - and their team of frienemies, rivals, and allies - soon learn there are stranger things afoot than vampiric machinations among the dunes of Sunset Beach: mysterious mortals, twisted sorceries, and fleeting apparitions. Through sabotage, espionage, and bare-knuckled brutality Withrow must find and stop the elder vampires before they play the ace up their sleeve!
Kick back in the sand with the fourth installment of this vampire and urban fantasy series, perfect for fans of Rick Gualtieri, Jeff Strand, or Christopher Moore.
Attempted Immortality
August 21, 2017
Word Count:
75000
Summary: Sleepwalking may be the death of me… again. I thought things would get better now that I no longer had assassins after my head. Although it's fun eating people who misgender me, I'm just so thirsty all the time. And until I improve, I'm barred from seeing Jack, my were-jackal boyfriend. My babysitter, I mean 'vampire mentor,' isn't much help either. As if things weren't bad enough, the amulet that started this mess is whispering to me. Calling me somewhere. I think it might be my mysterious maker. Judging by the trail of bodies they're leaving across the globe, I don't want to know what will happen if I can't keep resisting.
Bloodline of the Ancients
July 13, 2022
Word Count:
120000
Summary: U.S. Marshal James Creed has known loss, starting from the untimely death of his wife and daughter in a sudden fire. His work, chasing down and arresting outlaws across the Wild West, is all he has left to live for. Then one day, in 1876, the infamous killer Corwin Blake catches Creed by surprise and guns him down. Creed awakes after a mysterious young woman resurrects him in a basement laboratory beneath a brothel. Half alive, Creed feels torn between his need for justice and his desire to fall back into the peace of death. Creed's instincts drive him to protect the city of Santa Cruz, California, from the outlaws it harbors while searching for Blake. He uncovers a secret criminal organization, likely protecting Blake, determined to use resurrection technology for its own ends. The former marshal, now faster, stronger, and a more deadly shot than ever before, must work with a brothel madam, a bounty hunter, and the remaining marshals to uncover the criminal syndicate before they can misuse the machines of rebirth and create more mindless zombies. Meanwhile, he must also stop Blake, before the outlaw kills the only people he cares about. His own death can wait.
Bodacious Creed
August 17, 2017
Word Count:
81000
Summary: Alessia is an Outsider—a member of the not-quite-human community that has recently been released from their underground prison. Shortly after their liberation, Alessia is given an ultimatum: obey all the United Earth Alliance's demands, or her mother will forever remain a hostage—a mother she'd believed dead for fifteen years. Reluctantly, she agrees, though she has no idea what those demands may be or how she will balance her obligations to the UEA with her responsibilities to her people and her family. As the UEA tightens its grip on humans and Outsiders alike, it becomes clear that meaningful social change will not be possible without a revolution. Alessia and her peers embark on a mission to discover just how far the government is willing to go to maintain their monopoly on power. What Alessia and her comrades discover, however, goes much deeper than they'd ever anticipated. Who are the Outsiders, really? What secrets of their destiny lay hidden within a top-secret space station? And why are the Outsiders linked to an emerging disease the UEA seems desperate to keep secret?  As they delve deeper, it isn't only Alessia's identity that will be called into question, but the fate of the entire planet.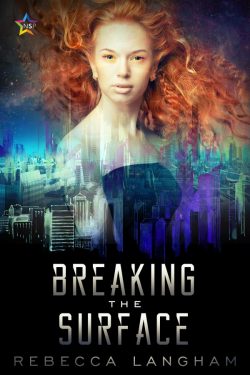 Breaking the Surface
January 13, 2020
Word Count:
65000
Summary: A young man sold into servitude has his loyalties tested in ways he never imagined. Raised in an orphanage in Dickens, Daniel doesn't know who his parents were, where he comes from, or even his last name. Like all orphans, on his 16th birthday, he's sold to the highest bidder. Not knowing where he's going, who's bought him, or what they even want with him, Daniel embarks on an adventure he never thought he'd take. He finds love, a family, and a secure future - yet in a split second, makes a decision he ends up regretting the rest of his life. Brothers begins fifteen years before the Red Dog Conspiracy series. Warning: Language, smoking, use of alcohol and drugs, attempted suicide by hanging, M/M underage sexuality with consent issues, forced servitude, blood, gun violence, a man being beaten by a horsewhip, murder, discussion of child prostitution, underage M/F sexuality with age gap (female older).
Brothers
June 1, 2022
Word Count:
170,000
Summary: An assassin's unexpected mercy granted Octavian Rose his life and freed him from his father's control, but it left him with little more than the clothes on his back and the determination not to waste his chance at a life of his choosing. As Octavian sets out to make a name for himself, he refuses to compromise his ideals for money or status—a decision tested as he works his way up the ranks as a mercenary fighter and novice mage. Along the way he forges friendships, takes lovers, and makes bitter enemies, all while striving for the power he feels he deserves and can wield fairly. With the advent of the Blessed Epoch and the discovery of new cultures, the world is changing. Octavian's decisions will affect not only those closest to him but will have profound worldwide consequences that he cannot begin to imagine. For twenty years, Octavian does what he must, and his choices bring him brilliant victories alongside crushing losses. Time and again, he must choose between what is right for all and what is beneficial to him, while hoping for the wisdom to tell the difference. FREE Short—A Lesson and a Favor Eight years before meeting Yarrow and Duncan in Ash and Echoes, the man now known as Sasha lived and breathed for a single purpose: to kill for gold and the glory of his cult and dark god without emotion or hesitation. In this lost tale of Sasha's early career, he's dispatched on a difficult mission—one with a surprise in store for him. FREE Short—Archer's Regret  Sylvain Damasca has seen and done it all since walking away from his wealthy family and the promise of a future title. He's had more men, money, and adventure than he can count—including a part in the founding of Rosecairn—but he's restless, and no amount of gold, wine, or casual companionship can scratch his itch. It might be time to deal with the one thing he left unfinished, if he can find the courage to face the only man who ever got underneath his skin.
Cairn and Covenant
September 22, 2015
Word Count:
120,000
Summary: Whose hand will orchestrate the change in the world? The decade-long war with Johmatra is over, but peace hangs by a thread in Garith's kingdom. Yarrow, isolated in his island realm, refuses to abide by the treaty or to follow the dictates of the priestesses. Others—Octavian Rose among them—are uneasy with the growing military power of the temples, and the mage island of Espero remains a tenuous ally. Garith knows his people cannot weather another conflict and that infighting will leave their lands vulnerable to further invasion. The arrival of a Johmatran ambassador with his own agenda calls everyone's loyalties into question. Sides will be chosen, and the consequences of those choices will have repercussions no one can foresee. Even among the turmoil, Yarrow is determined to have his vengeance against the thirteen goddesses and heal the world's magic. But how far will he go, and what lines is he willing to cross? As unlikely alliances are forged and enemies are revealed, Prince Thane seems to be the key to forgotten knowledge that will shape the future—and some will do whatever it takes to control him.
Calling and Cull
September 22, 2016
Word Count:
76600
Summary: Werewolves are apex predators. So why does she feel like prey? Territory, honor, the trust of her peers - Jordan Abbey has earned none of these from the supernatural residents of Rancho Robles. The werewolves shun Jordan as a creature without honor for siding with the vampires. The vampires dismiss Jordan as an unruly pet who needs to be kept on a much shorter leash. Chased out of the wilderness and not allowed to shift within the city, she is without any place for her inner wolf to run free. Someone is killing the servants of vampires. Soon vampires themselves fall victim. Each attack is linked directly to Jordan, fueling rumors that she is working to undermine the vampires' grip on the city. The werewolves dog her steps, harassing her whenever and wherever they can. Then, in the heart of vampire territory, the corpse of a werewolf who bullied Jordan is discovered. The children of the Wolf and the Bat are ready to go to war, and Jordan is caught squarely in the crossfire. Can one woman prevent the annihilation of the only place she calls home?
Chaos Hunt
June 21, 2022
Word Count:
75400
Summary: JT Austin. Hero of Amargosa's liberation. One of the Children of Amargosa. Now a Navy pilot. Serving with his comrade, Mitsuko Yamato, aboard the Queen Maria Sophia, he is handed what should be a milk run: Retrieve Lt. Cmdr. Edward Windsor from his garrison on a remote – and smelly – planet as he has just become king of Bonaparte, the Compact's only planetwide monarchy. However, an unknown attacker disables the Sophie, boards the ship with killer mechs, and sends JT with the new king and his entourage fleeing their ship. He will have to talk fast to make a deal with the enemy Gelt, summon his mentor Suicide for help, and get the king to safety. He will also discover he has at least one traitor in his midst. He will also discover his surrogate mother has a secret that will shatter his world.
Checkmate
February 8, 2022
Word Count:
79,025
Summary: Solving mysteries is her business. Finding love is her dream. Will combining the two get her killed? Victorian Era England. Stetson revels in being unconventional. So when society shies away from her independent nature, the bold woman creates an imaginary boss and opens her own detective agency. And her keen observational skills, convincing disguises, and Holmesian methods quickly bring in a string of tough-to-crack cases. Struggling to squeeze a personal life in around a series of hazardous investigations, Stetson worries she'll never find a woman of like-passions. But with her heart set on true love despite the risk, she carries on hunting for the perfect relationship. Will her clever escapades lead to death… or delight? Daring Duplicity: The Wellington Mysteries, Vol. 1, Adventures of a Lesbian Victorian Detective is a collection of five sequential novellas, each encompassing its own exciting mystery while furthering the story of Stetson's life in London. If you enjoy crime dramas, Victorian era fiction, or a sweet lesbian romance, then you'll love award-winning author Edale Lane's Daring Duplicity. Order yours today!
Daring Duplicity
January 19, 2022
Word Count:
84610
Summary:
Praise for Daughter of Maat:
"Sandy Esene has written a real page-turner. It's Dan Brown goes to Egypt with a delightful dash of Harry Potter thrown in. A wonderful read and she's got the Egyptology right!"—Bob Brier, Author of
The Murder of Tutankhamen
"If you like Egyptian Mythology and the excitement of Indiana Jones adventures, this book is for you!"— Pat Remler, Author of
Egyptian Mythology A to Z
Alex Philothea's quiet life as a research archeologist changes forever when she is tracked down by a secret society, the Keepers of the Holy and Noble Maat. Alex's father died years ago during an excavation in the remote Egyptian desert. The circumstances of his death have always been shrouded in mystery. Now the leader of this obscure organization promises to unlock the answers she has been searching for; the only thing she must do is save humankind.
Follow Alex into a world of myth and magic where the lines of reality blur at every turn.
Daughter of Maat
November 18, 2018