Word Count:

65000
Summary: Loner, bumpkin, self-destructive teenager, Matina thought her life's adventures would reach no further than paddling under night cypress or falling through the parchment of a good book. But she owns a great secret, one coming with her approaching womanhood like the mouths of gnashing teeth. Boraor Rehton, the inept shaman, would love nothing more than to leave this wretched town, continuously appointing him their spiritual leader. He knows little about the earthly arts, but the same cannot be said for black magic; tools he uses, which, if caught, would earn him a place on Amden's impaling stakes. Add Pauthor Quithot, recluse, Grubilius Motty, lowlife drunkard, and other malcontents all involved with a mysterious force let loose upon the bog. As the force's mystery wanes, old feuds are inflamed, murder is ready to run rampant, and the threshold separating the living from the dead is hopped over with wicked glee. The second book to expose the grim world of Mulgara: Alluring, unpredictable, dripping with idiosyncratic folk, AMDEN BOG is dark fantasy where beauty and brutality often hang from the same sagging vine.
Amden Bog: A Novel in Stories
Word Count:

20000
Summary: A story born in the hollers of Eastern Kentucky. Elizabeth Robinson. An Elizabeth Robinson has lived in the hills of Eastern Kentucky as long as people have built permanent settlements in the lush, green forests. While the mountains recover from the War of Northern Aggression, the simple folk seek the healings of the Robinson women. Three generations, working the ways from the old country, live in isolation. The youngest Elizabeth Robinson, a healer by happenstance, despises her role in the family. She longs for freedom, the wilderness of her youth, an escape from a dark secret. Alone in the forest, she stumbles upon the ghost of a Yankee soldier, Samuel Henry. Determined to help Samuel pass beyond the veil, Elizabeth brings him back to her mountain home. Turning of the wheel of fortune, prosperity changes to misfortune for the Robinsons, and a menacing figure lingers like a thick fog. Generations, built on lies, force Elizabeth to face a bleak reality and make the ultimate sacrifice.
Apparitions of Elizabeth Robinson
Word Count: Information not available
Summary:
Withrow Surrett, cantankerous vampire lord of North Carolina, is passing the long winter nights of the off-season in the sleepy resort town of Sunset Beach. When the nights are long and humanity slumbers, where else would a vampire go but the beach? This is no mere vacation for Withrow and his cousin Roderick, though. They're hunting down a nest of nasty elder vampires who want to take over the world!
Of course it's not that simple, because for Withrow nothing ever is. Withrow and Roderick - and their team of frienemies, rivals, and allies - soon learn there are stranger things afoot than vampiric machinations among the dunes of Sunset Beach: mysterious mortals, twisted sorceries, and fleeting apparitions. Through sabotage, espionage, and bare-knuckled brutality Withrow must find and stop the elder vampires before they play the ace up their sleeve!
Kick back in the sand with the fourth installment of this vampire and urban fantasy series, perfect for fans of Rick Gualtieri, Jeff Strand, or Christopher Moore.
Attempted Immortality
Word Count:

21,400
Summary: When do dreams become reality? Orin sells dandelion latex at a no-name market, barely scraping by. Mette is a princess. Maybe. What Orin does know is that for thirty seconds every night, Mette visits Orin in xir dreams. Orin has long since written the fancy ghost woman off as a recurring nightmare, but when Mette insists upon meeting in real life, Orin's inner world turns out to be more substantive than imaginary. Along with best friend Blathnaid, Orin embarks on a journey to discover the truth behind xir otherworldly connection--determined to free xir mind and finally get a good night's sleep. But it's an ancient, planetary magic that binds Orin to Mette, and Orin's dandelions may be their only chance to survive the separation. If you want a fun, queer romp through a sci-fi planet with magic and dragons (of a sort), download Awry with Dandelions today! Note: this book uses xie/xir pronouns for Orin. Genres: Space Opera / Science Fiction / Romance / LGBT Lesbian Non Binary Market: Adult and New Adult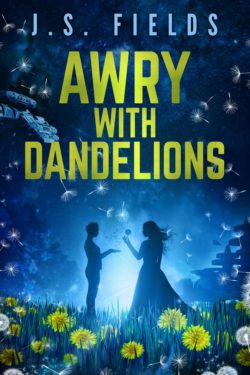 Awry With Dandelions
Word Count:

11500
Summary: A dark fairy tale in a modern Greek setting. Hiding in the mountains, a harpy and her adopted daughter struggle to survive. Iphis has always known that survival comes hand in hand with loneliness, but when she catches feelings for a girl in the nearby town, her heart yearns for a different kind of future. When she's suddenly attacked by a group of enraged harpies, things only become more complicated... and dangerous.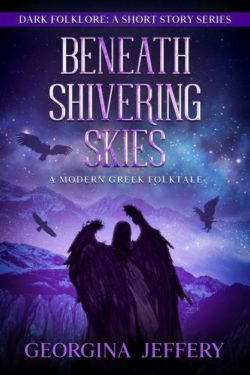 Beneath Shivering Skies
Word Count: Information not available
Summary: Emeline's quiet village has three important rules: Don't look at the shadows. Don't cross the river. And don't enter the forest. An illustrated fantasy filled with beauty and power, Between the Water and the Woods sweeps you into a world where forests are hungry; knights fight with whips; the king is dying; and a peasant girl's magic will decide the future of the realm . . . When Emeline's little brother breaks all three of their village's rules, she is forced to use her family's forbidden magic to rescue him from the dark things he awakens, the Ithin. Now that the Ithin are afoot in the land, she must, by law, travel to the royal court and warn the king. But the only way she and her family can make the journey to the capital is with the protection of a sour magister and a handsome, whip-wielding Lash Knight. Will Emeline survive in a city where conspiracies swirl like smoke and her magic is all but outlawed? Seven full-page black-and-white illustrations accompany Between the Water and the Woods, a lush, fairy-tale-style fantasy perfect for readers of Karen Cushman and Shannon Hale.
Between The Water and The Woods
Word Count:

100000
Summary: Sassy and Owen Winslow were historical experts on the Revolutionary War and the Culpers, Washington's spy ring. After her husband dies unexpectedly, Sassy struggles to find new meaning in her life. When she goes exploring in the Cohutta Wilderness, she falls through a hole in time, and finds herself in the Indian Territory in 1778, falling in love with Big Sexy Will Selk. Will Selk, one of Washington's spies, falls in love with the spunky widow who came to live at McCarron's Corner after her husband's death. When he learns she came from Beyond, both Will and the Commander-in-Chief are eager to pick the historian's knowledge of the American Revolution – and in the process, Washington identifies the Culper Ring's Madame X, who turns the tide for the patriots to win the war when Sassy provides vital information.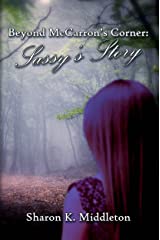 Beyond McCarron's Corner
Word Count:

73000
Summary: ::The Seignso have our own plans for the remains of Genghis Khan.:: Alien warmongers have cloned an ancient emperor to lead an unstoppable army. Gifted with superhuman powers and advanced technology, he sets his sights on his home planet, Earth, and then... the stars! However, countermeasures have already been set in place. A young Iowa farm boy, oblivious to his powers or destiny, is thrust into a battle that will decide the fate of humanity against the new and improved Genghis Khan! A thrilling, interstellar adventure from the author of The Weller and War of the Worlds: Goliath!
Birthright
Word Count:

120000
Summary: U.S. Marshal James Creed has known loss, starting from the untimely death of his wife and daughter in a sudden fire. His work, chasing down and arresting outlaws across the Wild West, is all he has left to live for. Then one day, in 1876, the infamous killer Corwin Blake catches Creed by surprise and guns him down. Creed awakes after a mysterious young woman resurrects him in a basement laboratory beneath a brothel. Half alive, Creed feels torn between his need for justice and his desire to fall back into the peace of death. Creed's instincts drive him to protect the city of Santa Cruz, California, from the outlaws it harbors while searching for Blake. He uncovers a secret criminal organization, likely protecting Blake, determined to use resurrection technology for its own ends. The former marshal, now faster, stronger, and a more deadly shot than ever before, must work with a brothel madam, a bounty hunter, and the remaining marshals to uncover the criminal syndicate before they can misuse the machines of rebirth and create more mindless zombies. Meanwhile, he must also stop Blake, before the outlaw kills the only people he cares about. His own death can wait.
Bodacious Creed
Word Count:

73027
Summary: If blood really is thicker than water, are the ties that bind a found family stronger than the ties of blood? After a decade of homelessness and living off his own wits, Tris has lost all faith in the kindness of strangers. And after years of letting his friends down time after time, Ozzy knows he's the last person anyone should count on. When Tris's search for his lost younger brother lands him in a small town at an overly-friendly Bed and Breakfast, everyone, including the B and B herself, seem to be pushing Tris and Ozzy together. Tris learned a long time ago, under the fists of his manipulative step-father, that family can't be trusted, and love means nothing. Torn between the desire to see Tris thrive in his new home, and the need to protect the very younger brother Tris came looking for, Ozzy has some hard choices ahead. Welcome back to Griffon's Elbow and The Oaks B&B, aka Mildred. She's not the only sentient house in town.
Brother's Keeper
Word Count:

52,500
Summary: The cerebral interface has revolutionised society. Need a ride? With a thought, the cab is on its way. Want an adventure? Enter a VR 5 computer game nearly indistinguishable from reality. Amanda arranges for her Big Sisters Program little sister, Rachel, to spend a day gaming as a fourteenth birthday present. Amanda never suspects that her insane ex-boyfriend, Jim, will use a computer virus to trap her and her companions in the game. A pleasant diversion becomes a life and death struggle as her party seek a way to come back to the real world without triggering a program that will cause nanobots to rip their brains to shreds. To complicate matters, in the game scenario the adventurers have been transformed into cats. Will the party survive? Will Amanda admit that Rachel's older brother, Tyrell, might just be her future? Will the computer virus Jim used to trap them become a cyber plague that could kill thousands?
Cats
Word Count: Information not available
Summary: Readers' Favorite gave CHILDREN of the FUTURE five-stars. "...children will enjoy the twists and turns, and suspense and mystery. The story is refreshingly original… " A bus of missing children, and a ticking clock – no one knows where they have gone… A small yellow school bus pulls up in front of the little red brick schoolhouse. Telly, the bus driver, discovers all of the children are missing -- all except one very frightened Billy who has hidden in a cabinet. Where is everyone? Telly and Billy are determined to find the answers. The little town of Rocky Flats is stirred into a frenzy. Nothing like this has ever happened before! Where have the children gone? Why? As the clock ticks and the little town rallies together in the search, will they find the children before it's too late?
Children of the Future
Word Count:

12000
Summary: Luella Carey isn't crazy, not really, not that anyone believes her. Sent to Barrow Haven Asylum for a melancholic nature, she's locked away at the behest of her father and his new wife. Grieving for her mother's death, Luella finds comfortable solitude in the asylum until several anonymous letters appear. Mr. Winifred Carey's new wife intends murder. She plans to claim the Carey fortune as her own. Mere days to escape the asylum and warn her father, Luella turns to a new friend, Mr. Isaac McEwen. The clock ticking down the hour, Luella fears her final decision. A grave mistake, perhaps? But who can she trust?
Clandestine
Word Count:

64000
Summary: When ghosts cry out, Dan and Chad heed their call. Daniel and Chad are on the road to Hawk Lake, Maine, to investigate rumors of a haunting. With his new role in Daniel's life, Chad feels like he has something to prove. He is determined to make the Hawk Lake haunting videos the best Hauntastic Haunts has ever aired. Daniel gets sidetracked when he realizes that he might have gotten in over his head with his long distance apprenticeship to a genuine medium. Old insecurities rear their heads and threaten the budding relationship between Dan and Chad. Neither member of the Hauntastic Haunts crew is ready for what they uncover when they discover the truth behind the ghost ship haunting Hawk Lake. Secrets and lies that threaten to tear apart a community that is still healing from their grief might be better left buried. Daniel and Chad have to decide which is more important, telling the stories of the living or preserving the memories of a handful of ghosts. Get ready for another hauntastic adventure with this paranormal trans M/M romance.
Dan's Hauntastic Haunts Investigates: Hawk Lake
Word Count:

74000
Summary: When a curse comes calling, Dan and Chad confront their greatest challenge yet. Hauntastic Haunts is investigating the historic Ivarsson School. With Halloween right around the corner, the vlog is in peak season. Dan and Chad are eager to explore the decades-long string of strange deaths among the school's young scholars. While they delve into the mystery, both men must come to grips with Chad's newfound talents as a medium. Dan and Chad's efforts to uncover the haunting's truth meet with mixed messages from both the living and the dead. They're left wondering if this month's site is full of tricks, or if there's a treat awaiting discovery. The locals blame a curse for all the misfortune at the one-room schoolhouse, and if the pattern holds, the guys are at risk of becoming the latest victims. Join ghost hunters Dan and Chad on their third hauntastic adventure in this trans M/M paranormal romance.
Dan's Hauntastic Haunts Investigates: Ivarsson School
Word Count:

39200
Summary: Years ago, all she wanted was to leave. Now, a web of secrets might ensnare her forever. When Iris Grey returns to her hometown of Ilmoure years after a bitter parting, she hopes for reconciliation in the face of a tragedy. Instead, she arrives to a town changed for the worse, a cold welcome from people she once loved, and a family that seems to be keeping secrets from her at every turn. When those secrets become too heavy to ignore, Iris starts to dig deeper. What she finds leads her to question her very perception of reality. Faced with old wounds and new revelations, Iris finds herself mired in a plot that threatens to swallow herself, the town, and the people she once loved.
Dark Heart of Ilmoure
Word Count:

100,000
Summary: When Fancy sent Richard from Barbados, she did not tell him her plans. Richard arrives unexpectedly after she and Kirk go to Ireland. Richard discovers she has adopted Kirk's daughter, and he concludes she will never abandon Kirk. Brokenhearted, Richard returns to the future before Fancy can tell him her marriage to Kirk is void. Richard's departure allows Kirk to woo Fancy again in earnest and they remarry. The couple sail to Bermuda, where Kirk leaves Fancy and the children at Spring Haven to sail to Barbados. A hurricane destroys the Spring Haven house. Fancy takes the children to the mainland and on to the safety of McCarron's Corner. En route, she learns Kirk's ship was destroyed in the hurricane and Kirk is believed to be dead. At McCarron's Corner, Fancy manages to go forward in time, where Richard finds her. She gives Richard another chance. They fall in love again, marry, and she writes a best-selling memoir, which attracts unwanted attention. Will they survive when a stalker's dangerous obsession threatens to destroy their future?
Diary of the Reluctant Duchess
Word Count:

132,000
Summary: Rules were made to be broken. From terraformed outposts to magical realms, journey to worlds where deadly plants, rampant biodiversity, or failed colonies have created irresistible opportunities for those brave enough to seize them. New worlds, found family, mystical secrets, and deadly science weave together in this lesbian-centric anthology focusing on a very different kind of first time—a first encounter with a world, or being, entirely unlike our own. If you like diverse stories with lesbian heroines practicing science, magic, and seduction, buy Distant Gardens today!
Distant Gardens
N.L. Bates , Sara Codair , Robin C.M. Duncan , J.S...
Word Count:

80435
Summary: A modern-day knight in shining armor is a man with a secret. He's an immortal direwolf shifter. A man who can trace at will into a lethally dangerous canine who holds the ability to step into the stillness and achieve any goal. When he finds himself without a career after retiring disabled from his last mission in the military, he has to rethink the direction of his life. He needs to reinvent himself before anyone realizes that he stopped aging at the age of thirty-five. He's learned just enough to make his existence a bit dangerous. The sexy high school teacher neighbor he's been near stalking has her own secret. She feels like everything and claiming her is all he can focus on. He's determined to win her as his own until a shadowy evil attacks her and reveals a situation that forces him to be the man of action that he's always been. To keep the woman he loves safe, he'll become the alpha pack leader he was born to be. A Pack Forms is the first volume in the steamy paranormal romance saga of Draoithe.
Draoithe: A Pack Forms
Word Count:

118937
Summary: Frank Grimes is a lowlife, no count, barely classifiable as a human, male who just happens to have enough sense to hire and retain qualified construction workers. He landed the contract to build most of Draoithe in January of 2016. He's not only worthless, but he's also criminal filth. He will do anything for an easy dollar. After the Draoithe housewarming party, his true colors shine through when he attempts to rape the architectural designer in her apartment after driving her home. Luke can't afford to let Jace kill him or allow Flame to turn him as dragonsworn, but there is no way that Frank can be allowed to just get away with what he's done. Even the Assassin King wants him dead, and he is the dragon called to serve one miscreant underking. Sentenced to house arrest and forced labor, Grimes seeks a way to fulfill the requirements Luke sets on him to gain enough respect that Javier will turn him into a canine shifter until he meets a blood demon who wants to help Luke out. Is it possible to totally rehabilitate the walking filth that is Frank Grimes into a real man in order to help him avoid certain death and turn him into a wolf? Or will the demon simply drink him dry and slowly end his miserable existence?
Draoithe: Filth and Death