Word Count:

80000
Summary: Beware the demon prince who's sick and tired of running. Federico Duomo is dead, to begin with. But this is only the first bit of Shax's problems resolved. Powerful crime lords and an obscenely wealthy oligarch are still determined to destroy him and his crew, and Fluffy's original owner may be coming after the Brimstone now, too. It would be splendid to be able to take on one thing at a time. Adding to the external conflicts, life on board the Brimstone has only grown increasingly stranger. Shax has no idea what to do with the seven partly human children that Heckle rescued from slavers. Heckle himself has grown short-tempered, even with Mac. Someone from Julian's past catches up to them on Barbary. It's enough to put a demon off his cinnamon buns. Shax isn't panicking, though. In fact he's had it up to his handsome royal nose with the people he loves having to live in constant fear. The fox has turned at bay and the Brimstone's enemies are in for a shock. The demon prince of thieves is coming for them.
A Fine Mess: Brimstone 7
Word Count: Information not available
Summary: It's her first job...and it's already going wrong. Freshly graduated from university with a degree in engineering, Crystal approaches her placement on the wormhole-constructive ship Crossing Paths with nothing but enthusiasm. But while Crystal gets used to the ins and outs of a multispecies, multicultural ship, tension brews both at work and back home. Not murdering her coworker Jai is hard enough; the last thing she needs are the terrifying errors cropping up on her maps. Reality and space are either tearing themselves apart - or someone else is attacking them. With conspiracies lurking everywhere, friendship won't be enough to see her through these dangerous new problems... Fans of Becky Chambers' Wayfarers series will enjoy this sometimes joyful, sometimes dark personal adventure set in a world of politics, bureaucracy - and piracy.
And The Stars Will Sing
Word Count: Information not available
Summary: No (battle) plan survives contact with the enemy. Winning a war has never been just a cold collection of numbers on a tally sheet. The Faiths always play their part in fifteen stories exploring when things go wrong. With stories by James Chambers, Nancy Jane Moore, Maria V. Snyder, Jack Campbell (John G. Hemry), Bud Sparhawk, Peter Prellwitz, John L. French, Jeff Young, Keith R.A. DeCandido, David Sherman, Jeffrey Lyman, Judi Fleming, Danielle Ackley-McPhail, Eric V. Hardenbrook, and CJ Henderson.
Best Laid Plans
Word Count:

73000
Summary: ::The Seignso have our own plans for the remains of Genghis Khan.:: Alien warmongers have cloned an ancient emperor to lead an unstoppable army. Gifted with superhuman powers and advanced technology, he sets his sights on his home planet, Earth, and then... the stars! However, countermeasures have already been set in place. A young Iowa farm boy, oblivious to his powers or destiny, is thrust into a battle that will decide the fate of humanity against the new and improved Genghis Khan! A thrilling, interstellar adventure from the author of The Weller and War of the Worlds: Goliath!
Birthright
Word Count:

38000
Summary: An Imperial prince can only hide for so long—but his solution of a hastily invented engagement could backfire spectacularly. Marsh Kensinger's work as the utility mechanic for Bremen Station keeps his life interesting - but never quite as interesting as finding a pilot still hidden inside a hibernation drawer in what should have been a salvage craft. He knows he shouldn't get involved, but the Altairian Imperial crest on the private craft and the semi-conscious pilot's odd questions pique his always-whirling curiosity. Still unattached at a concerning age for an imperial son, Prince Shiro Shinohara hadn't been running from the endless, mind-numbing rounds of omiai his mother, the Empress, had mandated. Not exactly. He'd just wanted a break from persistent suitors at the family retreat on Ceti Tau. The short respite becomes a panicked flight for his life when one of the suitors stalking him attacks the family compound. Worried for the soldiers he was forced to leave behind, afraid there's a conspiracy to kidnap him, Shiro confides in the handsome mechanic who found him and in a moment of panic, concocts the fiction of a serious relationship with Marsh. It's only until Shiro's people can reach him and he can press charges back home. Marsh is willing to play along and Shiro's just going to have to keep himself together and not, under any circumstances, fall for the wonderful, generous man who refuses to stop helping him.
By Imperial Decree
Word Count:

33000
Summary: Clarity (noun) Four definitions to inspire writers around the world and an unlimited number of possible stories to tell: 1) Coherent and intelligible 2) Transparent or pure 3) Attaining certainty about something 4) Easy to see or hear Clarity features 300-word speculative flash fiction stories from across the rainbow spectrum, from the minds of the writers of Queer Sci Fi.
Clarity
Word Count: Information not available
Summary: Animals have fought for us for centuries, not because of the ideals of service to King and Country, but out of unwavering loyalty and devotion to their human Masters. The future, it would seem, is no better than the past, as some animals become expendable weapons or augmented semi-machines, while others receive the honor and dignity of being treated as fellow soldiers. In tribute, we bring you seventeen stories of our animal comrades-in-arms.
Dogs of War
Word Count: Information not available
Summary: The Dissolution approaches, and all will change. "Science fantasy with fantastic queer rep" -J.S. Fields, Author of the Ardulum Series The Dissolution approaches. Sam has saved the Assembly of Species, but at a terrible cost. Locked in his apartment, his memories gone and his best friend abducted, he is once again crippled with anxiety. Meanwhile, Enos struggles to free her brother from imprisonment, alone for the first time in her life. Her true species has been revealed, and there are hints the deadliest of her kind survived an ancient war. But the Nether contains more secrets. A musical chime disrupts daily life, signaling changes to its very fabric. To solve this mystery, Sam must face his anxiety and confront truths about his memories and unique abilities. Only then can he save his friends from the machinations of the Life Coalition, by understanding the reality behind the Facets of the Nether. If you like epic fantasy, space opera and music-based magic, you'll love William C. Tracy's Dissolution Cycle. Download Facets of the Nether today and discover the diverse cultures, genders, and alien species of an epic science fantasy space opera! The Dissolution Cycle (Epic Space Opera, LGBT): Book 1: The Seeds of Dissolution Book 2: Facets of the Nether Book 3: Fall of the Imperium Book 4: Tales of the Dissolutionverse (Novella collection)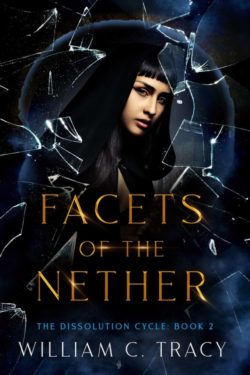 Facets of the Nether
Word Count: Information not available
Summary: The Dissolution is here. It is both an end, and a beginning. "Science fantasy with fantastic queer rep" -J.S. Fields, Author of the Ardulum Series The Dissolution has begun. Sam is finally reunited with Enos and Inas, only to see his new home under siege by beings that dissolve reality at a single touch. Even as they battle their personal demons, the three apprentices must also fight to save their home. Enos lashes out at those she loves, plagued by voices she's consumed, and Inas must risk his sanity to access ancient memories of the Nether. Sam must learn how he uniquely affects the Symphony, but there is little time to master what usually takes a lifetime. The Nether is leaderless and the Assembly is in chaos. The three apprentices must counter an invasion by aliens who rip the Symphony, and the very universe, apart. Ancient antagonists will resurface, a battle must be fought, and the secrets of the Nether and the universe will be laid bare in this final book of the Dissolution Cycle. If you like epic fantasy, space opera and music-based magic, you'll love William C. Tracy's Dissolution Cycle. Download Fall of the Imperium today and discover the diverse cultures, genders, and alien species of an epic science fantasy space opera! The Dissolution Cycle (Epic Space Opera, LGBT): Book 1: The Seeds of Dissolution Book 2: Facets of the Nether Book 3: Fall of the Imperium Book 4: Tales of the Dissolutionverse (Novella collection)
Fall of the Imperium
Word Count:

89000
Summary: Exiled Tolari ruler turned hired assassin, Farryn never stops plotting revenge on his home planet while building a criminal empire on the human colony world of Far India. But when his former wife dares to follow him into human space and attracts the attention of Earth Central Security, Farryn is forced to choose between hatred and love, ambition and heart's desire. Described by Kirkus Reviews as "a solid entry for readers craving new, original space operas," Farryn's War promises to thrill fans of science fiction and romance alike in this first book of a new series by award-winning author Christie Meierz.
Farryn's War
Word Count:

87000
Summary: The crew of the Ungovernable might have just gambled more than they can pay. Ex-smuggler pilot Jez and the crew of the Ungovernable desperately need is a way to stop the government killing them all. And they're running out of time. So when Grigory Korzhikov, the godfather of the biggest mafia organization in the System, invites them aboard his private gambling ship and tells them he can give them a way out, it's an offer they can't refuse. But accepting means dealing into Grigory's game, and he's playing with a stacked deck. He hasn't forgotten the money they cost him in their first heist, and he's notorious for holding grudges. If they don't want to end up floating in space without a space suit, they'll have to find a way to beat him at his own game, and in Grigory's ship, the odds are on the house. Firewall is the fifth book in R.M. Olson's science fiction space opera series The Ungovernable. With a crazy, close-knit crew, plenty of humour, and loads of action, Firefly meets Ocean's Eleven in this fast-paced, kick-ass, wickedly fun series.
Firewall
Word Count: Information not available
Summary: When fire and steel meet flesh and bone, a soldier learns a hard truth: you're not fighting for Glory and Honor, but for survival, for you and your comrades, and you will be damned if you're going to leave any of them behind. Join us for twelve tales of military heroism and courage in the face of a hostile enemy. With stories by Brenda Cooper, Bud Sparhawk, David Sherman, Robert E. Waters, Jeff Young, James Chambers, Lisanne Norman, Robert Greenberger, Aaron Rosenberg, Christopher M. Hiles, Eric V. Hardenbrook, and Danielle Ackley-McPhail
In Harm's Way
Word Count: Information not available
Summary: The plan had been to un-man the battlespace, replacing flesh and blood with steel and carbon fiber. Machines, both remote-controlled and autonomous A.I.s, would fight and be destroyed in the name of freedom; sparing the troops at the cost of the nation's treasure. However, as with any arms race, the opposing side's technology eventually catches ups to yours, resulting in the need to put lives back in harm's way on the frontline; to deal with, and adapt to the unknown, as only humans can. With stories by Brenda Cooper, Bud Sparhawk, Jennifer Brozek, Ronald T. Garner, Aaron Rosenberg, James Chambers, Nancy Jane Moore, Patrick Thomas, Jeff Young, Eric V. Hardenbrook, Robert E. Waters, Anton Kukal, and Danielle Ackley-McPhail, and an afterword by the late CJ Henderson.
Man and Machine
Word Count:

66000
Summary: Introducing a thrilling new space opera adventure! When a Martian politician is kidnapped en route to a summit of leaders from the Asteroid Belt, events are set in motion which will change the face of the Solar System... Katia Miranova believes in a free Belt. She's lived her entire life on Vesta, and she'll be damned if she lets a bunch of Earthers tell her how to run her station. But when Earth makes its move, Katia begins to suspect there's something more sinister at work behind the scenes... On the distant edge of the system, Francis Drake is a washed-up hack drowning in a bottle. He's seen the face of the enemy and he ran from it. But Drake is about to be dragged kicking and screaming back into the middle of a war for the very future of humankind!
Revolt on Vesta
Word Count:

111,000
Summary:
New York: two years after the Third World War. Humanity is rebuilding its cities brick by brick; the damage done to the people, however, is a lot harder to repair.
Dan Hardacre is one of those people. An aspiring stage actor and experienced draft-dodger, Dan struggles to find his place within the Utopic rebuild of New York City. When he's not caught up with the duties of work, Dan lives a quiet life in mourning for his mother, Dyani, who went missing when he was a teenager.
One night, Dan experiences a vivid, terrifying nightmare that puts him right on the front lines of the war for which he dodged the draft; it ends with him facing Death itself in the form of a metallic, faceless humanoid creature that calls itself the Valkyrie. To investigate the reason behind his haunting experience, Dan seeks out a meeting with his estranged father, who reveals the startling truth about Dan's dream: it wasn't a dream.
With this newfound knowledge and the powers it brings, Dan makes it his mission to return to the scene of his nightmare. However, he soon comes to know that confronting the Valkyrie not only endangers him but the war-withstanding world he leaves behind.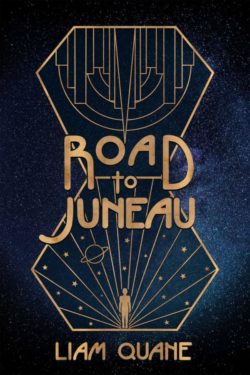 ROAD TO JUNEAU
Word Count:

119500
Summary:  Slingshot is a love story—about a man, a woman, another man, another woman, some gender bending…and a machine, the largest ever built.      Slingshot is a mystery—about a missing aviatrix, a conspiracy, a true-believer. Slingshot is an adventure—about following a dream, the ocean-deep, outer space. Slingshot is about constructing the first space launch-loop stretching 2,600 km between Baker and Jarvis Islands in the Equatorial Pacific. It's about high finance, intrigue, unlimited ambition, heroism, fanaticism, betrayal…and about opening space to the common person. With a cast of 69, Slingshot takes you from Seattle's world financial district, to the ocean bottom at 5,000 meters off Baker Island, to the edge of space 80 km above. You play with dolphins and battle sharks. You fly and sail and dive, you work and play and love across the vast panorama of an Equatorial Pacific being put to leash to serve humanity's surge into outer space. While its accurate science and precise engineering will appeal to hard science-fiction buffs, Slingshot's major focus is the grand journey, the opening of outer space to the common person by men and women who loom larger than life as they work, play, and love.
Slingshot: Building the largest Machine in Human History
Word Count: Information not available
Summary: Discover ten planets, joined through music-based magic and an immense sentient crystal. This anthology contains ten stories from the popular Dissolutionverse universe! Journey with a new majus as he investigates the Pixie homeworld and tries to avert a war. Learn how to change the Symphony during a search for a majus' lost brother. Find a new relationship on an island at war! Travel with merchants in an old war train transporting suspicious cargo. Fly with the first majus in space! Discover the food and culture of the ten species. Uncover what lurks in the basement of the House of Potential. Investigate magic, mystery and murder when a miscreant attacks the secret Society of Two Houses! Confront other-dimensional entities alongside an ancient being. Climb to the top of a miles-high wall with a crew riding a giant steampunk beetle! If you like space opera, fast-paced adventure, music-based magic, and complex, diverse characters, then you'll love this collection of stories from William C. Tracy's Dissolutionverse. Pick up Tales of the Dissolutionverse to discover the music today! There's more adventure in The Dissolution Cycle (Epic Space Opera, LGBT): Book 1: The Seeds of Dissolution Book 2: Facets of the Nether Book 3: Fall of the Imperium Book 4: Tales of the Dissolutionverse
Tales of the Dissolutionverse
Word Count:

79000
Summary: The Angel's sinister plan for humanity nears completion! Concealed in its lair, aided by the self-absorbed corporate heiress Michaela Cross, the Angel readies for ultimate victory. But that victory is not yet assured. The mysterious Djinn and her far-flung network of agents prepare to make their final, desperate stand against the alien invader. Katia Miranova has returned to Vesta. Her world is under armed occupation, but she has unlikely new allies: a hacker sent by the Djinn who just might be able to override the Angel's mind-control; and the leader of the Earth forces who helped the alien conquer Vesta in the first place! Ex-reporter Francis Drake knows he's the key to the Djinn's plans. He just doesn't know how or why. Rocketing towards Earth and a final showdown, guarded over by the irascible android Summer, Drake struggles with his conscience and fear. Five years ago, he ran from this battle. Now, he must return to save the woman he once loved ... and Humanity itself!
The Angel and the Djinn
Word Count: Information not available
Summary: The embers of War still glow as memories of strange skies over an alien landscape, light-years from home, bring back the sensations of battle; a time when personal sacrifice meant the difference between salvation for all, or total destruction. Gathered here is a cross-section of stories from the first decade of the award-winning Defending The Future series. Written by the known and up-and-coming in the military science fiction genre, these stories represent the fan-requested highlights from the series.
The Best of Defending the Future
Word Count:

55,000
Summary: Welcome back to Charybdis Station and the crew of the Blue Solace: (Sixth Book in the series) Draif Ando started life as a slave on Vextonar. When he was fifteen, he met his best friend, Leti Ando, and life got a lot better. Now he's a Charybdis Station captain and works closely with the Lord Admiral of the Station. He is a free man, finally has a purpose of his own, and has the the best lieutenant in the galaxy by his side. If he's so content, why does he yearn for more, and why is he suddenly picturing children with his eyes and Lucas' ears and tail? Lucas Meluth knew that Draif was his life mate from the moment they met. He also knew that Draif was demisexual and wasn't attracted to Lucas. Not at first. Now, Lucas notices the way Draif's eyes follow him and the way Draif's innocent touches are suddenly not so innocent. Has the time come for their friendship to turn into more? Draif and Lucas may finally be figuring their relationship out, but their enemies are approaching and it's time to protect Charybdis Station and rid the galaxy of Humans First, once and for all.
The Captain's Mate